About snorkeling & diving
The Silfra Fissure is a phenomenon unique to Iceland. Due to its unusual features and exceptional underwater visibility, Silfra is on the bucket lists of divers and snorkelers all over the world. Located in Thingvellir National Park, a UNESCO World Heritage site, Silfra has been rated as one of the best places to dive and snorkel on Earth.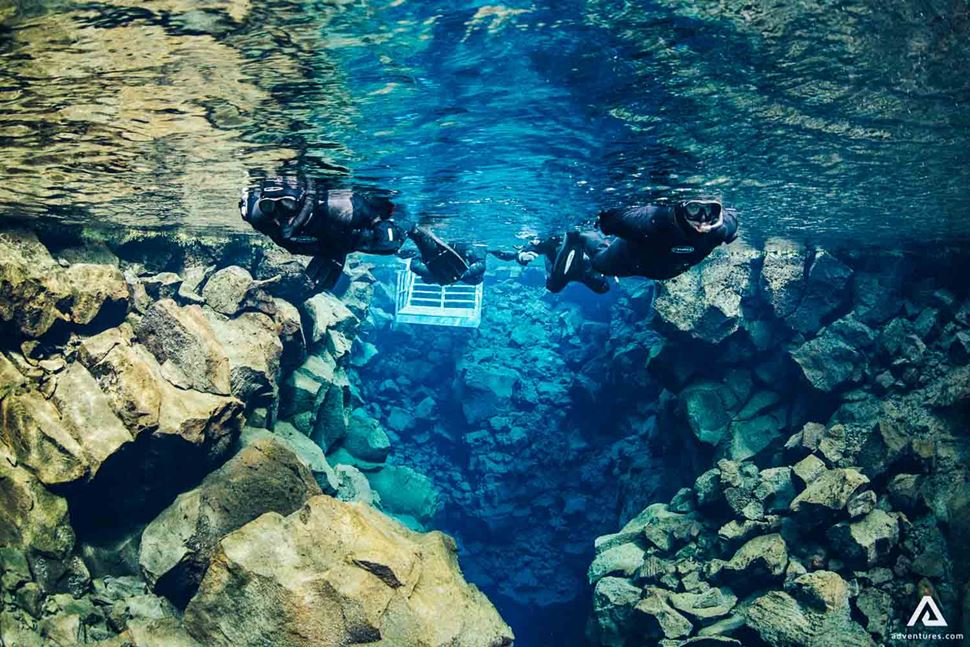 The rift is located directly between two continents, giving you the unique opportunity to immerse yourself in crystal clear water between the North American and Eurasian tectonic plates. The water comes all the way from the second-largest glacier in Europe, Langjökull. It slowly flows through lava fields that filter the water making it incredibly clear. Divers in Silfra enjoy visibility of up to 328 feet (100 meters) in front of them! The water is so fresh and pure, whenever it catches a sunray it looks like a glittering crystal.
As part of a UNESCO protected site, all activities in Silfra are closely regulated. Diving or snorkeling without a professional guide is not allowed in the area. All of our guides are experienced and certified, so you can safely explore the underwater world hidden in the rift. While carrying out our tours, we strive to make sure that we have as little impact on nature as possible. 
Equally beautiful in each season, explore Silfra at any time of the year!
Snorkeling in Iceland
Our Silfra snorkeling tour has been rated as one of the top five activities in the world by Trip Advisor. It's an unforgettable experience and a must-do for experienced snorkelers as well as beginners. 
If you've never tried snorkeling before, Silfra is a great place to start. Just beware that it will be a challenge to ever beat this experience! Our experienced guides will introduce you to snorkeling and make sure you feel comfortable at every stage of the tour. We'll also provide all the necessary equipment, so you won't have to worry about a thing. Simply float on the lazy current and enjoy the views of bright green algae waving in the deep blue waters of Silfra!
Snorkeling in the continental rift is available all year round. While snorkeling, you'll float on a current, because the water in the fissure is always moving. Join this unforgettable tour and enjoy one of the best activities in the world!
Multi-Activity Tours with Snorkeling
We offer loads of opportunities to extend your adventurous day in Iceland and combine snorkeling with other activities. Spend a day exploring an underground world and push yourself with a bit of crawling and walking on a rough lava floor created by a volcano! This snorkeling and caving combo tour is perfect for curious travelers who are interested in going beneath the surface to explore the world below.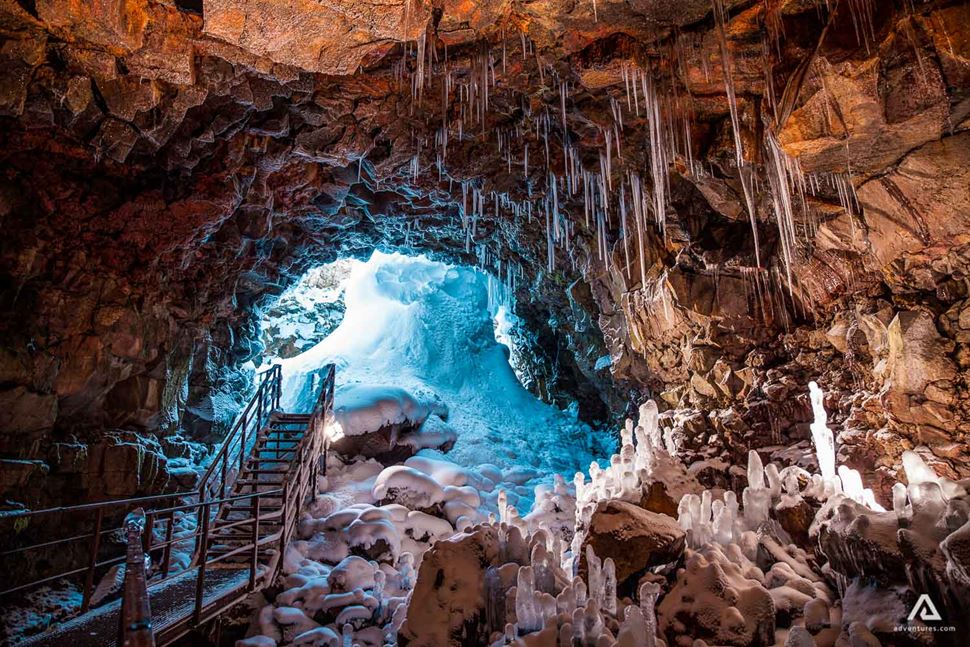 In order to have the full Icelandic experience, don't miss a chance to meet Icelandic horses. Famous for their charisma and stamina, they're the purest horse breed in the world. Don't miss a chance to ride one of the friendly animals. For an ultimate Icelandic vacation, combine horseback riding with snorkeling in the Silfra Fissure.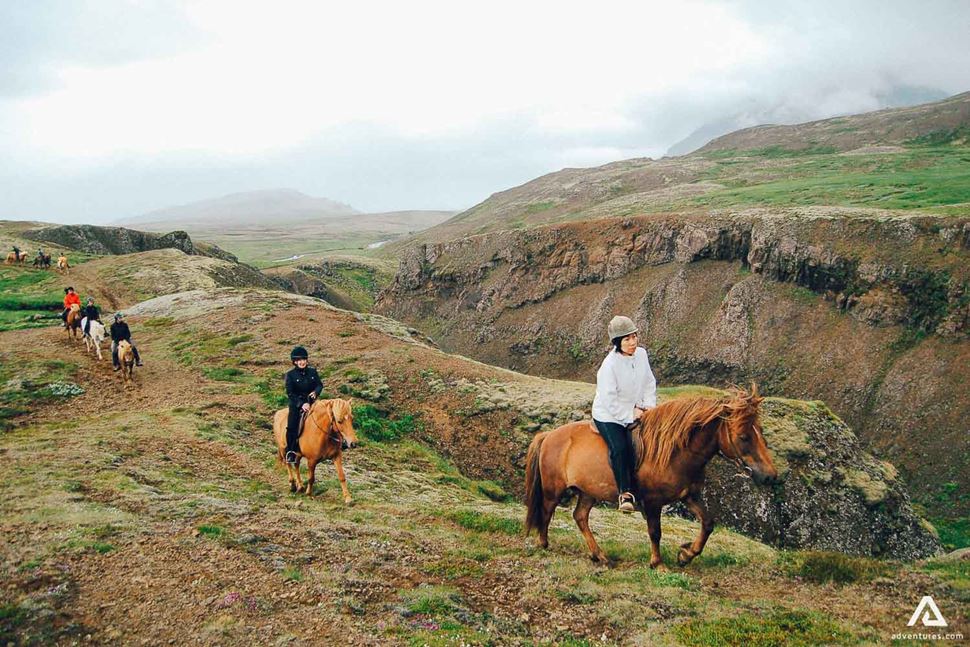 Scuba Diving in Silfra
When it comes to diving in Iceland and diving in general, the Silfra Fissure takes the cake. It's a unique dive site, where you can not only dive in between but also touch two continental plates at the same time! With some of the clearest water in the world, Silfra offers unparalleled visibility and an exceptional, exclusively Icelandic experience.
If you're an experienced diver with dry suit certification or a log book with 10 logged dry suit dives over the last two years, our scuba diving tour in Silfra is the perfect one for you. However, if you don't have the required experience, you can still dive in the rift by signing up for our dry suit specialty course!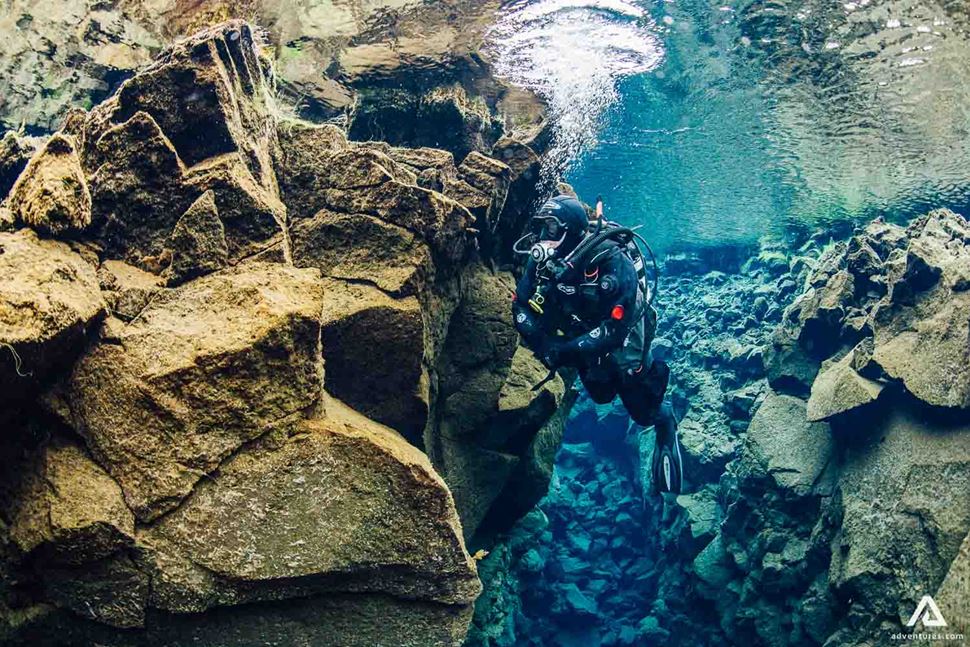 Divers are allowed to go as far down as 59 feet (18 m) into the fissure, although you'll be at a shallower depth for most of the tour due to the topography of the fissure. On our tour, you can enjoy two dives in the summertime or one longer dive in the winter. The water temperature varies from 2 to 4°C (35-37°F) all year round, but the dry suit will not allow you to get too cold! Also, we'll take care of a cup of hot chocolate and delicious cookies to get you warm once you're back on dry land.
Dry Suit Specialty Course
If you don't have the required credentials or experience to dive in Silfra, join our 2-day Dry Suit Specialty Course. The course includes a theory session, a confined water dive, and two open water dives in Lake Kleifarvatn or Lake Thingvallavatn, and, of course, a dive in the Silfra Fissure.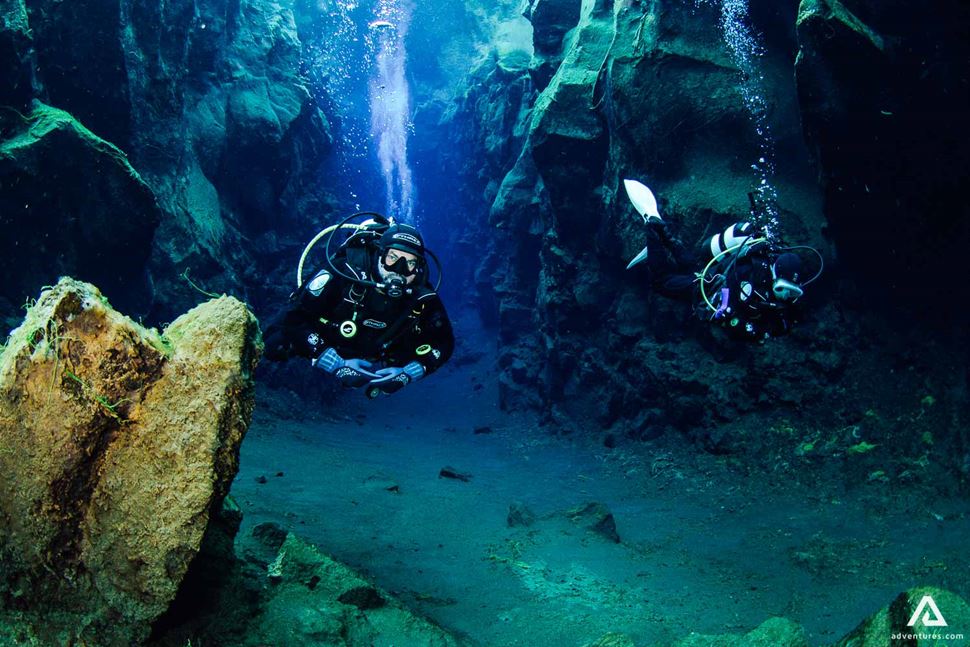 On the first day of the course, you'll first be introduced to the theory required to complete the PADI Dry Suit Speciality. Then you will have two dives in the open waters of the nearby Icelandic lakes. Upon successful completion of day one, you'll be able to explore the underwater world of the fissure on day two. 
Throughout the course, you'll be guided by a certified instructor, who'll be by your side to give you a hand and answer any questions you may have. Once you've completed the training, you'll be confident, qualified, and ready for the most memorable dive of your life!