What Kvalvika has to offer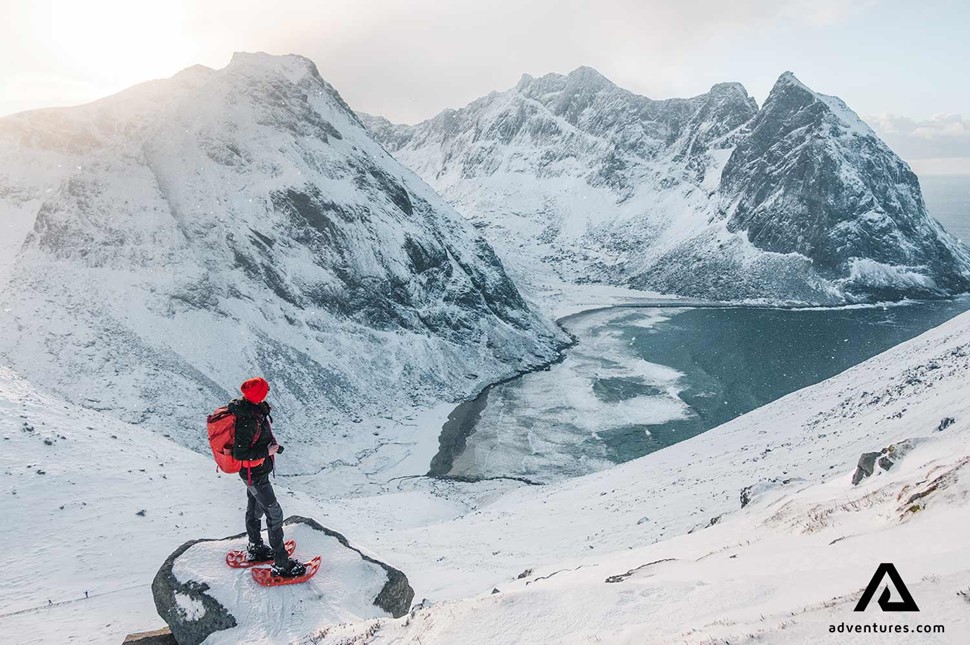 This beach is the perfect place to escape the humdrum and hustle and bustle of the city and reconnect with nature at its finest. If you enjoy hiking, it becomes an even more special destination.
Hiking to Kvalvika Beach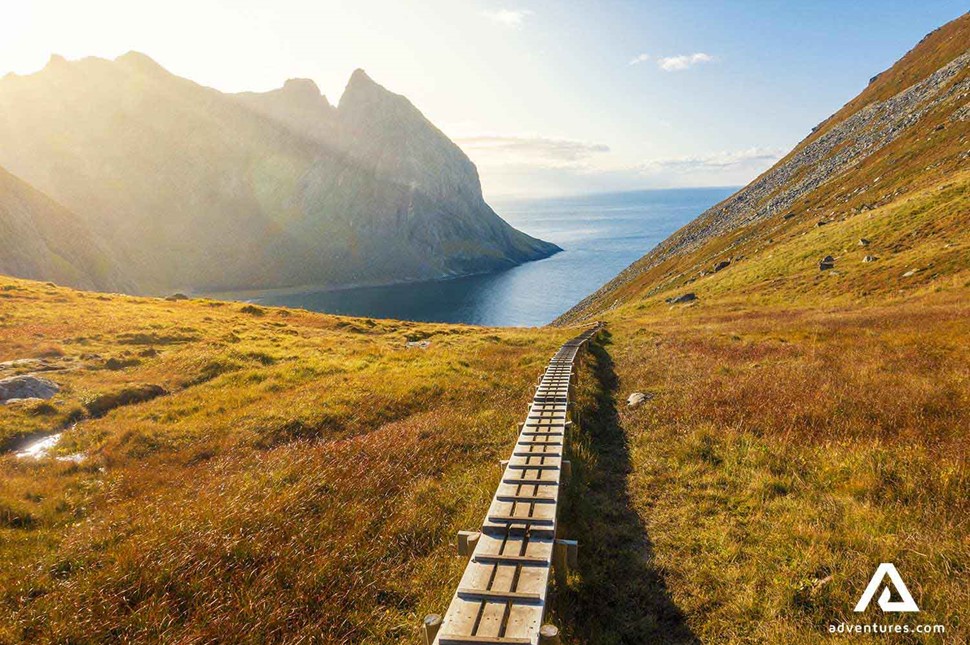 One of the Lofoten Islands' most popular treks, walking to Kvalvika Beach is a visual joy. With a recently renovated and improved trail, it's a cinch to walk, too. Once you've parked, you'll look across and see a trail that heads up the hill. The main entrance point has some new stone steps and a wooden walkway to help when conditions are wet. There are a number of signs to ensure you don't get lost. After around 10 or 15 minutes of hiking, you'll clear the trees and make your way to the center of the pass to the north. The path takes you between two mountains, so do expect a gentle incline. After 30-40 minutes, you'll get to the top of the pass and make your descent down to the beach. Be warned that in wet weather the trail can get quite slippery and, combined with its steepness, can be dangerous if you're not careful. Proceed down to the beach, allowing the sound of the waves to guide you, and voila, after just an hour of walking, you get to the flat, grassy dunes at the rear of the beach.
For even more spectacular views of the sandy beach below, you can choose to combine your trip to Kvalvika with a hike up to Ryten Mountain.
Tips for taking the Kvalvika Beach trail: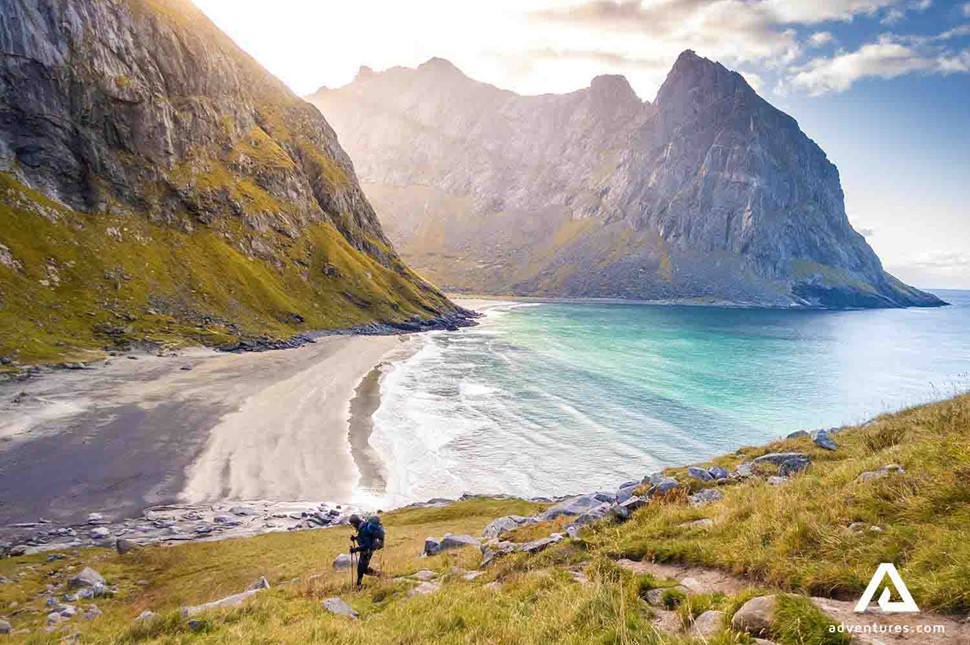 To make sure you get the most out of your hike to Kvalvika Beach when you follow the trail, below are some tips and pointers:
If you plan to visit Kvalvika Beach during the high season, it's best to try and arrive as early as possible, as the parking areas closest to the hiking path are small and can only accommodate around 20 cars in total. While there are a few parking places further up the road, even these can get crowded in the summer season.
You'll find a small freshwater stream flowing on the beach. If you're camping there (or even if you're not) you can use it for cooking, washing, and even drinking if you need or want to.
Be prepared for conditions to be gusty on the beach, to say the least. Don't bother styling your hair before you visit and keep a hand on your hat at all times!
While the trail is easy by Lofoten's standards, and the hike to the beach is only around 2.5 kilometers, the final section is still a little steep and you'll need to take extra care when descending from stone to stone. So, if you're carrying a baby, keep this in mind. You may find walking sticks of use.
Staying at Kvalvika Beach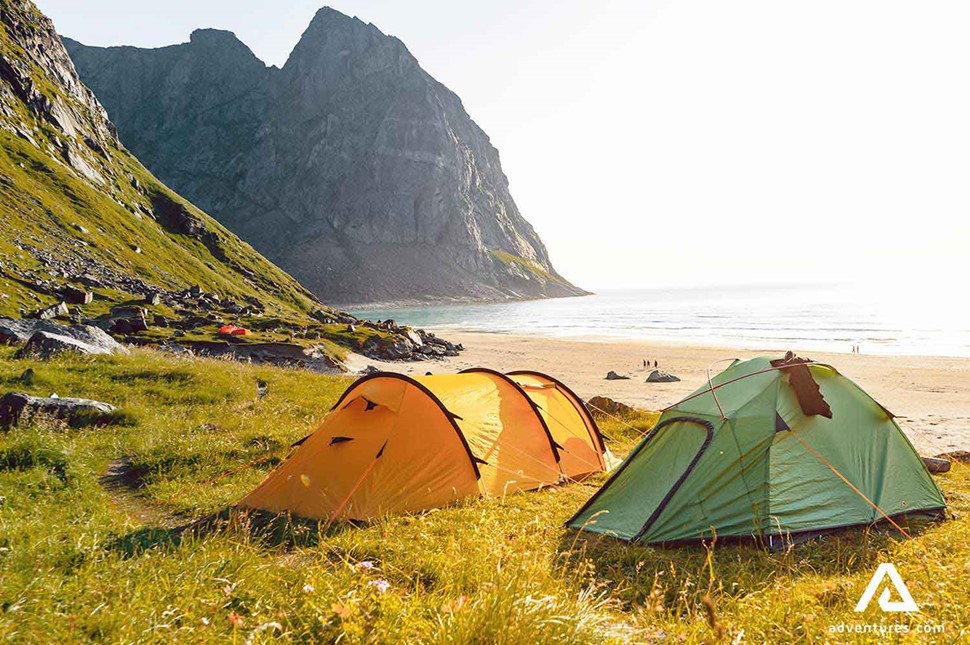 There really is only one way to stay on Kvalvika Beach – and that's camping. In recent years, this beach has become one of the most popular wild camping areas on Lofoten. With a large grassy area around the beach, a freshwater stream close to the trail, and an ample supply of driftwood for building a campfire, pitching a tent is pretty straightforward and pretty picturesque, too.
As with camping anywhere, and certainly on Lofoten, keep a close eye on the weather forecast so that you don't get caught off guard by the wind, rain or snow!
With an outstanding landscape and rugged beauty, it's easy to "sea" why this beach is so popular. Any trip to the Lofoten Islands would be incomplete without a stop-off – or an overnight camping stay – on Kvalvika Beach.