History of Trakai
The history of Trakai began in the 13th century when Old Trakai was founded 4 km from the present town. It is said that Old Trakai was one of the strongest defensive towns in Lithuania in the 13th century, as the Duchy of Lithuania was regularly attacked by the Teutonic Order.
According to historical facts, New Trakai was the place where the Grand Duke of Lithuania Vytautas was born. His parents were the Grand Duke Kęstutis and his wife Birutė. Vytautas was a very powerful leader of Lithuania and the country expanded from the Baltic Sea to the Black Sea during his reign from 1392 to 1430.
In the mid-17th century, Trakai was severely damaged by Russian forces when both Trakai castles – the Old and the New – crumbled to rubble. The New Castle was rebuilt in 1962. There is now a museum of history there.
Some facts about Trakai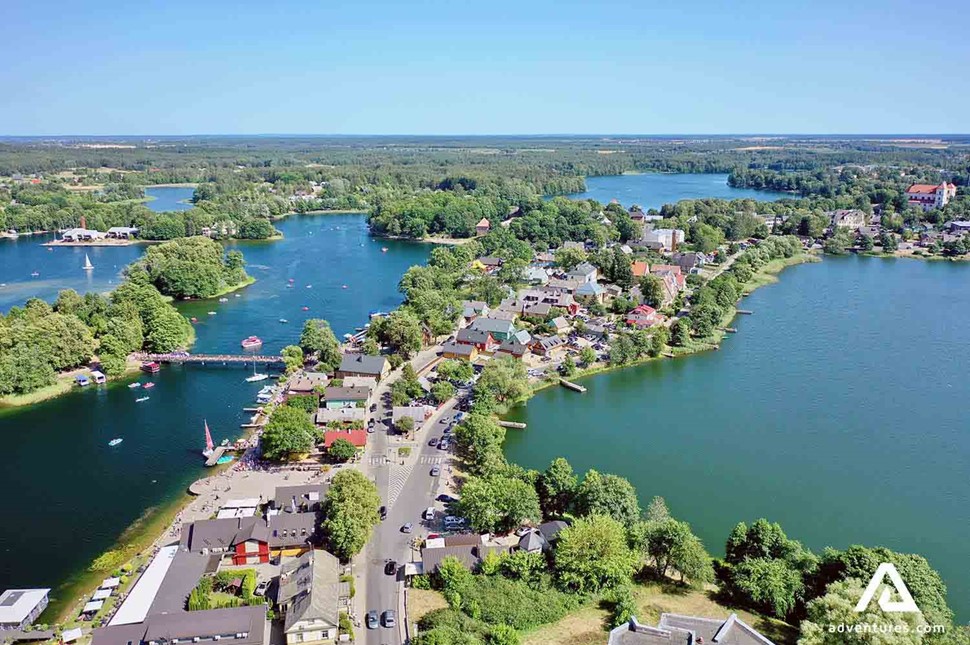 The Grand Duke Vytautas the Great died in the castle without being crowned as King of Lithuania in 1430.
Trakai was one of the main centers of the Grand Duchy of Lithuania.
Trakai is now a major tourist attraction.
The Trakai Castle was built in the 14th century by Kęstutis.
Soviet communists restored the Trakai Castle and established the Trakai History Museum there.
Communities of Karaims, Tatars, Lithuanians, Russians, Jews and Poles lived in Trakai.
There are 200 lakes in the Trakai region.
Trakai is a town built on water. The town is surrounded by the lakes of Luka (Bernardinai), Totoriškės, Galvė, Akmena and Gilušis.
Kibinai, a traditional Karaim pastry, became a local specialty.
The name of the town is Tracken in German, Troki in Polish and Trakáj in Belarusian.
Where is Trakai
GPS: 54° 38′ 0″ N, 24° 56′ 0″ E
Trakai is a town situated between three lakes, 28 kilometers west of Vilnius, the capital of Lithuania. It represents Lithuania and receives more than two million tourists every year. As of 2008, there were about 5,400 inhabitants living in Trakai. The area of the town is 11.5 square kilometers.
How to Get to Trakai
By train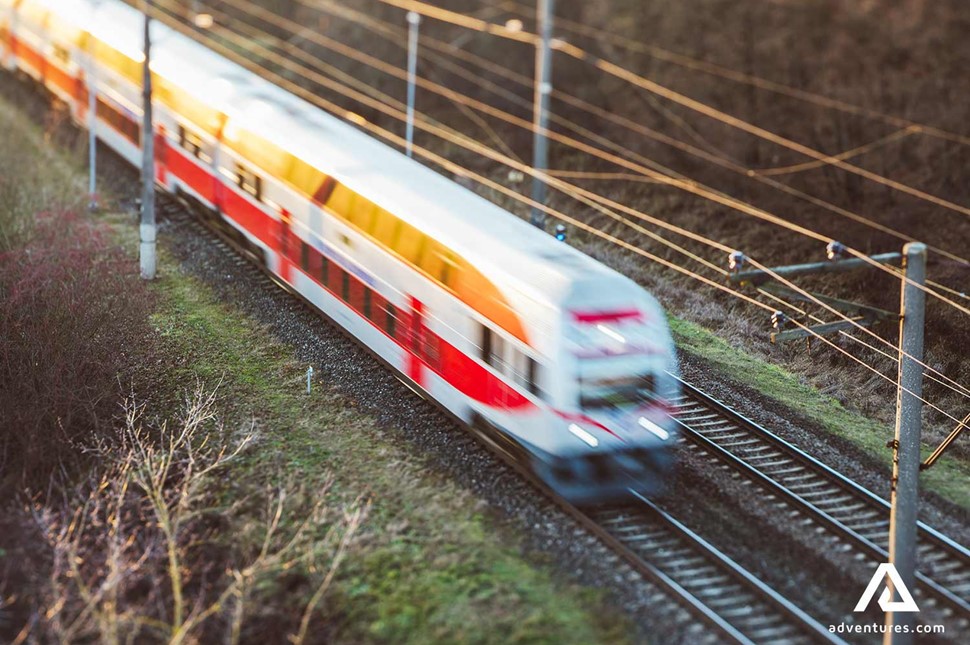 Find your way to the Railway Station (Geležinkelio St. 16). Tickets at the ticket office will cost €1.80 per adult. Trakai train station doesn't work long hours. It is open from Wednesday to Sunday from 1 pm to 10 pm. Buying a return ticket ensures you a 15% discount. If you forgot to buy it at the beginning of your trip or Trakai train station is closed – don't worry. There is an option to buy the ticket from the conductor on the train.
By bus
If you start your journey at Vilnius Bus Station (Sodų St. 22), the best place to buy tickets is at the ticket office, not the driver. It usually costs around €2 per adult, but there are discounts for students and pensioners. Then find platforms No. 6, 7, 8 (local), 28 and 29 (intercity, via Alytus).
Buses to Trakai run approximately 50 times per day (about 40 times on weekends), at intervals of about 10-20 minutes.
What to do in Trakai
Trakai Castle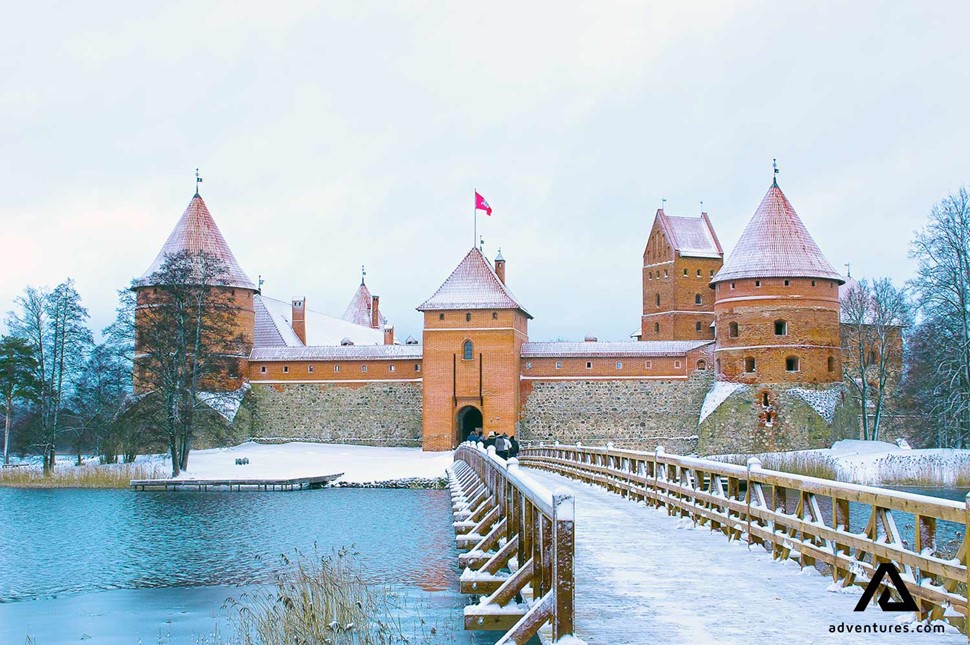 The castle is famous for its Gothic architecture and its special location. It stands on an island in Lake Galve, one of the deepest lakes in Lithuania. Built around 1350-1377 by Kęstutis, the Duke of Trakai, it was built as an important defensive structure to protect Trakai and Vilnius – the capital of Grand Duchy Lithuania – against attacks from the Teutonic Knights.
Trakai Historical National Park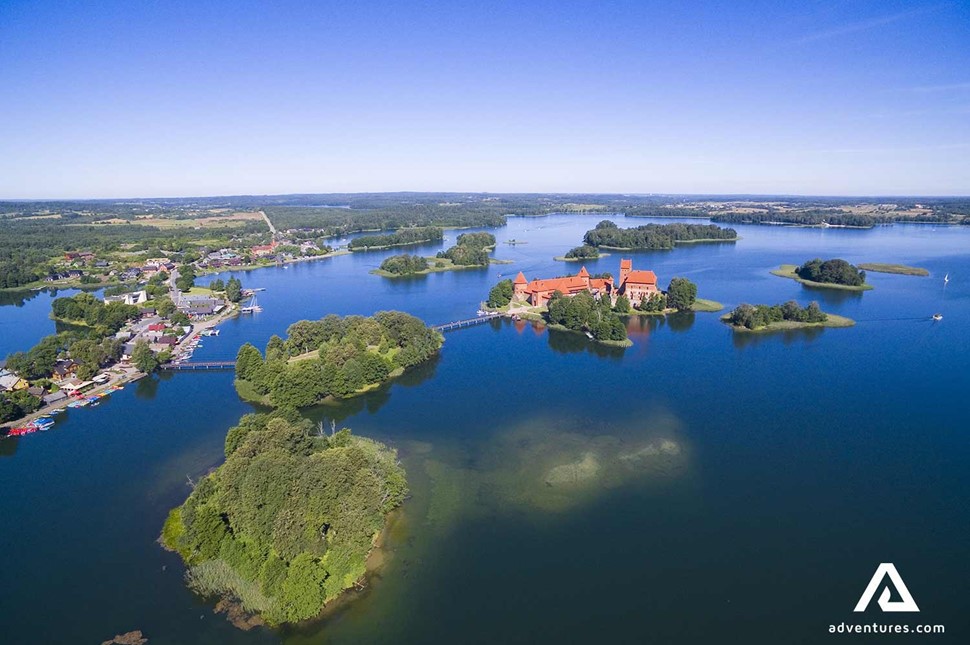 The smallest national park in Lithuania, covering 82 square kilometers, it is home to the historical monuments, lakes and forests of Trakai. Trakai's Island Castle is its focal point. The ruins of Peninsula Castle are 700 meters to the south. Lakes make up about 20% of the national park, with island-strewn Lake Galvė attracting canoeists and kayakers in the sunny months. Birdwatchers, on the other hand, are drawn to the forests, which cover a third of the park's area.
Karaite Ethnographic Museum
This small ethnographic museum displays traditional clothing, stunning photographs and objects from daily life. It also traces the ancestry of the Karaites, a Jewish sect and Turkish minority that originated in Baghdad and adheres to the Law of Moses.
Church of the Visitation of the Blessed Virgin Mary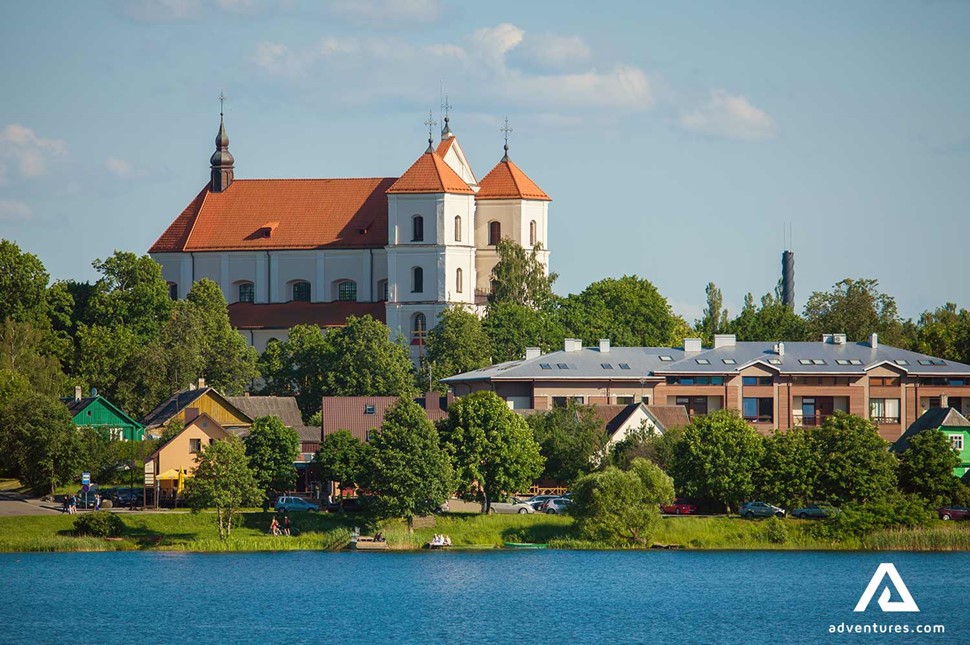 Founded around the same time as Trakai Castle, and also by Grand Duke Vytautas, this 15th-century parish church has a richly decorated Baroque altar and a large collection of ecclesiastical art. Its centerpiece is the Trakai Mother of God, believed to have been donated by Vytautas himself.
Kenessa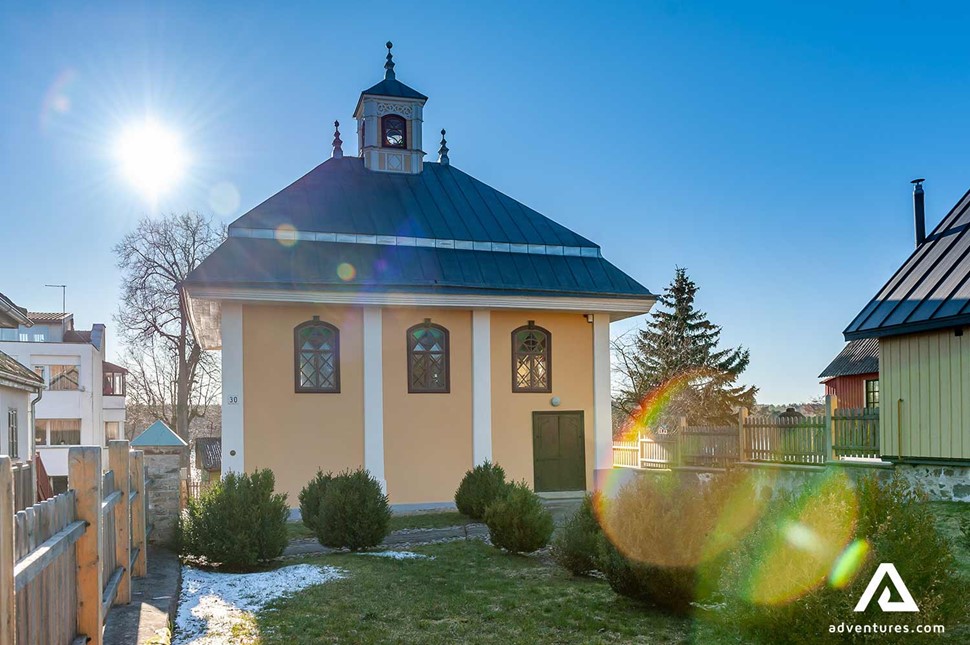 This well-preserved wooden prayer house, and its interior dome, is a rare surviving example of Karaite architecture. Arrange a visit at the Karaite Ethnographic Museum.
Best Time to Visit Trakai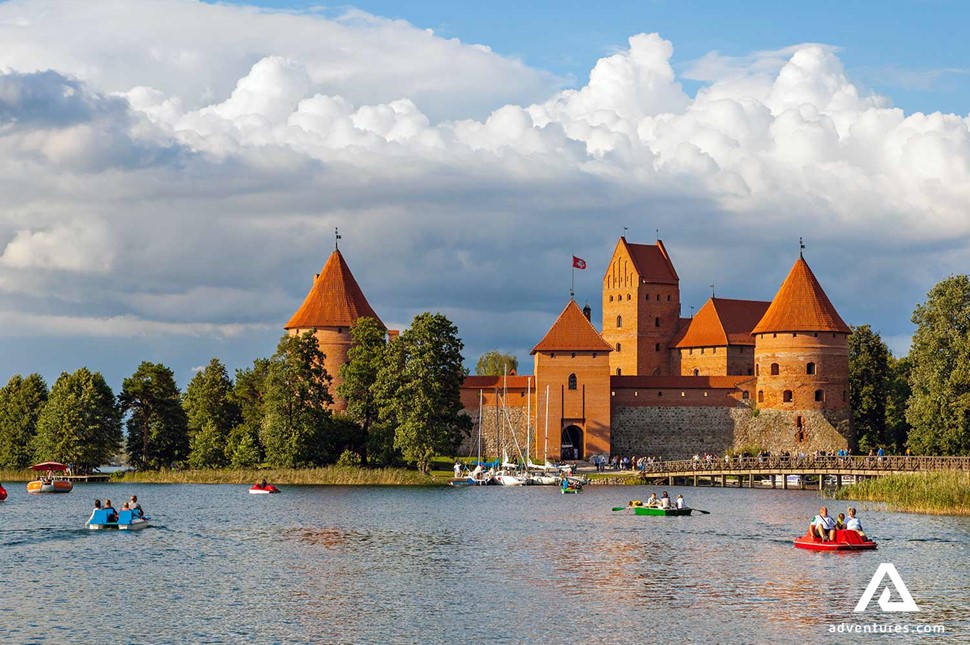 Try to avoid the wet seasons in late autumn and early spring – November, March, April – when the trees are bare and the snow is melting.
Winter months, on the other hand, can be a beautiful time to visit if you like snow and don't mind the cold.
If at all possible, try to visit in the middle of the week to avoid weekend crowds. It does become really busy, especially on beautiful days in the summer.
Best Places to Eat in Trakai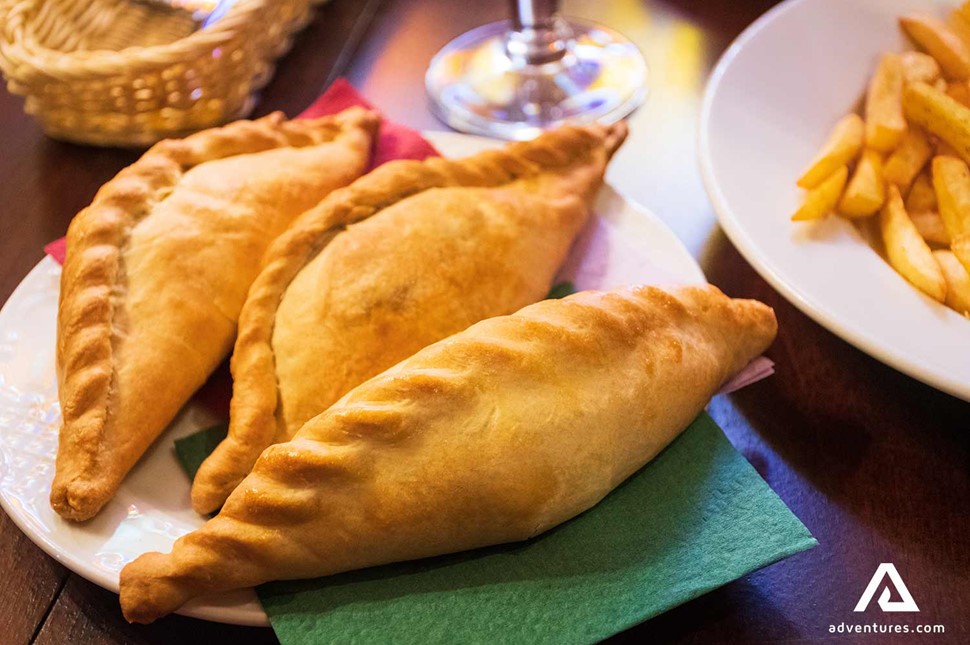 Bona Lounge
Overlooking the castle, Bona has the best sunset seats in town. Aside from the ubiquitous kibinai (Karaite pies), the short and sweet menu specializes in everything from grilled catfish with asparagus and portobello mushrooms with blue cheese to cold cucumber soup with wasabi crisps.
Kybynlar
Best known for the eponymous kibinai (pies stuffed with lamb, beef and other goodies), this is Trakai's best spot for traditional Karaite cuisine.
Senoji Kibininė
Decorated with antiques, murals and wood carvings, the interior of this traditional house is understandably a popular spot for the full Karaite culinary experience. It's worth braving the crowds to sample the excellent kibinai (Karaite dumplings) with a variety of fillings, as well as a range of soups, salads and dumplings.
Kiubėtė
Serving a mix of Lithuanian and Karaite cuisine, Kiubėtė has a beautiful location across from Lake Totoriškių, on the quieter side of the Trakai Peninsula.
Where to stay in Trakai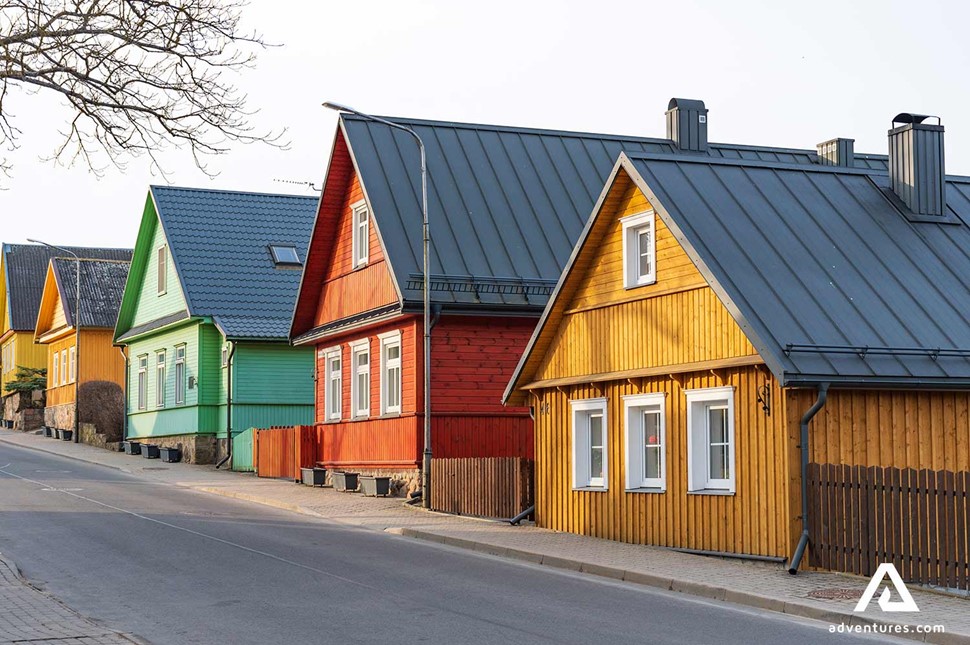 Idw Esperenza Resort & Spa
This is a luxurious hotel and spa nestled on a pristine lake and surrounded by dense forest. The luxurious rooms offer magnificent views from the floor-to-ceiling windows and are naturally decorated in soft tones and with lots of wood. Look forward to rejuvenating spa sessions, outdoor activities and gourmet cuisine.
Salos Hotel
The Salos is a well-appointed hotel where you can get a room to suit your needs and preferences. Each room has a shower, bathroom, air conditioning, hairdryer, satellite TV and internet access. Visit Salos and enjoy the unforgettable view of Totoriskes Lake directly through the window.
Apvalaus Stalo Klubas Hotel
Designed in the style of a French country villa, the walls are lined with fabrics decorated with various nature views and ornaments, delicate furnishing details (handmade chandeliers and consoles made of local wrought iron), floors decorated with oriental carpets. All fabrics and materials are authentic and come from France.
Margis Hotel & SPA
Surrounded by a beautiful natural landscape of hills and pine forests, this hotel is set in a peaceful location on the picturesque peninsula of Lake Margis, 8 kilometers from Trakai and 35 kilometers west of Vilnius.