Over the years drone flying in Iceland has become more and more popular. Drone photographers have flocked to Iceland to capture its beauty from a bird's-eye view. With sprawling national parks, scenic vistas, and diverse wildlife, it's obvious why this island is a dream location for any photographer.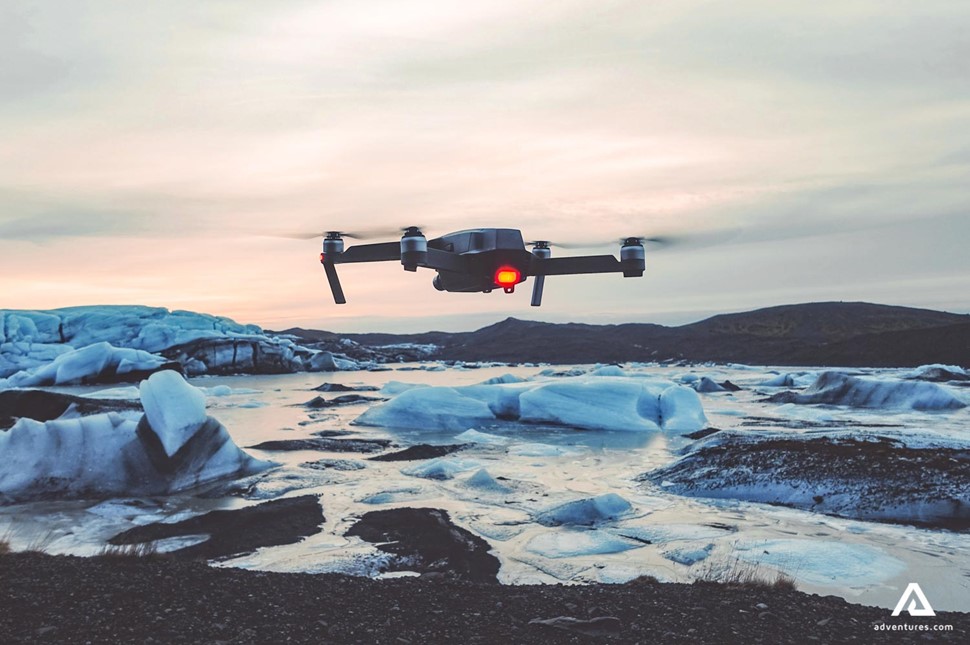 However, with great technology comes great responsibility. Want to fly your vehicle in Iceland? Check out these drone dos and don'ts first.
Before you hop on the plane with your drone, read on about responsible vehicle use in Iceland. 
Drone training and/or license
Responsible drone users should familiarize themselves with their unmanned vehicle before use for the safety of themselves and others. For drones under 25 kg used for recreational purposes, no special training or licenses are required.
Drone regulations in Iceland
To protect the people and wildlife of Iceland, the Icelandic Transport Authority created a comprehensive list of rules and regulations on drone flights. Below you will find some of the key rules to a fun and safe drone flight in Iceland.
1. It is prohibited to fly a remotely piloted aircraft over crowds of people.
2. Remotely piloted aircraft may only be flown for leisure within densely populated areas if the maximum take-off mass does not exceed 3 kg.
3. Remotely piloted aircraft may not be flown closer than 50 meters to residential buildings or premises without approval by the owner, caretaker or resident's association.
4. Remotely piloted aircraft may be flown outside densely populated areas if the maximum take-off mass does not exceed 25 kg. Remotely piloted aircraft may not be flown closer than 150 meters to holiday cottages, residential buildings or premises outside urban areas without approval by the owner or caretaker.
5. Remotely piloted aircraft flights shall always be conducted within visual line of sight of a remote pilot or an RPA observer of a remotely piloted aircraft. Aircraft weighing less than 3 kg may be flown beyond visual line of sight.
6. Do not operate drones under the influence of alcohol or other drugs.
7. Do not exceed a maximum height of 120 meters (394 feet).
Before taking your drone out for flight, familiarize yourself with the full list of Iceland drone laws from The Icelandic Transport Authority here.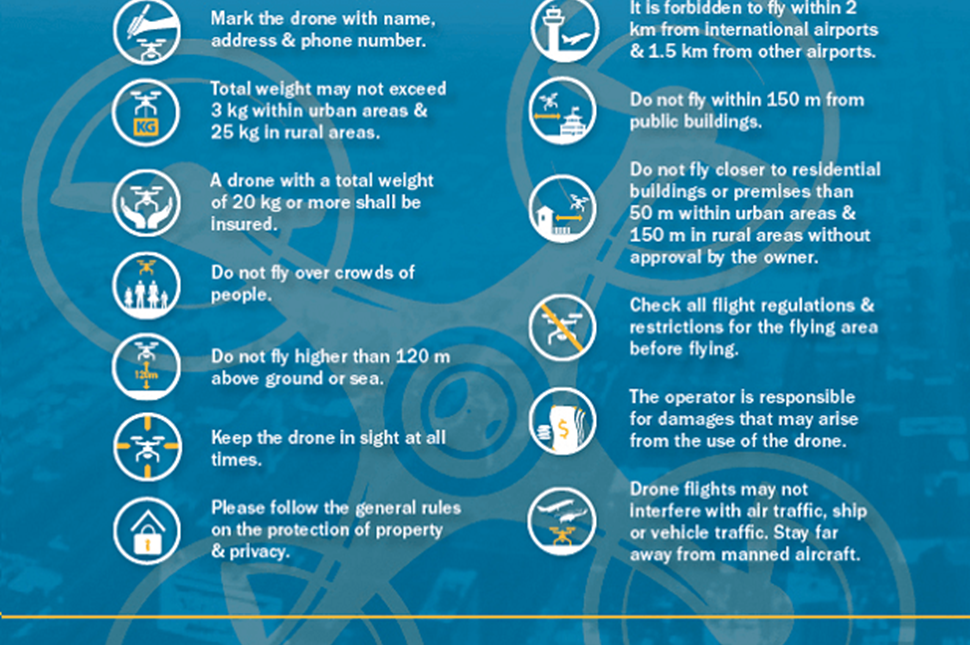 Commercial drone use
In Iceland, drone laws differ depending on whether you wish to fly for recreational purposes or commercial/research purposes. Commercial purposes include professional photographers, people of the press, scientists on research projects, engineering firms, real estate firms, etc.
If you plan to fly your drone for commercial purposes you must register your vehicle with the ITA here. Insurance for these vehicles is also mandatory.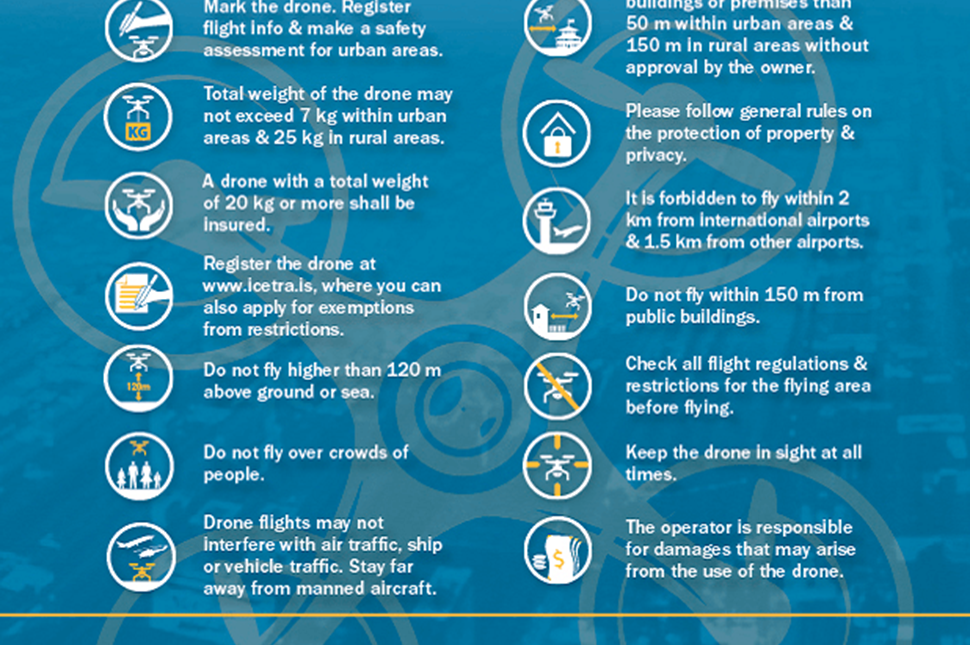 For more detailed regulations on commercial drone use, read here.
Where to buy drones in Iceland
If you don't have a drone yet but might want to buy one on your trip, Iceland has several stores where they're available. Consumers can find vehicles at the hardware store ELKO for prices ranging from 5000 ISK to 333,000 ISK. In downtown Reykjavík there is a store dedicated to drones called DJI Reykjavík. This one-stop shop is perfect not just for new shoppers but also for owners who may have left some equipment at home.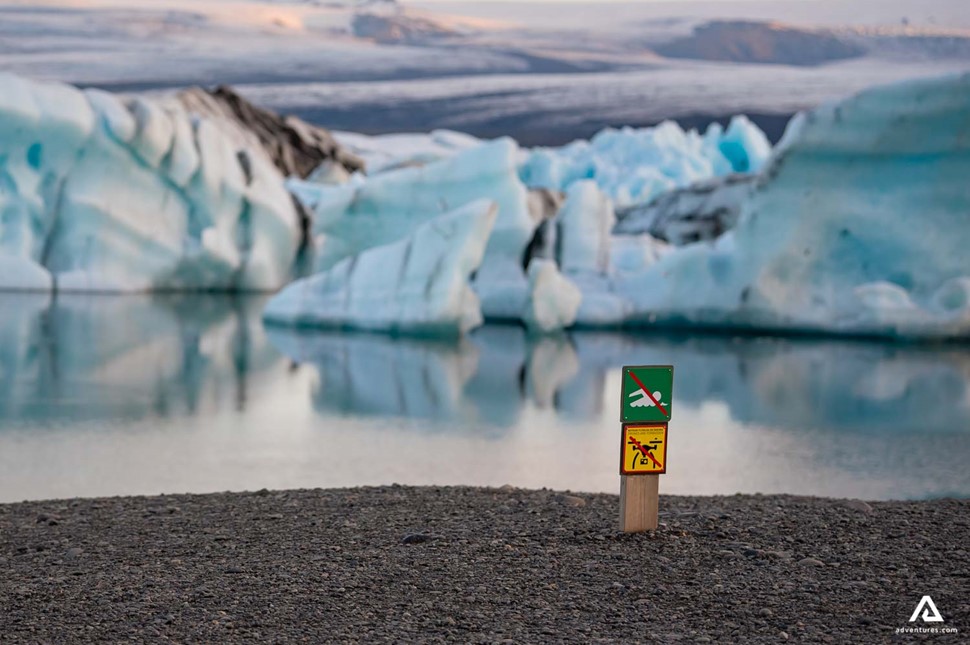 Best Locations for Drone Photography in Iceland
Iceland pours over with natural attractions. Simply put, each corner of the country is a photo opportunity. However, due to environmental protection, drones are not permitted at all of the country's stunning sites.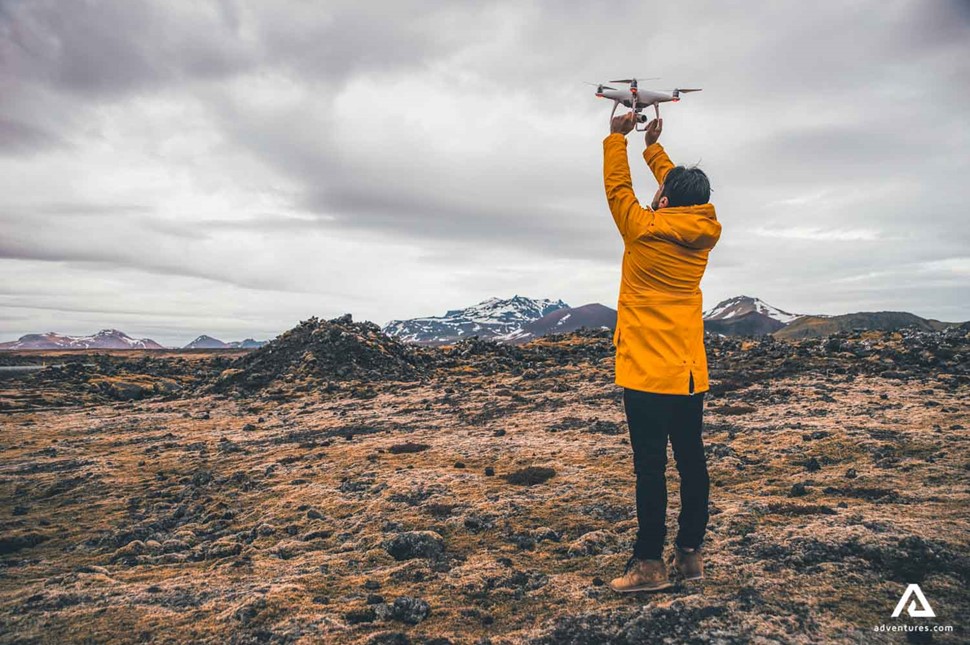 Still, there are some gorgeous landscapes where unmanned vehicles are allowed. The Westfjords have become a popular location for drone photography. Bursting with green landscapes and rugged cliffs, it's a prime location for spectacular wildlife photography.
Highlights of the Westfjords include Arnarfjörður fjord and Rauðisandur beach. However, flying drones at Látrabjarg cliffs is prohibited as to not disturb the birdlife.