Safety should always be your priority. That's especially true when you're traveling in a foreign country known for remote locations, extreme weather conditions, and natural phenomena few are familiar with. Safety in Iceland has a slightly different meaning than in most other places. Continue reading to find out what you can expect when visiting Iceland, how to prepare for it and how to stay safe.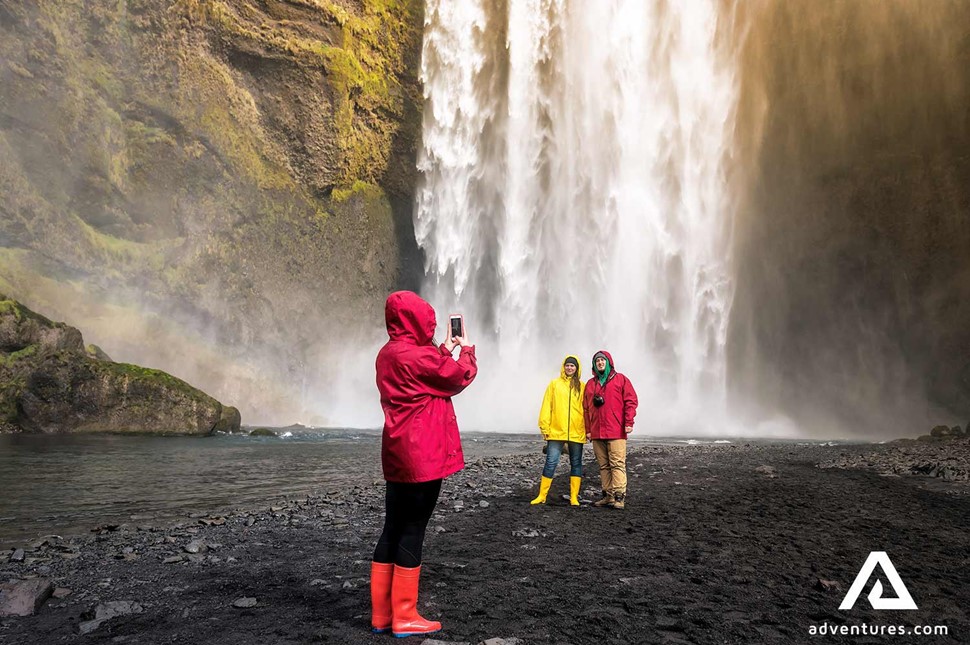 How To Stay Safe In Iceland's Nature
The idea of detaching yourself from the world and becoming one with remote nature is alluring, but do not underestimate the dangers involved in this experience. Many travel to Iceland for the sole purpose of exploring its fascinating nature. If you're one of these travelers, make sure you follow the necessary safety precautions.
Try to Explore with a Group
Some locations in Iceland are so remote it could take days of walking until you reach the closest town. Naturally, if you decide to go solo, danger could be involved. Limited network connection, harsh weather and challenging terrain might make it difficult to get help in times of need.
The solution? Explore with others. Not only is it a lot safer, it is always more exciting when you get to share experiences with others. If you're traveling with your friends and all of you are experienced hikers, tackling the challenges presented by Iceland's nature will be a blast.
However, if you are a novice or no one in the group feels confident about their first aid and survival skills, consider going on a guided hiking tour! Here at Adventures.com we are prepared to take you places, and you won't need to worry about a single thing.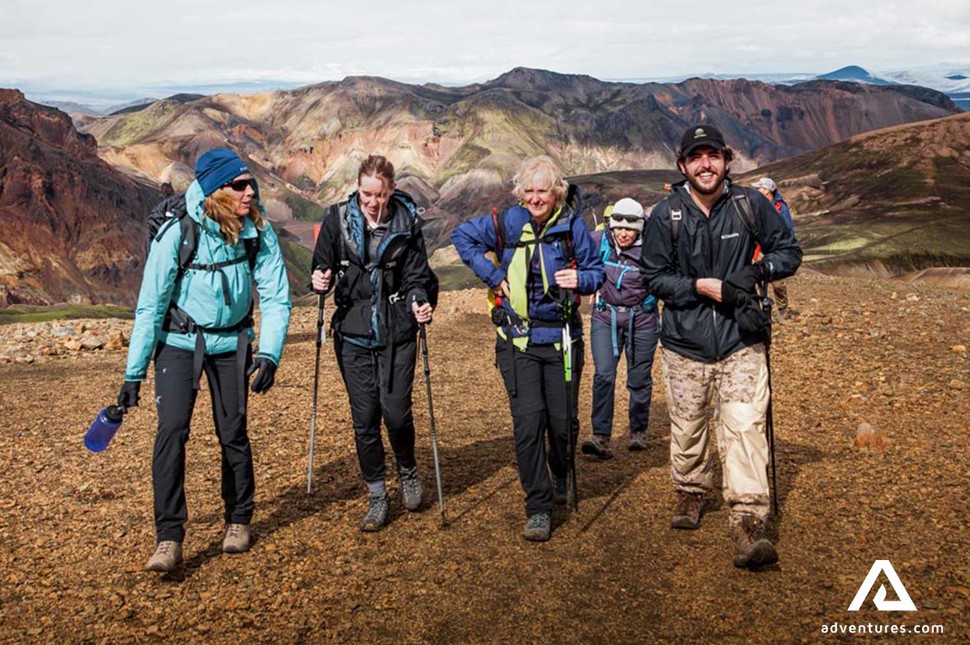 If you do decide to venture out alone, inform someone about your planned whereabouts and return time. Also carry a GPS device, first aid kit and some survival gear to ensure you can take care of yourself in case of an accident.
Always Check Weather Conditions
Icelandic weather, while exotic, can sometimes become a nightmare. In fact, staying safe in Iceland is synonymous with dressing for the weather. If you come informed about what to expect and prepared to face it, you will have no problems. However, heading out for a hike without proper rain gear or thermal wear can result in health issues.
Vedur.is, Icelandic meteorological office, will become your best friend during your trip to Iceland. Hour by hour regional weather updates, seismic activity likelihood and aurora forecasts can all be found on this site. Bookmark it and make sure it's the first thing you check when you start packing for your day out in the wilderness.
Not sure how to prepare for Icelandic weather? Read our packing for Iceland and dressing for Iceland guides and travel in peace, knowing you have all things necessary in your suitcase.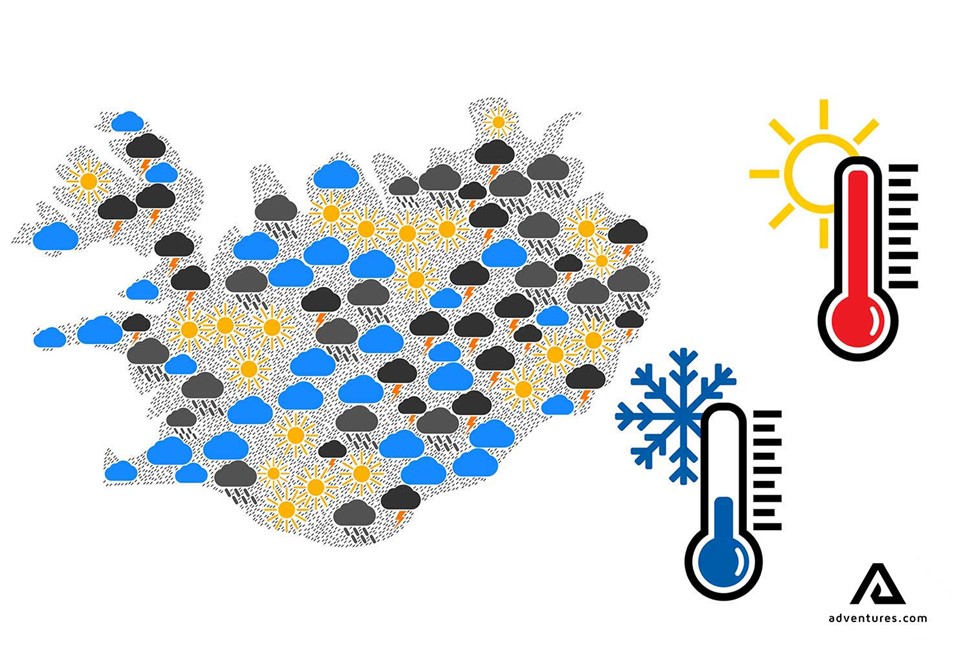 Be Careful With Water
When we talk about safety and water, we usually mean drinking water. That's not the case with Iceland. In fact, the water in most rivers is glacial, so it is perfectly safe to drink. Icelandic waters present different dangers.
First things first: the ocean. Don't get too close to it! It might seem like nothing from far away, but strong winds and occasional sneaker waves make it possible to be swept up from the shore. There have been fatal outcomes to these accidents in the past, so be very cautions when exploring Iceland's coast.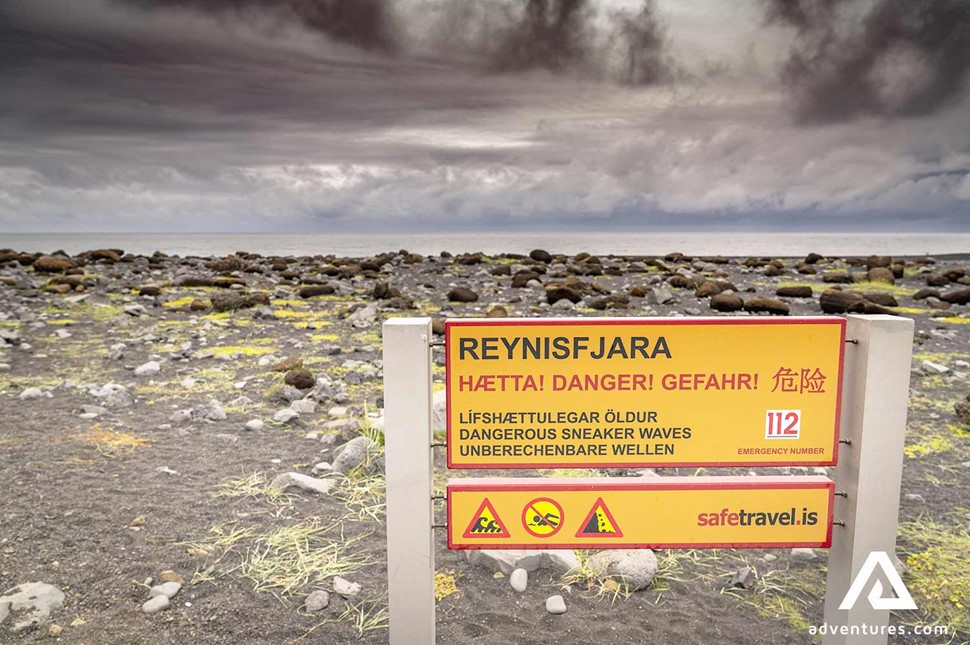 There are also things to note about safety around Iceland's geothermal ponds. Some natural geothermal springs are perfectly fine to bathe in (and very healthy too!). Others contain water so hot it could burn you. To stay safe, always check the water first. Better yet, soak only in geothermal pools that have been designated as swimming areas.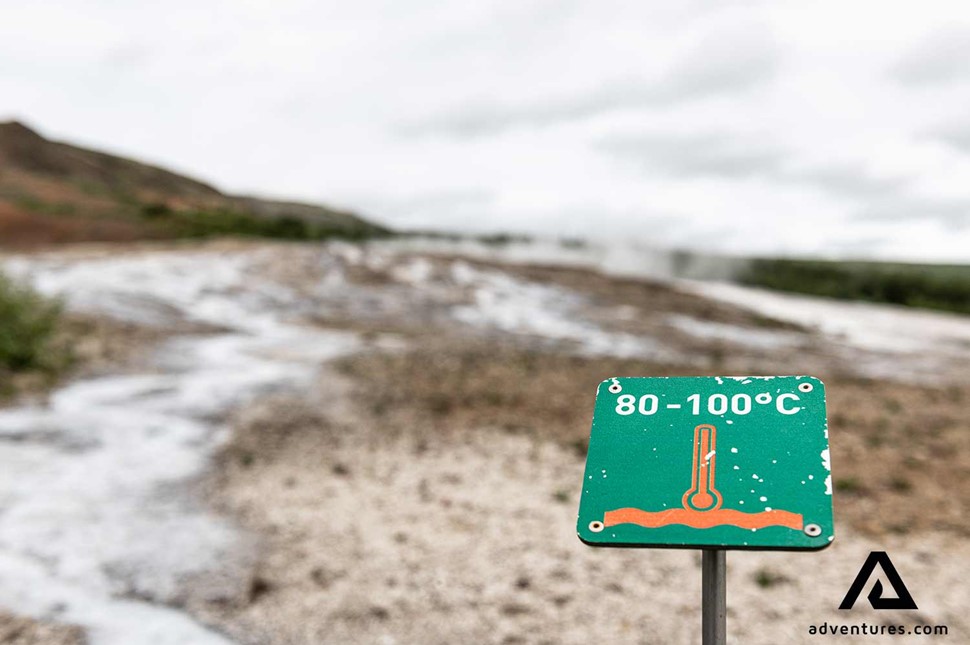 Stay on Marked Trails
We've already covered the importance of exploring Iclenadic nature with a group of fellow hikers. However, even the group won't be much help though if you all wander into the wilderness with no GPS device, compass or other means of orientation!
If you're a group of staunch mountaineers, you probably won't end up in such a situation. But if you're simply friends who enjoy hiking and are out to discover the wonders Iceland has to offer, it's better to stay on the trail.
Marked and maintained trails in Iceland are not artificially made up or very crowded with tourists, so you won't be missing out on authentic experiences. Getting lost in remote wilderness in Iceland is easier than it might seem, so it's all about choosing to act responsibly and ensuring your safety.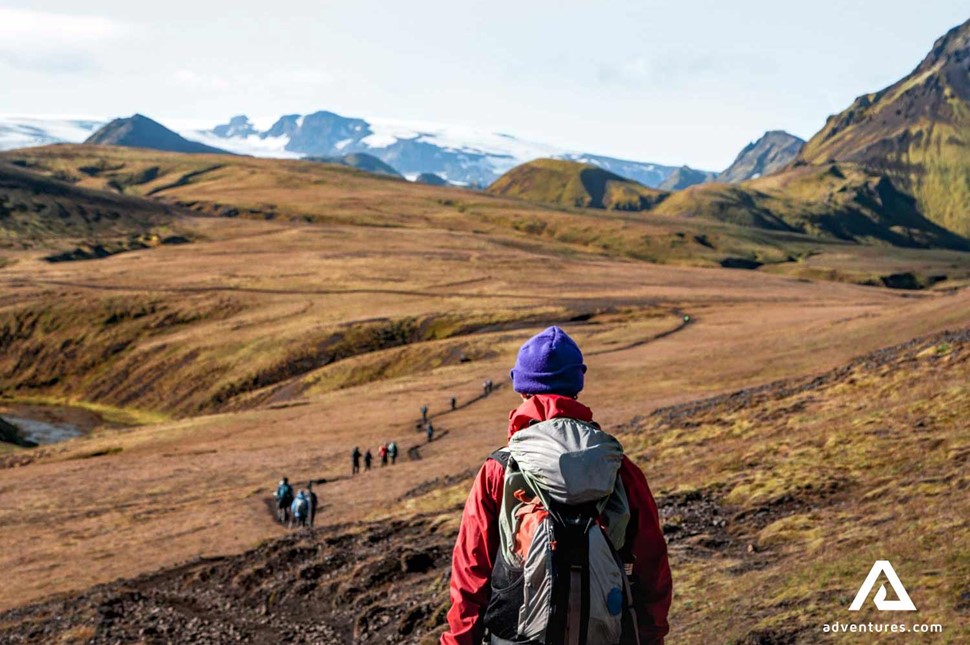 Safe Travel In Icelandic Cities
This one might come as a surprise, but safety in cities is a given in Iceland. In fact, it's so safe that BBC covered this topic and looked at why Iceland has the lowest crime rates in the world.
When travelling in Icelandic cities, you don't need to worry because:
Violent crime rates are among the lowest in the world

Iceland ranks number 1 according to

2020 Global Peace Index

You can see unattended children playing everywhere - the locals have no concerns

There have never been any terrorist attacks in Icelandic cities

Iceland promotes inclusivity and diversity, meaning LGBTQ, racial and other minorities can feel perfectly safe in Iceland

Iceland is well-known for amazing gender equality
The list could go on. The point is, whether you are a solo female traveller, a family with three active children who are constantly running around, or an elderly couple, you will be perfectly safe enjoying the unique atmosphere of Icelandic cities.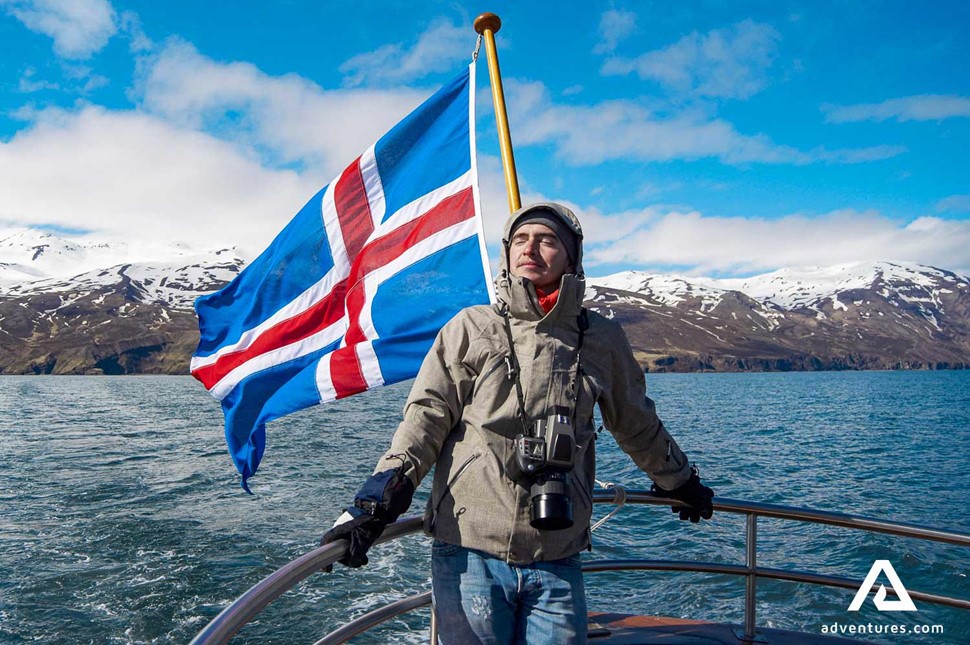 That being said, it's always wise to take precautions if you go out drinking. Just like anywhere else, if you are planning a night out keep your documents, credit cards and cash in a safe place. Also, don't get into heated conversations - people under the influence of alcohol are known to be a little unreasonable sometimes.
Staying Safe On Iceland's Roads
Road conditions in Iceland can get a lot more intense than in most other countries. Regardless of how well you drive, if you haven't encountered an icy road with extremely strong side wind, you need to make sure the first time does not come as a surprise. Understand what potential road-related challenges await in Iceland and you'll be ready to enjoy your road trip safely.
Winter Roads Safety
It's not hard to guess what winters in Iceland are like just by looking at the name of the country. Harsh snowstorms, strong winds, and low temperatures make driving in Iceland extremely dangerous in winter. In fact, if you've never seen proper snow before, it's best you don't attempt to embark on a winter road trip.
If you decide you can handle driving in Icelandic winter, stick to the main roads. They get cleared very frequently, so generally, the conditions are decent. However, no matter where you are you can expect ice, which sometimes hides underneath a layer of snow.
The best thing to keep in mind for safe winter driving in Iceland is to drive defensively. This means driving slower than you normally would, making sure you don't make sudden movements or changes in direction and overestimating braking distance.
Weather forecasts and road conditions are two things you should always check before you hit the beautiful winter roads in Iceland. If you see any signs of storms, winds or other types of challenging weather, it's a good idea to postpone your trip for the following day. Needless to say, the road condition announcements only apply to actual roads. You should never attempt to drive off-road in Iceland, especially in winter.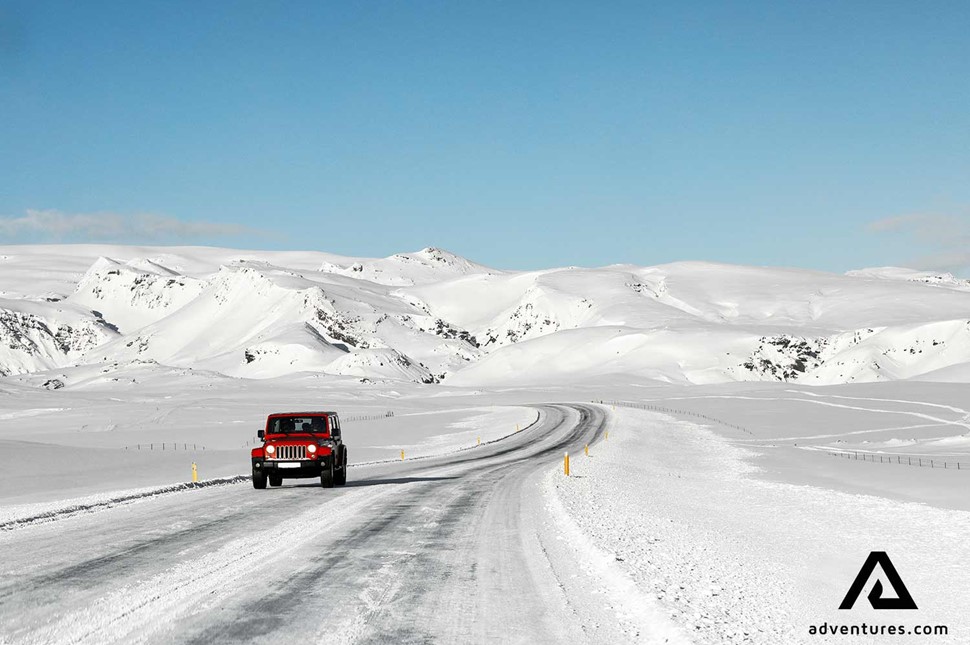 Overall, a lot depends on every individual case. If you decide to drive in Iceland during the winter, understand the risks before sitting behind the wheel, evaluate the situation and make informed decisions.
Here are three key takeaways about safe winter driving in Iceland applicable to any situation:
Drive slowly.

Always rent a 4x4, even if you're just driving around the city.

Always have a charged phone and emergency contacts in it.
Driving on F-Roads and Gravel Roads
You can expect nothing but top maintenance from Iceland's main roads, such as Route 1, which you can take to travel around the country. Sadly, many of Iceland's nature attractions are found well off those main roads. If you are planning to explore Iceland by driving, you will inevitably encounter pothole-filled dirt roads that will challenge both you and your car.
If you're driving a rental, ask for clear guidelines about the roads you are allowed to travel on. If the gravel or potholes damage a rental vehicle, there is a good chance your insurance won't cover it, so you need to be careful.
The general rule for driving on these challenging roads is to drive slowly and use 4-wheel drive. Although some roads might seem truly terrible, remember that no matter how powerful your car is you should not take it completely off road. Not only is that extremely dangerous and forbidden by law, but you will be damaging Iceland's unique landscapes.
While on the road, you'll see some road signs with letter F in front of the road number. Naturally, you'll wonder what those are about. F-Roads refer to rugged roads that can take you to the Highlands and can only be used during the summer months.
Only a 4x4 can tackle these roads. Ideally, it should be a raised 4x4 as you might encounter rivers along the way, but remember that almost no insurance package covers river crossings.
You must always think about safety first when you're on F-roads. If at any point you see a sign saying the road ahead is closed, it is crucial that you respect that. Any kind of warning you notice in Iceland should not be taken lightly. The Highlands are susceptible to snow and winter even during the summer, and if you get stuck up there, a rescue team will need to come get you, which is no fun for anyone.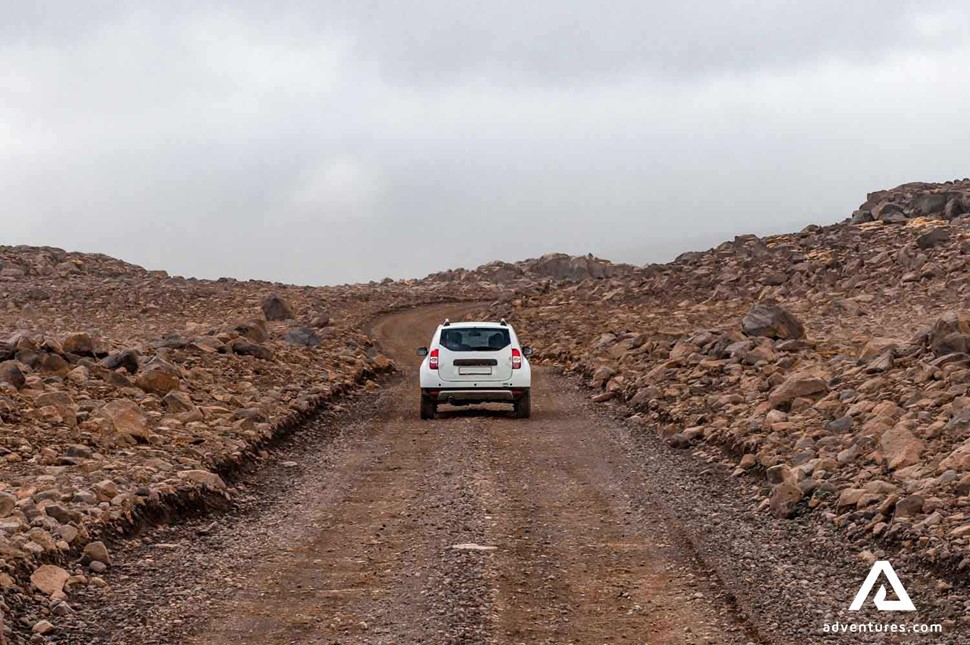 Safe Driving in Windy Areas
During some of the bad storms, Iceland has seen winds as strong as 72.6 m/s (162 mph). This should be enough to convince anyone that wind should be taken seriously in Iceland.
It's fair to say that every area is a windy area on this island. However, as you drive out into large, open spaces or close to the ocean on the south coast, the gusts get so strong they can blow people off their feet, literally.
Needless to say, such winds present challenges when traveling by car. There is an entire TripAdvisor thread about the windiest roads in Iceland. Take it very seriously. If you are planning to use one of these roads and you hear about a storm or strong winds coming, postpone your trip.
Remember these tips about driving in windy areas, they will come in handy:
Hold the wheel firmly at all times. Even if the wind does not seem that severe, one strong gust and you can end up on the side of the road. 

Avoid passing other cars. Buses, trucks as well as all other tall and heavy vehicles might have a hard time staying in their lanes and maintaining full control.

Counter side winds by steering the opposite direction. If side winds get strong enough, driving straight might not be enough.

Drive slowly. 

If you need to open car doors, hold them firmly. Use one hand to hold the door and open them with the other. That way you ensure an unexpected gust of wind doesn't rip the car door out of your hand, which could leave you with a bend.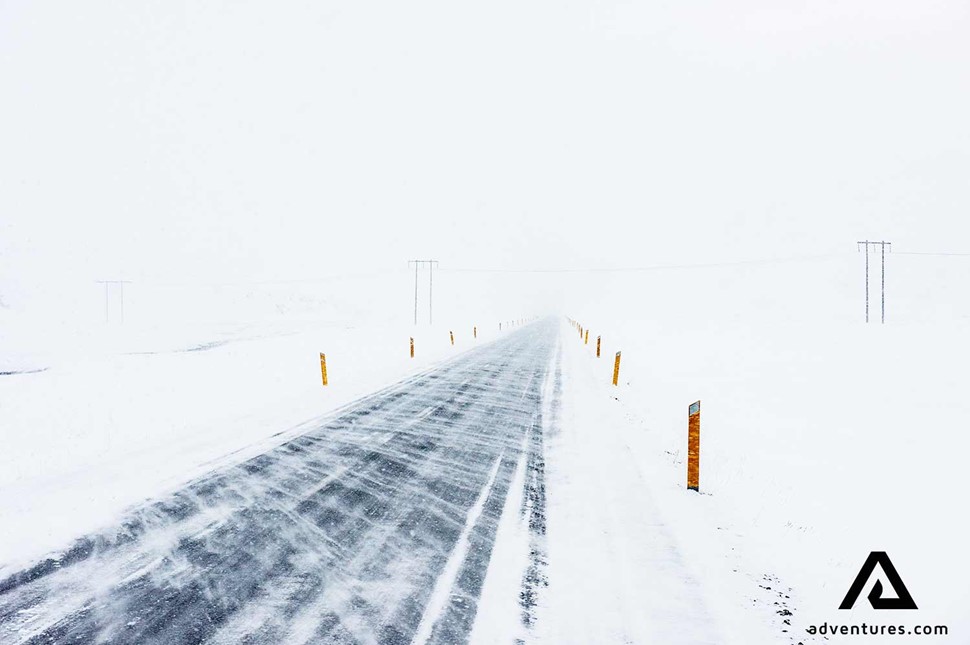 Driving Near Animals
Seeing a flock of sheep taking over the roads is quite common, especially in spring and summer. Sheep aren't known as the most intelligent of creatures, so you'll have to be patient. There really isn't much you can do about it, but if you keep honking and inching your car forward, you will eventually pass them. The same applies to any other domestic or wild animals blocking the roads.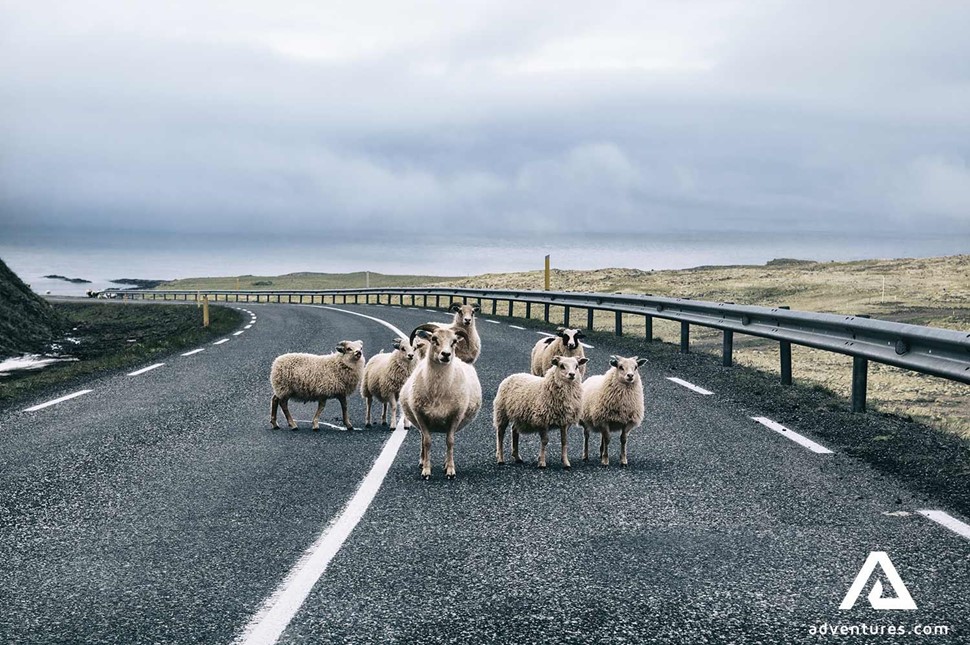 If you see animals gazing on the side of the road, drive past them slowly. Try not to scare them and don't drive fast - an animal can panic and run out in front of your car, which might not end well. 
Driving Under the Influence
It's safe to say that this is something you should never do.
Iceland has absolutely no tolerance for drunk driving. The legal threshold is 0.02%, or roughly half a beer. After that, the fines start at 70 000ISK (500USD) and your driving license gets suspended.
Needless to say, you would also be risking your safety and those around you, so please just choose to walk or take a taxi after a night out.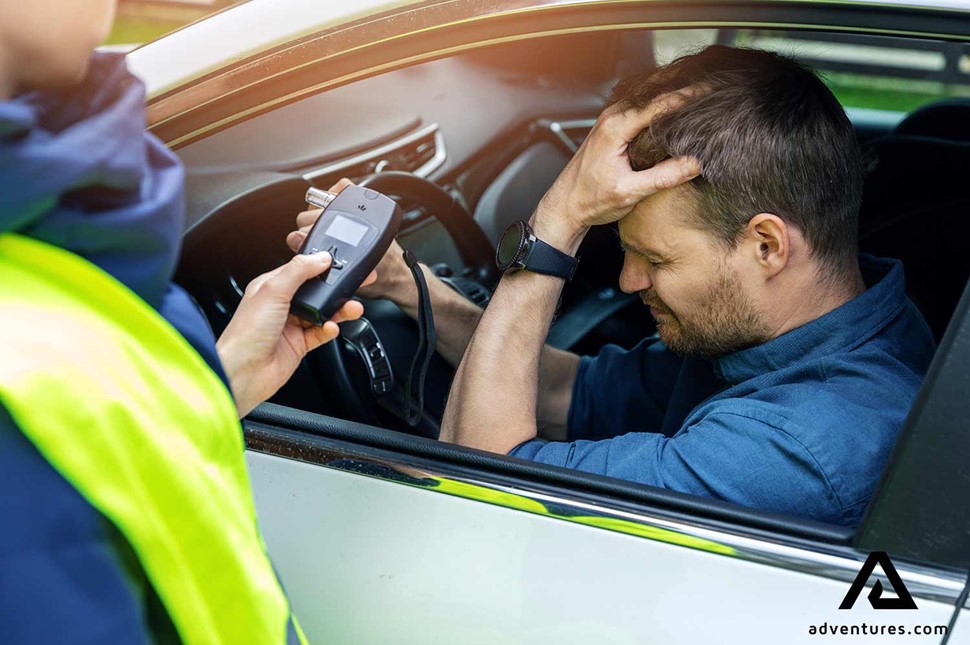 Iceland Emergency Numbers And Locations
Emergency number in Iceland: 112
Iceland country code: +354
Other important numbers:
Main hospital in Iceland:
Landspitali University Hospital
Address: Hringbraut 101, 101 Reykjavík
Phone number: 543 1000
Police station in Reykjavik:
Lögreglan á höfuðborgarsvæðinu
Address:  Hverfisgata 113, 105 Reykjavík
Phone number: 444 1000
Safety On Adventures.Com Tours
Our tours are organized with the most rigorous safety requirements in mind. The guides that work for Adventures.com are all qualified outdoors professionals and certified first aid experts. They also receive a lot of on site training upon joining our team.
The tours are designed for different levels of physical and mental preparation. We inform our clients about possible risks and difficulties involved to ensure that everyone participating can have a safe and enjoyable experience.
Plus, we always take weather conditions very seriously and postpone tours if we see there are risks involved. We understand it might be frustrating that things don't always go as planned, but your safety is our first priority and we make decisions accordingly.
However, no wilderness activity is foolproof and dangers are involved. If an accident occurs, we have a plan in place, which includes:
Communication (radio, satellite phones etc.)

First Aid and Rescue equipment carried by guides at all times.

Rescue and evacuation procedures.
The level of safety that an experienced guide brings to any activity is priceless, so consider joining one of our tours to explore Iceland as safely as possible.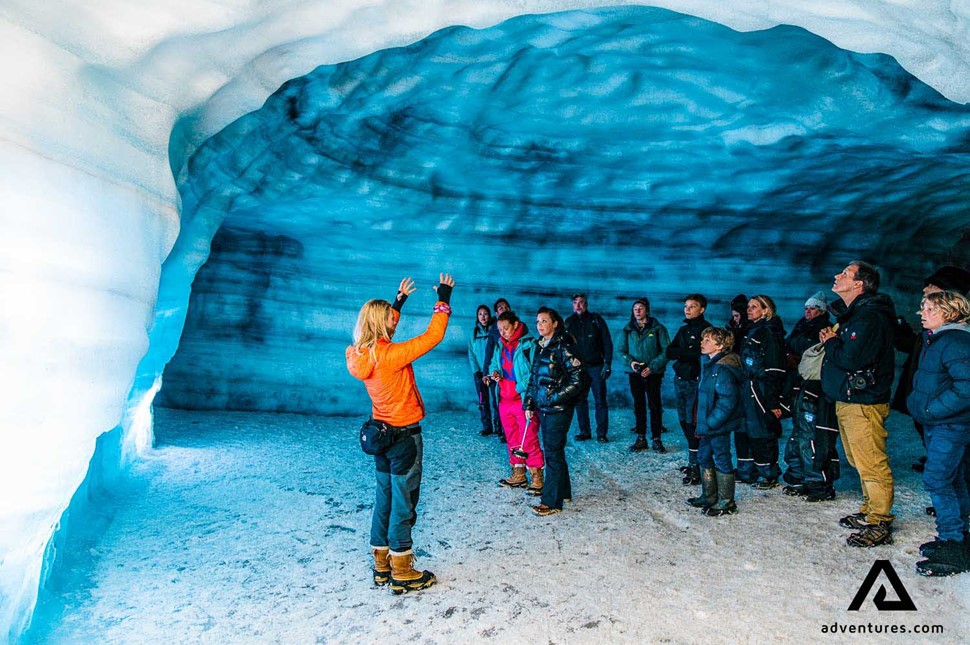 Iceland is a place that should be traveled to responsibly. Take warning signs seriously, stay on the safe side when making decisions and make unforgettable memories during your trip!