ABOUT HIKING IN ICELAND
THORSMORK VALLEY
Thorsmork is renowned for being one of the best places to hike in Iceland. It marks the end of the world-famous Laugavegur trail, consistently ranked as one of the best hiking trails in the world. The green valley is located in the Southern Highlands, around 90 miles (150 km) from Reykjavik, making it ideal for both single-day and multi-day hiking tours.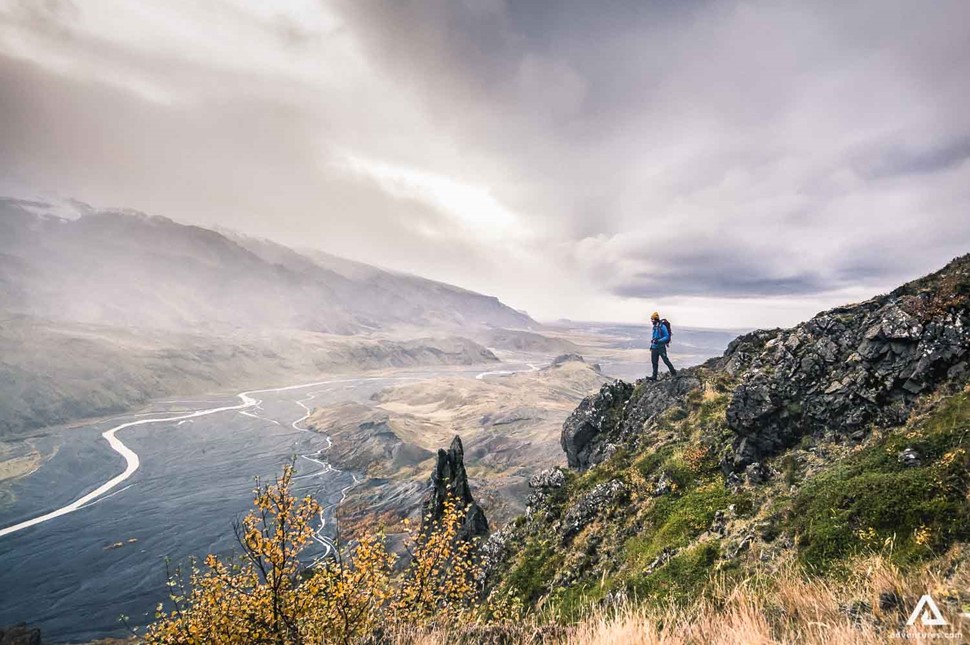 The Valley of Thorsmork appears prominently in the Icelandic sagas and continues to be popular among locals to this day. Legend claims that it was created by a single strike of Thor's mighty hammer (the name Thorsmork means "Valley of Thor"). The trail can be visited throughout the year, offering a vast range of hiking scenery that will surprise and delight in equal measure.
We offer a variety of guided tours that feature Thórsmörk and the Fimmvörðuháls trail. They include day and multi-day hikes in Iceland that will take you through the entire Laugavegur trail.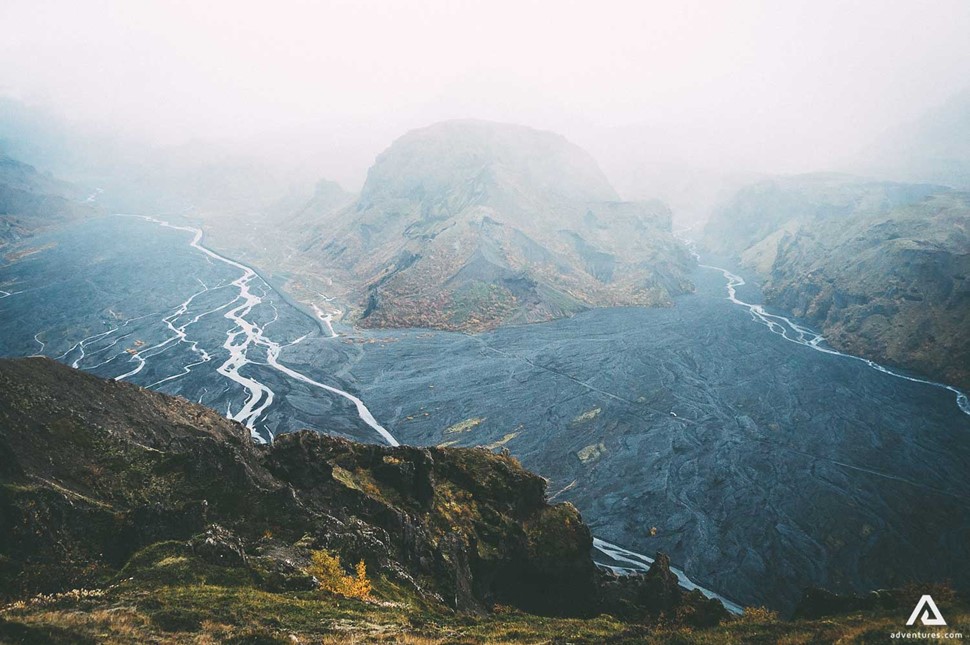 Landmannalaugar Highlands
The Landmannalaugar Nature Reserve is one of the most beautiful areas in the Highlands and plays host to a myriad of incredible landscapes that are ideal for hiking. It features colorful Rhyolite mountains, impressive Laugahraun lava field and relaxing hot springs. Landmannalaugar is situated around 118 miles (190 km) from Reykjavik and can only be reached in a 4x4 vehicle. We run a multitude of different hikes and trekking tours in Landmannalaugar, allowing outdoor enthusiasts to explore the best hiking trails in Iceland.
The famous Laugavegur hiking trail begins in Landmannalaugar and ends at Thórsmörk. It is consistently rated as one of the 10 best hiking trails in the world and is a favorite of local and international hikers alike.
Landmannalaugar is blessed with many hot springs, allowing hikers to have a relaxing soak after a long day hiking. Landmannalaugar more than merits its reputation as a place of pilgrimage for hikers across the world.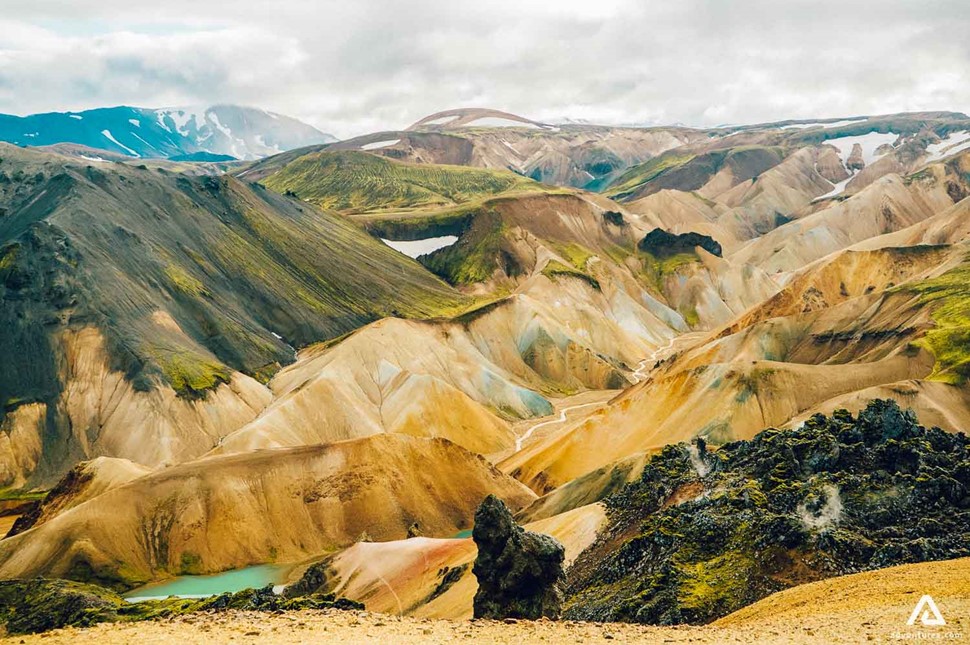 Kerlingarfjöll Mountain Range
Kerlingarfjöll Mountain Range is known for multi-colored rhyolite mountains and geothermal hot springs. The name of this 10,000-year-old mountain range comes from an old legend. It says that the woman troll traveled there and was turned into stone but the morning sun. The first part of the name 'Kerling' means an old lady, and the second part, 'fjöll,' means the mountain. You can still notice the troll woman standing there while hiking the area. 
Kerlingarfjöll has several geothermal areas, but Hveradalir is the most famous among them. Here you can explore bubbling hot springs and mud pots and see the steam rising from the canyons between the mountains. You can even bathe in some hot springs, but be careful! Some of them are better to be admired only from afar.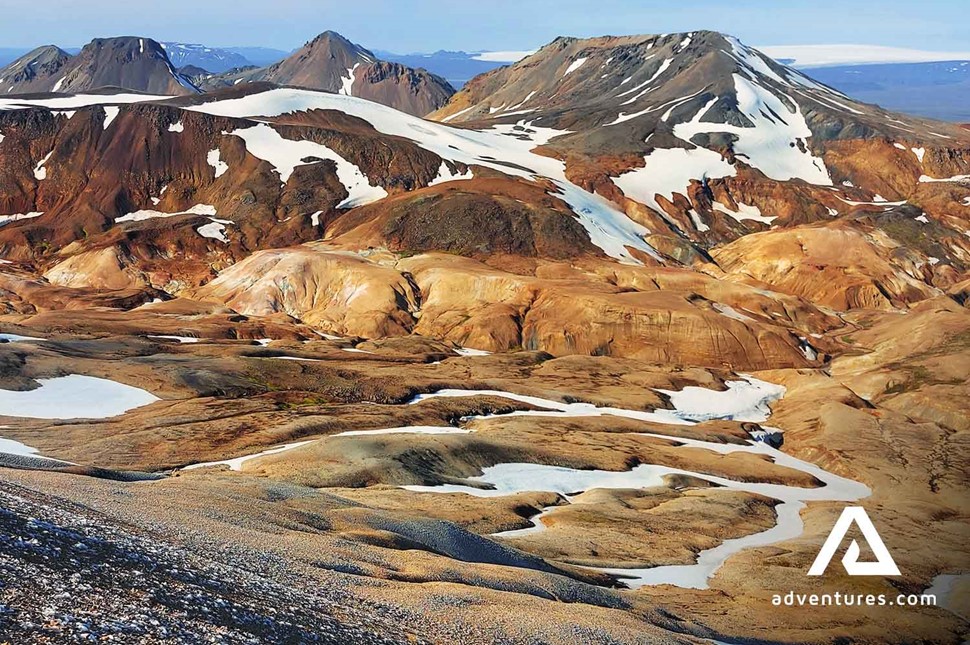 Snæfellsjökull Glacier
Snæfellsjökull Glacier is situated on the Snæfellsnes Peninsula and offers some of the best glacier hikes in the world. Its peak rises 4,744 ft (1,446 m) above sea level, offering spectacular views of the rest of the peninsula, the Atlantic Ocean and the East Coast of Greenland on clear days. We offer single day and multi-day combo tours that allow you to explore this natural wonder in all of its glory with sightseeing and lava caving adventures.
Hikes to the summit usually take between three and five hours, depending on the weather. Most routes begin at the small fishing village of Arnarstapi and are around 4-5 miles (7-8 km). We strongly recommend doing so in the company of a professional guide, as the route can be dangerous – passing over crevasses and craters during the ascent. If you are looking for a unique glacier hiking experience, then check out the many Snæfellsjökull Glacier tours that we offer!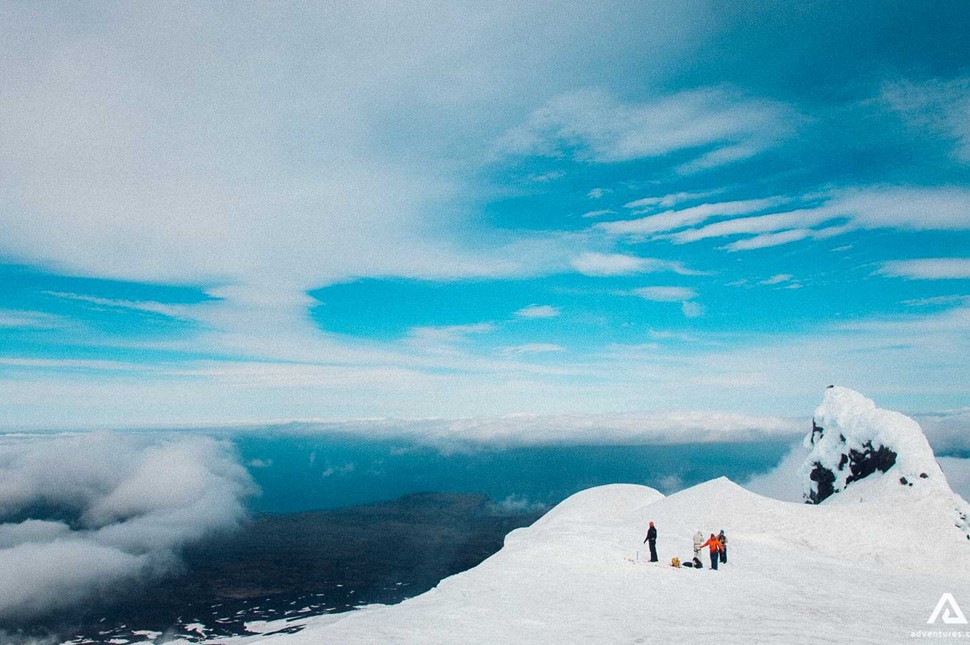 Reykjadalur Geothermal Area
The Reykjadalur Geothermal Area is the perfect demonstration of the geothermal power that is bubbling beneath our feet. The area is located around 28 miles (45 km) to the south of Reykjavik. Reykjadalur is famed for its panoramic views of the Hellisheiði mountains, along with the wispy plumes of steam, rising high above the valley.
Most popular tours to Reykjadalur center around a relaxing soak in the hot spring river, which is around 1.8 miles (3 km) from the start of the trail. It's an easy hike, passing through weaving valleys and verdant countryside, which is dotted by other hot springs. Notable attractions along the way include a small canyon called Djupagil and Djupagilsfoss waterfall.
We offer a variety of different guided hiking tours in Reykjadalur, which often combine a hike to the hot spring river with a ride on a traditional Icelandic horse. Icelanders are especially proud of their horses and their famous gait, the tölt. They are perfectly adapted to the unpredictable Icelandic weather conditions and provide a great way to explore Reykjadalur.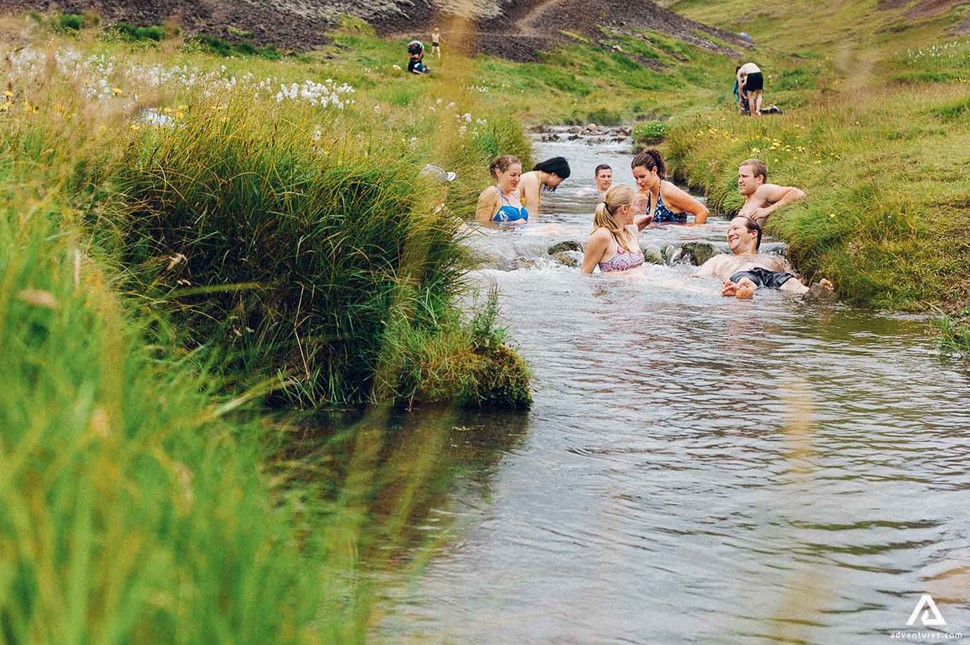 Glymur Waterfall
A fantastic nickname for Iceland would be the land of waterfalls. The waterfalls in Iceland come in all shapes and sizes – offering a multitude of picturesque trails to explore on your hiking vacations. Glymur is the second highest waterfall in Iceland – making for a scenic hike and some incredible photo opportunities.
The name Glymur refers to the deep rumbling sound the waterfall makes as it echoes in its hidden canyon. The scenic hike to its 650-ft (198-m) summit takes between two and three hours. Along the way, you'll see Hvalfjordur (the Whale Fjord), a lava cave and endless rolling green fields.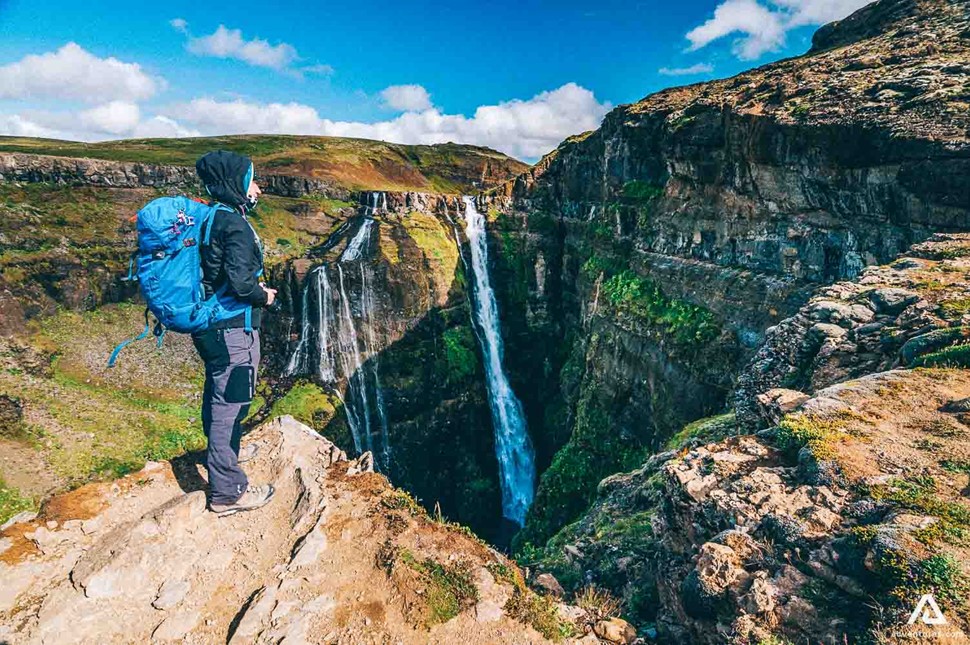 Hiking Tours Near Reykjavik
There are a host of other great places to hike near Reykjavik, including:
The Heidmork nature reserve is a popular local hiking destination situated on the outskirts of Reykjavik. It's incredibly beautiful and the backdrop to many excellent photographs. Be careful of the moss-covered terrain, which is very fragile. If you visit in winter, then why not try out some cross-country skiing on Heidmork's snow-covered slopes?
Mt. Esja is another excellent hiking destination in the region. It contains a multitude of different hiking trails that are all clearly marked, ensuring that they can be completed by beginners and experienced hikers alike.
Two of the most famous Esja trails are Þverfellshorn (2,559 ft / 780m) and Kerhólakambur (2,792 ft / 851m). Mt. Esja's summit stands 2,999 ft (914 m) above sea level and offers breathtaking vistas over Reykjavik and the Atlantic Ocean.
Another hiking option near Reykjavik is Mt. Helgafell in Hafnarfjörður. It's quieter than the aforementioned trails and isideal for anyone who wants a fun and relaxing hike amidst spectacular scenery.
Where to Hike in East Iceland?
East Iceland is home to a host of exceptional hiking trails for visitors to enjoy. They include perfect trails for backpacking trips or short hikes. Some of the best trails are:
Storurd – a secluded valley situated in Mt. Dyrfjoll. The trek lasts for around 7 hours and gains about 1969 ft (600 m) in elevation.
Mt Snaefell – located in the Vatnajökull National Park, home to the largest icecap in Europe, Vatnajökull Glacier. The trail begins at the Snaefellsskali Mountain Hut in the foothills of Mt Snaefell. The hike lasts between 6-7 hours and is suitable for experienced hikers.
Skalanes – a three-hour hike that takes you across a myriad of different landscapes, including meadows, waterfalls, and coastline. It's ideal for anyone who is interested in Iceland's history – we recommend checking out the nearby farm and village along the route.