LANDMANNALAUGAR WEATHER
Similar to the rest of Iceland, the weather at Landmannalaugar can be unpredictable. It's possible to face chilly winds, snow/rain, and warm sun all in one day. Yet, while the weather may be unpredictable, Landmannalaugar's stunning view always remains the same and makes any weather worth your while.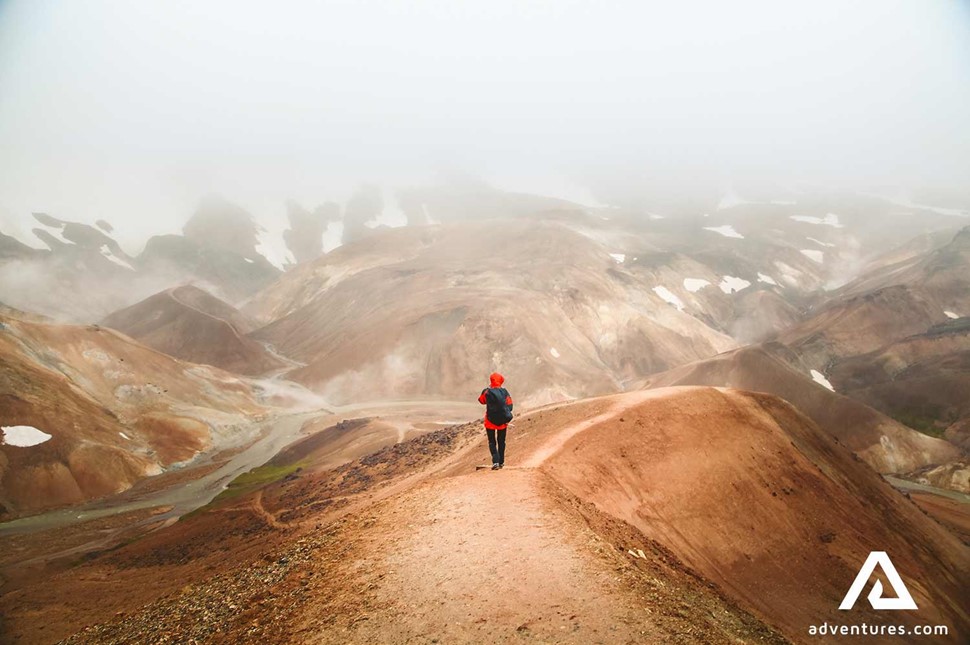 Summer temperatures at Landmannalaugar range between 5 and 15°C (41-59°F). No matter the temperature, we always recommend that trekkers bring warm layers as the strong winds can be brisk. During winter, expect temperatures to hover around -5°C (23°F).
Before heading out, make sure to check the road and weather conditions. If you want to get an even better peek at the weather, take a look through a live Landmannalaugar webcam.
WHAT TO DO IN LANDMANNALAUGAR
Landmannalaugar Valley's dynamic terrain and geothermal hot springs create the ultimate trekking environment. To enjoy all that Landmannalaugar has to offer, we recommend going on a day or multi-day tour with knowledgeable hiking guides.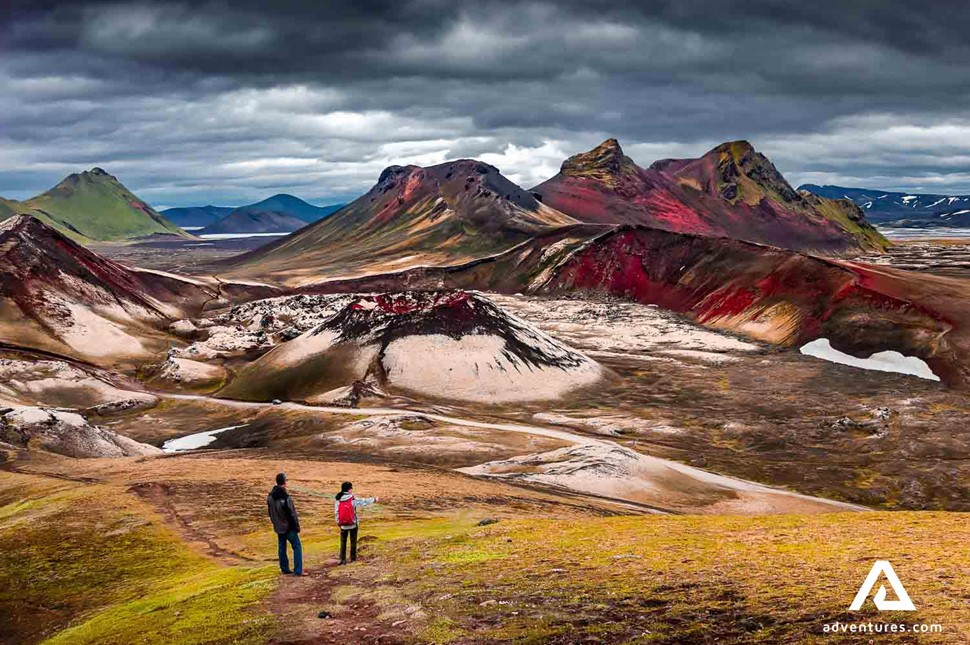 Multi-day Landmannalaugar Treks
Landmannalaugar is the northern starting point for the Laugavegur Trail — not only Iceland's number one trek, but also one of the best hikes across the globe. The 55 km hiking trail in the Southern Highlands links Landmannalaugar to Thorsmork (the "Valley of Thor") and takes around 4 days to complete. 
We recommend booking a guided Laugavegur Trail tour to get up close and personal to the famous trail's snow-capped mountains, green valleys, and remote locations. Our Laugavegur multi-day hikes truly make planning easy—simply walk through Landmannalaugar's colorful mountainscape while we take care of hut-to-hut luggage transport and accommodation.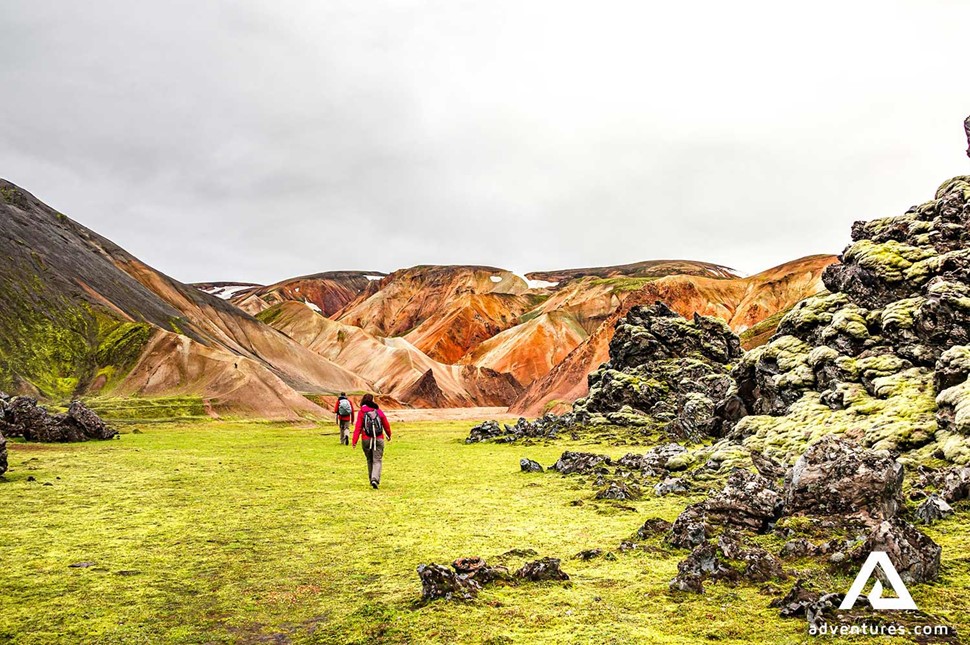 For adventurers who want to spend more time exploring Landmannalaugar's stunning natural wonders, it's possible to go on a Landmannalaugar multi-day hike. Journey into the geothermal wonderland as you discover the area's top attractions, including Brennisteinsalda Volcano, Vondugil Canyon, Lake Frostastadavatn, and the Blue Peak of Landmannalaugar.   
Day Hikes at Landmannalaugar
Only want to spend the day at Landmannalaugar? The area is also an excellent spot for day hikes. The Brennistainsalda (Sulfur Wave) Hike is a 3-4 hour hike that takes you up the colorful Brennisteinsalda rhyolite mountain. The hike is only 6.7 km in length, making it a top option for hikers looking for a short trail to explore. 
Another option is the Blahnukur (the Blue Peak) Hike — a beautiful 5.6 km hike that leads you up Landmannalaugar's famous Bláhnúkur Mountain. True to its name, the mountain's dazzling blue color makes it worth the steep climb. When you reach the top, a mindblowing highland landscape awaits you.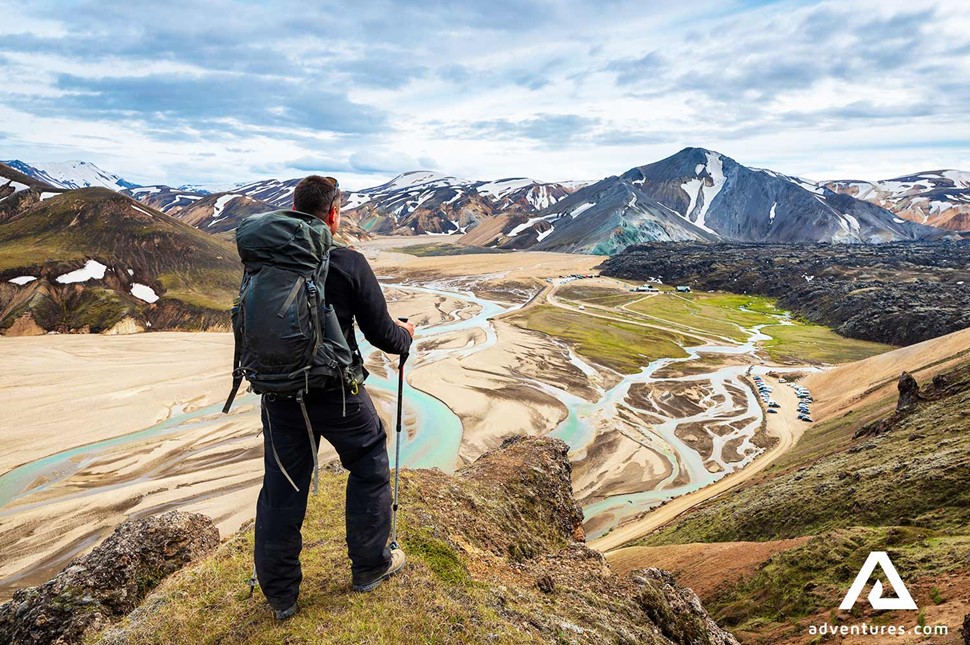 Visit Landmannalaugar Hot Springs
Landmannalaugar Valley is filled with geothermal hot springs that are unlike any others in the Highlands. With warm water temperatures and brilliant mountain panoramas, these springs are the perfect place to relax after a day's hike. 
Want to add a hot spring soak to your hiking adventure? Our Landmannalaugar day and multi-day tours include guided visits to the best geothermal pools in the valley. 
We recommend booking a geothermal bathing tour at Landmannalaugar. Hike through the Landmannalaugar and Hekla Volcano region before bathing in a geothermal paradise. The lava-heated waters and surrounding views are sure to make unforgettable memories.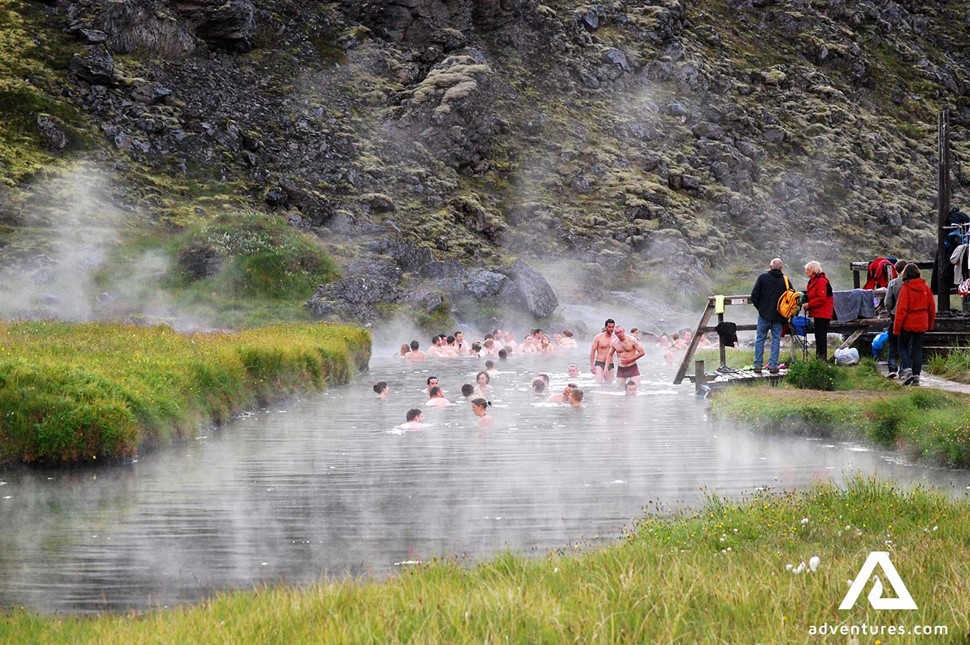 WHERE TO STAY NEAR LANDMANNALAUGAR
While there aren't many hotels near Landmannalaugar Valley, visitors are able to stay at mountain huts and campsites in the area. Staying overnight at mountain huts and campsites is always a great addition to an already thrilling adventure. 
When planning your Landmannalaugar trip, keep in mind that the area is a very popular spot. This is especially true for the mountain hut, which requires booking far in advance. If you don't want to deal with the stress of booking accommodation, our guided hiking tours will take care of that for you.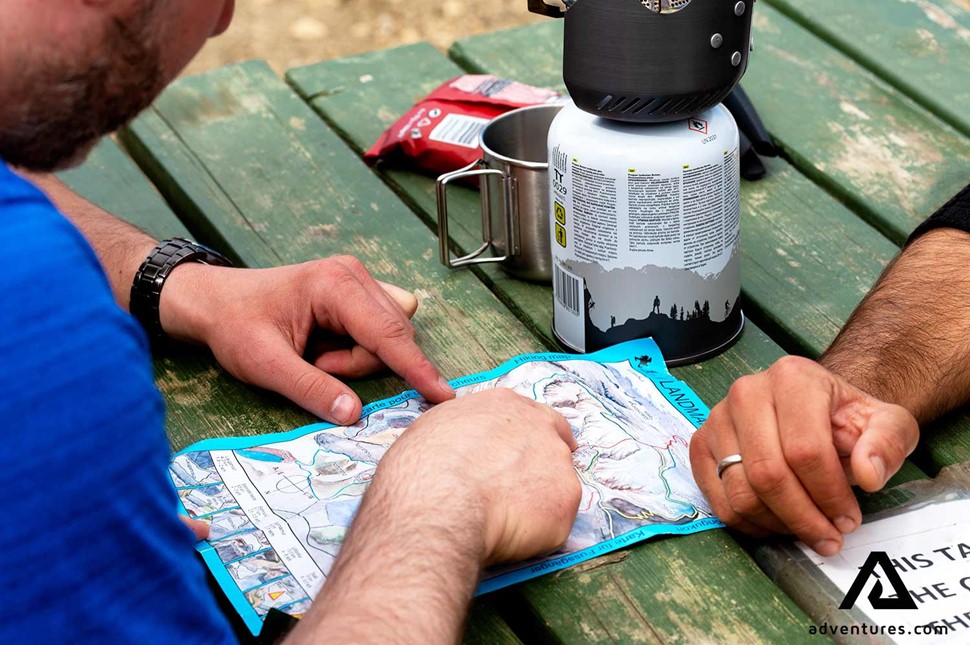 Landmannalaugar Mountain Hut
The Icelandic Touring Association operates a large mountain hut for Landmannalaugar visitors staying overnight. The hut is conveniently situated next to Laugahraun lava field and Landmannalaugar hot springs. 
Landmannalaugar hut is equipped with a toilet house and guests are able to use showers at an extra cost of 500 ISK. The hut's accommodation includes a sleeping hall, bunk beds, and dorm rooms. Sleeping bags and blankets are not provided, so don't forget to pack your summer sleeping bag!
The hut also comes with all kitchen essentials, including warm running water and a gas stove. And though it isn't possible to buy warms meals in the area, you can find basic goods at the Mountain Mall — an old school bus now used as a supplies shop.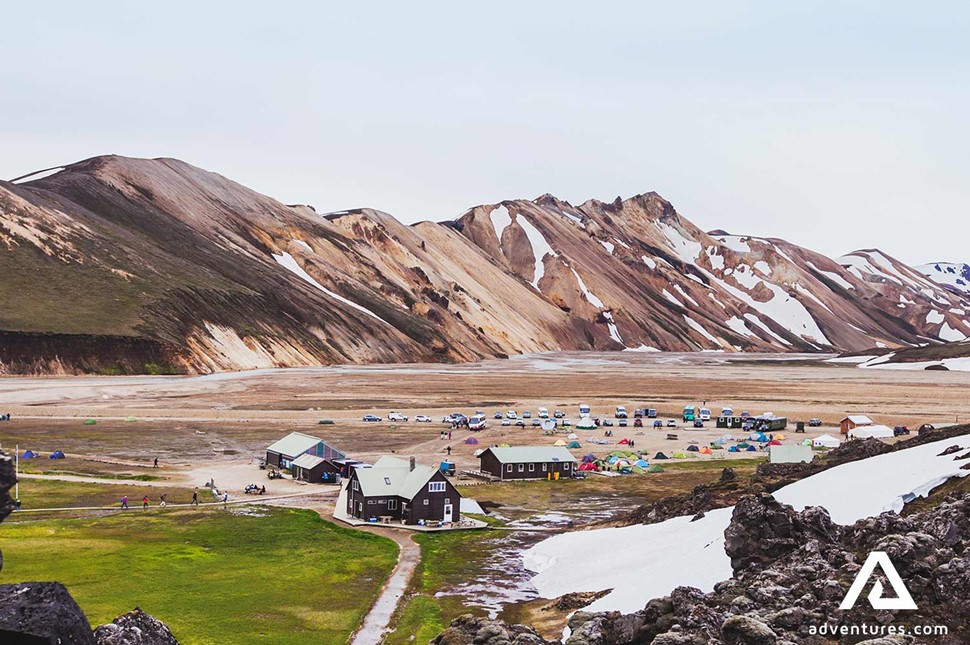 Camping in Landmannalaugar
Aside from Landmannalaugar's mountain hut, hikers can also tent at a large campground in the valley. There's a parking lot connected to the campsite, where it is possible to park your vehicle overnight. We recommend campers bring along a therma-rest to make sure they stay warm overnight.
Landmannalaugar's campsite fee includes access to a heated building with showers and toilets. There's also an open dining space where guests can mingle and eat together. The site also has a Landmannalaugar Visitor Center, an information point for hikers who want to buy trail maps or get updated on the current weather conditions.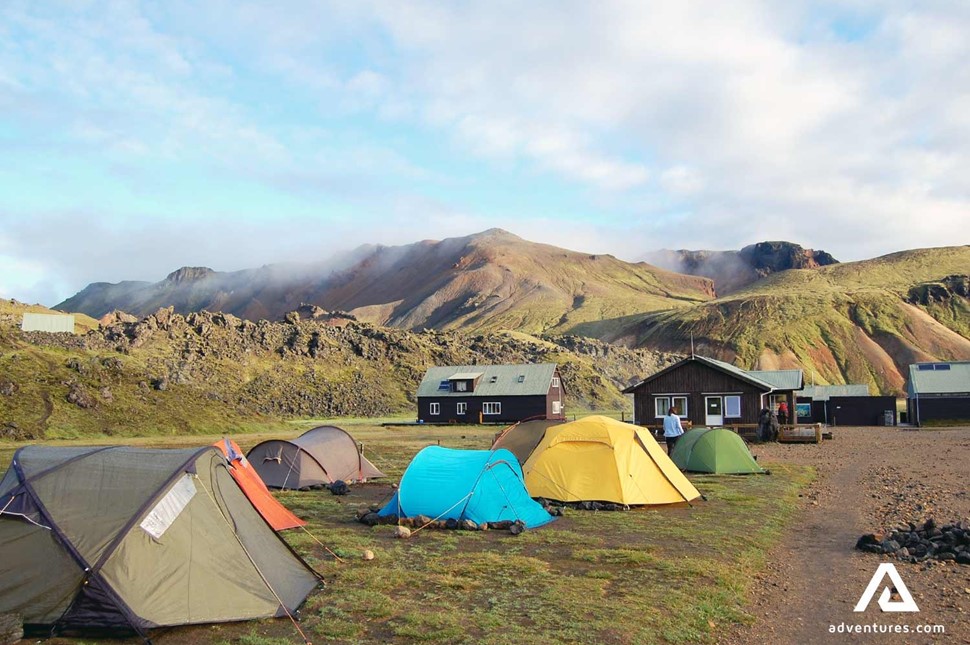 The Facilities
The tourist facilities at the base camp are fairly impressive. A big, two-floor mountain hut is located in the center of the base camp. It is owned by Ferðafélag Íslands, the Icelandic Touring Association. Downstairs is a spacious sleeping cabin with bunk beds, a kitchen, a large hall, and a storage room. Upstairs are three separate sleeping cabins and a small attic.
A large campground surrounds the lodge with space for hundreds of tents. The ground is, however, quite stony so it can be quite troublesome to stake tents there.
The campsite offers roofed cooking facilities and a dining area for campers with excellent sanitary facilities available in another heated building. The warm bathing pool is situated some 328 ft. (100 m) from the showers.
The Fjallabak Nature Reserve
The Fjallabak Nature Reserve is famous for its wild and rugged landscapes with colorful mountains and deep valleys. The glacier-topped volcano, Torfajökull, shaped the area through many volcanic eruptions and a high amount of geothermal activity, which still remains today.
This region's the largest rhyolite area in Iceland and the second largest geothermal area after Grímsvötn, which is hidden deep within the mighty Vatnajökul glacier. The hot springs and geothermal pools at Landmannalaugar are but one of many signs of the high geothermal activity in the region.
The bedrock of the Fjallabak Nature Reserve is approximately 8–10 million years old. The central volcano has erupted many times over the last 10,000 years, with the last eruption taking place around 1480 CE. This eruption formed most of the sites that we can see in Landmannalaugar today: the lava fields of Laugahraun, Námshraun, and Norđurnámshraun as well as the crater lake, Ljótipollur.
The Fjallabak Nature Reserve was established in 1979. It covers 47,000 hectares (470 sq. km) and protects the land's natural features so that future travelers will have the opportunity to enjoy them as we do today.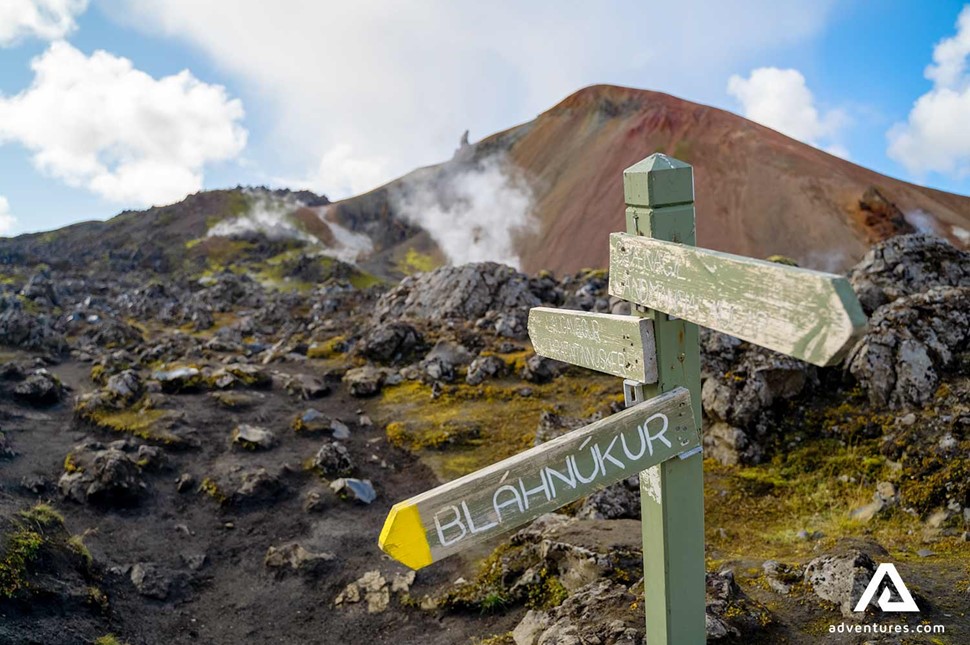 Natural Attractions in Landmannalaugar
The Rhyolite Mountains
The most remarkable natural attraction is the unique landscape itself. The mountains are made of rhyolite while the other geological elements - such as sulfur, iron, and moss - have painted the slopes in various shades of brown, yellow, pink, red, and blue.
The two most impressive mountains, Brennisteinsalda, the "Sulfur Wave", and Bláhnúkur, the "Blue Peak", are located very close to each other. This allows their colors to play off one another. Brennisteinsalda is mainly yellow with patches of red, pink, and some blue, while Bláhnúkur is dark grey and blue with patches of green. The additional patches of white snow add even more contrast to the scene.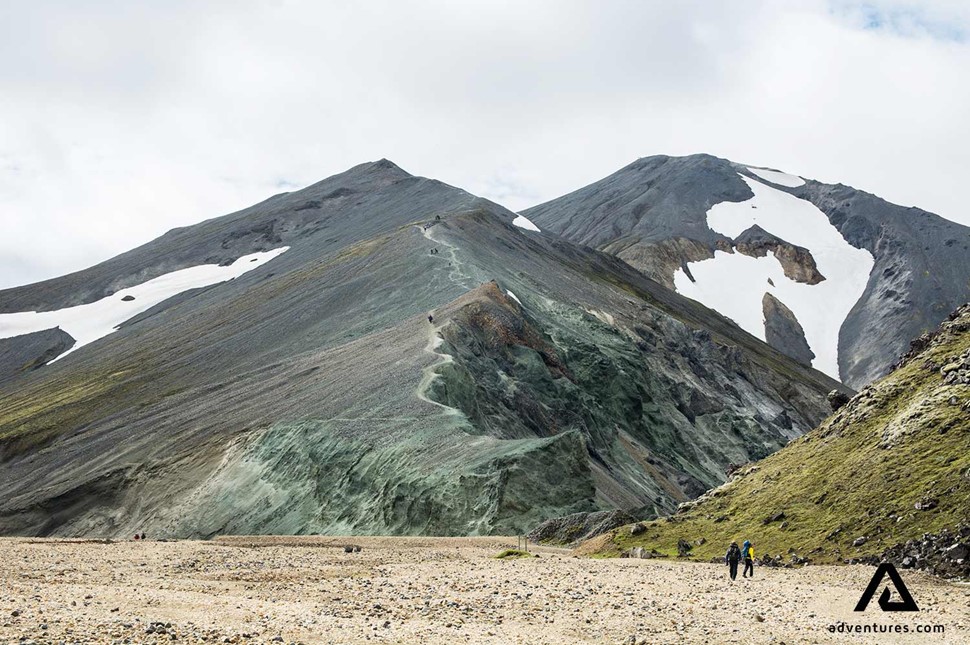 The Lava Fields
The most impressive lava field, Laugahraun, and the neighboring fields of Hrafntinnuhraun and Namshraun were created between 872 and 1480 CE. Colorful mountains surround these lava fields that stretch across the valleys. According to the local folklore, the solidified lava is home to all kinds of hidden creatures, such as trolls and elves. When you walk among the odd rock formations, it feels like being in another world.
The Hot Springs
From the edge of the Laugahraun lava field, several hot water streams spring up and become mixed with some cold water sources to create a warm river. In the past, people created a bathing area on the warm river that is still in use and free to the public. The word Landmannalaugar translates as the "People's Pool", referring to the long history of travelers enjoying the benefits of this warm oasis in the middle of nowhere.
The naturally warm pool is an ideal bathing place all year round with temperature that remains around 36–40ºC (96.8–104ºF) even in the middle of the snowy winter.
Grænagil Canyon
There is a picturesque canyon near the foot of Bláhnúkur and close to the base camp that offers very curious natural sights. The walls of the canyon are made of a type of green rock that looks completely surreal. It's a very easy and rewarding hike to the canyon, suitable for those with a tight timeframe, families with children, and people who are not used to hiking.
Ljótipollur, the Ugly Puddle
The name of this site is absolutely misleading. Ljótipollur is a small crater lake that is not at all ugly. It's a stunning gem full of blue water with green mosses growing along the slopes of the surrounding crater, surrounded by red lava rock.
Ljótipollur is located 5.6 mi. (9 km) from the basecamp. To go there and back is a nice day hike or just an half-an-hour's drive.
Epic Hiking Trails
Landmannalaugar is filled with fascinating hiking trails. The length and the difficulty of the trails are highly varied as well as the landscapes they lead across. The most popular short trails are the ones that cross the Laugahraun lava field and lead up to Brennisteinsalda and Bláhnúkur volcanoes.
One trail starts at the base camp and leads to the peaks of both mountains at approximately 2950 and 3280 ft. (900 and 1000m). The loop hike is approximately 6.2 mi. (10 km) long and takes 5–6 hours to walk as it takes about 2–3 hours to reach each summit.
Landmannalaugar is also the starting or ending point for the famous Laugavegur Trek, which has been listed among the best hikes in the world by National Geographic and many other outdoor magazines. The Laugavegur Trail leads south through the Fjallabak Nature Reserve and ends in the forested valley of Thórsmörk. This much-loved hiking route is about 34 mi. (55 km) long and commonly takes hikers 3–5 days to complete.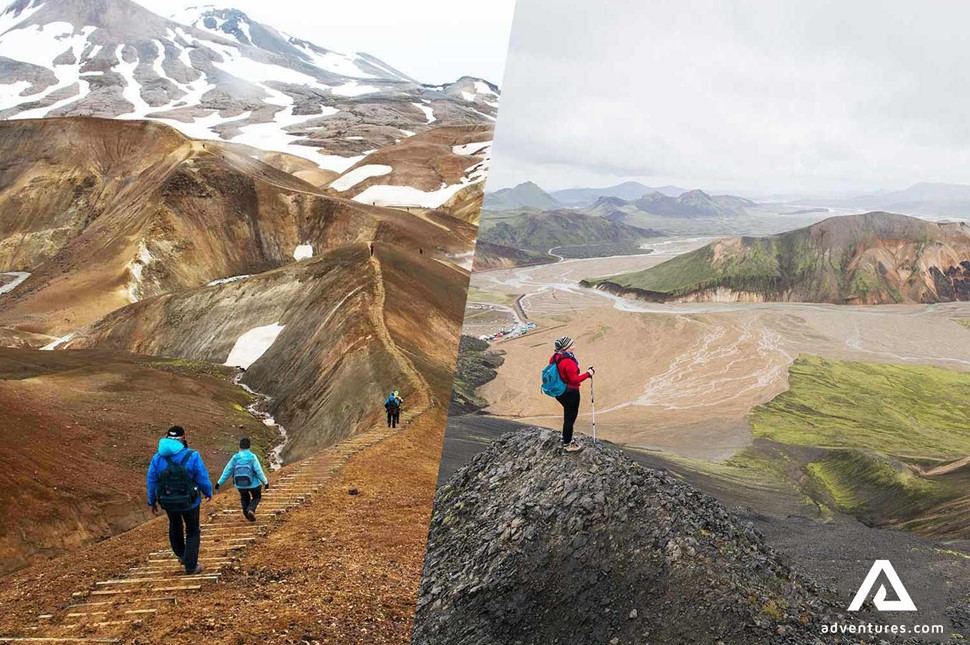 How to Dress and What to Bring to Landmannalaugar
For those who plan to hike in the Icelandic Highlands, we recommend the following gear:
All Year
A waterproof, windproof shell layer
A breathable insulating layer, a fleece sweater, and/or a down jacket
A quick-drying and comfortable otdoor undergarment (not cotton)
Sturdy, waterproof hiking boots
Gloves and a hat
A scarf or a buff
GPS and a map
A swimsuit and a towel
For Camping
A sturdy 3- or 4-season tent
Extra stakes
A mattress with good insulation
A sleeping bag with a comfort rating of 0–5°C (32–41°F)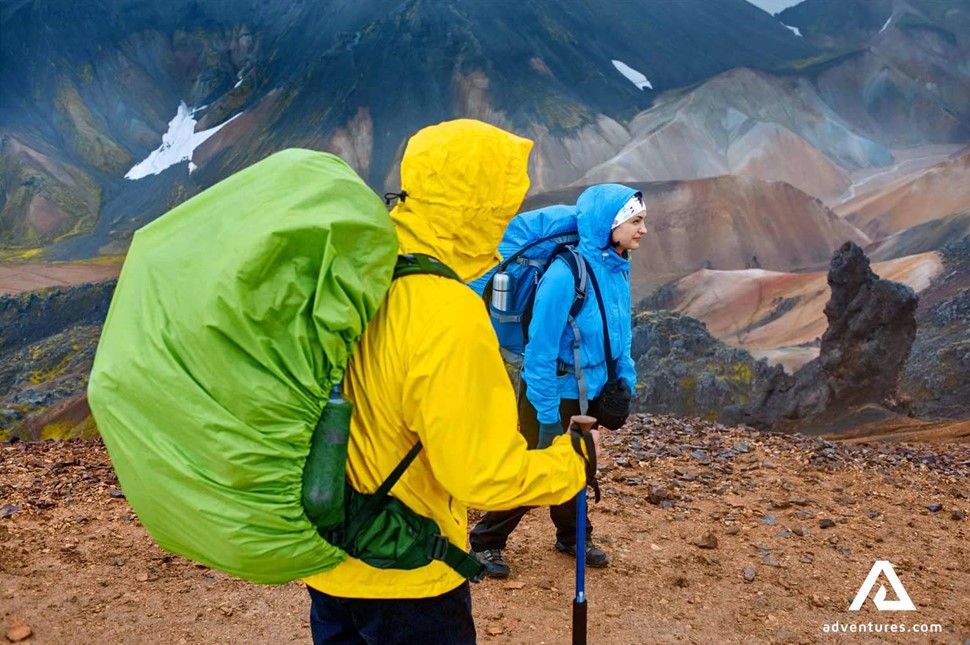 Safety and Travel Etiquette
The natural environment in Landmannalaugar is as delicate as it is enchanting. Driving off-road is illegal everywhere in Iceland and is subject to heavy fines.
Avoid walking outside of the designated hiking paths and do not step on the moss. Remember to leave no trace! The slightest bit of damage can cause irreversible erosion that can easily spread over a larger area. Do not litter and be kind enough to pick up any trash that others have left behind.
When hiking in the Highlands, it's crucial to have a GPS device with you. Storms, poor visual conditions, and network coverage problems can occur at any time in this remote wilderness. If you plan on going for a hike alone, always leave your travel plan behind.
Always check the weather forecast, road conditions, and safety warnings before you hit the road. Get more tips at safetravel.is.
Visiting Landmannalaugar could easily be the highlight of your trip to Iceland. Regardless of the season in which you visit, this colorful oasis in the barren Arctic wilderness will surely bring you unforgettable memories!