LANDMANNALAUGAR WEATHER
Similar to the rest of Iceland, the weather at Landmannalaugar can be unpredictable. It's possible to face chilly winds, snow/rain, and warm sun all in one day. Yet, while the weather may be unpredictable, Landmannalaugar's stunning view always remains the same and makes any weather worth your while.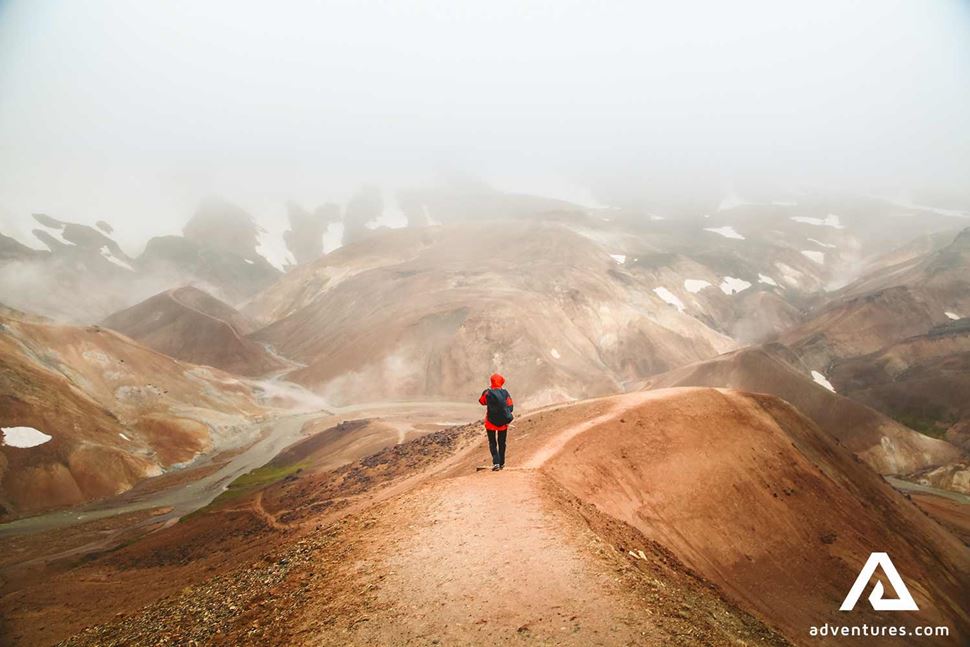 Summer temperatures at Landmannalaugar range between 5 and 15°C (41-59°F). No matter the temperature, we always recommend that trekkers bring warm layers as the strong winds can be brisk. During winter, expect temperatures to hover around -5°C (23°F).
Before heading out, make sure to check the road and weather conditions. If you want to get an even better peek at the weather, take a look through a live Landmannalaugar webcam.
WHAT TO DO IN LANDMANNALAUGAR
Landmannalaugar Valley's dynamic terrain and geothermal hot springs create the ultimate trekking environment. To enjoy all that Landmannalaugar has to offer, we recommend going on a day or multi-day tour with knowledgeable hiking guides.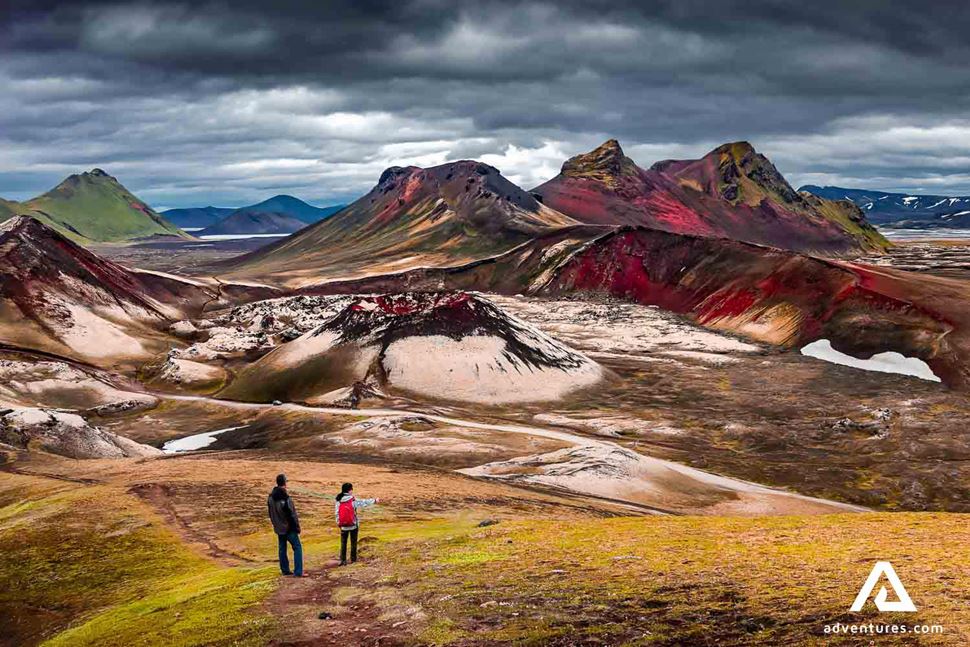 Multi-day Landmannalaugar Treks
Landmannalaugar is the northern starting point for the Laugavegur Trail — not only Iceland's number one trek, but also one of the best hikes across the globe. The 55 km hiking trail in the Southern Highlands links Landmannalaugar to Thorsmork (the "Valley of Thor") and takes around 4 days to complete. 
We recommend booking a guided Laugavegur Trail tour to get up close and personal to the famous trail's snow-capped mountains, green valleys, and remote locations. Our Laugavegur multi-day hikes truly make planning easy—simply walk through Landmannalaugar's colorful mountainscape while we take care of hut-to-hut luggage transport and accommodation.
For adventurers who want to spend more time exploring Landmannalaugar's stunning natural wonders, it's possible to go on a Landmannalaugar multi-day hike. Journey into the geothermal wonderland as you discover the area's top attractions, including Brennisteinsalda Volcano, Vondugil Canyon, Lake Frostastadavatn, and the Blue Peak of Landmannalaugar.   
Day Hikes at Landmannalaugar
Only want to spend the day at Landmannalaugar? The area is also an excellent spot for day hikes. The Brennistainsalda (Sulfur Wave) Hike is a 3-4 hour hike that takes you up the colorful Brennisteinsalda rhyolite mountain. The hike is only 6.7 km in length, making it a top option for hikers looking for a short trail to explore. 
Another option is the Blahnukur (the Blue Peak) Hike — a beautiful 5.6 km hike that leads you up Landmannalaugar's famous Bláhnúkur Mountain. True to its name, the mountain's dazzling blue color makes it worth the steep climb. When you reach the top, a mindblowing highland landscape awaits you.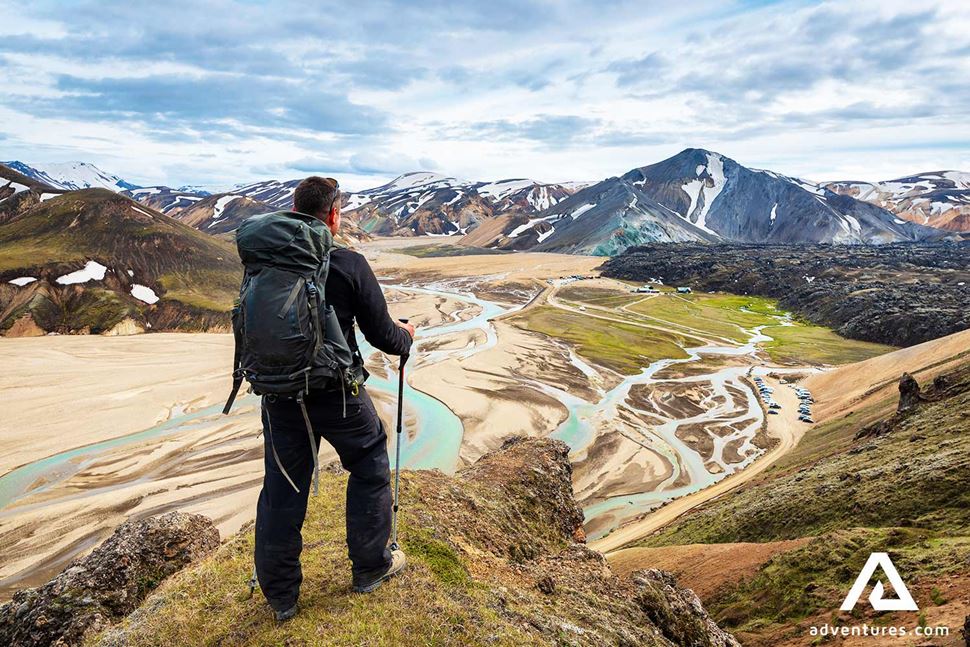 Visit Landmannalaugar Hot Springs
Landmannalaugar Valley is filled with geothermal hot springs that are unlike any others in the Highlands. With warm water temperatures and brilliant mountain panoramas, these springs are the perfect place to relax after a day's hike. 
Want to add a hot spring soak to your hiking adventure? Our Landmannalaugar day and multi-day tours include guided visits to the best geothermal pools in the valley. 
We recommend booking a geothermal bathing tour at Landmannalaugar. Hike through the Landmannalaugar and Hekla Volcano region before bathing in a geothermal paradise. The lava-heated waters and surrounding views are sure to make unforgettable memories.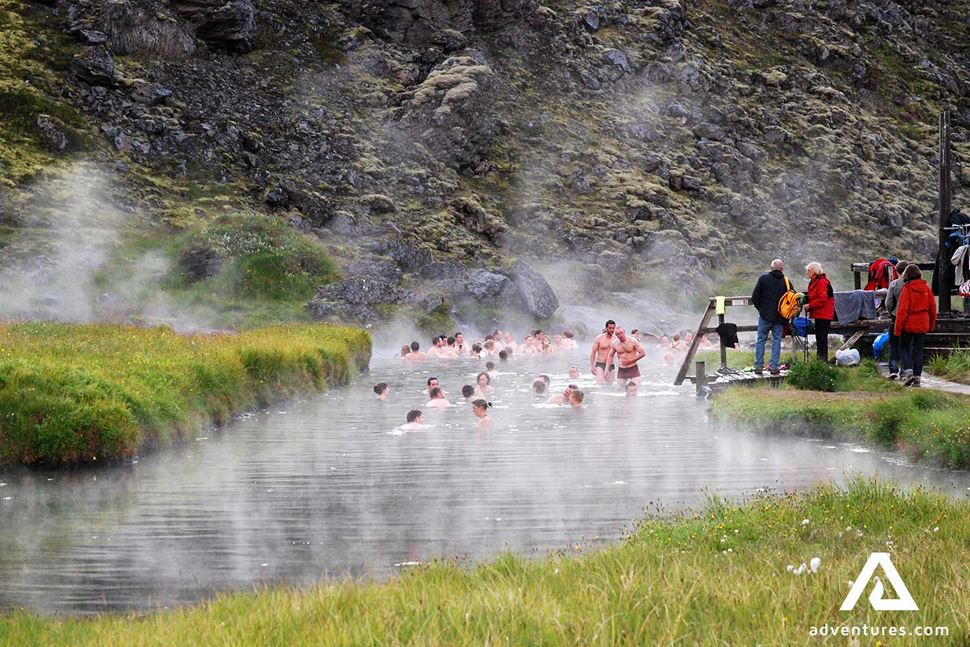 WHERE TO STAY NEAR LANDMANNALAUGAR
While there aren't many hotels near Landmannalaugar Valley, visitors are able to stay at mountain huts and campsites in the area. Staying overnight at mountain huts and campsites is always a great addition to an already thrilling adventure. 
When planning your Landmannalaugar trip, keep in mind that the area is a very popular spot. This is especially true for the mountain hut, which requires booking far in advance. If you don't want to deal with the stress of booking accommodation, our guided hiking tours will take care of that for you.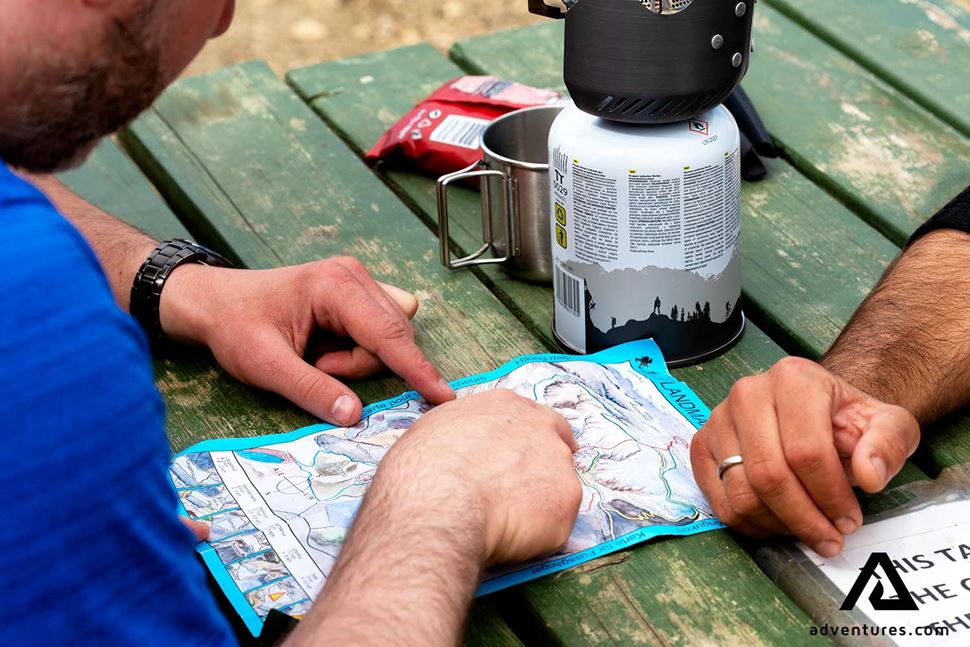 Landmannalaugar Mountain Hut
The Icelandic Touring Association operates a large mountain hut for Landmannalaugar visitors staying overnight. The hut is conveniently situated next to Laugahraun lava field and Landmannalaugar hot springs. 
Landmannalaugar hut is equipped with a toilet house and guests are able to use showers at an extra cost of 500 ISK. The hut's accommodation includes a sleeping hall, bunk beds, and dorm rooms. Sleeping bags and blankets are not provided, so don't forget to pack your summer sleeping bag!
The hut also comes with all kitchen essentials, including warm running water and a gas stove. And though it isn't possible to buy warms meals in the area, you can find basic goods at the Mountain Mall — an old school bus now used as a supplies shop.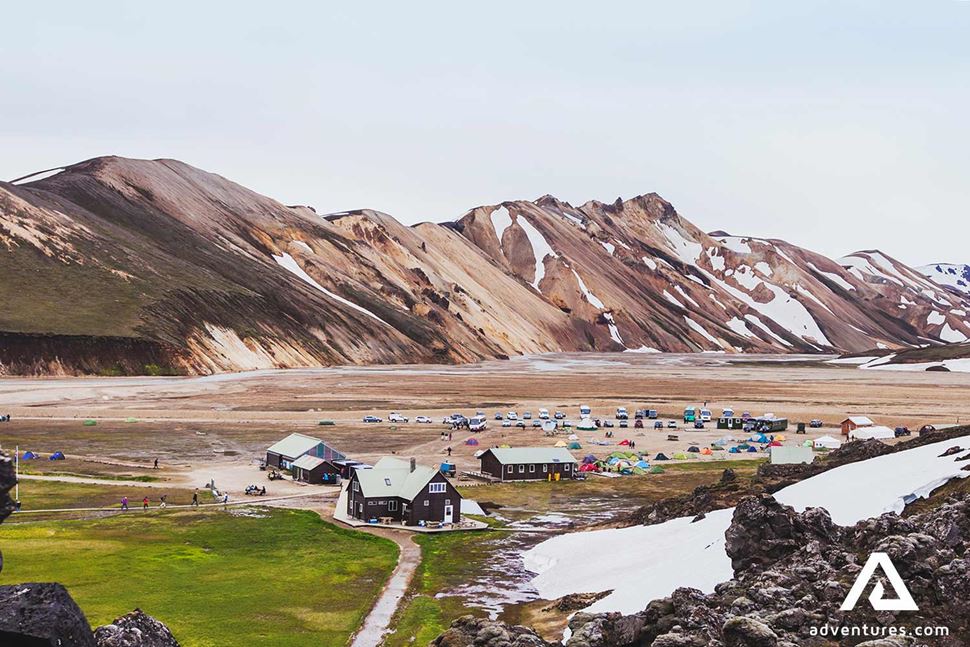 Camping in Landmannalaugar
Aside from Landmannalaugar's mountain hut, hikers can also tent at a large campground in the valley. There's a parking lot connected to the campsite, where it is possible to park your vehicle overnight. We recommend campers bring along a therma-rest to make sure they stay warm overnight.
Landmannalaugar's campsite fee includes access to a heated building with showers and toilets. There's also an open dining space where guests can mingle and eat together. The site also has a Landmannalaugar Visitor Center, an information point for hikers who want to buy trail maps or get updated on the current weather conditions.