Best Iceland South Coast Tours not to miss out on:
Glacier Hiking Tours on South Coast
Knowing that Iceland is often called the country of "fire and ice," it would be a sin to miss an opportunity to explore its "icey" side and the country's beautiful glaciers from up close. During the glacier hiking tour, you'll learn about the glacier, how it's formed, and some other interesting facts.
If you're curious about going on a glacier hiking adventure, but you're afraid that you're not quite ready, don't worry, as there are different kinds of tours suited for all types of travelers. Your first acquaintance with a glacier could be going on a glacier walk on the Sólheimajökull glacier. This 11-kilometer-long glacier tongue is part of a bigger glacier – Myrdalsjokull. What's exciting and important to know about Sólheimajökull is that because of its shape and location, this glacier is highly sensitive to climate change and prone to retreat. Due to global warming, glaciers might disappear in a couple of hundred years. So don't miss out on the opportunity to explore Sólheimajökull and see its blue ice, distinct formations, and crevasses without putting too much effort into preparing for the trip.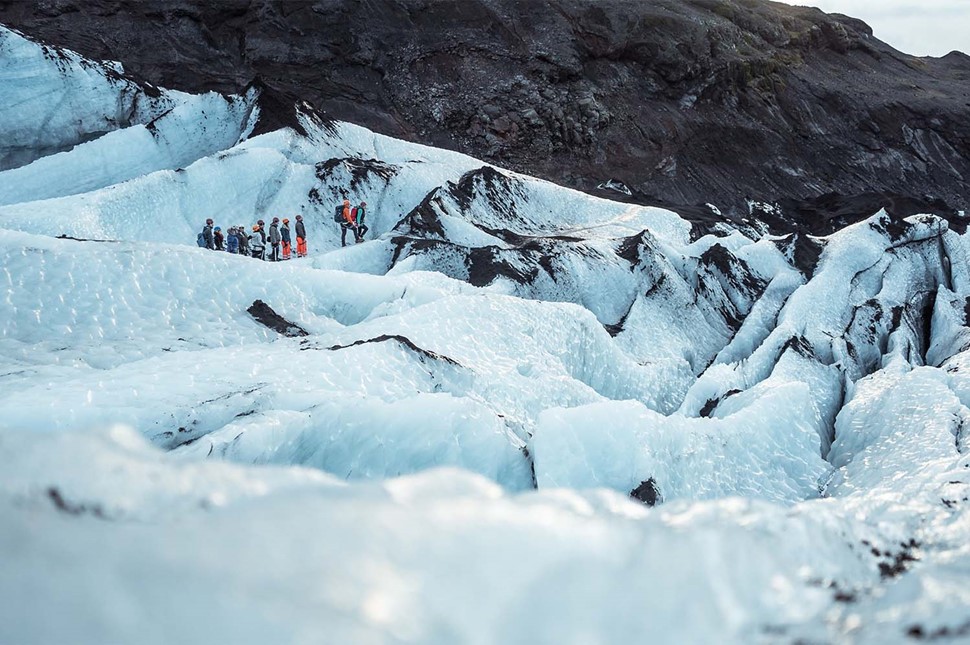 Before you hit the glacier, you'll put on the gear and your glacier guide will explain everything you need to know and give safety instructions. As stunning as they are, glaciers can also be dangerous because some of their parts are fragile. So following, listening, and trusting your guide is crucial.
The South Coast of Iceland is also where the largest glacier in Europe, Vatnajökull, is located. All you need to immerse yourself into a true icy adventure is crampons, a helmet, and an ice ax, and you're good to go on the Falljökull glacier cap in Skaftafell Nature Reserve. The glacier tongue is a part of the majestic Vatnajökull glacier, which is surrounded by the stunning nature of Vatnajökull National Park. During the glacier hiking tour, you'll see and admire Icelandic nature and understand the "art" of glaciers and how they're formed. If you want to truly experience the glacier, a glacier hiking and ice climbing tour is the best option.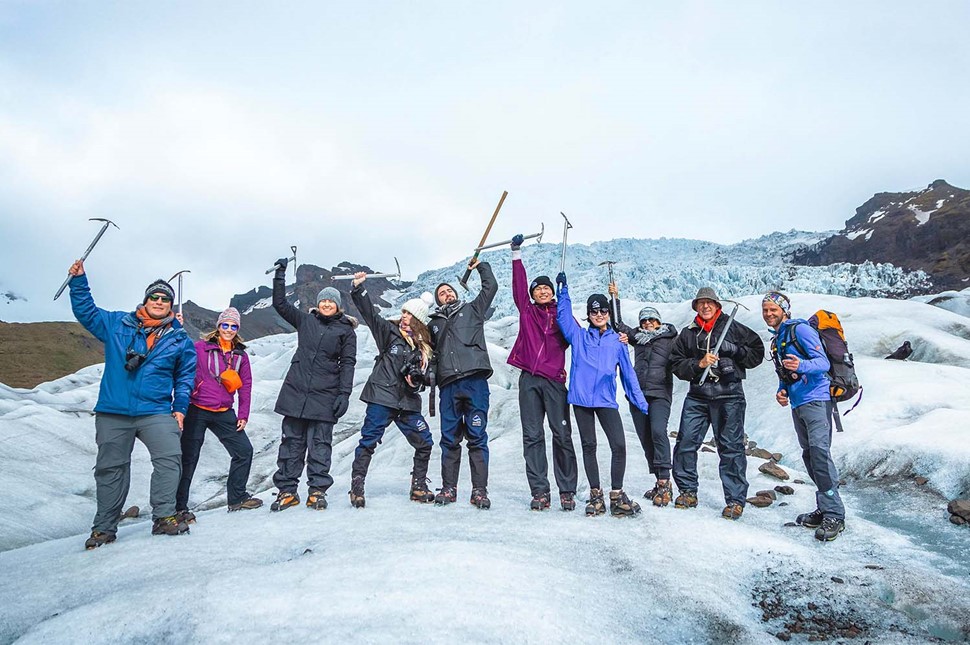 If you're an avid traveler, you know the feeling of wanting to see and experience as much as possible in a limited time. Iceland's south coast is a perfect place to do so. What if we told you that just in two days, you could see all of its major highlights? Join a two-day Icelandic adventure where one of your first activities will include checking the famous volcanoes such as Hekla, Katla, and Eyjajfjallajökull, as well as the beautiful Skogafoss waterfall, one of the biggest waterfalls in Iceland. Your day will continue with a trip to Reynisfjara Black Sand Beach. This place is famous for its tale about Reynisdrangar cliffs, which are believed to be trolls turned into stones by the morning sun. Your second day will be spent exploring an ice cave in Vatnajökull glacier and visiting Jökulsárlón glacier lagoon as well as Diamond Beach.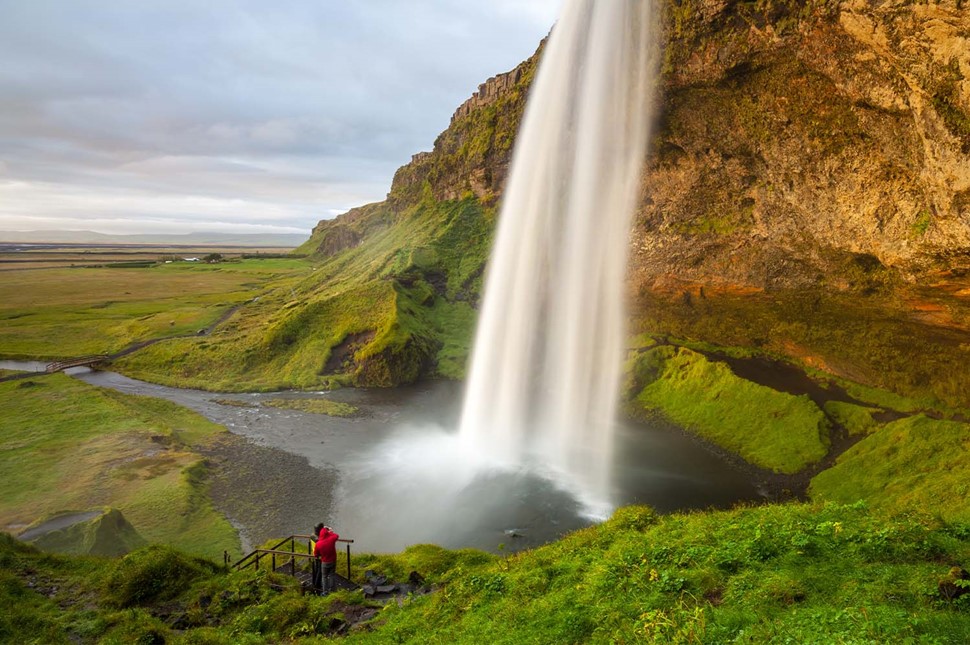 Sightseeing tours on South Coast
Sometimes all you need to get to know and connect with the place is to explore its surroundings. And the best way to do so is by getting on a minibus that'll take you through Iceland's south coast. On your way, you'll visit the glorious Solheimajokull glacier, look at the giant basalt cliffs at Reynisfjara black sand beach and find the most beautiful souvenirs for your loved ones at the gift shop in the town of Vik. Your day will finish with two spectacular waterfalls, Skogafoss and Seljalandsfoss. The latter is well-liked because it allows you to walk behind it.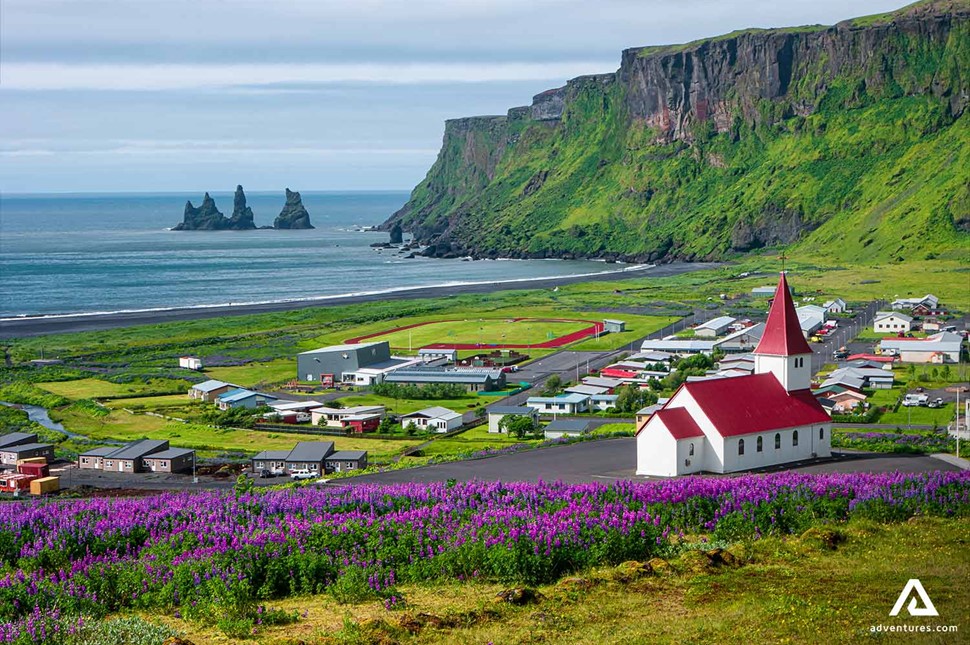 For those who love history and sites still reminiscent of significant times, the tour to the South Coast and DC-3 plane wreck site, taking you through Iceland's Ring Road, should give you a perfect chance to explore the famous sites. During this trip, you'll learn about Icelandic heritage, culture, and history through the country's major sights such as Hekla, Katla, and Eyjafjallajökull volcanoes, Seljalandsfoss waterfall, Reynisfjara black sand beach and, of course, US Navy DC-3 plane. The plane was left in 1973 after it crashed into the shores of a black sand beach.
Ice Caving tours on South Coast
Another fun and must-try activity in South Iceland is ice caving. Once you're familiar with the glacier from the outside, it's time to see what's hiding inside. One of the fun and spectacular ways to explore ice caves is by hopping on a super jeep that will take you to the famous Crystal Ice Cave in Vatnajökull National Park. Your day will start from Jökulsárlón Glacier Lagoon, from which you will reach Vatnajökull ice cave. What's magical about this place is its blue and white "interior" and the fact that the cave changes its appearance with time.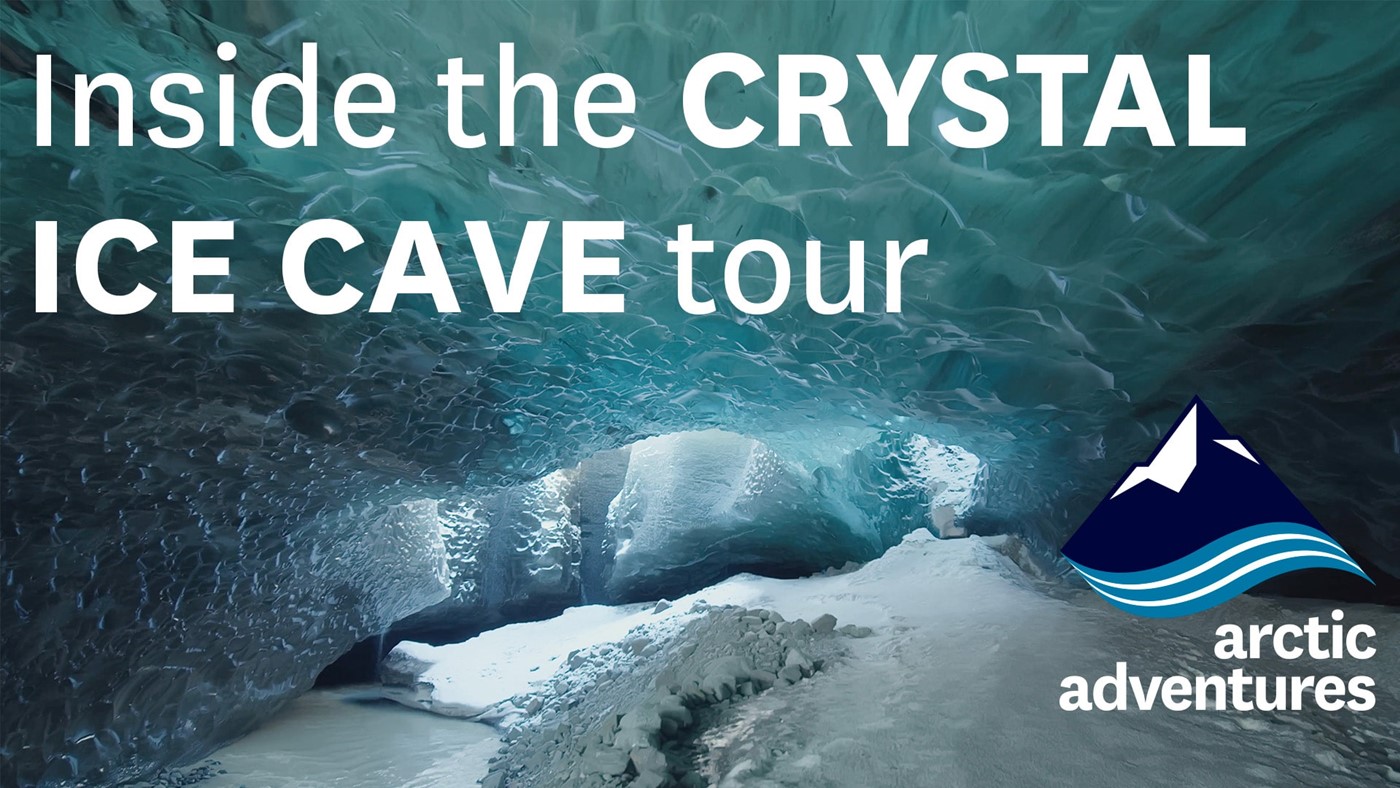 In case you want to spice up your experience, one of the fun ways you can reach an ice cave and even see Skeiðarárjökull glacier from the bird's view is by going on a helicopter ride. Later, you'll explore the same glacier from within and admire its vivid colors and shapes.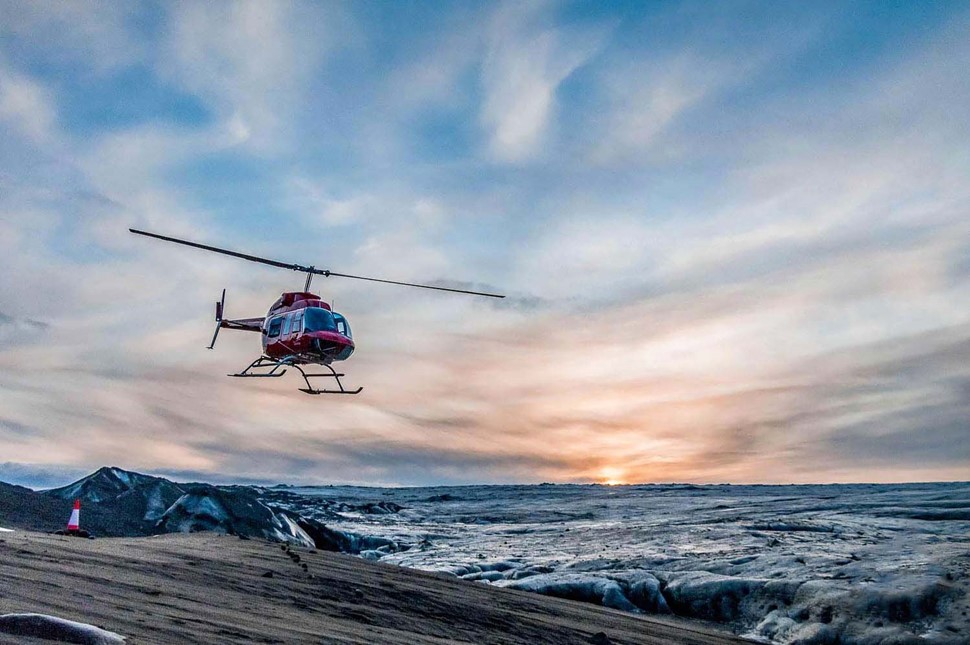 For those who don't want to wait for winter to be sure to visit an ice cave, a tour to Katla Ice Cave is the place to go. Open all year round and found on the south coast of Iceland, the place you'll actually be visiting is called Kötlujökull – the part of the impressive Mýrdalsjökull glacier. Katla Ice Cave is named after the volcano of the same name situated under the Kötlujökull glacier. What's special about this ice cave is that it was formed naturally, and when entering the cave, you can spot ashes in the ice, reminding you of previous eruptions.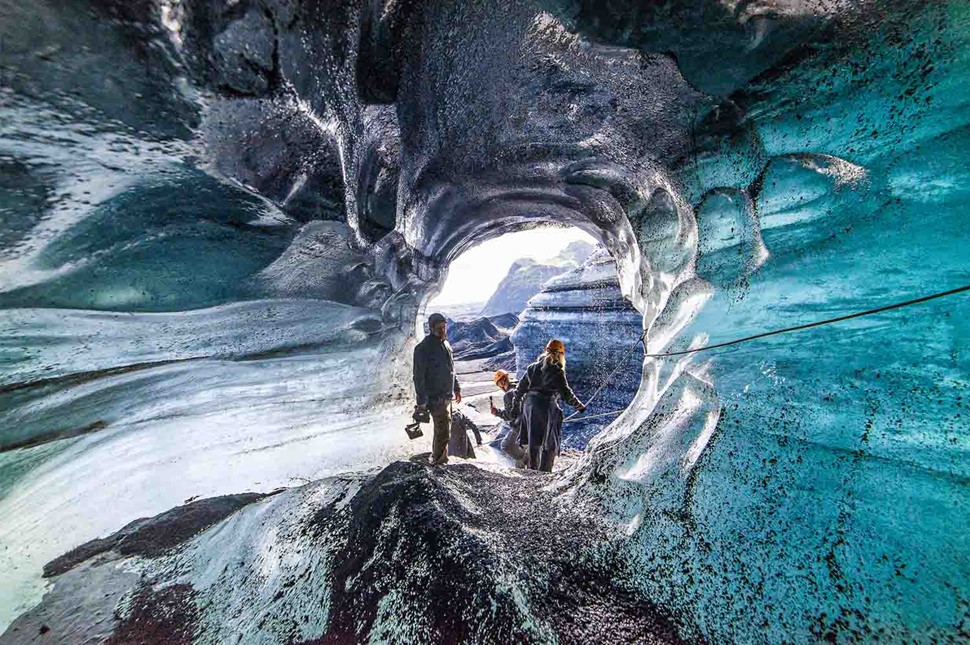 If you're a true ice lover, then spending three days exploring the south coast of Iceland will be a real treat for you. During these few days, you'll get to see the best of the country. First, you'll follow the Golden Circle route. Later on, you'll go to Jökulsárlón Glacier Lagoon and witness the beauty of Diamond Beach, where the washed-up icebergs from Jökulsárlón end up, serving as the jewels of the beach. And, of course, the trip's cherry on top – Skaftafell Nature Reserve, where you'll hike on Vatnajokull glacier and go inside the famous Katle Ice Cave.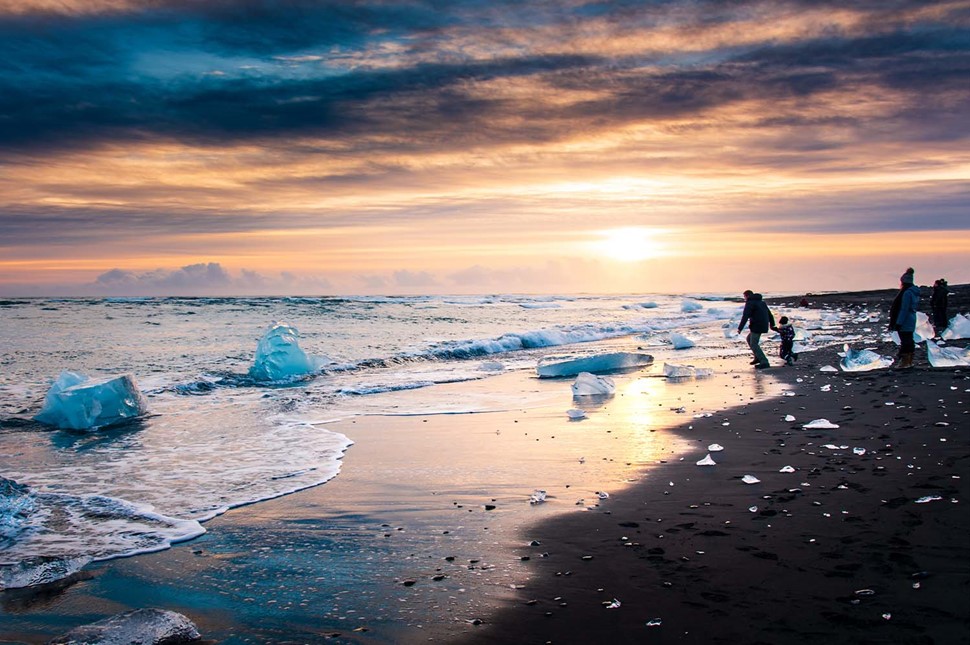 Horseback Riding Tours on South Coast
Have you always dreamed of riding a horse and looking as graceful as a character from a movie? What if we tell you it's possible here, on Iceland's south coast? And if you don't have any prior experience with horses, there's no need to worry, as South Coast & Horse Riding Tour is suitable for people of all ages and physical abilities. During this tour, you'll spend time with these magnificent animals, learn more about them, and discover why they're called horses and never ponies. All you'll need to do is to go along the shores of Reynisfjara's black sand beach, admire Icelandic nature, and feel its fresh air.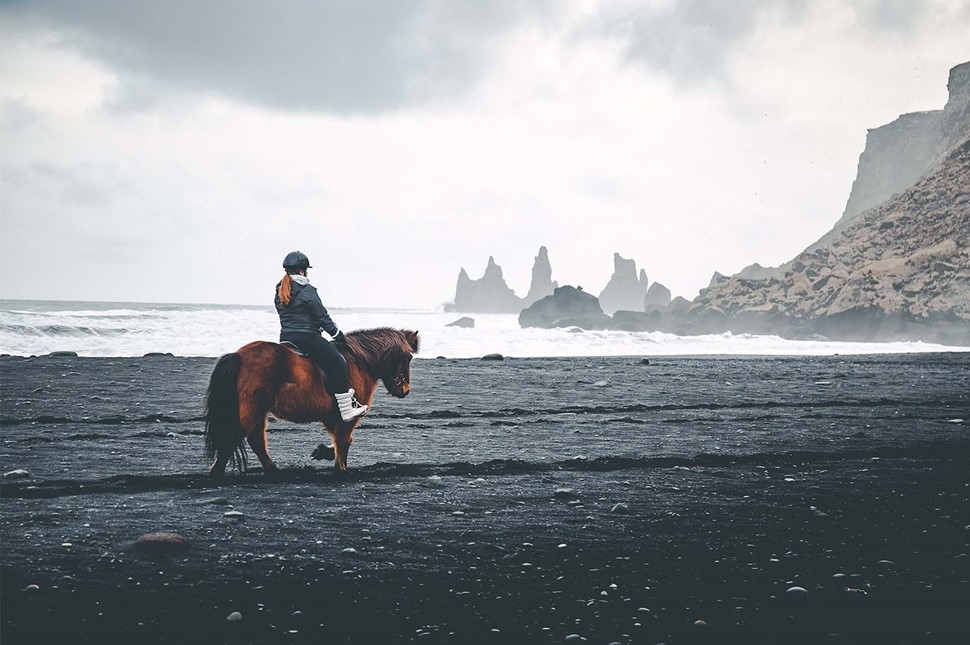 Iceland's south coast offers a lot of great experiences and attractions, so the only question remains – how to see and experience the most of it. What if we told you you could free two birds with one key by going on a Glacier Walk & Horseback Riding tour? This way, you'll get to explore the pride of South Iceland – Sólheimajökull Glacier, see its impressive colors, and hear interesting stories from your guide about this attraction. Next on your agenda is the horseriding session in Iceland's southernmost village Vik. This is where you'll go through Víkurfjara Black Sand Beach and see Reynisdrangar Basalt Sea Stacks. What could be a better way to explore South Iceland?
Jökulsárlón Glacier Lagoon tours on South Coast
For those who enjoy water activities, the best way to get to know the south coast of Iceland is by trying out a kayak and glacier hike tour in Jökulsárlón. Here, you'll have the opportunity to spend the whole day surrounded by incredible nature. This tour is suited for those who already know how to paddle and those who are just starting, as the guide will teach you all you need to know before starting to kayak. Once ready, you'll make your way through "diamond water" – the icebergs from Breiðamerkurjökull Glacier drift slowly in the water, reminding you of beautiful sparkling gems. Better than kayaking in the Jökulsárlón Glacier Lagoon can only be glacier hiking at Falljökull Glacier. Here you'll reach its peak in just 30 minutes and be able to admire the breathtaking views that'll surround you. You'll see Vatnajökull and Iceland's tallest peak – Hvannadalshnúkur.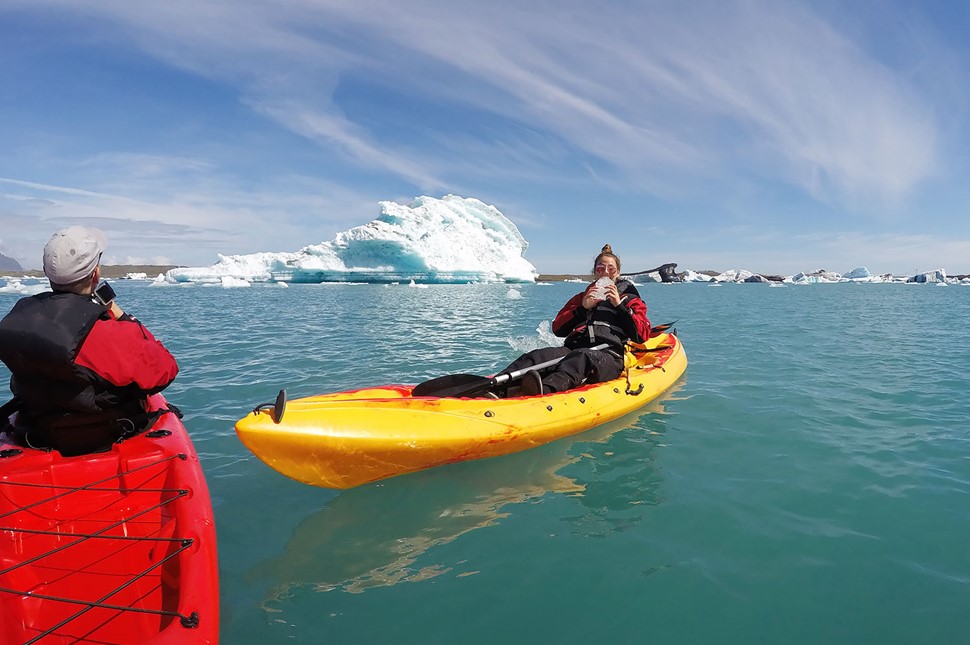 Northern Lights tours in South Coast
Northern Lights is one of the many special things Iceland is known for, so if you can see one, we'll tell you how not to miss that opportunity. What's amazing about the south coast of Iceland is that it can offer you a lot to do in just one day. In just approximately 16 hours, you can hike your way onto the glacier, visit the black sand beach, see a couple of waterfalls, and spend the night chasing the Northern Lights.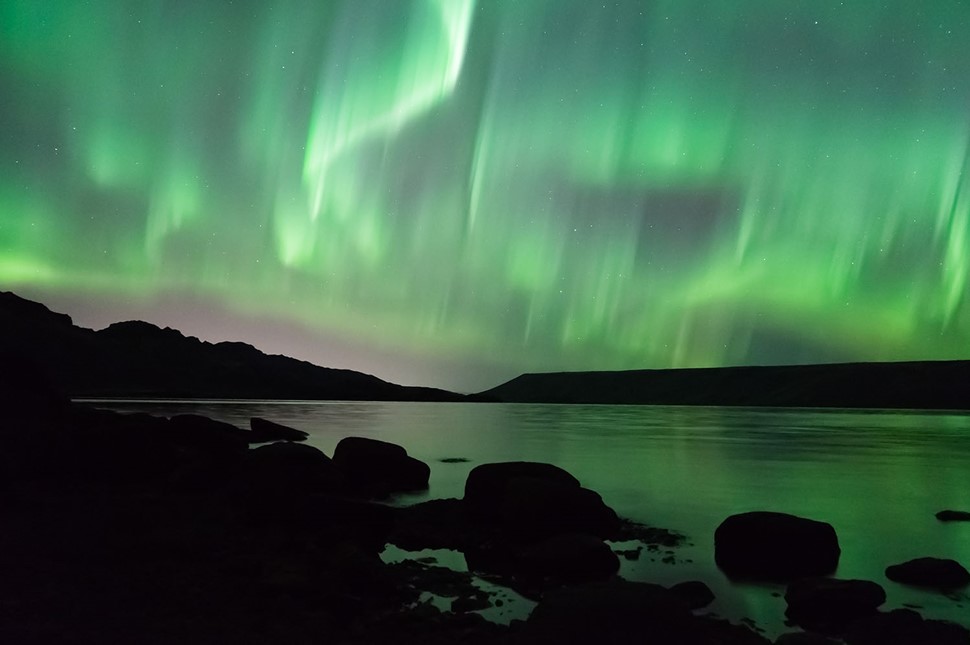 You'll get the best of both worlds with a four-day tour to South Coast and Snaefellsnes peninsula. Spend four days with Icelandic highlights, waterfalls, lava fields, mountains, and even a diamond beach. But what makes this journey majestic is the hunt of the Northern Lights. Why hunt? Because a lot depends on the weather forecast, that sometimes might not be suitable for the auroras to be seen.
Of course, the longer you stay on the south coast, the higher the chances that you'll get to witness them, and perhaps even more than one time. And if you're curious to see "the other side" of Iceland, especially the south coast, then you should try out an award-winning five-day tour along the south coast that includes the aurora borealis chase. What's special about this tour is that you'll explore the Golden Circle, Jökulsárlón Glacier Lagoon, as well as Vatnajökull Glacier and Snæfellsnes Peninsula. Every day you'll get up ready for a new adventure and finish your evening with the sight of the magical green lights.
FAQ - Iceland's South Coast Tours
How long does it take to do the south coast of Iceland?
It's best to have at least two days to explore the south coast's main attractions. If you wish to see more or less everything that this part of Iceland offers, you'll need four-five days for this.
What is on the Iceland south coast tour?
Curious about what awaits you on Iceland's south coast? This part of the country is very well known for its ice caves and glaciers. So you might find yourself on one of these giants: Eyjafjallajokull, Myrdalsjokull, and Vatnajokull, or inside the breathtaking ice caves: Crystal and Katla ice caves. The south coast is also home to the village of Vik and is famous for its black sand beach Reynisfjara. It's a haven for true nature lovers and adventure seekers.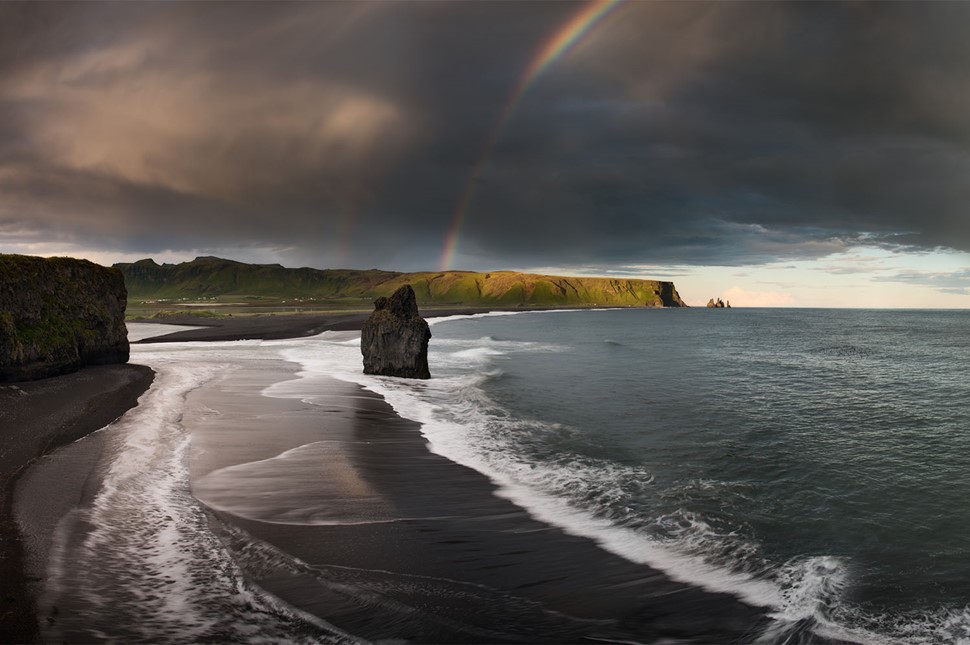 How long is the south coast tour?
The length of Iceland's south coast tour can vary from one day (10-12 hours) to five days. It all depends on your preferences and how much time you have.
How many days in south Iceland is enough?
Iceland's south coast has beautiful and eye-catching attractions and daring activities. So spending more time here means you'll explore the south coast in depth and not worry that you might get bored along the way. If you want to see the main highlights of this part of the country, you need at least five days.