Vik
With a population of 300 inhabitants and no towns or settlements for at least 50 km in each direction, by default, the small village of Vik is the largest settlement in the area. The village of Vík í Mýrdal is much more than the home-base, swing-by, service town reputation it holds amongst tourists and tour buses! The village itself has a large range in the selection of hotels, restaurants, and attractions.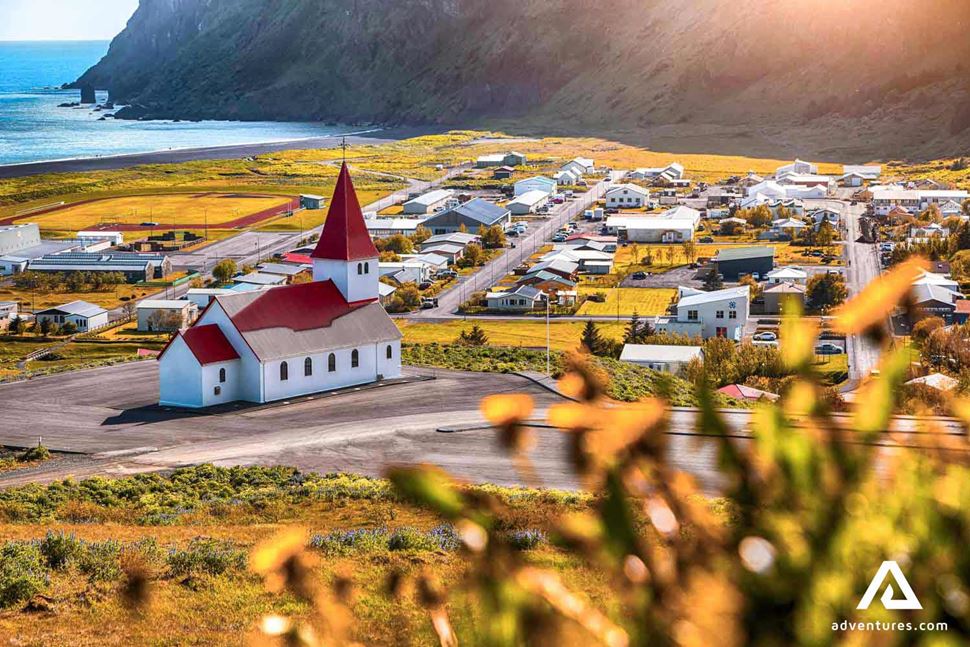 History
The origin of Vik dates back to the 9th century, but it wasn't until comparatively recently, in 1890, that traders settled permanently to sell products, commonly flour, salt, and sugar, fruit, and vegetables. After some time, there were five open, food-stores in Vik with two slaughterhouses. The population within the small settlement expanded over time, eventually becoming a meeting place for farmers to get together. The church in Vik was built in 1934, solidifying Vik's status as a community and village.
ABOUT VIK I MYRDAL
Vik i Myrdal is the only seaside town in Iceland without a harbor. As a result, the area wasn't inhabited until the 1890s, when it became a meeting point for southern traders and farmers.
The town is bordered by Reynisfjall Tuff Mountain to the west, Katla Volcano to the north, the Myrdalur Cliffs to the east, and Reynisfjara Beach to the south. The most popular attraction is the striking Víkurkirkja Church, built-in 1934. Nestled on the top of a nearby hill, the church is considered the safest place to escape to in case of a sudden Katla Volcano eruption and flood.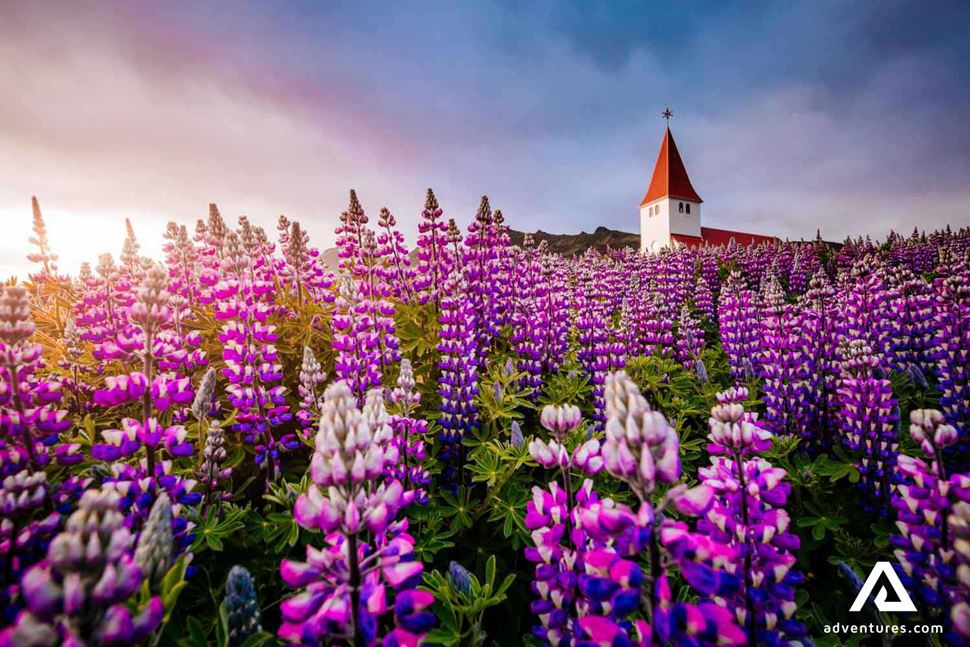 Just like in the past, Vik is now the main shopping center for all adventurers to the South Coast as there are no other settlements within a 43 mi (70 km) radius. It's a perfect pit stop to refuel, restock, and rest on your voyage along the South Iceland. Better yet, Vik is surrounded by a million and one things to do. Spending a day or two exploring the area might turn out to be quite the adventure
WILDLIFE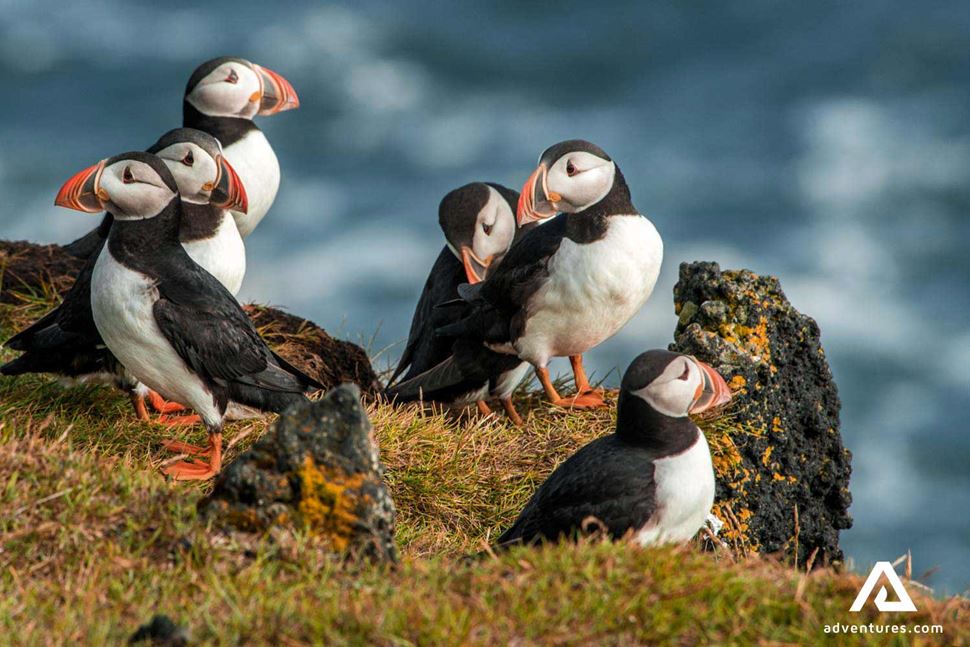 Because of its mild climate, Vik is home to many different species of birds and marine wildlife. Dyrholaey Peninsula is a nesting site for adorable puffins. To the east, not far from Reynisfjall Mountain, you can spot an abundance of arctic terns. Sometimes you can even see seals sunbathing on the black sand beach or dolphins and whales visiting the shore. Vik is truly a paradise for all nature lovers.
SERVICES IN VIK
Vik is the metropolitan hub of Iceland's South Coast. Here you'll find shops, gas stations, restaurants, hotels, museums, ATMs, and many other useful services.
Orkan is an automated gas station where you can refuel at any time. There's also N1 gas station open from 9 a.m. until 6 p.m. where you can buy snacks and basic food supplies.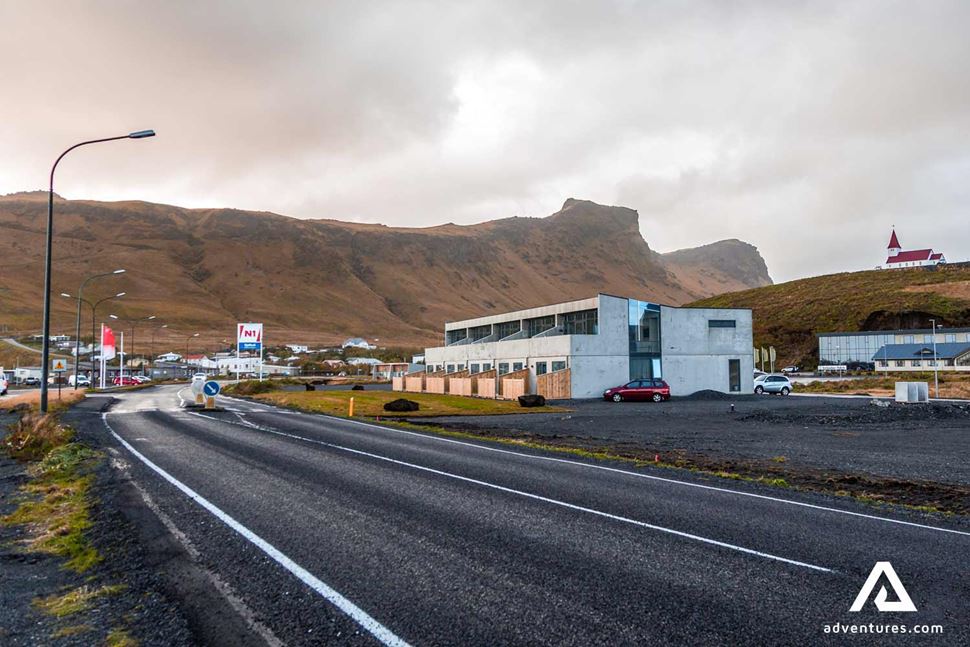 Vínbúðin, nestled right in the city center, is an alcohol shop. In Iceland, you won't be able to buy alcohol in just any supermarket. Vinbudin, however, is a dedicated, government-owned alcohol shop. It's open from 2 p.m. to 6 p.m.
Further down towards the coast, you'll find a shopping center. There is a clothing shop (Icewear), supermarket (Kr), cafe, and a restaurant. The shopping center is open from 8 a.m. to 10 p.m.
Where is Vik, Iceland?
GPS 63.4186° N, 19.0060° W
Vik is a remote seaside village found South of the Katla volcano, in the Mýrdalshreppur Municipality. Located about half-way along the coast in southern Iceland, peaceful and scenic, Vik is the only town around for over 50km, in each direction! Vik has developed as an important local retail center and service for the travel industry, by being the only town to house a wide variety of public services for almost 40 miles! Due to its remoteness, supplies are limited and expensive, but the town serves a purpose with its importance in uniting the east and west sides of Iceland. There is infrastructure, gas stations, grocery stores, and cafes, as well as a swimming pool and limited for-profit tourist attractions.
MAP OF VIK IN ICELAND
HOW TO GET TO VIK
Vik is very popular and accessible, due to the main Ring Road or Route One, which runs through the village to the south coast of Iceland. Vik is roughly 110 miles (187 km) from Reykjavík and without stopping it should take no more than two and a half hours. Follow the Ring Road in a southerly direction the whole way and you will shortly arrive in Vik!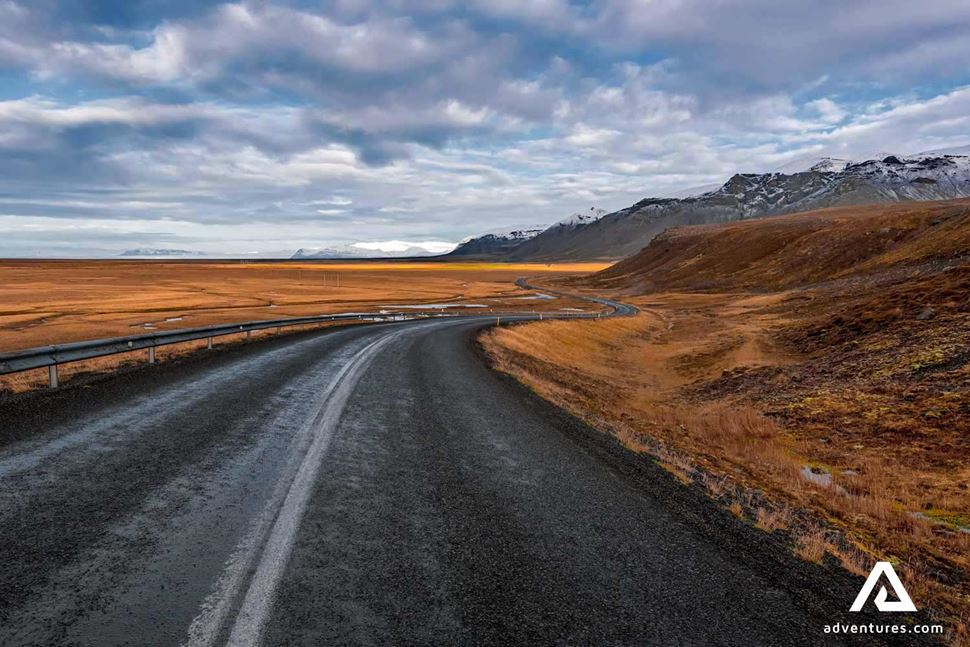 From the East, Vik is halfway between Reykjavik and Jökulsárlón Lagoon, roughly 190 km from each and is 130 km from Selfoss Waterfall.
WEATHER IN VIK IN ICELAND
Just like most settlements in Iceland, Vik is located close to the seashore. The southernmost hamlet in Iceland is sheltered by Reynisfjall and Myrdalur cliffs, so the climate here is milder than in the rest of the country (but only by a few degrees).
In the summer Vik is covered in a blanket of wildflowers and is the perfect place for puffin watching. In winter it turns into a snowy wonderland and is ideal for Northern Lights watching as the light pollution is almost nonexistent.
The warmest month in Vik, just as in the rest of Iceland, is July. The temperature in July reaches 44.6°F (7°C). The coldest month is February, when temperatures plummet to about 33.8°F (1°C). Vik can be quite rainy during the warmer months, so rainproof gear is essential regardless of the season.
WHAT TO SEE IN VIK IN ICELAND
There's more to Iceland than the Blue Lagoon and the Golden Circle, and there's more to Vik than a gas station and a church! Arguably you could potentially take a brisk walk through the village of Vik and see it all within half an hour...However, Vik has much more to offer than a brief sweeping visit would suggest! The village itself, has basic amenities, a post office, a tourist shop, a bonus wool factory, a popular pub, and a hardware store that doubles as a gift shop!
VÍKURKIRKJA CHURCH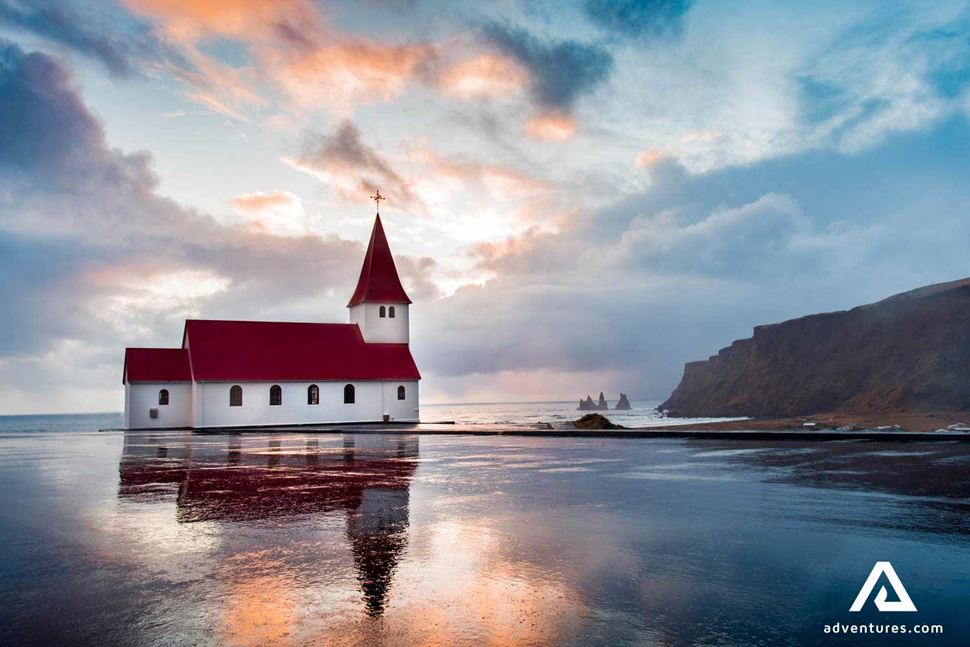 The most iconic landmark in Vik! Or at least the most photographed! The famous red-roofed church was finished in 1934 for the small population of pre-toursim, 1930's Vik. This church is especially popular for weddings and given the villages close proximity to Katla volcano, if it was to erupt or something bad to happen, the church is the evacuation spot and is believed to be the only location in the village out of glacial meltwater, due to its high position.
REYNISFJARA BLACK SAND BEACH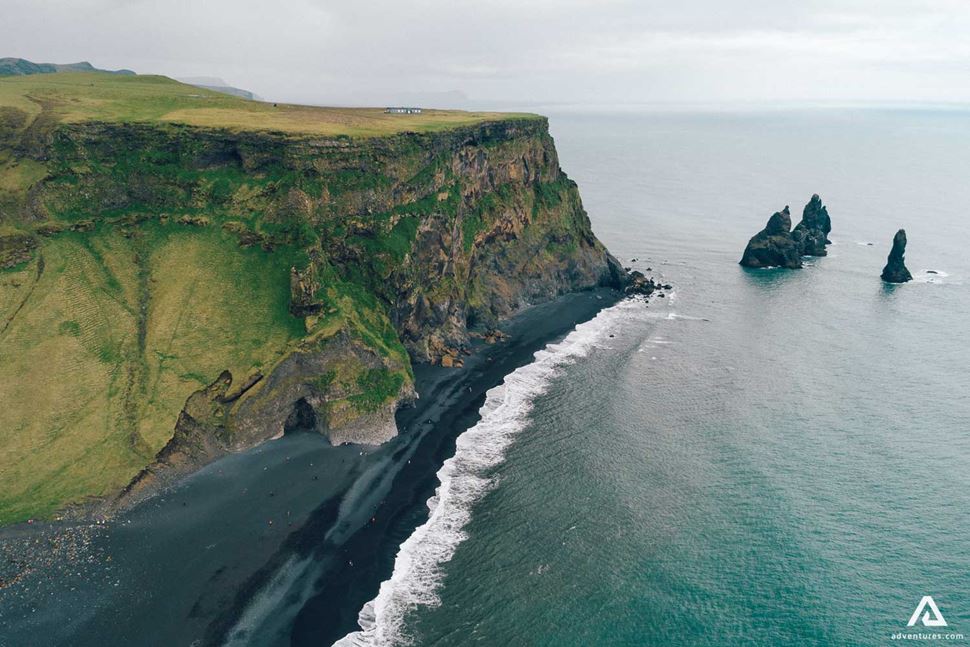 Reynisfjara Beach is the most popular black sand beach in Iceland and has been named one of the top 10 most beautiful non-tropical beaches in the world. The silver-lined waves of the Atlantic Ocean wash across the volcanic black sand with tremendous power. In fact, the power of the waves is so great that a few travelers have been washed away from shore. Be careful when you visit and don't walk too close to the shoreline.
Framed by enormous basalt columns, the beach looks like a gigantic amphitheater. You can also spot basalt sea stacks called Reynisdrangar just off the eastern shore. Legend has it that the sea stacks used to be trolls. They were pulling their ships to shore when they accidentally got caught in the light of dawn and turned into stone.
DYRHÓLAEY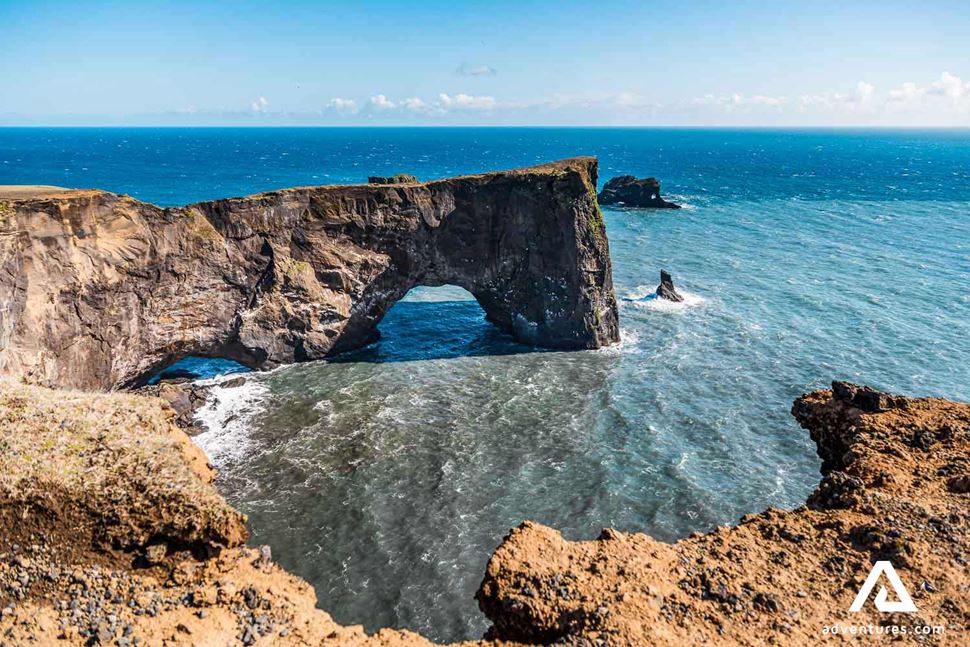 To the west of the beach, you'll stumble upon Dyrhólaey. Dyrhólaey is a peninsula with a door-shaped arch that leaps over the shore. While it's not possible to walk through the arch, you can hike on top of it and enjoy breathtaking views of South Iceland.
Swimming Pool
Sundlaugin is Vík's Outdoor swimming pool - every village has one! Welcome to Iceland! No matter the external temperature, the water is geothermally heated, averaging 28 – 29°C, so you'll see people there any time of the year! The main pool is 16 meters and there are several smaller, hotter pools too. A trip to the pool is the perfect day out for Icelandic families.
Voyages Friendship Statue
This 1.8 m (6 ft) statue is found opposite the black beach, a short walk away from the center of the village. The figure is symbolic of the bonds of friendship reached at the end of the cod-fishing wars between Iceland and the UK, two neighbors and economic rivals. The art piece was created in 2006 by Icelandic sculptor Steinunn Thorarinsdottir.
Wildlife around Vik
If you like to spend your vacations bird watching, Vik is the place for you! A large Arctic Tern colony is nested East of Vík, not far from Mount Reynisfjall. In this are you will also find numerous other bird species, most famously the Icelandic Puffin. Other birds range from Fulmar, Kittiwake, and Auk. There is also a slight chance to see dolphins or whales, or most commonly seals on the shore!
THINGS TO DO IN VIK IN ICELAND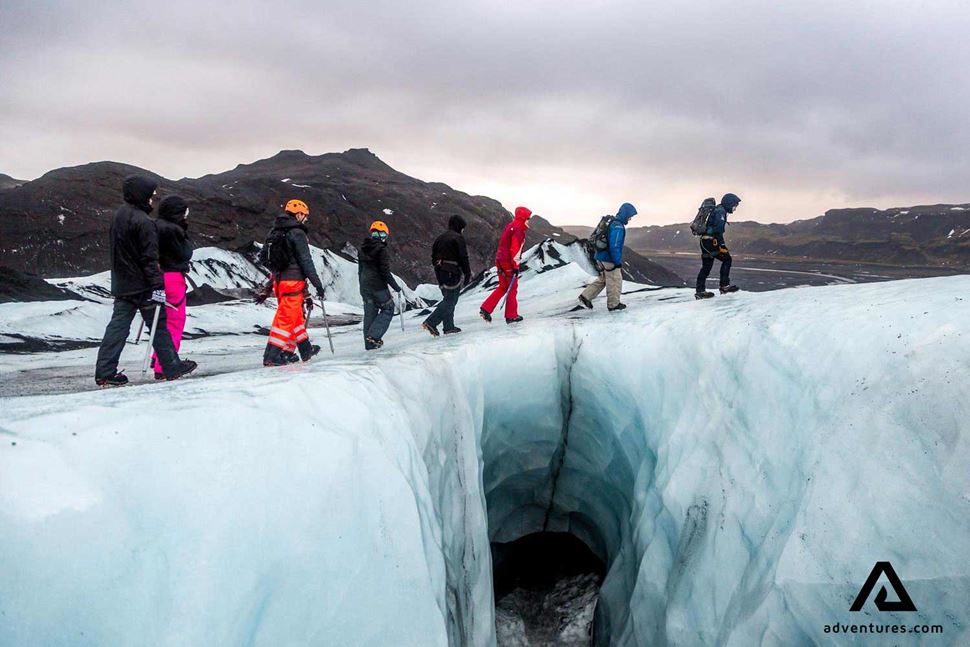 MÝRDALSJÖKULL GLACIER HIKES, ICE CAVES & KATLA
Positioned just outside of Vík is the  Mýrdalsjökull Glacier which is just under 1.5 km (5000 ft) in height and covers an area of 595 km²,  including a section of Katla, one of Iceland's active volcanos. The volcano typically erupts every 40 - 80 years, but as of 2018 the last eruption was 100 years ago! It is being monitored closely by scientists for any warning signs. Right now, the glacier is safe to walk on and there are some amazing hiking routes in the area, and during the winter it is a popular place to go sledding! Don't forget your walking boots.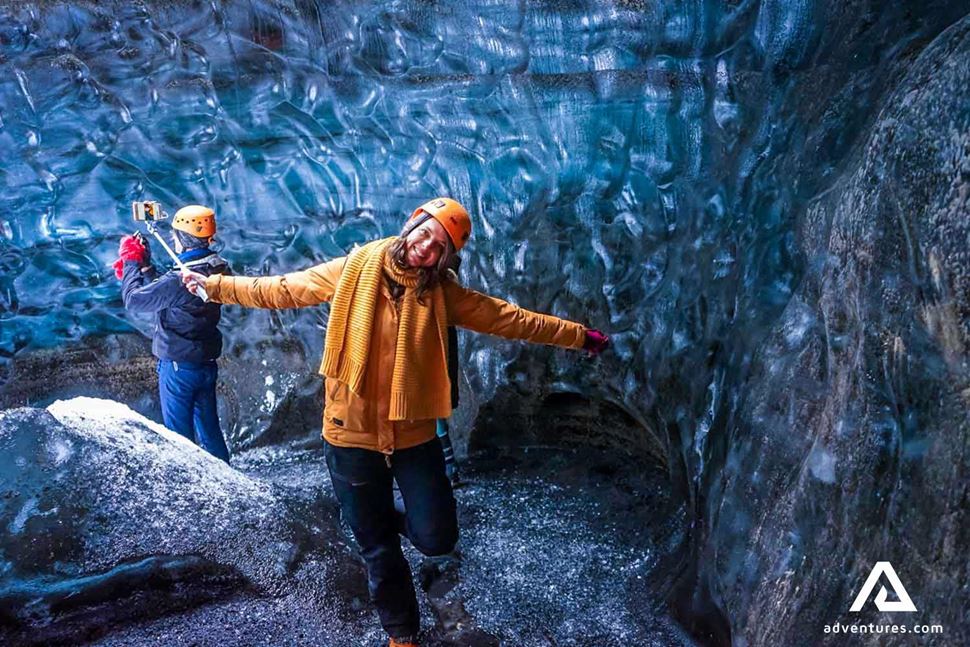 While it is not possible to climb to the top of the glacier by yourself, you can join a myriad of tours departing from Vik and Reykjavik. Tours include natural ice cave exploration beneath Mydalsjokull, Katla Ice Cave tour, hiking, and ice climbing on Myrdalsjokull outlet glacier Solheimajokull, zooming on a snowmobile across the glacier's vast expanse, and many other activities.
Hálsanefshellir
Hálsanefshelliris a cave under the basalt rock, not too far away from the village, worth finding, should you have time. The cave is quite small but 10ft high in some places, accessible only in low tide. It's worth noting that the cave although beautiful is natural and gradually eroding. In 2013, the cave collapsed considerably and 100 tonnes of columnar basalt crumpled into the cave.
JÖKULSÁRLÓN GLACIER LAGOON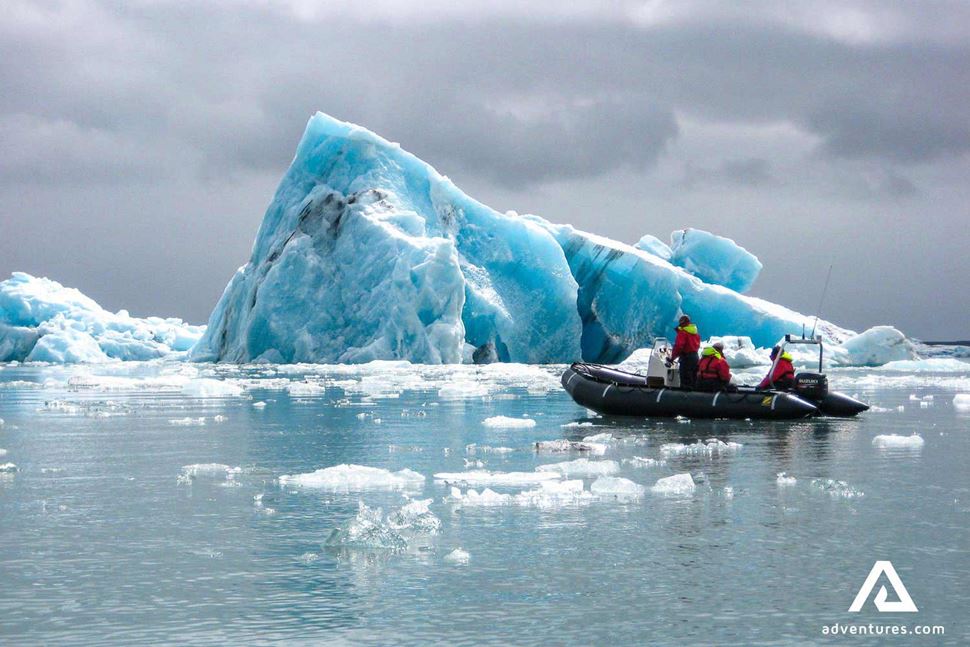 The famous Glacier Lagoon, located 120 mi (193 km) northeast of Vik, is one of Iceland's most popular attractions. Bordered by Vatnajokull National Park on its northern side, the lagoon is filled with the meltwater from Vatnajokull Glacier. Icebergs break free from Vatnajokull and drift away towards the black sand beach. Varied in shapes and sizes, the icebergs glisten in the sun like diamonds, giving the beach its name — the Diamond Beach.
To get to the glacier lagoon from Vik, get back on Road 1 and continue driving east. After around 2 and a half hours, you'll find yourself on the Diamond Beach where the view of the lagoon opens up.   
ZIP-LINING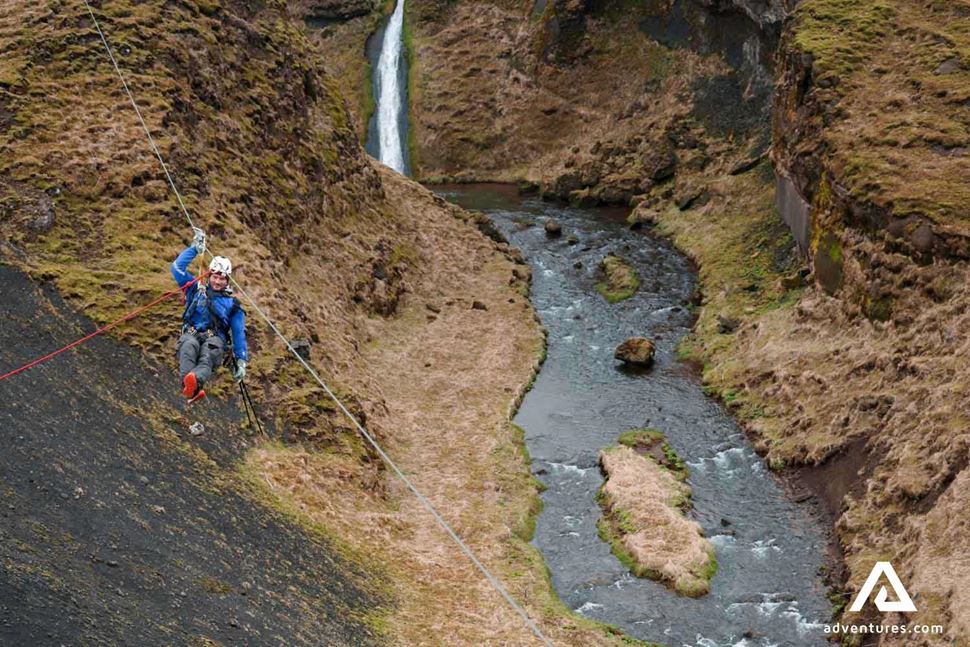 If you're looking for something exciting within the boundaries of Vik, a zip-line adventure is just for you! The zip-lining base just outside Vik will take you on the heart-pumping adventure of a lifetime. Four zip lines of different lengths help you soar over the most beautiful views of Vik and the surrounding areas. Zip over the stunning Grafargill Canyon and observe Hundafoss Waterfall from above. The adventure lasts about two hours.
HIKING NEAR VIK
You can choose from many different hiking trails near Vik. For a short day hike, take the Reynisfjall Mountain hike. Accomplished in a few hours, the hike will reward you with stunning views of Vik and the black sand beach. You'll also have the chance to observe flocks of arctic terns and puffins in Vik, Iceland.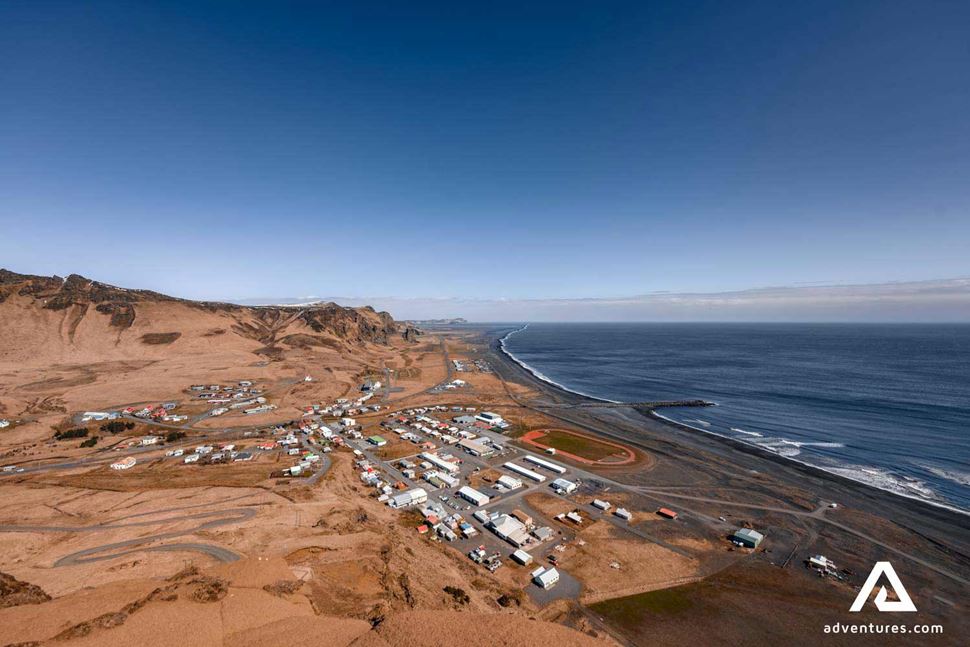 Another short day hike leads you up the Hatta Mountain just opposite of Reynisfjall Mountain. From the top of the mountain, see a panoramic view of Myrdalsjokull Glacier and Heiðarvatn Lake.
Just a short drive east from Vik takes you to Hjörleifshöfði Cape, where you'll find old ruins of a farm and a Viking burial ground. For more information about shorter or longer hikes, visit the Katla Information Center.
ICELANDIC LAVA SHOW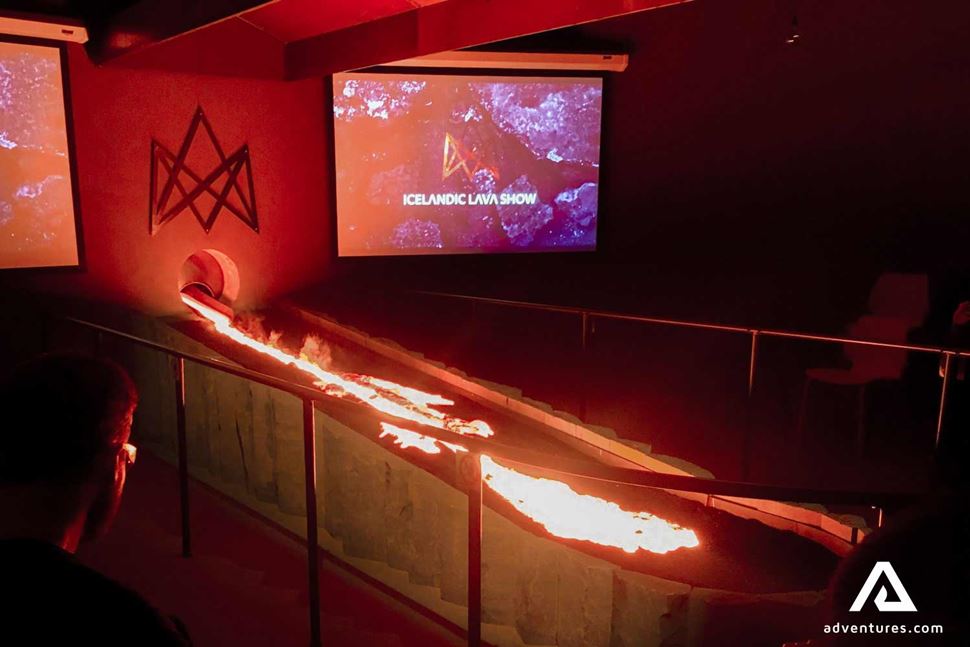 Icelandic Lava Show is the only place in the world where you can witness a volcano eruption up close. The eruption, just like those of Eyjafjallajökull and Katla Volcanoes, is recreated by pouring 2000°F (1100°C)  molten lava over glacier ice. Visitors can witness the two colliding elements safely, which would not be possible with a real eruption.
When is the Best Time to Visit Vik?
The weather and climate in Vik is not far different from Reykjavik, but it is considered to be the warmest place in Iceland… and also the wettest. It rains a fair amount!
Due to its location, Vik is normally subject to fair, mild weather with a constant ocean breeze closer to the shore. The large mountains offer protection from the wind and shadow the warmth of the sun. The warmest month of the year is August, with an average temperature of 14.7 °C while February has the lowest average temperature of the year at around 0°C. Depending on what you plan to do in Vik summer or winter season is best. If you are visiting Vik quickly, as a stopover while on a multi-day tour of Iceland, coming in the summer will give you a greater chance of filling your itinerary, due to the everlasting Midnight sun. But if you want to unwind in Vik and hopefully catch the Northern lights and an ice cave - September - April is probably best!
PLACES TO STAY IN VIK IN ICELAND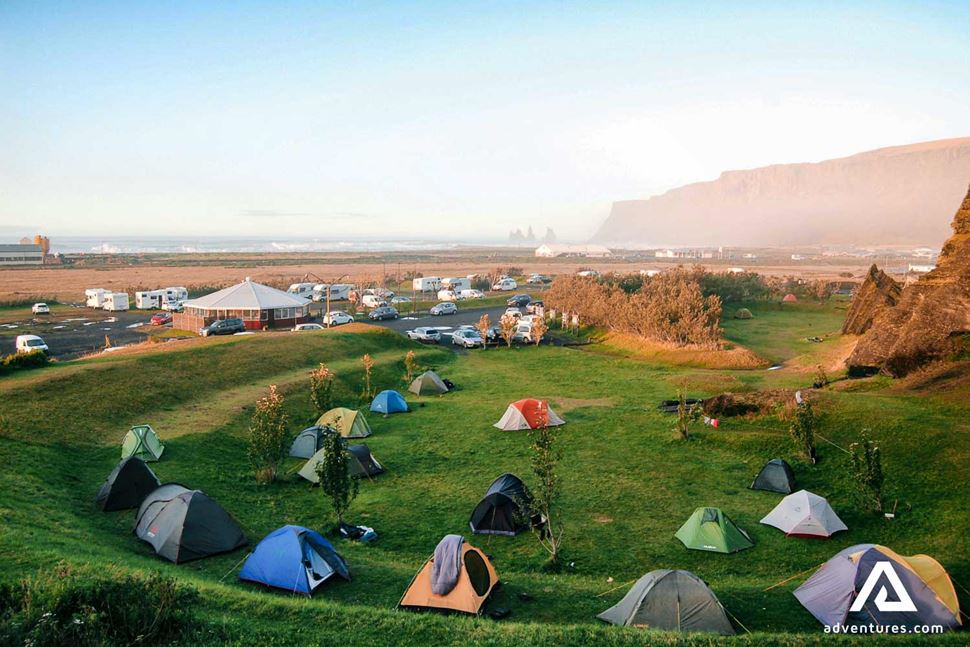 The small village of Vik is popular amongst tourists and Icelanders alike - there's plenty of hotels but rooms fill up fast so be sure to book ahead.
Hotel Dyrholaey,

Hotel Katla-Hofdabakka,

Hotel Lundi

Vik hostel

Icelandair hotel
Vik Campsite is 1 km from Vik's village center and can take up to 250 people in tents, cabins, cars, and caravans as well as offering 4 cottages.
RESTAURANTS IN VIK IN ICELAND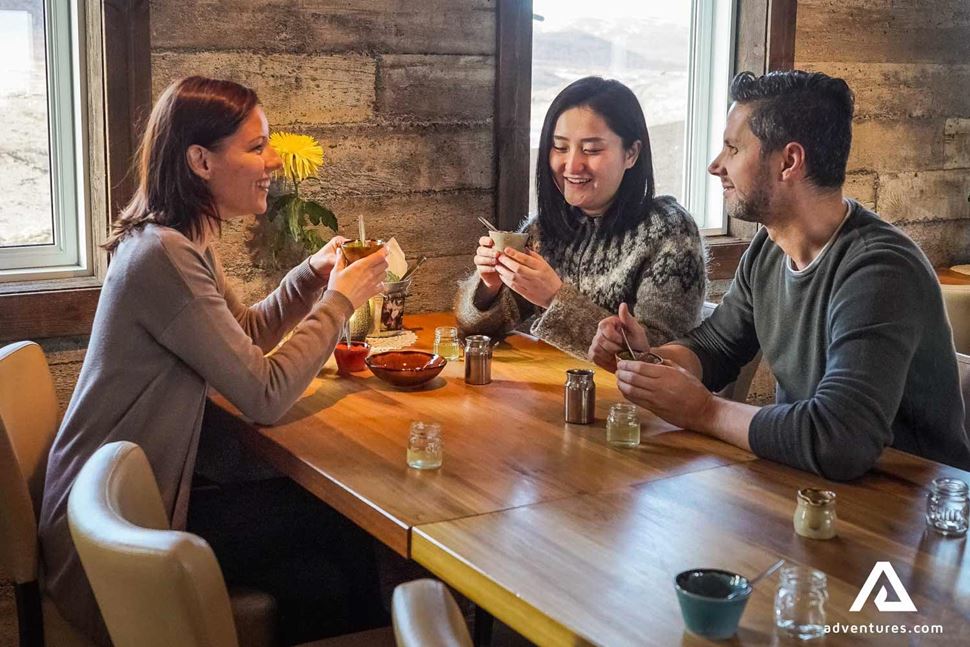 Vik boasts plenty of restaurants for all cuisine types and dietary requirements, the following restaurants offer a mix of traditional Icelandic food with some home comforts as well.
Hotels!

The Soup Company

Smidjan Brugghus

Sudur Vik

Restaurant Vikurskali