The Bustling Capital City of Iceland
Cosmopolitan, modern, and ever-evolving, Reykjavik is the beating heart of Iceland. With a wealth of world-class restaurants, stylish bars, colorful rooftops, superlative museums, and bright summer nights, Iceland's capital is the city that barely sleeps!
Welcome to Reykjavik
Reykjavik is the northernmost capital in the world. It's a small city with a huge reputation. Just a few degrees south of the Arctic Circle, it's bursting year-round with culture, energy, and color. Surrounded by otherworldly landscapes, the city supplies its visitors and its locals with infinite possibilities for adventure. 
Reykjavik is visited non-stop by an ever-increasing number of explorers who flock to the city to experience its blend of cosmopolitan delights and small-town charms. The city greets visitors with an avalanche of modern entertainment venues, colorful architecture, hot springs, ambitious street art murals, and - of course - the salty smell of the sea. After all, it's a gorgeous harbor city.
The city's flourishing cultural scene hasn't gone unnoticed by the international community. In 2011, Reykjavik was designated a UNESCO City of Literature, which ushered in all sorts of interesting cultural initiatives, such as publishing poetry on benches in public parks. 
Reykjavik's close proximity to Iceland's nature is another fascinating feature - take a short drive in any direction and you're in the wild. Reykjavik also serves as a base for excursions to Iceland's most popular sights such as the famous Golden Circle Route and the iconic Blue Lagoon.
A Little Background
According to the medieval Book of Settlements, one of the few remaining manuscripts that record stories of the first settlers in Iceland, Reykjavik's origins date back to Ingólfur Arnarson, a Norwegian Viking who is believed to be Iceland's first permanent settler. He and his crew reached the shores of Iceland around 870 AD and founded a farm on the location where Reykjavik now stands. As the story goes, Ingólfur named the place "Reykjavik", which means "Smoky Bay", after the plumes of steam that rose from the area's hot springs. 
However, it was not until the middle of the 18th century that the small farmstead began to grow.  This was largely thanks to the work of an ingenious sheriff, Skúli Magnússon, who established wool factories that eventually led to the modernization of the city and the writing of its city charter in 1786. Today Skúli Magnússon is regarded as the city's founder. A bronze sculpture of him, created by Gudmundur Einarsson, proudly stands near the city center. 
Another notable point in Reykjavik's history took place in 1844. It was the year when the Alþingi, the national parliament of Iceland, was re-instituted in Reykjavik.. A century later, Iceland officially gained its independence from Denmark on June 17, 1944, and Reykjavik was chosen to become the new nation's capital. From then on Reykjavík has prospered, growing into the urban center you see today.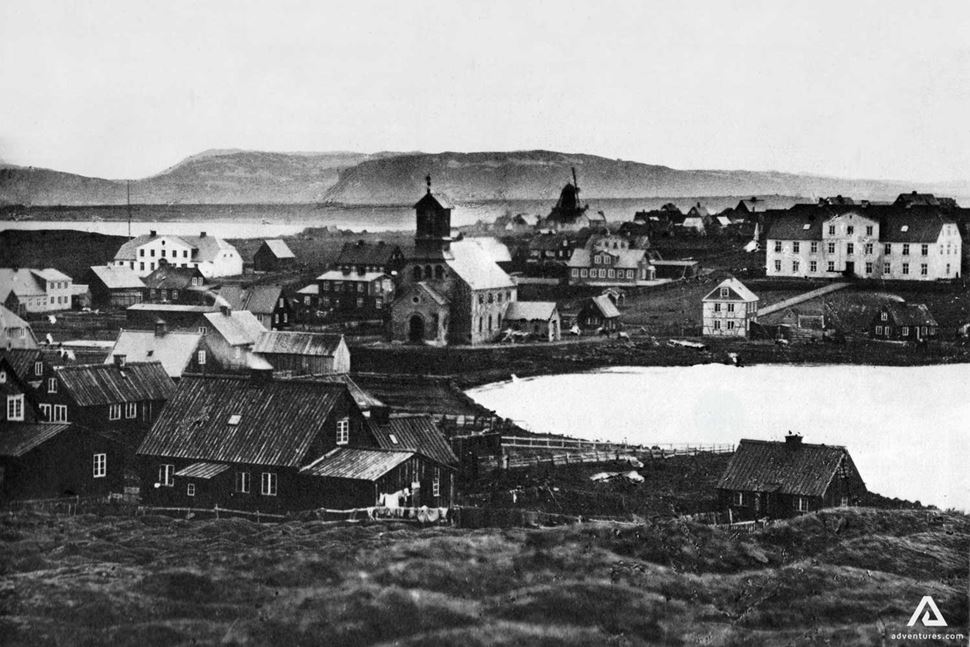 Getting to Reykjavik
Reykjavik is easily accessible by air or by sea. While flying is the fastest way to reach the land of fire and ice, traveling by sea is a great option for those who have some time and a more flexible itinerary.
By Air
The number of direct flights from destinations in Europe and North America to Iceland is growing every day. Most of the international flights arrive and depart at Keflavik Airport (KEF) located about 30 mi (48 km) west of Reykjavik. It takes approximately 3 hours to reach Iceland from Europe and 5 hours from North America.
Reykjavik also has a domestic airport located very close to the city center. The airport is used only for domestic flights and those arriving from Greenland and the Faroe Islands.
By Sea
If you decide to go to Reykjavik by sea, you can choose from a number of cruises that frequently sail to Iceland. Most cruise ships dock at the New Harbor, or Skarfabakki, just a short drive from downtown Reykjavik. Smaller cruise ships arrive at the Old Harbor, or Miðbakki, just a few steps from the city center.
You can also reach Iceland by sea with the Norröna Ferry (operated by Smyril Line) that sets sail once a week from Hirtshals, Denmark and travels through the Faroe Islands to Seyšisfjöršur in eastern Iceland. Though Norröna doesn't dock at Reykjavik, you have the opportunity to bring your own vehicle, giving you the freedom to travel on your terms. 
How to Get from Keflavik Airport to Reykjavik
The most cost-effective way to get to Reykjavik from Keflavik is to catch Flybus, which will transport you to Reykjavik in about 45 minutes. The airport shuttle will conveniently drop you off at your hotel or at the BSI bus terminal. Taxis are quite expensive but you can also arrange car rentals at the airport.
What to Do in Reykjavik
Reykjavik is one of the most walkable cities in the world, allowing you to really immerse yourself in the capital. With the city's most visited attractions located within a minute's walk of another, it's easy to explore all of Reykjavik's city center in under 2-3 hours.
Reykjavik has something for everyone; from a rich culture and a busy art scene to healing thermal waters and an energetic nightlife that's tough to beat. Below is a helpful introduction to many of Reykjavik's main highlights. 
DOWNTOWN REYKJAVIK
Hallgrímskirkja: Reykjavik's most recognizable landmark, the gargantuan Hallgrímskirkja Lutheran Church, was built in the 1930s by architect Guðjón Samúelsson. It boasts a modern design resembling the magnificent hexagonal basalt columns at Svartifoss Waterfall. Listen to the sound of the impressive church organ with 5,275 pipes or ascend the 250 ft (76m) tower for eye-popping views of colorful Reykjavik and the surrounding mountains.
Lake Tjörnin: One of Reykjavik's most visited places, Tjörnin is a beautiful body of water home to over 50 bird species! Visitors often start or end their trip in Reykjavik along the shores of Tjörnin, as it offers picture-postcard views of the city. In winter, the lake freezes over and becomes a frosty attraction for ice skaters. 
National Museum (Þjóðminjasafn Íslands): The National Museum is one of the best places to learn more about Iceland's fascinating history. The museum encourages visitors to take a gripping journey through time displaying more than 2,000 historical artifacts discovered in various parts of the island. Comprehensive exhibitions with excellent audio guides tell the story of Iceland from the earliest evidence of Viking settlements to its present-day traditions. 
Reykjavík Art Museum (Kjarvalsstaðir): Get yourself acquainted with the works of Jóhannes Kjarval, the most famous painter in Iceland, whose unique interpretation of Icelandic nature is highly appreciated by contemporary critics. His works depict abstract landscapes, mystic beings, and fantasy worlds. The building of Nordic modernism also houses paintings and sculptures by Icelandic and foreign artists. 
REYKJAVIK'S WATERFRONT
Old Harbor: Offering gorgeous vistas of Mount Esja, the Old Harbor area has reinvented itself over the past decade and is now considered one of the main drags in Reykjavik. Take a stroll through countless cafés, restaurants, and shops converted from former fishermen's huts and get a novel taste of old Reykjavik. 
Harpa Concert Hall: Situated a short walk from the Old Harbor area, the Harpa Concert Hall is one of Iceland's newest landmarks. Opened in 2011, the city's premier concert hall and conference center boasts a stunning glass facade designed by renowned artist Ólafur Elíasson. Music lovers will enjoy a stylish performance in this excellent example of contemporary architecture.
Sun Voyager (Sólfar): This stainless-steel sculpture, resembling an old Viking ship, is one of the most visited sights in the city. Designed by Icelandic artist Jón Gunnar Árnason, the Sun Voyager is open to many different interpretations and visitors are certainly encouraged to create their own. However, one thing is for sure - the sculpture points north in the direction of the setting summer sun.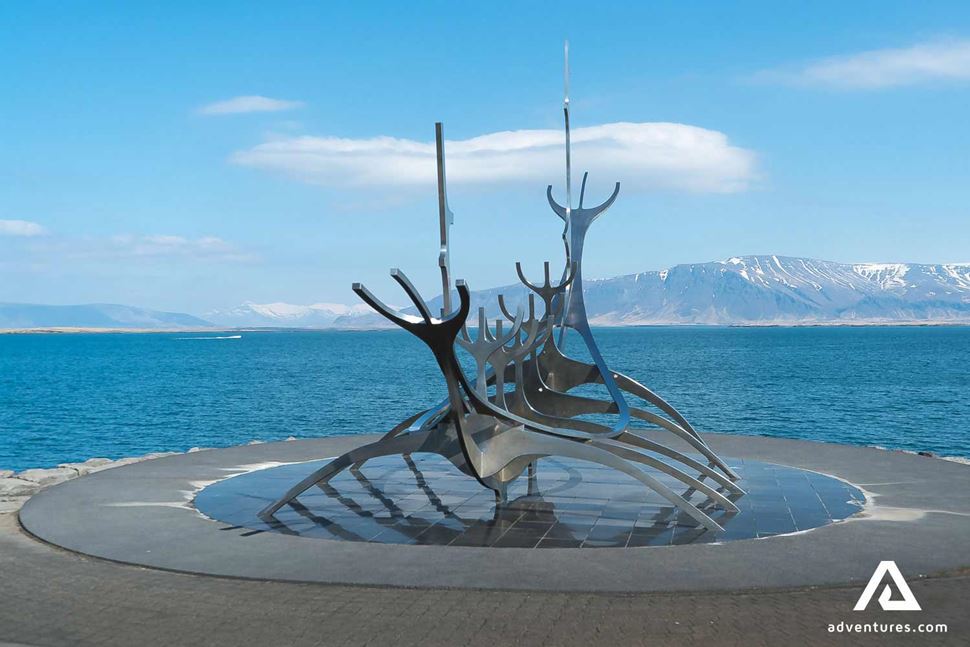 Whales of Iceland: Nature lovers don't want to miss a visit to the biggest whale exhibition in the world. The Whales of Iceland exhibition displays man-made life size models of various cetacean species and a free audio guided app adds a wealth of detail. You'll see enormous models of marine giants such as blue whale or fin whale, as well as learn about their fascinating social behavior. 
OUTSIDE OF DOWNTOWN
Perlan: For smile-inducing Reykjavik panoramas, head to Perlan, one of the city's most stunning buildings. It's situated on top of the forested Öskjuhlíð Hill hosting an impressive rotating glass dome built on top of six geothermal water tanks. The building serves as a museum, café, and educational site where you can learn all about the natural wonders of Iceland, plus experience a 360-degree view of the entire city.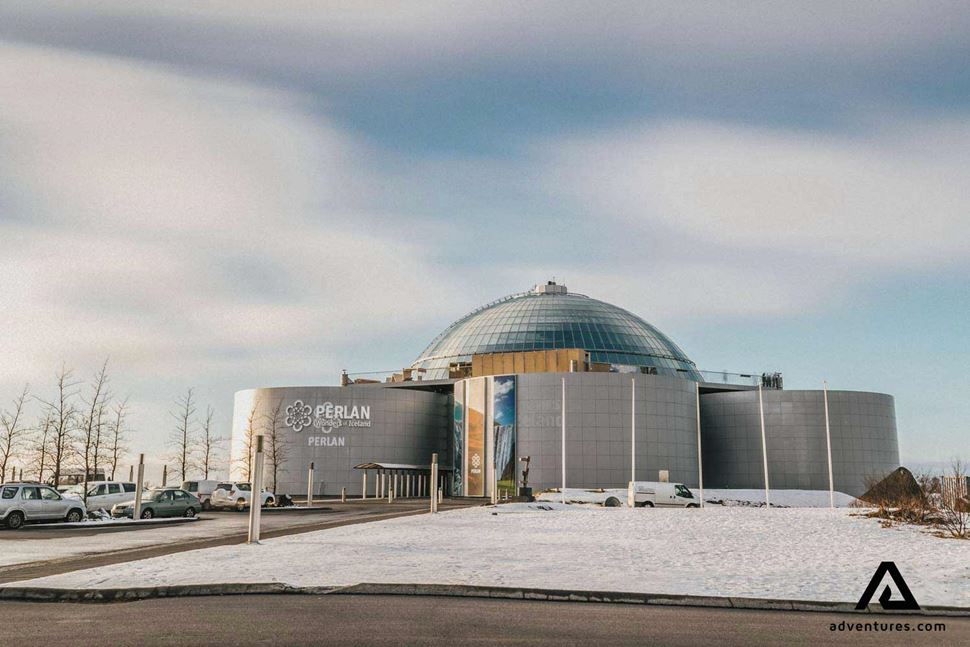 Laugardalur: Otherwise known as Hot Spring Valley, Laugardalur is a recreational area, popular with locals and tourists alike. The area is best known for having Iceland's largest all-year-round outdoor pool. Stop to take a rejuvenating dip into the warm waters before continuing on with your city exploration. The area is  also home to botanical gardens featuring a great collection of Arctic plants and a zoo full of Icelandic animals such as foxes, seals, reindeer, horses, and sheep. 
Imagine Peace Tower: Located on Viðey Island a few minutes boat ride from Reykjavik, the Imagine Peace Tower is one of Iceland's most famous landmarks. Created by Yoko Ono in memory of her husband John Lennon and inscribed with the words "Imagine Peace" in 24 languages, the construction emits a powerful pillar of light from October 9th (Lennon's birthday) through December 8th (the day he died).
Reykjavik Festivals
Reykjavik's dynamic art scene manifests itself during festivals that take place throughout the year. Here is a list of the most popular ones. 
Iceland Airwaves

— One of Iceland's most exciting music festivals. Held every November, the event spans four days and fills Reykjavik's streets and venues with performances by internationally renowned musicians and local artists. 

Sónar

— The Icelandic version of one of Europe's famous electronic music festivals founded in Barcelona by Enric Palau. Sónar is held annually at Harpa Concert Hall.

Winter Lights Festival

— An annual winter celebration featuring a range of entertainment such as marvelous light installations at Hallgrímskirkja Church, various cultures, and sport events. It's held in February every year. 

Reykjavik International Film Festival

— An international film festival attracting film enthusiasts from around the world. The event takes place over 11 days every September and October.

Reykjavik Fashion Festival

— A four-day fashion and music event showcasing the works of Iceland's most famous artists and designers. It takes place in March each year. 
Reykjavik Nightlife
Reykjavik is renowned for its wild nightlife, and it's no wonder, given its abundance of craft-beer bars, high-end cocktail bars, and funky outdoor cafés. Most venues are open until 2:00 a.m. during the week and won't close until 5:00 a.m. on Friday and Saturday evenings. Late-night revelers will find plenty of parties to choose from!
The nightlife in Reykjavik centers around a street called Laugavegur. The street is Iceland's main commercial artery and is lined with a vast array of tempting bars, cafés, and clubs. More often than not some cafés and restaurants act as both - being quaint cafes in the morning and transforming into an exuberant bar in the evening. When night time arrives, Laugavegur becomes a completely different world that you won't want to miss. Take a leisurely wander down the street or ease up at some chic place during the light summer nights. (In Iceland, the sun barely sets in summer!) 
The dress code is typically smart casual or just casual, the atmosphere is typically very relaxed and comfortable. Sometimes an entrance fee or cover charge may be required (if there is a special event such as a live performance) but usually, bars don't charge an admittance fee.
Since the most popular bars are located within easy reach of one another, Reykjavik perhaps is one of the best places for bar-hopping in the world. If you're looking for companionship, you're always welcome to join the legendary guided pub crawl and get a glimpse of how the locals like to party. 
Reykjavik Northern Lights
If you're visiting Reykjavik in winter, you'll have a great chance to spot the mystical Northern Lights blazing across the night sky. Aurora Borealis season in Iceland runs from late August until late April. A couple of the best places to peer into the night sky to witness the dancing curtains of the Northern Lights are Grótta and Öskjuhlið Hill. 
Situated 3 mi (5km) from downtown Reykjavik, Grótta is a nature reserve best known for its fascinating array of bird species and the soothing atmosphere created by the murmuring ocean nearby. Due to the area's extremely low light pollution, the reserve is an ideal spot for viewing the Northern Lights in winter. There is also a geothermal pool that allows you to admire the colorful displays of the Aurora while soaking in mineral-rich waters. 
Located in the suburbs of Reykjavik, the hill of Öskjuhlið is another great place for hunting the Northern Lights. Home to the famous domed building called Perlan, it also offers fantastic views of the entire city. Explore the paths of the forested hill or head directly to Perlan's fourth-floor viewing platform to catch the Aurora. 
To learn more about the mysterious dancing lights visit the Northern Lights Center called Aurora Reykjavik and if you wish to venture deeper into the countryside, check our guided Northern Lights tours. 
Where to Stay in Reykjavik
Reykjavik offers plenty of various accommodation options, but here are some of the best places to stay in Reykjavik. While hotels are sometimes the pricier options, guesthouses or Airbnb offer great budget alternatives. However, keep in mind that booking in advance is always a good idea!
Hotels
Icelandair Hotel Marina — Situated in the charming Old Harbor area, it offers stylish rooms with city or marina views and private bathrooms.
Alda Hotel — Located on the popular Laugavegur shopping street in central Reykjavik, it's a great place for those who are planning to explore Reykjavik's vibrant nightlife.
Centerhotel Arnarhvoll — Resting in central Reykjavík, the Nordic designed hotel features thoughtfully designed rooms and a restaurant with panoramic views of the city. 
Hotel Reykjavik Centrum —  Located just a short walk from the Reykjavik Art Museum, it boasts cozy hotel rooms, self-service studios, and a Viking exhibition center.
Kvosin Downtown Hotel —  Situated next to Lake Tjörnin, it's a great budget accommodation in the city center that offers modern suites with kitchenettes.
Guesthouses
Gestinn Guesthouse — Just a 3-minute walk from Hallgrimskirkja Church, it has colorful rooms with the option to rent bikes on site. 
Central Guesthouse Reykjavik — Situated a short walk from Reykjavik's main shopping street Laugavegur, it offers clean rooms with shared bathrooms and has a terrace with a BBQ.
Sunna Guesthouse —  A 15 minute walk from the Old Harbor area, it's a family run business offering clean and minimalist rooms. There is also a public swimming pool close by.
Guesthouse Galtafell — Set in a historic building, it offers apartments with shared or private bathrooms, about a 5-minute walk from the popular Laugavegur street.
Baldursbrá Guesthouse — Situated near Lake Tjörnin, it offers clean, tidy rooms with shared bathrooms and has a private garden with a jacuzzi.
Where To Eat In Reykjavik
With plenty of unforgettable gastronomical experiences to choose from, Reykjavik knows how to embrace life. Here is a useful list of some of the best restaurants in Reykjavik.
Restaurants & Cafés
Old Iceland Restaurant — Located on the popular Laugavegur street, it's a family run restaurant serving locally sourced food such as fresh Icelandic fish and meat. 
Café Paris — Recently renovated, it's one of Reykjavik's best known cafés serving French-style bistro dishes. Set in a historic building, it's located in the heart of the city center. 
Perlan — Situated under Perlan's glass dome, it offers not only gourmet dishes but also breathtaking vistas of the entire city. 
Við Tjörnina — Located inside  Reykjavík City Hall, it specializes in seafood including authentic traditional Icelandic meals such as fermented shark.
Mokka — One of Reykjavik's oldest cafés, it's credited with pioneering the caffeine culture in Iceland. Beloved by locals, it also serves sandwiches, waffles, and hot chocolate. 
Bars
Skúli Craft Bar — One of Reykjavik's most popular bars, it's one of the best places to have your first taste of authentic Icelandic beer. It offers up to 14 different craft beers on tap as well as large variety of bottled beer brands.  
Micro Bar — One of the oldest craft beer bars in Iceland, it's another great place to try out some unique Icelandic brews or carefully selected foreign beer brands.
Lebowski Bar — Big Lebowski fans won't want to miss this fascinating place with an interior inspired by the Coen brothers' iconic movie and a thoroughly crafted White Russian menu. 
Mikkeller & Friends — It's a very popular Danish brewery with a uniquely edgy vibe. Choose from 20 beers on tap and several bottled options. 
Kaldi Bar — One of Reykjavik's newest craft beer pubs, serving the famous Kaldi beer alongside a great selection of wines.