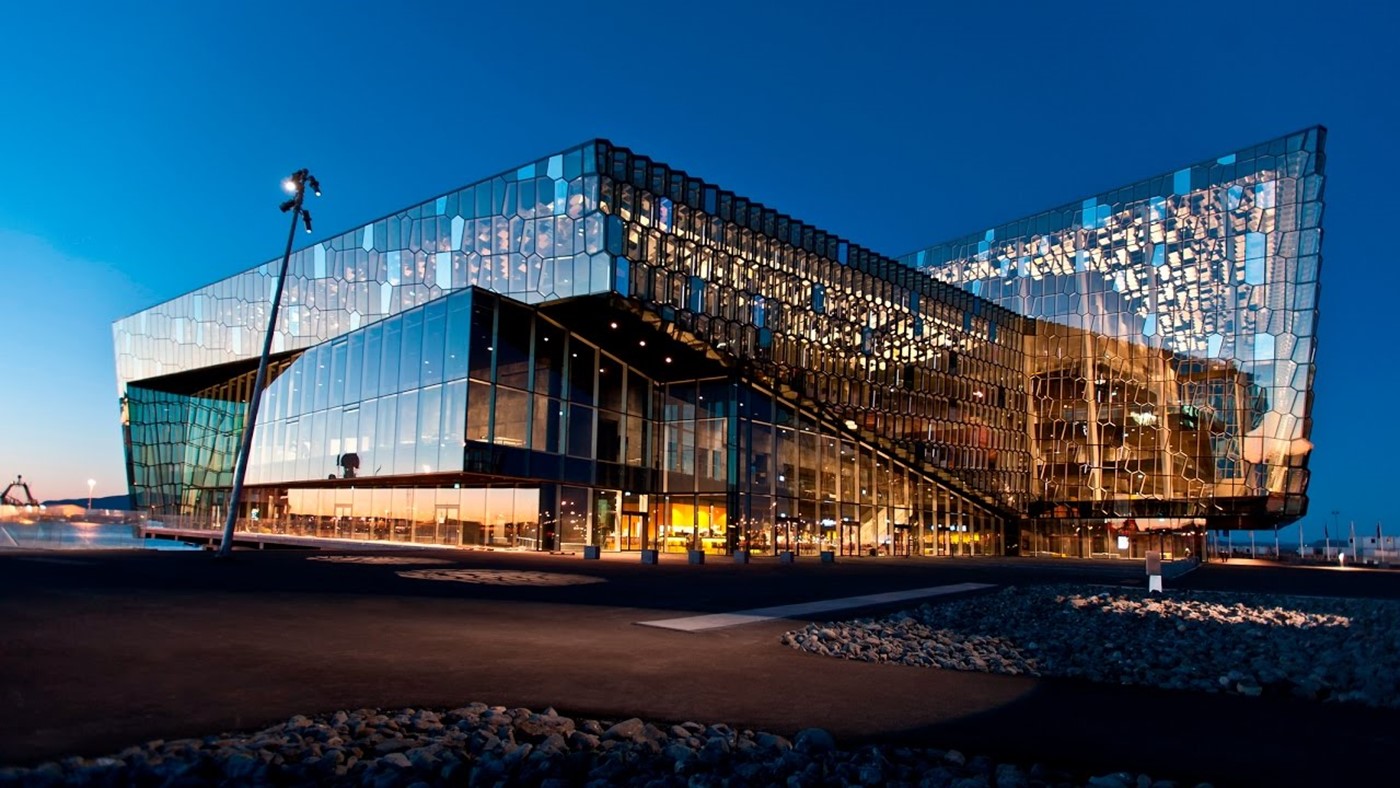 What is Harpa?
Harpa is a concert hall in Reykjavik, located in the center of downtown. Situated along the riverfront, the monumental structure catches attention due to its distinct shape.  
Harpa is a piece of art and a must-visit, even if you are not a music buff. Take a tour of this architectural masterpiece to comprehend its beauty and creativity.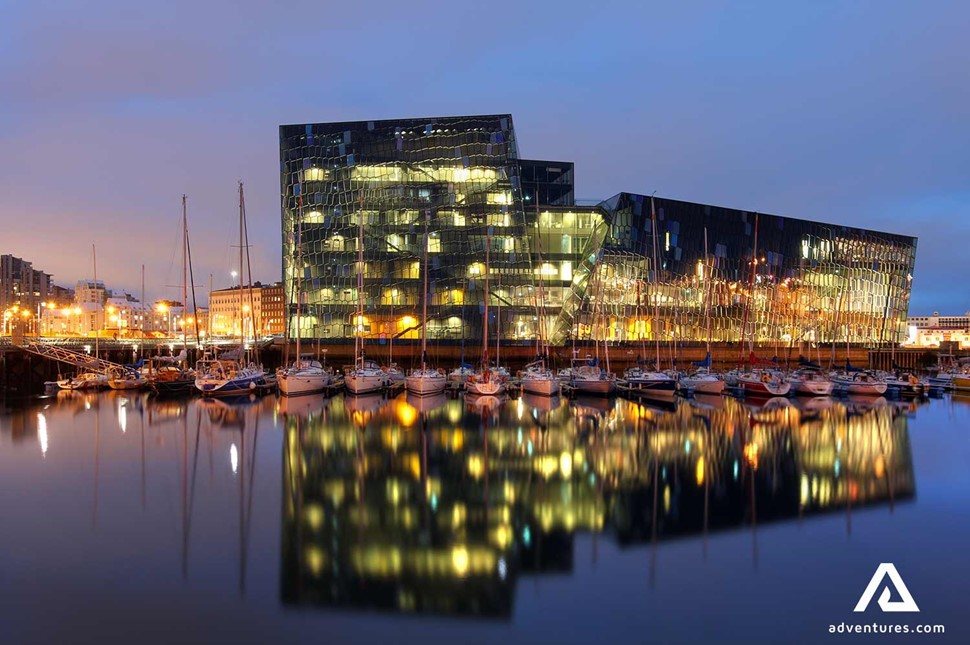 Visitors prefer to take a guided tour of Harpa to understand how the Icelandic landscape, volcanoes, and arctic lights inspired the design. Moreover, a guide can take you to parts of the building that are closed to the public. Learn about the secrets and interesting anecdotes of Harpa from a local guide. 
The chances are high that you will spend hours inside the hall, roaming around and marveling at its magic. 
Another exciting exhibition you should not miss is the Iceland Expo Pavilion. It was designed for the World Fair in 2010. The pavilion presents a 360° film highlighting the best of Icelandic nature and topography.  
Where is Harpa located?

The address of Harpa is Austurbakki 2, 101 Reykjavik, Iceland. It is situated near the harbor, and you will see boats surrounding it always, increasing its charm. Harpa in Iceland gives you a great view of Reykjavik and mountains and oceans. 
If you are lucky, you can have a glimpse of the Snaefellsnes peninsula through Harpa's colorful windows. 
You can take your own car to Harpa. There is a multi-floored parking garage where a nominal fee is charged for parking vehicles.
History of Harpa
For many years, the planners of Reykjavik wanted to build a concert and conference center that would cater to music and attract visitors. The design of the building was conceived by renowned Danish-Icelandic artist Olafur Eliasson and executed by Henning Larsen Architects. Vladimir Ashkenazy, a famous artistic advisor, collaborated with international consultant Jasper Parrott of Harrison Parrot to develop Harpa. The construction started in 2007 but was paused due to a financial crisis that hit the entire world. In 2008, the government decided to fund the cost, and in 2011, the work was completed.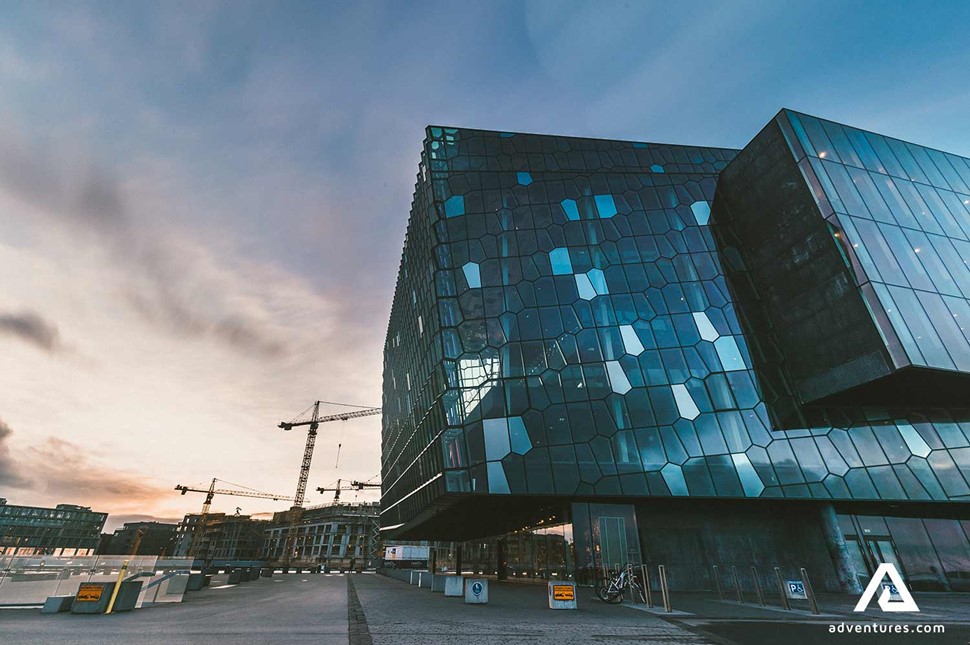 The concert hall was initially named the Reykjavik Concert Hall and Conference Center. Later on, the government declared a competition to find a suitable title for it. The criteria were to suggest an Icelandic name that would be easy for foreigners to pronounce. More than 1200 citizens participated in the contest and suggested 4156 names.  
The name 'Harpa' was selected as it satisfied all the conditions. In Icelandic, it means the instrument harp. The word is also linked to Viking history. Harpa was a month in the Nordic calendar that marked the beginning of summer.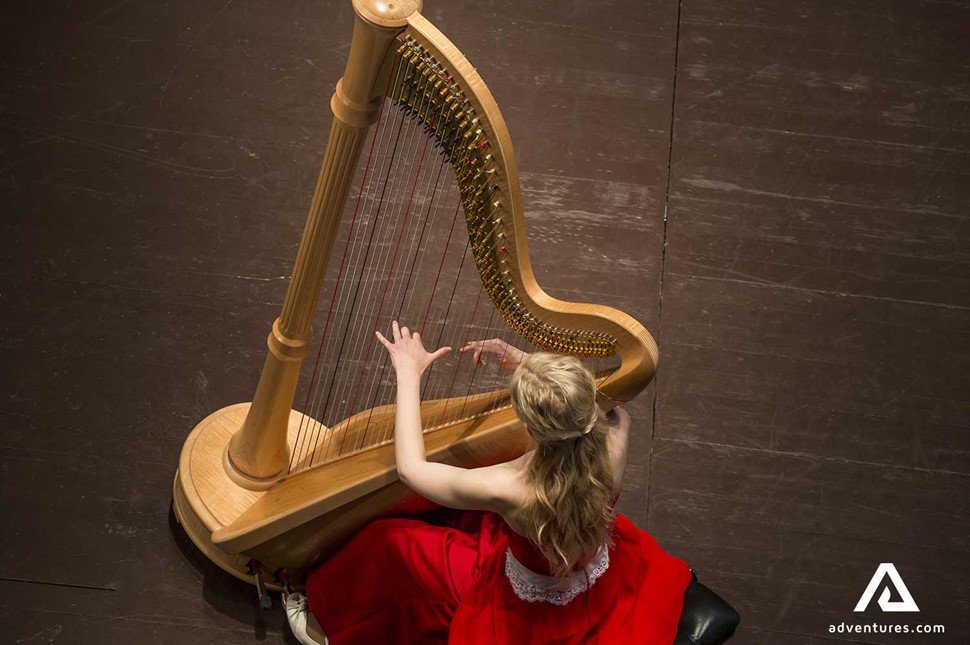 The first concert was held on 4th May 2011, and Harpa became a landmark of Reykjavik. Several music festivals have been organized here. World-famous bands, soloists, theatre companies, and dance groups have performed in Harpa, making it the most happening space in Reykjavik.  
Harpa plays a key role in the lives of residents of Reykjavik. It is used to host exhibitions, cultural events, meetings, festivals, and concerts. It is home to Icelandic Opera and Icelandic Symphony Orchestra. 
Harpa has won international fame by organizing concerts of famed artists like Cyndi Lauper and Eddie Izzard. It also inspires local talent and regularly holds shows by Bjork and Of Monsters and Men. 
How popular is Harpa?
Many people who have never been to Iceland know about Harpa from reviews of world-class singers and performers. Harpa has started making its way into several Netflix series. Two popular series, Black Mirror and Sense8 had used the concert hall in their episodes.
Harpa's Architecture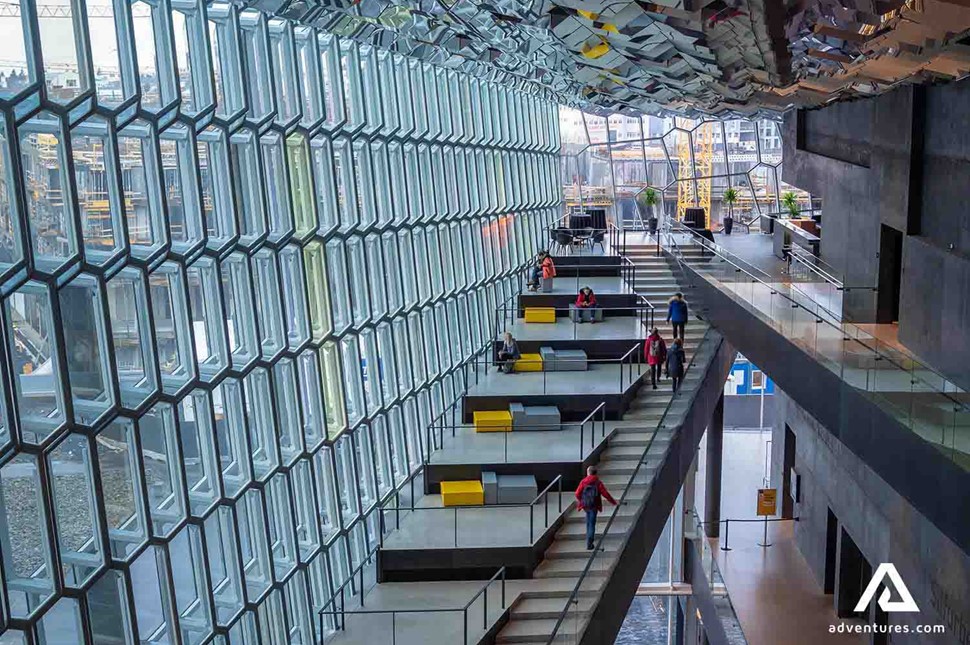 Harpa garners attention from onlookers because of its distorted cube-like appearance. The colossal structure has a steel framework holding 714 multicolored geometric glass panels.  
Thousands of LED lights are fitted on the exterior of the building that makes it come alive during the evening. When the colors and designs move across its façade, it creates a magical effect. 
Large geometric windows adorn the interior of the building, giving a good view of the waterfront and the capital. When natural light streams through the building, it looks delightful.  
When the sun sets, the glass façade reflects the light, creating a myriad of spectral shapes. To appreciate the beauty of this structure, people visit it both during the day and night.  
Harpa has won international acclaim due to its innovative design. According to the Architectural Digest Magazine, it is one of the ten best-designed buildings in the world. Harpa has won several awards, including the World Architecture Award in 2010, the Arkitektur Masaan Awards in 2012, and the Mies van der Rohe award for best public space in 2013. 
Harpa Annual Events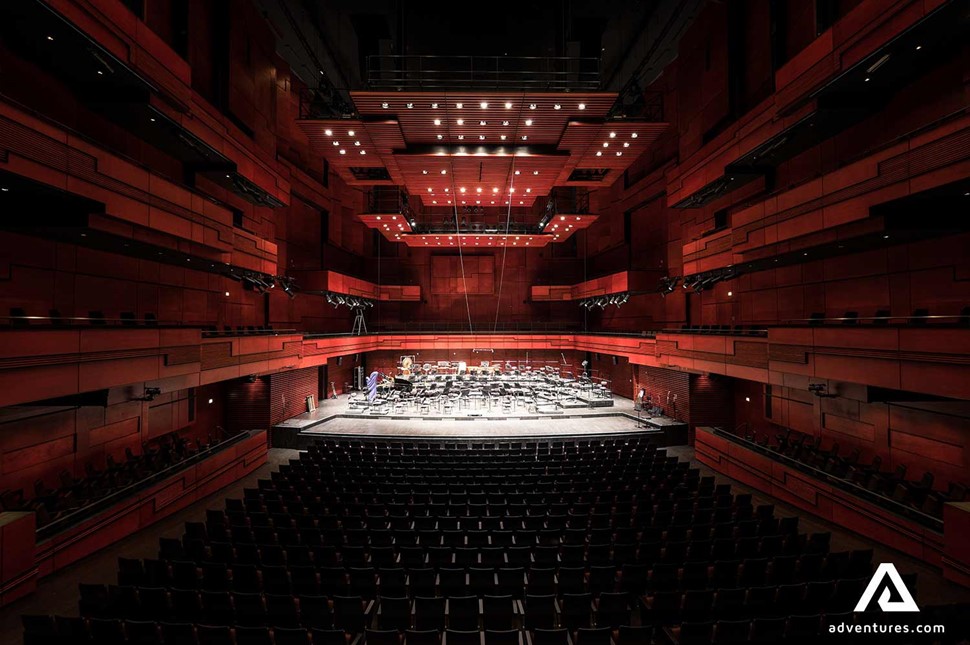 Throughout the year, Harpa hosts several events and musical concerts. Of these, the most noted are Christmas concerts that all music lovers want to attend. So, if you are visiting Reykjavik in December, please check the availability of tickets. 
Harpa hosts festivals like Reykjavik Fashion Festival, Airwaves, and Sonar.  
During the first weekend of March, Harpa organizes the Gourmet Food Festival. It is the largest food market in Iceland that entices foodies from all over the world. For more details, check the website of Harpa. 
Must-see Shows in Harpa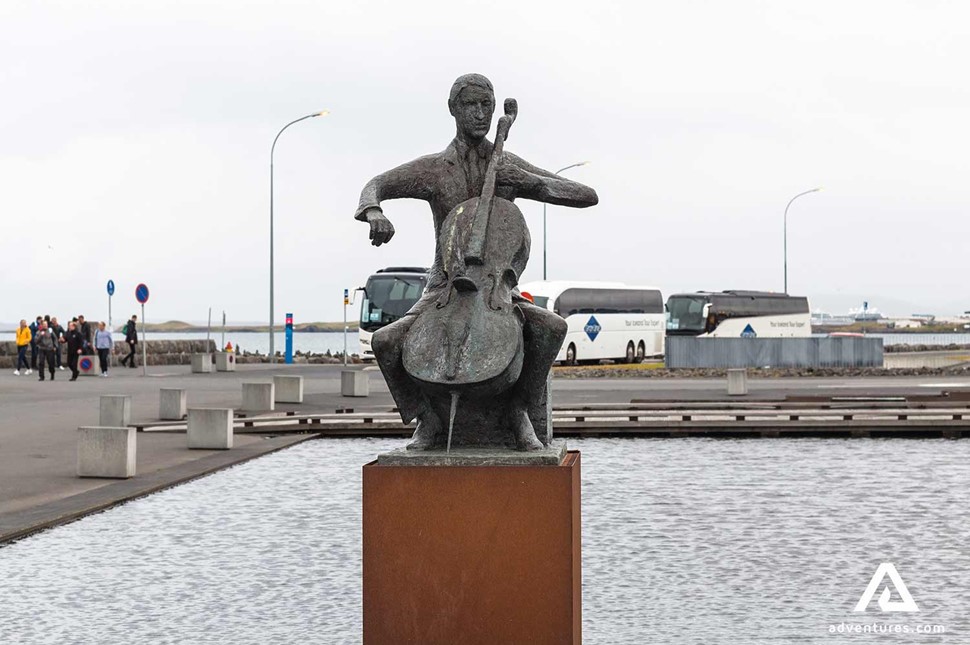 One of the top hit shows that people rave about is a comedy roller coaster that features 40 Icelandic sagas. It is performed by two artists who have won great appreciation. 
Icelanders are good at comedy, and they don't leave themselves out. A show taking a dig at the behavior of Icelanders was conceived, and it got huge reviews. It became so popular that now it is translated into English and has been running for more than five years! 
Dining at Harpa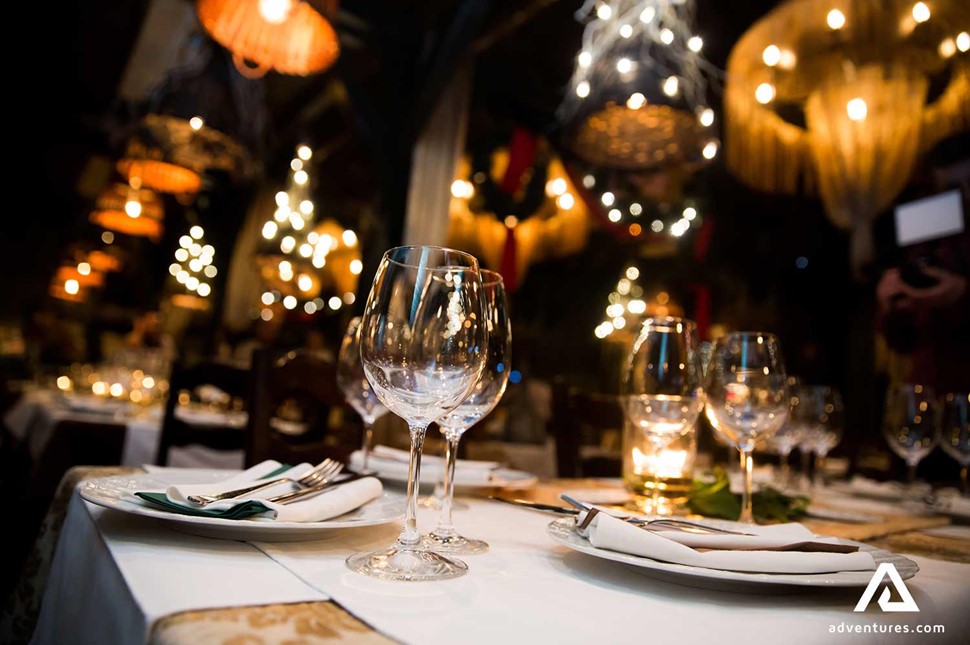 Harpa tries to offer a wholesome experience to its visitors and hence has a restaurant Kolabrautin, located on the top floor. The place serves delicious Italian fare along with breathtaking views of Reykjavik. 
If you feel hungry after spending hours here, head to the café on the first floor for a quick bite.  
There are a few shops also here that sell Nordic stuff along with a book shop. 
Attractions near Harpa
If you do not have ample time to spend a day at Harpa, plan a day trip and include other attractions of the city in it. The places you may include in your itinerary are: 


Reykjavik Art Museum
This is the largest museum in Reykjavik, and no true art lovers should miss it. The museum is spread over three buildings: Hafnarhus, Kjarvalsstadir, and Asmundarsafn.  
Located near the old harbor, Hafnarhus is the largest and most famous. You can see the works of Iceland's most renowned post-modern artist, Erro, here. The museum also has a rich collection of Yoko Ono's interactive modern art.
Hallgrimskirkja Church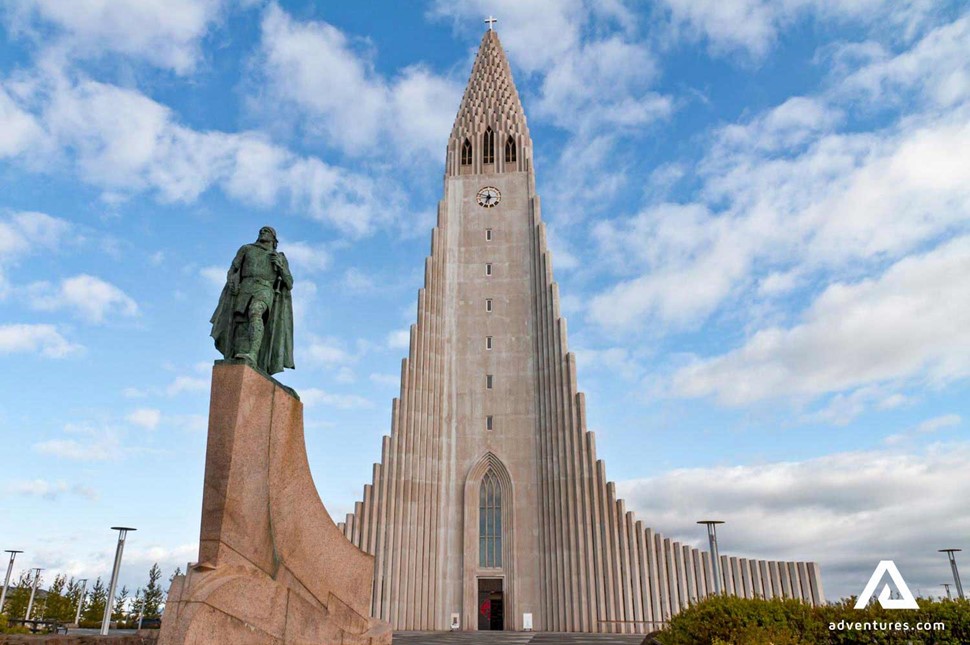 Standing at an impressive height of 2427 m, the Reykjavik Church is one of the most noted landmarks in the city. Hallgrimskirkja is a Parish Lutheran Church located in downtown Reykjavik. It draws visitors from all over the world for its sweeping views of the city. 
The architecture of the church is inspired by the Svartifoss waterfall of Skaftafell National Park. It was designed by Gudjon Samuelsson.
Kolaportið Flea Market 
If you desire to witness the local life in Reykjavik, head to the Kolaportid flea market. Close to the old harbor, it is a thriving market where you can grab a bite, check out souvenir shops, and imbibe the local flair. 
This is the best place to explore decorative items and secondhand books. You can buy gifts for your friends back home. 


Safnahusid Culture House 
For people who want to know more about Iceland's culture and history, this is a must-visit site. The cultural history of the country is showcased here through visual presentations. The best thing about the place is that it covers the evolution of culture using different angles. Thus, you will find old manuscripts, farmer's carvings, and contemporary art, all in one place. 


Grandi Hipster District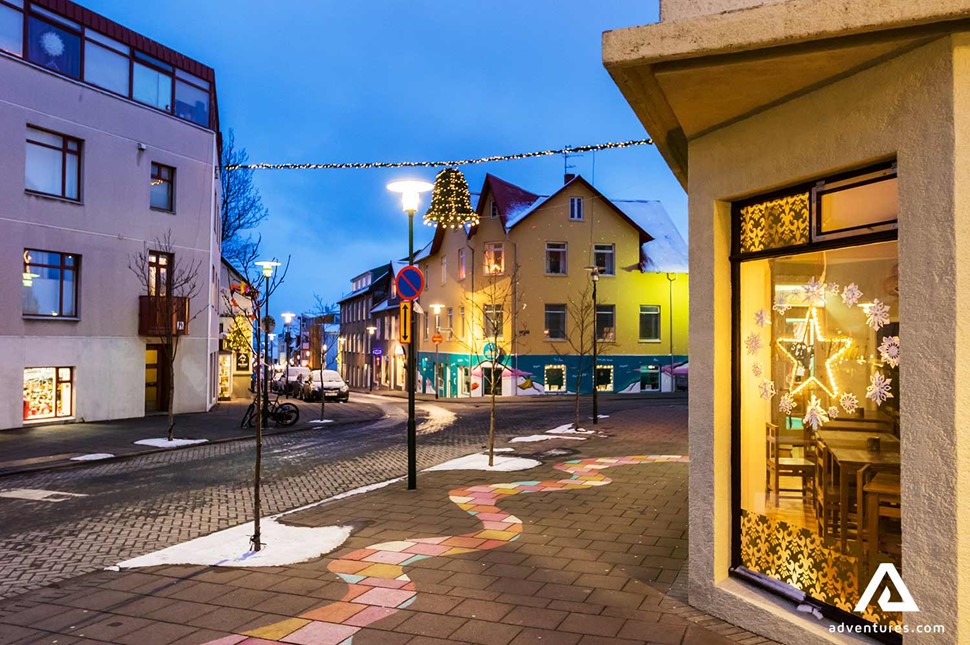 Here is a melting pot of Icelandic culture with old-dock charm, thriving restaurants, and shops selling jewelry and other knick knacks. The scenery is a bonus that lures visitors. The sky dons different shades of pink and red to contrast the snow-clad peaks in the distance. 
We hope you have a fantastic holiday in Reykjavik and enjoy all its iconic landmarks. Attending a concert at Harpa will be the icing on the cake for you. We are sure this would be the most unforgettable Harpa Iceland experience you could ask for.