About glacier hiking
Glaciers are made of thickened, compressed snow turned into solid ice over many decades or even centuries. They form when snow stays in the same location long after a snowfall and freezes into ice. Over time, the weight of the ice compresses into a glacier.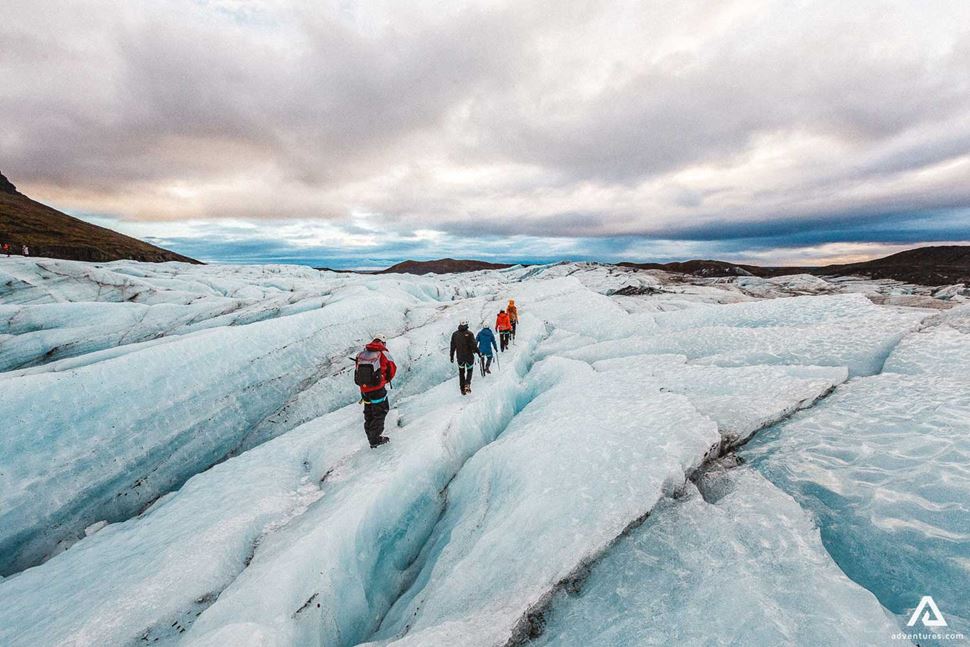 Glaciers are unique in their ability to move and flow like a very slow and steady river. While some glaciers grow to be hundreds of kilometers long, some can be as small as a football field.
There are 269 named glaciers in Iceland. Vatnajokull is the biggest, not only in Iceland but also in Europe. The second and third-biggest glaciers in Iceland are Langjokull and Hofsjokull.
The three biggest glaciers are located in Central Iceland, with others scattered around the north and the south of the country.
You can visit the glaciers all year round!
Map of Iceland glaciers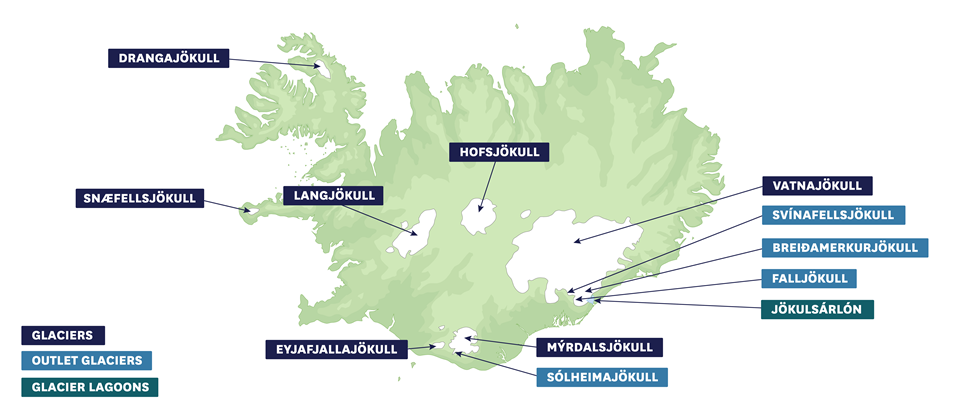 Vatnajökull Glacier National Park and Skaftafell
Vatnajokull Glacier is the largest glacier in Iceland and covers 8% of its total landmass. It's located in Vatnajokull National Park, Europe's second-largest national park.
Vatnajokull National Park includes Skaftafell Nature Reserve, Vatnajokull Glacier, and several other protected areas. It was named a UNESCO World Heritage Site in 2019.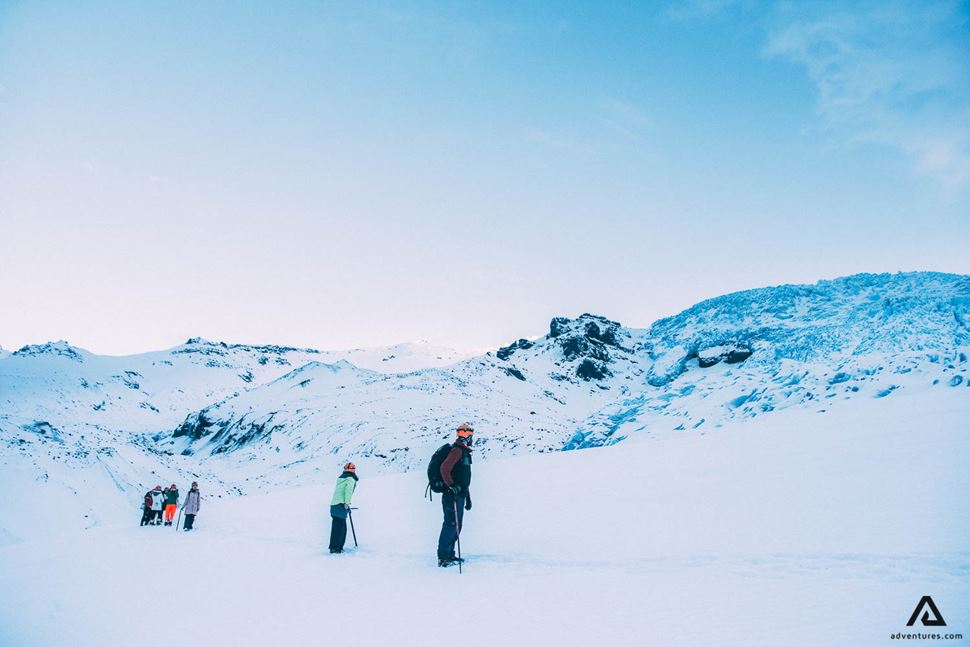 Vatnajokull Glacier is one of the most popular attractions in Iceland. It hides a number of valleys, active volcanoes, plateaus, and mountains —  our tours will take you far above and beyond Europe's largest glacier alone!
To the north of the glacier, vast plateaus of Icelandic highlands carved by glacial rivers showcase Jökulsárgljúfur and Ásbyrgi Canyons. Famous Dettifoss, the most powerful waterfall in Europe, also dominates the area.
To the east, spot wetlands filled with roaming wildlife and native birds.
To the south, photograph the snowy mountain peaks sheltering the outlet glaciers, Falljokull and Svinafellsjokull.
Our glacier hiking tours Crawling Falljökull Glacier and Vatnajokull Explorer, will both take you to the Vatnajokull Glacier and Skaftafell National Park. The tours themselves will take place on Falljokull Outlet Glacier.
Falljokull Glacier
Falljokull Glacier is an outlet glacier of Vatnajokull Glacier, it's 4 miles (8 kilometers) long and is just 10 minutes away from the Skaftafell Visitor Center by bus. Once there, you'll be amazed by the diversity of the scenery around you. From the top of the outlet glacier, you'll see imposing and ever-changing ice formations, a picturesque mountainous landscape, and the surrounding rugged terrain.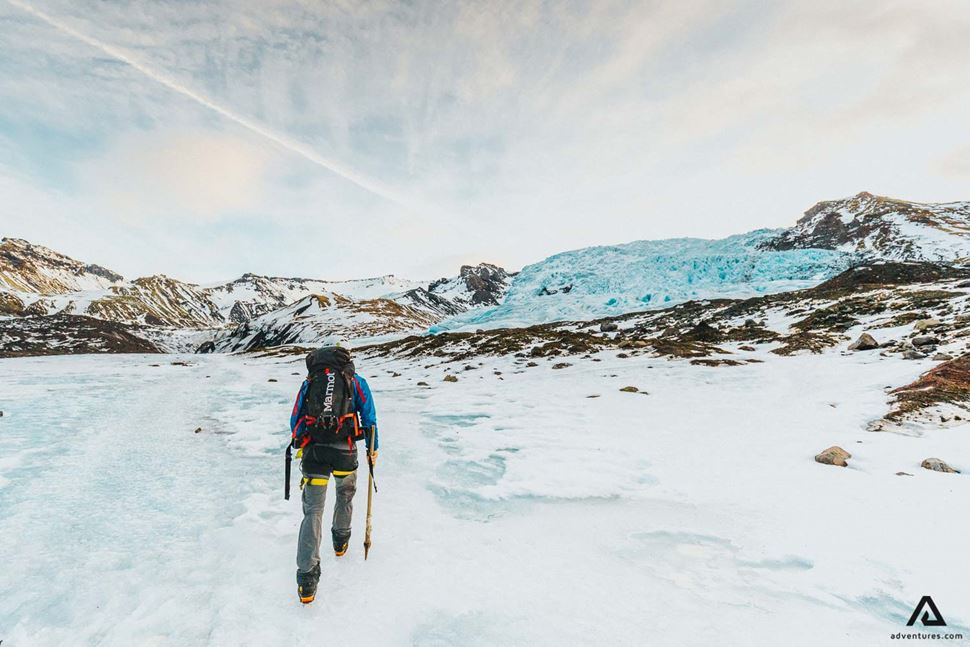 What Else Can I Do on an Iceland Glacier Tour?
Iceland is known for its unpredictable weather and varied terrain. You'll never know what kind of weather you'll get until you're there. While it can be hard to plan your tours and activities according to the weather, the unusual climate does have its advantages —  like the chance to do winter activities during the summer!
For example, you can try out ice climbing on your glacier hiking tour. Solheimajokull is perfect for those who never tried ice climbing before. Our experienced and certified guides will make sure you're safe every step of the way during your tour.
Our South Coast Glacier Hiking tour offers volcano exploring and waterfall hunting. On this tour, you'll see all of the most famous sights of Iceland's South Coast, such as Seljandafoss and Skogafoss Waterfalls, black sand beaches, notorious Eyjafjallajokull Glacier, Hekla Volcano, and more.
During your whole trip, you'll be accompanied by a certified glacier guide who will make sure you're safe and sound. With us, you don't have to worry about anything!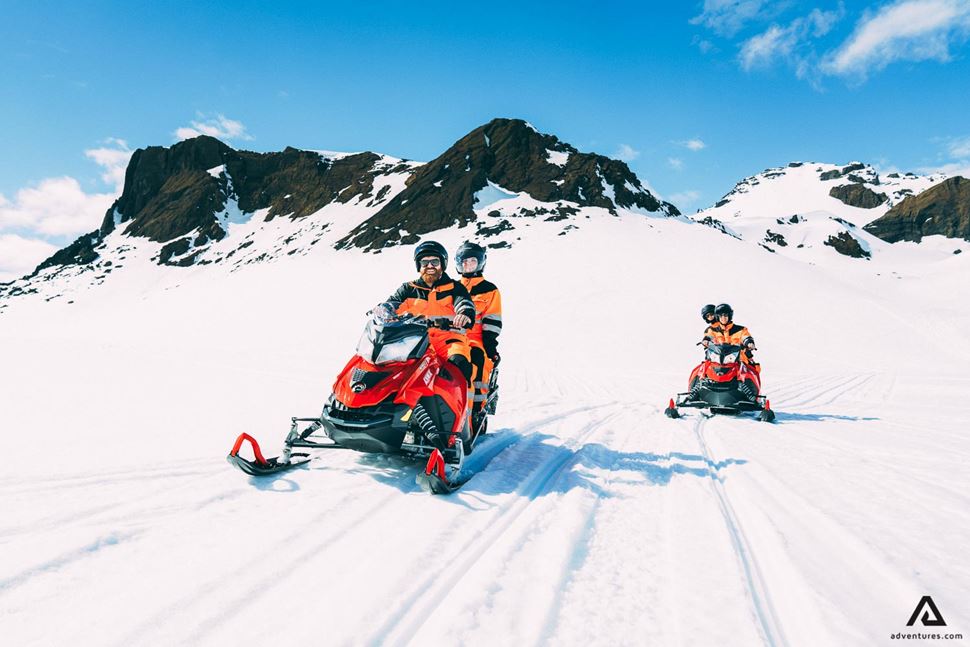 Which Iceland Glacier Hiking Tour is Best for Me?
All our glacier hiking tours take place on either Vatnajokull Glacier or Solheimajokull Glacier - the two most popular glaciers in Iceland.
Vatnajokull Glacier Tours
Tours in Vatnajokull National Park take place on Falljokull Outlet Glacier. During the tours there, you'll have a chance to explore Vatnajokull National Park, Skaftafell Nature Reserve, and hike on Falljokull Outlet Glacier.
All of our tours are suitable for beginners as well as experienced hikers. Our certified guides will provide all the necessary equipment and make sure you make it back safe and sound. All there's left for you to do is enjoy the tour!
The biggest difference between the Glacier Hiking Explorer and the Vatnajokull Glacier Beginner tour is the tour length and group size. Glacier Hiking Explorer lasts a little bit longer than our Beginner tour and is designed for smaller groups of people.
Solheimajokull Glacier Tours
We offer three distinct tours of the Solheimajokull Ice Cap: Glacier Hiking for Beginners, Ice Climbing for Beginners and South Coast Sightseeing Tour. All tours are suitable for beginners and experienced travelers. Our experienced guides will provide you with all the hiking and climbing equipment you need and make sure everything is up to our safety standards. 
Glacier Hiking Tour for beginners is perfect for those who want to explore Solheimajokull and the surrounding areas. It lasts around three hours and includes all you need to have a successful hike. 
Our Ice Climbing tour is built for those who want to hike across the glacier and want to try climbing its steep ice walls too. The tour lasts four hours and the maximum group size is eight people. 
The South Coast Glacier tour combines the best South Coast sights with a walk on Solheimajokull. It's a tour packed full of waterfalls, black sand beaches, volcanoes, and glacier hiking. It's best for those who want to make the most out of their limited time in Iceland.