A Guide to Glacier Hikes in Iceland
With 11% of its total land area covered by ice, Iceland is a glacier paradise. Here you can find the largest ice cap in Europe along with some amazingly picturesque outlet glaciers. Many of these glacier tongues are very easy to access, allowing Iceland to offer a great selection of glacier walking tours to its visitors.
After reading the following guide, you will understand how these glaciers were formed over thousands of years and why they are so unique. You will learn about the glaciers in Iceland and will receive a brief overview of the different glacier-related tours and activities available. This will help you pick the tour that best suits you and your extreme Iceland travel plan.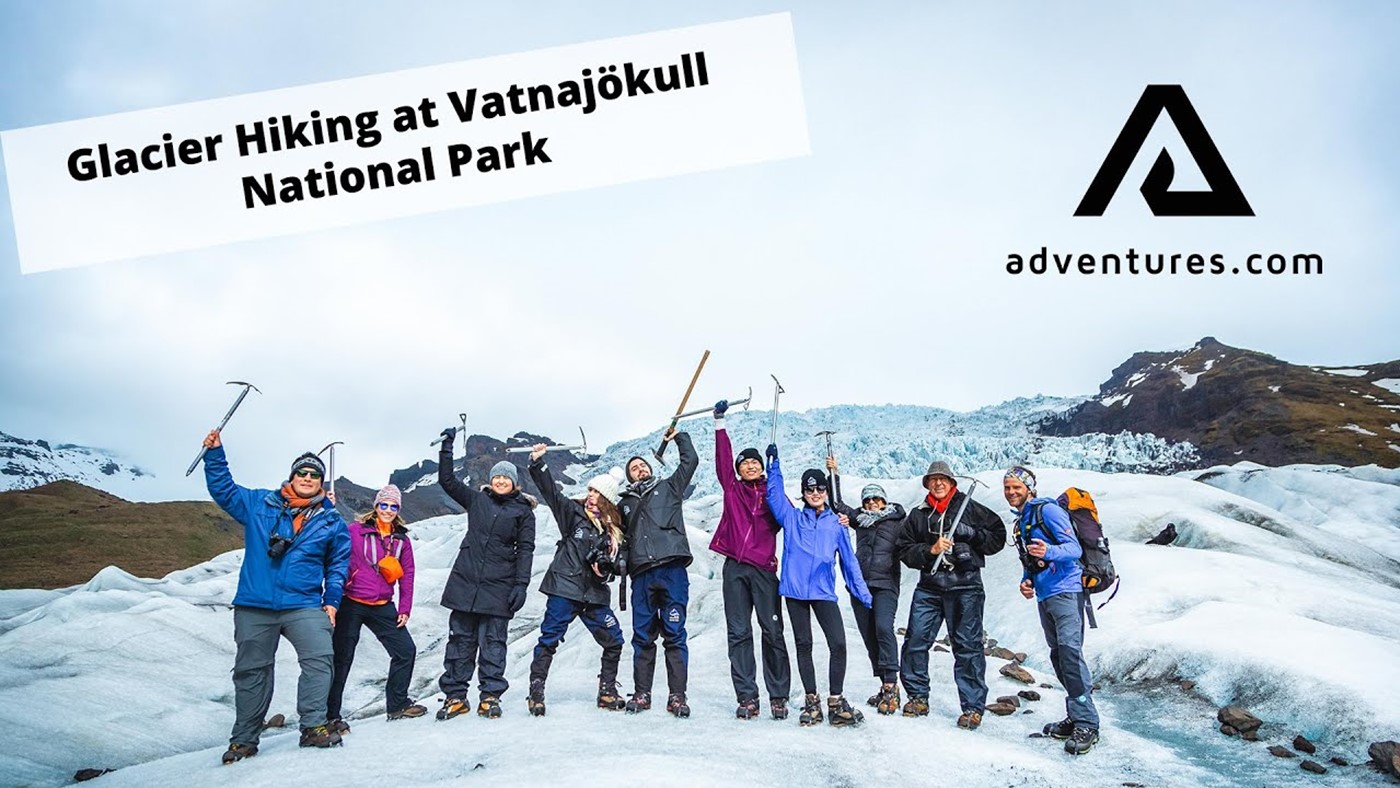 What Is a Glacier?
Contrary to what you may believe, glaciers are not formed from water. They form from fresh snow. In places where the snow doesn't melt, such as on mountaintops or in the highlands, it begins to accumulate. This continues over decades and centuries until the massive amount of snow begins to compress under its own weight and transform itself into ice. This ice continues to grow and become denser, reaching hundreds or thousands of meters of thickness.
Powered by its own enormous weight, the edges of the ice start to move and slide down the mountain hills, like extremely slow, heavy, and cold rivers. This is how "outlet glaciers" or "glacier tongues" are formed.
This movement causes deep cracks and crevasses in the body of the glacier. While making them look even more extraordinary, these crevasses make the glaciers quite dangerous to navigate.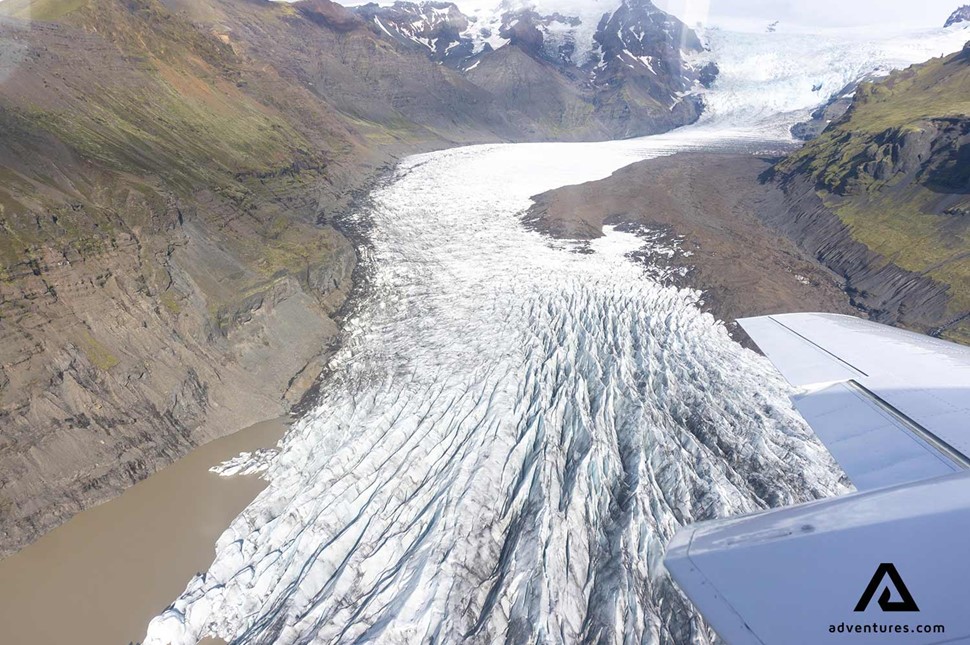 Why Are Some Glaciers Blue?
Snow and regular ice are white because they contain a lot of air bubbles. This air reflects the full spectrum of light, making us perceive it as white. When ice is strongly compressed, on the other hand, the air bubbles are forced out of it and do not interfere with the light traveling through the ice, allowing it to pass through undisturbed.
Ice absorbs much more light from the red spectrum than the blue spectrum. This means that as the light travels deeper into compressed ice, it loses more of the red spectrum along the way. This loss of red reflected light causes us to perceive blue.
As the surface of the glacier comes into contact with the air and begins to melt, it loses its blue color. The crevasses and cracks in the body of the glacier, however, are less exposed and do not melt as easily, making those areas appear blue. This effect is most impressive when it is seen in the glacial tongues and ice falls, as it gives the outlet glaciers a spectacular bluish hue.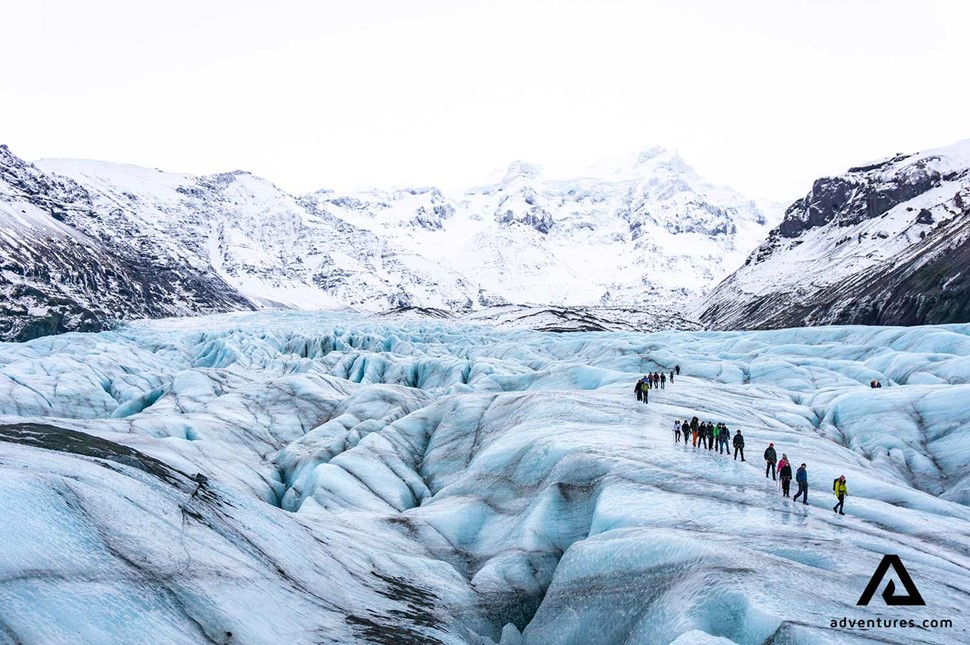 MAP OF ICELAND'S GLACIERS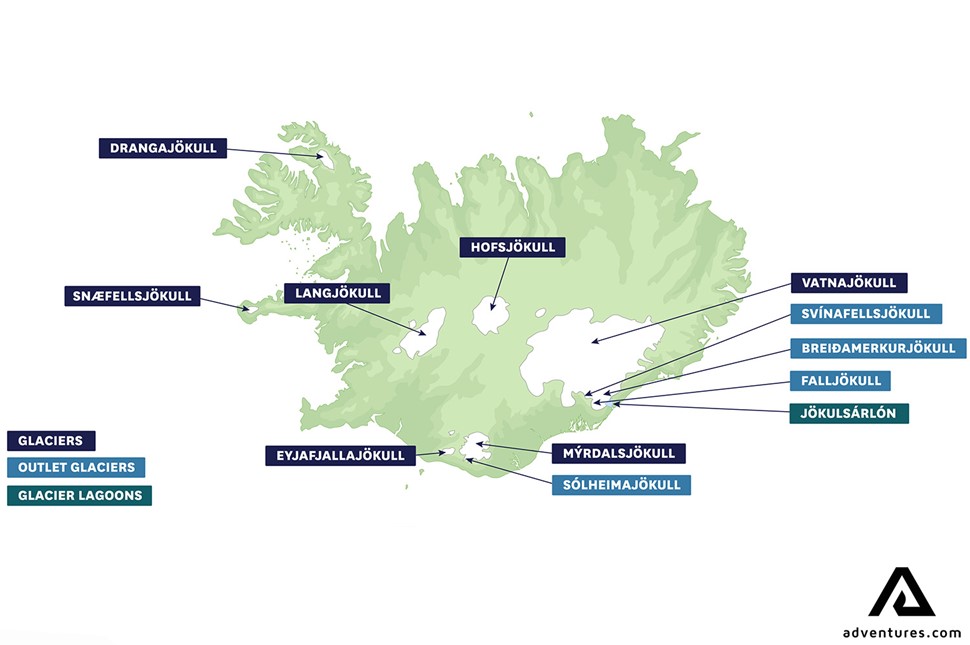 ICELAND GLACIER TOURS NEAR YOU
GLACIER HIKES FROM REYKJAVIK
No matter how much you're enjoying the capital city, you probably don't want to miss out on glacier hiking opportunities. After all, you are in the land of ice!
The good news is that you don't have to travel anywhere on your own. Our Sólheimajökull glacier hiking tours include optional pickup from Reykjavik, the experience of a lifetime, and transportation back to the capital.
Our suggestions if you're looking to go glacier hiking from Reykjavik:
GLACIER HIKES IN SOUTHEAST ICELAND
Do you happen to be traveling around Iceland on your own and have decided to take things up a notch with glacier hiking in the Southeast? You're in luck! This region is home not only to Iceland's biggest glacier, Vatnajökull but also to a mecca of glacier-related activities.
You have two main options: simply explore the glacier while on a hike, or combine that with some water activities. All tours are led by certified, knowledgeable and very fun glacier guides.
If you're looking for a challenge, there's a possibility to try out glacier hiking and ice climbing adventure. Here, you'll get to explore the incredible scenery and beautiful crevasses of Falljokull Glacier up close.
If this is the first time you're stepping onto the ice, a hiking adventure for beginners on Falljökull Glacier might be just what you're looking for. Alternatively, a glacier hiking expedition and ice cave exploration will allow you to have a closer look at fascinating ice formations and embark on more thrilling adventures.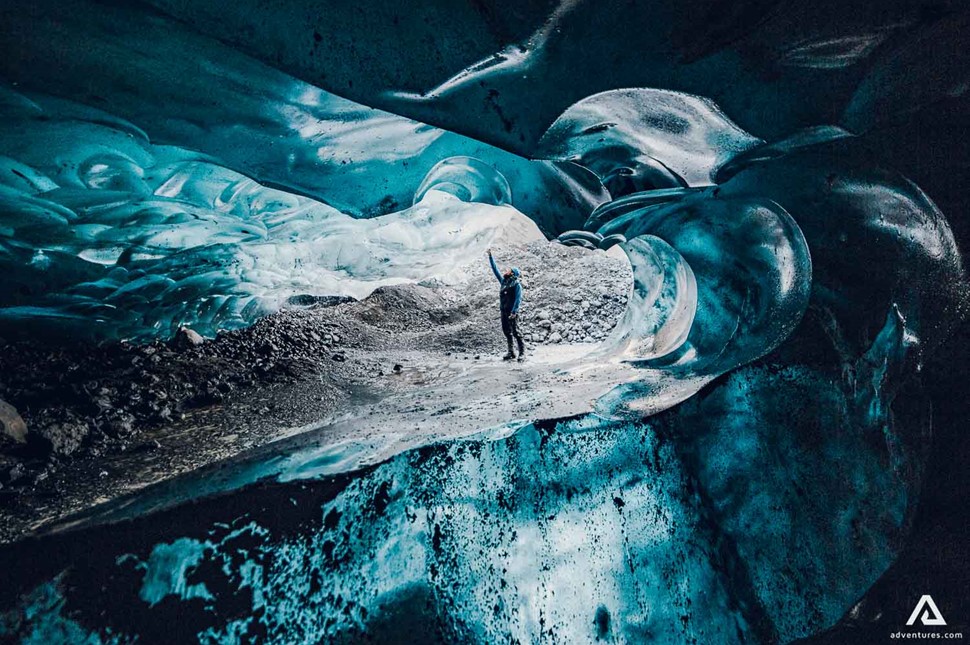 If you've been dreaming about a glacier boat tour in Iceland, we have the perfect way for you to see icebergs up close. Do you simply wish to take a look around? Hop on our Jökulsárlón Glacier Lagoon zodiac boat tour. It will allow you to sit back and admire the magnificent icebergs without any extra effort.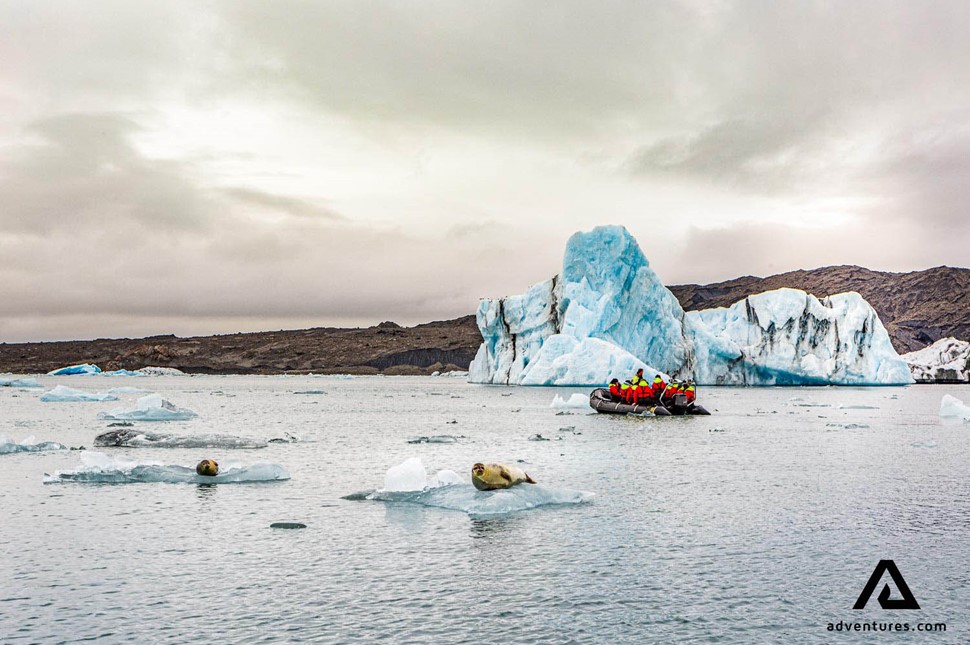 You can also take the Jökulsárlón Glacier Lagoon kayaking and hiking tour. You'll first kayak around steep icebergs. Just when you think you've seen everything, you'll get to put your crampons on and discover a whole different side of ice and glaciers during a glacier hike.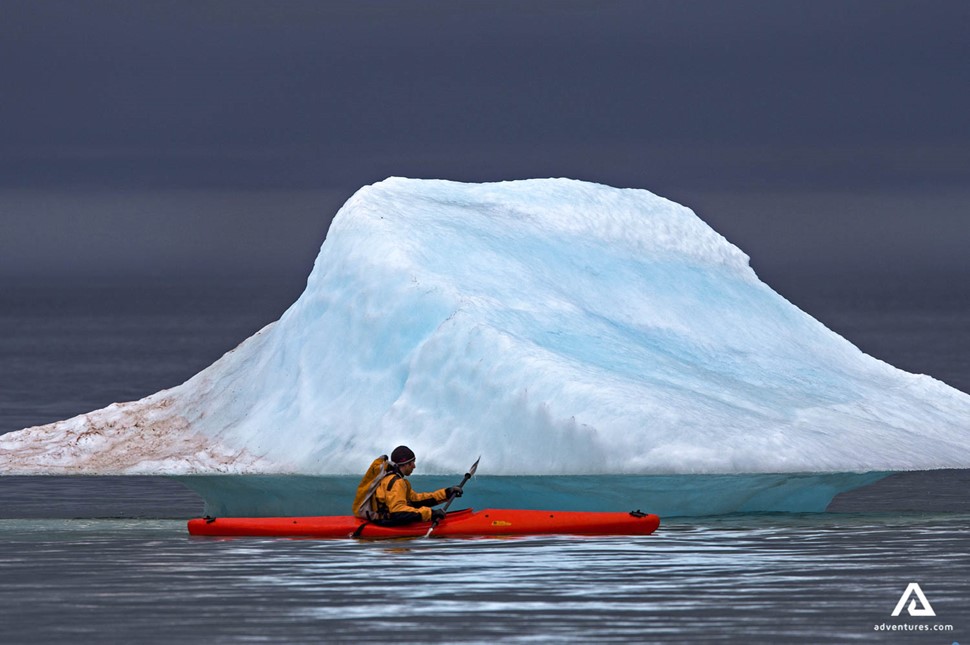 ABOUT VATNAJÖKUL GLACIER TOURS
Tours in Vatnajökull National Park take place on Falljökull Outlet Glacier, an icy tongue that elegantly meanders down the mountains on the side of Vatnajökull. During these tours, you'll have the chance to explore Vatnajökull National Park and Skaftafell Nature Reserve.
You'll do that by hiking on Falljökull Outlet Glacier, getting a close-up experience of icebergs at Jökulsárlón Glacier Lagoon and more! Some tours combine different activities, such as glacier hiking and kayaking. You're guaranteed to find an adventure that strikes your fancy. 
All of our tours are suitable for beginners as well as experienced hikers. Our certified guides will provide all the necessary equipment and make sure you make it back safe and sound. All that's left for you to do is enjoy the tour!
GLACIER HIKES IN SOUTHERN ICELAND
The southern part of Iceland is home to the Sólheimajökull glacier. It sits between Katla and Eyjafjallajökull, the volcano that erupted in 2010 and forced a good chunk of Europe's airports to temporarily close down. The evidence remains! While hiking on Sólheimajökull you can still see the volcano ashes that settled in the area.
We offer four distinct tours of the Sólheimajökull Ice Cap: Easy Glacier Hike, Glacier Hike with Ice Climbing, and Sustainable Glacier Hike. Our experienced guides will provide you with all the hiking and climbing equipment you need and make sure everything is held up to the most rigorous safety standards.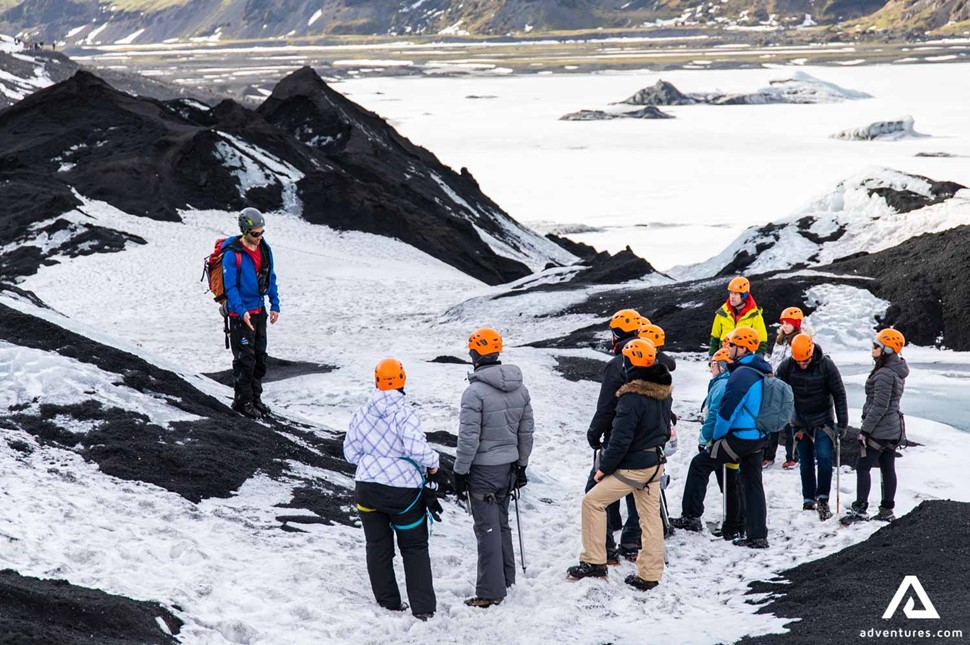 Glacier Hiking Tour for beginners is perfect for those who simply want to explore Sólheimajökull and the surrounding areas and take in some incredible natural landscapes. 
Our Ice Climbing tour is built for those who want to push themselves, defy gravity and take a peek into those parts of the Sólheimajökull glacier no other hikers are able to see.  A dozen colors of ice, thrilling experiences and a fair share of physical effort await!
Sustainable Glacier Hike is an extended version of the regular hike. On this tour, you will get to explore the glacier for longer and hear a lot about the glacier's history and how it's been affected by climate change. Plus, this glacier tour is eco-friendly cause we are offsetting the CO2 generated for this tour!
ABOUT VATNAJÖKULL AND SURROUNDING AREAS
VATNAJÖKULL GLACIER NATIONAL PARK AND SKAFTAFELL
Vatnajokull Glacier is the largest glacier in Iceland and covers 8% of the country's total landmass. It's located in Vatnajokull National Park, Europe's second-largest national park.
Vatnajokull National Park includes Skaftafell Nature Reserve, Vatnajokull Glacier, and several other protected areas. It was named a UNESCO World Heritage Site in 2019.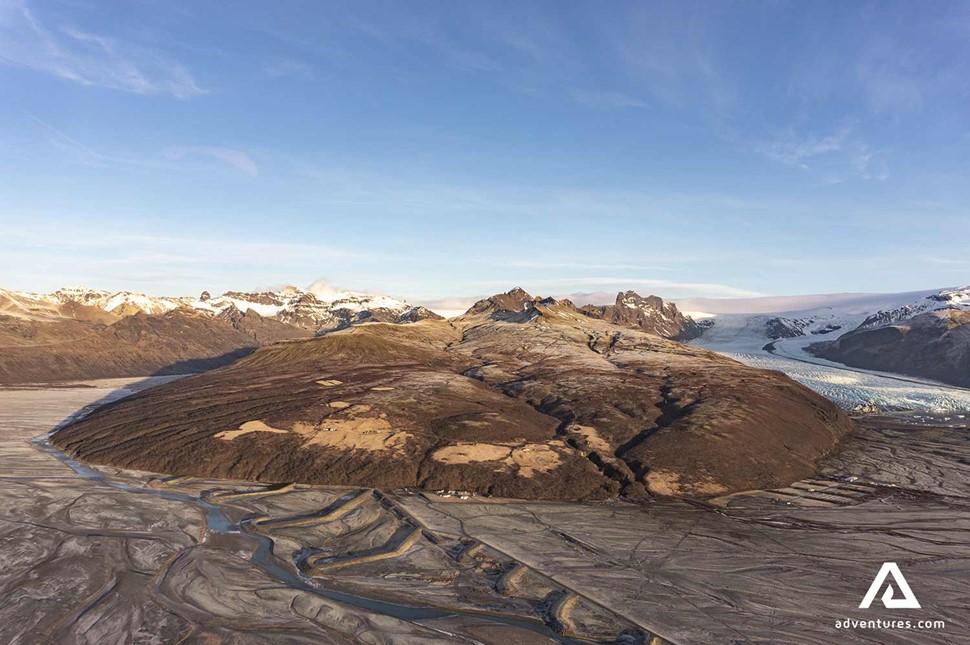 Vatnajokull Glacier is one of the most popular attractions in Iceland. It hides a number of valleys, active volcanoes, plateaus, and mountains. Our tours will take you above and beyond Europe's largest glacier alone!
To the north of the glacier, vast plateaus of Icelandic highlands carved by glacial rivers showcase Jökulsárgljúfur and Ásbyrgi Canyons. Famous Dettifoss, the most powerful waterfall in Europe, also dominates the area.
To the east, spot wetlands filled with roaming wildlife and native birds.
To the south, photograph the snowy mountain peaks sheltering the outlet glaciers, Falljokull and Svinafellsjokull.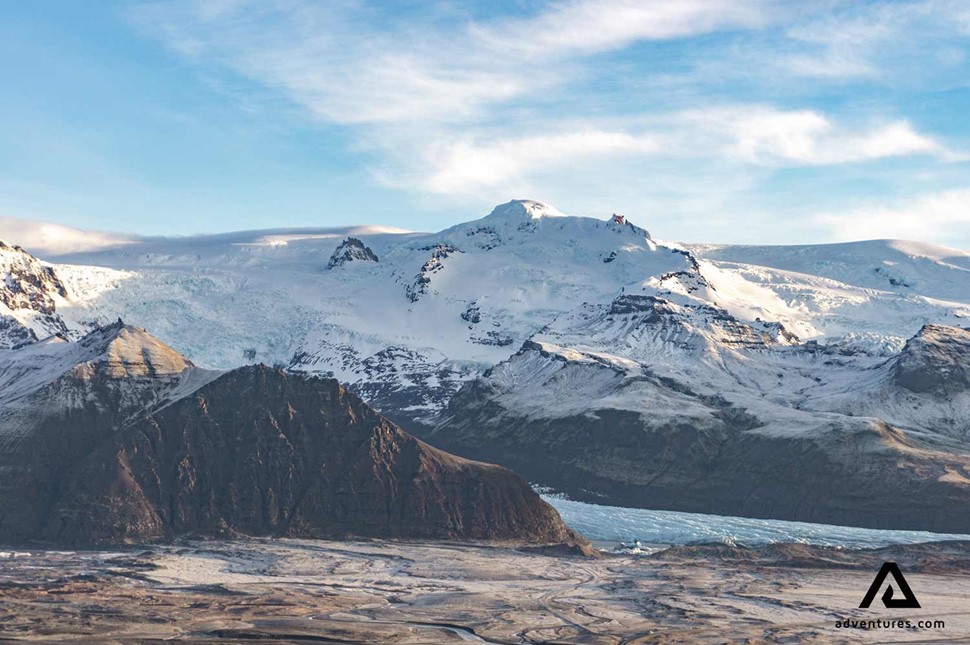 FALLJOKULL GLACIER
Falljokull Glacier is an outlet glacier of Vatnajokull Glacier. It's 4 miles (8 kilometers) long and just 10 minutes away from the Skaftafell Visitor Center by bus. Once there, you'll be amazed by the diversity of the scenery around you. From the top of the outlet glacier, you'll see imposing and ever-changing ice formations, a picturesque mountainous landscape, and the surrounding rugged terrain.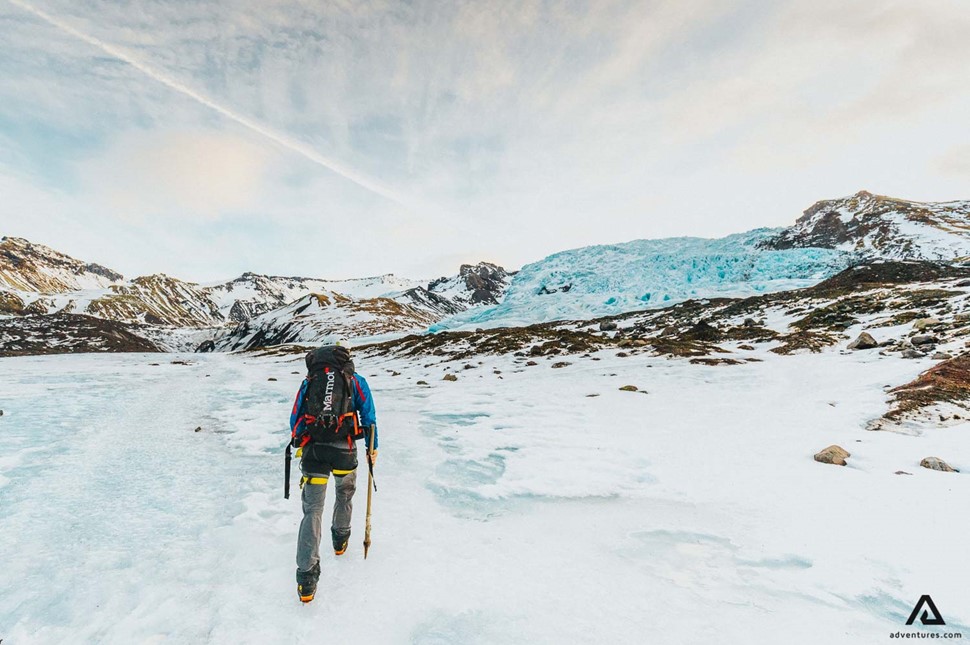 ABOUT SÓLHEIMAJÖKULL AND SURROUNDING AREAS
Sólheimajökull glacier, unlike most others, is not surrounded by mountains. It offers some top-notch views of the South Coast with incredible landscape photos guaranteed. Sólheimajökull has two famous (and notorious) neighbors, Katla and Eyjafjallajökull volcanos. The capricious Eyjafjallajökull erupted in 2010 and even today the surrounding area is covered with volcanic ash.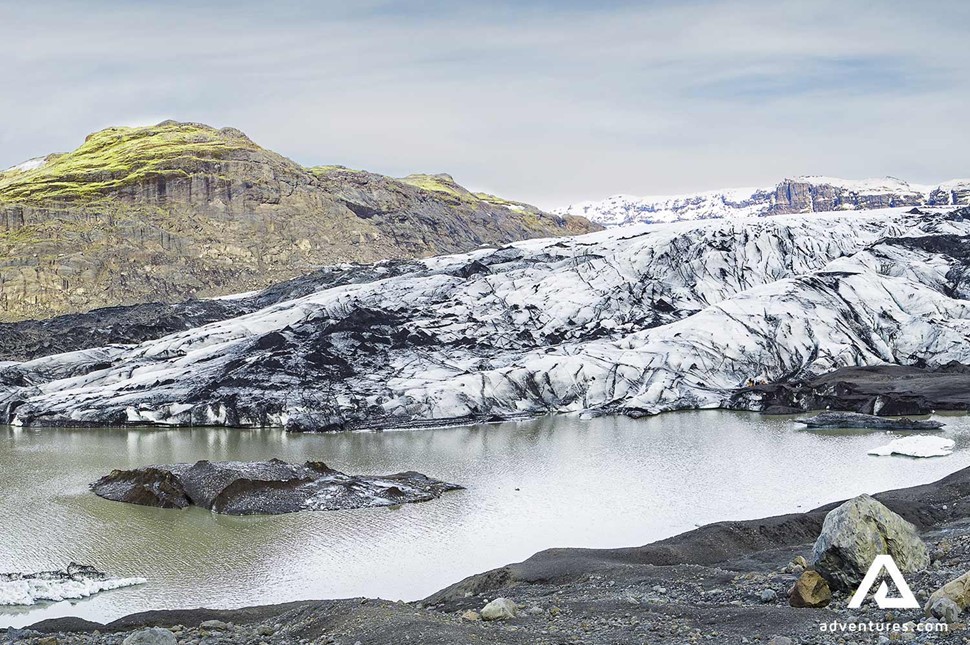 Dramatic ice formations, Jökulsá meltwater river that weaves its way down the side of the glacier, and a constantly transforming surface will allow you to experience the stark and imposing beauty of nature.
Sólheimajökull is facing the unfortunate fate of almost all Iceland's glaciers. It's shrinking and shrinking fast, so make sure you pay a visit while you can still witness all its glory.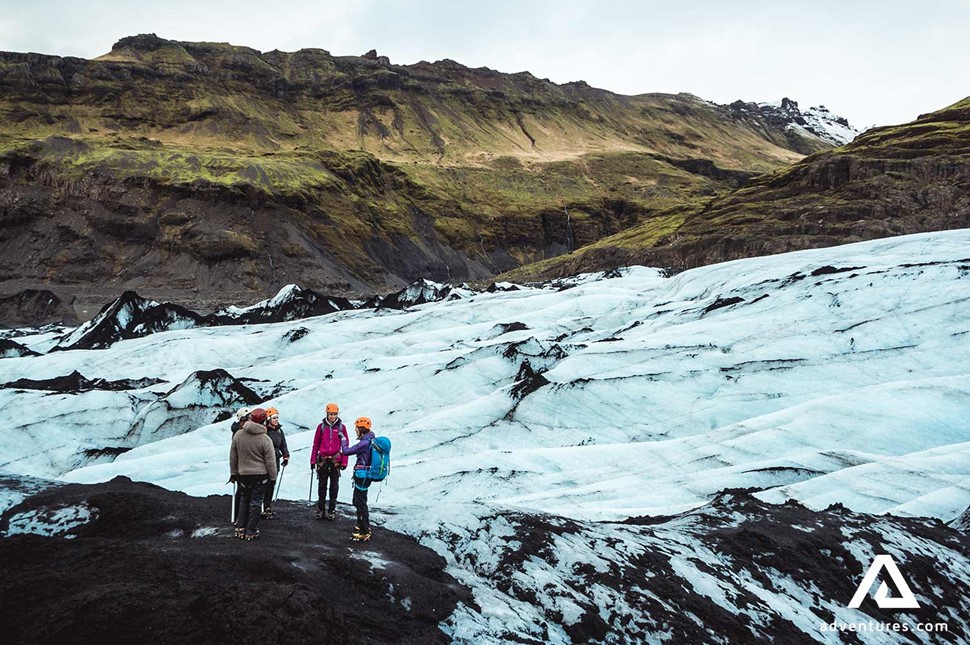 Glacier Ice Caves
Natural ice caves are formed when meltwater runs through a glacier, leaving behind caverns within the glacier.
In spring, when the temperatures start to rise and the sunlight is longer every day, the surface of the glacier begins to melt. This meltwater drains downwards through the crevasses and moulins, carving channels and conduits into the body of the ice. When winter comes many of these caverns freeze and creates beautiful natural ice caves that are now safe to enter.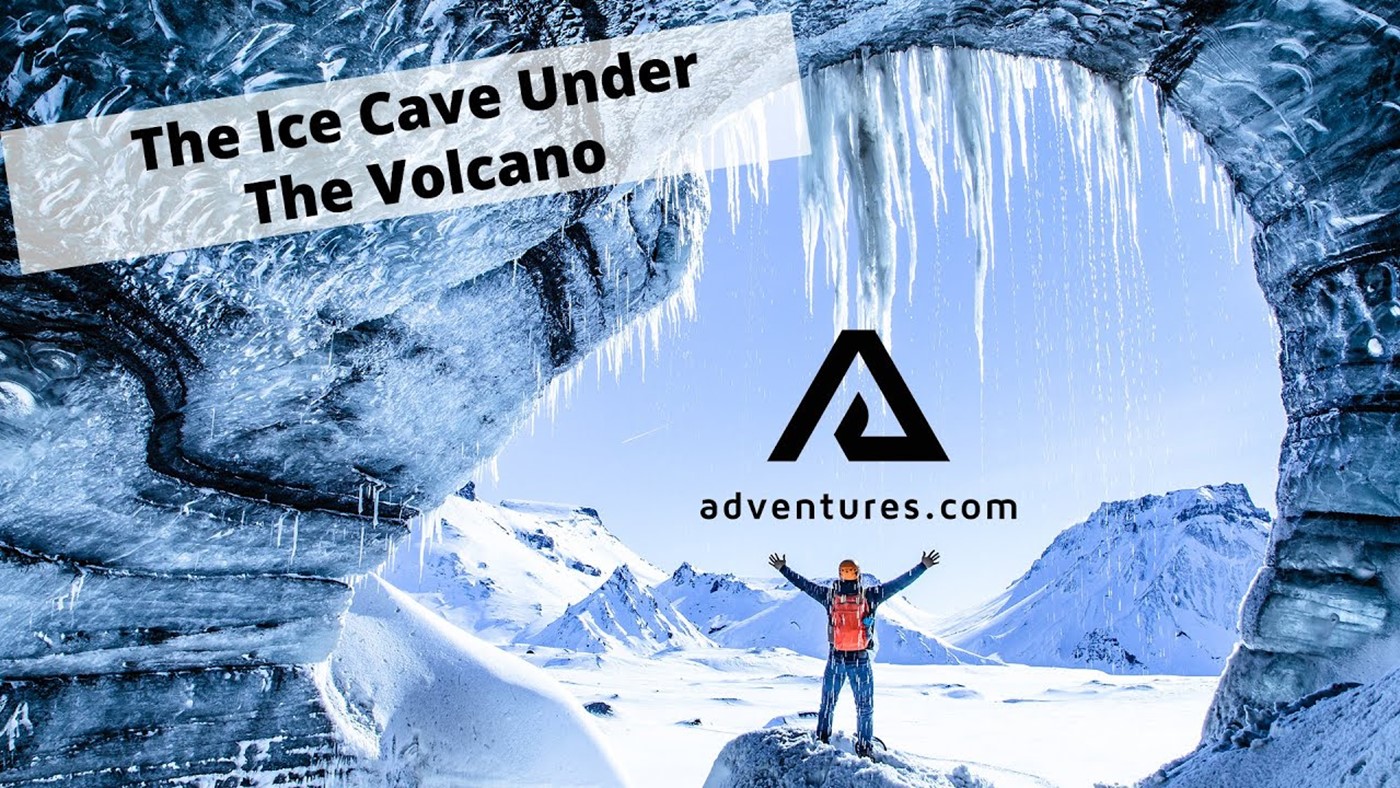 These unique natural formations are only accessible in winter as they collapse or are flooded during the summer. Every year at the beginning of winter brand new ice caves forms in the body of the glacier, sometimes in the same location as the previous winter.
When you are in an ice cave you are literally standing inside a glacier. As glacial ice is formed by compression, these ice caves are vibrantly blue! When the light conditions are favorable you are sometimes able to see very deep into the crystal-clear body of the ice. This is why one of Iceland's most beloved ice caves is called the "Crystal Ice Cave."
Why Can't You Go on a Glacier on Your Own?
Glaciers can be dangerous. As they rapidly glide forward, their surface cracks. Glaciers have different layers. The top layers are more fragile and breakable while the lower layers are more solid. This results in many constantly-changing deep crevasses and fissures. In a very short period of time on a glacier, crevasses can form, snow bridges can collapse, and rainfall can completely alter an area. To top it off, Iceland has hundreds of small earthquakes every day and many subglacial volcanoes.
Regardless of how experienced a hiker you are, no one should attempt to venture out on a glacier without being accompanied by a local glacier guide who knows the terrain and is properly trained and equipped for these special circumstances.