There are over 130 active volcanoes in Iceland, but only one of them has made newspaper headlines across the globe. While not many can pronounce its name, Eyjafjallajökull has been world-famous ever since it grounded Europe's air traffic for six days in 2010. 
Almost a decade later, Eyjafjallajökull Glacier sits quietly on top of the infamous volcano. Only a light blanket of black soot remains as a reminder of the time Eyjafjallajökull spat ash clouds high into the sky.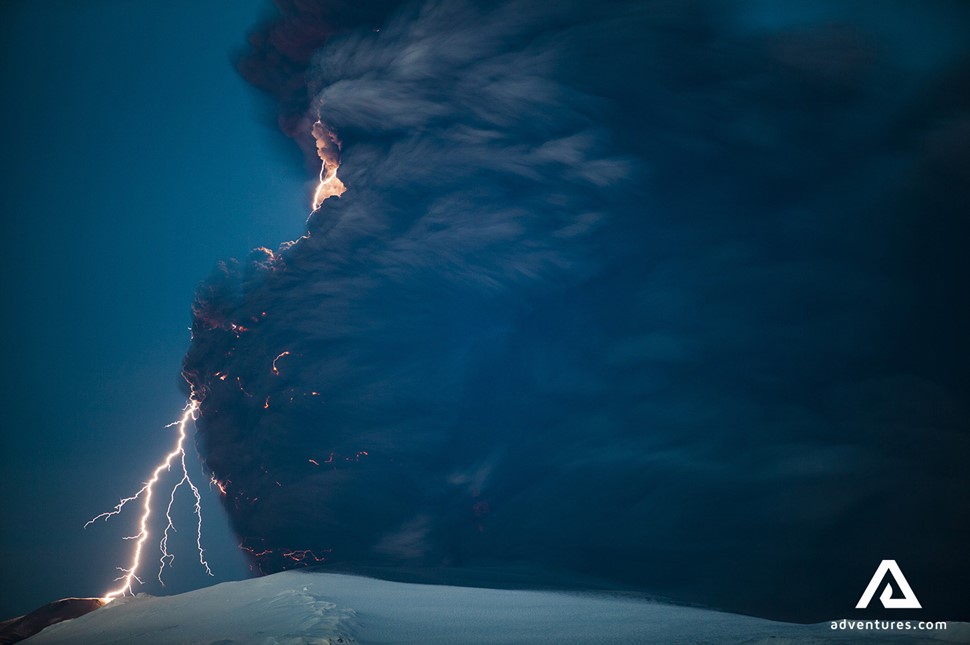 Where Is Eyjafjallajökull Located?
Eyjafjallajökull Volcano is located in South Iceland, about 100 miles (160 km) from Reykjavik. It sits between one of the largest cascades in Iceland, Skógafoss Waterfall, and Thórsmörk (Þórsmörk), a mountain ridge with a deep valley beloved by hikers from all over the world. Eyjafjallajökull also neighbors some of the most famous sites on the South Coast, including the charming village of Vik and Reynisfjara Black Sand Beach.
Eyjafjallajökull location:
HOW TO GET TO EYJAFJALLAJÖKULL?
If you're traveling from Reykjavik, drive east following Road 1. You should the Mountain Range as soon as you pass the Hellisheidi heath.
You'll notice many volcanoes towering over southern Iceland. Eyjafjallajokull stands near the village of Hvolsvollur, between the two powerful volcanoes, Hekla and Katla.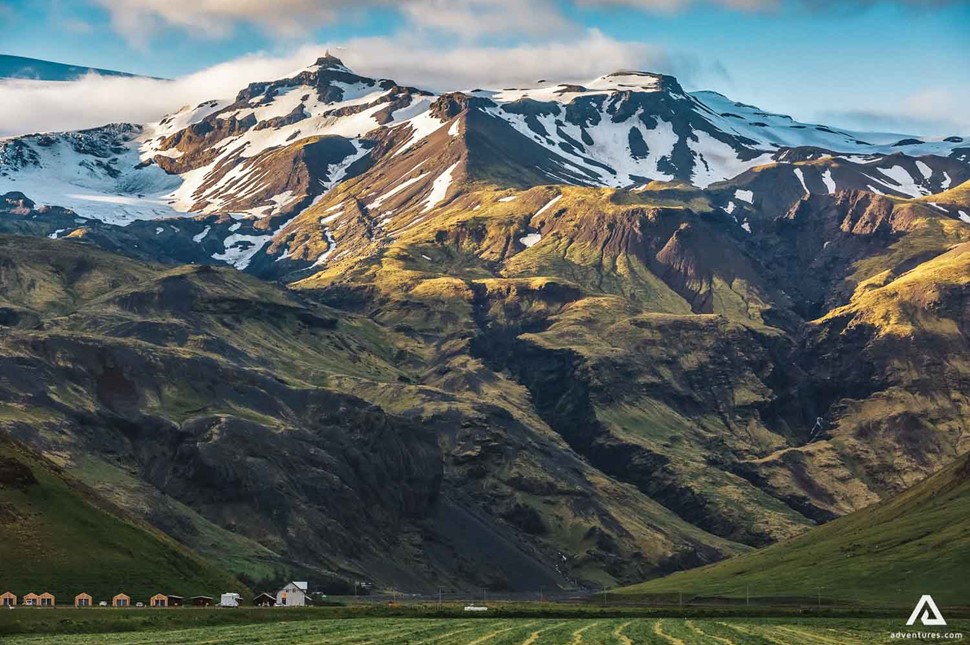 General information about Eyjafjallajökull
Elevation - 1,666 m
Area - 78 sq km
Location - Suðurland, Iceland
Last eruption - March to June 2010
First ascender - Sveinn Pálsson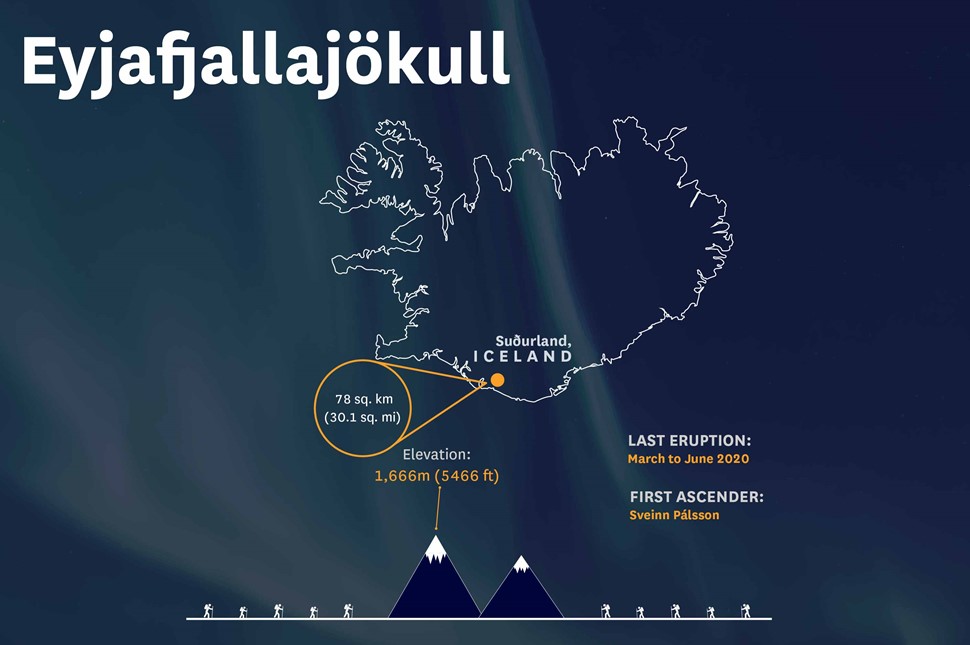 What Type of Volcano Is Eyjafjallajokull?
Eyjafjallajökull is a stratovolcano covered by a glacier with the same name. A stratovolcano is a tall, gently sloping cone with a shallow crater at the top. Other well-known stratovolcanoes in Iceland include Snæfellsjökull in western Iceland and Hekla, one of the most active volcanoes in the country. Stratovolcanoes are made of several layers of hardened lava from previous eruptions, tephra, and volcanic ash. Most of the previous eruptions of Eyjafjallajökull have been explosive and caused glacial floods in the nearby Holtsá and Markarfljót rivers. 
Eyjafjallajökull is covered by an ice cap, which is the seventh-largest glacier in Iceland. The massive ice cap covers an area of nearly 40 mi² (100 km²). Two of its largest outlet glaciers are Gýgjökull and Steinholtsjökull. The volcano's caldera (top crater) that sits underneath the ice cap reaches up 5,416 feet (1,650 m) from sea level.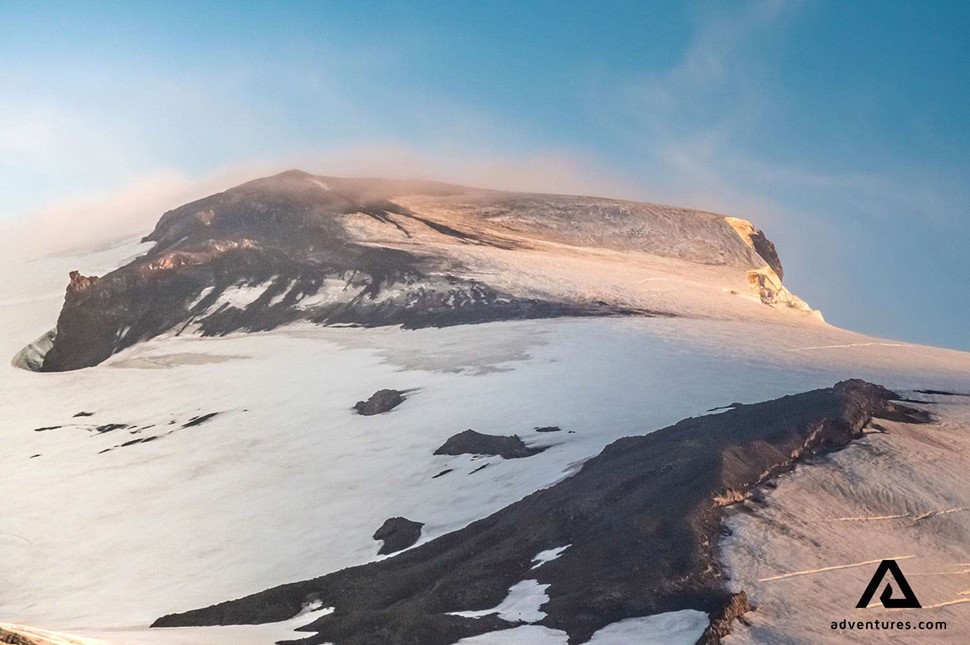 How to Pronounce Eyjafjallajökull?
Eyjafjallajökull translates to "The Ice Cap of the Eyjafjöll." Eyjafjöll is the mountain range that forms the foot of the volcano and its name means "The Mountains of the Islands."
It is pronounced as AY-yah-fyaht-lah-YOH-kuul!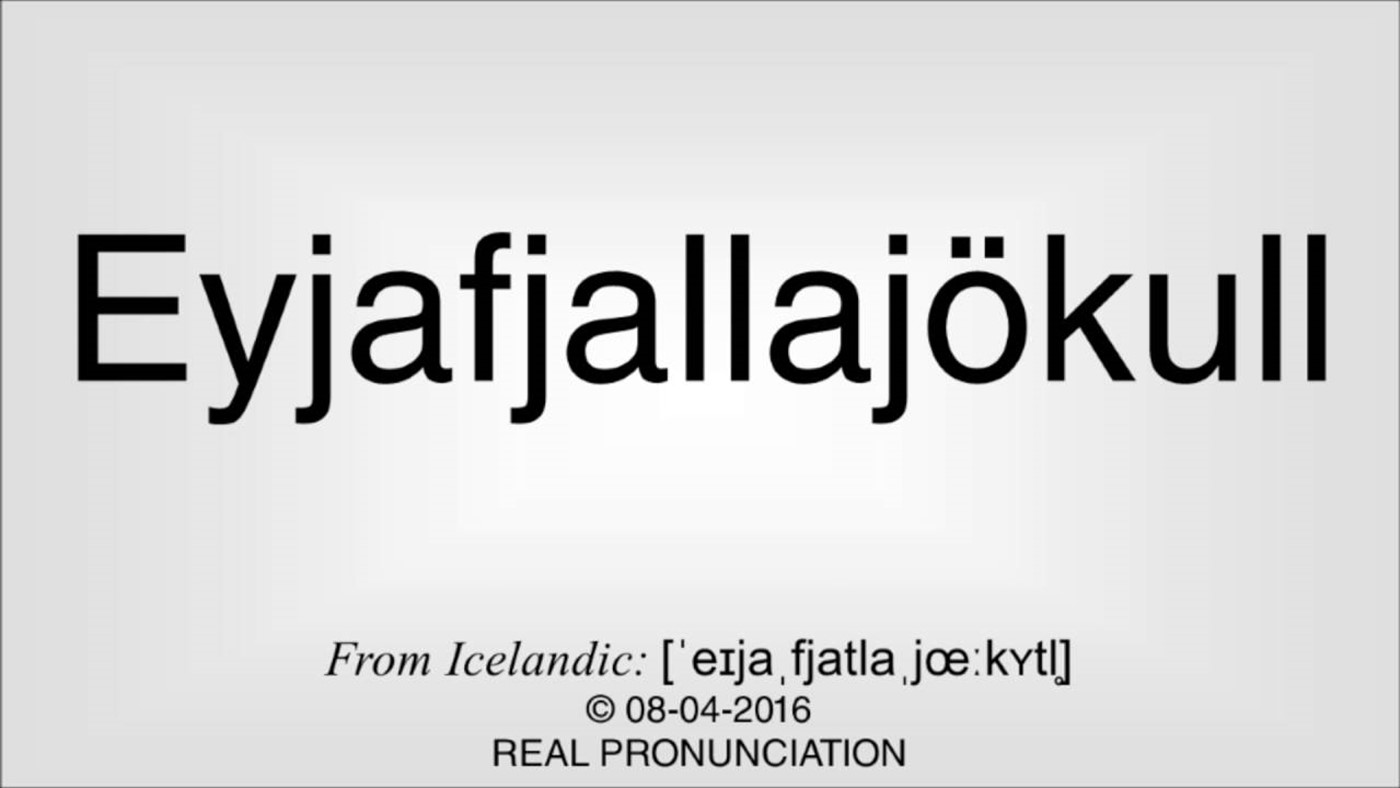 The History of Eyjafjallajökull
How was Eyjafjallajökull formed?
Eyjafjallajökull is approximately 80,000 years old. Records show that since the settlement of Iceland, it has erupted four times: in 920, 1612, 1923, and 2010. Some minor eruptions were also recorded between 1821 and 1823. The minor eruptions caused floods, and the ash from these eruptions is still found on the South Coast.  
Eyjafjallajökull is not known for being the most active volcano in Iceland and its last eruption came as a big surprise to many locals.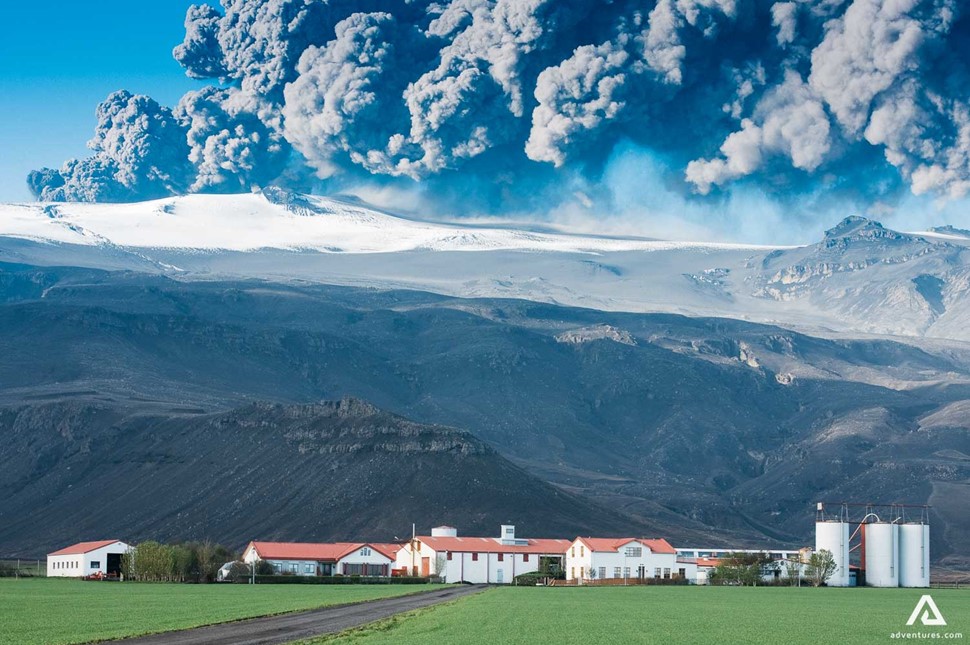 A nearby volcano called Katla and Eyjafjallajökull has a long history of successive volcanic eruptions. Scientists believe that Katla is presently filling up its magma chambers for its next eruption. This eruption could happen at any time — and it will be much bigger than the airplane-grounding Eyjafjallajökull eruption of 2010!
INTERESTING FACTS ABOUT EYJAFJALLAJÖKULL:
Eyjafjallajökull is a glacier, a volcano, and a mountain. 


Eyjafjallajökull Glacier feeds several waterfalls, including Skogafoss, Seljalandsfoss, and Kvernufoss. 


The 1821 eruption ejected a high amount of fluoride which is believed to have harmed the bone structure of many animals. 


Eyjafjallajökull is now monitored with infrasound sensors that allow geologists to monitor any seismic activity deep inside the volcano. 


An episode of the television show Top Gear with James May was filmed atop the volcano shortly before its eruption.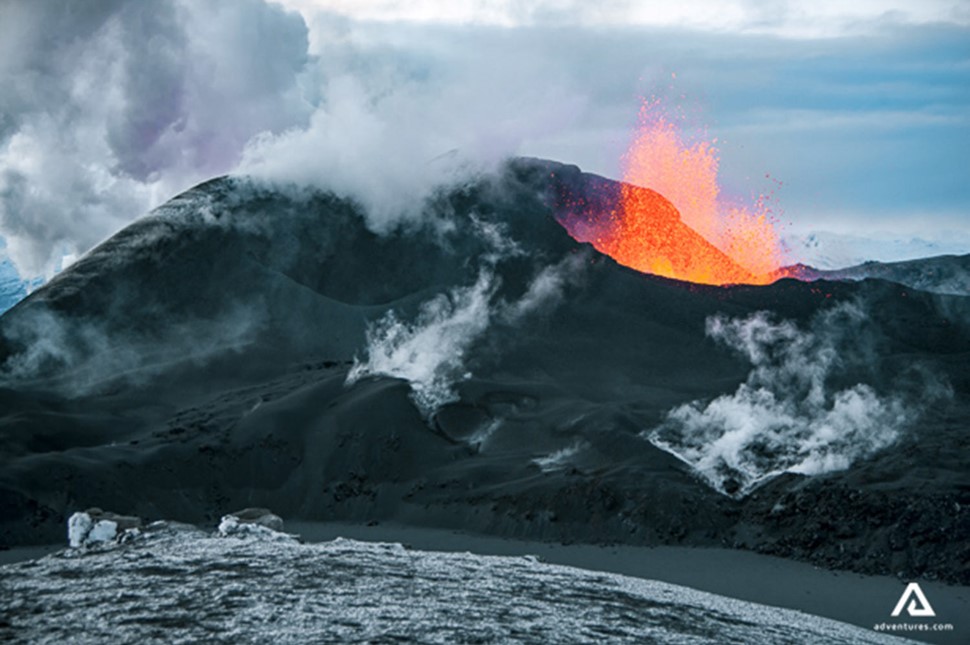 The 2010 Eyjafjallajökull Volcano Eruption
Though Iceland has always had a lot to offer, it really caught the world's attention in 2010. After being dormant for nearly 200 years, Eyjafjallajökull started spitting lava and ash high up into the air.  
The volcano caused massive glacial floods, or jökulhlaups, that forced the evacuation of 800 people. The eruption sent a volcanic ash plume 5.6 miles (9 km) up into the sky. The black ash cloud could be seen from miles away. Air traffic disruptions began on April 15th and lasted for six days. Canceled flights impacted millions of travelers all over the world. 
When everyone thought that the worst had passed, another eruption happened in May. This time, in addition to air travel disruptions, it also caused electrical storms, with bolts of lightning flashing right above the volcano. The international havoc carried on until May 23rd, yet Eyjafjallajökull continued to have daily earthquakes through the following August.  
Luckily, nobody was injured during the event, but it's safe to say Eyjafjallajökull will always be remembered by the many people it affected.  
The volcano is unlikely to erupt any time soon and only a fading layer of ash is left as a reminder of the time when the whole world tried to pronounce the name of Eyjafjallajökull.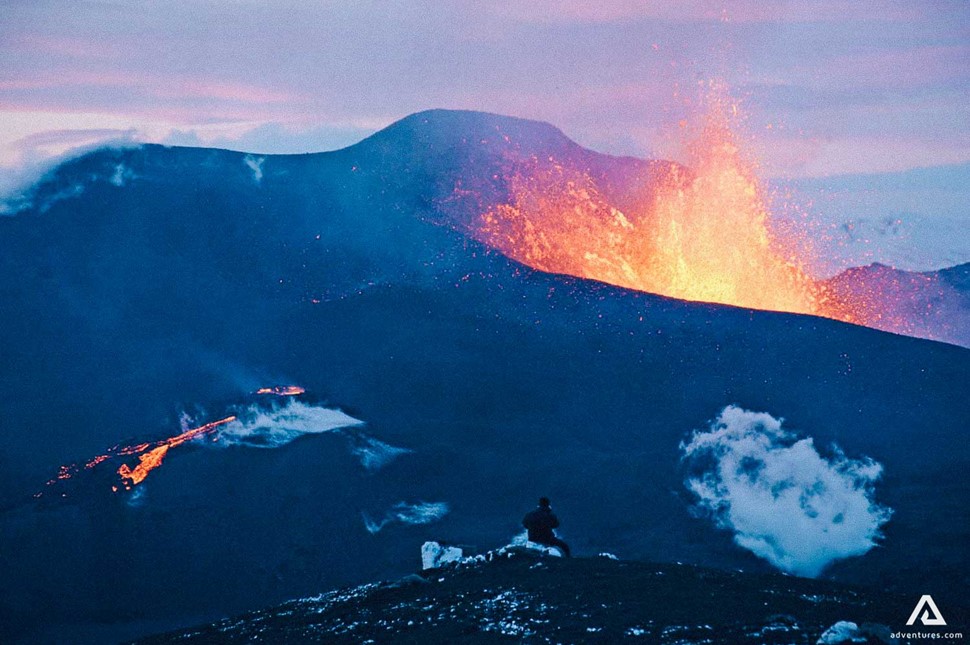 Fimmvörðuháls Hiking Trail
Fimmvörðuháls is one of the most traversed hiking trails in Iceland and the most famous one on Iceland's South Shore. It runs from Skógar to Þórsmörk between two glaciers, Eyjafjallajökull and Mýrdalsjökull. The trail takes hikers past mighty waterfalls and through newly formed lava fields. Two new craters were formed by the 2010 eruption. They were named after two mythical brothers, Magni and Móði, the sons of Thor, the Norse god of thunder.
The best time to hike Fimmvörðuháls is from mid-June to September. Outside the summer season, it's recommended that you only hike with an experienced guide and bring professional hiking gear. The trail can be hiked in one day or split into a two-day trek with an overnight stay at a mountain hut. Trek enthusiasts can also combine their Fimmvörðuháls journey with a trip up and down the famous Laugavegur Trail.
Fimmvörðuháls is a challenging trail with the highest point reaching 3,280 feet (1,000 m) in elevation. That said, the scenery along the trail is definitely worth the sweat!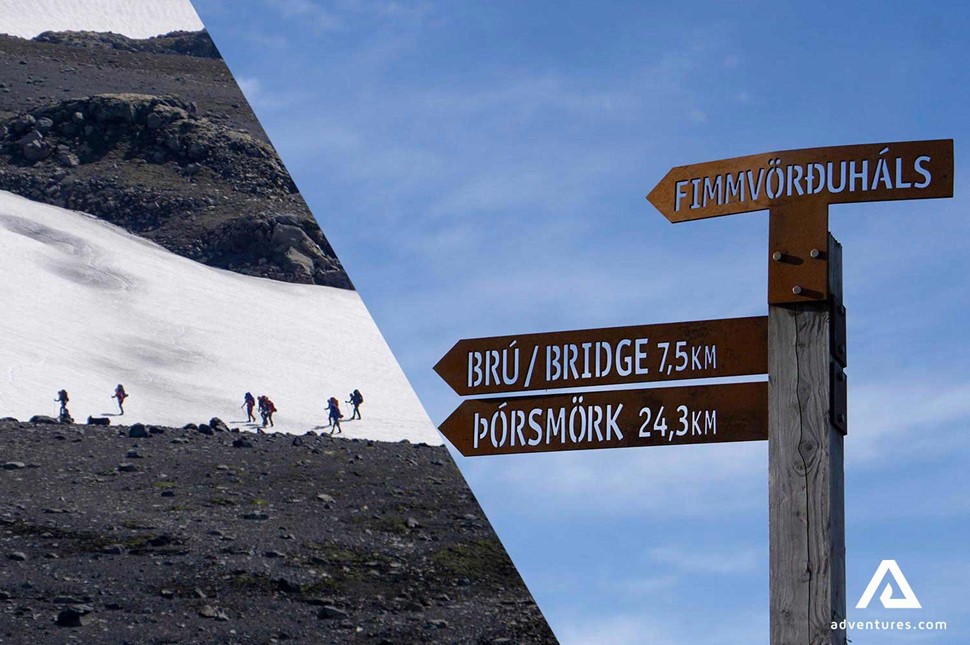 Things to Do Near Eyjafjallajökull
Fimmvörðuháls Hiking Trail - A hiking trail that runs near the famous volcano and through the newly formed lava fields. Hike and enjoy the views of rugged mountains, glacial rivers, and a row of waterfalls along the trail.
Lava Centre of Interactive Exhibitions - Learn about the underground forces of the Earth in an interactive journey through all-things-volcanoes in Iceland. 
Ice Cave under Katla Volcano - Step off the typical tourist tracks and visit an all-natural ice cave. Alternating layers of blue ice and black ash not only tell you about the rich history of the caves but also stun visitors with their beauty. It's the only natural ice cave in Iceland that's open all year round!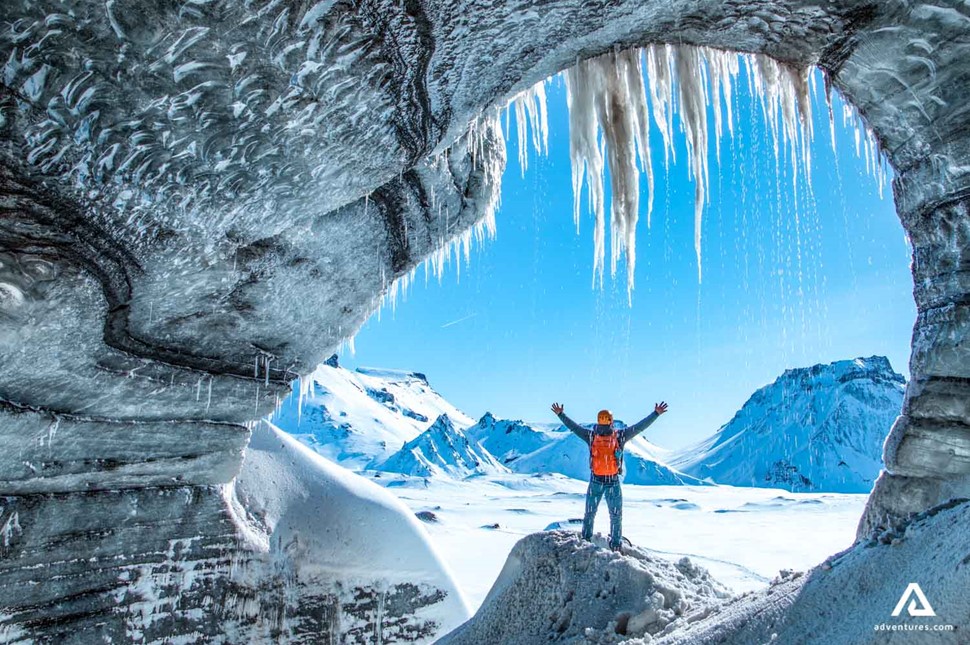 Interesting Places Near Eyjafjallajökull
Thorsmork (Þórsmörk) Valley

- A luscious green paradise in the form of a sheltered valley surrounded by mighty glaciers. Named after Thor, the Norse god of Thunder, the valley is perfect for hiking.