About Seljalandsfoss
Seljalandsfoss is one of the most breathtaking waterfalls in South Iceland with a whooping 196 ft (60 m) cascade. The waterfall is loved by travelers because you can actually walk behind it! Step behind the curtain of water and marvel at Iceland's South Coast from a completely new perspective.
In popular culture, Seljalandsfoss Waterfall in Iceland has been featured in movies and music videos. Justin Bieber's music video for the song "I'll Show You" was filmed at many South Iceland attractions, including Seljalandsfoss. Parts of the TV series "The Amazing Race 6" and "CKY2K" were shot near the waterfall.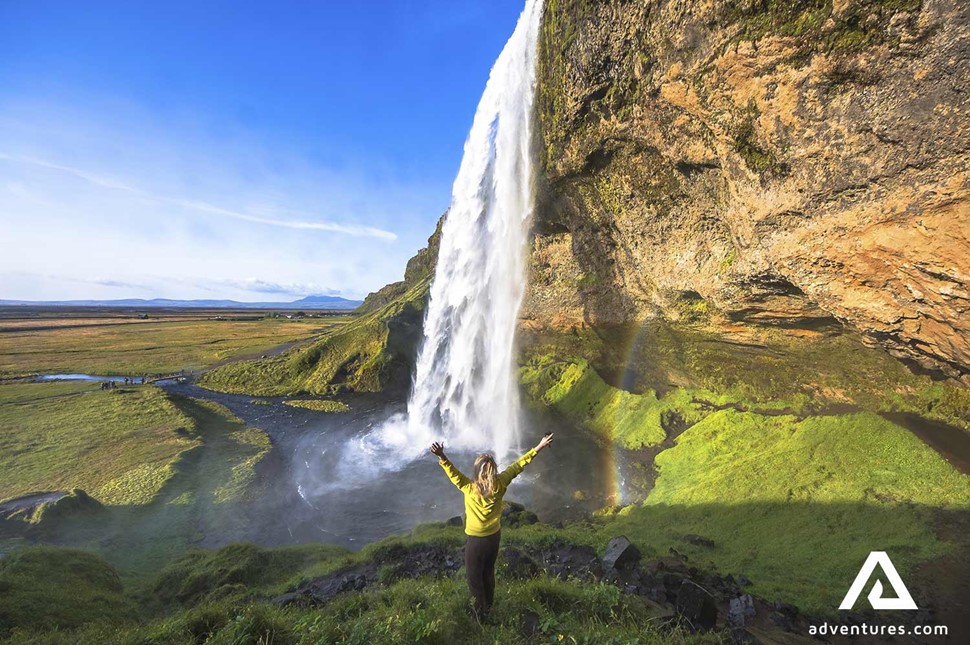 How Was Seljalandsfoss Formed?
The waterfall is formed by the Seljalands River, which originates in Eyjafjallajökull Glacier Volcano. Filled with glacier meltwater, the river rushes south and cascades down the high rugged wall of the cliff.
Seljalandsfoss once flowed all the way down to the Atlantic Ocean. Now, a patch of lowland lies between the ocean and the waterfall. You can see the ocean and breathtaking views of the South Coast from the top of the cascade.
Operations and Services
The waterfall is available to visitors in both summer and winter. There are no entrance fees to Seljalandsfoss or opening hours. Keep in mind that the path behind Seljalandsfoss might not be accessible in the winter due to icy conditions. If you decide to visit in winter, make sure to wear shoes with spiked soles so you can keep steady on your feet.
There is a designated Seljalandsfoss Waterfall parking lot so you don't have to park your car on the side of Route 1. Please note that you'll need to pay a Seljalandsfoss parking fee. It costs only 800 ISK and will last you the whole day. Make the most of your time by visiting other nearby natural wonders while you're there!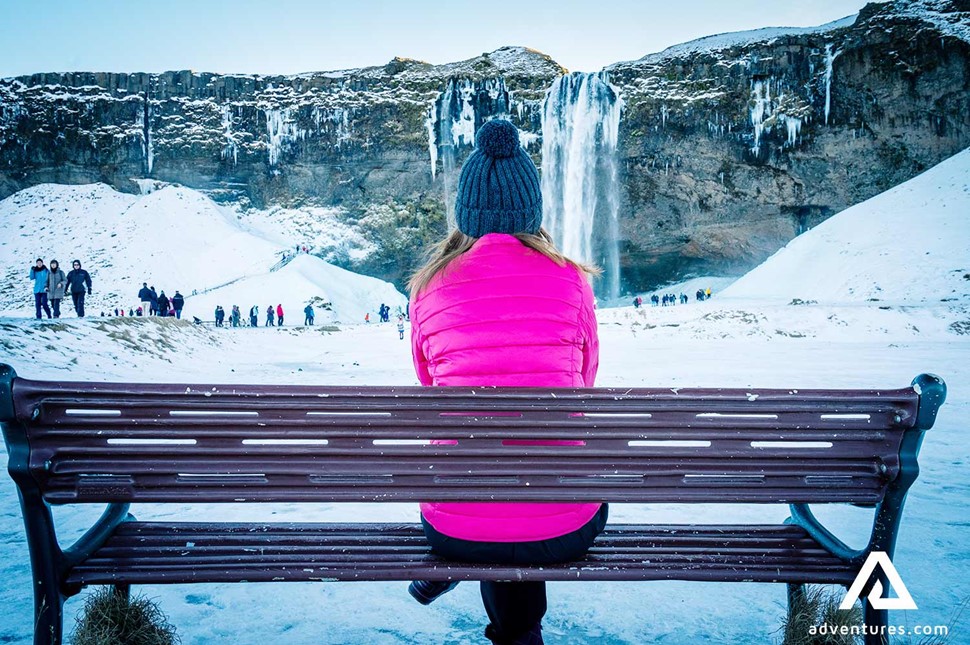 Where does Seljalandsfoss come from?
You can find Seljalandsfoss in Southern Iceland, on the Seljalands River which flows down from the infamous Eyjafjallajökull volcano! The waterfall has one drop and is around 60m (200ft) high.
The water of Seljalandsfoss consists of pure glacial water from Eyjafjallajökull glacier. You may recall this name from 2010, as Eyjafjallajökull is also the name of the volcano which spontaneously erupted, wreaking havoc to Europe's air traffic, causing airports to completely shut down for about 5 days.
For whatever reason, this eruption put Iceland on the map as a travel destination!
Eyjafjallajökull towers above the waterfall and the Eyjafjöll mountains feed meltwater to the river Seljalandsá which then runs down the slopes before finally descending off the Seljalandsheiði heath in the form of Seljalandsfoss waterfall.
Seljalandsfoss Shop
In the area, you'll find a shop where you can buy souvenirs and a small food kiosk with coffee and sandwiches.
Seljalandsfoss Map
GPS Coordinates: 63.615584, -19.988620
Seljalandsfoss was one of Iceland's first popular landmarks and as it is now easy to find, located on Ring Road One. Seljalandsfoss waterfall is located on the South Coast, about 75 miles from Reykjavík (120km), 35 miles (56km) from Vík and 20 miles (32km) from Skógafoss waterfall.
How to Get to Seljalandsfoss?
Seljalandsfoss Waterfall is around a 2-hour drive from Reykjavik and easy to get to whether you're going by car or bus.
Driving from Reykjavik to Seljalandsfoss. Take Ring Road 1 and drive towards the South Coast. After around 78 mi (127 km), you'll see a turn onto Road 249. Take the turn and drive further for 0.62 mi (1 km) until you reach a parking lot on your right.
The waterfall is visible from the Ring Road, so you won't miss it. During the short winter days and dark nights, the waterfall is illuminated by massive light beams — a spectacle on its own.
Taking the Bus from Reykjavik to Seljalandsfoss. If you don't have a car, you can take a bus from Reykjavik to Seljalandsfoss. Trex Buses operate twice a day and will pick you up from Reykjavik's City Hall. The price of the ticket can vary between 27 and 40 euros and the journey lasts 2 hours and 40 minutes. The bus will drop you off at Seljalandsfoss Parking Lot.
Driving from Vík and the East
If you take the Road 1 passing through Jökulsárlón Glacier Lagoon and Vík, it will take approximately 1 hour to reach the fall. Just continue on Road 1, going straight until you see the sign to Þórsmerkurvegur, road number 249 leading you to Seljalandsfoss, Gljúfrabúi and finally Þórsmörk Valley.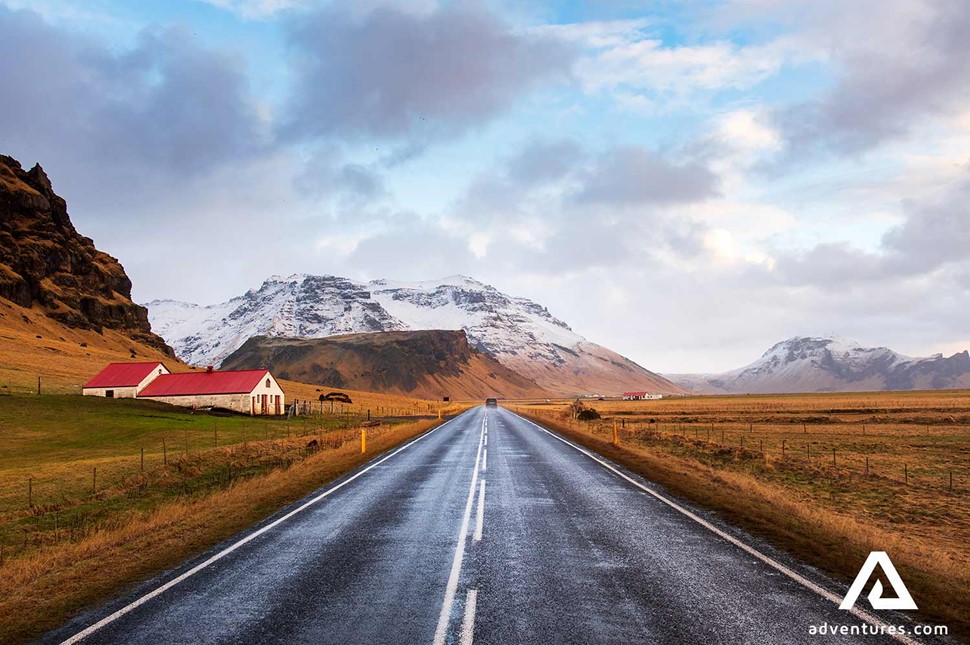 Advice for Visiting Seljalandsfoss Waterfall
The paths can get quite icy during the winter, due to this reason we encourage anyone visiting in wintertime to bring with them shoe spikes. You also may want to rethink walking behind the fall due to your personal safety.

If the path behind the waterfall gets too slippery it will be closed.  

Bring waterproofs if you are planning to walk behind the waterfall.

Cover up electronics, cameras or phones which might get wet when walking behind the waterfall

Be sure to visit Gljúfrabúi waterfall located only a little further West - about 200 meters.

Seljalandsfoss is very popular so to beat the crowds in Summer, try visiting during the midnight sun and going either early or late!

Unfortunately, parking is not free but the parking ticket is valid for the whole day.
Weather in Seljalandsfoss
Weather in the Seljalandsfoss area is no different from the rest of Iceland. Summer is the warmest season and temperatures range between 46°F (8°C) and 57°F (14°C). The Midnight Sun from June to July allows you to explore as many landmarks as you want in the daylight. You'll also have magical light that provides a great atmosphere for stunning photographs.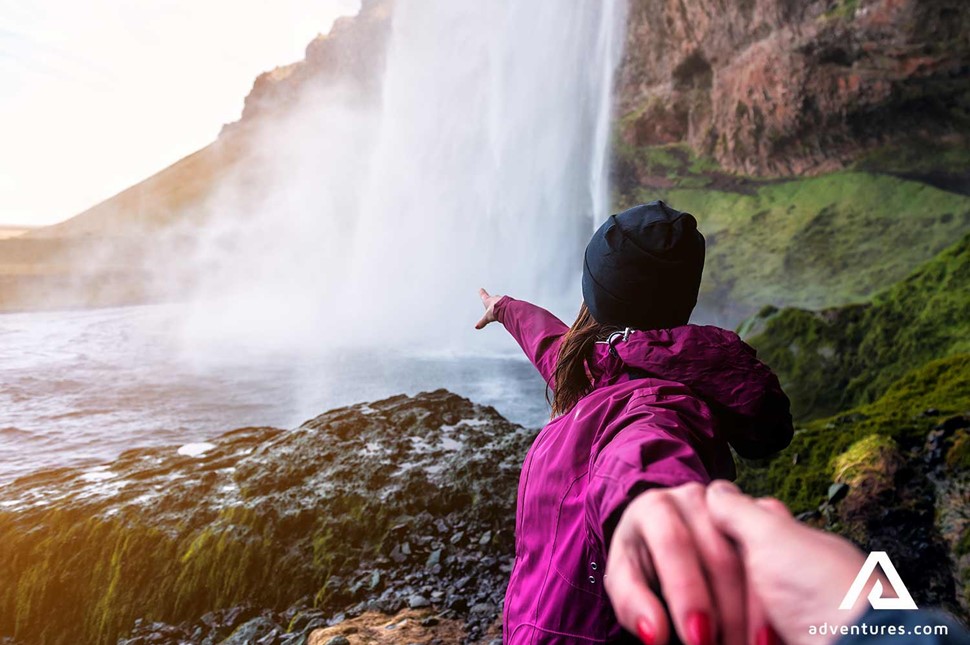 In the winter, the weather is much colder, yet not as cold as in some parts of Europe. The temperatures range between 28°F (-2°C) to 37°F (3°C).
The weather in Iceland never gets hot, so packing for a trip is easy. You should always have warm layers (base and middle layers) as well as waterproof pants and a jacket. A good pair of sturdy hiking shoes will definitely come in handy no matter what activities you've planned.
Expect to get wet when standing by Seljalandsfoss Waterfall. The wind blows the mist from falling water quite far, producing perfect rainbows around the falls.     
When is the Best Time to Visit Seljandfoss?
You can visit Seljandfoss all year round, there are multiple day tours that will incorporate the waterfall into your itinerary! In Summer the midnight sun illuminates the waterfall and in winter you can come to the fall after a great day exploring, to catch the Northern Lights! The Northern Lights forecast can be checked at vedur.is, or you could ask at your accommodation.
In winter the area around Seljalandsfoss is stunning, as you'd expect! At night the waterfall is lit up with the help of two enormous light beams which create a mystical glow on the waterfall which is truly spectacular. Well worth checking out. The area is nothing short of a Christmas winter wonderland, with snow-covered, frozen ground and crystal icicles. At this time of year, the area is at its best - photogenic-wise!
That said, winter at Seljalandsfoss also has its setbacks, the ice on the paths can be hazardous and it is important to look where you are going while exploring the area on foot. Wear good sturdy shoes or boots, preferably with spikes, to increase your chances of not slipping over!
If the path behind the waterfall is deemed too slippery it will be closed.  Please be respectful of the closing and don't ignore the warnings, it is put up for your own safety!
Attractions near Seljalandsfoss Falls in Iceland
There are a lot of other attractions to see in the area. From the falls, it's easy to reach the South Coast, Golden Circle, and a few other waterfalls.
Seljalandsfoss and Gljufrabui Waterfalls
If you head further up Road 249, you'll see a sign saying Paradisarhellir. The sign will lead you straight into the tiny canyon where you'll see Gljufrabui Waterfall. The waterfall is yet to be discovered by many and as its name states, it's hidden in a canyon. 
A staircase by the towering canyon will lead you down to a narrow entry, where the breathtaking view of this 131-ft (40 m) tall hidden jewel opens up.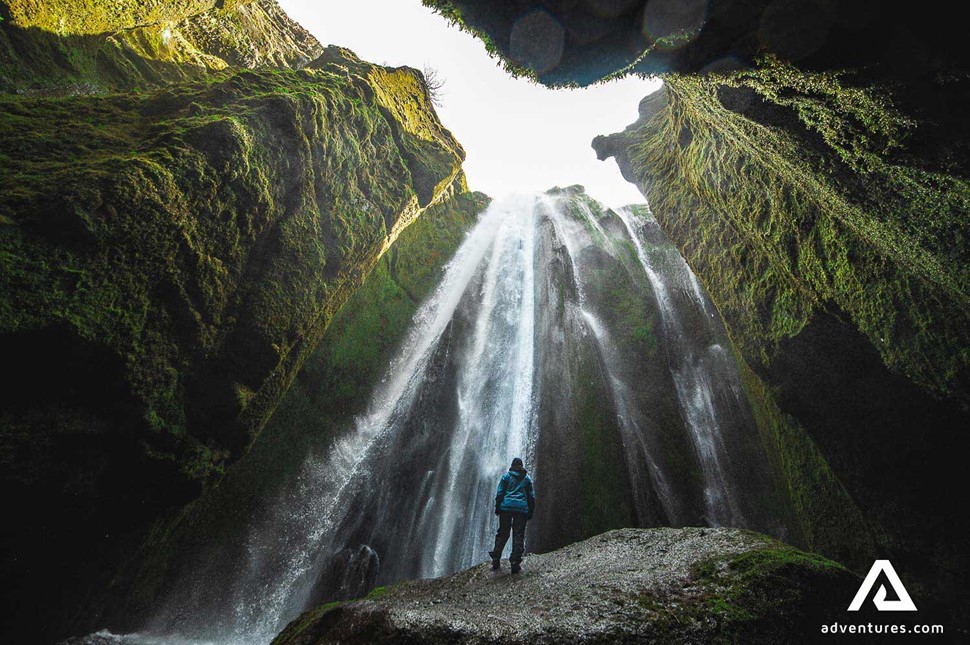 Seljalandsfoss and Skógafoss
You can't go to Seljalandsfoss without visiting Skogafoss too! Skogafoss is another stunning waterfall located just 18.64 mi (30 km) away. Slightly bigger than Seljalandsfoss, Skogafoss falls some 200 ft (62 m) down and is around 82 ft (25 m) wide.
Unlike Seljalandsfoss, you can't walk behind Skogafoss, yet the waterfall is just as interesting. Legend has it that the first settler, Þrasi Þórólfsson, hid a treasure chest under the waterfall. But to this day, nobody has found it!

Skogafoss is located just outside of Skogar Town. There you can find restaurants, cafes, a guesthouse and a museum. There's also a campground not too away.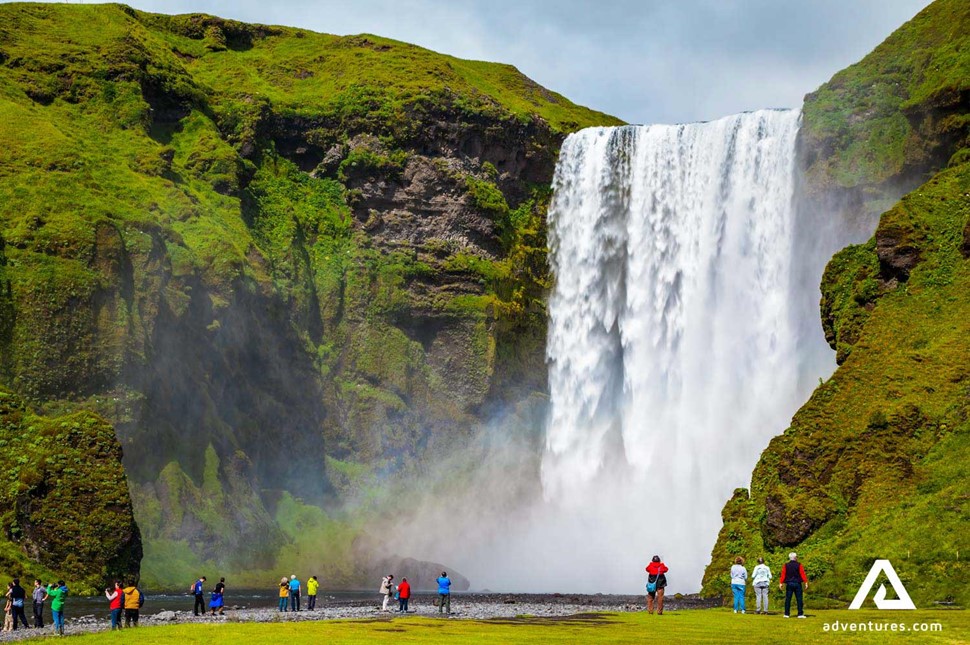 Seljalandsfoss and Northern Lights
Exploring the waterfall from behind isn't always possible during the colder season, but visiting in the winter is still a great choice! During the dark nights, the waterfall is illuminated by massive light beams. It makes a great focal point for your pictures with a breathtaking dancing aurora in the backdrop.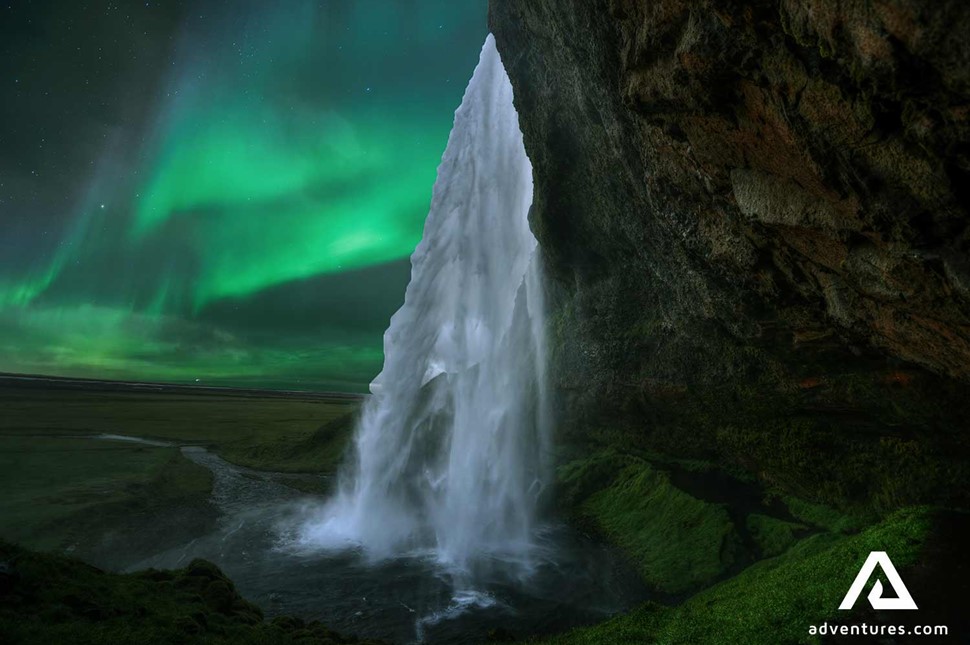 Seljalandsfoss and South Iceland
Perched between the towns of Hella and Vik, the waterfall is one of the first attractions along the Ring Road heading East. It's often a stop on tours of Iceland's South Coast. Join our South Coast, Jokulsarlon & Diamond Beach Day Tour and explore the waterfall together with a glistening glacier lagoon, stunning black sand beach, and neighboring Skogafoss Waterfall.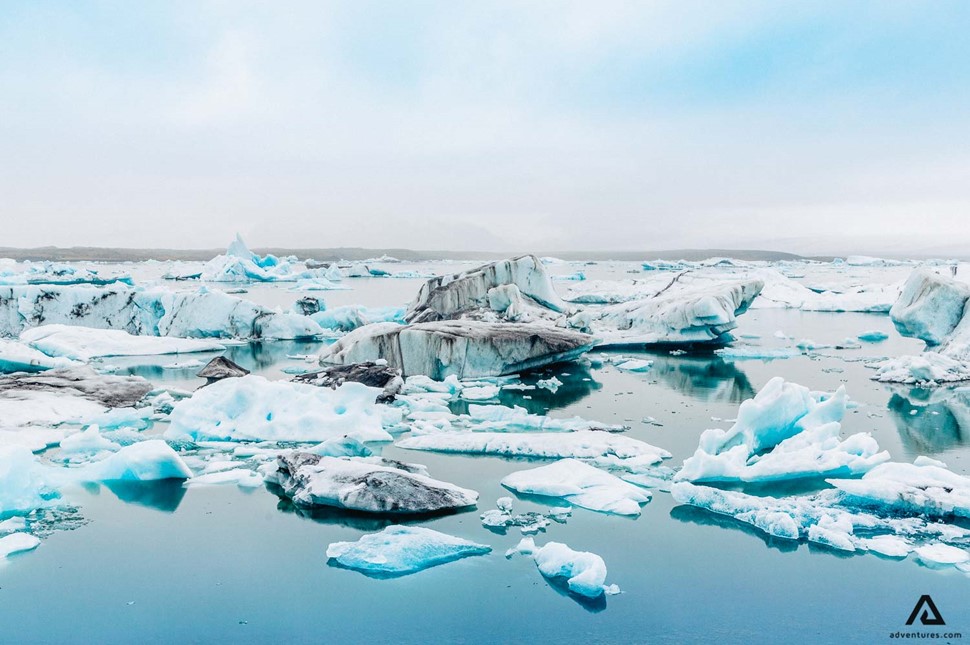 What to do around Seljalandsfoss Waterfall?
The falls are in a prime location for exploring fun activities in Iceland.
Hiking Seljalandsfoss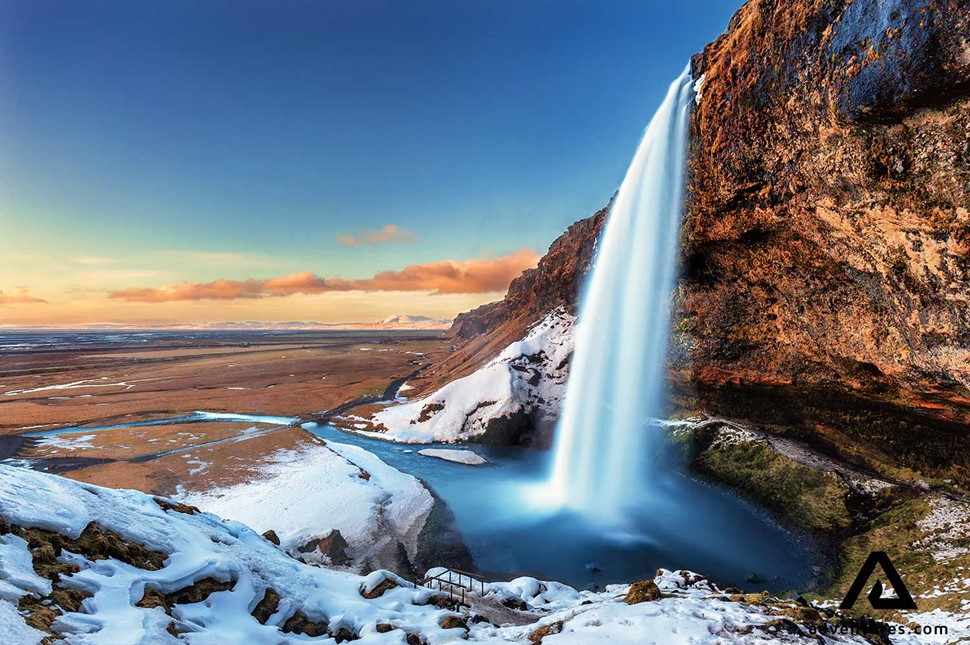 The must-do hike at Seljalandsfoss Waterfall is the hike that takes you behind it!. This is the only waterfall in Iceland and one of very few in the world that you can go behind. The view makes for breathtaking panorama photos of the South Coast.
Explore the area more with other fun hikes. You can hike out to Gljufrabui, a neighboring waterfall. Follow the clearly-marked path all the way to the falls. Once there, be careful when crossing the small stream, as it can be slippery.
Combine Seljalandsfoss with Glacier Hiking
Solheimajokull is an outlet glacier of Mýrdalsjökull Ice Cap, located only 98 mi (158 km) away from Reykjavik. The glacier's close proximity to Reykjavik makes Seljalandsfoss and Solheimajokull a perfect combo!
Join us on an unforgettable tour to Seljalandsfoss and Solheimajokull. Explore the waterfall and go on a once-in-a-lifetime glacier hike with a certified glacier guide.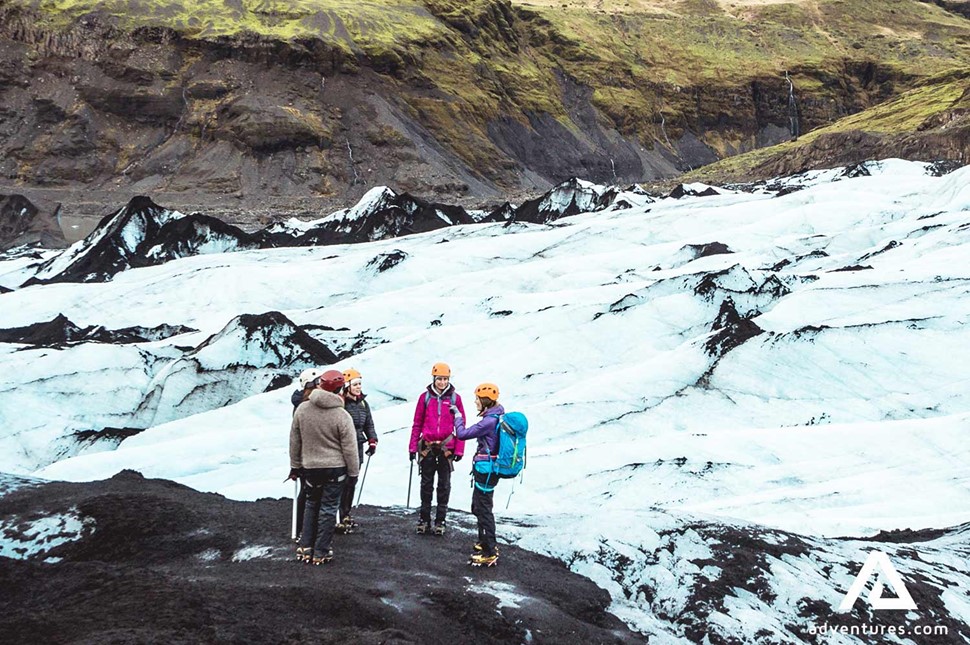 If you have a bit more time on your hands and feel like exploring Iceland's South Coast more in depth, book our South Coast, Jokulsarlon & Diamond Beach tour from Reykjavik. On this full-day tour, visit Seljalandsfoss and Skógafoss Waterfalls, Jökulsárlón Glacier Lagoon, Diamond Beach, and many other popular attractions in Iceland.
Where to stay in Seljalandsfoss
There are quite a few places to stay within 18.5 mi (30 km) of the waterfall.
Hotels:
Hotel Selja.

 Just opened in 2018, Hotel Sleja is the slightly pricier option out of the three but also the closest to the waterfall: just 4.6 mi (7.6 km). You'll find everything a traveler might need.

Stóra-Mörk 3.

 The hotel is located only 5 mi  (8.1 km) from the waterfall and has all the modern amenities. Continental and buffet breakfast is available. You can also cook your own food in the kitchen with a microwave and dining area.

Hotel Fljótshlíð.

 This hotel is famed for its restaurant's use of locally-sourced ingredients. It offers private bedrooms as well as cottage and camping accommodation. Located 14 mi (24 km) away from the waterfall. 
Hostel:
Camping near Seljalandsfoss Waterfall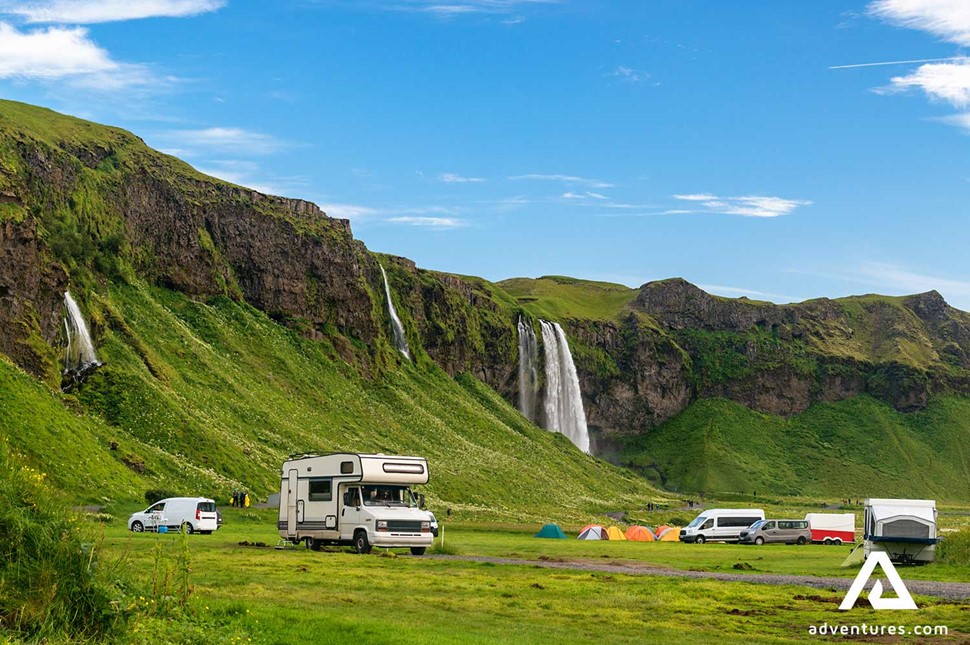 Wild camping is forbidden on Iceland's South Coast. If you're looking to stay in a tent, there is the Hamragarðar Campground around 2 minutes away from the Seljalandsfoss Waterfall, right in front of Gljufrabui Waterfall.
The campground is equipped with counters and tables, stoves, dishwashing stations, bathrooms, laundry rooms, and showers. There's also an information center where you can buy snacks.
Filming at Seljalandsfoss
Seljalandsfoss has had its fair share of cameos!
In the popular American TV series The Amazing Race 6 (2004) the first leg sent contestants to Iceland from Chicago, where they visited Seljalandsfoss, Vatnajokull, Jökulsárlón and the Blue Lagoon.
Films
The Juniper Tree (1990) is set in Iceland and features many iconic Icelandic monuments (and also Björk)!
Music Videos