About whale watching
In short, whales fancy Iceland for good food and comfortable lodging. Iceland is among some of the best places to see whales because of its unique geography. Cold and warm currents moving around the island's waters blend near the majestic fjords. Gelid polar waters mix with the currents heated by the underground powers, which creates a pleasant environment for whales.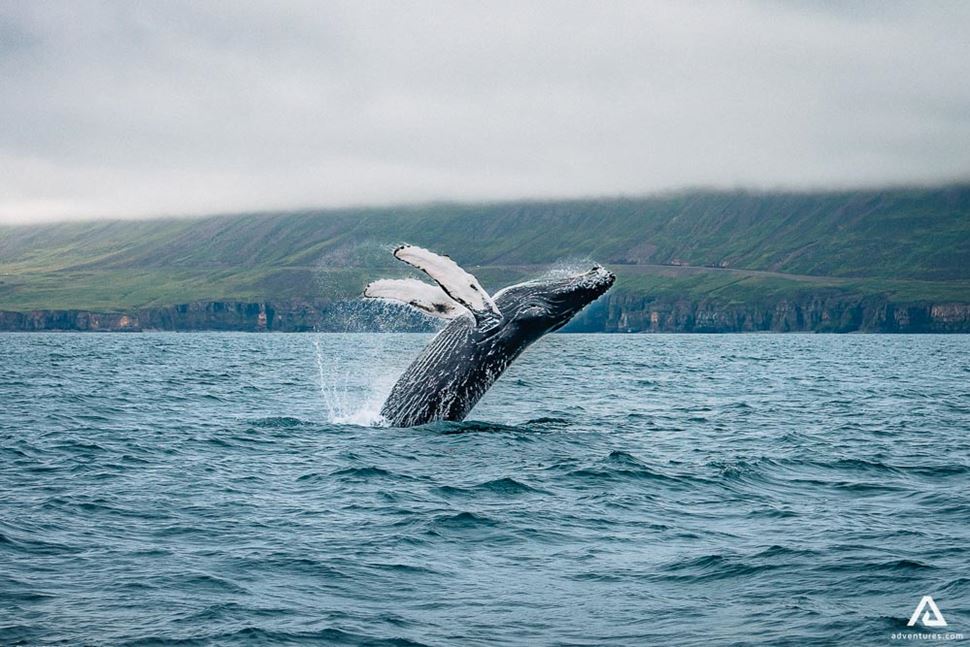 This perfect blend also makes the Icelandic waters an attractive feeding ground for whales and other cetaceans, as the shallows abound in krill and fish - delicious treats for these giant mammals. In the summertime, the midnight sun warms the sea and zooplankton begins to flourish, attracting whales of various kinds.
Iceland resembles a magical island with a myriad of natural wonders, epic landscapes and a possibility to discover the wild from up close. You simply board a boat and go with the waves to observe these majestic creatures on their journey of thousands of miles.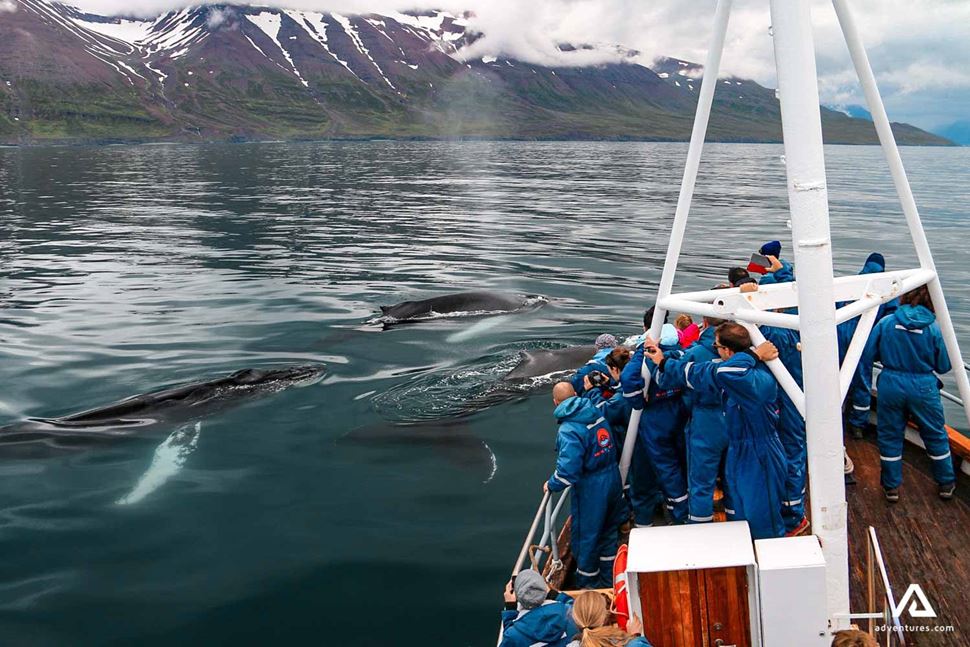 There are around 24 whale species off Iceland's coast. It's possible to see both permanent and migratory species, including the largest mammals on Earth - blue whales. Most frequently on our tours, we see minke, fin, humpback, pilot and sperm whales.
Occasionally, dolphins, porpoises, killer whales (orcas) and other species can be spotted too. However, no matter the species, the memories of a close-up encounter with an animal whose heart can be the size of a car, remains forever.
Often whales are not shy and you might have a very good chance of seeing their broad granite-colored backs moving with grace and beauty right next to you. For those who want to see more of Iceland's captivating animal kingdom, a combo day tour will be the best option. After the spectacle in the sea, you can anchor at the sea-battered coastal cliffs for puffin watching or ride a Viking steed in the countryside.
Where can you see whales in Iceland?
From the chilly Arctic Sea in the north to the vast Atlantic Ocean in the south, this volcanic island is the definition of 'seabound'. The location of a whale-watching mecca can be anything from Reykjavik's old town to a miniature fishing village in the north.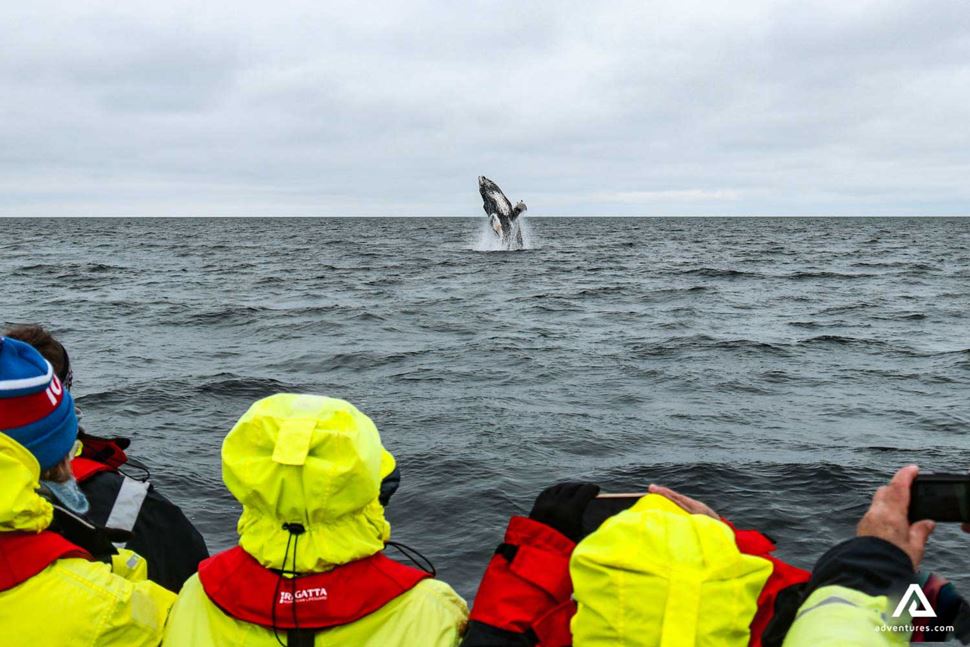 Whale watching tours from Dalvik, North of Iceland
If you set the course for the North, your chances of seeing a whale dong his big splash can be up to 98%. This part of the country is rightly famed for active and diverse sea life that abounds in whale-watching hubs. Near Eyjafjörður Fjord, sits a little charming fishing village Dalvík, a famous place for whale watching adventures.
Join a combo tour in this remote location and try your hand at sea angling in addition to whale watching. Another option is to be comfortably seated in a swift rib boat, zooming across the sea at full speed for the best whale sightings.
Dalvik is also renowned for the best chances of seeing a humpback whale, but there are many others soaring near its coast as well. To add a dash of birdlife to your journey, you can join a leisurely combo tour and get to know the famous Clown Birds.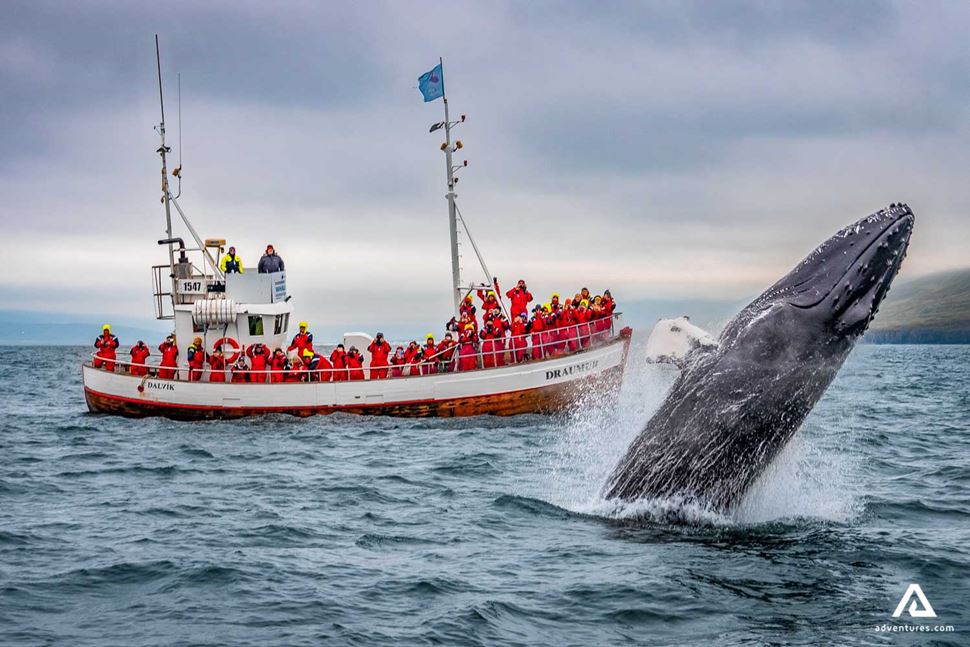 Those who want to see the sky 'on fire', can grab the best seats for the Northern Lights show during their wilderness outing. In close proximity to the Arctic Circle and the magnetic poles, our expert guides will take you to the prime location for the Northern Lights hunt. In Dalvik, you can also do your adventure old-school style and join a whale watching tour in a regular wooden boat, and go sea angling. The possibilities are as endless as the ocean around Iceland.
Whale watching tours from Reykjavík
Reykjavik is not your average capital city. Just around the corner you can jump aboard a rib boat and go searching for Minke whales, Humpback whales, Dolphins, and Porpoises. Moreover, if you want to know the secrets of these majestic creatures, our guides will shed a light on Iceland's maritime wildlife.
Whale watching tours in Reykjavik operate all year round, and the boats depart from the atmospheric Old Harbour, with the cerulean houses nearby. In summer you can also add Iceland's birdlife to your tour and snap a perfect photo of the puffins. Or, simply make three hours of sailing a part of your city exploring. Potter around the streets of the old town and sail Reykjavik's shoreline within the sight of musical hall Harpa and Viðey island.
Whale species in Iceland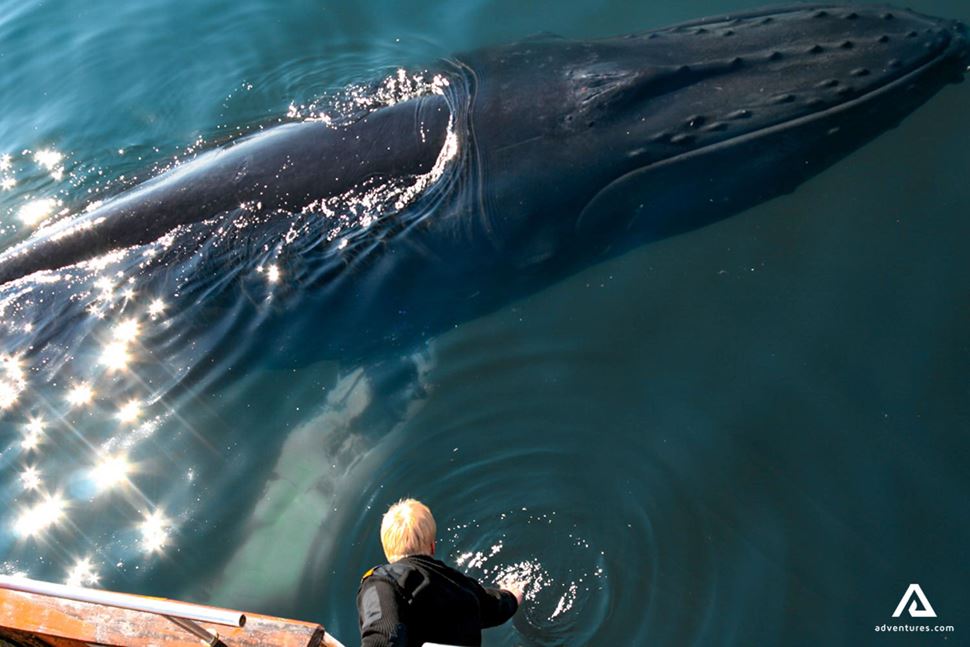 Humpback Whales 
Humpbacks are the most frequent show-stoppers on the tours. They can grow as big as 55 ft (17 m) long and weight up to 30 tonnes. These glorious creatures can also develop speed up to 16 mph (27 km/hour). They are known to be the most lively acrobats and will jump, roll over, slap and splash in the water, wowing the spectators. 
Orcas / Killer Whales
Orcas are the world's largest dolphin species and powerful predators who hunt other whales, seals, great white sharks, and other large prey. However, their hostility stops there, as they can be very sociable and friendly with the tourists.
These toothed whales often swim up close to the boat, occasionally showing their acrobatic skills. Keiko, the famous orca from "Free Willy" was once swimming in Icelandic waters. Orcas can grow up to 26 ft (8 m) long and weight up to 8 tonnes.
Fin whale 
The fin whale is the second-largest species on earth (after the Blue whale) that can reach up to 85 ft (26 m) in length and weight up to 80 tonnes. They are also known for blowing the water up to 25 ft (9 m) up in the air. Fin whales are quite sociable and have the lifespan of 94 - 140 years!
Blue Whales 
If you get lucky, in Iceland you can spot the largest mammal on Earth, and the true king of the deep sea. Blue whales can grow up to 104 ft (31.7 m) long, weigh up to 173 tonnes and live up to 90 years, while also being able to reach a speed of 31 mph (50 km/h). Most often Blue Whales were seen in the North of Iceland.
Minke Whales 
Minke is one of the most frequently seen whales in Iceland. Minke whales can be up to 28 feet (8.5 m) long and weight up to 8 tonnes. When they get curious, Minkes like to swim up close to the boats and show off their beauty and tricks.
Other whales in Iceland
Besides the beautiful cetaceans mentioned above, other inhabitants of Iceland's waters include sperm whales, harbor porpoises and white-beaked dolphins.
Best whale watching season in Iceland
It's hard to choose the best month for whale watching in Iceland, as each season brings new unique sights and experiences. Whales can be seen from multiple locations no matter the time of the year. When it comes to whale watching, Iceland doesn't have bad weather.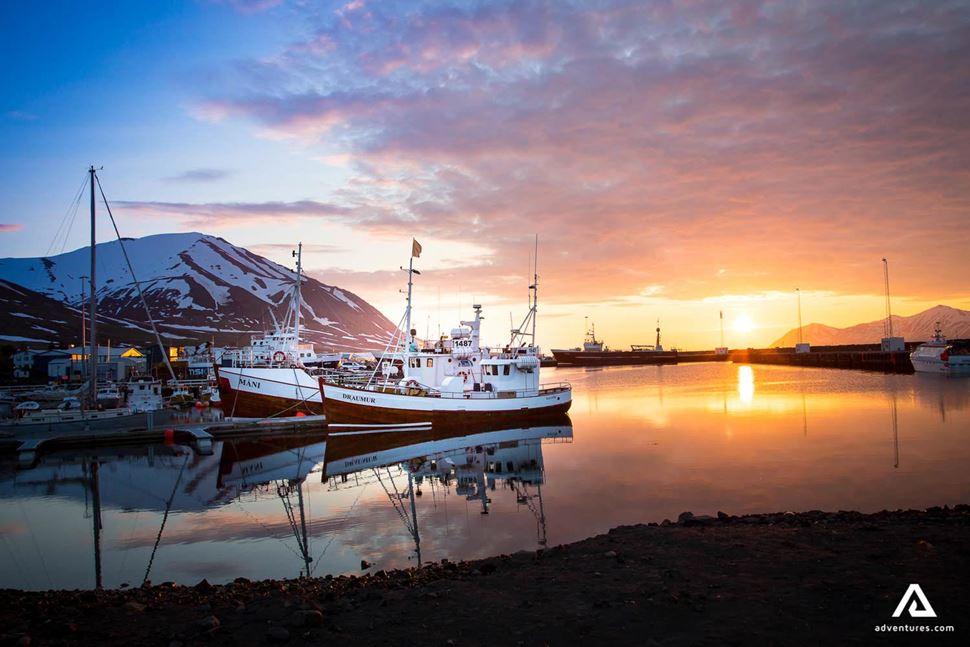 Often visiting Iceland in winter means gorgeous snowy scenery minus the crowds. Even though a winter visit might mean small groups and chilly breeze, there's the bonus of the Northern Lights show in the night! The success rate of winter whale watching trips is around 90%.
Spring and summer months remain the time when you are most likely to spot whales, often with their offspring. With balmy summer weather, maritime wildlife comes to life and you can get lucky and see more than whales on your trip. If you are after the Clown Birds, warmer months (April-August) will be your best call, as you'll see puffin scores and other migratory birds roaming at sea. The success rate of spring-summer whale watching tours is around 98%.