About Snaefellsnes Peninsula
If you are in Iceland for only a few days, Snaefellsnes is the perfect place to go explore as it is only two hours away from the Reykjavík. It is definitely one of the best day trips you can do while visiting Iceland, with the Golden Circle, as both offer wonderful sights. The Snaefellsnes Peninsula is also known as "Iceland in a Nutshell" because of its great landscapes diversity. Between waterfalls, lava fields, fishing villages, iconic mountains and the famous Snaefellsjökull glacier, this place has so much to show you! While visiting the National Park, you will understand why the famous author Jules Verne chose Snaefellsjökull to be the entrance of his "Journey to the center of the Earth" in his novel.
The 90-kilometer long peninsula (56 miles) offers to its visitors the best Iceland has to show. To go around the whole peninsula, it will take you about 475 kilometers, with the journey from and back to Reykjavík. It is estimated that without any stop, the trip requires just over 6 hours for the roundtrip. Of course you will need to stop to many places to take pictures, so you should at least plan 12 hours to visit the must-see locations around the peninsula.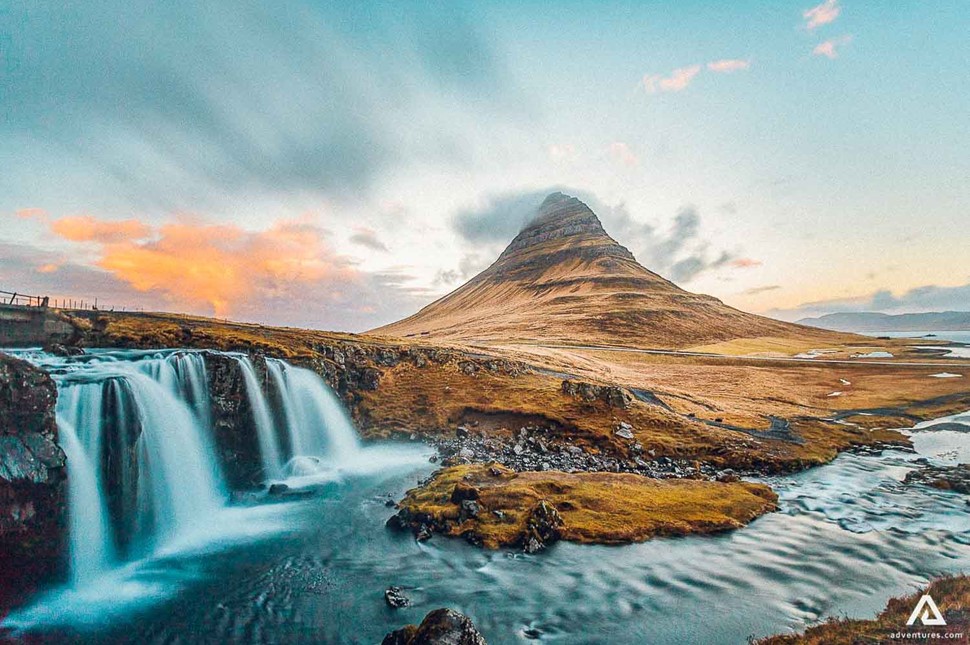 To visit Snaefellsnes, you can choose between a great variety of guided or self-drive tours from Reykjavik or meet on location. You can decide to join a guided tour to the peninsula from Reykjavík, or also to rent a car and do a self drive tour, which can be a good solution if you want to go off the beaten track. However, it feels really good to have an experienced guide to drive you through this magical area and tell you everything about it, there are so many things to learn about the mysterious peninsula.
What is the best time to visit Snæfellsnes?
The best time to visit Snaefellsnes is definitely during summer. First, because there is more daylight than in winter, which gives you more time to explore, and also because there is a lack of services available in this area during the wintertime. Always bring some food and water stocks and make sure not to be short on anything as you will not find many open restaurants or shops if you are visiting during the off-season. Plus, the day tours to Snaefellsnes and many activities there only are available in the summer months.
During winter, it is always recommended to check the weather and road conditions before you go as some roads will be closed due to bad conditions (strong wind or slippery roads). However, the highlight of winter in this region is the rich birdlife on the northern part of the peninsula, from January to March, find some more winter adventures here.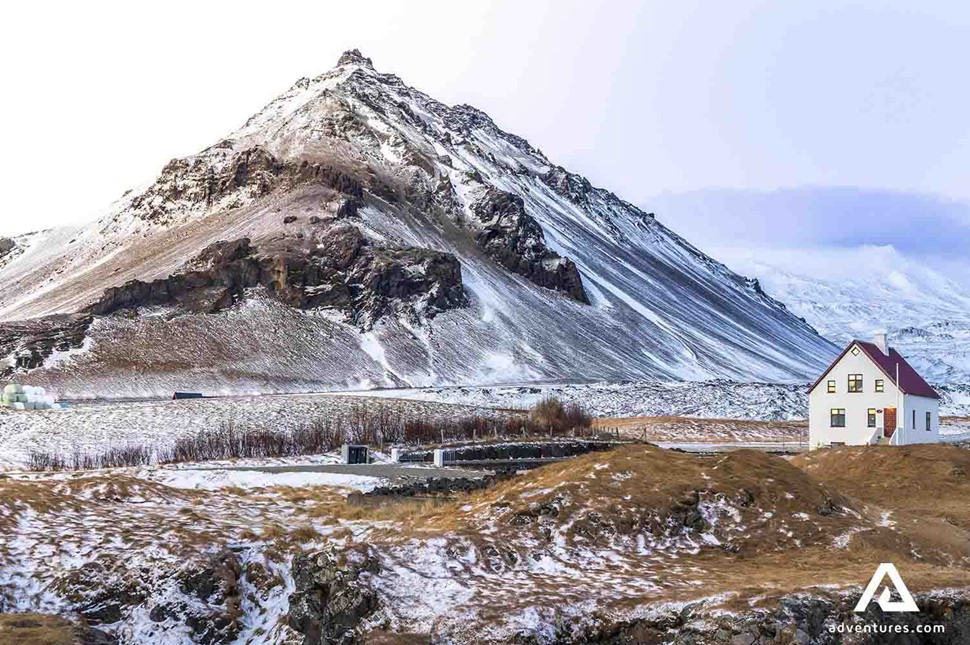 The wildlife at Snæfellsnes
Like I said, Snaefellsnes has a great variety of seabirds. There, you can easily meet some arctic terns, fulmars and many other species. However, you should always keep a distance between you and the arctic terns as they use to attack people who get too close to their nests. Check out the videos of those attacking birds on Youtube!
In addition to birds, the peninsula is home to various species of whales such as orcas, pilot whales and sperm whales. By joining a boat tour in Olafsvík, you will have high chances to meet those wonderful giants of the sea, especially during the wintertime and early summer months. Humpback whales, minke whales and white-beaked dolphins are also often seen hanging around there. Olafsvík is located on the north side of Snaefellsnes and is a small fishing town with a population around 1,100. While you are around this lovely village, you should visit the modern white church which looks like a ship. Bæjarfoss waterfall is also a must-do.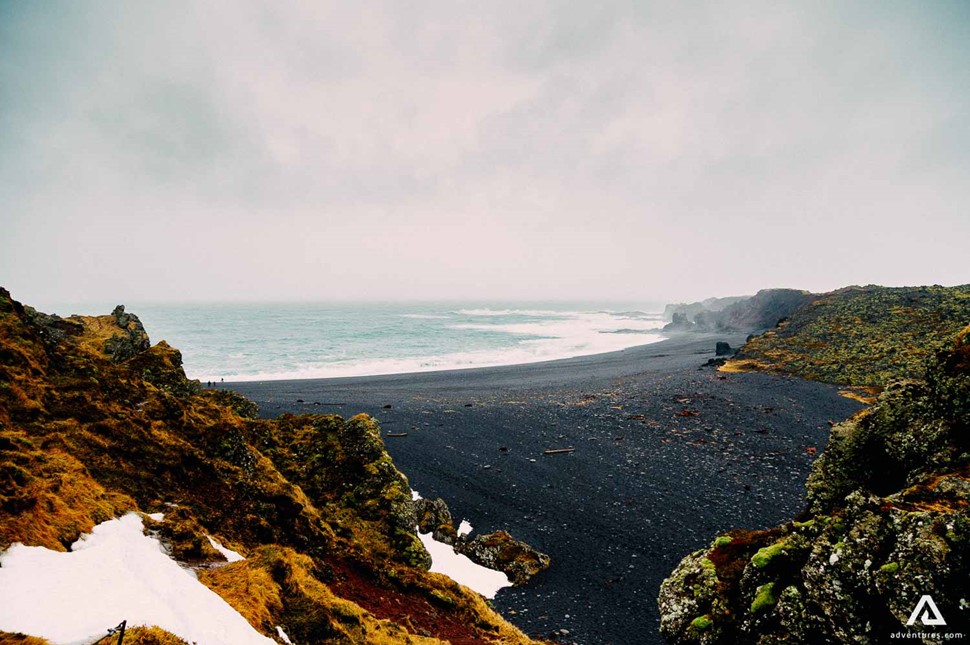 The Highlights of Snæfellsnes
Having a day tour to Snaefellsnes Peninsula is really something you don't want to miss. It allows you to see all the highlights of the peninsula in one day. The guide will show you the landmarks of the peninsula and tell you a lot of stories about it, as this region is rich in folklore and history.
Snæfellsnes peninsula has so many breathtaking sights as well as sensational outdoor activities to experience. Here are all the highlights of Snaefellsnes that you will see during the day.
Ytri-Tunga and the seal colony
Once you left Reykjavík, your journey will begin with the unmissable beach of Ytri-Tunga. It is a famous golden beach for seal-spotting. The best season to see the seal colony is around June and July. Both common seals and grey seals can be spotted at Ytri-Tunga.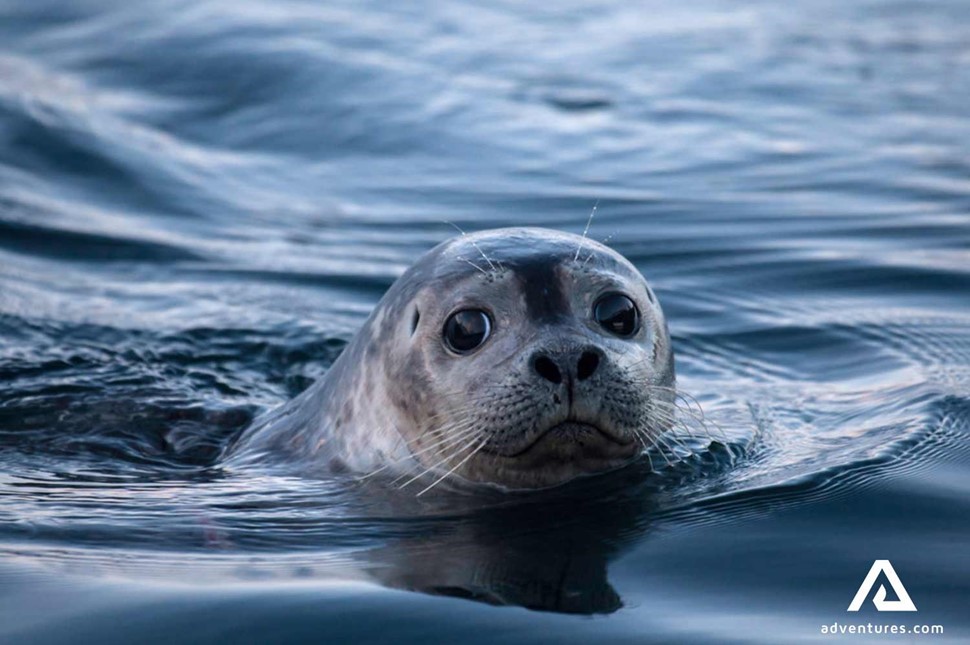 Arnarstapi fishing village
Then, you will head towards the fishing village of Arnarstapi. There, you will have the opportunity to take a walk by the sea shore and check out the mysterious statue of Bárður Snæfellsás, the half-man half-troll who dominates the region and lives in Snaefellsjökull glacier. Arnarstapi is a small village in the south coast of the peninsula. Its neighboring village of Hellnar serves the famous Icelandic fish soup in a cosy restaurant. The basalt pillars on the coastline truly give something dramatic to the town. On the cliffs along the shore, you can see that Arnarstapi is dotted with a rich birdlife. It is possible to see fulmars, arctic terns and kittiwakes. The town is also known for its Arch Rock - Gatklettur - which is very photogenic. The naturally-shaped stone arch is located between the villages of Hellnar and Arnarstapi. In 1979, the seaside and the cliffs have been made a Natural Reserve.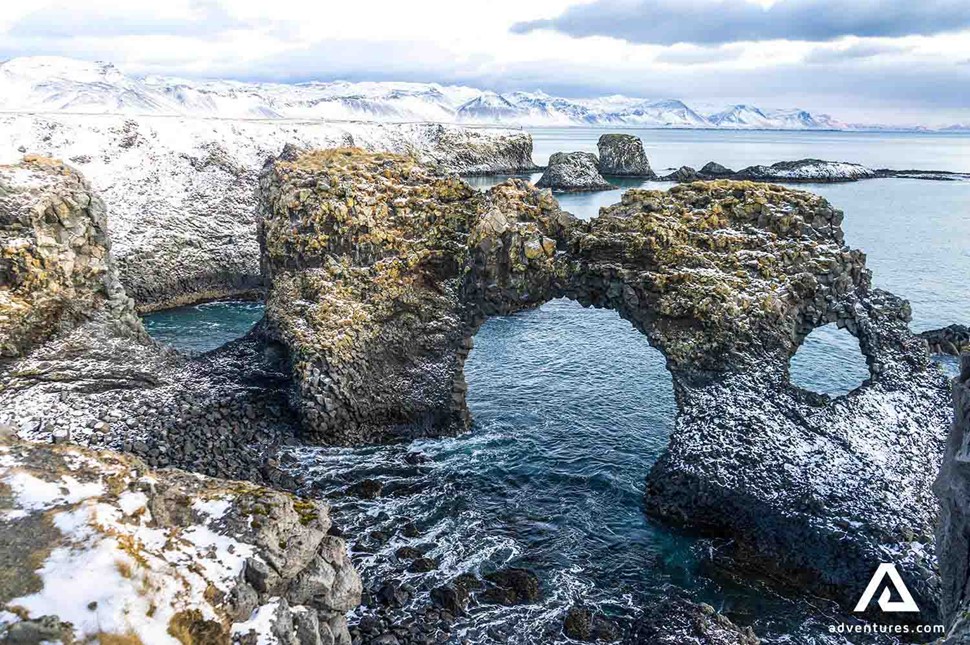 Vatnshellir lava cave
Next stop is an exploration of Vatnshellir cave, which is an extra tour that you have to book in advance. This stunning lava cave is located near from the small town of Hellnar and will totally blow your mind! As you will descend really deep on a spiral staircase, you will be able to observe some stalagmites, stalactites and funny-shaped lava formations. Vatnshellir was created in a volcanic eruption about 8,000 years ago. This experience is like nothing else! The cave is divided in two sections by the staircase. It is one of the most accessible lava tubes in all Iceland. Inside of the cave, you will get to know real darkness and cave noises, which can be a magical experience. No worries, you will still have a headlight and a guide to find your way. The cave is a 200-meter long lava tube and reaches 35 meters deep under the surface of the Earth.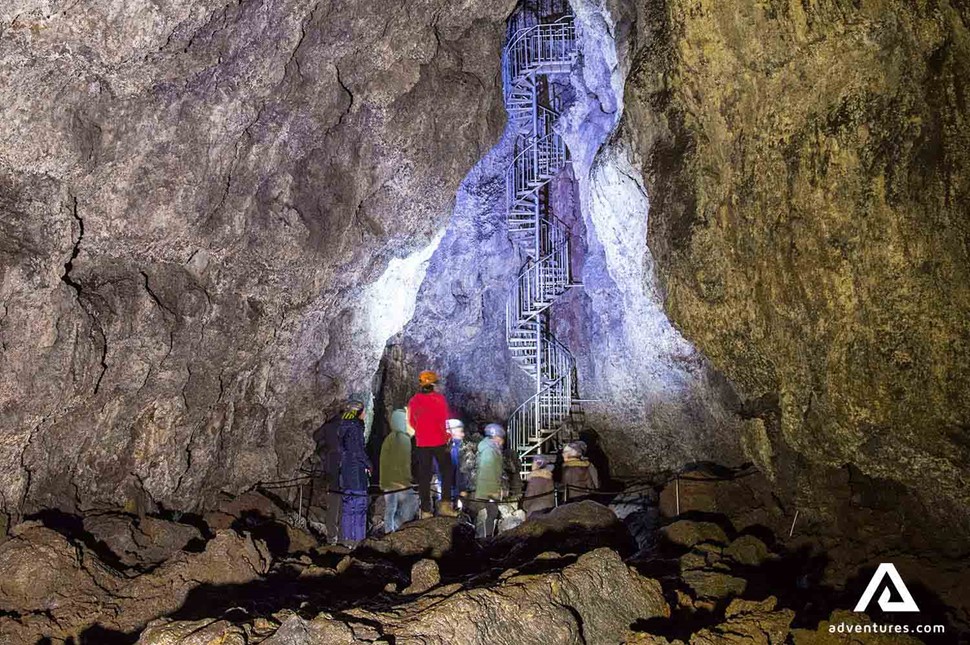 Djúpalónssandur black sand beach
Back to the open air, you will now be driven to the picturesque black sand beach of Djúpalónssandur. Also known as the Black Lava Pearl beach, this place is full of stories about trolls and shipwrecks. To join the beach you will have to go through a lava field with huge lava formations, on Nautastígur path. On the beach lie 4 lifting stones of different size and weight. They were used back in time to measure the strength of fishermen. You will also find the protected iron pieces from the shipwreck of Epine GY7 on March 13, 1948, where 14 men lost their lives. While on an Icelandic beach, remember to never turn your back to the ocean. The waves can be really strong and sneaky and if you happen to be taken by a wave, the chances that you come back are really low.
Kirkjufell and Kirkjufellsfoss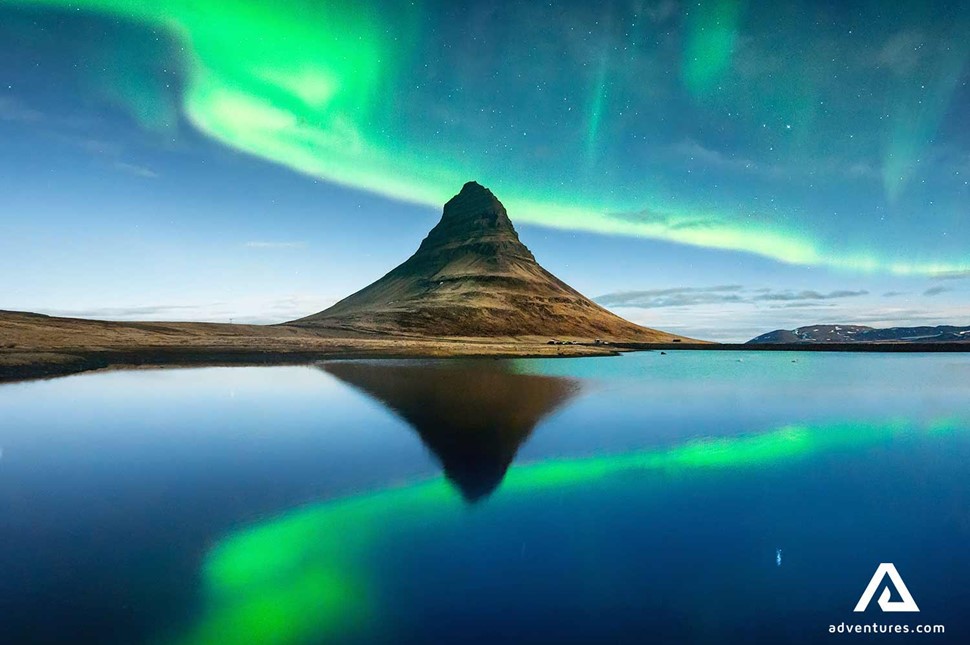 The next stop on the list is the emblematic Kirkjufell, passing by the small village of Grundarfjörður. Mt. Kirkjufell is one of the most photographed mountains in Iceland and is definitely an important landmark on the Snaefellsnes Peninsula. The symmetrical "church mount" is 463 meters high (1,519 feet). You may recognize this place as it served as a setting in the world-famous show Game of Thrones. If you look up for the word "Iceland" on Google Images, you can see the iconic picture of Kirkjufell with its tiny waterfall Kirkjufellsfoss in the front. This is a famous picture that everyone is trying to capture from the right angle. On top of the mountain, fish fossils can be found, but only experienced hikers can do it to the top since the trail is steep and exposed.
Gerðuberg basalt columns
On the way back to Reykjavík, your last stop will be the incredibly geometric basalt columns of Gerðuberg, a Natural Heritage Site. The massive wall of basalt columns can reach up to 14 meters, some columns measuring more than 1 meter wide. It can be really impressive to see what nature can do and how it shaped those columns so perfectly! It is possible to walk up to the basalt columns and get a panoramic view on the beautiful landscape around. There are not many tourists visiting the basalt columns as it is not located on the main road. However, this place is not to miss as Gerðuberg has one of the longest basalt columns of Iceland. Do not forget to bring your hiking shoes for this amazing trip.
Snæfellsjökull Glacier
Snæfellsnes is known for its breathtaking and diverse nature, including Snæfellsjökull glacier volcano. This glacier served as the main setting for the world famous novel "Journey to the Center of the Earth" by Jules Verne, where the volcano is thought to be the entrance to the center of Earth... we'll take you there and you can see for yourself ;)
The huge glacier can be seen from all around the peninsula, but some tours offer the opportunity to go on top of it.
The snowcat tour will take you to the top of the glacier, where you have a view on the beautiful Snæfellsjökull National Park and on the whole peninsula. When the weather is good, you can even see up North to the Westfjords and down South to Keflavík. The massive engines are specially designed to drive on snow and are perfectly equipped for its passengers to admire the landscape. This is a once in a lifetime experience that will for sure take your breath away.
If you love challenging hikes, then you should join the hiking tour to Snaefellsjökull. Be ready for one of the most amazing hikes of your life, to the top of a snow-capped glacier that covers a volcano. Snæfellsjökull rises to 1,446 meters at it highest point (4,744 feet) and hosts a 200 meter deep crater (656 feet). Your glacier guide will give you all the necessary gear to climb up on the icy terrain and here you go to your long Journey to the center of the Earth. You will discover the local legends on Snaefellsjökull and certainly feel the strong magnetic energies coming from here. The hike is approximately 7 to 8 kilometer long and it will take you about 3 to 5 hours depending on the weather conditions.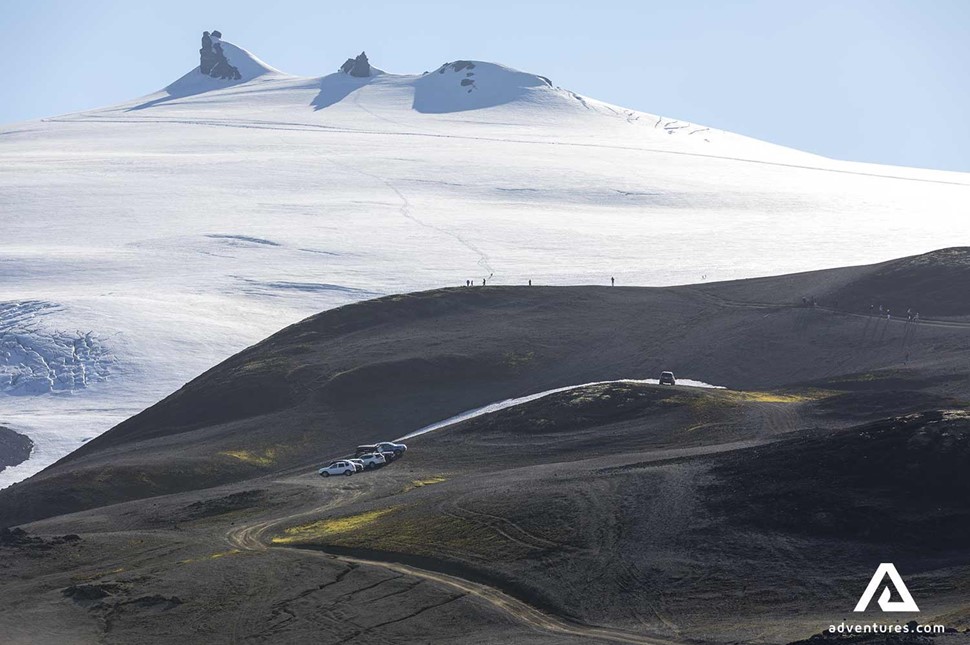 Self Drive Tours to Snaefellsnes Peninsula
If you are staying in Iceland for many days and you want to discover the country on your own, doing a self drive tour can be a good option. You will even have the chance to explore Vatnshellir cave with a guide and have a look around the famous Geysir hot springs. All the self drive tours include accommodation, a rental car and a detailed itinerary for each day. By booking this kind of tour, you do not have to worry about anything, just live in the moment.
On the 7 day trip, you will be able to venture out along the Icelandic South Coast as well as around the Snæfellsnes Peninsula and experience the Golden Circle. Basically, you will see the best of what Iceland has to offer. Everything is included, all you have to do is to drive and enjoy the landscapes (note that it is better to stop the car when you think that the view is worth a picture, rather than to drive and not look at the road). Iceland is a very beautiful country and you will have to do many stops to take photos of the sceneries on the road. Those 7 days will be full of incredible sights and you will even get to hike on a glacier! Note that, as in every self drive tour, you will have to take care of your own food.
Multi Day Tours visiting Snaefellsnes Peninsula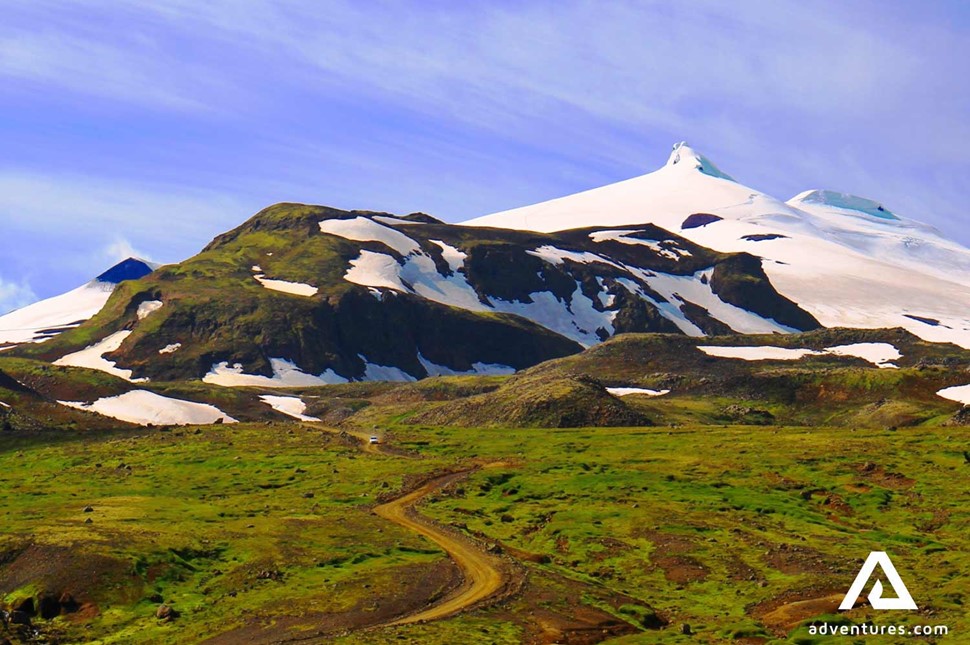 A multi-day tour is always a good idea if you do not want to drive yourself through the beautiful landscapes of Iceland. Let a certified guide lead the way and tell you more about this fabulous country. Depending on how long you are staying in Iceland and what parts of the island you want to see, several options are possible. This will help you to choose which one is better for you.
The amazing 4-day winter tour will take you to the South Coast and Snaefellsnes Peninsula. With a small group, you will be exploring those wonderful parts of Iceland and maybe have the chance to spot some northern lights! This natural wonder of nature is not rare in Iceland. During more than half of the year, green, purple, and red lights illuminate the night skies, making everyone stand in awe. A visit to a natural ice cave is also included in this tour. All the necessary equipment will be provided for your safety. Please note that during every winter tour, itineraries can change due to weather conditions. Winter in Iceland is rough and sometimes roads can be closed.
If you are visiting Iceland during winter for a short period of time, then the 2-day tour is made for you! Driving yourself around the island can be very dangerous during the wintertime, that is why we offer this guided tour with an experimented driving guide. This is the perfect getaway to explore a bit of Iceland and not just stay in the capital. You will see all the highlights of Snaefellsnes and have a sleepover on the peninsula. Hopefully, some northern lights will be dancing above your head.
The 5-day tour is perfect if you want the full Icelandic experience during winter. During those five wonderful days, you will visit the South Coast, the Golden Circle, and Snaefellsnes, the three most visited places in the country. You will get all of the best sights and have the opportunity to hike on Vatnajökull, Europe's largest glacier. This tour also offers a visit to a natural ice cave and all the needed gear.