Reynisfjara is a dramatic volcanic beach rising up out of the icy-blue waters of the Atlantic Ocean. It is, unquestionably, the most well-known and captivating black sand beach in the world. Famed for the towering Reynisdrangar sea stacks and fascinating Gardar basalt cliff– Reynisfjara is an impressive scene guaranteed to create photos and memories that will last a lifetime.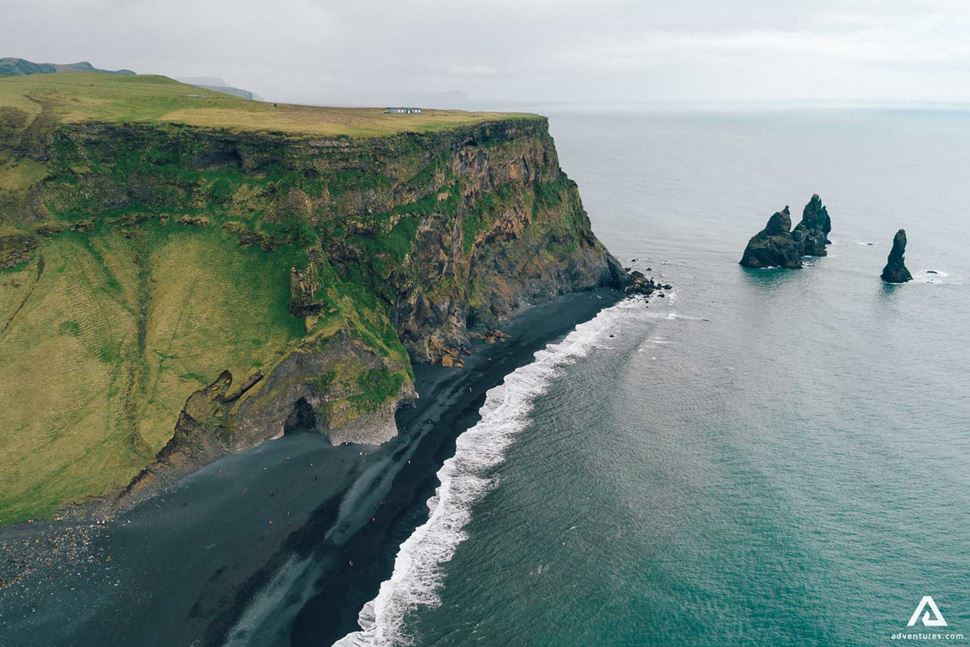 What is Reynisfjara Beach?
Reynisfjara Beach is the most visited black sanded beach in Iceland, replete not only with jet-black sands but also fascinating rock formations. The beach is located just 6 miles (10km) from the charming town of Vik and was once voted the best non-tropical beach in the world by National Geographic. The uniqueness of Reynisfjara was even featured in Seasons 6 and 7 of the HBO fantasy drama series, Game of Thrones.
Apart from the stunning beauty of its dark black sands, Reynisfjara is also home to the Reynisdrangar sea stacks and Gordar basalt columns. No visit to Iceland would be complete without a visit to this other-worldly natural wonder.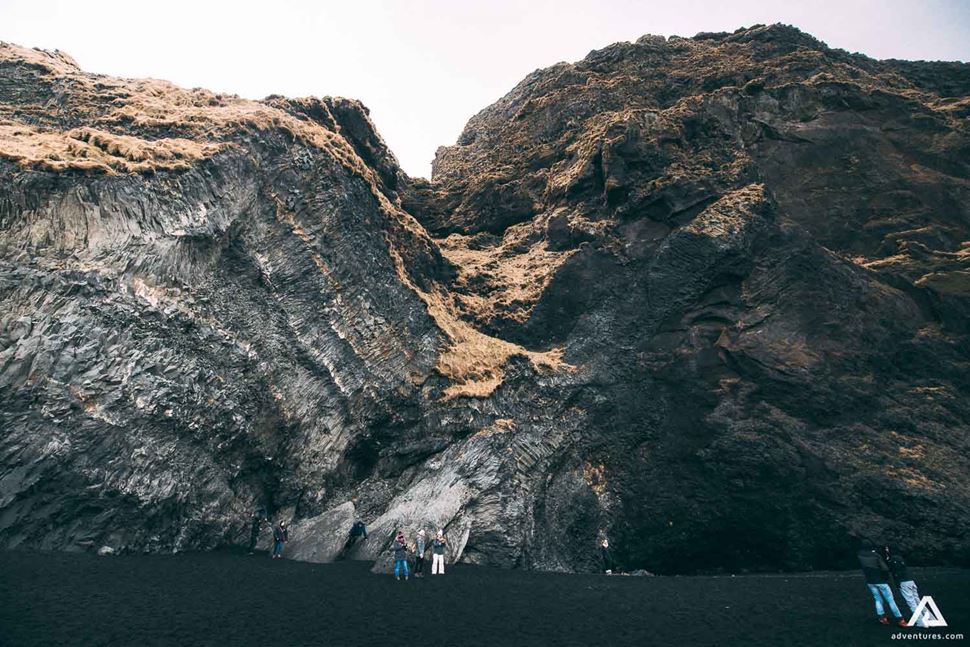 Why Is the Sand at Reynisfjara Black?
Iceland's unique volcanic past is responsible for the exotic black sands of Reynisfjara.  Most beaches in the world are white or golden simply because the sand is created by the sea eroding brown, white, or yellow rocks down into tiny fragments.  
Reynisfjara's sands are created in exactly the same way, however, the rocks close to the beach were created from cooled, hardened lava, which is black (or obsidian) in color. When you walk on Reynisfjara's coal-black sands,  you're actually walking on an ancient eruption site eroded down, over many years,  into tiny fragments by the incredible power of the sea.
Myths and Legends About Reynisfjara
As soon as you visit Reynisfjara, you'll immediately notice the sky-splitting Reynisdrangar sea stacks rising high out of the Atlantic Ocean. Icelandic folklore has a number of stories and explanations on how they came to be. One such story claims there were two giant trolls towing their boats to shore who were turned to stone when they were suddenly caught in the sun at dawn. Another story holds that they're the remains of two trolls who kidnapped a local wife and were then turned to stone by her vengeful husband.
To this day, locals still believe that you can hear the cries of the late trolls as they mourn their lost home up in the mountains.
Reynisdrangar Sea Stacks
The Reynisdrangar sea stacks soar above the Atlantic Ocean, like the masts of a gigantic stone ship. They are some of the most famous and recognizable rock formations in the world. They rise 217 ft (66 meters) into the air and are home to a number of different seabirds, including puffins, arctic terns, and fulmars. 
The Reynisdrangar sea stacks are an absolute must for anyone looking to check off Iceland's biggest attractions and the perfect backdrop for a photo or two.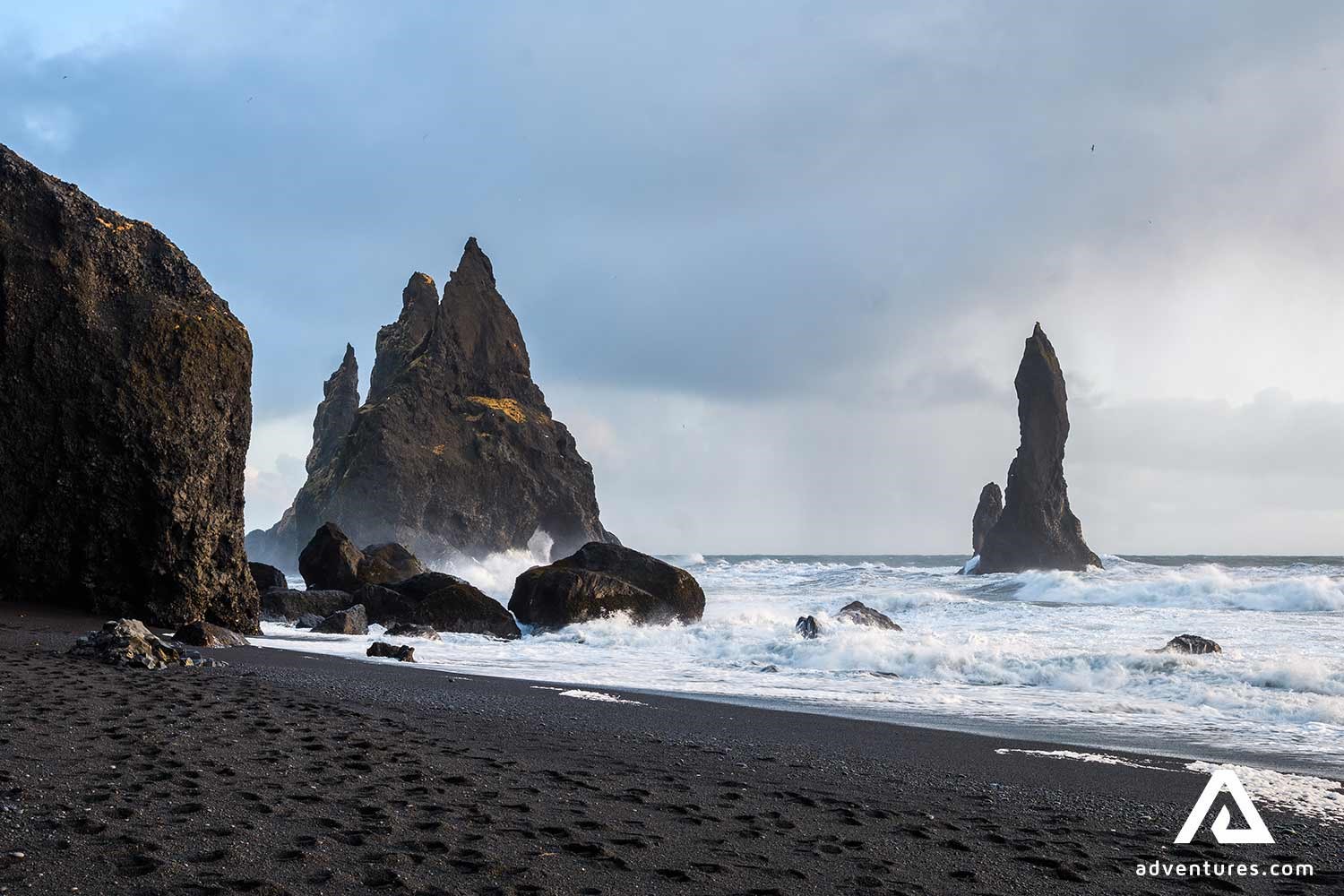 The Gardar Basalt Columns
The Gardar basalt columns are a massive set of columns rising up an imposing cliff face opposite the sea at Reynisfjara. They have served as inspiration for many of Iceland's famous buildings, most notably the iconic Hallgrimskirkja church in Reykjavik. Best described as Iceland's version of the Giant's Causeway the Gardar columns is a true, genuine stairway to the heavens. They were formed by ancient lava flowing at an incredibly slow speed, this would cause the cooling rock to crack and solidify into the perfectly symmetrical columns present today. 
Iceland is blessed with all sorts of volcanic wonders, but few would argue that the basalt columns at Reynisfjara aren't among the very best. Don't forget your camera!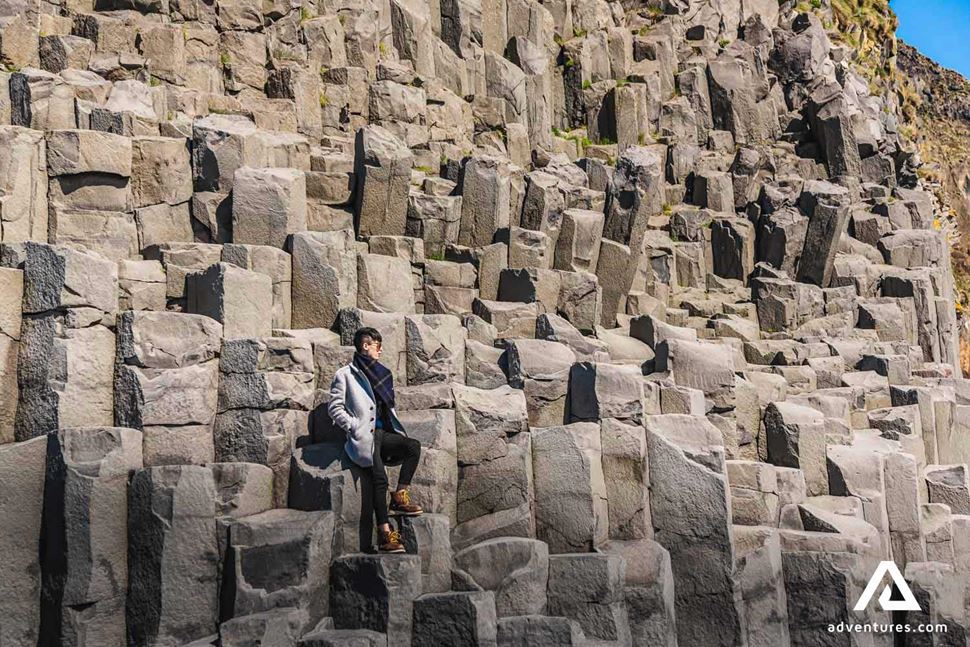 Where Is Reynisfjara Beach?
Reynisfjara Beach is situated on Iceland's stunning south coast, approximately 110 miles (180 km) from Reykjavik. The charming village of Vik is located 6 miles (10 km) from the beach and the picturesque village of Kirkjubæjarklaustur is approximately 50 miles (78 km) to the northeast.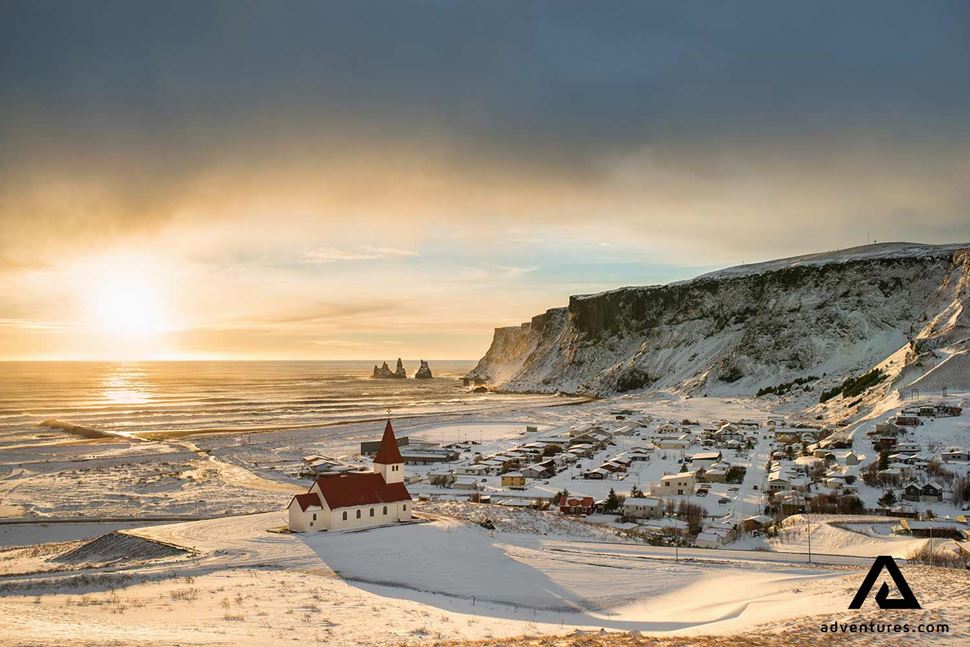 How to Get to Reynisfjara Beach
Reynisfjara is the perfect ending destination for a south-bound road trip. If you are planning a drive to Reynisfjara, simply head out along Route 1 (the ring road), until you reach the turn marked Route 215, then follow Route 215 for 10 minutes to reach a large parking lot adjacent to the beach. Continue on to the picturesque village of Vik (6 miles away) for a warm meal, a cold drink, and a cozy place to stay. 
What to Take to Reynisfjara?
Iceland is famed for its ever-changing weather. For this reason,  we recommend being prepared for all eventualities during your visit. Layering is crucial in Iceland, as it allows you to adjust to the changing conditions. We suggest that you bring waterproof and windproof top layers along with warm bottom layers. We provide packing lists on all of our tours, but a rough idea of the things that might be useful at Reynisfjara is listed below.
Waterproof and windproof jacket

Sturdy hiking boots (waterproof is always useful)

Waterproof pants

Warm hat

Scarf

Waterproof Gloves

Warm underlayers

Camera

Water bottle

Sunscreen + Sunglasses
Safety at Reynisfjara
Reynisfjara is known for being one of the most dangerous beaches in Iceland and there are a number of hazards that visitors need to be aware of. 
The waves that crash into the beach can be especially violent and often come far higher up the beach than you would expect. Icelanders know these waves as 'sneaker-waves' and they can appear at any time, even on seemingly calm days. There are thousands of miles of open sea between Iceland and Antarctica, which gives 'sneaker-waves' plenty of time to build up force and momentum. 
Maintain a distance of at least 98 feet (30m) from the breaking waves or visit Reynisfjara with one of our expert guides for a worry-free experience.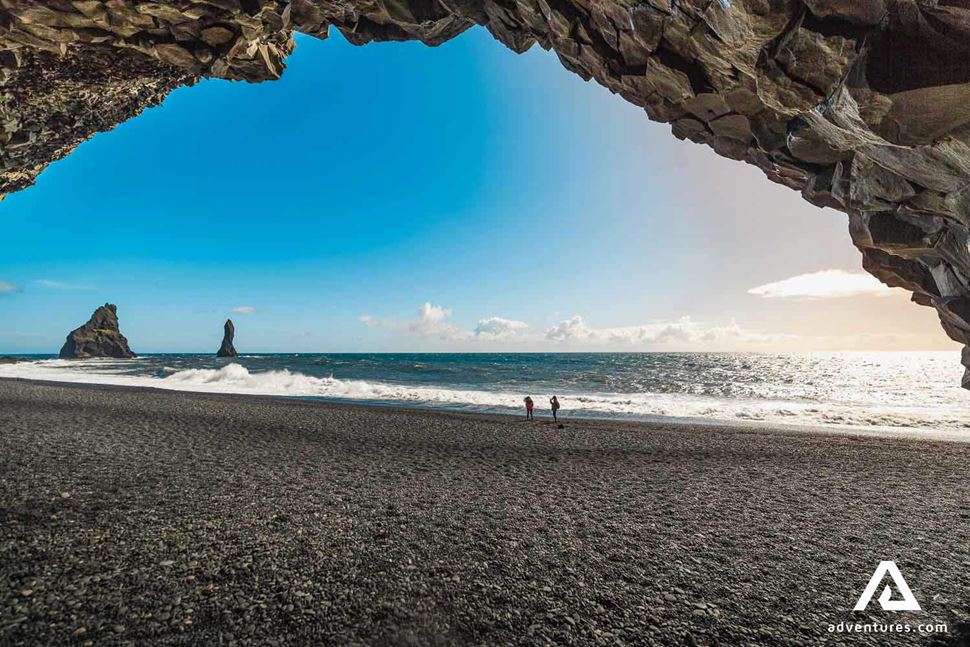 When Is the Best Time to Visit Reynisfjara?
Reynisfjara can be visited throughout the year. The beach is just as beautiful under the midnight sun as it is with a blanket of snow covering the basalt columns. With luck, you may even find yourself under a sky illuminated by the Northern Lights!
If you are planning to visit Reynisfjara alone, please be aware of the tides as the beach can be very dangerous during high tide. We recommend checking the local tide chart and aiming your visit for low tide when the beach is at its safest. 
Another option is to join one of our many tours and let one of our experienced guides plan and handle all of the logistics for you.
Places to Stay Near Reynisfjara
If you want to stay in the Reynisfjara area, then the quaint village of Vik is your best bet. Here are a few of our favorite places to stay in Vik and the surrounding area.
Puffin Hostel Vík – An excellent value option in the nearby town of Vik, this hostel offers simple rooms at a great price.
Guesthouse Reynir – A simple guesthouse located slightly further back from the coast, the guesthouse offers rooms and one-bedroom cottages with basic facilities.
Einarsstadir Homestay – A thoughtful homestay accommodation in the charming village of Vik, it's an excellent base from which to explore the surrounding area.
Icelandair Hotel Vik – A well-designed three-star hotel with great facilities and expansive coastal views.
Dream Guesthouse Vik – A picturesque three-star guesthouse that offers breath-taking mountain views and thoughtful facilities.
Places to Eat Near Reynisfjara
Most of the restaurants near Reynisfjara are located in the coastal town of Vik. From comfort food to Scandinavian fine-dining, here are our favorite restaurants in Vik.
Sudur Vik – A restaurant and bar, serving delicious homemade pizzas and European cuisine. Diners are sure to enjoy the spectacular views of the Atlantic Ocean.
Halldorskaffi – A friendly local restaurant and bar, offering Icelandic and international cuisine at reasonable prices.
Berg – A fine-dining restaurant that offers Scandinavian cuisine, along with exclusive views of the iconic Reynisdrangar Pillars.
Smidjan Brugghus – A relaxed gastropub that is renowned for its great local beers and delicious burgers, ideal for anyone who wants to eat some refuel after a full  day.
Drangar Restaurant – A recently opened fine-dining restaurant serving intriguing dishes that resemble works of art.
Strondin Pub Vik – A traditional local pub that serves excellent beer and Icelandic staples - try the fish and chips!