Where is the Reynisfjara Beach located?
Reynisfjara Beach location:
The most spectacular black sand beach in Iceland can be found on the south coast, just off the Ring Road, 180 kilometers (112 miles) from Reykjavík. It takes a day to visit the site and return to Reykjavík, with even more amazing sights waiting along the way.
The famous black sand beach stretches many kilometers from the Dyrhóleay stone arches through Reynisfjara, extending up to the small village of Vík. Of all these stunning places, Reynisfjara is the most favored site thanks to its perfectly angular basalt columns, caves, and sea stacks.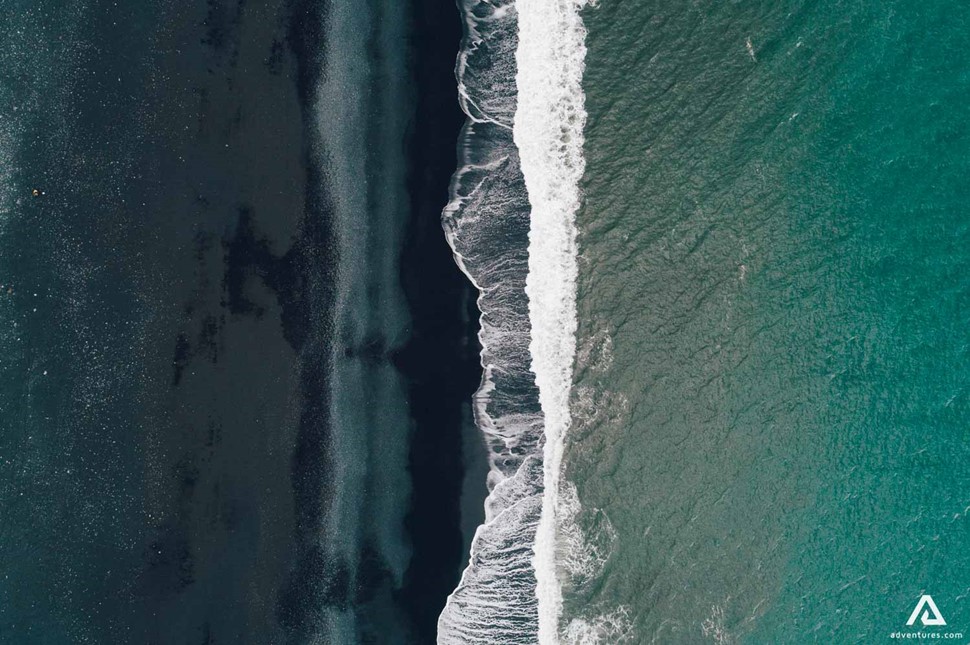 HOW TO GET TO REYNISFJARA BLACK SAND BEACH?
Reynisfjara is around 180 km (112 miles) from the Icelandic capital, Reykjavik. Reaching Reynisfjara Beach from Reykjavik is easy and takes up approximately two and a half hours.
Why are Iceland's black sand beaches so special?
An Icelandic black sand beach is, of course, not the best choice for sunbathing. You can be sure, however, that it is a photogenic masterpiece of nature. Reynisfjara is now ranked as one of the 21 most beautiful beaches in the world just for its black sand. It is no ordinary beach!
Aside from the enchanting pitch-black coast dotted with smooth pebbles and stones, it has enormous basalt stacks, hexagonal-shaped basalt columns, stunning lava formations, towering cliffs, basalt caves, and breathtaking views of some stunning stone arches off in the distance! With the roaring Atlantic waves and thousands of birds nesting all over the cliffs and sea stacks, Reynisfjara is widely considered to be the most beautiful black sand beach in Iceland.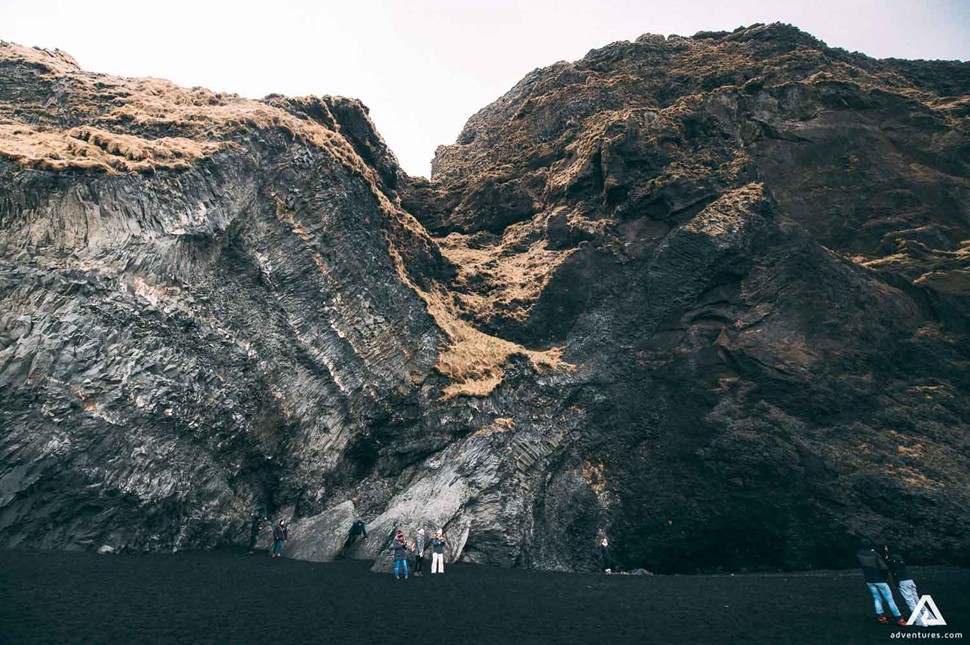 How was Reynisfjara Formed?
Iceland is home to around 130 volcanos, many of which are still active today. Black sand beaches rise from volcanic ashes. When molten lava enters the water, a violent interaction occurs between the hot lava and the sea water.
The lava cools down so rapidly that it breaks into debris and sand instantly. A huge amount of lava flow entering the ice-cold sea at once may produce enough fragments to create a new black sand beach in a matter of hours!
Reynisfjara is located near a large volcano that erupted several times during the last thousand years. The notorious Katla volcano has been dormant for nearly one hundred years but is due to erupt at any time. Reynisfjara's black sand was formed during one of Katla's major eruptions.
What Are the Columnar Joints at Reynisfjara?
The highly picturesque columnar joints, called Garðar, are undoubtedly one of the most photographed places in Iceland. They were also created by volcanic forces. These interesting, closely spaced fractures occur only in volcanic rocks, in basalt most of all. They are formed when lava cools down quickly. As the effect of the sudden cooling, the rock starts to contract from the edges in symmetric, geometrical shapes.
The columns at Reynisfjara vary from 0.5-1 meter (1.6-3.2 feet) in diameter and can be up to 20 meters (65.6 feet) tall. They are parallel and straight, but there are also curved columns that form a large and very scenic cave.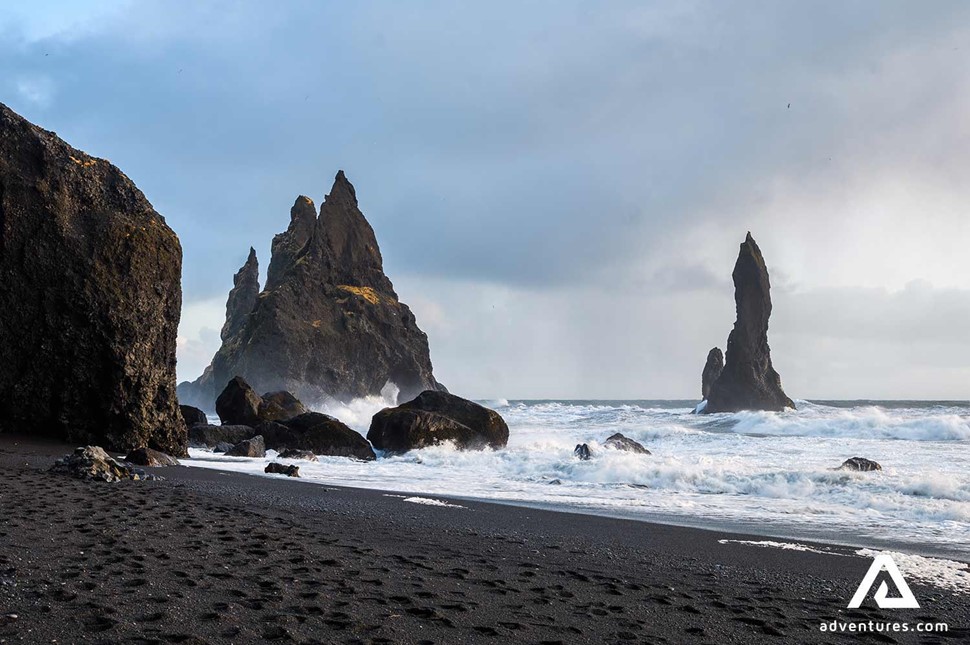 Why is the sand so unbelievably black?
Unlike many other black sand beaches in the world, the volcanic sand on Reynisfjara is almost always wet because it is in the rainiest part of Iceland. So, the sand never becomes dry and gray, remaining instead unbelievably pitch black. In winter, when snow covers the beach, the black and white mix and look like as if they are poppy seeds and powdered sugar.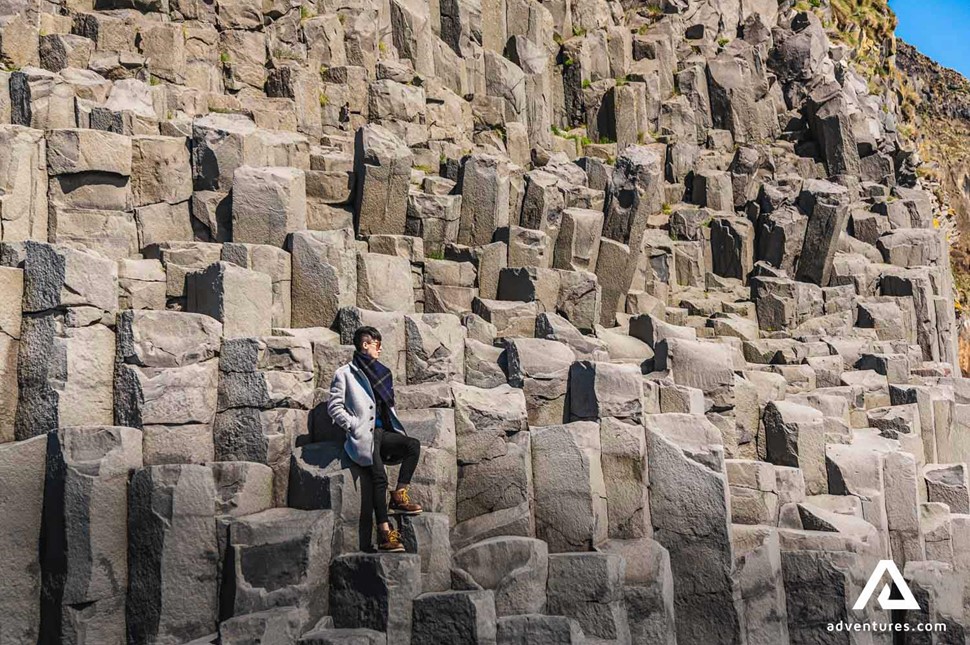 What Does "Reynisfjara" Mean?
The site was named after a Norwegian Viking called Reynir. He was the first settler in this area. Reynisfjara translates to "Reynir's beach." Reynisfjall (Reynir's mountain) and the Reynisdrangar (Reynir's pillars) can also be found here.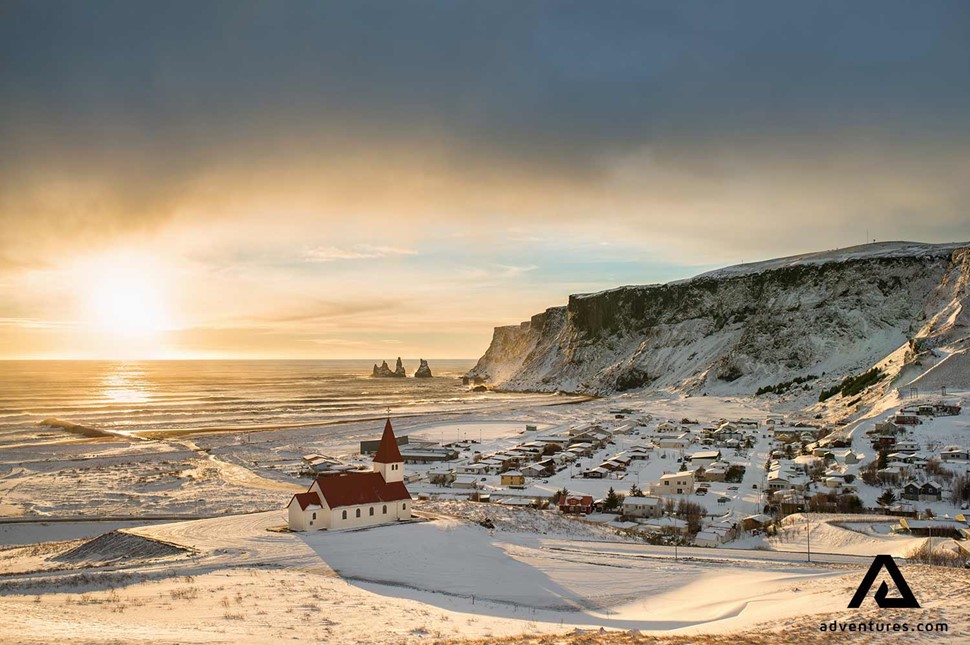 What Is the Story Behind the Basalt Stacks at Reynisfjara?
Reynir's pillars stick out of the ocean next to the coast and give the whole are a very distinctive appearance. According to Icelandic folklore, these odd formations were once sea trolls who tried to drag a ship to the shore. They apparently did not realize that the sun was rising and turned into stones instantly when the sun touched them.
As for the geological explanation, the basalt sea stacks were part of Reynisfjall Mountain. They were separated from the mainland as a result of a huge amount of erosion caused by the rainy weather and attacks by the powerful ocean waves. The formations continue to change constantly as the waves crash against their walls. Someday, they may even collapse and disappear entirely. This, however, is not expected to happen any time soon, as the process can take decades or centuries.
What Movies and TV Shows Have Been Filmed at Reynisfjara?
Reynisfjara is a popular filming location that appears in many Hollywood movies and well-known TV shows. The most famous of all is probably Game of Thrones, Star Trek, and one of the Star Wars movies.
Game of Thrones: Reynisfjara appears in Season 7 as the Wall at the Eastwatch-by-the-Sea.


Noah (2014): An epic biblical drama starring Russell Crowe.


Star Trek: Into Darkness (2013): The twelfth installment of the Star Trek franchise, Star Trek: Into Darkness.


Star Wars: George Lucas' epic space opera has featured Iceland in both The Force Awakens and Rogue One. Reynisfjara appears in the latter.
Is Reynisfjara beach dangerous?
Reynisfjara beach is known as one of the most dangerous places in Iceland. It may not look that dangerous, but it has already taken some traveler's lives. If you visit the site, it is very important to understand the potential dangers and to take them very seriously. 
The currents and roaring waves in this area play a cruel game and can be particularly violent. Sometimes, all of the sudden, one wave can sneak much further up the sandy beach than the other waves before it. These sneaker waves can occur when no one expects them. Tragically, there have been terrible accidents and even fatal ones when unsuspecting visitors have been dragged into the ocean. 
Another great danger is climbing on the basalt columns. Aside from the obvious danger of falling down, which has happened to a few visitors and has even ended in tragedy once, there is, again, the danger of the sea. 
You may see a lot of great pictures with people happily posing on the beautiful basalt columns. But, when you are there, it is not certain that you will be able to do the same. At high tide, the sea comes very close to the columns. This increases the danger that a sneaker wave will reach you and knock you down from the rocks, dragging you into the sea. 
Also, in high tides, the cave behind the basalt columns may become inaccessible. When the sea is closer than 10-20 meters, it is best to skip the cave. 
How to be safe at Reynisfjara?
Generally, always keep a safe distance from the water and never turn your back to the sea. Do not climb over the basalt columns. If you are traveling with a child, pay extra attention and do not let them walk close to the sea.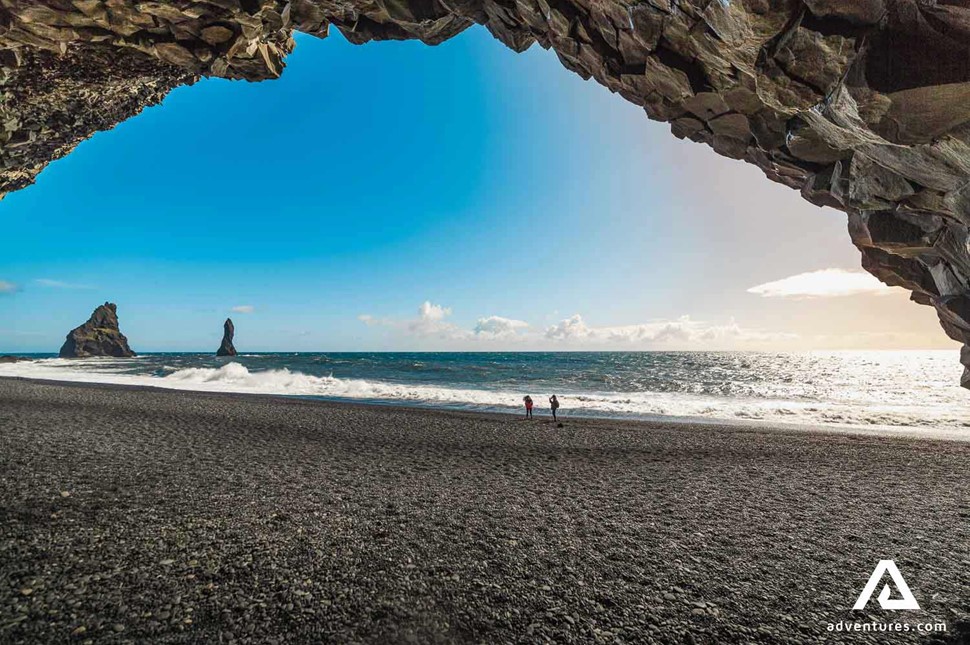 When Is the Best Time to Visit Reynisfjara?
Reynisfjara can be visited throughout the year. The beach is just as beautiful under the midnight sun as it is with a blanket of snow covering the basalt columns. With luck, you may even find yourself under a sky illuminated by the Northern Lights!
If you are planning to visit Reynisfjara alone, please be aware of the tides as the beach can be very dangerous during high tide. We recommend checking the local tide chart and aiming your visit for low tide when the beach is at its safest. 
Another option is to join one of our many tours and let one of our experienced guides plans and handle all of the logistics for you.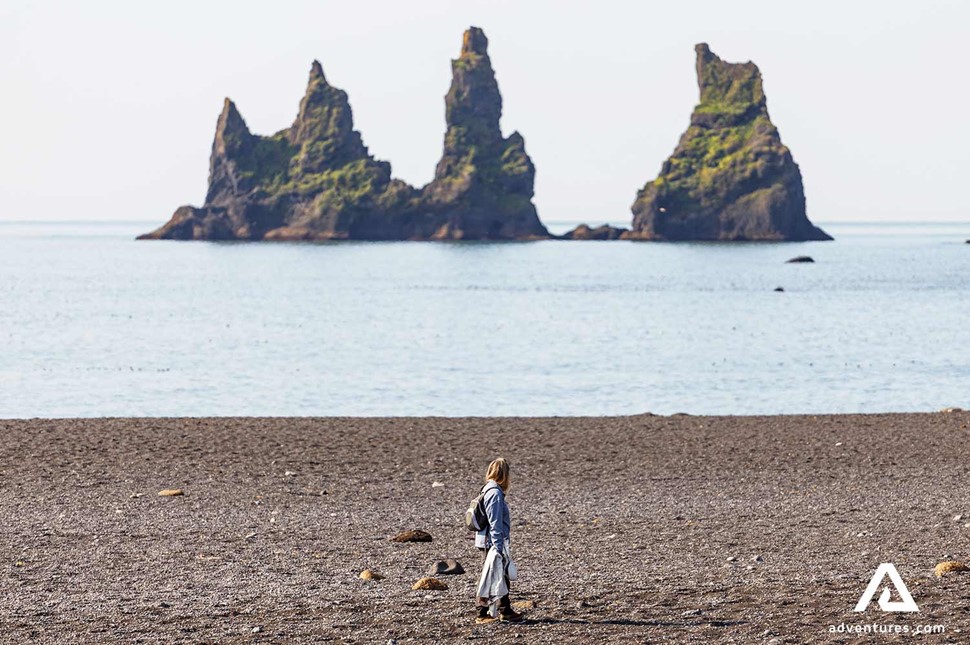 Places to Stay Near Reynisfjara
If you want to stay in the Reynisfjara area, then the quaint village of Vik is your best bet. Here are a few of our favorite places to stay in Vik and the surrounding area.
Puffin Hostel Vík – An excellent value option in the nearby town of Vik, this hostel offers simple rooms at a great price.
Guesthouse Reynir – A simple guesthouse located slightly further back from the coast, the guesthouse offers rooms and one-bedroom cottages with basic facilities.
Einarsstadir Homestay – A thoughtful homestay accommodation in the charming village of Vik, it's an excellent base from which to explore the surrounding area.
Icelandair Hotel Vik – A well-designed three-star hotel with great facilities and expansive coastal views.
Dream Guesthouse Vik – A picturesque three-star guesthouse that offers breath-taking mountain views and thoughtful facilities.
Places to Eat Near Reynisfjara
Most of the restaurants near Reynisfjara are located in the coastal town of Vik. From comfort food to Scandinavian fine dining, here are our favorite restaurants in Vik.
Sudur Vik – A restaurant and bar, serving delicious homemade pizzas and European cuisine. Diners are sure to enjoy the spectacular views of the Atlantic Ocean.
Halldorskaffi – A friendly local restaurant and bar, offering Icelandic and international cuisine at reasonable prices.
Berg – A fine-dining restaurant that offers Scandinavian cuisine, along with exclusive views of the iconic Reynisdrangar Pillars.
Smidjan Brugghus – A relaxed gastropub that is renowned for its great local beers and delicious burgers, ideal for anyone who wants to eat some refuel after a full  day.
Drangar Restaurant – A recently opened fine-dining restaurant serving intriguing dishes that resemble works of art.
Strondin Pub Vik – A traditional local pub that serves excellent beer and Icelandic staples - try the fish and chips!
Attractions near Reynisfjara Beach, Iceland