A Guide to Snowmobiling in Iceland
Iceland's immense natural beauty and wintry wilderness are unparalleled and absolutely magical. It is the ultimate travel destination for adventurous souls! These captivating landscapes along with the rugged and varied terrains offer unlimited options for exciting outdoor activities.
Snowmobiling is the best way to connect with Iceland's innermost arctic soul. Gliding through the endless snowfields with a roaring engine between your legs could easily be one of the most amazing adventures you have ever had!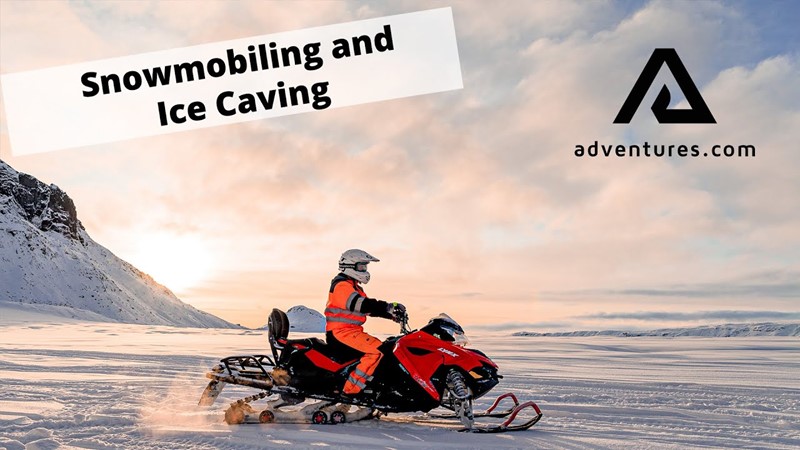 Why is Iceland the Best Place to Go Snowmobiling?
Iceland is among the very few places in the world where you can experience the thrill of snowmobiling on the surface of a glacier. Moreover, you can do this on top of active volcanoes, as most of them are covered by glacial ice. Imagine the feeling of speeding over a glacial ice sheet that is hundreds of meters thick hiding a rumbling volcano beneath its surface! This is something you can only experience in Iceland!
Thanks to the abundance of glaciers, snowmobiling is available year-round in Iceland. It is equally awesome during summer and winter. What adds even more to the fun is that the most popular snowmobiling area on Iceland's second-largest glacier, Lagjökull, is located a mere two-hour drive from the capital.
Moreover, it also lies close to the most beloved tourist attractions. This ultimate snowmobile base camp is found a half an hour from the majestic Gullfoss Waterfall, the superstar of the famous Golden Circle Route.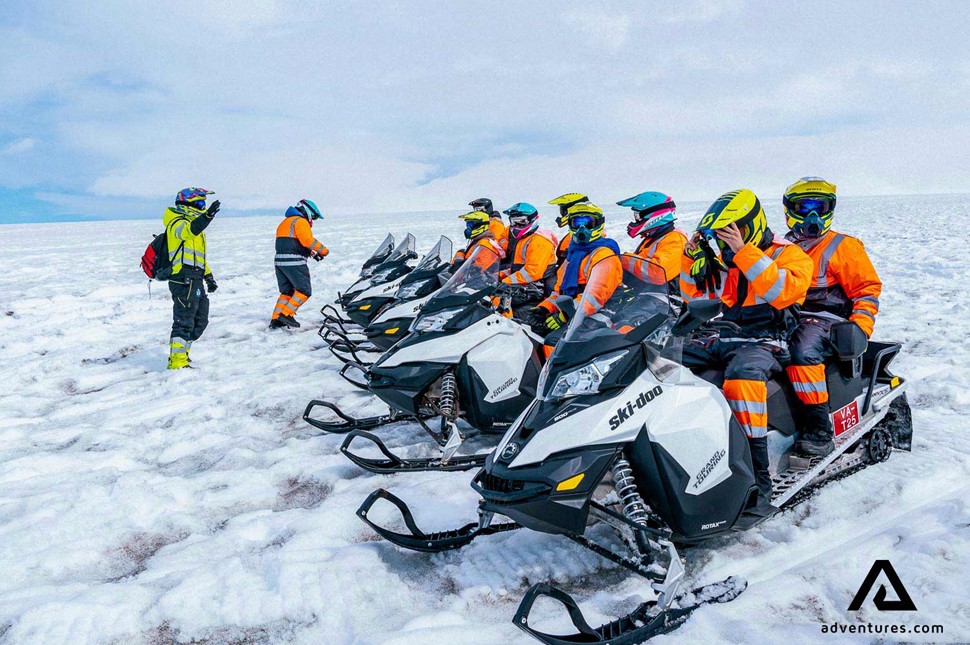 What is a Snowmobile?
This may not be so obvious for everyone. If you are from a country that rarely has snow and does not have snow-capped mountains, you may have never heard of these vehicles.
Snowmobiles - also known as motor sleds, motor sledges, or snow machines - are defined as all-terrain vehicles (ATVs). They are specially designed for traveling on ice and snow. Instead of wheels, they have rubber tracks and are steered with skis. The machines are powered by four-stroke engines and can reach up to 150 km/h (93 mph). The normal - and safe - maximum speed on to reach on a glacier is 70 km/h (43 mph). Believe us, that is more than enough.
Riding a snowmobile feels similar to riding a quad bike (four-wheeler) or motorcycle on snow, but is even more fun! It is no wonder why people who live in snowy areas are so obsessed with these beautiful beasts. Snowmobiling is an amazingly popular hobby and recreational sport in northern countries!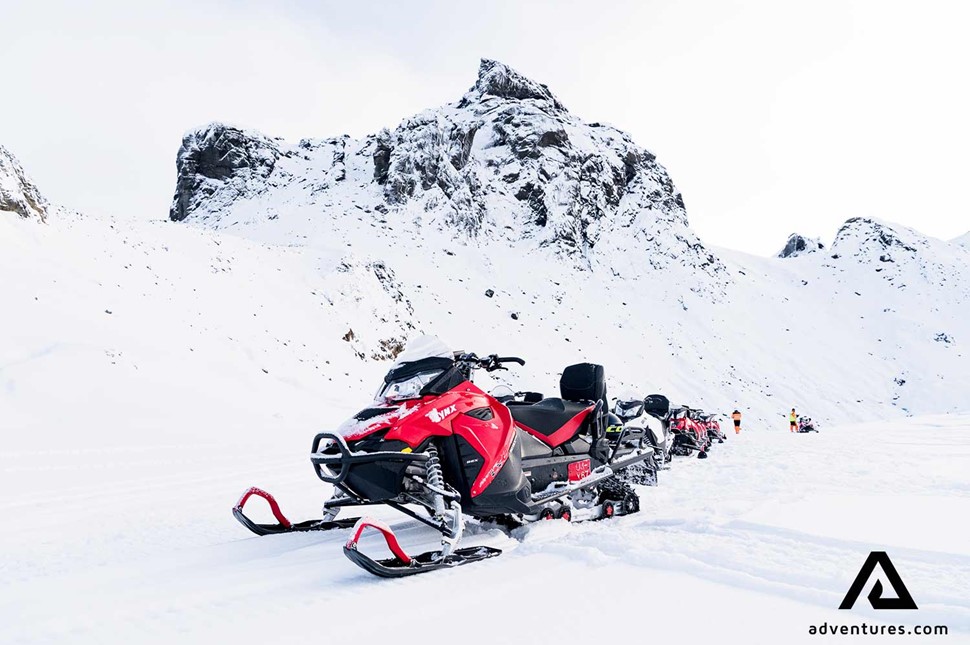 The Snowmobile Culture of Iceland
Iceland is one of the many countries where snowmobiles are an important part of people's lives. We have long winters, wide frozen plateaus, and a great number of glaciers that cover an amazing 11 percent of the total land area.
Many locals own snowmobiles and use them for recreational purposes. They even have their own slang! Snowmobilers call each other sledheads and refer to their vehicles as snow scooters, while snowmobiling is often shortened to 'biling. When winter comes, these crazy sledders bite their nails while they wait for the snow to be deep enough for a ride!
Snowmobiles also play a major role in the work of the search and rescue teams. Iceland has more than a hundred rescue teams all over the country with thousands of volunteers. The ground units own a number of snowmobiles that save many lives and help to resolve innumerable dangerous situations.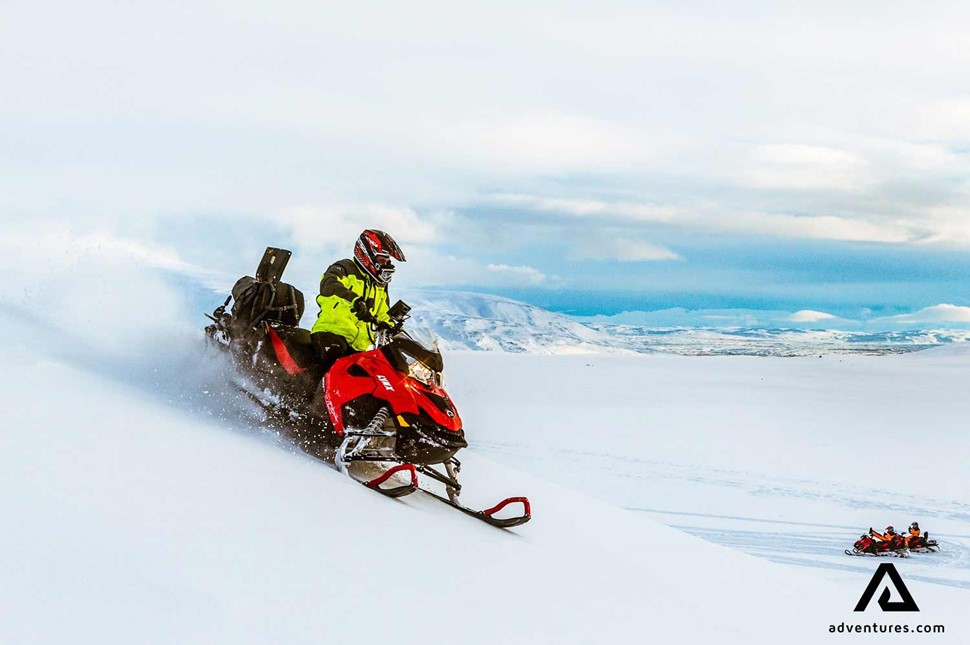 Which Snowmobile Tour is right for me?
With its year-round snowy slopes and expansive wildlands, Iceland is an ideal destination for adrenaline hunters. For the ultimate thrill, hop on a snowmobile atop some of the biggest glaciers in Europe! Zooming along at lightning speed in a sea of smooth-white snow is an unforgettable experience. There's nowhere better to appreciate Iceland's uninterrupted natural beauty and stillness than from the top of our Arctic snowmobiles, which can reach speeds of up to 70km per hour.
Our snowmobile guides are some of the most qualified adventurers in the country with years of experience leading groups on the slopes. Each of our tours is handcrafted to ensure that our guests stay safe and informed while having loads of fun! Whether you're a real pro or a newbie testing out your metaphorical snow legs, we've got your back. The best part is that you don't need to have any experience whatsoever to enjoy yourself on our snowmobiling trips. So don your gear and let's hit the slopes!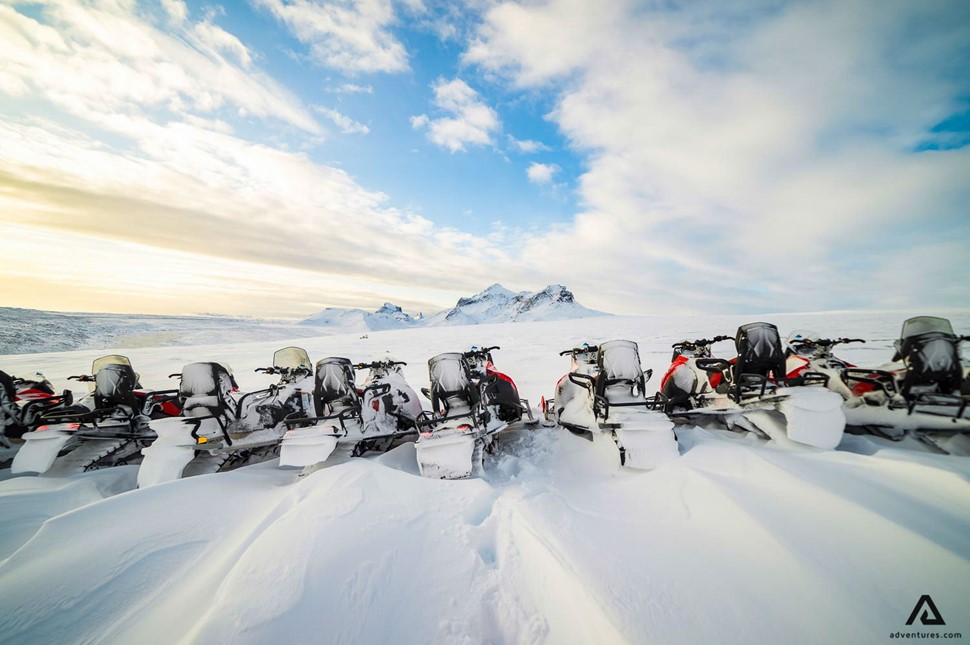 First, pick your glacier
Vatnajokull is the largest glacier in Europe, covering about 8% of Iceland's entire landmass! With 8,100 sq km (3,127 sq mi) and over 30 smaller outlet glaciers, that's a large playground! As the main landmark of Vatnajökull National Park, the wild landscapes of towering mountains and snow-smothered plains are an unparalleled experience.
In the park, you can also hike on a glacier, check out the glacier lagoon, investigate an ice cave, or trek out on hiking paths. Vatnajökull also harbors the highest peak in Iceland, Hvannadalshnúkur. It stands 2,110 m (7,000 ft) tall. Because of its distance from Reykjavik (approx. 260 km), we ask that you meet us on location in Vatnajokull National Park.
Langjokull. At a massive 953 sq km (368 sq mi) length and 500 meters height at some points, Langjokull is Iceland's second largest glacier and the base for most of our snowmobile tours.
We recommend combining your ride with a magical visit to an ice cave within the glacier. Witness the majesty of sparkling blue ice up close and capture some breathtaking photos. Take note, the ice cave part of the tour is only available from November until June.
Our Langjokull tours are from Reykjavik, Gullfoss, or the Langjokull basecamp. Situated in West Iceland, they're easily combinable with a Golden Circle tour to Thingvellir National Park and beyond.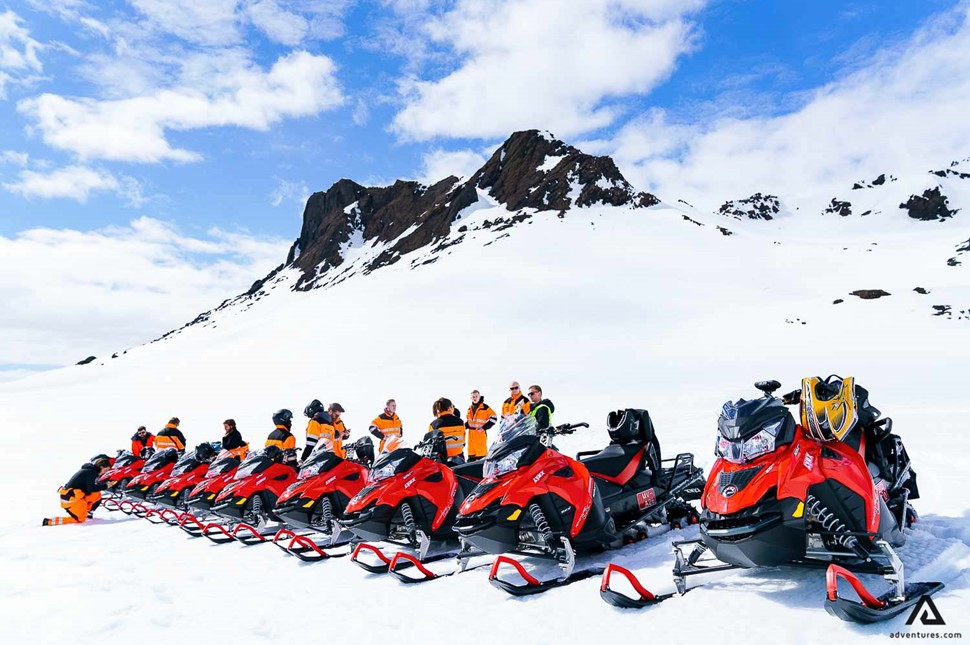 Eyjafjallajokull. After earning world recognition in 2010 following its massive eruption, Eyjafjallajokull became a hotspot for adventure seekers. This gigantic ice cap is perfect for rides across glacier tongues in breathtaking natural beauty.
As soon as we approach the glacier, you'll be struck by its magnitude--a pristine stretch of snow dotted with rock formations and ice sculptures. As we push deeper into the icy wilderness, be prepared for some incredible views of South Iceland's lowlands and the deep-blue Atlantic Ocean.
How much time do you have?
The average snowmobile tour takes anywhere from 2-5 hours, depending on whether we pick you up in Reykjavik or you're able to meet us at the base camp. If you're combining it with one of our other fantastic attractions, we offer tours that range from 4 hours to a jam-packed 16-hour thrill ride.
If extreme adventures are your thing
If extreme adventures are your thing, combine your snowmobiling day with a natural ice cave tour or glacier hike.
If you'd like to see the highlights of Iceland
If you'd like to see the highlights of Iceland, combine it with a sightseeing adventure on the Golden Circle or the Northern Lights.
Golden Circle, Snowmobiling and Northern Lights on Langjokull
Solo Adventurers
Typically, two passengers will share one snowmobile. If you're traveling solo, with an odd number of people, or simply want to operate your snowmobile solo, you must book a solo snowmobile tour at an added cost.
If you don't have a valid driver's license, you can book an additional guide to operate your snowmobile. Please contact us for further information and booking.