About Iceland's Ice Caves
An ice cave is a naturally occurring cave that contains a significant of ice throughout the year. Typically, they're known for their remarkable photogenic beauty. Due to ever-shifting temperatures and movement of the glaciers they lie within, new ice caves usually disappear and form with each passing year.
The Vatnajökull Ice Caves | Ice Caves in Skaftafell
Vatnajökull is Europe's largest glacier, covering around 8% of Iceland's landmass. The Vatnajökull Glacier National Park is renowned for its many outlet glaciers that unfurl like icy tongues from the body of the main glacier. The sheer size of Vatnajökull means that it is difficult to find ice caves that are safe to explore underneath it.
However, luckily many of its outlet glaciers, such as Falljökull and Breiðamerkurjökull contain exceptionally beautiful caves that are ideal to explore. Perhaps, the most famous of these is the Crystal Ice Cave hidden beneath Breiðamerkurjökull glacier. They are some of the most popular ice caves, thanks to their beauty and ability to be easily combined with a glacier hike.
The Crystal Ice Cave in Iceland | Jokulsarlon Glacier Cave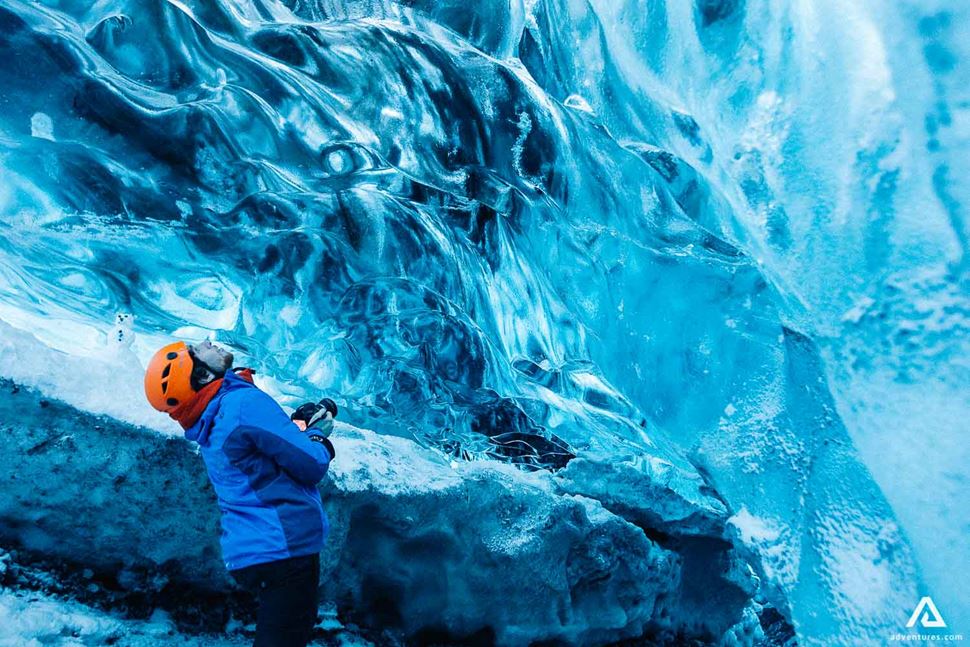 The Crystal Ice Cave, also known as the Jokulsarlon glacier cave, is the most famous in Iceland and a favorite of photographers and nature enthusiasts worldwide. Its vividly turquoise ceiling is illuminated by the flickering rays of the sun – making for a profoundly beautiful spectacle that inspires awe in everyone who sees it. Located on the South Coast, It's hidden in Breiðamerkurjökull Glacier, which also feeds the famous Jökulsárlón Glacier Lagoon.
Some of our most popular tours combine these two natural wonders together – the perfect way to see some of the unique phenomena that Iceland's glaciers create. Check out these incredible photos of the Crystal Ice Cave – we promise that they will leave you speechless!
The Crystal Ice Cave is located at the bottom of the glacier, which means that its thin ice roof is perfectly blue. At its best on clear sunny days, when the rays of the sun illuminate the incredible patterns in the ice.
Skaftafell Ice Cave
Located at Falljökull Glacier, another outlet of Vatnajökull, the ice caves of Skaftafell National Park are an easy day trip combined with glacier hikes or Jokulsarlon Glacier Lagoon. Our day tour combines glacier hiking with ice cave exploring, making for an adrenaline-pumping adventure that is perfect for anyone who wants to see a glacier from multiple perspectives.
The caves here constantly change, with a roof that regularly melts during the summer. Our guides are always astounded each winter by the new glaciers here. If you're looking for the ultimate glacier combination tour, then Into the Glacier is the one for you!
The Ice Cave Under the Volcano | The Katla Ice Cave
Iceland is known as the land of fire and ice and we can't think of a better example of this than the Katla Ice Cave, located underneath an active volcano! Though quite young geologically, Katla Ice Cave is one of the most stunning, and is found beneath Kötlujökull, an outlet of Mýrdalsjökull Glacier.
The area around the glacier is very rugged, making it almost impossible to visit the ice cave by yourself – but don't worry, we offer ice cave tours from Reykjavik and Vik, ensuring that you won't miss out on this marriage of fire and ice.
The approach to the cave may also be familiar to Star Wars fans, as it was used for scenes in Star Wars Rogue One. The lunar-like landscape is difficult to traverse, meaning that you will need to wear the correct equipment – a free addition on our tours!
Once you enter the ice cave itself, you'll be greeted by a meandering ice tunnel that leads to the Ice Cave's famous dome. There is an opening in the ceiling – transforming the Katla Ice Cave into a vast cathedral of ice!
Early in 2018, spelunkers found a second ice cave hidden inside the Katla one. This made our Katla Ice Cave tours even more popular! If you want to see why Iceland is called the land of fire and ice, then the Ice Cave under the Volcano is the ideal tour for you!
The Langjökull Ice Caves | Into the Glacier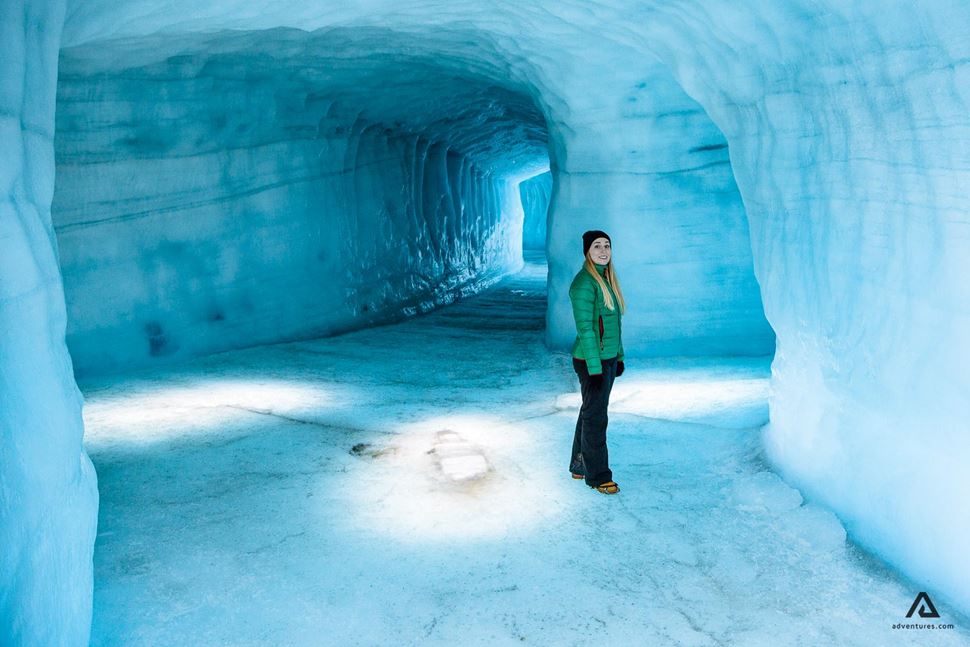 Langjökull (the long glacier) is located in the West Iceland. It's the second largest glacier after Vatnajökull, and is the source of many of Iceland's most famous waterfalls, including Gullfoss, Hraunfossar, and Barnafoss. This makes the glacier a must-visit during your time in the land of fire and ice.
Langjökull's interior was mysterious for many years and it was difficult to find any naturally formed ice caves in the region. However, in the past few years, Iceland's finest engineers tackled the massive glacier and carved an ice tunnel through it. This man-made tunnel allows visitors to explore Langjökull's exquisite, icy heart. We offer a variety of tours to the Langjökull ice tunnel, including snowmobile combo tours, Gullfoss combo tours, Golden Circle combo tours and many more.
Our Langjökull Ice Cave tours depart from Húsafell, traveling in a specially designed super jeep across an otherworldly landscape to the entrance to the ice tunnel. There you'll meet a friendly guide who'll provide you with crampons and tell you more about the natural history of glaciers. You can even see the different layers of ice that mark different geological epochs! If you're feeling romantic, then why not visit the ice chapel, which offers ceremonies for you to tie the knot in the heart of the glacier!
Natural Ice Caves in Langjökull
Langjökull also hosts many temporary, natural ice caves, whose fleeting beauty enchants visitors for a brief moment, before they become inaccessible forever. One such cave was found in 2016-17, stunningly beautiful its glistening walls had a diamond-like quality to them. The only way to reach the cave was via a natural glacier chute – making for an adrenaline-pumping and magical experience. However, this cave didn't last very long and became inaccessible during the winter of 2017-18.
Luckily, nature blessed us with another incredible ice cave the next year. It has a gorgeous sapphire blue ceiling, along with ash layers that mark Iceland's dramatic volcanic history. The cave's ceiling is especially spectacular – allowing you to see a mesmerizing frozen ceiling from below and an epic frozen waterfall.
If you're visiting Iceland, then the Langjökull Ice Cave is an absolute must, because it's likely to disappear soon, just like the one before! We offer a variety of combo tours to the Langjökull ice cave, including super jeep tours, glacier hiking tours, and snowmobiling tours.