Why Should I Visit Mýrdalsjökull?
Mýrdalsjökull is one of the most spectacular glaciers in Iceland. The glacier is extremely close to Reykjavik and offers adventurous activities for everyone.   
The glacier volcano is Iceland's southernmost, covering about 208 mi2  (540 km2) of land. The rugged ice cap is located on the South Coast of Iceland, the country's most popular sightseeing route. It's also the most easily accessed glacier from Reykjavik.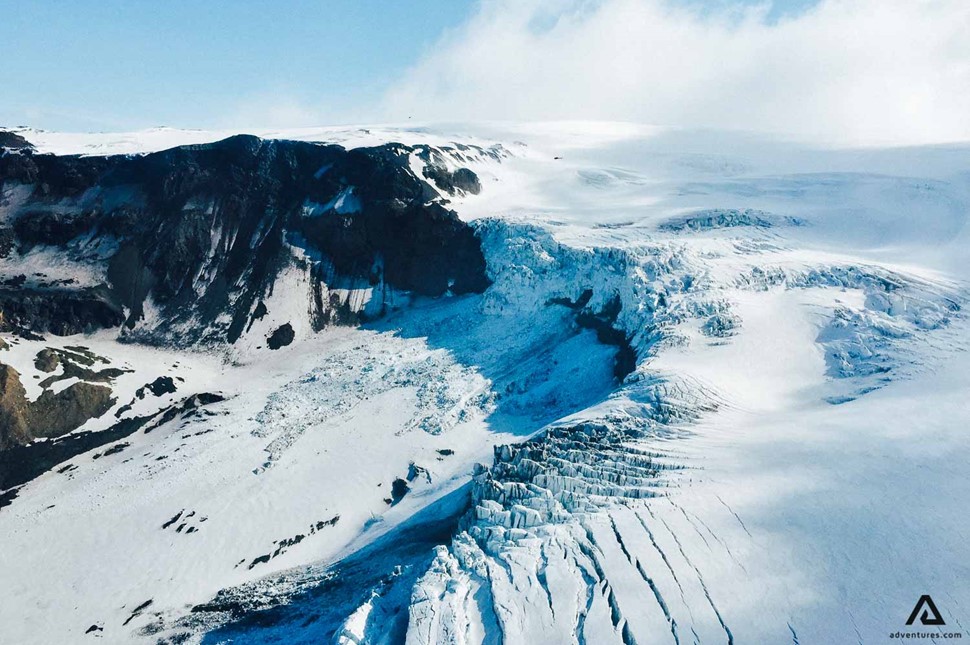 Mýrdalsjökull rises up to a height of 4,898 ft (1,493 m) over the explosive Katla Volcano. The giant ice cap also has a smaller sister nearby, the infamous Eyjafjallajökull. Many people still remember the 2010 Eyjafjallajökull eruption that halted air traffic over Europe for weeks. Between these two glaciers lies Fimmvörðuháls, one of the best hiking trails in Iceland.
This single, large glacier has many outlet glaciers that together form a mesmerizing landscape. However, its two glacial tongues, Sólheimajökull and Kötlujökull, attract the most attention. Sólheimajökull offers top-notch glacier hiking and ice climbing, while Kötlujökull is home to the famous Katla Ice Cave.
Bundle up and set out on a journey to this ice world!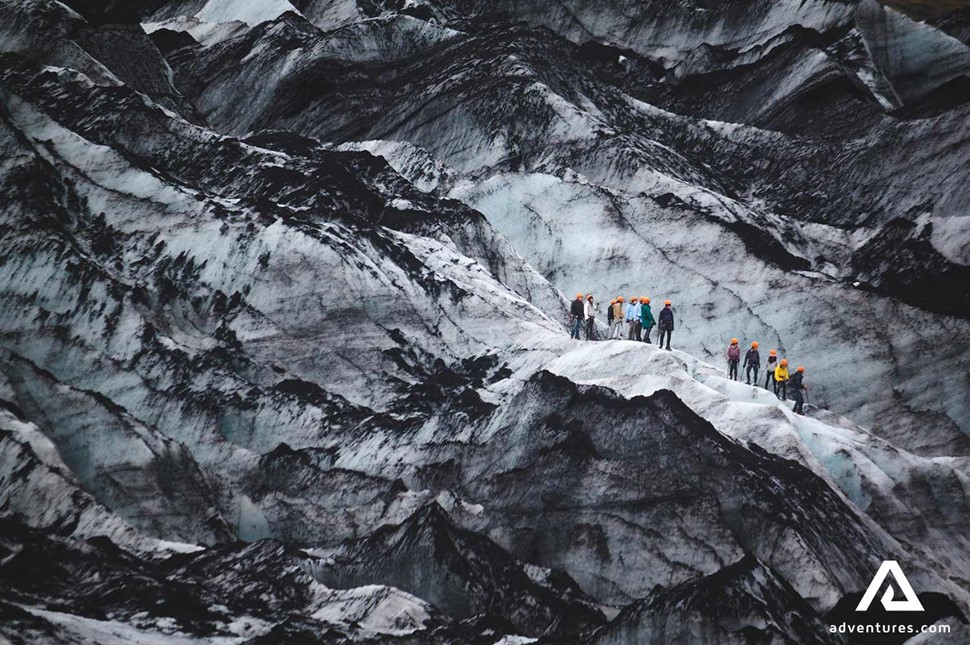 Where is Mýrdalsjökull?
GPS coordinates: N63° 37' 41.151" W19° 5' 19.269"
Myrdalsjökull is situated to the north of the village of Vík on the South Coast. The easiest part for visitors to reach is its outlying glacial tongue, Sólheimajökull. This glacial tongue is very close to the tiny village of Skógar. The distance from Reykjavik to Skógar is about 96 mi (155 km).
How to Get to Myrdalsjokull Glacier
From Reykjavik, take Route 1 (the Ring Road) south until you reach Skógar. Continue on the Ring Road, leaving Skógar on your left. After about 3.7 mi (6 km), turn left off the Ring Road to Route 221. Drive along Route 221 until you reach a parking lot at the end of the road. From there, you can reach the glacier on foot.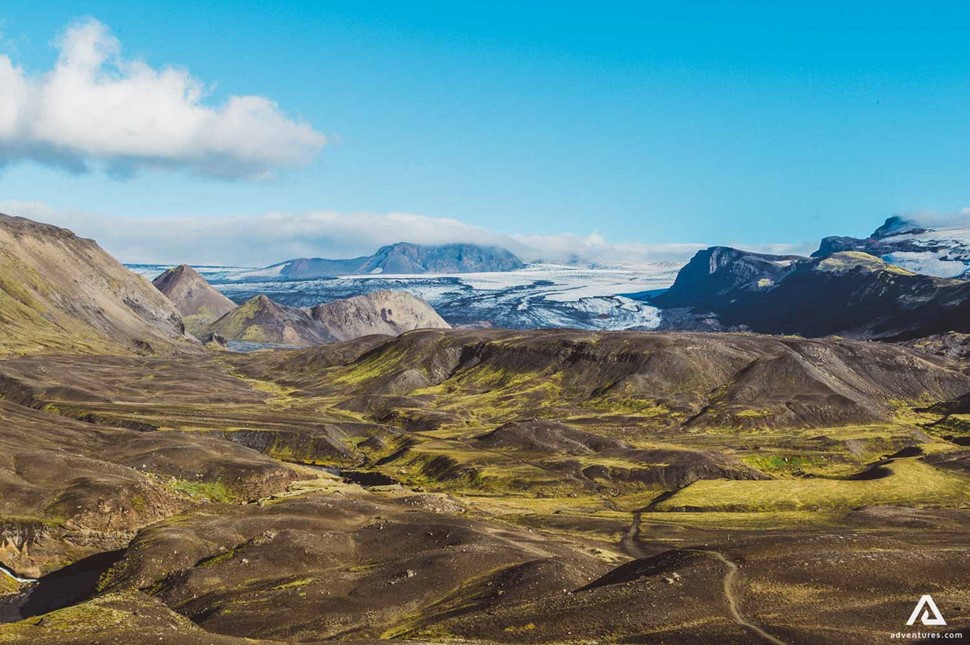 Mýrdalsjökull's Volcanic Eruptions
The hottest spot in Iceland is hidden under Myrdalsjökull's thick layer of ice. The country's most active volcano, Katla, lies buried beneath the glacier. Katla has erupted a record 20 times since Iceland was settled. The volcano last blew its top in 1918 and is likely to blast again in the near future.
The 1918 Katla eruption lasted about 24 days and caused an enormous jökulhlaup (glacial flood). Melting water rushed down the slopes and damaged nearby villages. Katla's glacial floods are among the largest on the planet, making it the most feared volcano in Iceland.
Scientists have noticed that Katla always erupts shortly after the nearby Eyjafjallajökull volcano.  Eyjafjallajökull became world-famous after its infamous eruption in 2010. The enormous ash cloud from the eruption caused nearly 100,000 flight delays worldwide.
Katla is closely monitored, so visitors shouldn't worry about getting trapped in the volcano's path. If increased seismic activity is observed, the road to the glacier is closed. No wonder Katla's name literally means "kettle"!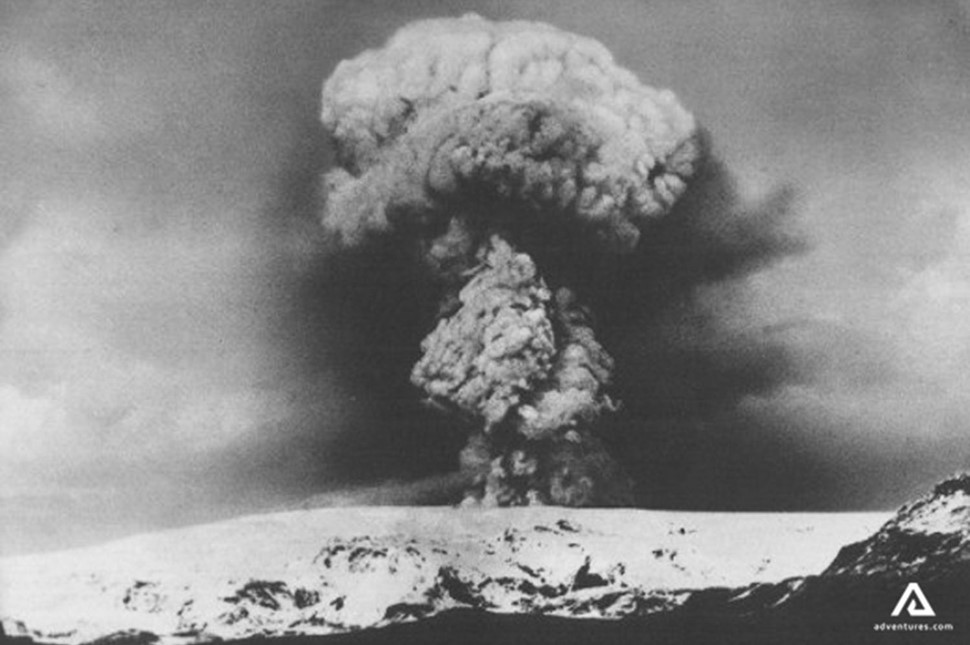 What to Do at Myrdalsjokull?
The glacier volcano is a popular tourist destination in South Iceland. One of the largest glaciers in Iceland, there's plenty of room for ice adventures. Here are a handful of the best activities. 
Glacier hiking is the act of walking on a glacier with the help of special equipment. Typically, glacier-walk gear includes crampons, helmets, and ice axes. Not all of this equipment might be necessary, but for safety reasons, it's highly recommended.
Most Myrdalsjokull glacier tours take place on Sólheimajökull, an outlet glacier on Mýrdalsjökull's southwest corner. Experienced guides bring visitors to parts of the age-old glacier that are otherwise unreachable. Glacier hiking can be enjoyed by the whole family.
Hiking a glacier on your own is very dangerous and should never be attempted, so be sure to explore the icy slopes with the help of a guide.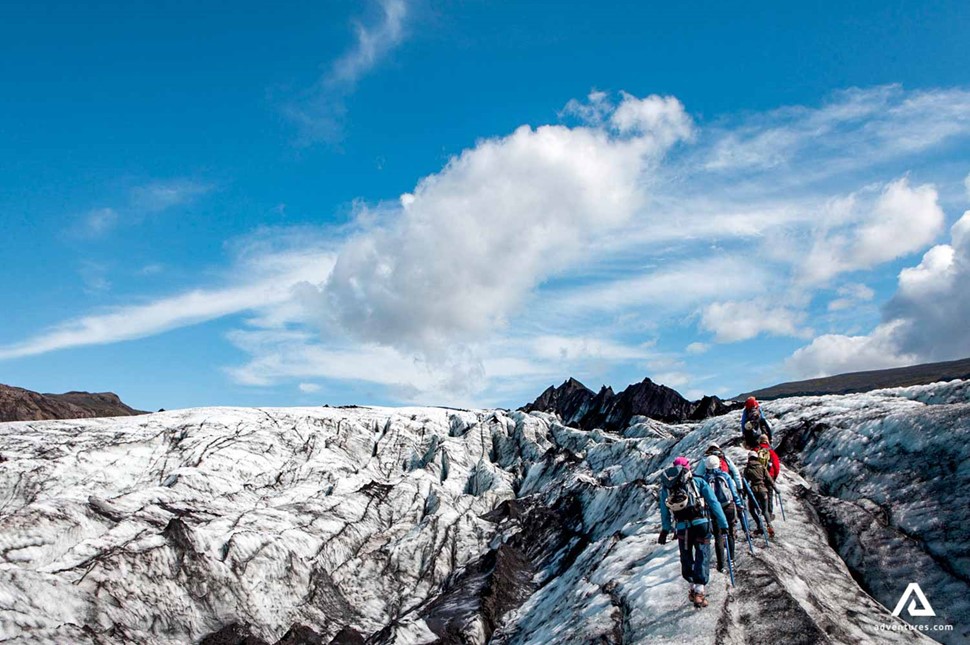 Ice climbing is an ideal activity for outdoor enthusiasts who want to get up close and personal with Iceland's glaciers. During ice climbing tours, climbers will encounter glacial crevasses, ridges, and chasms.
The necessary ice climbing gear includes crampons, helmets, ice axes, and harnesses. This equipment allows climbers to safely explore a limitless universe of ice shapes. Don't attempt to climb the glacier without expert guidance.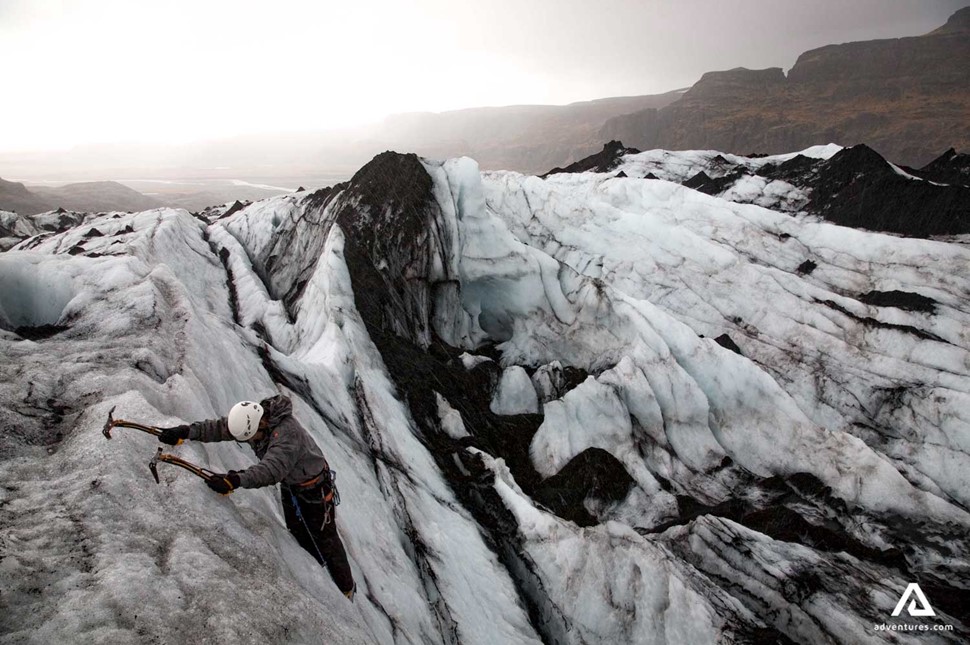 Ice caving allows you to step inside of a glacier and immerse yourself in a deep blue underworld. While most ice caves are accessible only in winter, Katla Ice Cave is open year-round. This well-known cave rests in Kötlujökull Glacier, another icy outrunner of Mýrdalsjökull.
Inside of the cave, visitors can trace the rugged walls of ice and marvel at various shades of white, blue, and black. Katla leaves visitors in awe of its otherworldly ice formations. You'll need a guide to lead you through this frozen wonder.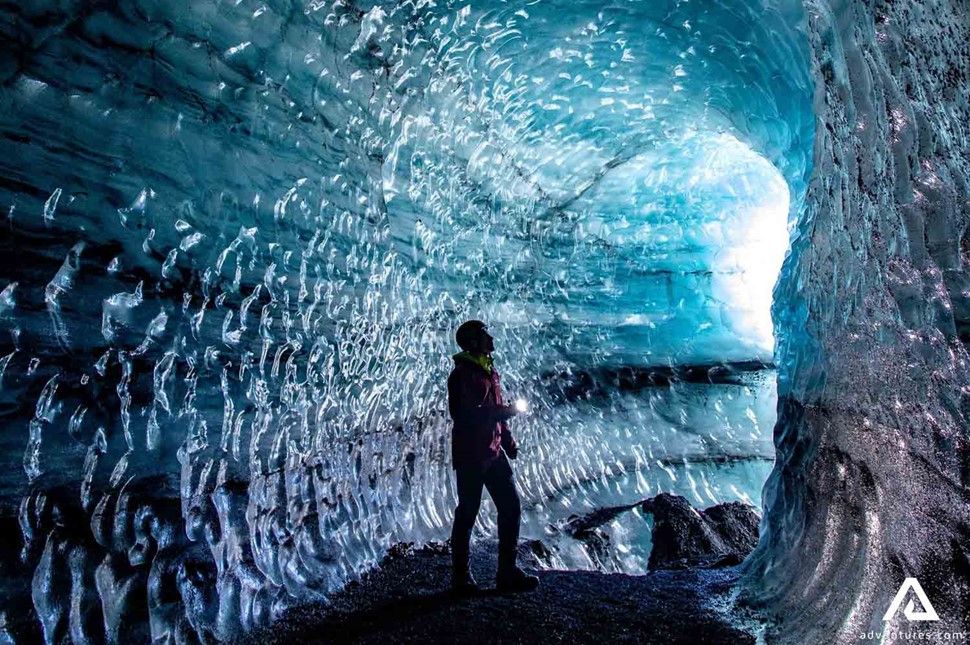 Best Time of Year to Visit
The majority of Mýrdalsjökull's activities are available year-round. However, you can expect more favorable weather conditions during the summer season, typically from June to August.
Places to Stay
Hotel Skogar is located in the village of Skógar, just a short walk from the famous Skógafoss Waterfall. It offers cozy rooms, an excellent restaurant with a sheltered veranda, and stunning views of Icelandic nature.


Hótel Dyrhólaey, located near the Ring Road between Skógar and Vík, offers breathtaking views of Myrdalsjökull Glacier and the Atlantic Ocean. The hotel is within arm's reach of the glacier.


Icelandair Hotel Vík is a modern hotel in the town of Vík. The interior design resembles Iceland's natural surroundings. Here you can find comfortable rooms with great views.


Puffin Hotel Vík is just a 10-minutes walk from Reynisfjara, a famous black sand beach. Simple yet clean, this hotel is another great option in Vík.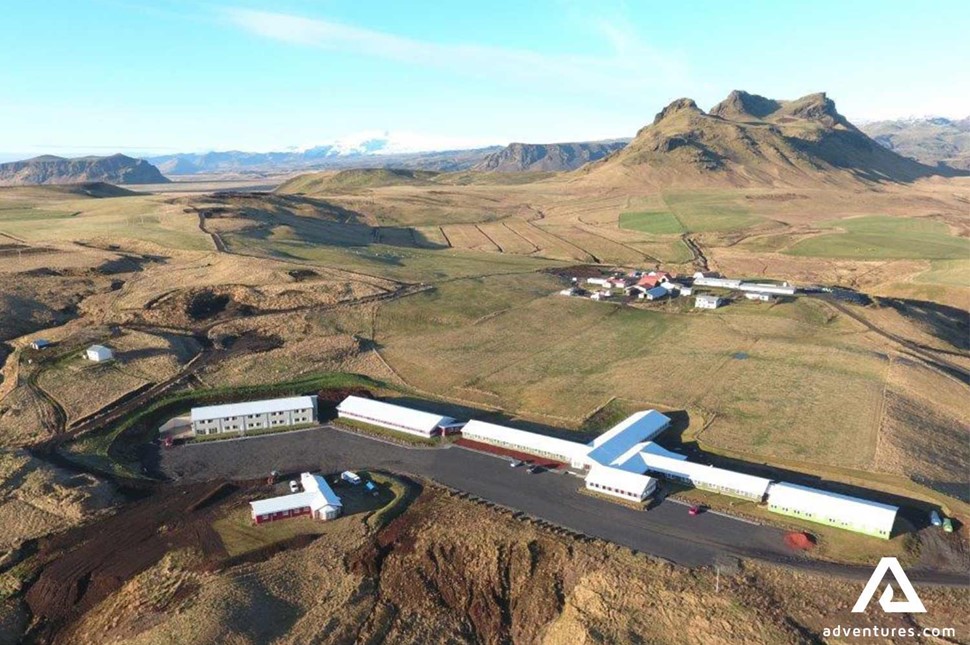 Where to Eat
Gamla Fjósið (Old Cowhouse), a cozy family restaurant on the Ring Road just beneath the volcanic Eyjafjallajökul Glacier. Gamla Fjósið uses fresh ingredients from a local farm to create dishes like tenderloin steak and volcanic soup.


Mia's Country Van - Local Fish & Chips, located in Skógar, is a 50's-style van serving locally-sourced fish and chips. You can easily reach Mia's by taking a short detour from the Ring Road while on your way to the glacier.


Black Beach Restaurant is on the way to Vík, right by the famous black sand beach Reynisfjara. Here you can order traditional Icelandic food and admire gorgeous ocean views. 


Halldorskaffi is a great budget restaurant in Vík. Located in a 19th-century building, it offers friendly service, hot meals, and refreshments.