Sitting on the wide, glacial Hvítá River, Gullfoss is Iceland's most famous waterfall and one of the most important parts of the iconic Golden Circle sightseeing route. Whether part-frozen in winter or glinting yellow-gold under summer skies, its hypnotic two-tiered cascade endlessly roars into a rugged ravine.
Why is Gullfoss one of Iceland's Must-See Sights?
There are some things around the world that never cease to hold us in awe. Listed as one of the world's most amazing waterfalls by Lonely Planet, Gullfoss is one of the natural wonders that everyone should see once in their lifetime. 
Located in southwest Iceland, Gullfoss is a part of the renowned Golden Circle route, alongside Thingvellir National Park and Geysir Hot Spring Area. It's believed that the golden-brown hue often apparent on the falls gave Gullfoss its name - the Golden Falls. Interestingly, the Golden Circle is also named after the waterfall. 
Gullfoss originates from the glacier-fed Hvítá River (White River), which travels from Iceland's second-biggest ice cap, the windswept Langjökull Glacier. After a challenging journey through Iceland's Highlands, the river plunges down 105 ft (32 m) over a number of lava steps into the impressive Gullfossgjúfur canyon below. 
With a dramatic setting, a forceful flow, and shimmering rainbows on sunny days, Gullfoss more than merits its position as one of the prime tourist attractions in Iceland.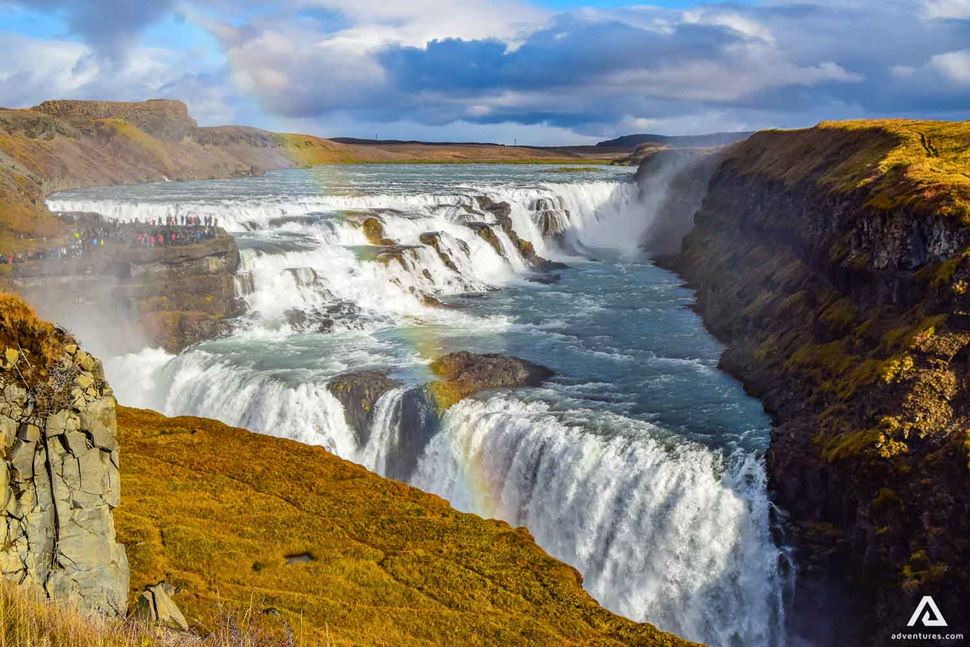 Where are the Gullfoss Falls Located?
GP N64° 19′ 38.220″ W20° 7′ 8.135″
Gullfoss sits in the middle of the Golden Circle tour, which starts and ends in the capital city Reykjavik. It's located about 120 km from Reykjavik and it takes about 1 hour and 30 minutes to reach the tumbling cascade. It's also just 10 minutes away from the Geysir Geothermal Area, which is another part of the Golden Circle Tour.
How to get to Gullfoss from Reykjavik?
The most popular route that takes you to Gullfoss travels past the other Golden Circle stops.  Drive northeast from Reykjavik via Route 1 to Mosfellsbær. After passing Mosfellsbær, turn east onto Route 36. Along the way, you'll pass a right turn to Thingvellir National Park. Keep driving further until you reach route 365, which leads to the village of Laugarvatn. Follow signs onto Route 37 and shortly you'll reach the geothermal field at Geysir. Continue on this road as Route 37 changes to Route 35, before you eventually arrive at Gullfoss.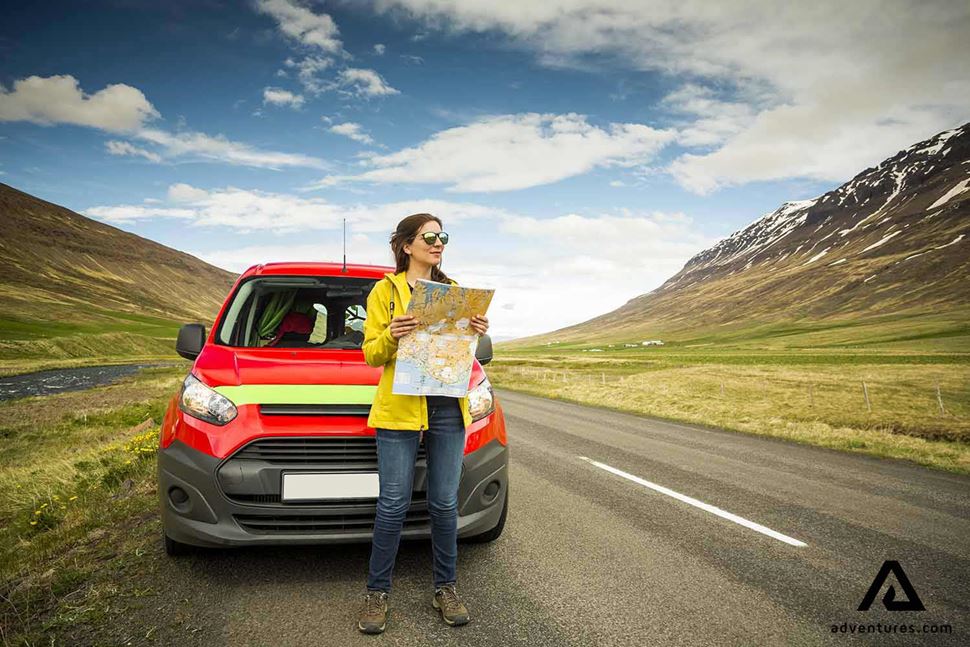 The fastest way to reach Gullfoss from Reykjavik is to travel southeast along the Ring Road (or Route 1). Drive about 29 mi (47 km) until you pass the small town of Hveragerði. About 6 mi (10 km) further turn left from Route 1 onto Route 35, which will lead you directly to the waterfall. 
If you don't want to drive by yourself, you can join one of our Golden Circle tours and leave all the planning to us. The tours visiting the Golden Falls take place throughout the year.
Parking Information: There are a few free parking options at Gullfoss. Just before you reach the area you can either turn right to the lower parking lot or continue on Route 35 to the upper parking lot, with a WC, a café, and a souvenir shop. 
Things to do While Visiting Gullfoss
Two different viewing areas let you get up close to the Golden Falls. From the upper parking lot, a footway leads to the upper viewing area, which displays the higher part of the waterfall. As you approach the area, take a moment to listen, and you'll hear the hissing sound of the waterfall before you see it. 
Once there, feast your eyes on thousands of gallons (around 109 cubic meters per second) of water plummeting down into a narrow gorge. The views also show mountains and glaciers. 
On sunny days, wait for the glistening rainbows to paint the rising haze above the cascade.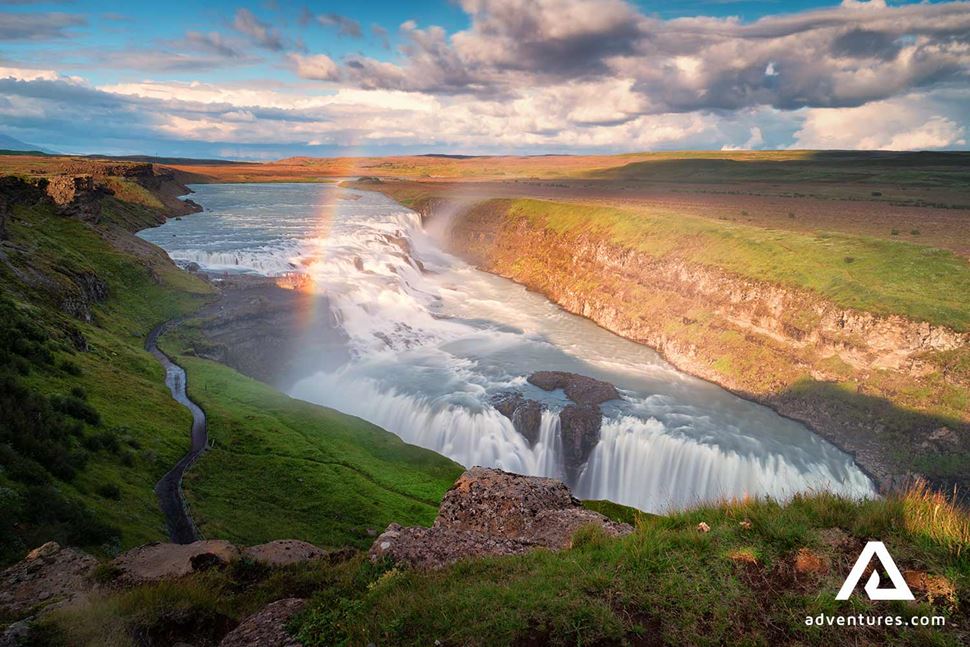 From the upper lookout, stairs lead down to the lower viewpoint (you can also access it from the lower parking lot), which allows you to get even closer to the falls and feel the spray. The view will make your jaw drop as soon as you walk into the area. Be careful and always supervise children, as the paths are often slippery. 
In addition, there is a Gullfoss Visitors Center by the upper car park. There you'll find a great, roomy café, which serves the traditional lamb soup and also hosts a gift shop.
Gullfoss Waterfall in Winter
Viewing Gullfoss is free of charge and it's open year-round. If you're visiting Iceland in winter, you'll get to see the waterfall partly-frozen and glistening with ice. The upper viewing platform allows you to admire the mist-cloaked cascade and see the snow-dappled peaks to the north. However, the lower viewing area is closed in winter, as ice makes it too slippery and dangerous. 
The roads that lead to Gullfoss are well-maintained throughout the year but can get a bit icy during the wintertime. If you don't feel confident, you might want to consider joining a Golden Circle tour with an experienced driver. As the paths near the waterfall can be slippery, we recommend bringing sturdy shoes, preferably with ice spikes.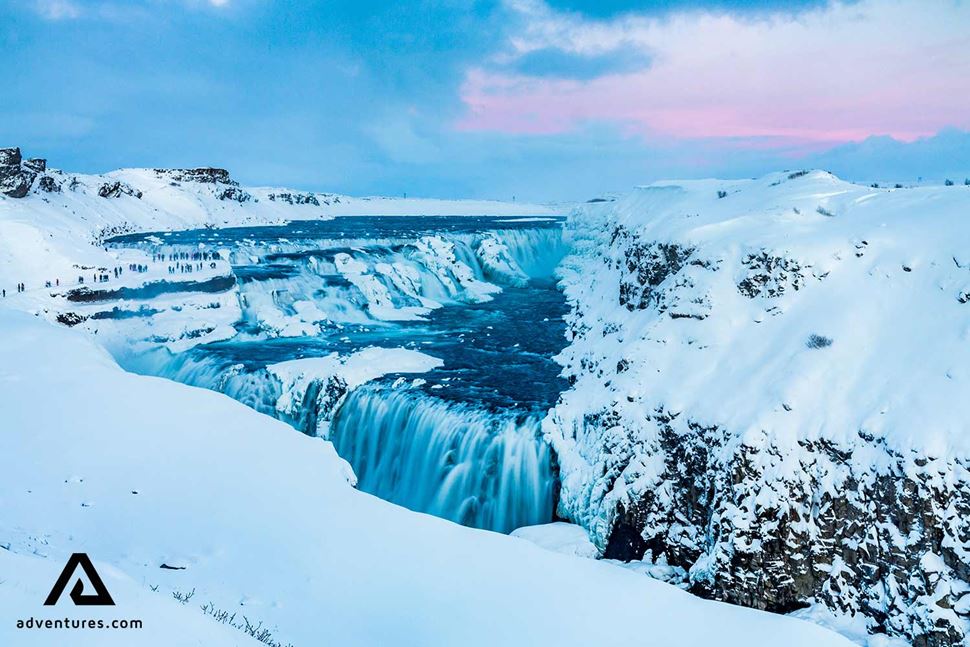 How was Gullfoss Waterfall Formed?
Earth's most breathtaking natural wonders usually form over thousands of years and Gullfoss is no exception. Geologists believe that the waterfall was formed by fierce glacial floods at the end of the last ice age. 
The continuous flow of the water eroded parts of the earth and played an important role in the formation of the waterfall. Today one of Europe's most powerful waterfalls plunges down into a narrow gorge reaching heights of up to 70 m (230 ft). 
Pay attention to detail that the canyon goes transverse to the tumbling cascade, which is quite uncommon in the world of waterfalls.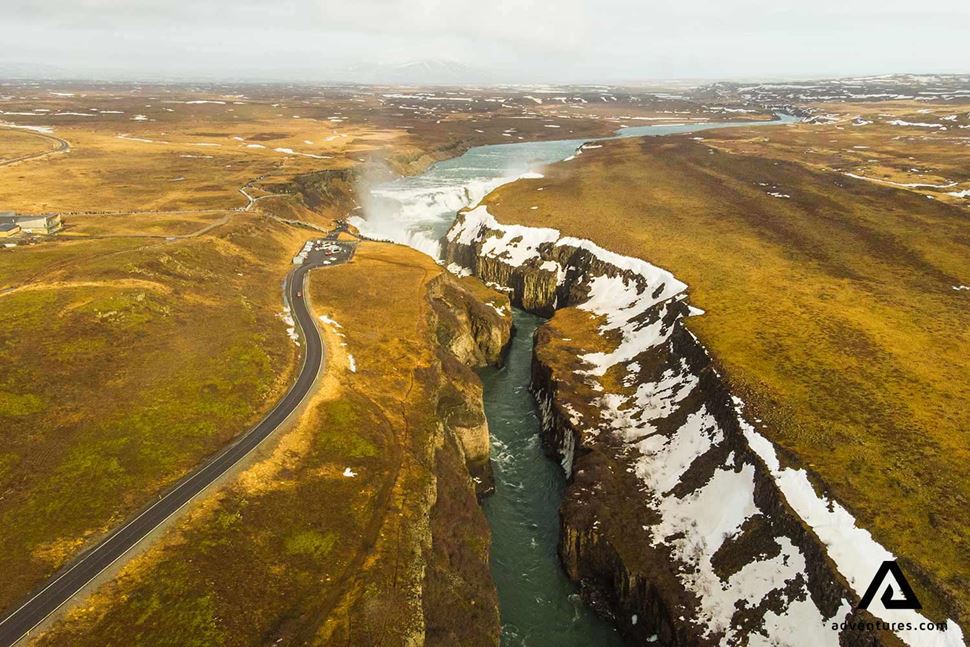 Saving Gullfoss
In the early 20th century, Gullfoss was almost destroyed when a group of foreign investors attempted to dam the Hvítá River for a hydroelectric power project. 
During that time, the cascade was owned by the local farmer, Tómas Tómasson. He refused to sell it to them, saying "I won't sell my friend!" Nonetheless, foreign investors managed to rent the waterfall and had plans to use a loophole in the rental agreement which would allow them to build a power plant. 
Tómas' daughter, Sigríður Tómasdóttir, was determined to save the waterfall and took legal action against foreign investors, which prompted protests to save the falls. She traveled to Reykjavik many times on foot, a distance of over 62 mi (100 km), and even threatened to throw herself into the falls. 
In the end, Sigríður lost the legal battle but her persistence and courage earned her public favor.  In the meantime, foreign investor's plans fell through due to the lack of money. The waterfall was donated to the nation and remains a protected area today. 
You'll find a stone memorial to Sigríður close to the base of the staircase that leads to the upper level. Her memory is highly respected and she is often seen as Iceland's first environmentalist. Interestingly, the lawyer that helped Sigríður, Sveinn Björnsson, became the first president of Iceland in 1944.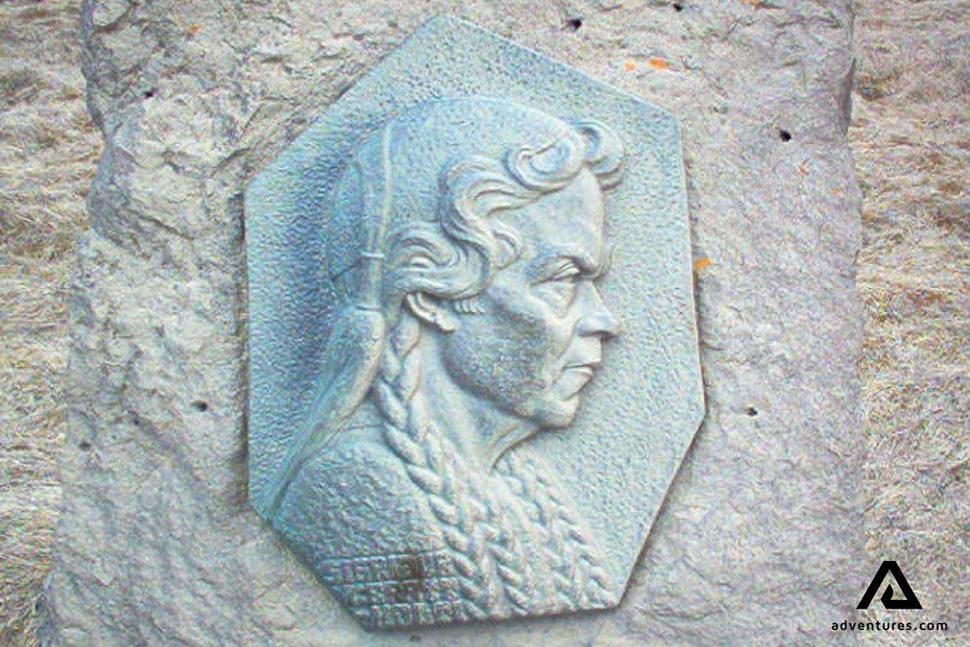 Movies, TV Series, and Music Videos Filmed at Gullfoss Falls
It's no surprise that the most famous waterfall in Iceland has captured the attention of artists worldwide. 
Gullfoss was featured in the music video for the single Heaven by alternative rock group Live. Also, the tumbling cascade briefly appears in the popular TV series Vikings.
The adventure comedy film Land Ho! tells the story about ex-brothers-in-law who travel through Iceland and attempt to reclaim their youth. One of the stops they make is at the soul-stirring Gullfoss.  
Where to stay near Gullfoss?
There are a plethora of great accommodation options nearby the Golden Falls. Here is a useful list to help you find the right place.
Hotels
Hotel Gullfoss

, located only 3 minutes from the waterfall, it's a great place with a restaurant serving traditional Icelandic dishes. If you're visiting Iceland in winter, it's perfect for spotting the Northern Lights, as there is no light pollution to tarnish the view.

Litli Geysir Hotel

, located just 200 meters from Geysir Geothermal Area, is another great option thanks to its excellent in-house restaurant and free parking lot.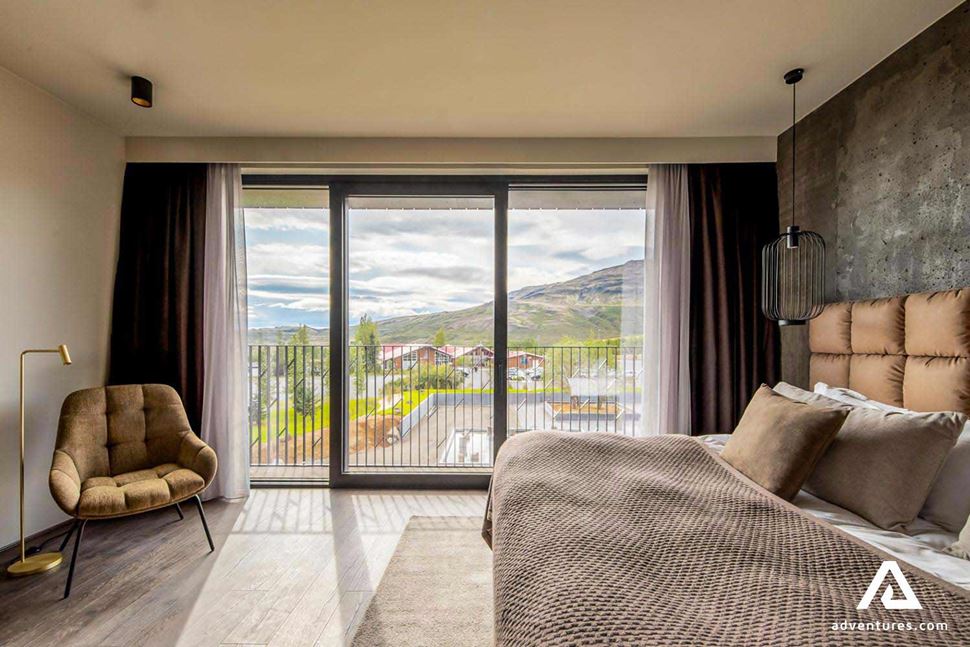 Hostels
Gljásteinn Skálinn Hostel

, located about 3 mi (5 km) from the cascade, offers huts and cabins for rent around the waterfall. It's a great option for anyone who is traveling in groups.
Guesthouses
Jaðar – The Old House

, located about 20 minutes from Gullfoss, this cozy holiday home comes equipped with a garden and a terrace. 

Geysir Hestar

, located just 7 minutes from Gullfoss, is an excellent option for those who love horse riding. Situated on a horse farm, it offers accommodation, a garden, and horse riding tours.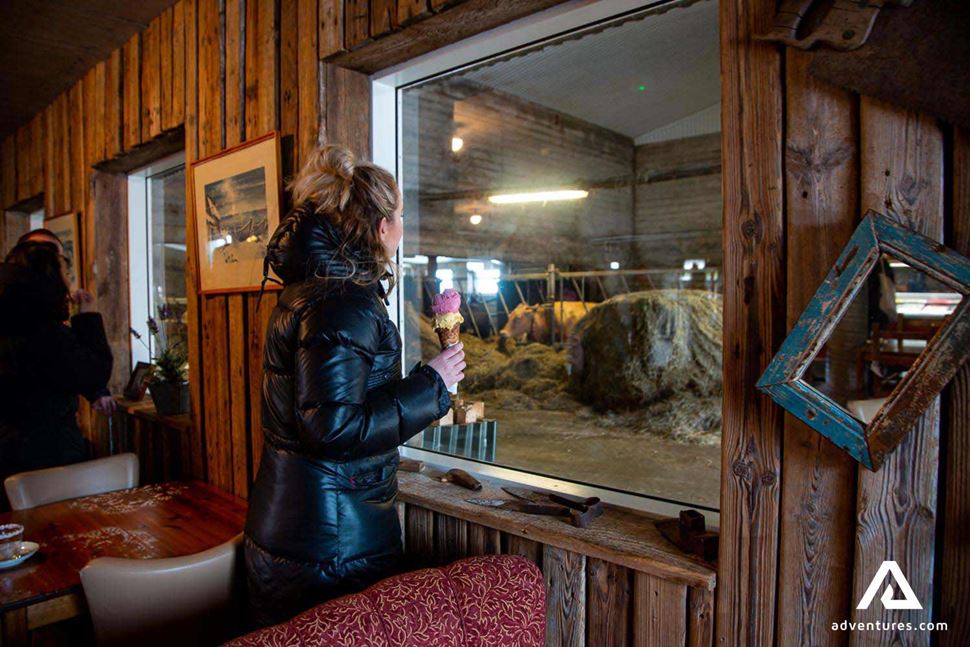 Cabins and Cottages
Vað Holiday Home

, located about 10 minutes from Gullfoss, it's equipped with a kitchen and dining area, along with a private bathroom and bath or shower. 

Geysir Cottage

, situated about 10 minutes from the waterfall, it offers mountain views and rooms with private bathrooms. 
Camping Options
Skjól Campgrounds

, located between Gullfoss and Geysir, it's the closest campground to the falls. The cascade is only 6 km away. There you'll find a hostel, a cafe, and all the standard camping facilities. 

Camping Geysir

, located within a short walk from the Great Geysir, it's equipped with standard camping ground facilities including showers, toilets, and a kids' playground.

Camping Fludir

, located in the village of Fludir, it's one of the largest camping sites in Iceland. It's equipped with toilets, hot showers, a self-serve laundry room, a football field, and a kids' playground. 
Where to eat near Gullfoss?
Gullfoss Cafe

, located by the upper parking lot, it's open all year round and is most famous for traditional lamb soup, sandwiches, and salads.

Geysir Center

, located about 10 minutes from Gullfoss, it hosts five different restaurants where visitors can enjoy both Icelandic and international dishes.

Friðheimar Tomato Farm

, located 30 minutes from Gullfoss, this popular, family-run restaurant offers unique food experiences, including a daily lunch in the greenhouse, surrounded by rows of plants.
Interesting places near Gullfoss Falls
Geysir Geothermal Area

, located just 10 minutes from Gullfoss, it's another highlight of the Golden Circle route. Here you can witness the renowned Strokkur Geyser bursting every 5 minutes and admire other geothermal features such as dormant hot springs and bubbling mud pools. Route 35 takes you directly to Geysir.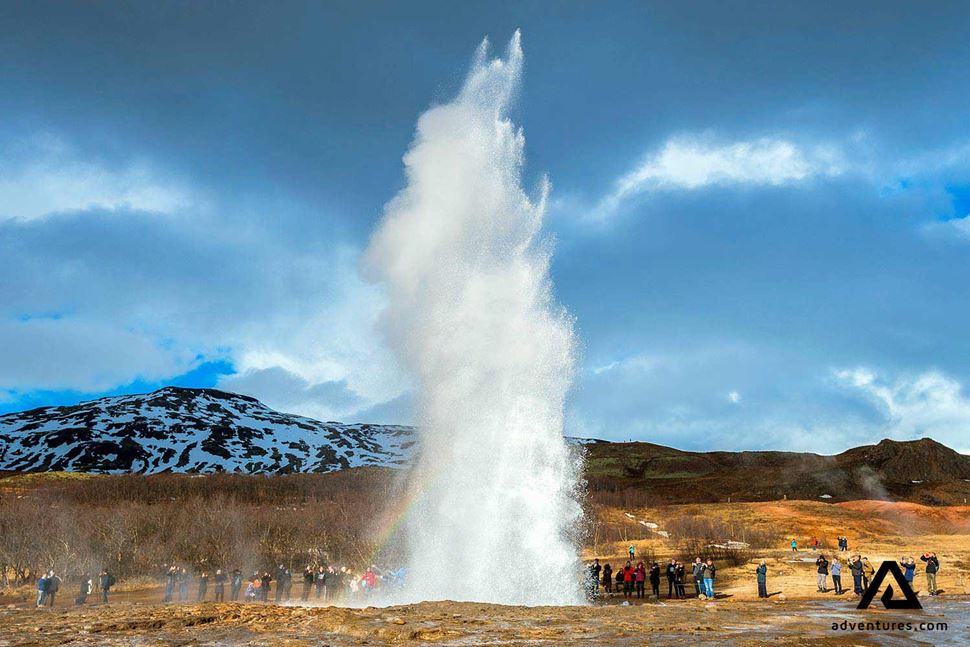 Thingvellir National Park

, located about 43 mi (70 km) from the waterfall, it's the location of Iceland's first parliament, situated in a rugged rift valley. The park is the first stop on the Golden Circle route and one of the most revered places in the country. We recommend visiting the park on your way to Gullfoss traveling from Reykjavik.

Langjokull Glacier

, located about 22 mi (35 km) north of Gullfoss, it's Iceland's second-biggest glacier. The glistening ice cap is the hub for snowmobile adventures, as well as glacier hiking and ice caving. Most of our snowmobile tours depart from Gullfoss Cafe or upper parking lot found nearby.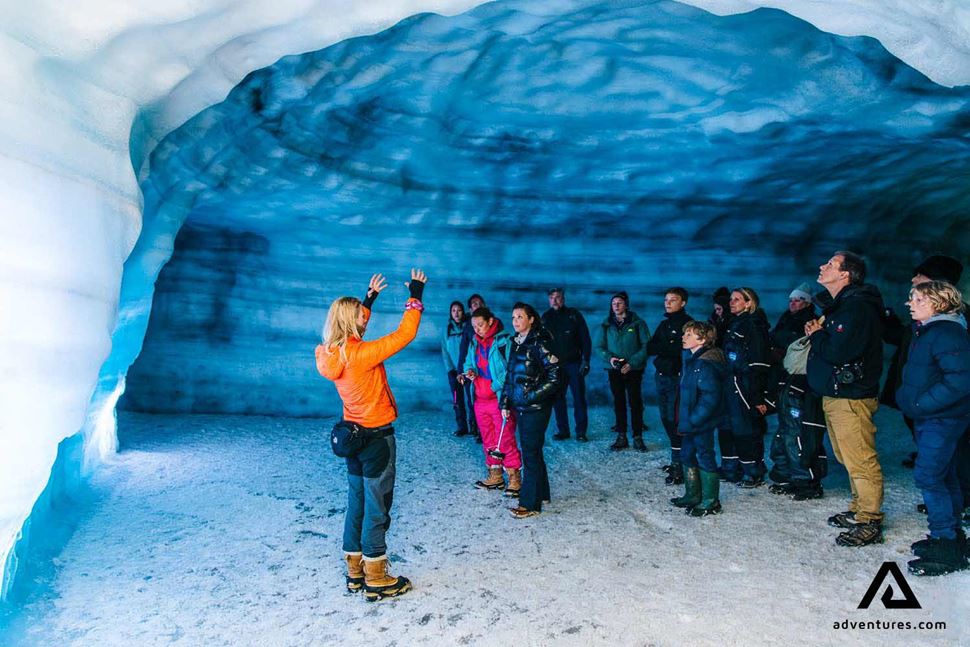 Secret Lagoon

, located about 30 minutes from Gullfoss Falls, in the village of Flúðir, it's one of the oldest thermal pools in Iceland. Surrounded by geothermal landscapes and greenhouses, the pools is 100°F (38°C) all year round. On your way back to Reykjavik, you can reach the pool by turning left from Route 35 onto Route 359, marked Flúðir. Many of our Golden Circle tours also include a visit to Secret Lagoon.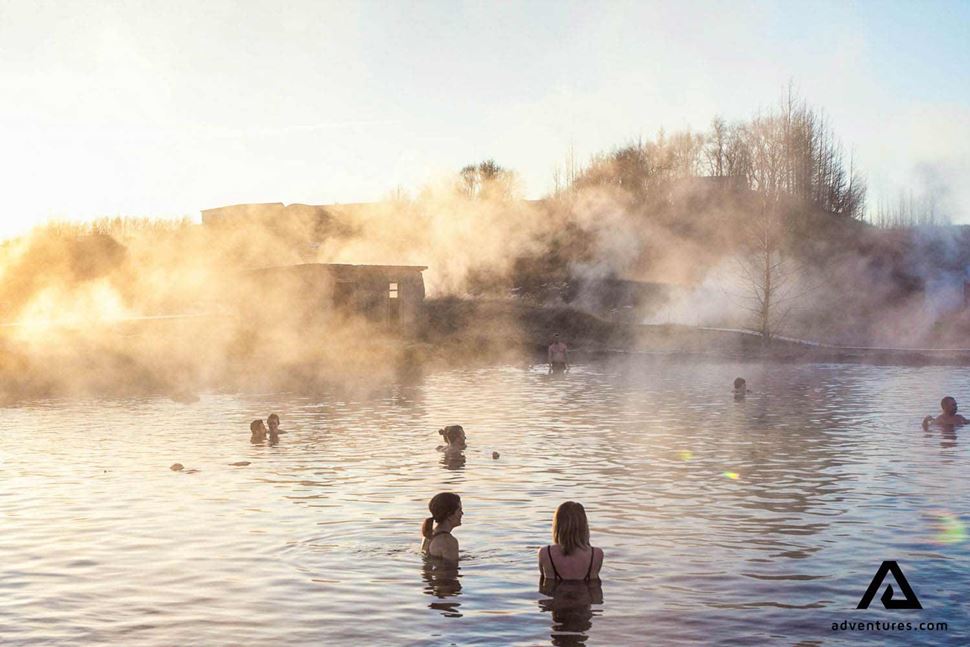 Skálholt

, located about 30 minutes from the waterfall, it's Iceland's historic religious center where the episcopal see resided from the 11th until the 18th century. Today Skálholt Church hosts classical music concerts during summertime. Take a left turn from Route 35 onto Route 31 and soon you'll see the church tower in the distance. The worth of your interest might be Slakki Petting Zoo, just 5 minutes from the church.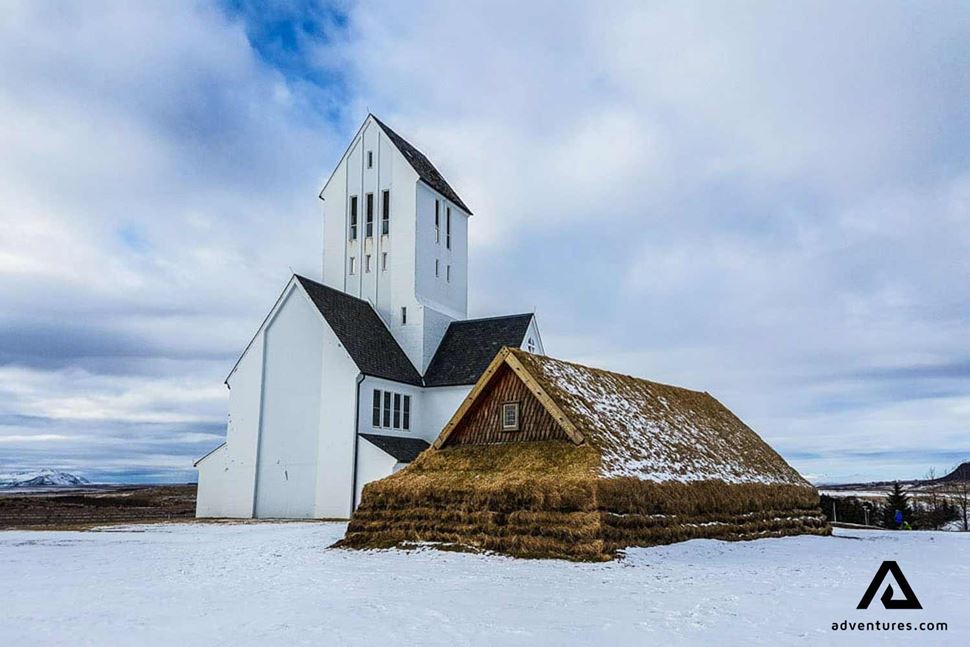 Kerid Crater

, located about 45 minutes from Gullfoss, it's a 6500-year-old small but deep crater filled with turquoise water. Here you can walk around the rim and admire the slopes covered with striking red volcanic rocks contrasting with the water. To reach the crater drive on Route 35 until you pass Skálholt. After about 15 minutes, you'll arrive at Kerið.