Our Guide to Langjökull
Take an adventurous day trip to the second largest ice cap in Iceland after Vatnajökull and discover Langjökull or the Long Glacier. 
The glacier can be visited at any time of year with the help of an off-road monster truck. This ice cap is nearest to Reykjavik and offers a range of adventurous activities. Langjökull attracts visitors with extreme snowmobile rides, cross-country skiing, and hikes to enjoy a vast landscape of ice and lava fields. However, the largest attraction is the man-made ice tunnel that takes you to inside the heart of the glacier! Walk between ice walls and see the glacier from a unique angle.
On a sadder note, global warming has touched a lot of northern nature and Langjokull Glacier is not an exception. Most scientists predict that the ice cap only has 150 years left until it melts away completely.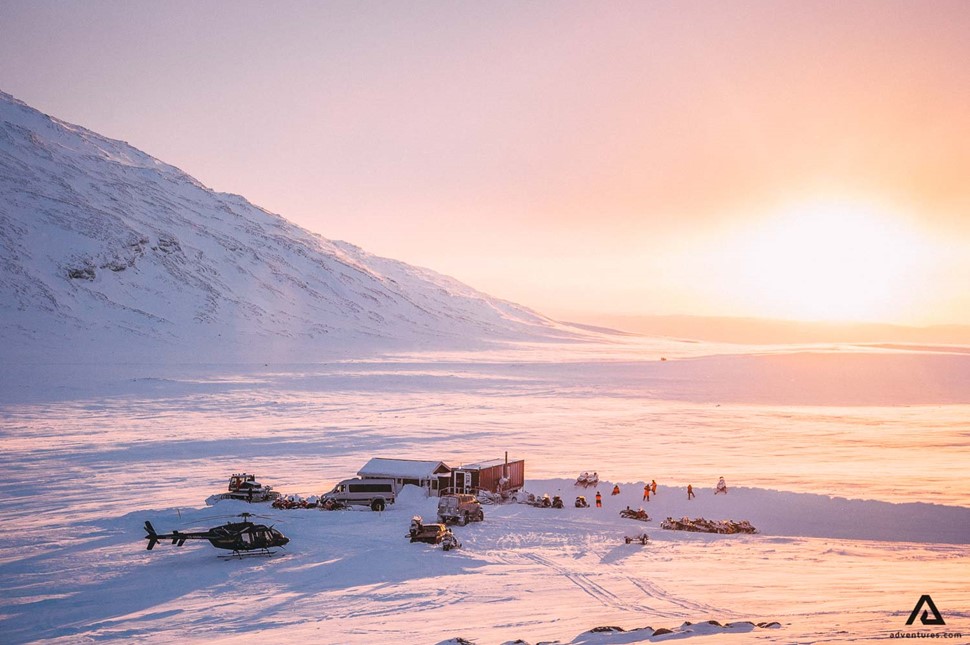 Where Is Langjokull Glacier Located?
64°33'53.6"N 20°00'49.7"W
Langjökull is located in the southern region of Iceland. It's part of the Icelandic Highlands and lies to the west of Hofsjökull, the third largest glacier in Iceland. 
Two of the main highland tracks that connect the south with the north of Iceland run alongside the glacier. Kjalvegur (road F35) starts near Gullfoss waterfall and runs on the eastern side of Langjökull. Kaldidalur (road 550) begins near Thingvellir National Park and goes north to Húsafell in western Iceland. 
Both of these roads are only open during the summer months.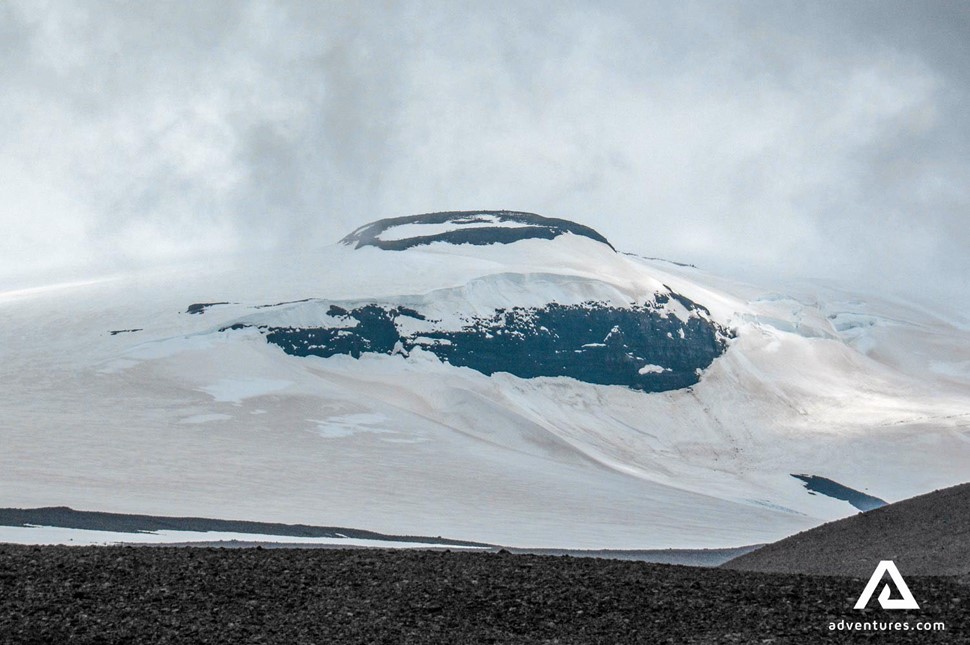 How to Get to Langjökull?
The most popular route to the glacier is via the Golden Circle. This way travelers visit all three of Iceland's iconic sights before reaching Langjökull. This exciting Geysir Buggy Car day tour will allow you to see all the famous attractions along the Golden Circle as well as the Langjokull glacier. 
Driving from Reykjavik follow road 1 and then jump onto road 36 that will take you to Þingvellir. Just past Lake Thingvallavatn, take road 365 and drive until you reach a T-intersection. Turn left and jump onto road 37. Follow it until a second T-intersection. Turn left and follow road 35 which will first take you to the Geysir, then to the Gullfoss Waterfall, and, finally, Langjökull Glacier.
Otherwise, follow road 1 from Reykjavik towards Selfoss and jump on road 35 just before approaching Selfoss. Follow this road all the way to Langjökull. Depending on the weather and your stops, you should reach your destination in around 2,5 hours.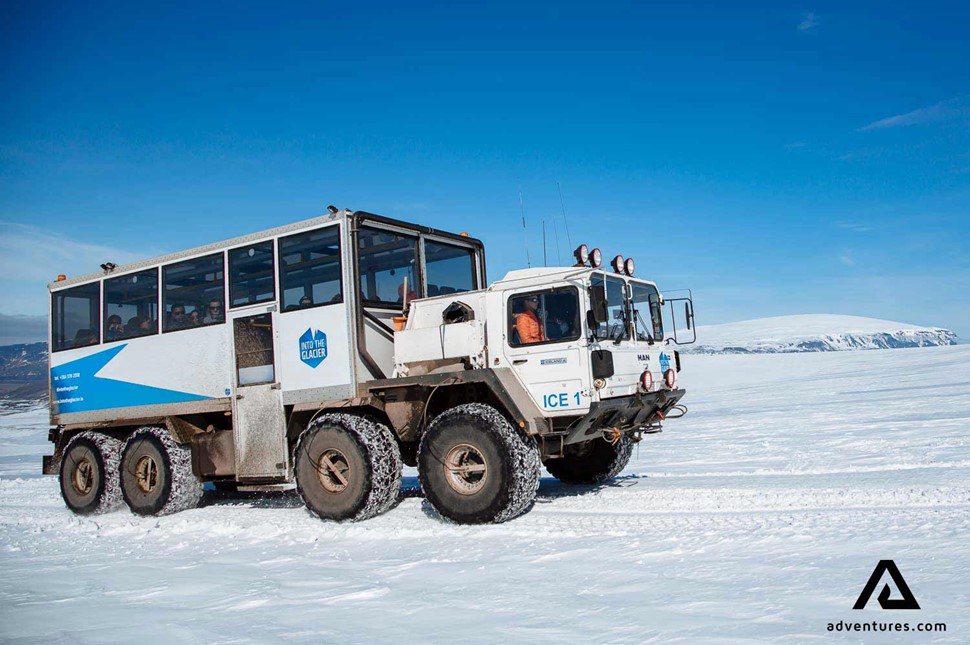 What You Should Know About Langjokull Glacier
Langjokull Glacier is around 30 mi (50 km) long and 12 mi (20 km) wide. It covers 361 mi² (935 km²) and is the second largest glacier in Iceland. The ice of Langjökull is 1,900-ft (580-m)-deep at its thickest. The highest point of Langjökull is called Baldjökull and reaches 460 ft (1,450 m) above sea level.
Langjökull lies almost parallel to Iceland's active volcanic zone. The glacier itself conceals at least two active volcanic systems. Their calderas are visible from the air. Volcanoes, or rather their geothermal energy, are responsible for heating up the glacial water that later forms some of Iceland's' natural hot springs. These volcanoes fuel the popular geothermal area of Hveravellir, located just off the Kjalvegur mountain road (F35). 
The area around the ice cap is covered in lava fields. The eastern part of Langjökull lies in the Kjalhraun lava field, which was formed about 7,800 years ago. The northwest of the glacier is a volcanic system that formed the Hallmundarhraun lava field, and also the incredible Surtshellir, Iceland's longest lava cave. Southwest of Langjökull stands the active Presthnúkur volcano.
However, the area around Langjokull isn't the most active volcanic zone in Iceland. In the last 10,000 years, only 32 eruptions have been recorded. Hence, the chances that one of the volcanoes will erupt any time soon are fairly small.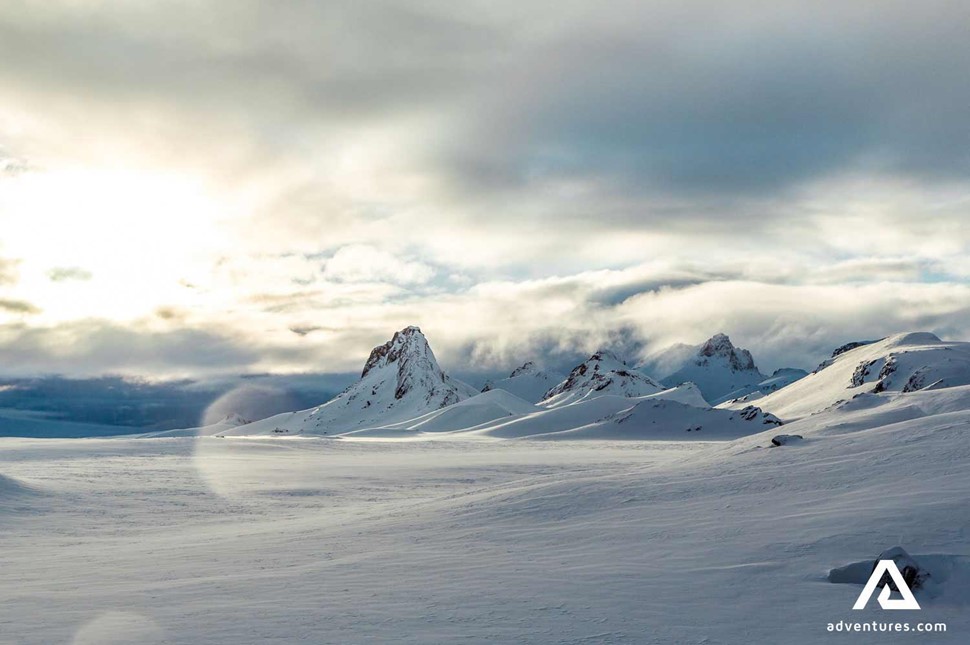 What Does Langjökull Have in Common With the Golden Circle?
While Langjökull is not part of the iconic Golden Circle, it does have something to do with it. If it wasn't for the Langjokull Glacier, the Golden Circle wouldn't exist!
Gullfoss Waterfall is one of the most obvious examples. The mighty waterfall is fed by the Hvítá river, which originates from Langjökull. It is a great indication of the size of the glacier. Just look at the boundless volume of water falling down into the Gullfossgjúfur canyon – it all comes from Langjokull Glacier!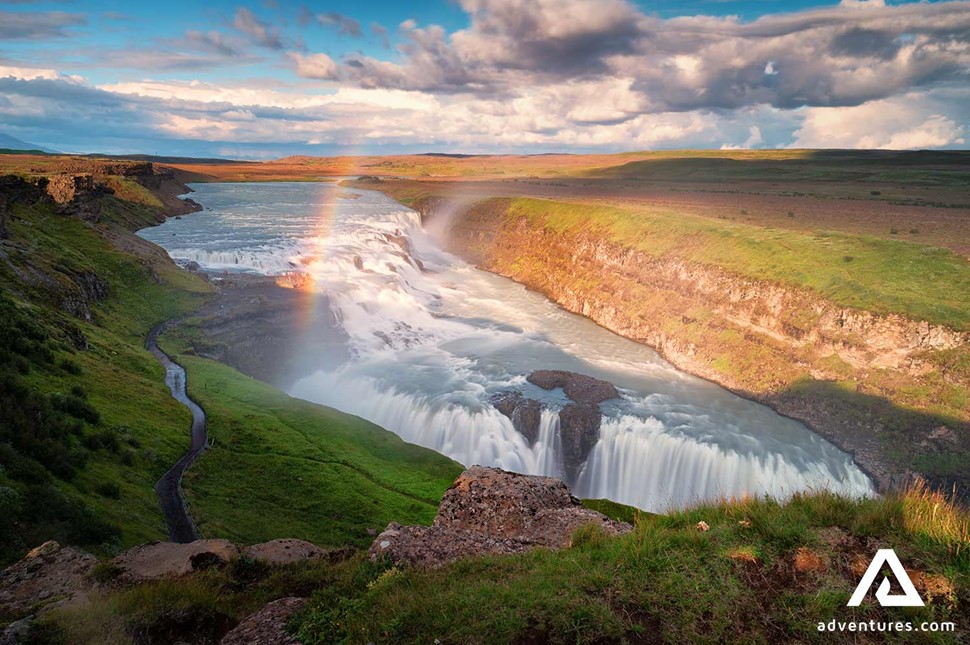 Geysir's geothermal area uses underground waters that come from Langjökull. The meltwater from the ice cap runs through the surrounding lava fields. These fields have very porous rocks, hence the water flows in a subterranean river and then reaches the Geysir. Here, the hot water bursts out from the ground through naturally formed vents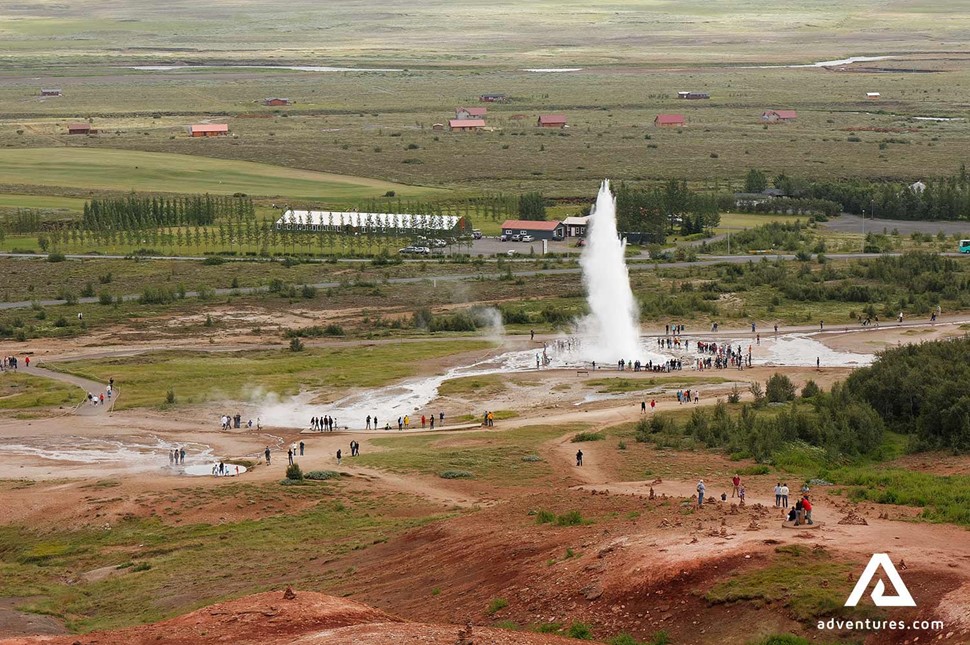 Þingvellir is carved with many springs that are fed with melted glacier water. One of the highlights of Thingvellir National Park is Silfra fissure. It's a world-famous destination for diving and snorkeling in extremely clear water. This water comes from Langjökull. It runs through a natural filter of lava fields right into Silfra and the largest natural lake in Iceland, Þingvallavatn.
What to Do at Langjokull Glacier?
Adventure lovers have the unique opportunity to ride over rough and icy terrains on the second largest glacier in Iceland! Langjökull is the most popular glacier in Iceland for jeep and snowmobile tours. With endless snowy peaks and slopes, Langjökull is also a great place for hiking and cross-country skiing. During the winter months, snowmobile and ice cave tours also offer a good chance to spot the magical Northern Lights!
However, the main attraction of a glacier tour is inside the glacier! You have a unique opportunity to step into the glacier through a man-made ice tunnel. Vivid blue colors create mesmerizing views. Here you get an insight into how glaciers work. Walk around the man-made ice cave and see with your own eyes how the weight of the glacier compresses the ice and creates a truly unique sight.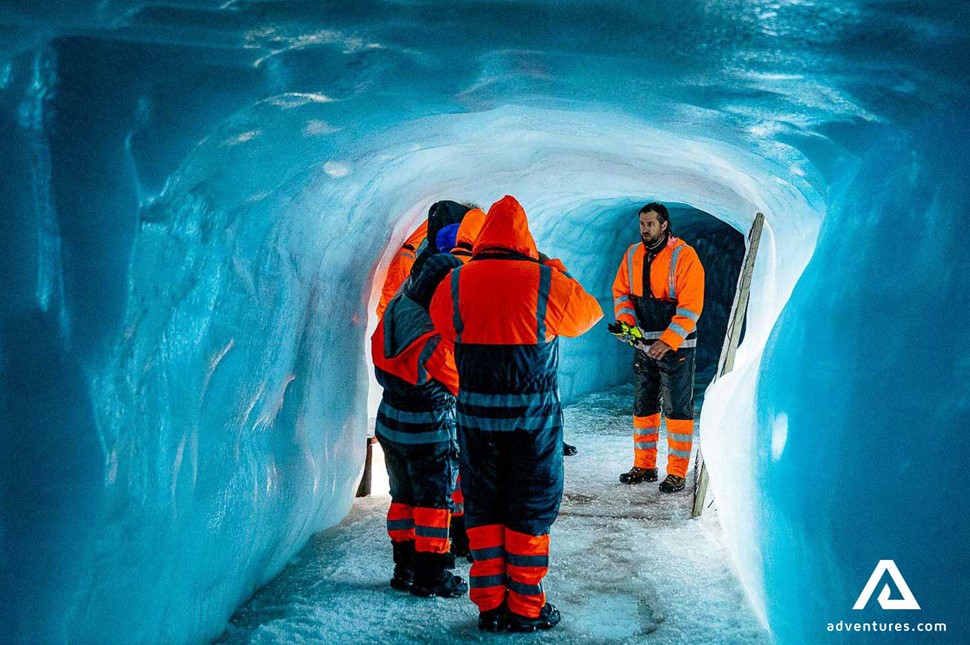 Whatever activity you pick, you shouldn't travel to Langjökull on your own. For your own and for the glacier's safety, we advise that you travel with an experienced local guide or simply join one of our tours.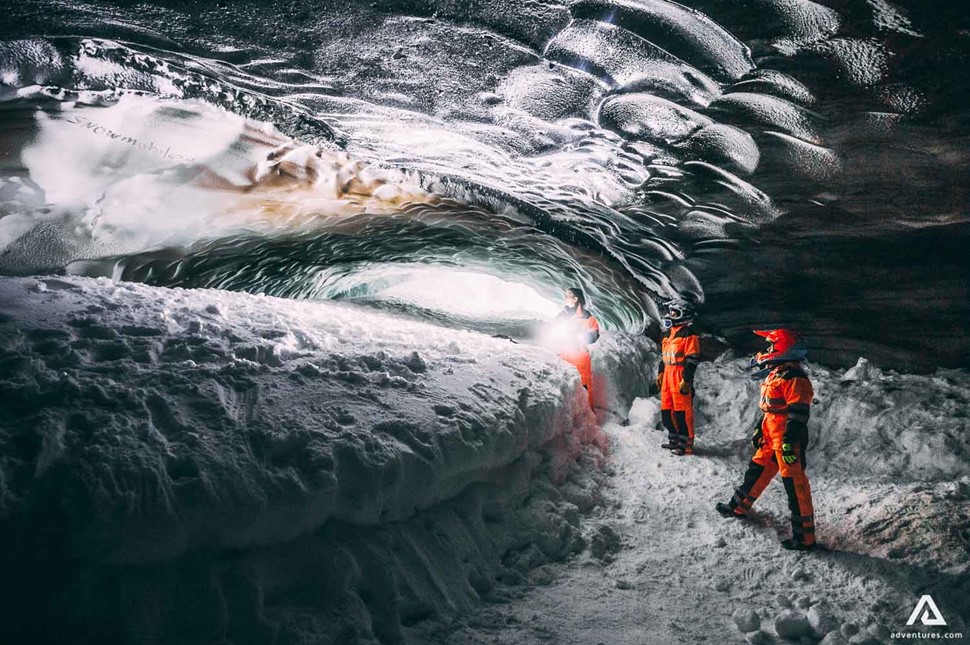 Where to Stay Near Langjökull?
Hotels
Hotel Geysir
Hotel Husafell
Fosshotel Reykholt
The Highland Center Hrauneyjar
Guesthouses
Kerlingarfjoll Mountain Resort
Harpa Holiday Home
Guesthouse Steindórsstaðir
Kópareykir Holiday Homes
Camping
Geysir Camping Ground - there are showers, toilets, electricity, washers, WIFI, a golf course, and a playground. Open from mid-May to mid-September.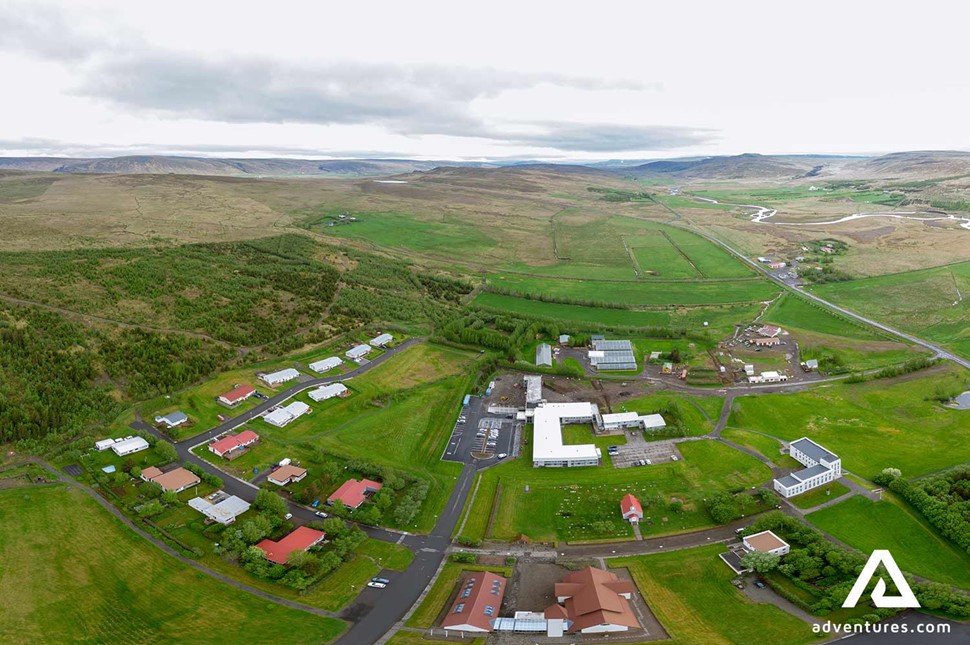 Where to Eat Near Langjökull?
Gullfoss Cafe - a nice restaurant just a few steps away from the famous Gullfoss Waterfall serving traditional Icelandic lamb soup, sandwiches and fresh salad. 
Húsafell Bistró - a vegetarian-friendly buffet offering hot meals and soups. 
Hraunfossar Restaurant/Café - a great place to grab a sandwich, a soup or a dessert with a cup of coffee.
Brúarás - Geo Center - a restaurant inside a tourist information center serving hot meals and homemade cakes.
Hverinn - a cozy restaurant that offers an all-you-can-eat soup lunch deal. 
Matstofan - a family-run oriental restaurant in

Borgarnes.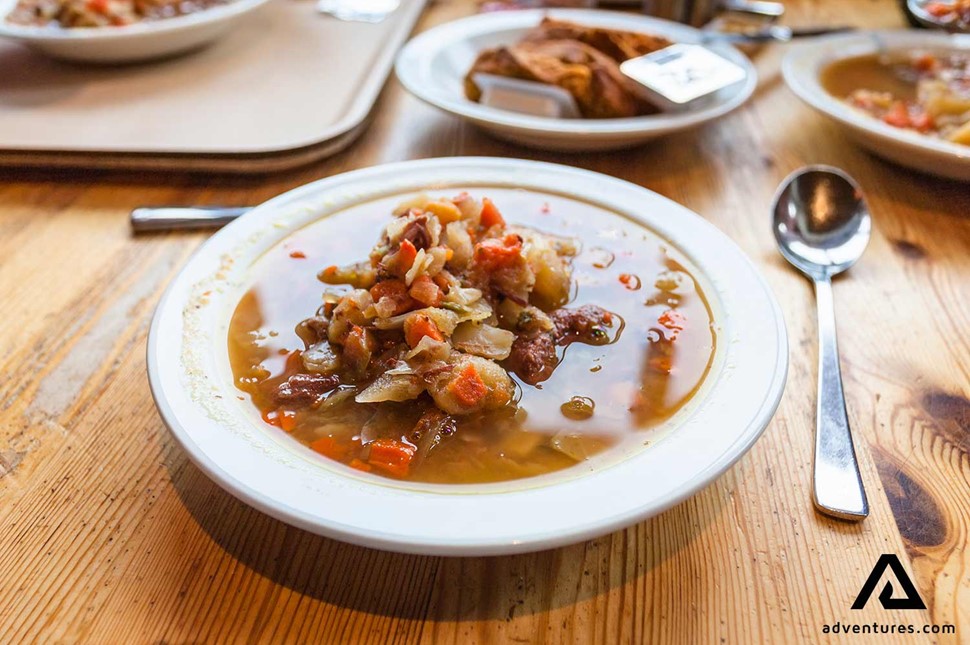 Interesting Places Near Langjokull Glacier
Jarlhettur Mountains
Tindafjallajökull Glacier
Eiríksjökull Glacier
Hofsjökull Glacier