Guide to Snorkeling in Silfra
The island of Iceland was formed by the violent forces between the North American and Eurasian tectonic plates as they move unstoppably apart. This movement has been forming Iceland's landscapes over the last 18 million years.
There is a unique site in Iceland where the rifts between the tectonic plates are clearly visible. A fissure, that even has a name, Silfra, which translates to "silvery," appeared in 1789 after a major earthquake. Today, Silfra is filled with crystal clear glacial water, making it the only place in the world where you can dive or snorkel between two continental plates.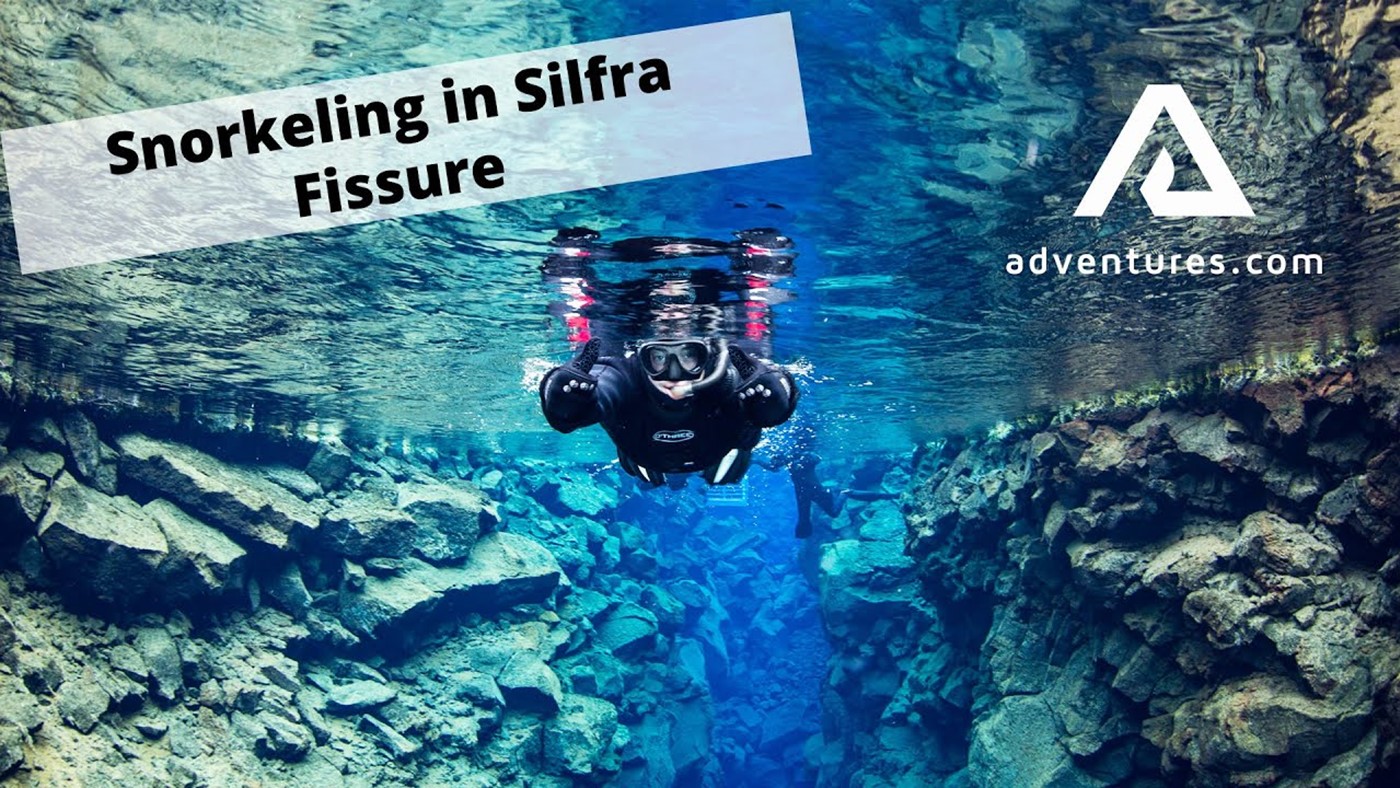 In the following guide, you will learn more about how Silfra and the surrounding landscapes were formed. You will see why snorkeling in Iceland is so popular and why divers from all over the world come to Iceland to explore this unique place.
We will also explain how non-divers and first-time snorkelers can have access to this site. We will give you an overview of what a small group Silfra snorkeling trip is like, how long it takes, what to expect, and what the possible challenges may be.
After reading this guide, you will be able to decide whether or not this experience is for you. If so, you will also get tips on some great and exciting tour combinations to make the most of your adventure.
Thingvellir National Park: a UNESCO World Heritage Site
This epic fissure is located inside the most iconic national park on Iceland's famous Golden Circle tour route. Thingvellir (Þingvellir) is, deservedly, a UNESCO World Heritage Site. Extraordinary historical, cultural, and geological values make it a unique gem.
The whole park sits in a valley that is basically a huge rift in itself. The valley holds more brutal fissures that are clearly visible. It is possible to walk between some of these rifts while others stretch out underwater. Silfra is the most impressive underwater fissure of all.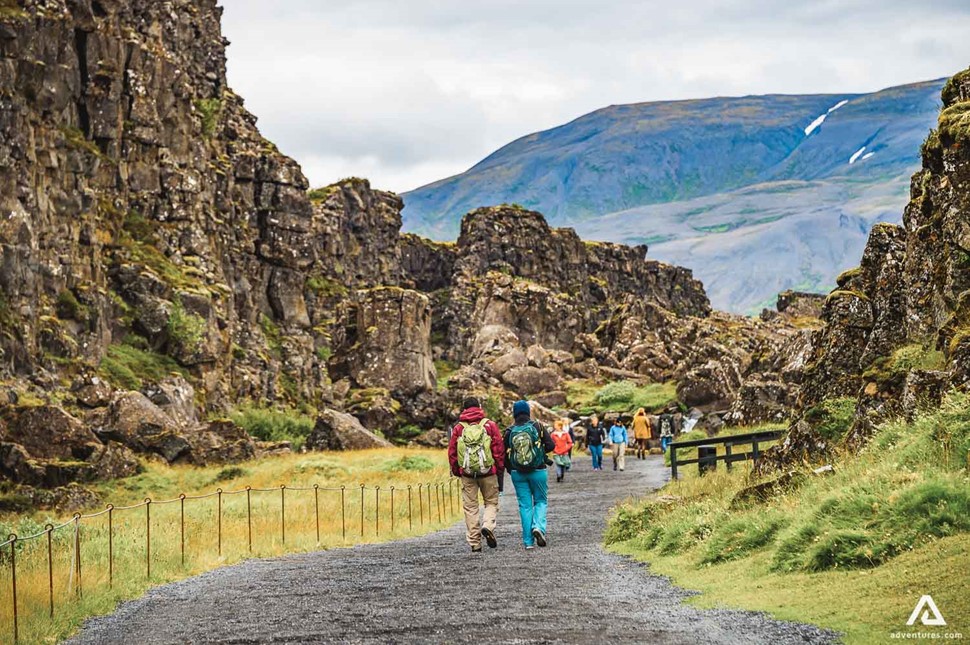 The whole area is part of the Mid-Atlantic Ridge which stretches between our globe's continental plates, extending over an astonishing 16,000 kilometers (9,950 miles).
Thingvellir National Park is also the location of the very first democratic parliament in the world. Althingi (Alþingi), the parliament of the Icelandic Commonwealth, was founded at this site in the year 930 AD.
Every year, the leaders of the country met here to discuss and decide on lawmaking and to dispense justice. These outdoor assemblies were major social events in Iceland. Free men from all over the country were welcome. Therefore, large crowds gathered on the plains of Thingvellir. People built temporary camps, traded, held feasts, told stories from the far-away edges of the island, and discussed legal disputes. These assemblies were the largest social events in Iceland for centuries.
The annual parliament sessions were held here throughout the centuries before 1844 when the parliament was relocated to Reykjavík where it has resided ever since.
Silfra: The Fissure Between the Tectonic Plates
Geology at Silfra
The North American and the European tectonic plates are slowly moving apart at the rate of about 2.5 centimeters (1 inch) per year. The rift that is now 1 centimeter wide will be 25 kilometers (15.5 miles) wide in a million years.
This slow but violent movement is accompanied by both small and large earthquakes. In fact, hundreds and thousands of earthquakes can occur in Iceland daily. Only a few of them can be felt by humans as most of the earthquakes fall below M3 on the Richter scale.
The epicSilfra rift opened overnight after a large earthquake followed by a few smaller ones. The rift soon after began to fill with meltwater from Langjökull, Iceland's second-largest glacier, located 50 kilometers (31 miles) away.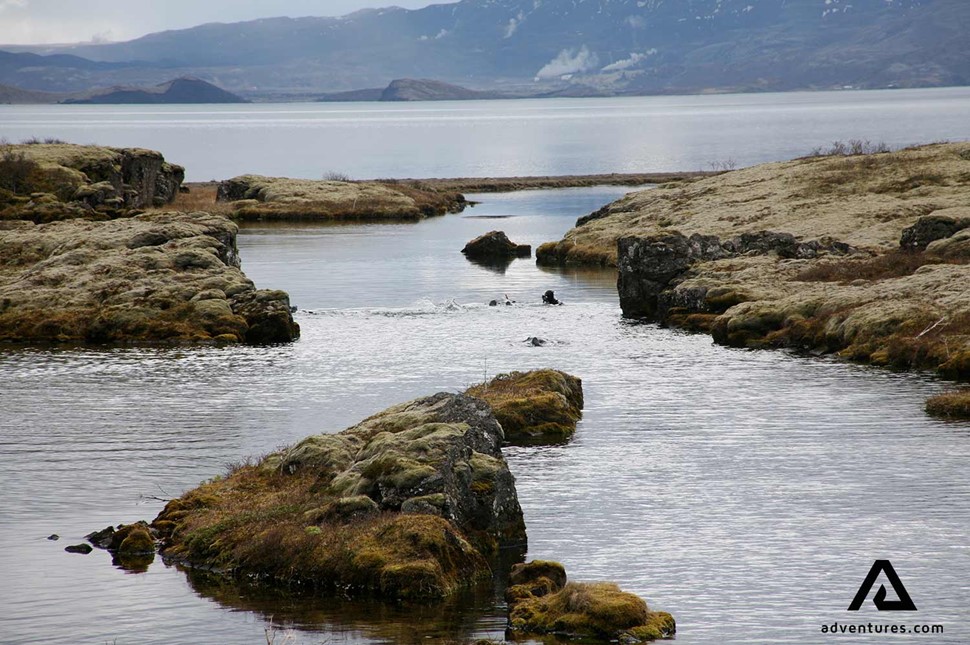 Hydrology at Silfra
The water bubbles through the finest natural filtration on the planet, a lava rock layer with a very fine texture. Every drop of water spends 30 to 100 years traveling underground through the vast lava field that lies between the glacier and the Silfra fissure.
At the point when the water arrives in Silfra, it is the clearest water in the world. It is so pure that you can easily drink from it without any fear. Furthermore, this natural spring creates a gentle current that keeps the 2 to 4°C (35 to 39°F) water moving constantly, ensuring it never becomes dirty and that bacteria cannot thrive.
Underwater Visibility at Silfra
The visibility underwater at Silfra blows everyone's mind. To serve as a point of comparison, the majority of the most popular diving sites in the world feature 10 to 30 meters (32 to 98 feet) of visibility. Those places where you are able to see 30 to 45 meters (98 to 147 feet) underwater have been ranked as the best diving and snorkeling sites in the world.
Incredibly, the visibility at Silfra is not only longer than 45 meters (147 feet) but exceeds 100 meters (328 feet). That makes the visibility at Silfra two to three times longer than the best diving sites in the world! Moreover, some sources emphasize that the fissure is not long enough to fully test the limits of its visibility. This leaves no question as to why Silfra is on every diver's bucket list.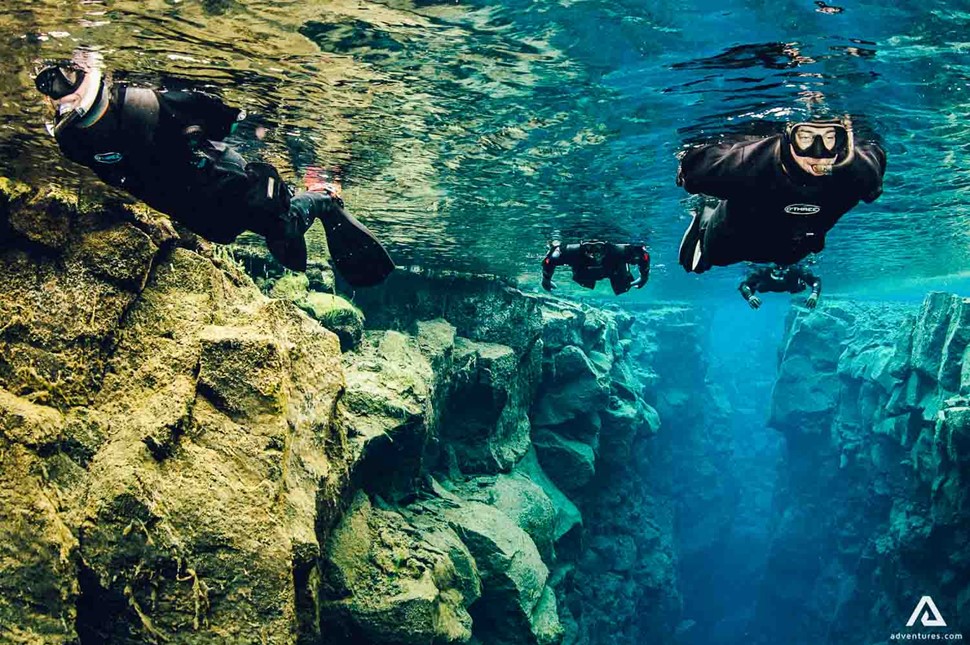 Snorkeling Between the Continental Plates
What Can You See at Silfra?
Some of the most amazing underwater environments on the planet are found in cold water. Silfra is a truly awe-inspiring wonderland. The seemingly-bottomless bare rock walls, the vibrant shades of blue, the multicolored algae, and the water that is as clear as air all work together to make you feel as if you are flying!
How to Snorkel at Silfra
To experience the feeling of swimming between the boundaries of the tectonic plates, you need to sign up for a snorkeling tour. Do not even think about swimming there without the proper gear or a skilled guide. It is not only illegal but also life-threatening.
A snorkeling tour always starts with education and safety training. The professional guides explain the geological history of the area. Then they introduce the gear that you must wear during the tour and discuss the safety information that you have to be aware of.
Cold-Water Snorkeling Gear
As the water is very cold, you must wear waterproof dry suits that keep you dry and your body warm. These suits are made from a special, thick material that is designed to effectively resist freezing cold temperatures. You will need to wear a rubber strap around your neck to ensure that the water does not get inside the suit. This is a normal part of any dry suit.
To increase your thermal insulation and comfort, you will also wear (your own) long-sleeved, thermal undergarments under your dry suit. The suit is filled with air which, therefore, keeps it completely dry and also allows you to float on the surface of the water. The guides help everyone gear up and check their suits after putting them on.
The dry suit might feel heavy as you put it on. You will also be given diving goggles, a breathing pipe, a neoprene hood, a pair of neoprene gloves, and flippers. For a few minutes, you might feel as if you are wearing a weird spacesuit. But don't worry, this unpleasant feeling only lasts until you reach the water. After a few minutes, everyone feels acclimated to the gear.
The moment you dip your face into the water and start floating in the gentle current, you will forget about everything that was bothering you just a minute earlier.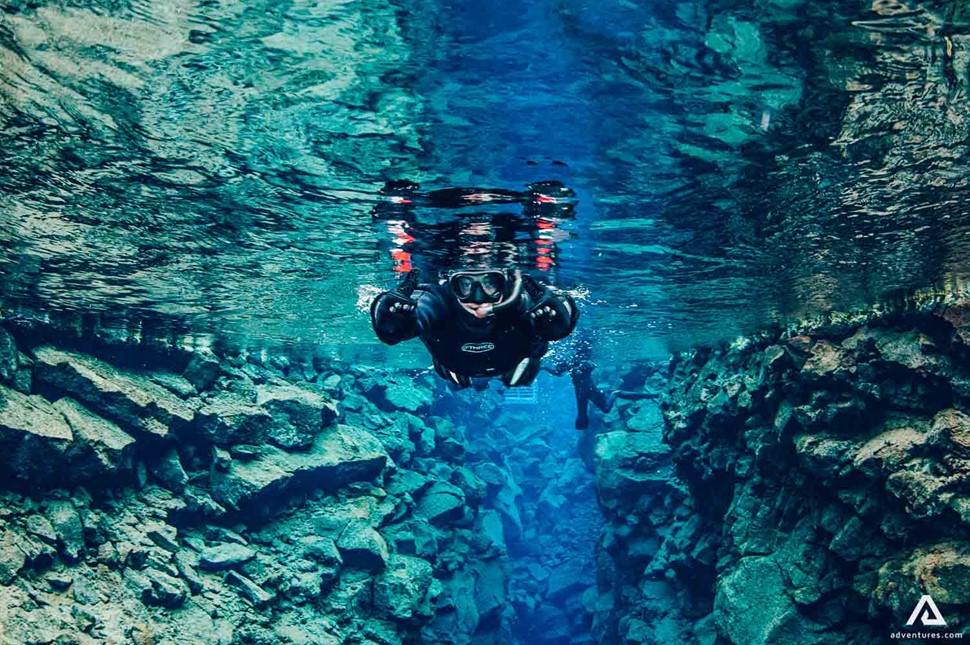 What a Silfra Snorkeling Tour Is Like
You will spend about 30 to 40 minutes in the water. The guide will swim near you, keep an eye on you, take photos, and is available to assist you at any time. They will lead you through the fissure. There is one guide for every group of six snorkelers.
The Silfra fissure has four main parts: the Big Crack, Silfra Hall, Silfra Cathedral, and Silfra Lagoon. When you enter the pool, you will feel the current slowly pushing you forward. If the current is not strong enough, you can use your flippers to propel yourself.
The 120-meter (394 feet) long Big Crack features both the deepest and the shallowest points of the rift. This is also the narrowest section. The greatest depth is 42 meters (138 feet), and the shallowest point has a depth of half a meter (1.6 feet). The tectonic plates are so close here that you can almost touch them both at the same time.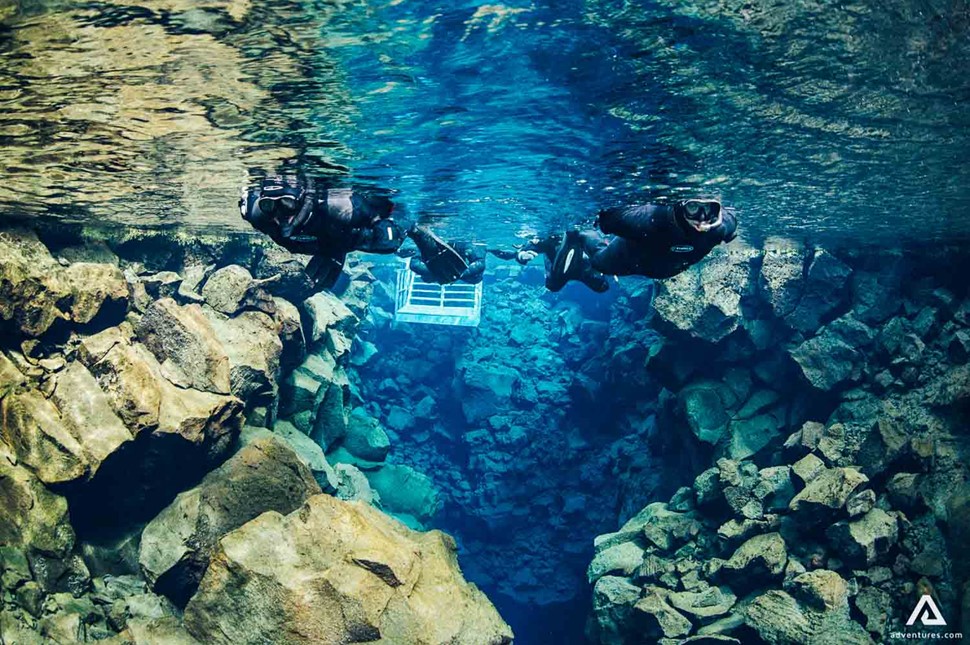 Leaving the Big Crack behind, you will arrive at a place called Silfra Hall. The space between the walls widens out to 8 meters (26 feet). More light and brighter colors fill the water and massive boulders and rocks lie on the bottom at a depth of 14 meters (46 feet).
The next section is called the Cathedral. Swimming through it feels as if you are flying above the majestic landscape of the fissure. You can see the 100-meter (328 feet) long and 23-meter (75 feet) deep walls which even rise above the surface at some points. It looks like a massive, ancient cathedral that was left behind by some long gone civilization.
The snorkel tour ends in the shallow Silfra Lagoon where vibrantly green algae thrive in summer. This is a picturesque lagoon with an average depth of 5 meters (16 feet). Here you will be given some time to swim around and explore the edges of the lagoon.
After the tour, you will exit the water and head back to the truck to get changed and warm up with a steaming mug of hot chocolate and some cookies.
Prerequisites for snorkeling in Silfra:
This tour is only safe for healthy individuals. There are strict regulations to protect you from finding yourself in danger during the tour. You might be asked to provide a physician's approval if you have any medical conditions.
Snorkeling or Diving in Silfra in Winter
Due to the constant flow of freshwater coming from underground and flowing into Silfra, the water temperature is stable at 2 to 4°C (35 to 39°F). The water is in constant motion and, therefore, is unable to freeze. Diving and snorkeling are possible at Silfra year-round!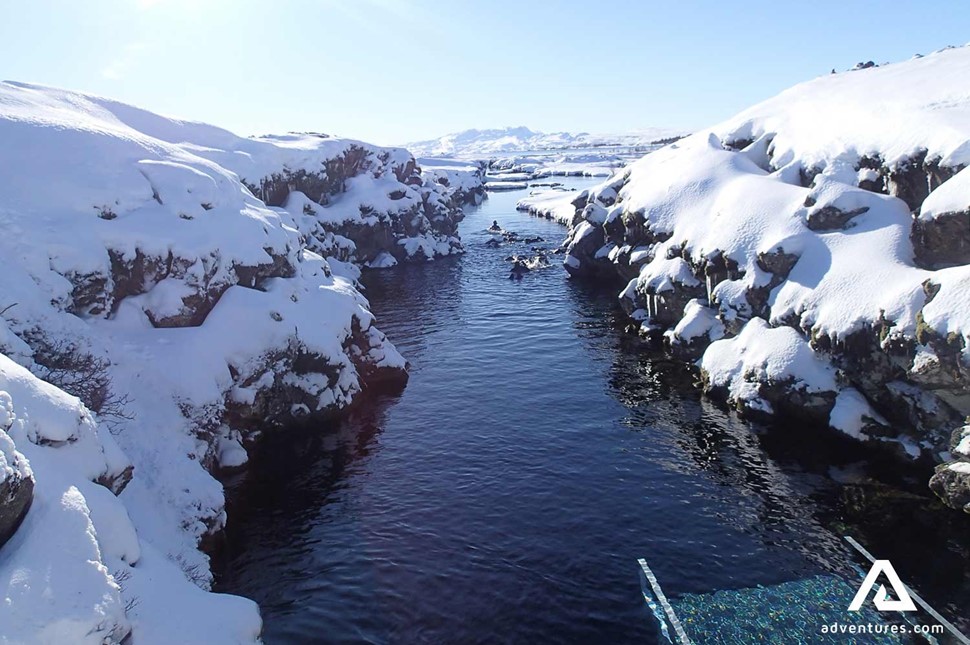 However, in winter, the daylight periods are much shorter than in summer. Between November and February, daylight lasts only 4 - 5 hours which results in fewer tours available per day than in summer.
Also, the surrounding landscape looks different depending on the season. In winter, the moss around the lake is brownish, greyish, or covered by snow. The green algae under the water grow only in summer. The air temperatures in winter range between -10 and +5°C (14 and 41°F).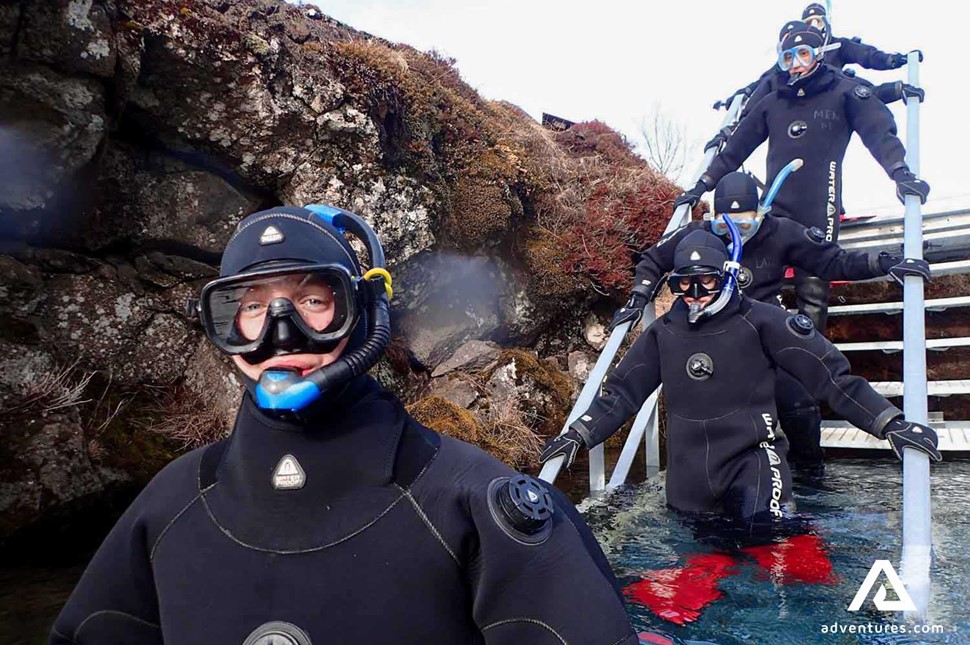 What to Wear on a Silfra Snorkeling Tour
Under the dry suit, you need to wear your own warm long-sleeved undergarments. Try to avoid wearing cotton, because it absorbs water and sweat. It does not dry fast and therefore keeps your body cool. The best choice is quick-drying thermal or fine wool underwear. Dry suits may leak slightly, so there is a small chance that your underwear will become wet. Just in case, take a spare set of clothing with you to change into after your tour.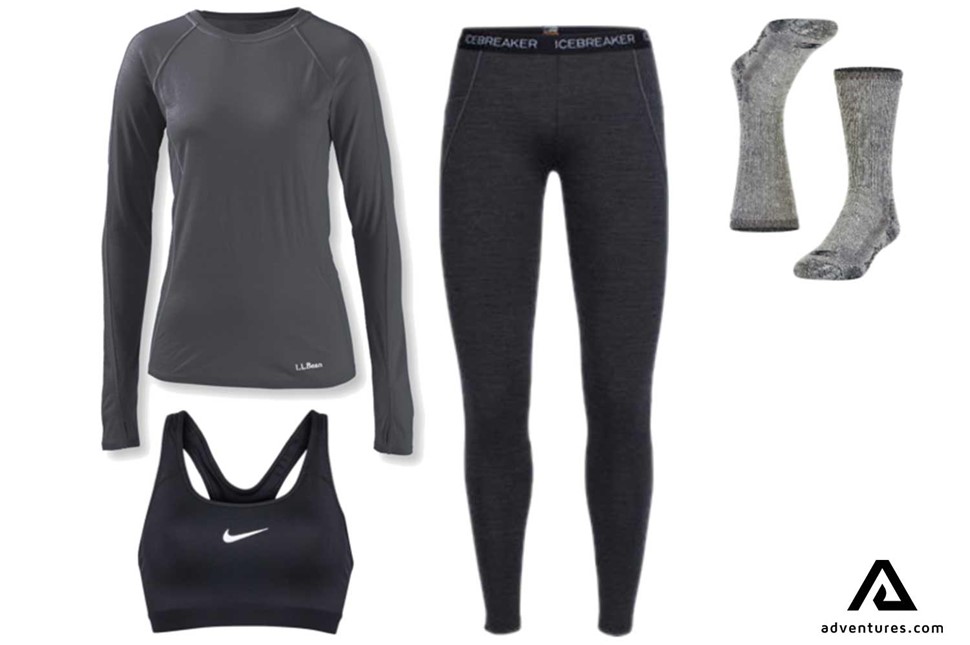 Combine your Silfra Snorkeling with Other Adventures
Thanks to its great location, a Silfra snorkeling tour can be easily combined with other adventures and sightseeing tours. One of the most popular things to do when visiting Iceland is a Golden Circle Tour. Thingvellir (Þingvellir) National Park is one of the main highlights of the Golden Circle.
The Golden Circle is the most frequently visited sightseeing route in Iceland. It features the best natural highlights located within a few hours driving distances from Reykjavík. The main stops are Thingvellir National Park, where Silfra is found; the Geysir geothermal area, where a geyser erupts every 5-10 minutes; and Gullfoss, a majestic and extremely powerful waterfall.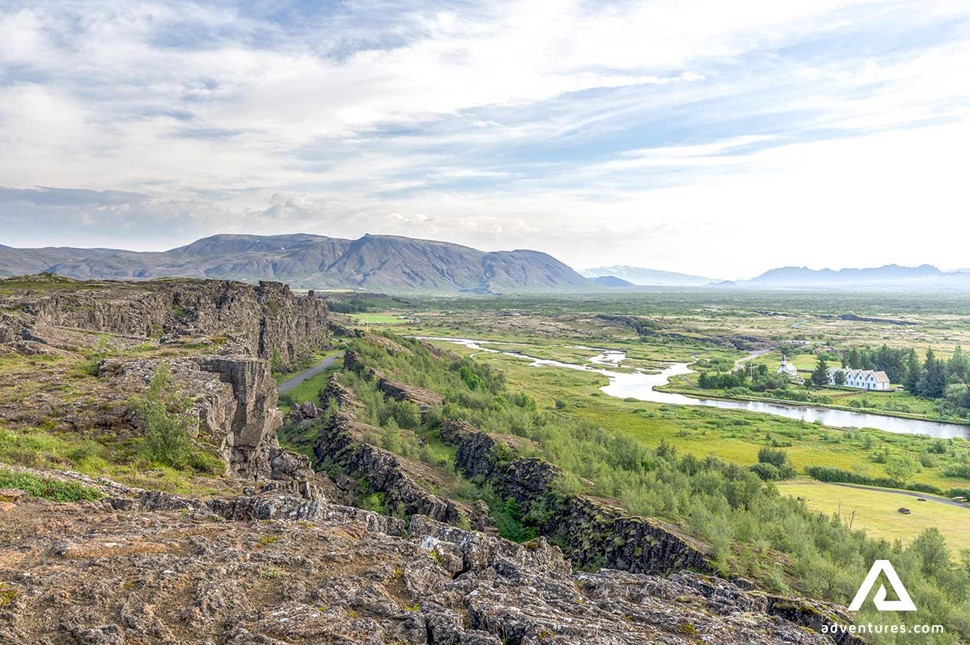 Another popular option after exploring the depths of the water is to explore the depths of the ground. There is an amazing lava tube cave outside of Reykjavík that was formed centuries ago by a river of molten lava. Taking a caving tour along with a snorkeling tour will satisfy both your scientific curiosity and your adventurous soul.
If you want to meet Iceland's cutest locals, go on a horseback riding tour! The Icelandic horse is a unique breed that is a direct descendant of the Viking horses. They are short but strong and have gained an international reputation for their five gaits. These cute horses are also well known for their unique personalities and calm disposition.
How to Get to Silfra
Silfra is located 45 kilometers (28 miles) from Reykjavík. You can either choose a day tour with pick up in Reykjavík or drive there by yourself and meet the guides at the location.
Take Route 1 from Reykjavík heading towards the town of Mossfellsbær. Then, before the road turns towards Mount Esja, change to Route 36. Follow this road for 33 kilometers (20 miles) then turn right onto Route 361. After 3 kilometers (1.8 miles), turn right and drive into the car park. From here you need to walk for 5 minutes (400 meters or .25 miles) to the place where the guides will be waiting for you.
Map of Silfra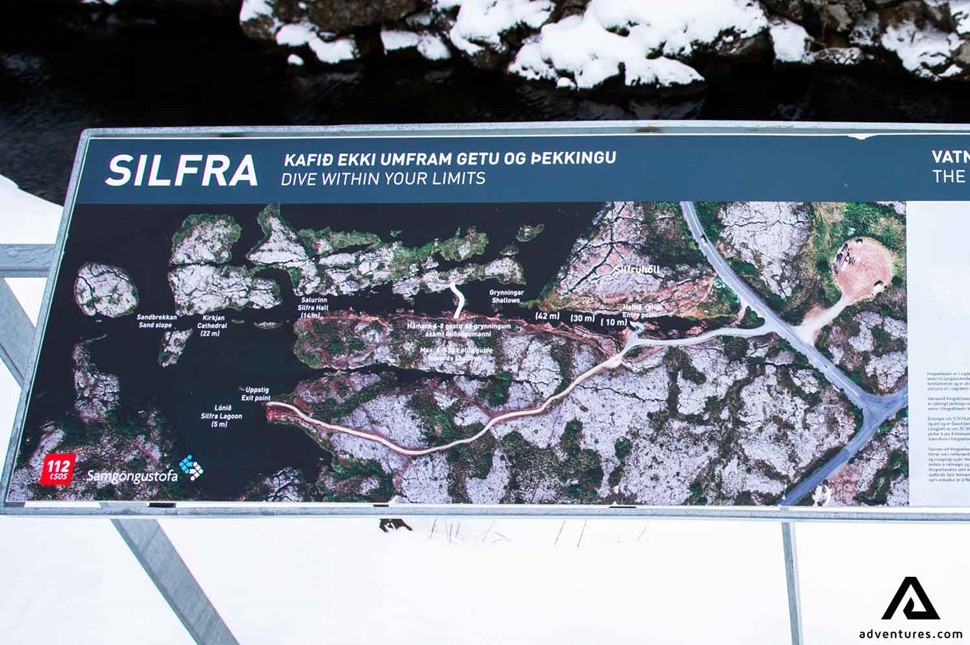 Meet snorkeling guides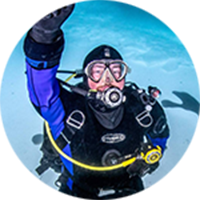 Nick
"Captain Light"
Nick got nicknamed Captain Light because he also leads the famous Northern Lights hunts in winter. Growing up as a diver in the Red Sea, Nick soon realized teaching and guiding divers was a passion to be shared. He also worked as an oil and gas diver, so he simply cannot leave a single rock, shell, wreck or cave unexplored! Having been a part of the Arctic Adventures family for over 4 years, Nick knows the ins and outs of top diving spots around Iceland and is ready to plan your next diving adventure.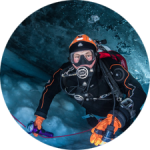 Kuba
Aquaman
Kuba is our resident adventure man. He dives under ice, drives super trucks, snowmobiles on glaciers, and that's just the tip of the iceberg! A true explorer, Kuba will take you on even the most extreme diving adventures as long as you are ready for them.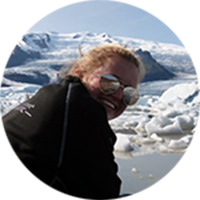 Becca
Miss Media
Becca is our diving/social media selfie queen. Arriving in Iceland as a diver from the UK, she demonstrated mad skills in her dry suit and soon developed into an exceptional diving guide. Plus, she is an all-round selfie guru of Iceland's hot spots, so great pictures are guaranteed.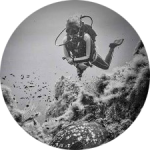 Eliska
Queen of the North
Coming from the Czech Republic, Elsika has made Iceland her home and loves to dive. She is a true explorer. Every day Elsika is in search of a buddy with whom to discover a new diving location in Iceland. Always with a smile on her face, Eliska will make your diving tour a happy experience even on a cold and rainy day.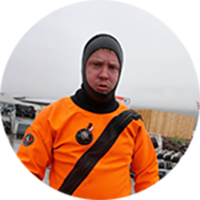 Halli
Resident Viking
Our resident Icelander Halli loves to dress in orange, so it's impossible to lose him underwater. On top of sharing his top level expertise in diving, Halli will have you smiling and laughing at all the tales and sagas of his country's great history.