Guide to Diving In Iceland
Iceland hosts some of the most unique dive sites in the world. The country is known for the dramatic landscapes and fortunately, the indescribable beauty is not limited to the surface. The underwater cracks, the geothermal lakes, and the hydrothermal vents, as well as an abundant marine life, all together they make scuba diving in Iceland interesting for all divers.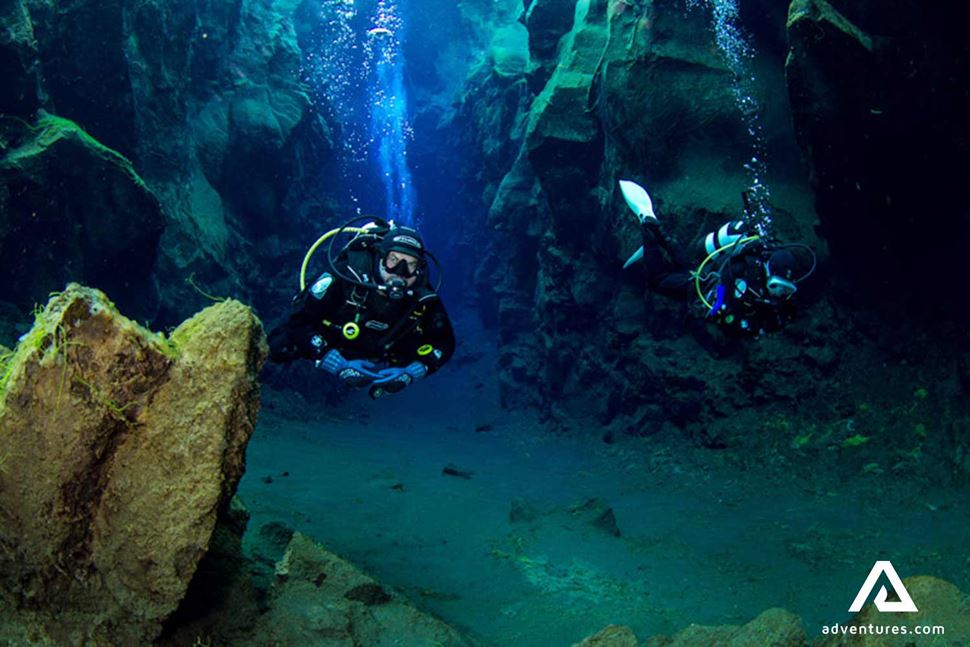 Iceland's Freshwater Dive Sites
Iceland is probably most famous for its extraordinary freshwater dive sites. Many of them are near the Capital Region. Within the heart of the nation Thingvellir National Park, a unique diving site, which is a fissure between two continents fed by the crystal clear glacial water can be found here. It has a beautiful name - Silfra, meaning silvery. It's located on the northern tip of the largest natural lake in Iceland that's named Thingvallavatn, which actually hosts a hidden gem for divers on its northeastern corner under the name Davíðsgjá. On the Reykjanes Peninsula, you can experience an out-of-this-world dive in lake Kleifarvatn that's located on an Earth's hotspot near the miraculous Seltun geothermal area.
Silfra Fissure - Diving Between Continents in Crystal Clear Water
Diving in Silfra is like nothing else you have ever experienced. You will be diving through the 50-year-old meltwater from glacier Langjökull. The water here is the purest and freshest water you will ever encounter anywhere in the world. In addition to this great feature, Silfra Fissure is actually a part of the splitting rift between North American and Eurasian tectonic plates. Diving in the underwater valley at Silfra, you can touch the edges of both continents at the same time. How cool does that sound!
You can dive deep down to 50 meters underwater. The view is absolutely astounding. There are four sections in Silfra Fissure. After you dive down in the water from the entrance point, first you will pass the Silfra Deep Crack or Big Crack, a 120-meter long but narrow underwater valley that winds slightly left and right. Ths fun swimming will take you to the next section Silfra Hall, a wider section where you can see the famous "troll hair" swinging on top of the lava stones. Then, you will reach the deepest point of the dive that's called Silfra Cathedral, an awe-inspiring sight due to its sheer space and the outstanding visibility. And finally, you will reach the incredible Silfra Lagoon, a dramatic spot where divers can appreciate the superb underwater view.
Silfra has amazing underwater visibility, and its water is far clearer and purer than most diving sites in the world with a tested visibility length of over 100 meters (328 ft). It has to do the glacial water getting filtered over the course of a half century, which is an extraordinarily long process. After the melt glacial water streams down from 60 kilometers (37.2 miles) north at Langjokull glacier, it goes underground through a porous area of the lava field for 50 kilometer (31-mile). The porous lava field is the best natural filter on this planet. The slow but effective filtration takes any matter that could impair the crystal quality away from the glacier meltwater before it slowly seeps into Silfra. High level of water clarity is diver's best friend, it enhances all underwater senses and creates a surreal submarine reality for divers to venture, making diving in Silfra Fissure an intense, unforgettable experience.
Kleifarvatn - Diving in the Geothermal Wonder of Reykjanes Peninsula
Driving south from Reykjavik for about 42 minute, you will arrive at the Reykjanes Peninsula. The ride is accompanied by the endless stunning lava field and the mind-blowing landscapes on both sides of the road. Stopping at Lake Kleifarvatn allows an exciting pause for a serene yet fabulous adventure that's not only for the wild scenery in its vicinity, but also for a diving opportunity.
Kleifarvatn sits on a geothermal area of a fissure zone caused by the same force generated from the diverging of two tectonic plates that formed Silfra Fissure. It's the largest lake in Reykjanes covering an area of 9.1 square kilometers (3.5 square miles), and is one of the deepest lakes in Iceland with a maximum depth of 97 meters (318 feet).
Indeed, Kleifarvatn is a splendid attraction for sightseeing, but a lesser known fact about the huge lake is that it's one of the most famous diving sites in Iceland. Beneath the serene blue surface, the submarine world is wild and far beyond imagination. There is no river going into the lake from the surface, which makes the lake appear like a cerulean jewel in the middle of the geothermal hotland. The water is purely flowing in and out through the porous lava field around the lake. As miracle as it sounds, its underwater world is what makes Kleifarvatn worth a dive. The bottom of the lake looks so vivid with bubbles floating up and moving stones looking alive.
After a wonderful dive, you can also visit the nearby Seltun geothermal area to see the amazing geological features on the surface of the land. A submarine adventure and a terrain wander, together they make a fantastic day tour!
Davidsgja - Diving in Thingvallavatn, the Largest Natural Lake in Iceland
Although close to each other, Davidsgja is a less popular dive site compared to its neighbor Silfra Fissure. It's mostly visited by local divers in Iceland. The wonder of diving at Davidsgja is to be able to swim deep in the most beloved water of the nation, and Thingvallavatn is the largest natural lake in Iceland. Its greatest depth is 114 meters (374 feet). The lake lies right in a rift valley that extends south from Langjokull glacier to Mount Hengill, an active volcano fuelling hot springs and fumaroles. Then it extends from Mount Botnssulur in the west to the heathland of Lyngdalsheidi in the east.
Davidsgja is located on the northeastern side of Thingvallavatn lake and its Icelandic name means David's Crack in English. Similar to Silfra Fissure, Davidsgja has an astounding visibility that ranges from 100 to 120 meters (328 to 394 feet ). More astonishingly for divers, the water at Davidsgja appears in vivid colors backdropped by a lively underwater environment, and when sunlight shines through the water it even adds more shades and layers to its blueness.
The glacial meltwater from Langjokull glacier runs its course underground in the ancient lava field for miles before flowing into Thingvallavatn lake. The process purifies the meltwater below the bedrock and preserves the pureness at its best clarity.
When you dive in Davidsgja, you will enter a long, deep, narrow fissure that has a maximum depth of 21 meters (69 meters). The water temperatures at Davidsgja are usually warmer than Silfra, but in winter the lake is frozen so diving is only available between May and September. The most common fish species in Thingvallavatn are Arctic trout, Brown trout, and Three-spined sticklebacks, and you can see those beautiful creatures when you dive here in summer.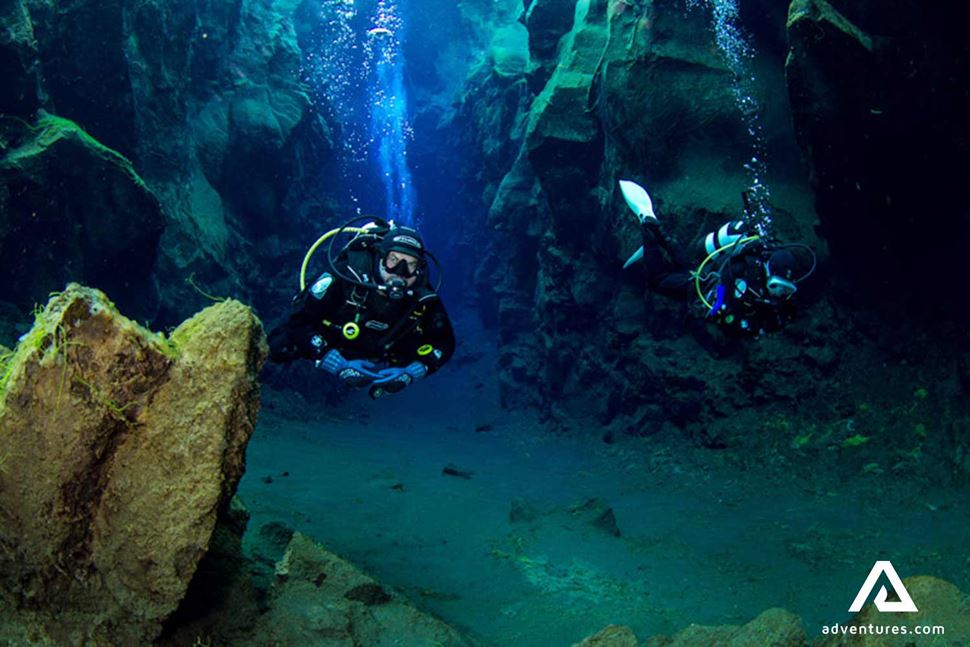 Ocean diving in Iceland
The ocean around the coasts of Iceland has diverse wildlife, and you can expect to see numerous species of marine organisms, fish, crabs, shellfish and other molluscs, marine mammals and a vast number of colorful algae. The top ocean dive sites in Iceland are Garður – a small fishing village in Reykjanes peninsula, Strýtan –a geothermal cone located just out of the town of Akureyri, and El Grillo – a wreck of a British oil tanker from WW1 in eastern Iceland.
Gardur - Diving In Reykjanes Peninsula
Near the northern tip of Reykjanes Peninsula, you will find a fishing village that's about one-hour drive to the south from Reykjavik. The location is at a prime fishing grounds where visitors can appreciate the magnificent sea views and the two picturesque lighthouses. This area is also famous for its brilliant ocean diving scene since there are over 42 species of marine algae can be found in the bountiful underwater garden. Not only are these abundant alga species waving the crucial threads in the web of marine diet in Iceland, but also they serve as a food source for the original settlers of Iceland over 1000 years ago. These colorful marine organisms have been vital to the local ecosystem and economics.
Besides the vibrant ocean garden, diving in Gardur also takes you around the extensive kelp forests that are great habitats for many fish species. The most often seen species are wolf fish, scorpion fish, many kinds of flatfish, monkfish, and many more. On some shallow water area, you can see countless crabs on the sand relaxing in the Atlantic water. The seascape at Gardur is also fantastic. You will see stretches of sandy patches with soft coral intruding out of the sand here and there. It's usually where the flatfish call it home when they hide under a thin layer of sand while leaving their vigilant eyes out for any potential danger.
These fun and vivid marine creatures make the Gardur ocean diving experience special and personal, and you can see many exclusive North Atlantic awesomeness during the dive that has a maximum depth of 20 meters. The underwater visibility ranges from three to twelve meters depending on different seasons, tidal and weather conditions.
Strytan - Diving In North From Akureyri
As the capital of the North, Akureyri stands out for its vibrant nightlife buzz and its fragrant botanic parks. One of the unbelievable facts about Akureyri is that it actually hosts an ocean diving center Strytan, which has three geothermal vents or geothermal chimneys as many call it. There are numerous diving sites in the Strytan area, and the big Strytan is the most spectacular among them due to its sheer size.
The most notable feature of Strytan is its white smoker with a form resembling a cylindrical cone or chimney. The hydrothermal cone was formed by the consistent natural mineral deposits over the last 11,000 years. Once the water that contains magnesium-silicate minerals vents out from the top of the cone into the cold salt water surrounding it, the minerals coagulate and add up on top of the previous forms extending the chimney's height over time. This process has created a 55-meter tall limestone chimney, and it only takes a 15-meter dive from the surface to reach the cone's top.
This legendary dive will take you near the cones where you can feel the 79°C hot water seeping out of the cones. You can even try to boil an egg in the hot water. During the exciting ocean water dive, you will see a variety of animals and plants thriving near and on the cone. A guided dive sometimes even take you to feed the wolf fish with the shell from the small cones.
Cold Water Diving
One thing that makes diving in Iceland stand out is the temperature of the water. The sea temperature around Iceland can vary greatly depending on the time of year as well as the location but the water rarely goes above 12° C during summer, whereas the average temperature in the wintertime is around 2° C. Silfra's temperature stays at 2-4 °C all year round which makes the visibility amazing year round. Water temperature in Lake Kleifarvatn and Thingvallavatn ranges between 2 degrees in winter, up to 12 degrees in summer.  These numbers result in the fact that wetsuit dives in Iceland are a rare thing.
All these diving experiences are done in dry suit. The necessary equipment is provided by the professional guides when you sign up for a diving tour. Also, you need is to bring your PADI Open Water diving certification or equivalent. If you are not yet dry suit certified and you don't want to miss any diving opportunity in Iceland, no worries, you just come to Iceland because we have it all mapped out for you and below is how.
Get a License To Dive In Iceland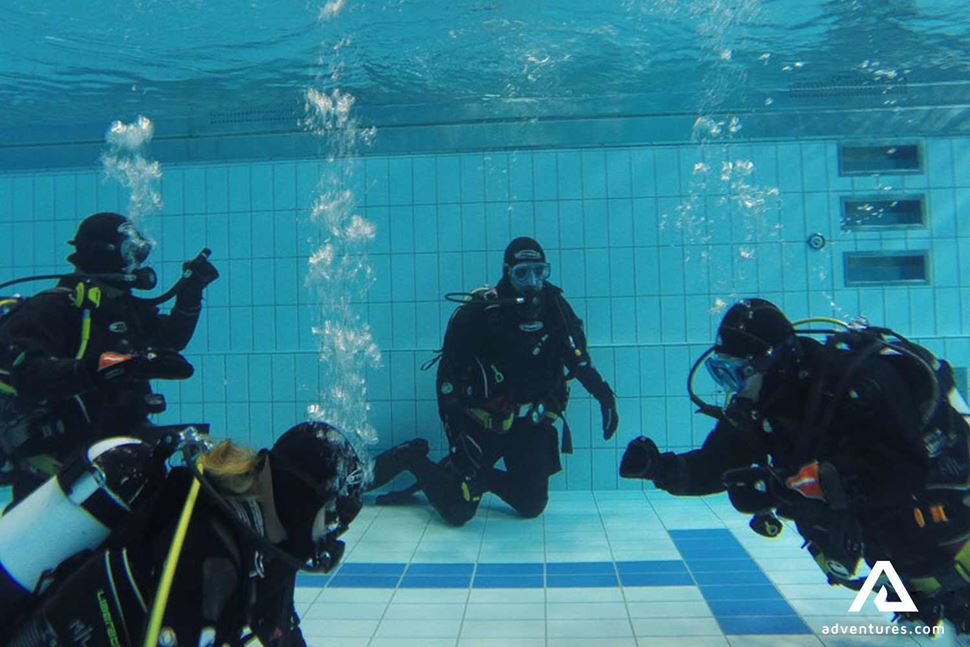 Getting your PADI Dry Suit certification in Iceland in two days is completely a marvelous plan and you get the chance to spend the second day trying the newly learned diving skills in the world's clearest water at Silfra Fissure within Thingvellir National Park, which is one of the highlight attractions in the famous Golden Circle.
The two-day dry suit diving course starts with getting familiarized with the equipment and trying the diving techniques in an indoor swimming pool, during which you can get a feel for yourself on how to maneuver and coordinate your diving skills in the context of dry suit diving. Later, you get to test the skills in the dreamy Icelandic nature. Depending on the weather condition, the diving guide often selects one diving location from the fabulous spots of Kleifarvatn lake or Thingvallavatn lake.
On the second day, you will be fully equipped for a mesmerizing diving adventure at Silfra Fissure which is the host of the purest water on the planet! It's also a paradise for diving and snorkeling.
Life in the Icelandic waters
There are 5 fresh water fish to be found in Iceland. Atlantic Salmon, Arctic Char, Brown Trout, Three spines stickleback and Eel. The reason behind this low number of species is said to be Iceland´s remote location and great distance from the mainland. Another reason is the relatively short period from the last Ice Age in the area.
In our fresh water sites Silfra, Davidsgjá and Kleifarvatn we have 3 of these fish. When diving in these places you are quite likely to see at least one of these species. The Brown Trout in lake Thingvallavatn is rather famous, and it is always a pleasure to spot this majestic fish. Here lives also the biggest Brown trout in the world. Many of the trouts spend the night in the Silfra fissure, as it is nice and protected. In the daytime they swim around in the lake, or spend some time in the rivers flowing through Thingvellir national park.
The Arctic Char is frequently spotted in lake Thingvellir in the summer from May to September. Is it a beautiful red/brown fish, very similar to the Salmon. The Char is a very tough species, and it can survive in almost any cold and inhospitable environment. This fish is also quite friendly towards divers and not as timid as many other cold water fish. In the peak of the summer we sometimes see the Char mating in the Silfra fissure, not at all bothered by the groups of divers and snorkels swimming past or taking photos. In Davidsgjá a sighting of the Arctic Charr is almost guaranteed when diving in June, July or August.
Lake Thingvallavatn´s own pet is the tiny Three-Spined Stickleback. it is estimated that 85 million of these guys live in the lake! In the summer during breeding season there are lots of sticklebacks in the Silfra fissure. They are however the same colour as the lava rocks, and can therefore be a big tricky to spot. Once you have spotted one, you will start to see them everywhere.
Ocean Life
The ocean surrounding Iceland is full of life. Here lives big animals like 23 different species of whale, dolphin, orcas and seals. Middle sizes fish like Cod, Haddock, Pollack, Flatfish, wolffish and lots more are further to be seen. Macro species like shrimps and nudibranchs also inhabits the waters around Iceland.
The Atlantic Cod can live up to 25 years. The largest one caught was measure 180 cm, and weight 96 kg. However, most of the cod we spot here while diving is usually no more than half of that size. If you are looking to see some Cod than Strytan and Gardur in the summer time is where you want to be.
The Atlantic wolffish is known under many names, Cat Fish, Sea Wolf, Devilfish, Sea cat etc. It is not the most pretty fish you will ever see, but by no doubt the coolest! The wolffish is a hardcore fish, living in waters between -1 to +10 degrees C, at depths of 10 – 500 meters. It is relatively common to spot when diving in Iceland, and we have a few house wolves at Gardur and Strytan.
The Atlantic Ocean is full of colourful Macro species. The cold water nudibranchs are just as pretty and fun to spot as the ones in tropical waters. Lots of shrimps and hermit crabs are commonly seen at all our ocean dive sites.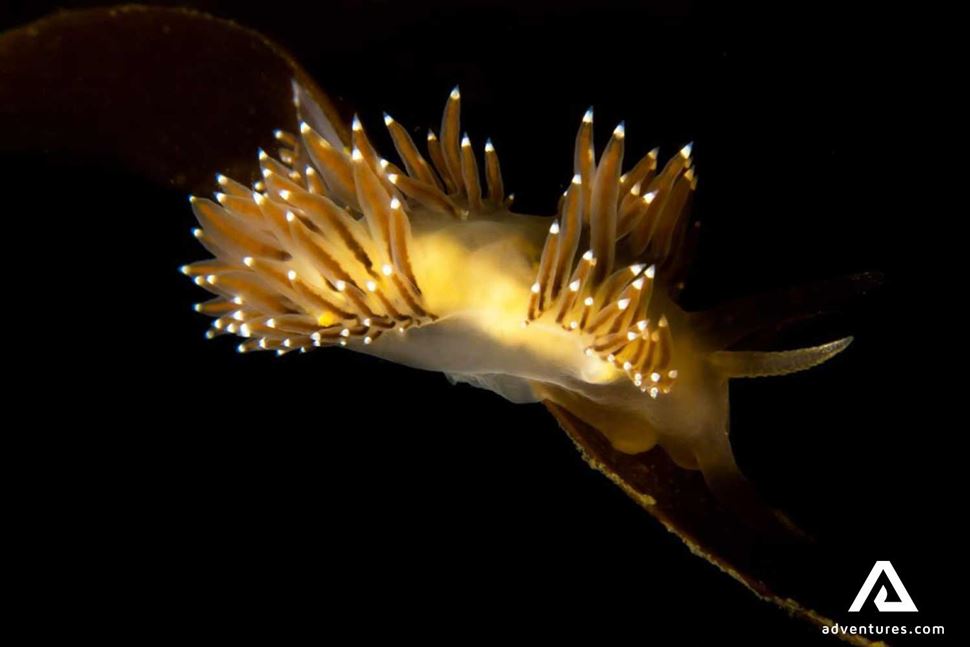 Dry Suits used for snorkeling & diving tours
Here is some info and FAQ's about the dry suits we use for diving & snorkeling in Iceland.
Why a dry suit?
Cold water leads heat away from your body up to 25 times faster than cold air. This means that without the right equipment we would not be able to swim in cold water for very long. Luckily a good dry suit enables us to comfortable dive and snorkel even in extremely cold water. With a good dry suit and the right undergarment we are able to stay in cold water for many hours if necessary.
What is a dry suit?
A dry suit looks a bit like a thick wetsuit, but the main difference is that it has tight seals for your neck and your wrists to keep the water out. The seals can be made of latex, silicone or neoprene. The seals have to be tight enough to keep the water out. The dry suit also comes with attached boots to keep your feet dry.
Neoprene
The rental dry suits that we are using here at Scuba Iceland are made of neoprene. Neoprene suits are the warmest and most durable type of dry suits on the market. Perfect for Icelandic conditions! There are three different types of neoprene: crushed, compressed and regular. Compressed neoprene is the most common type, and can be found in suits from many different manufacturers. With a neoprene dry suit you need less undergarment, as the neoprene in itself provides insulation. A neoprene suit is very buoyant, and require more weight than other dry suits.
Trilaminate/membrane
This type of dry suit is made of three layers of durable material laminated together. It is a light weight suit, and less buoyant compared to neoprene. It does not provide much insulation and therefore requires a heavier undergarment. The material in a trilaminate suit will not affect the buoyancy much as you are descending or ascending, as it does not compress in the same way as a neoprene dry suit. This type of dry suit can be used both for recreational and technical diving. It is less popular in commercial diving as it is not as durable as other materials like rubber or neoprene.
What to wear under a dry suit?
What to wear under the dry suit depends on the water temperature. The benefit of a dry suit is that it can be used with just a thin base layer underneath if the water is not that cold, or it can be used together with many thick layers underneath to keep you warm even in the coldest water. See recommendation below:
For water no colder than 15 degrees C: A thin thermal base layer in fleece or wool (long underwear)
For water 15-10 degrees C: Dual base layers in fleece or wool. Wool socks
For water colder than 10 degrees C: Base layer in fleece or wool plus undersuit. Wool socks
Tips for your first dry suit dive
Buoyancy
When diving in a drysuit for the first time you will notice that it's a bit tricky to control your buoyancy. This is because the dry suit has a big impact on buoyancy, and you can use the dry suit to control your buoyancy, along with your regular BCD.
Most drysuits have an inlet valve located on the chest and an outlet valve on the left shoulder. Similar to your BCD you simply add gas to your dry suit to increase buoyancy by pressing the inlet chest valve, and let gas out to decrease buoyancy through raising your outlet shoulder valve.
Floaty feet
If you have already done a little bit of research on dry suit diving you have probably come across the phenomena of floaty feet. As you know, gas will always travel to the highest point underwater, as a result of the pressure difference. When diving in a dry suit, your body will be surrounded by gas, which will travel around in your suit when you move your body.
When lifting your feet higher than the rest of your body, the gas will automatically end up inside the boots of your dry suit, as this will now be the highest point. This will make your feet more buoyant than the rest of your body and make them feel "floaty". During your dry suit course you will get to practice how to avoid this from happening, and also practice how to recover from a potential "upside down" position.
Suit squeeze
When descending on your dive the gas in your dry suit will compress as a result of the surrounding water pressure. The deeper you go the more the gas will compress. You can feel that your suit is getting tighter and tighter the deeper you go. When reaching a depth of only 10 meters a suit squeeze can get painful.
Luckily there is a very easy way to avoid suit squeeze completely. The only thing you have to do is to equalize your dry suit by simply adding a bit of gas to the suit as you descend. When done correctly, you won't get any squeeze, even when diving very deep.