LOCATIONS AND DIVING SPOTS IN ICELAND
For those who don't know all the best spots for scuba diving in Iceland, you'll learn all about them in a moment. Whether it's a fissure where you can experience two continents at once or the cold Atlantic waters, you get to pick your desired sites!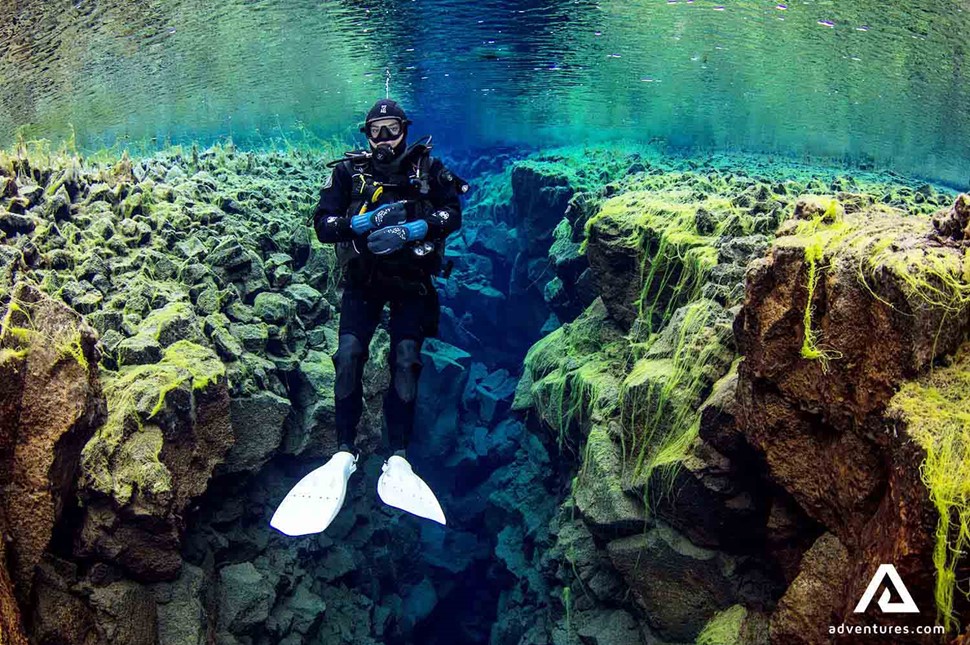 Silfra
Silfra is undoubtedly the most popular site to dive in Iceland. Located at Thingvellir National Park, the famous Silfra fissure provides visitors with a chance to dive in crystal-clear glacial water and incomparable visibility of 100m.
Thingvellir National Park's underwater landscape is so unique that it belongs to the UNESCO World Heritage list. Silfra Fissure in Iceland is the only spot in the world where you get to dive between two continents in one plunge The continental plates of North America and Eurasia meet at this precise diving spot, creating the incredible sub-aqua marine world of Silfra.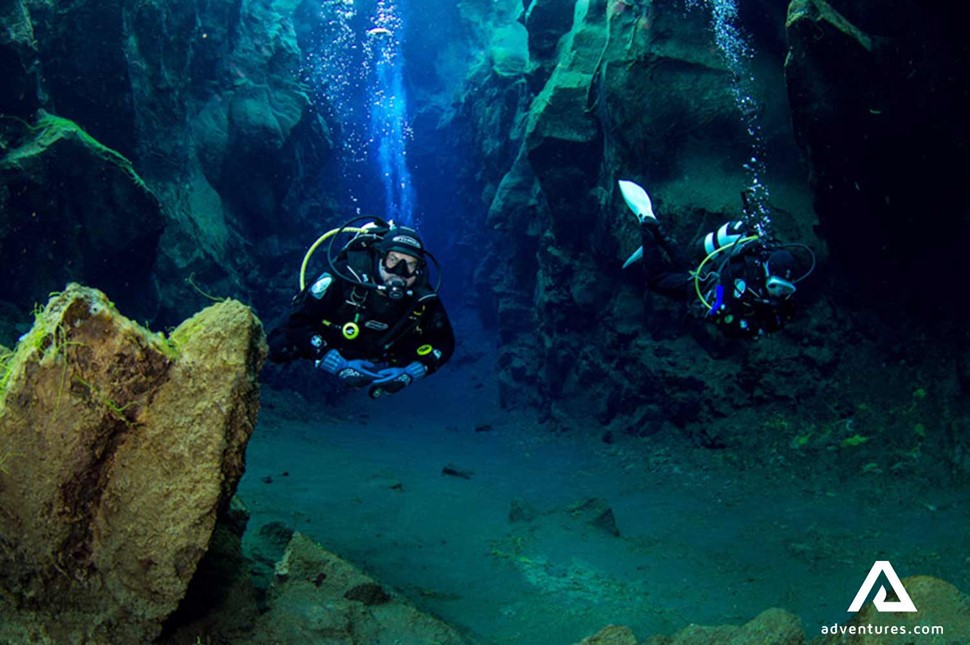 For those who are not yet dry suit certified, 2-day Silfra diving - PADI Dry Suit course is the way to go.

If you already hold a PADI Dry Suit certificate and have your mind set on Silfra alone, join our half-day Silfra diving adventure.  

If you are in for a bigger adventure, check out our Tectonic Diving tour for a whole day of diving. Silfra is one of the two featured locations. 
Bjarnagjá
With Bjarnagjá fissure being so closely situated to the Atlantic Ocean, it merges both freshwater and coastal diving. As its saltwater has a significant impact on the ecosystem, you can observe rare flora and fauna. The fissure is filled with coral, pink sea anemones, and elongated eels.
Less than an hour away from Reykjavik, Bjarnagjá is historically known as a crab hatchery. The 18-meter lava hollow has an old shipwreck that you can discover up close while diving. Because Bjarnagjá has isolation on both sides, there are no waves. This ensures an enjoyable and tranquil diving experience.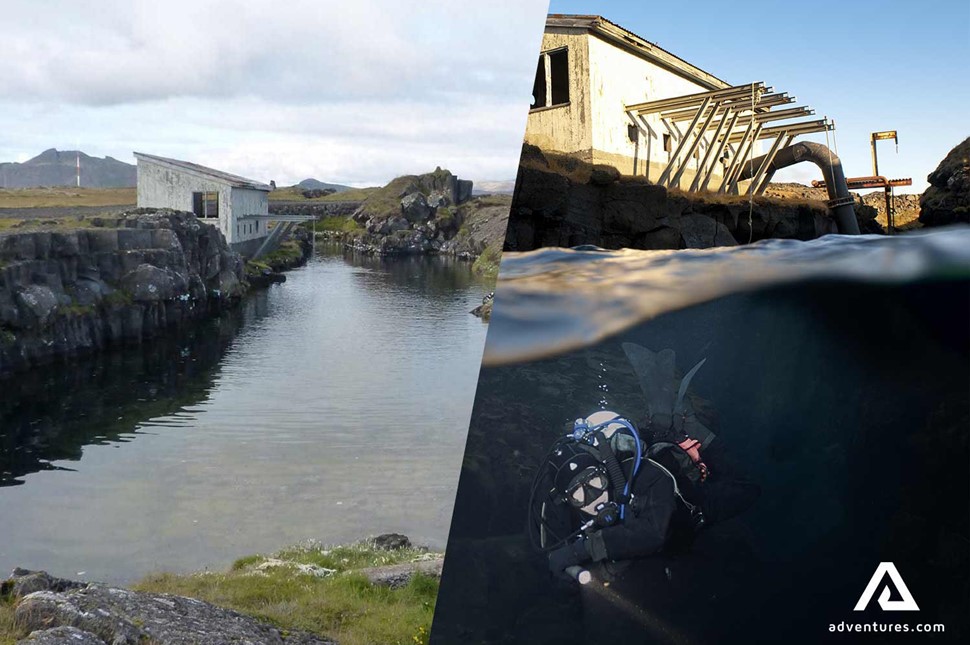 Tours available: 
Discover Bjarnagjá during our Geothermal diving tour, which is a once-in-a-lifetime opportunity to explore underwater geothermal activity in two separate diving locations in Iceland  
If only Bjarnagjá interests you, select it as a location for a half-day Iceland diving tour 
Davíðsgjá
A 21-meter deep crack in Lake Thingvellir, Davíðsgjá is like a relative of Silfra that is slightly spookier and longer. Weather conditions dictate available visibility but most of the time it reaches around 100 m, inviting you to dive for hours on end. Even though Davíðsgjá is often compared to Silfra, this diving spot is unique in its own way and is popular among locals.
The depth of the crack creates a long-lasting impression. The scale of vastness and underwater architecture work together as a pair, so you can roam the water freely and explore distinct lava compositions. If you're lucky, you might get a chance to swim alongside large trout. For those who prefer less touristy diving spots, you are guaranteed to enjoy Davíðsgjá.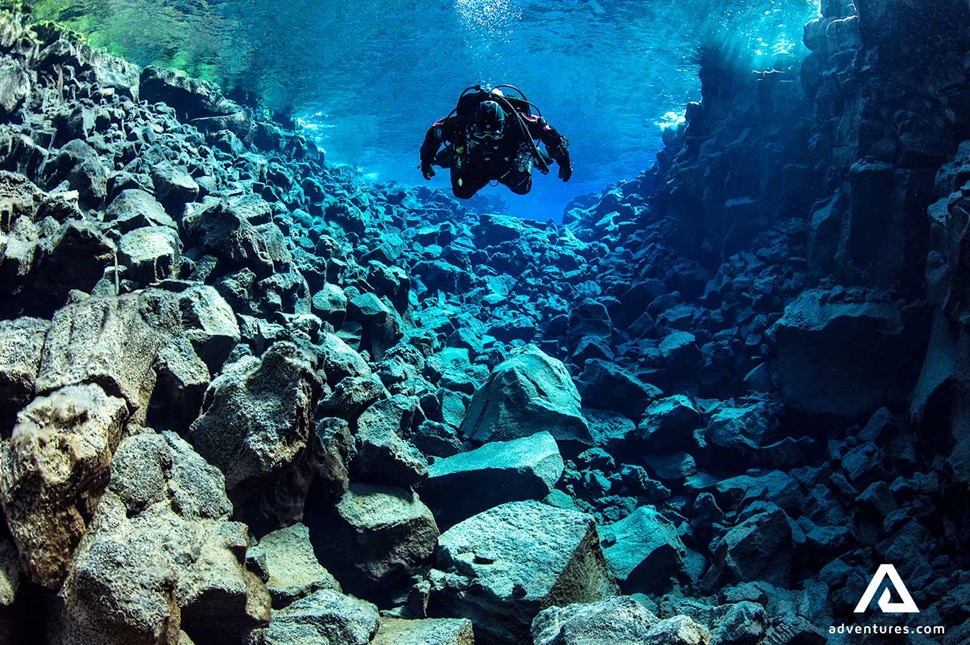 Tours available: 
Combine Davíðsgjá and Silfra into an unforgettable full-day diving adventure with our Tectonic Diving Tour. 
To explore the depths of Davíðsgjá alone, book our half-day diving tour and choose Davíðsgjá as your tour location. 
Garður
Garður is a former fishing pier that combines the best of what coastal diving has to offer. Situated in the Reykjanes peninsula, this diving spot is abundant in marine wildlife where you can explore dozens of species of fish and algae together with kelp forests and pink coral.
When coastal diving, it's worth having in mind that you get less visibility than diving in freshwater fissures. Yet, depending on the season and when the conditions are right, the visibility can go up to 11 meters. If you get close to the bottom, you're likely to befriend camouflaged flounders and other sea inhabitants.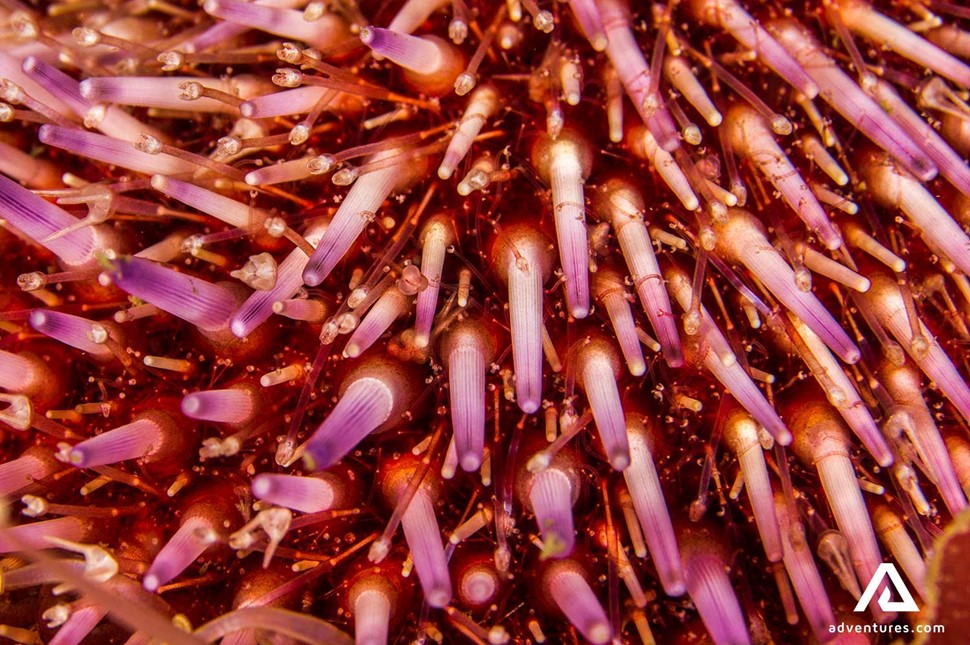 Tours available: 
Garður is part of our Coastal diving tour, the perfect opportunity to discover Iceland's best ocean dive sites 
Explore Garður during a half-day Iceland diving trip 
Kleifarvatn
Located on an active volcanic area, Kleifarvatn is a geothermal lake and it's the place where divers get to create some of the most extraordinary memories. With no freshwater flow, the lake is still and dependent on groundwater resources. The first thing you notice once you get there is the strong smell of sulfur, but once you dive into the water, what's beneath definitely makes up for it.
You get to feel slight rock vibrations due to the underneath pressure, see the air bubbles being pushed through the crater up to the surface, and encounter many more unique natural phenomena. All this makes visiting Kleifarvatn an experience that you won't want to miss!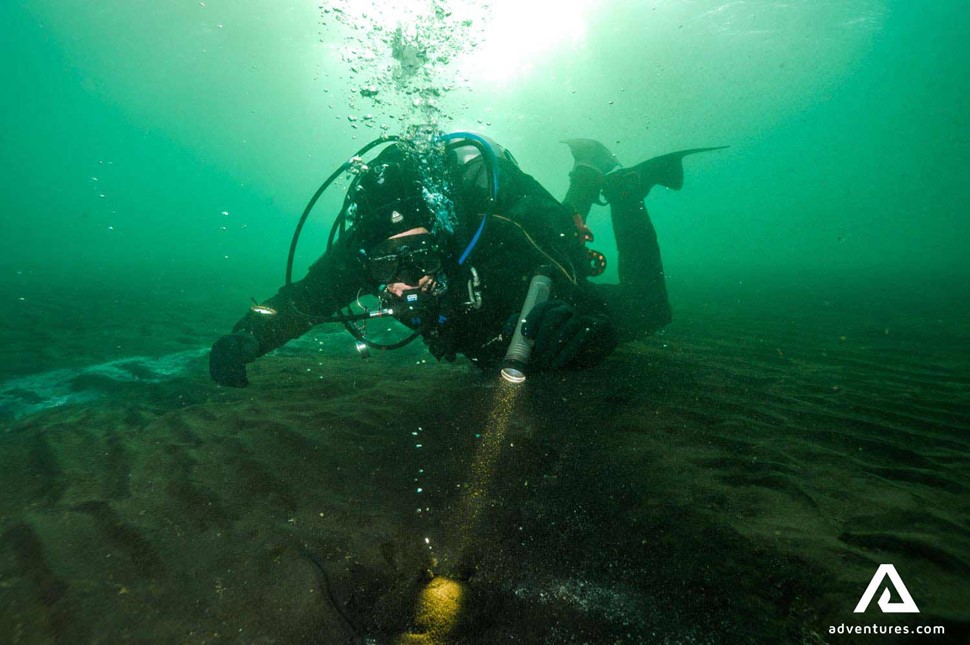 Tours available: 
One of the two locations included in our Geothermal Diving tour is Kleifarvatn. Book the tour for an entire day of discoveries!
If it's Keifarvatn alone that you'd like to explore, consider a half-day diving tour at this lake. 
Fisherman's Crack
Embark on an adventure through the pillars of an aged shipping pier in Hvalfjörður (The Whale). Located in Lake Þingvallavatn, this diving spot is popular for its rare ecosystem and fissures. During your dive, you'll visit multiple cracks ripped open on the sides, of which one will be your destination for in-depth underwater explorations.
Once you're diving in Fisherman's Crack, you can expect to find tons of young lava rocks, which create a hideaway and a home for fish. The water is rich in minerals and the ground is coated in vegetation.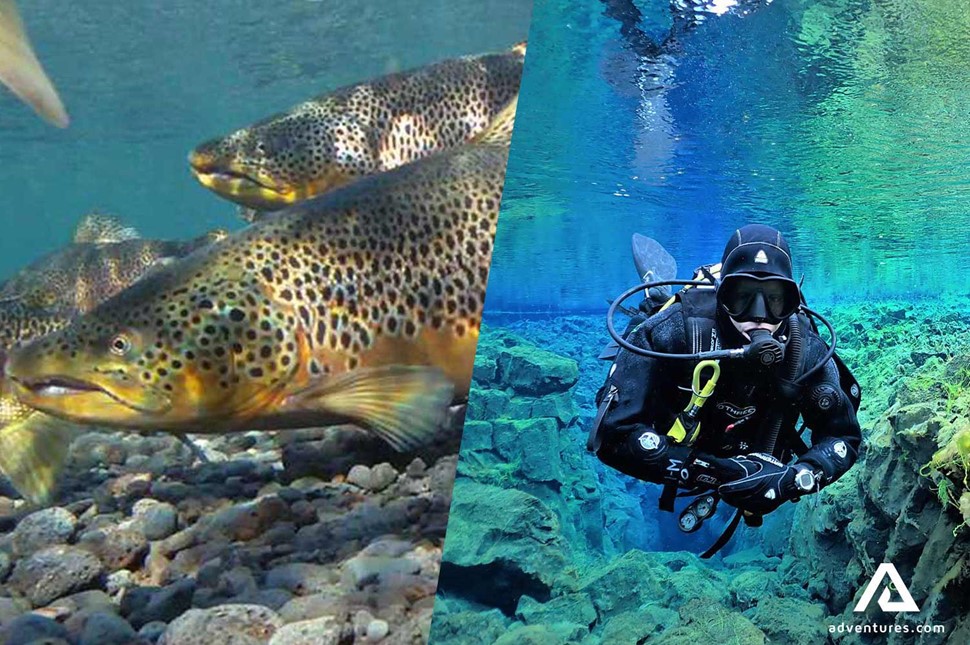 Tours available:
Fisherman's Crack can be visited during a half-day diving tour or is used as a substitute during other tours, depending on weather conditions, if they don't permit visits to the primary sites. 
Abandoned Jetty
Embark on an adventure through the pillars of an aged shipping pier in Hvalfjörður (The Whale Fjord). The stars of the sea show are sea snails and starfish, but you also get to explore the unique macro like nowhere else. Don't be surprised to see masses of nudibranchs nesting in the giant leaves of kelp, growing close to the pier like ivy.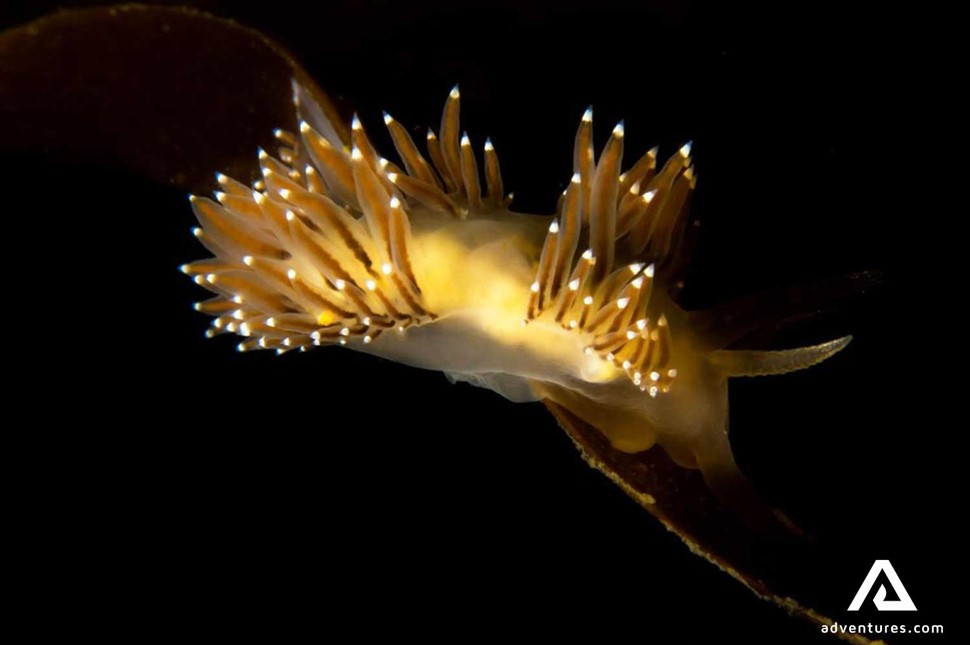 Tours available: Abandoned Jetty is available as a location for a half-day diving adventure or can be used as a substitute location during other tours due to weather conditions. 
ABOUT DIVER TRAINING AND PADI CERTIFICATION IN ICELAND
PADI is a world-renowned and acclaimed diver training organization. When you train for PADI certificates, you get to prepare for various challenges experienced in different waters.
In most cases, PADI Open Water and Dry Suit certifications are all you need if you want to book a diving tour with us. With so many PADI levels and courses out there, it can be difficult to wrap your head around where to get started. For your convenience, you can make your recreational dives count as your learning experience. Then you not only get to experience some of the top diving spots in the world but also do it with a new scuba-diving certificate!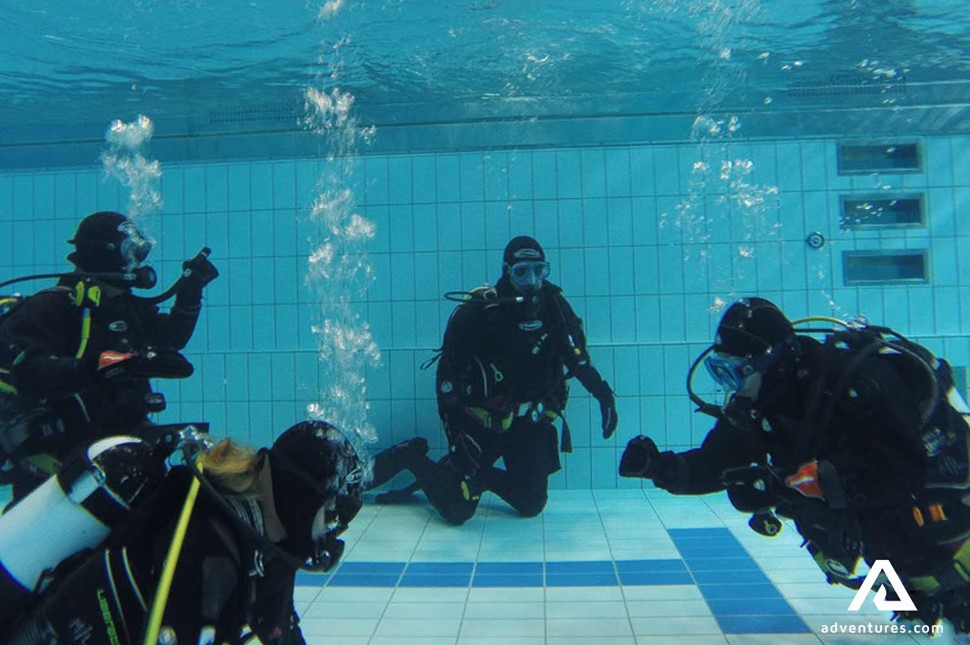 At our Diving Center, we have on offer all PADI training and certifications that might interest you. Please note that most PADI courses have a minimum requirement of at least two participants or in some cases, more participants are needed. Find a diving buddy to join PADI training together. Some experiences become even more memorable when you share them with a friend.
You can find more information about our PADI courses and contact our team at info@adventures.com to start planning your next diving adventure.  
OUR DIVING INSTRUCTORS
Our Diving Center team is eager to share their knowledge and show you the underwater wonders of Iceland.
Meet your future scuba diving guides and instructors: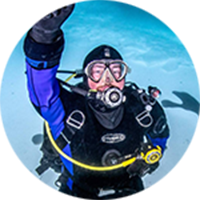 Nick
"Captain Light"
Nick got nicknamed Captain Light because he also leads the famous Northern Lights hunts in winter. Growing up as a diver in the Red Sea, Nick soon realized teaching and guiding divers was a passion to be shared. He also worked as an oil and gas diver, so he simply cannot leave a single rock, shell, wreck or cave unexplored! Having been a part of the Arctic Adventures family for over 4 years, Nick knows the ins and outs of top diving spots around Iceland and is ready to plan your next diving adventure.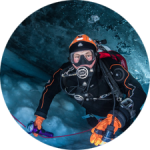 Kuba
Aquaman
Kuba is our resident adventure man. He dives under ice, drives super trucks, snowmobiles on glaciers, and that's just the tip of the iceberg! A true explorer, Kuba will take you on even the most extreme diving adventures as long as you are ready for them.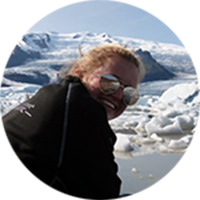 Becca
Miss Media
Becca is our diving/social media selfie queen. Arriving in Iceland as a diver from the UK, she demonstrated mad skills in her dry suit and soon developed into an exceptional diving guide. Plus, she is an all-round selfie guru of Iceland's hot spots, so great pictures are guaranteed.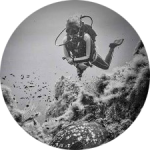 Eliska
Queen of the North
Coming from the Czech Republic, Elsika has made Iceland her home and loves to dive. She is a true explorer. Every day Elsika is in search of a buddy with whom to discover a new diving location in Iceland. Always with a smile on her face, Eliska will make your diving tour a happy experience even on a cold and rainy day.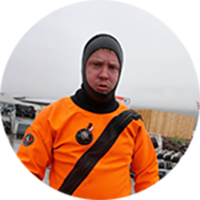 Halli
Resident Viking
Our resident Icelander Halli loves to dress in orange, so it's impossible to lose him underwater. On top of sharing his top level expertise in diving, Halli will have you smiling and laughing at all the tales and sagas of his country's great history.
DIVING SAFETY AND REGULATIONS
Most people are able to get certified and go scuba diving as long as they are in reasonably good health. There are a few health regulations you need to meet in order to safely scuba dive in Iceland. 
To join us for a dive on one of our tours, you need to: 
Be at least 18 years old and understand instructions in English.
Have a PADI Open Water and Dry Suit certification, or Open Water certification and a logbook with 10 logged drysuit dives in the last two years.
Provide a health certificate with physician approval if you're over 60 years old or have any medical issues.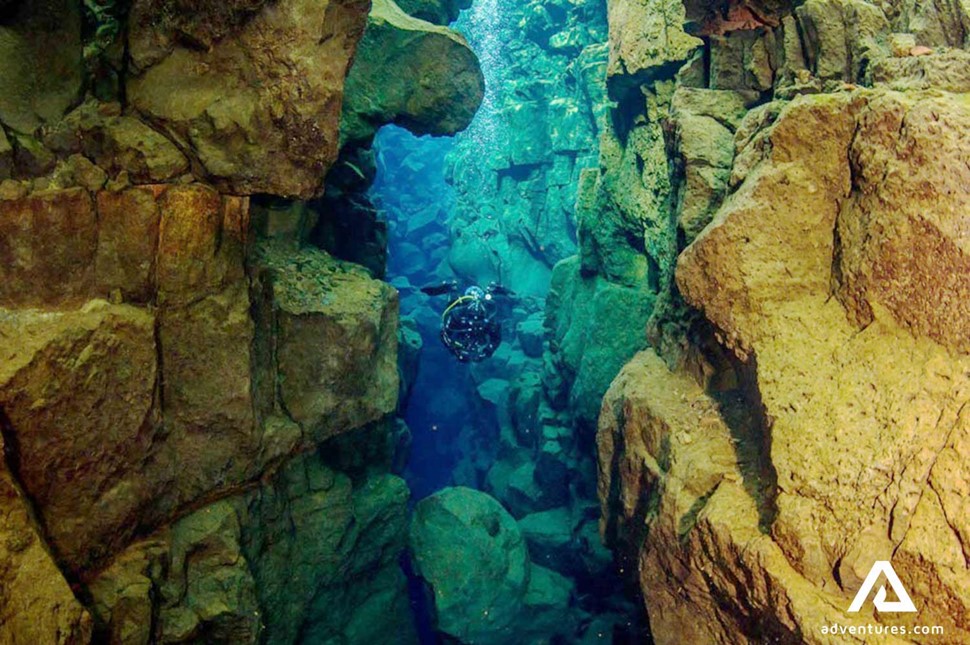 Fitness:
The approach to and return from some of the diving sites is approximately 200 meters. You need to be able to walk that distance while wearing full equipment. 
You are not allowed to go scuba diving in Iceland if you have or have had any of the following conditions: 
Inability to perform moderate exercise (swimming 500m and walking 600m)
A heart disease, heart surgery or heart attack
A lung disease
Pneumothorax (collapsed lung), chest disease or chest surgery
Head injury that resulted in the loss of consciousness in the past several years
Thrombocytopenia or other blood disorders
Colostomy or ileostomy
Epilepsy or conditions resulting in a sudden loss of consciousness
Obesity 
Note: Pregnant women are not allowed to go scuba diving.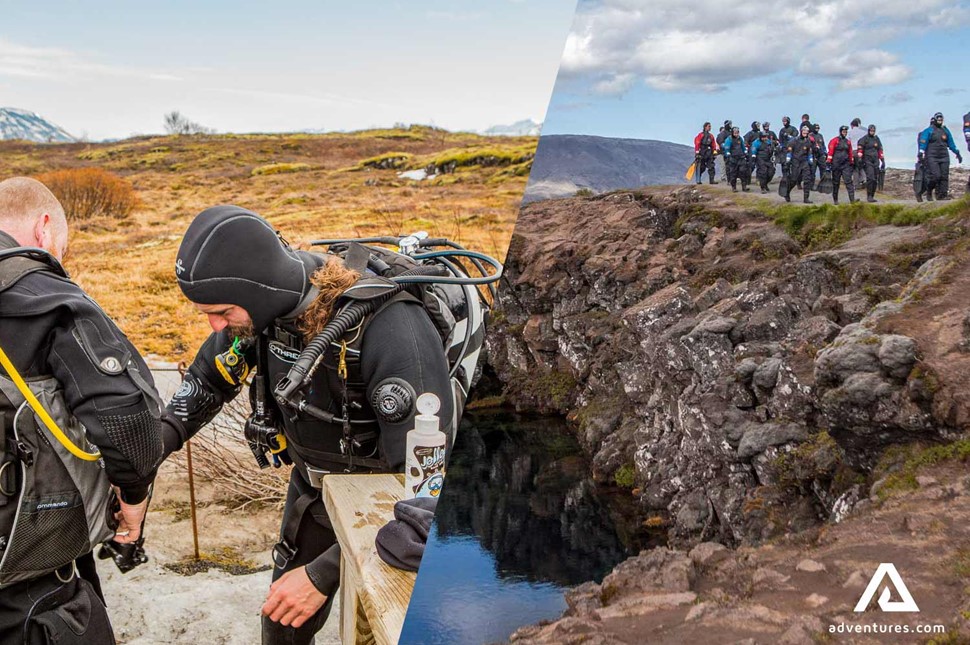 You are allowed to scuba dive if you have the following conditions and a doctor's note (in English) affirming you're fit to dive: 
Please familiarize yourself with scuba diving safety regulations in more depth by reading the health certificate. 
MORE ABOUT DIVING IN ICELAND
Interesting facts about diving in Iceland: 
Iceland's freshwater dives are considered the best in the world 
Silfra Fissure in Iceland has the best underwater visibility in the world at 100 meters 
Silfra dive site is open to divers all year round 
Water temperature at Silfra is around 2-3° C
Iceland's cold waters require dry suits when diving
You can get PADI Dry Suit certified in Iceland in just 2 days
Coastal diving tour allows you to sea dive in the Atlantic Ocean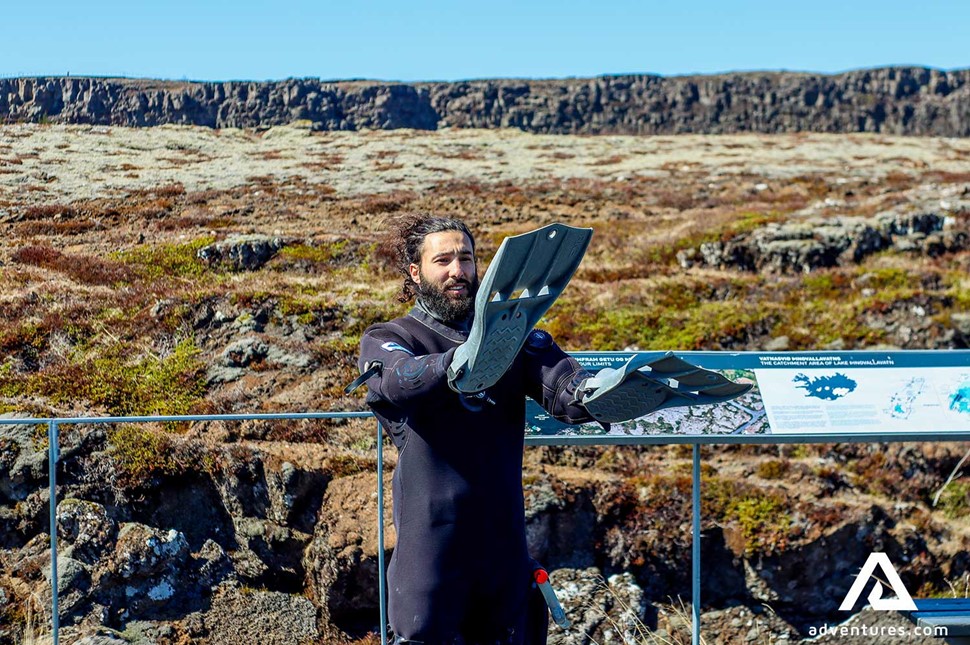 Best time to dive in Iceland:
Diving adventures are available year-round. Freshwater diving locations in Iceland like Silfra Fissure or Lake Kleifarvatn stay at consistent temperatures throughout the year. For example, Silfra is a steady 2-4 °C in all seasons. While that may sound chilly, with a dry suit you'll be ready to hit the water. Diving in Silfra as well as other locations in winter ensures fewer tourists and great visibility.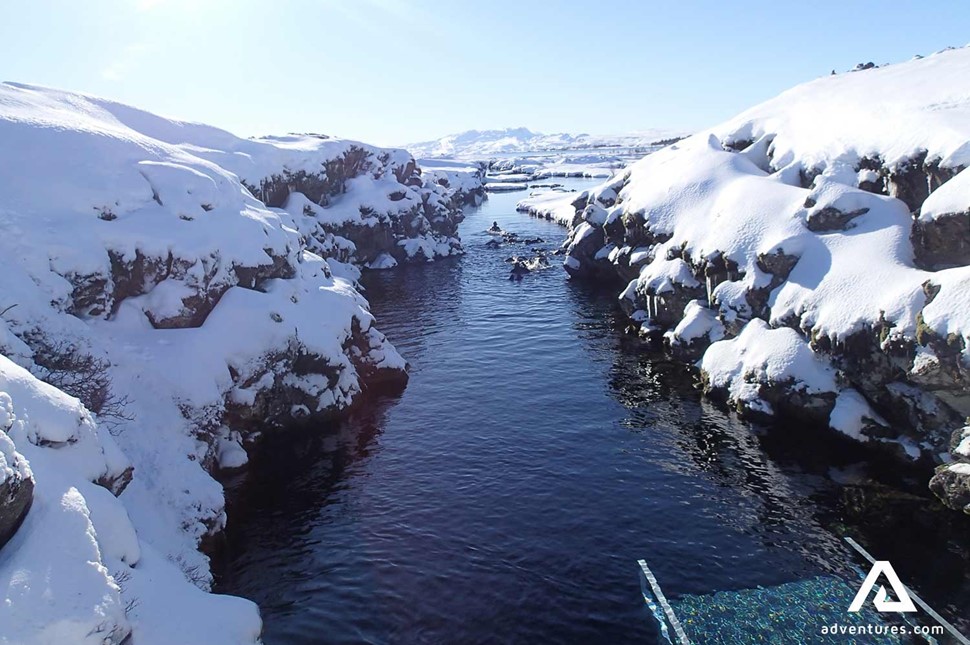 NO DIVING CERTIFICATE? TRY ICELAND SNORKELING TOURS INSTEAD!