The home of Europe's largest glaciers, imposing volcanoes, the Midnight Sun and peculiar cuisine, Iceland is a country that adventurous travelers are drawn to. Not sure where to begin your research? We have it all right here. Learn some basic, good-to-know facts about seasons, climate and traveling in Iceland in order to pack appropriately. Understand Iceland's road system, public transportation and internet connection options to avoid unexpected difficulties. Finally, read up on social etiquette norms in Iceland and cease worrying about standing out as a clueless tourist.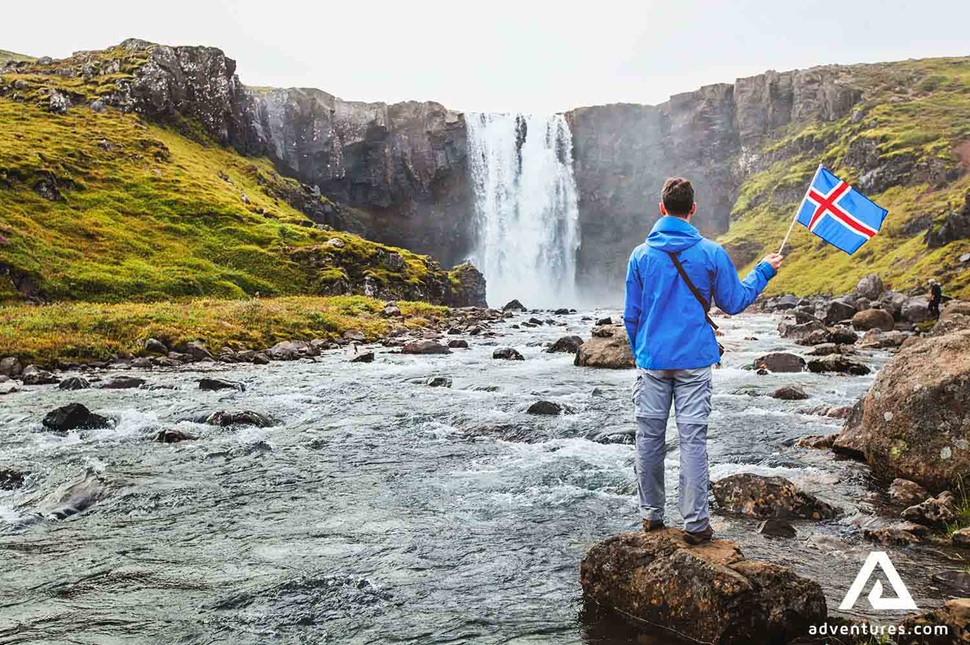 MAJOR CITIES IN ICELAND
This list is not necessarily about the size of the city. In fact, with only 130,000 people living in the capital, a major city in Iceland bears a slightly different meaning than in most countries. Each of these cities or towns are here because there is something culturally unique or economically significant about them. They're also just really interesting to visit!
Reykjavík - the capital city with around 130,000 inhabitants. Reykjavik is thought to have been the first settlement in Iceland. It grew to become Iceland's economic and cultural center, attracting about 2 million tourists every year. If you visit Reykjavik, you can proudly claim that you've visited the northernmost capital in the world.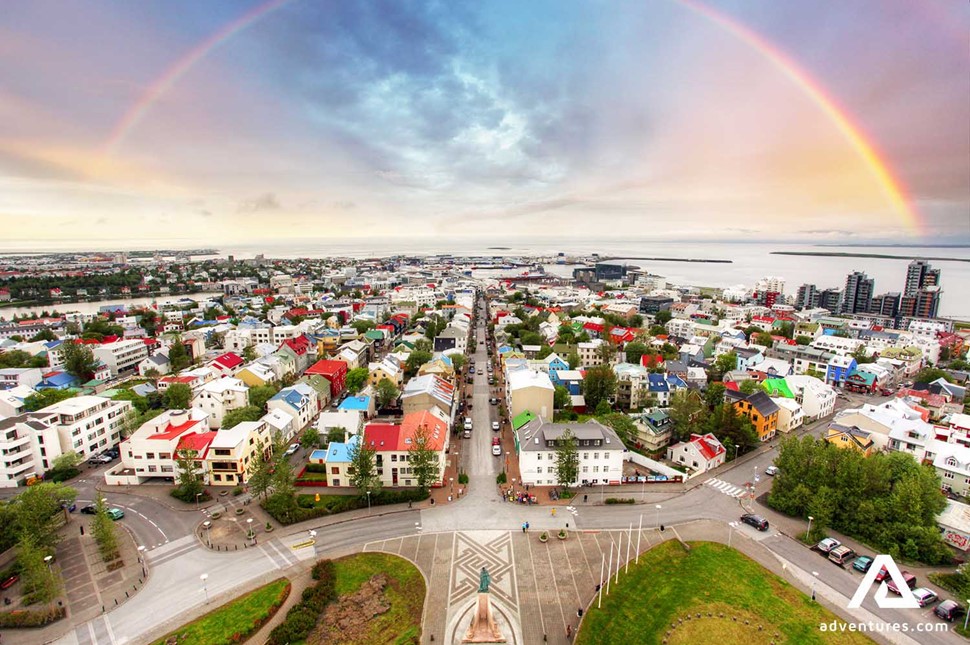 Hafnarfjörður - this port town with around 30,000 people is booming with industrial projects and urban activities. Every year many Icelanders and foreigners alike travel there to take part in the Vikings festival. It's a great way for people to understand what the everyday life of a Viking looked like and learn about their customs and traditions.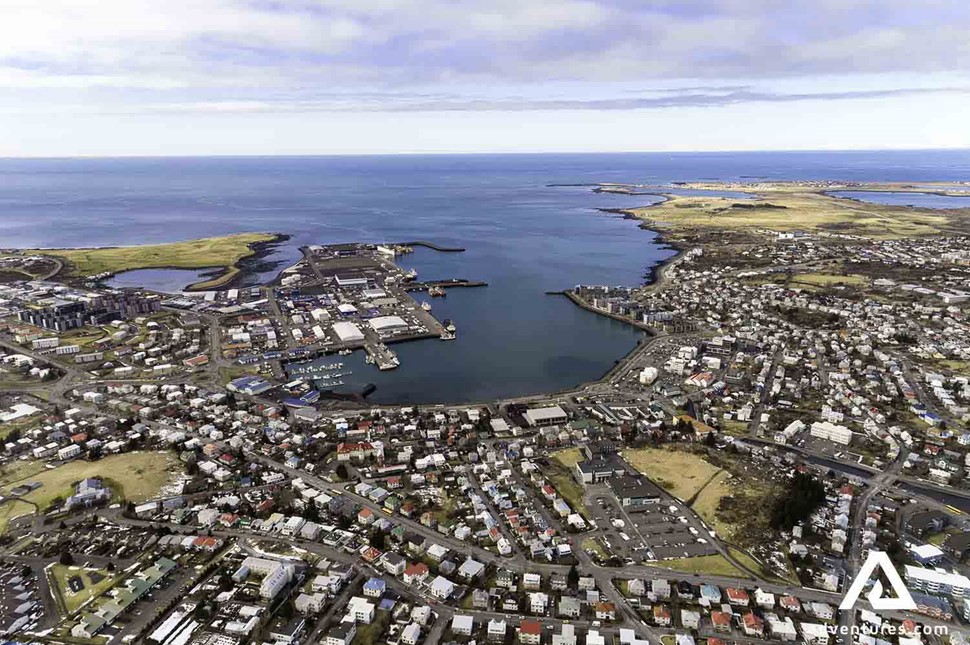 Akureyri - the capital of the North, Akureyri has free city buses, an ice-free harbor and one of two international airports in Iceland. You must visit the Botanical Garden while you're there! With over 7,000 plants, it's a true green oasis in the otherwise cold North.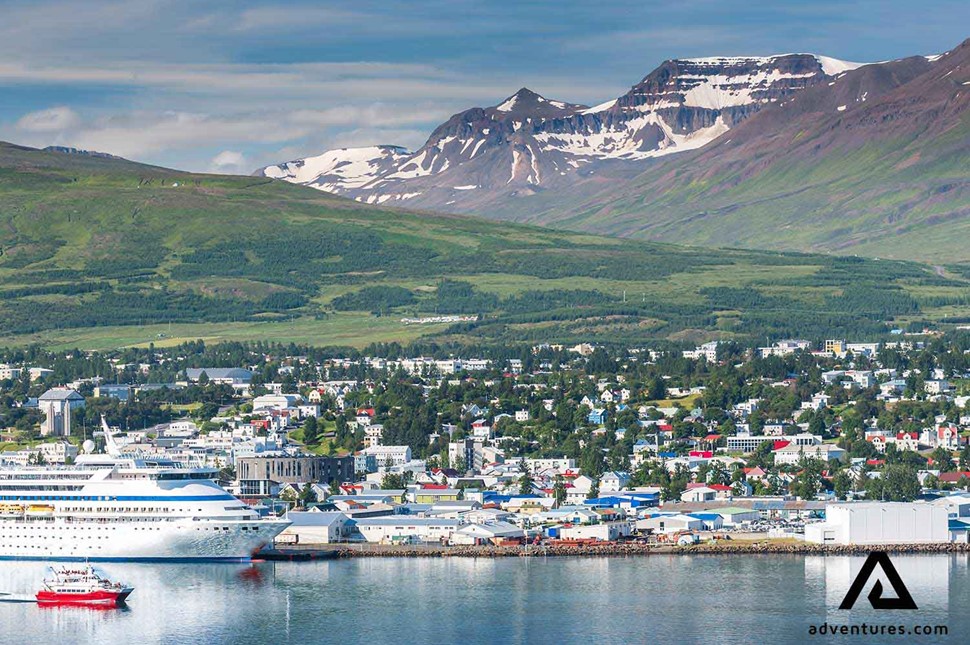 Reykjanesbær - it's not a city per se, but a municipality that includes three towns oin the Southern Peninsula that merged into one back in 1994. If you're all about learning the history of rock or pop in any country you visit, you must go to The Icelandic Museum of Rock 'n' Roll, located in Reykjanesbær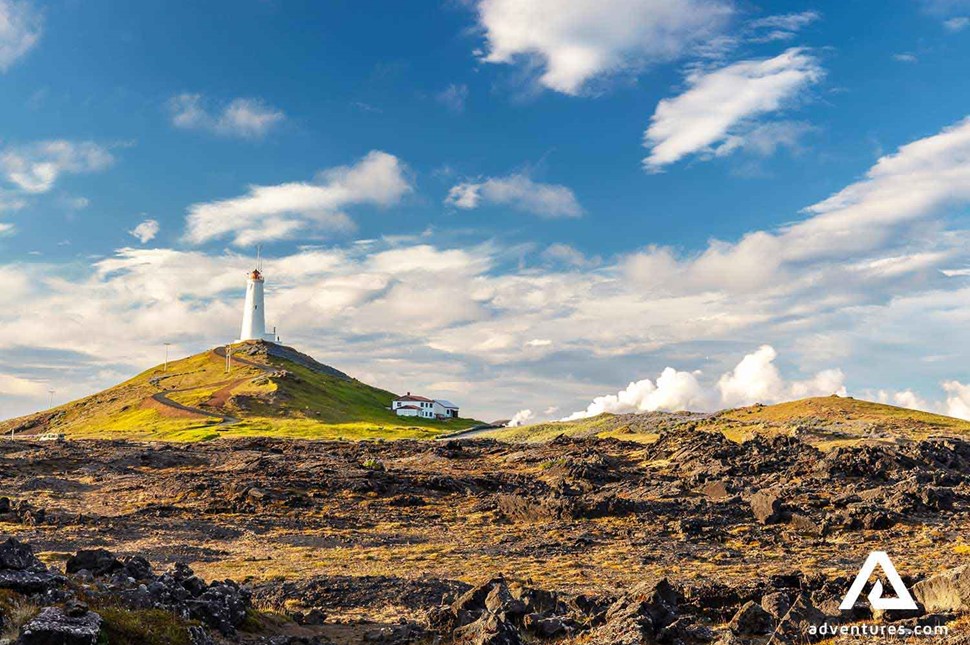 Selfoss - "foss" means waterfall in Icelandic, but unfortunately there are none in Selfoss. It does have a friendly local crowd of around 7,000 people, diverse local cuisine options, an outdoor swimming pool and a golf course.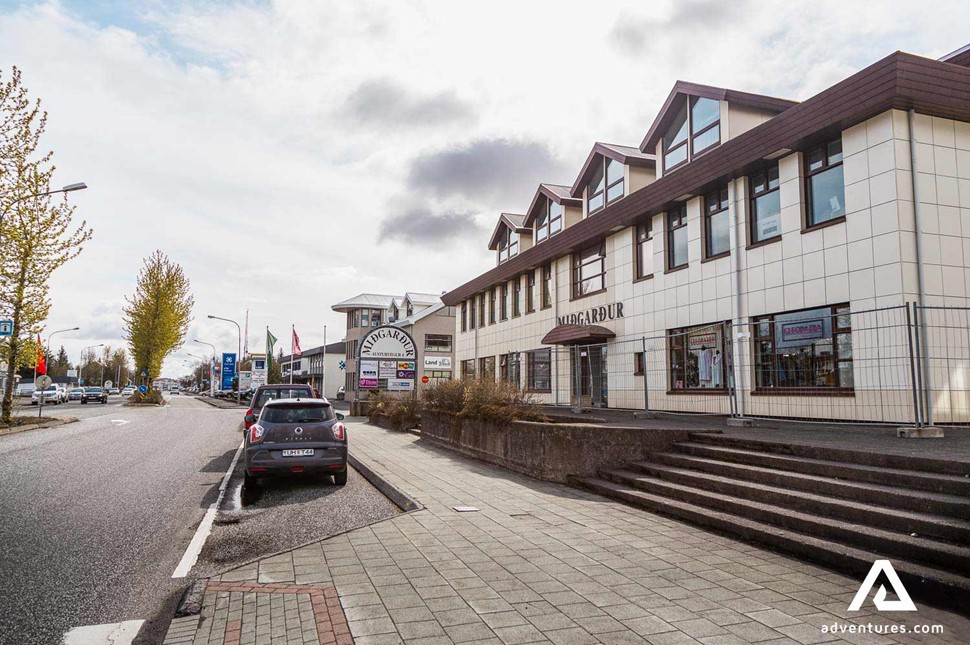 Akranes - the fishing industry is an inseparable part of Iceland, and that's what Akranes is all about.This city with a population of around 7,500 people has a sturdy economy and strong passion for football. It's worth visiting Akranes to see what life is like in a town that was built around fishing and fish processing.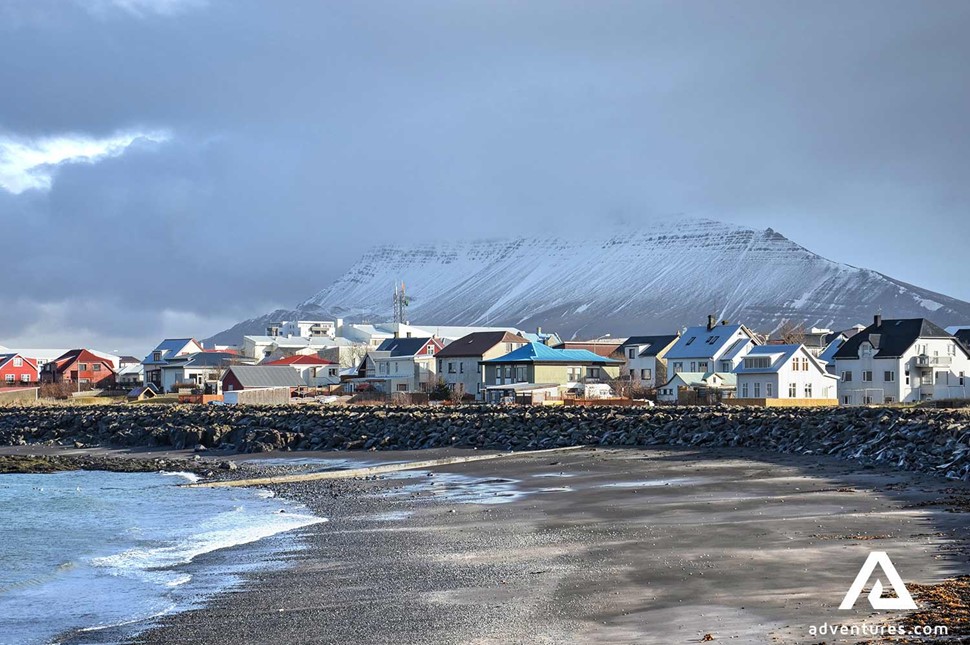 Húsavík - very tiny but very adorable, Húsavík is a town in the north known as the capital of whale watching.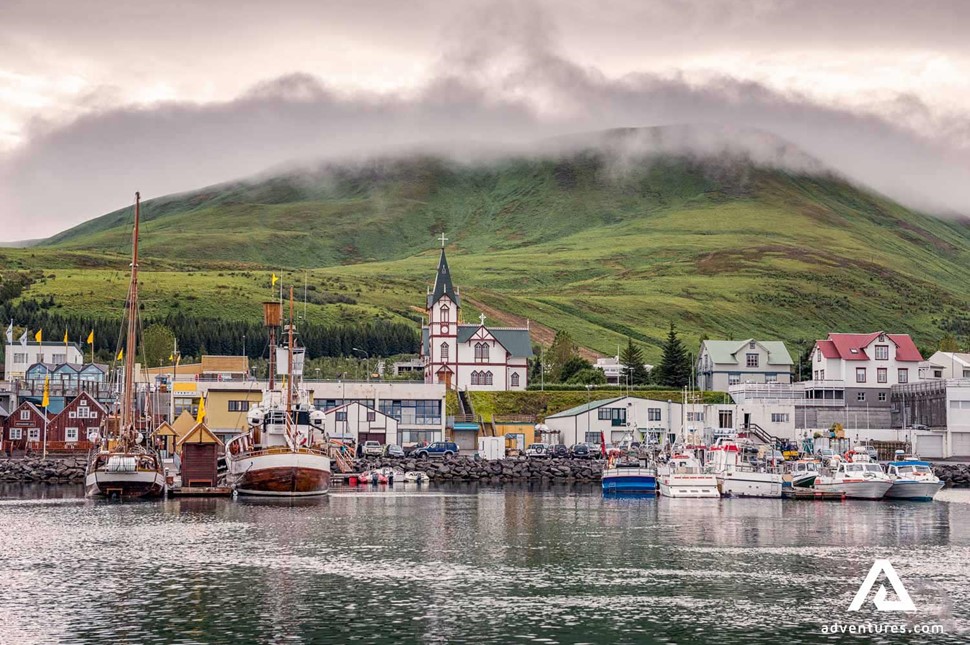 Garður - with a population of 1,500, this town features impressive lighthouses, a fishing pier and  top notch scuba diving locations.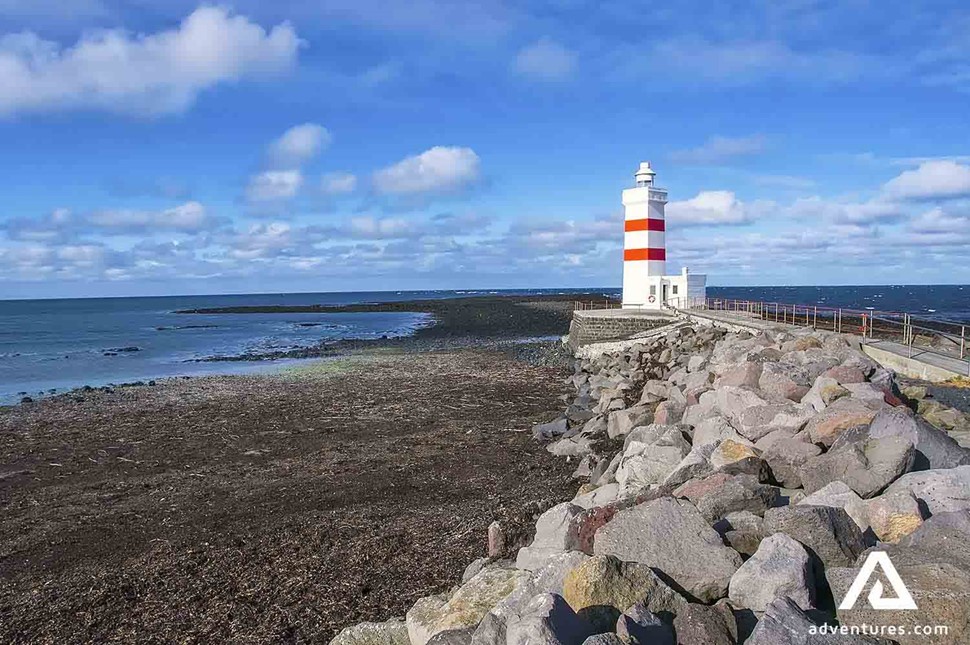 ICELANDIC CURRENCY
When you first get to Iceland and see everything priced in the thousands, don't be alarmed. That's just the Icelandic Krona (Íslenska Krónan). Depending on the exchange rate, 1,000 ISK is worth approximately 7 USD or 6 EUR, so it's not that bad when you put things into perspective.
Just like with most other countries, Icelandic money comes in coins and banknotes. 
Coins and their colors:
1 ISK - silver coins

5 ISK - silver coins

10 ISK - silver coins

50 ISK - gold coins

100 ISK - gold coins
Banknotes and people on them:
500 ISK - Jón Sigurðsson, who was the leading figure in Icelandic independence movement.

1,000 ISK - Brynjólfur Sveinsson was a famous Lutheran Bishop who is credited with preserving Norse Mythology, sagas and tales.

2,000 ISK - Jóhannes Kjarval, a well-known and highly appreciated painter in Iceland.

5,000 ISK - Ragnheiður Jónsdóttir was a powerful patroness of the arts and expert embroiderer who actively encouraged the education of young women. She is the only female depicted on the Icelandic krona banknote. 

10,000 ISK - a poet and a naturalist, Jónas Hallgrímsson is one of the most well-known figures in Iceland's cultural life.
Because paying for such large sums in cash is inconvenient, there is little physical money, especially low value coins, in circulation. Iceland relies heavily on credit and debit cards and you can usually pay using them even when you're buying fresh fruit or souvenirs from a market vendor.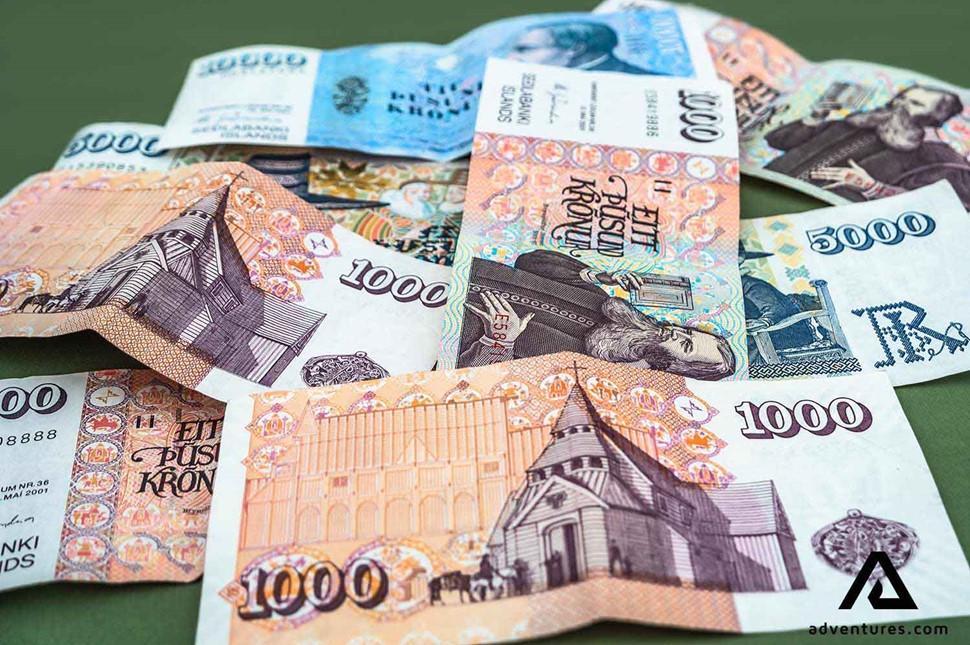 ICELANDIC CLIMATE AND SEASONS
Known for sudden changes in weather, Iceland is cloudy and windy most of the year. While that might sound discouraging, Iceland's weather certainly adds to its unique charm and can be enjoyed if embraced and prepared for.
Spring
With nature awakening and valleys becoming green again, spring is the perfect time for those looking to avoid the influx of summer tourists. Among the usual highlights, such as the Golden Circle, glacier hiking or whale watching tours available year round, you can also see adorable puffins. They migrate back to Iceland in mid-April and can be spotted fishing.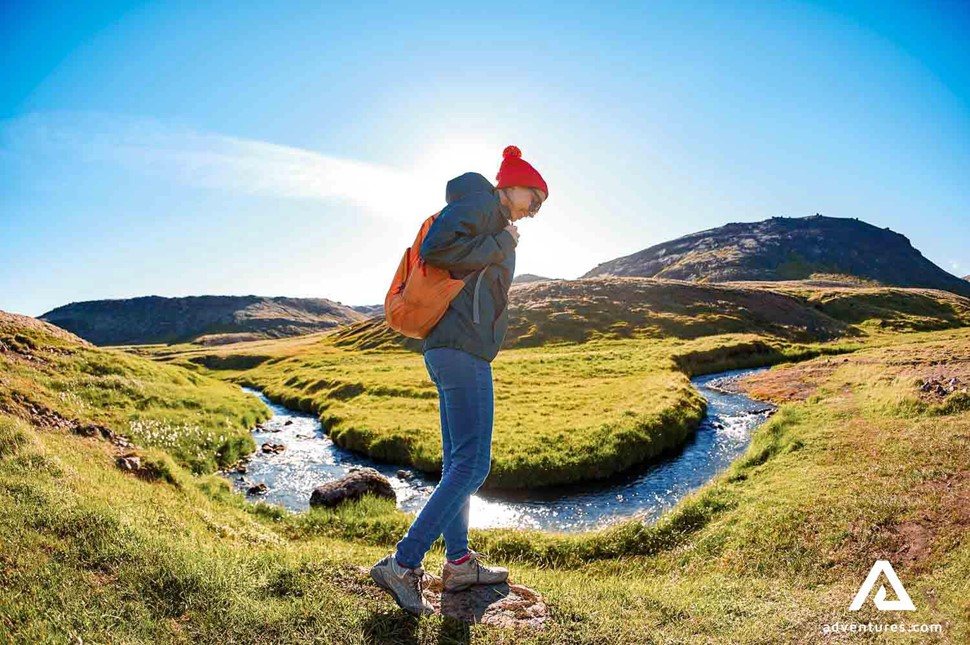 Summer
Summers are often surprisingly warm for a country called Iceland but you can always expect a few cloudy days. With nature blooming, the summer period is when landscape photographers flock to Iceland to capture miraculous content.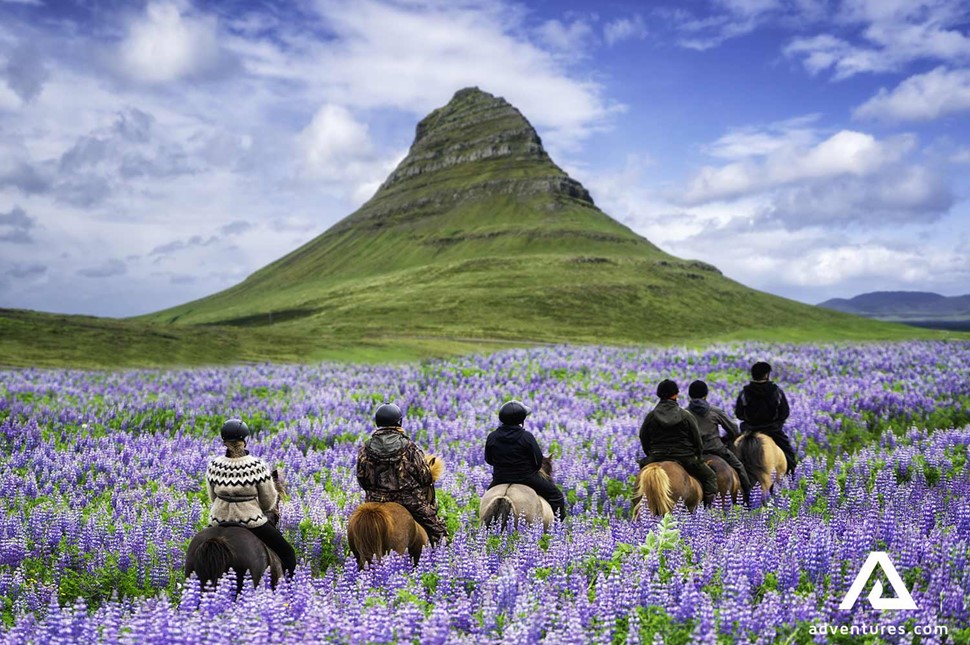 The Midnight Sun offers unique opportunities for hiking and golfing at night, which is not anything you'll get to experience in most other places.
Beware that summer is the busy season in Iceland, so make your bookings in advance to ensure a spot on a tour or in a hotel bed. 
Fall
Fall is when you can combine Northern Lights hunts and nature attractions with few tourists visiting them. The cooler temperatures start creeping in, painting Icelandic moss and fields in all colours imaginable. A lot of tour and travel agencies offer good deals for the fall, and most activities are still in full force. Plus, fall is when Iceland's cultural landscape blooms. Numerous art, music and film festivals liven up what could otherwise be gloomy fall afternoons.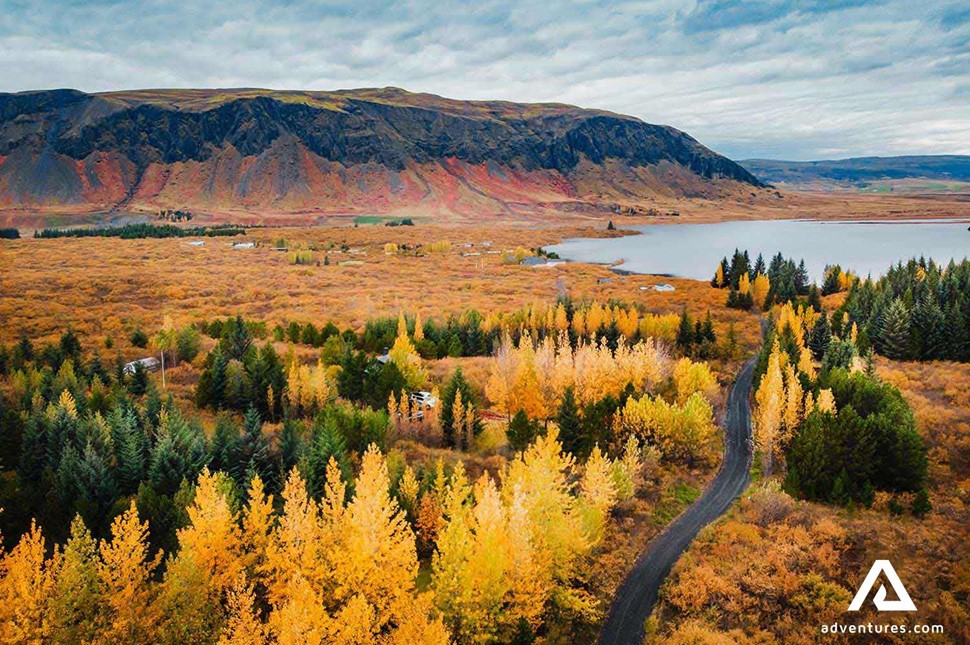 Winter
The winters in Iceland are not as intimidating as the country's name might indicate. The wind and precipitation do make them harsh, but the temperatures often stay above freezing point. This is especially true in the southern areas, which are influenced by the Gulf Stream.
The locals go about their business as usual during the winter and most activities are easily accessible. In fact, on top of the usual options, which include soaking in geothermal pools or enjoying horseback riding, wintertime adds ice caving and various snow activities to the list.
Of course, the highlight of the season and the attraction responsible for the majority tourism in Iceland is the Northern Lights. Hunting them outside the city will be among the most spectacular experiences you get in Iceland.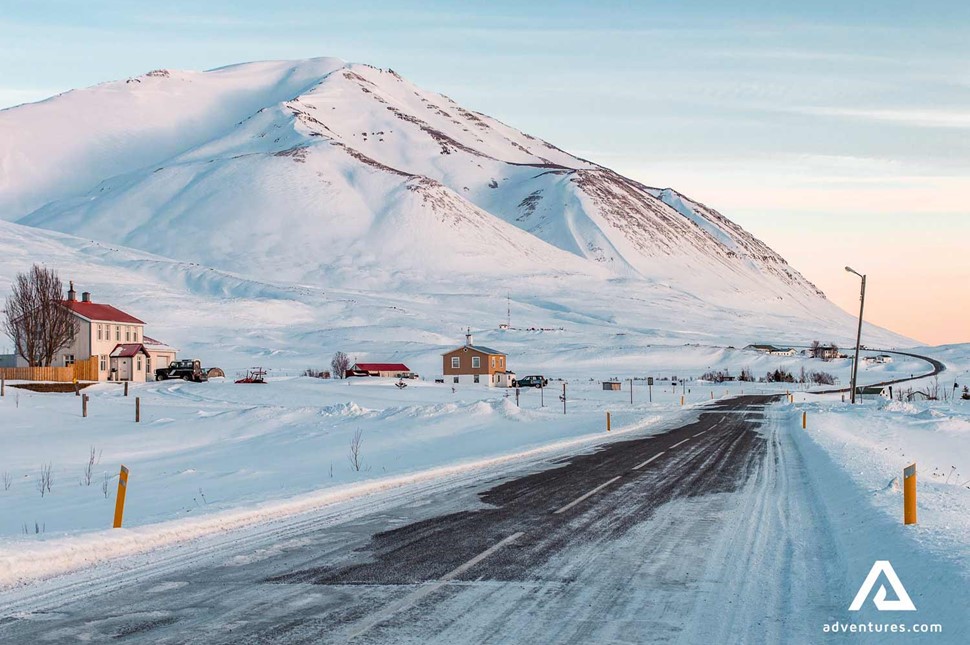 HOLIDAYS IN ICELAND
Christmas

- December 24th-26th. Iceland has 13 Santa Clauses, almost guaranteed snow and a big possibility of Northern Lights, so visiting Iceland during the Christmas season is well worth it.

The New Year's celebration

- December 31st-January1st. Icelandic people enjoy the New Year's celebrations in full swing. If you happen to be in Iceland when the clock hits 12am, you'll be a spectator of a firework show lasting for hours.

Maundy Thursday

- Thursday before Easter.

Good Friday

- Friday before Easter, the day of fasting and penance.

Easter Sunday and Monday

- April 4th-5th (2021).

First day of summer

- first Thursday after 18th of April. Icelanders find this day very important since it marks the end of a challenging winter.

Labour Day

- May 1st.

Ascension Day

- Thursday forty days after Easter.

Whitsun

- 50th day after Easter Sunday.

Whit Monday

- day after Pentecost, May 24th (2021)

Icelandic National Holiday

- June 17th. On this day, all Icelanders celebrate the foundation of The Republic of Iceland back in 1944.

Commerce Day

- first Monday in August, August 3rd (2021). First started as an idea to give commercial workers some rest in the summertime, it is now a long weekend of festivities and celebrations.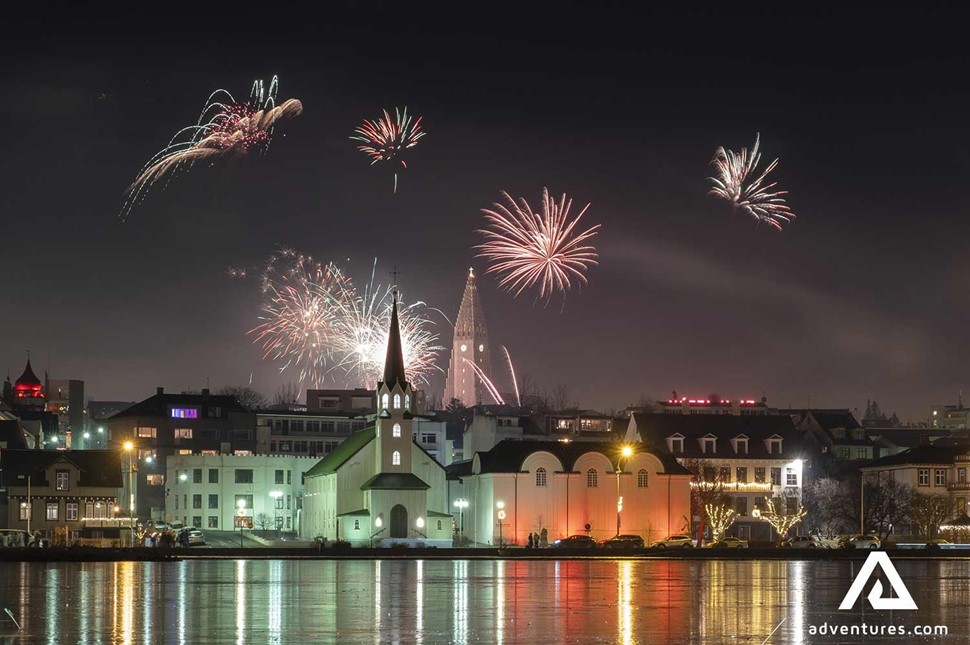 ENTERING ICELAND
Visa
Iceland belongs to the Schengen Area, meaning quite a few countries can travel to Iceland for up to 90 days with no visa requirements or travel restrictions. The list of countries whose citizens need a visa to enter Iceland can be found on the official website of Iceland's Directorate of Immigration.
Airports and Ports
Iceland has two international airports, Keflavik airport and Akureyri airport. At the moment, Akureyri airport only handles flights to Greenland.
At Keflavik airport, on the other hand, you can fly to and from 100 destinations with more than 25 airlines. It is the hub of international travel in Iceland.
Those who like to travel by sea find Iceland quite accessible as it has 5 cruise ship ports, Reykjavik and Akureyri ports being the main ones. Most cruise ships arrive during the summertime.
If you're looking to bring your car to Iceland and travel around, Smyril line is the answer. This car ferry from Denmark to Faroe Islands to Iceland operates around once a week.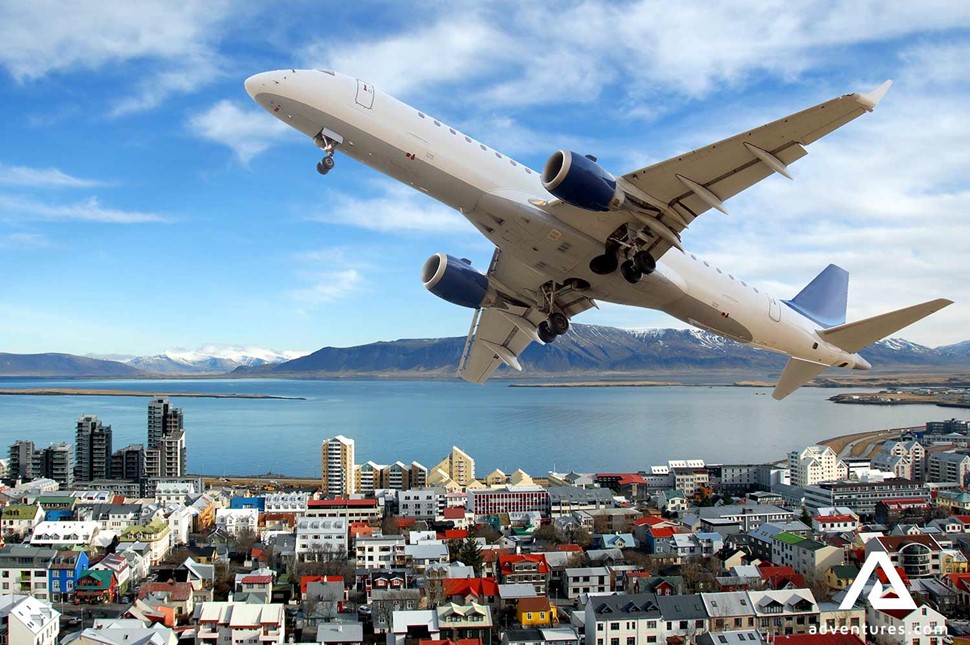 TRAVELING IN ICELAND
Driving
There five types of roads in Iceland:
Primary roads

- well-maintained roads in urban areas or connecting cities. The most famous one is the Ring Road, which circles the country. Primary roads can be used even in harsh weather conditions as they get cleared often.

Primary highland roads

- also known as F-roads. These are routes connecting nature attractions in the highlands and are usually closed during winters. F-roads aren't tarmacked, so they should only be driven on using a 4x4 even during the summer.

Secondary roads

- these are the roads that don't go too far into the interior of the country. They connect a primary road with a nearby nature attraction or a small populated area. They are perfectly fine to drive on using a simple car during the summer, but wintertime requires a 4-wheel drive.

Local access roads

- these roads connect private properties, such as farms, as well as remote churches or factories, with primary or secondary roads. They are usually maintained by the owners of those properties, so their conditions might vary.

Highland roads

- another type of F-road. They are small roads used to explore the highlands. Just like primary highland roads, they are usually closed at winter times.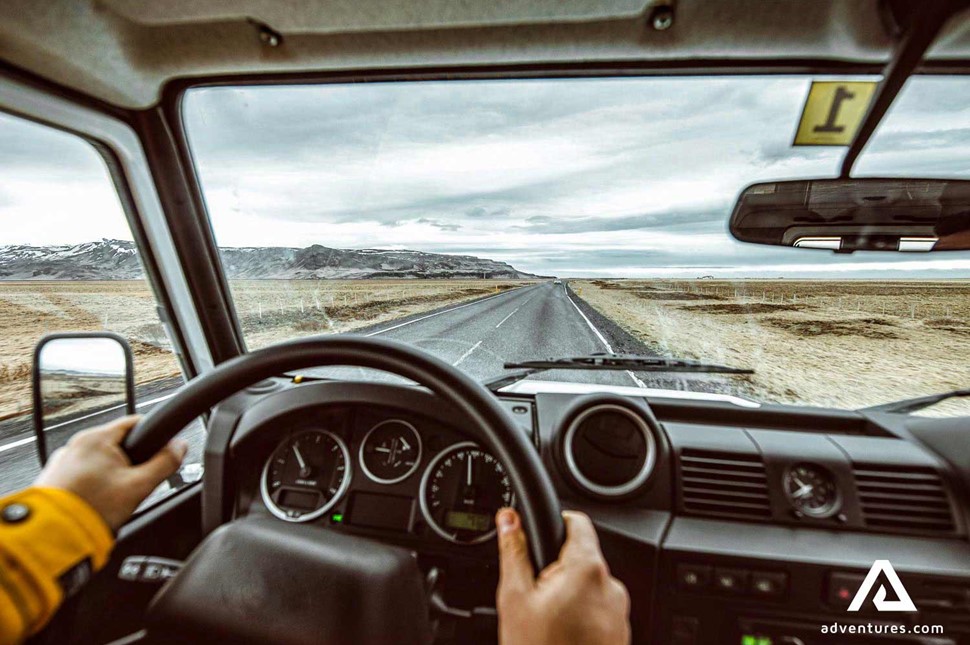 Speed limits: 
30km/h - residential areas

50km/h - cities, populated areas

60km/h - throughways

80km/h or less on gravel roads (by general agreement)

90km/h - paved roads
Traffic enforcement cameras are used extensively all across Iceland, and the fines can go over 100,000 ISK (715 USD, 608 EUR), so it's better to slow down. At points, you'll notice a square sign displaying a white number on a blue background. That's a recommended speed sign. The legally permissible speed limit might be higher than that, but take these signs seriously, they are probably there because of weather conditions or the likelihood of livestock on the road.
Public transport
Buses
Iceland is easily accessible if you want to travel by bus, but you'll need to make plans in advance. Strætó bs is the company which operates public buses all over Iceland. Their website straeto.is serves as a route planner. It allows you to choose your starting location and destination and puts together the most convenient trip. If you're not sure where you'll be going and want to see your overall options, take a look at this page containing all bus routes in Iceland. 

City buses are also operated by the same company. They are bright yellow, you won't mistake them for anything! You can pay in cash using the fare collection box next to the driver, get a day pass or a bus card, but by far the most convenient way is to use the Strætó.is app available on all devices. Track live location of any bus you need, discover various routes, pay for your tickets and get real time updates on your trip. Traveling doesn't get easier than that.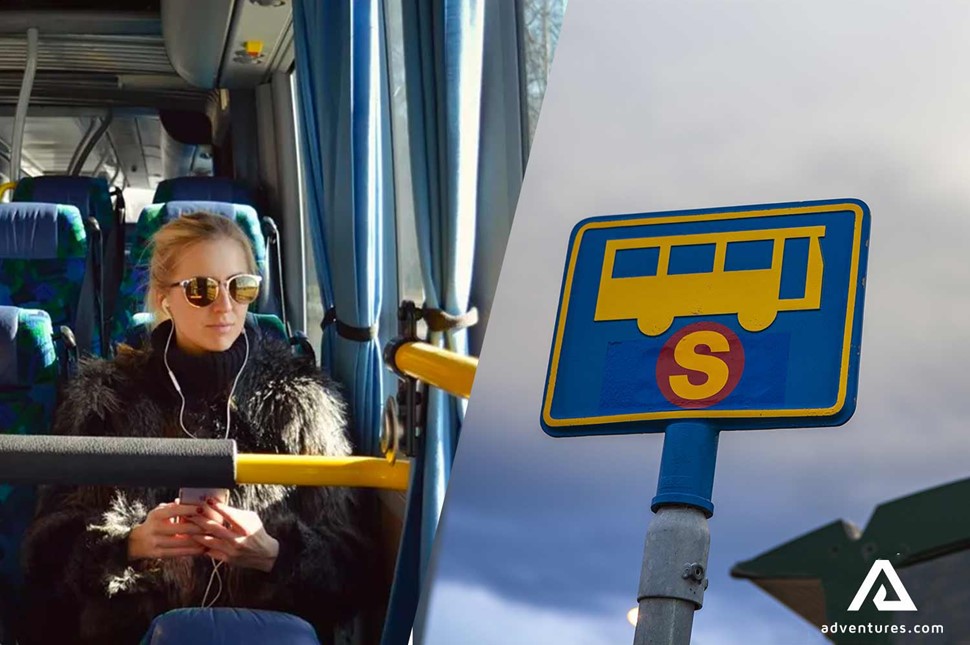 Ferry
Few countries can pride themselves in having ferries as an option for commuting, but Iceland can. It's possible to explore Iceland's coast, surrounding islands and fjords when on board of a ferry, but it's mostly an option only during the summer.
ICELANDIC CUISINE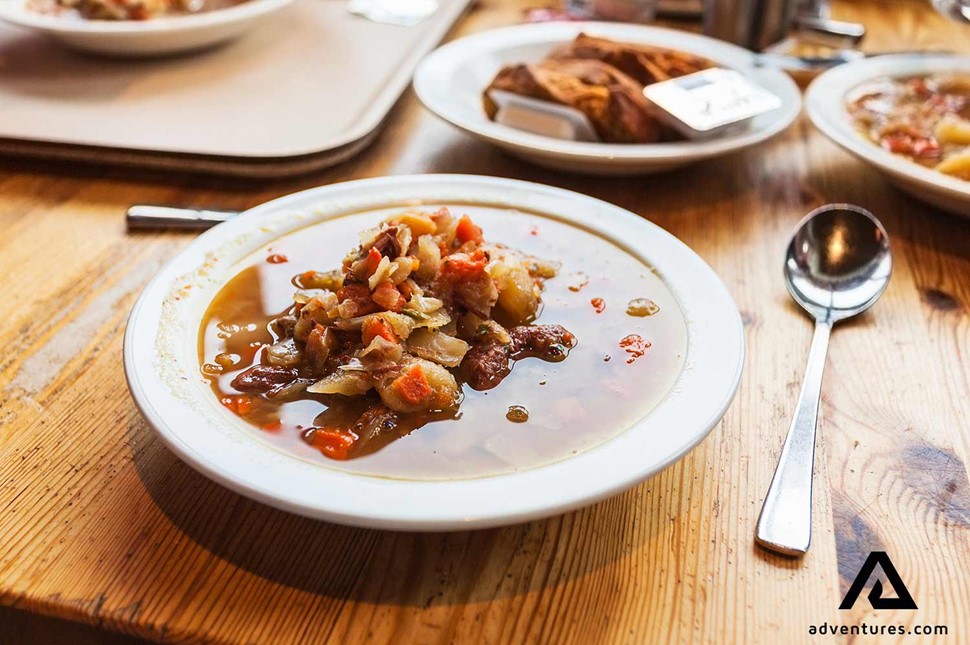 Plokkfiskur - probably the most tourist-friendly dish from what Icelandic cuisine has to offer. It's rather simple, and consists of boiled fish, usually cod, with some savory sauce poured over mashed or whole potatoes. It's also a very common way for turning leftovers into something tasty, so over time many Icelandic families developed their own versions of this dish.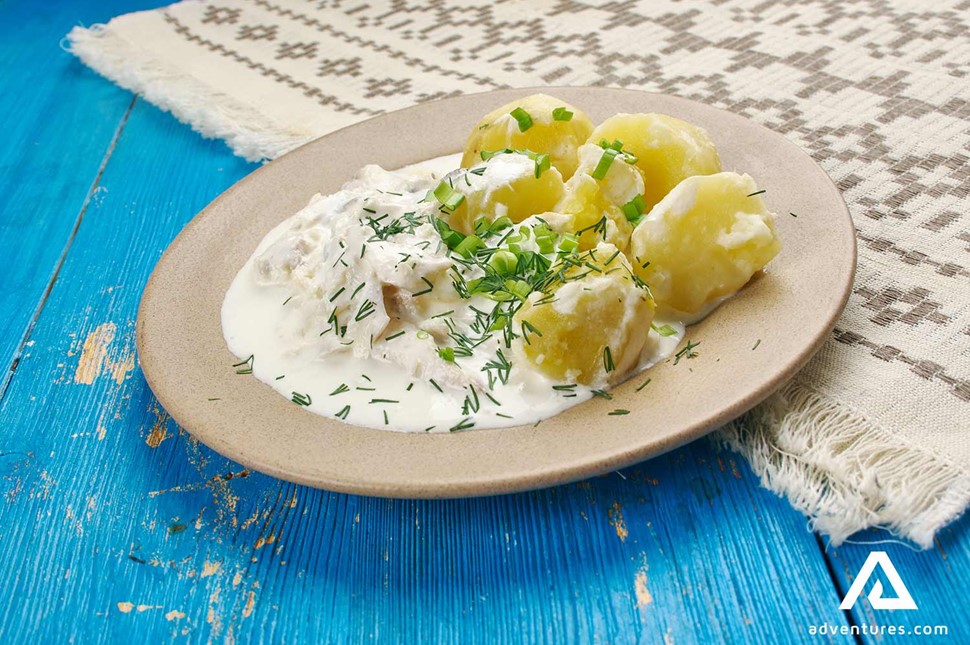 Hardfiskur - dried fish delicacy you'll find anywhere in Iceland. Put in on a slice of bread, slap some butter on it, and it's a quick snack you've never had before. Hardfiskur is a must, especially if you're into beef jerky.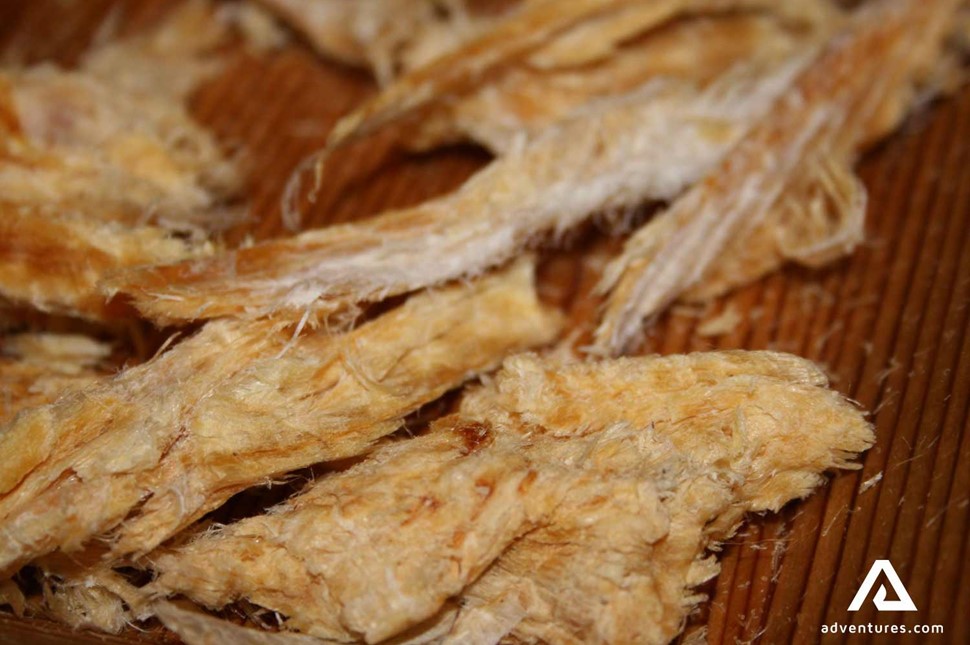 Pylsur - Iceland's most famous lamb meat hot dog with savory sauces and crispy onions.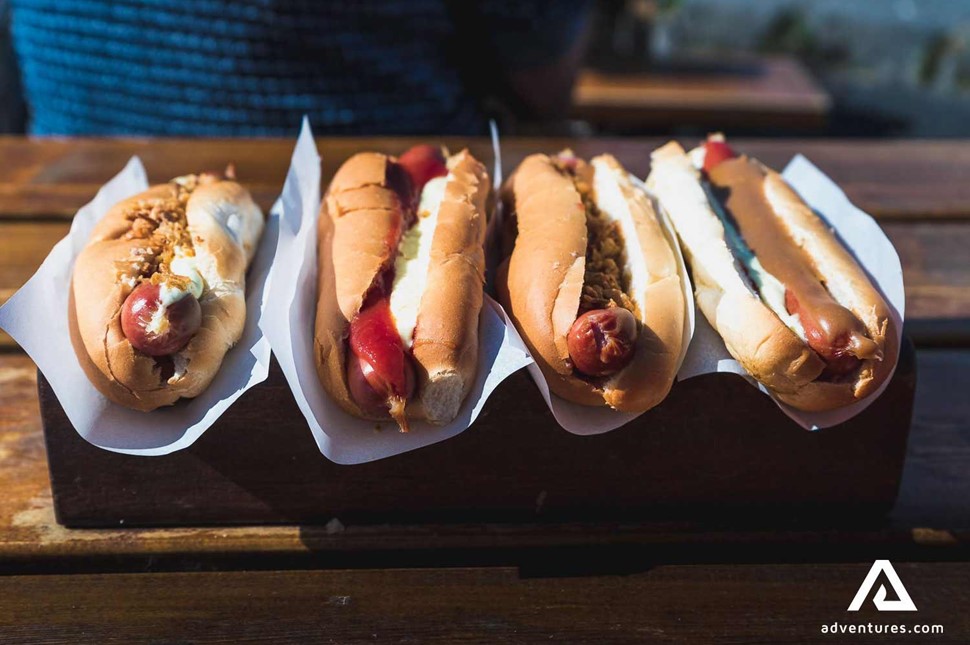 Hakarl - how about trying something that many deemed to be the worst thing they have ever tasted? Hakarl is fermented shark. The tradition comes from back in the day, when the locals preserved shark meat by burying it underground for 3 months and then drying for 4 months more. Nowadays the means of processing are a lot more legitimate, but the taste remains. Are you brave enough to give it a shot?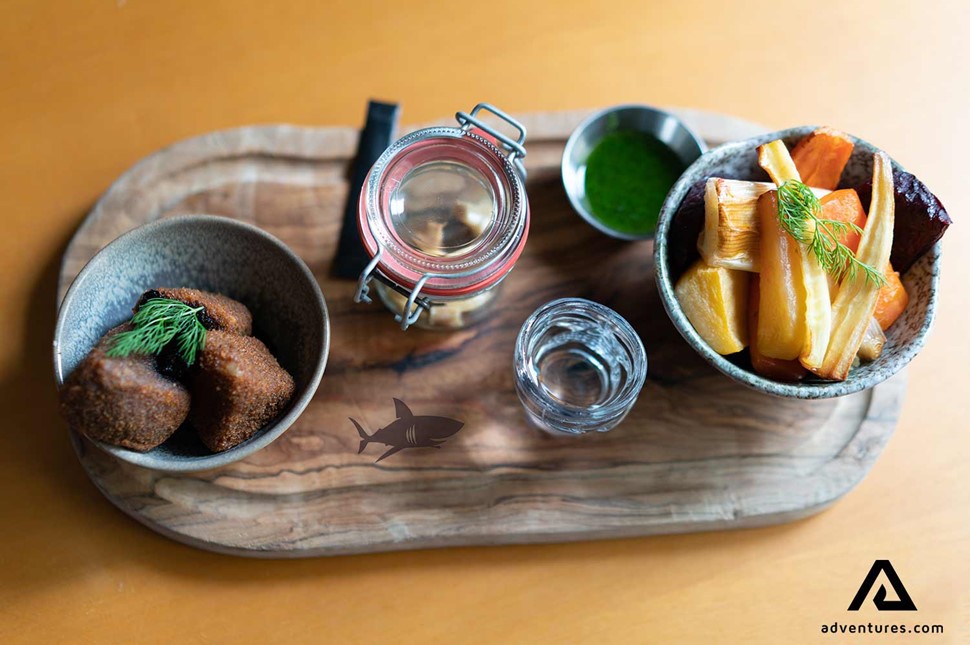 One highlight when talking about food and drinks in Iceland is water. Iceland has some of the world's best drinking water, and all tap water is safe to drink. Even surface water is generally perfectly safe and very tasty.
MANNERS AND RULES
Smoking - there is 'No Smoking Policy' in all bars, restaurants and hotels but most have an outdoor smoking area.
Greetings - preferably no kissing, a firm handshake will do. If you address someone, use their first name.
Visiting - Icelanders take their shoes off when entering homes. Not doing so is considered rude unless the person inviting you in tells you that you can keep the shoes on.
Propper words - Icelanders love their horses. They are globally known as the Icelandic pony but no Icelander really wants to admit to the whole pony thing. Call them horses.
Tipping - generally it is included in the price but if you are very impressed by the service then the service provider will be very happy with your tip.
Bathing suit - always pack a bathing suit when coming to Iceland. Iceland is known not only for the hot springs but also local swimming pools. If at least 150 people live in a town, rest assured there is going to be a swimming pool. Soak as much as you like, but make sure you take a shower before entering a swimming pool.
Bottled water - don't buy it. Icelanders are very environmentally friendly, and such acts will be frowned upon. And reasonably so, Iceland has some of the cleanest drinking water in the world.
Quality conversations - if you're short on matters worth discussing, you can always turn to weather. If you're talking to a local, you'll be surprised about the stories this discussion will lead to. If you're two tourists talking, you can be shocked by how unpredictable it is together. 
PHONE & INTERNET IN ICELAND
Cell service
As you would expect from one of the least densely populated countries in the world, the cell service coverage can get spotty at times. Needless to say you'll have no issue in cities or areas with primary roads, but more remote locations might be a different story.
A working phone with internet connection might come in handy, especially if you're travelling around Iceland by car. The generally applicable suggestion for those visiting from outside Europe is to purchase an Icelandic SIM card. Cellular providers of people based in Europe tend to charge less for international plans covering Iceland than, for instance, for visitors from the USA.
Síminn, Vodafone, and Nova are the main cell phone carriers in Iceland. Before you purchase the SIM card from one of them, make sure they will work with your phone (if your phone is tied to your provider, you might not have the option of using them).
As for coverage all around the country, your best bet is probably Síminn, as they are the leading carrier and most locals' favourites. 
WiFi
In general, you won't have many issues with Wifi accessibility or speed whenever you're in a public institution of any sort. After you go outside, obviously, it's a different story.
If you won't need to call anyone, and you can easily get away with that these days, a very valid option is renting/purchasing a WiFi hotspot while you're in Iceland. Trawire rents pocket hotspots for those traveling in Iceland, and it's a very convenient option if you want reliable access to the internet throughout the trip.
HEALTH CARE
Iceland can be proud of a universal health care system, which is mostly sustained by taxes and to a small extent by service fees. Everyone who has been a resident of Iceland for more than six months becomes a part of the country's social insurance system, which also grants public health insurance.
As a traveler, you need to make sure your insurance will cover your medical expenses for treatments in Iceland. If you need to see a doctor under circumstances that aren't urgent, you will probably need to pay the full price after your appointment and then contact your insurance company. Keep the receipts and proofs of treatment to make sure you get your money back.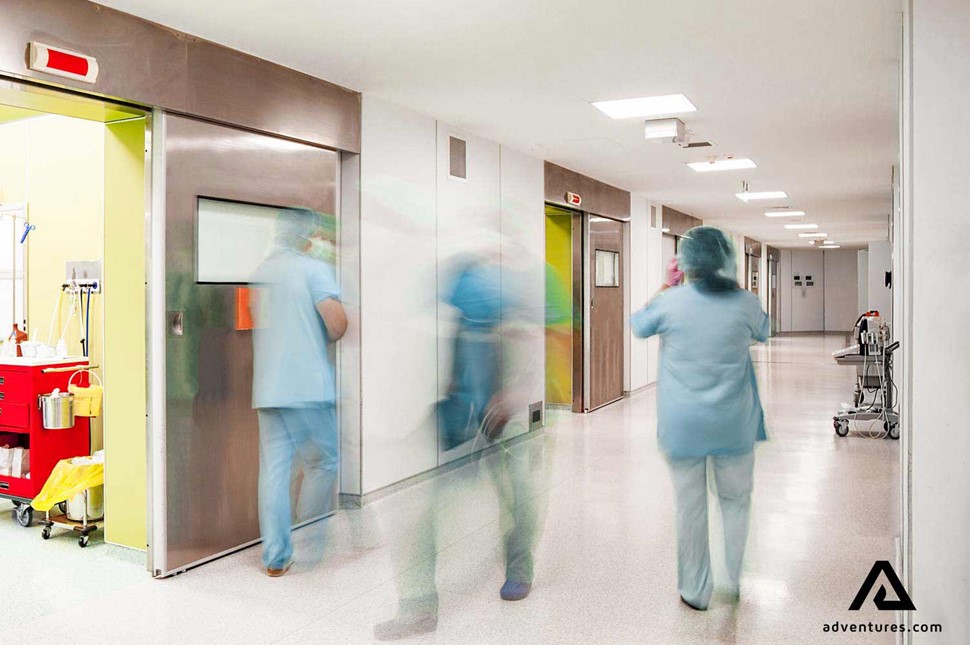 If you're in need of emergency assistance, you can call 112 or go to an emergency room in a nearby hospital. There are no private hospitals and practically no private health insurance companies.
If you need  prescription medication, you can't simply pick it up at a pharmacy, you will need to actually get the prescription. You can do that by making an appointment with any general practitioner and then going to a nearby pharmacy. Most are open 9am to 18.00 (6pm), but some work until 24.00 (12am).
LEGAL DRINKING AGE IN ICELAND
The legal drinking age in Iceland is 20. Grocery stores only have low-alcohol beer; all other alcohol is sold in state-controlled stores called Vínbúð, with limited opening hours. If you're arriving by plane and want to have some stronger alcohol on you, we advise to get some at the airport. It will save you quite a bit of time and money.
Always remember, drunk-driving laws are extremely strict in Iceland, just one drink could put you over the blood alcohol level limit (0.02%) and end up being a costly fine.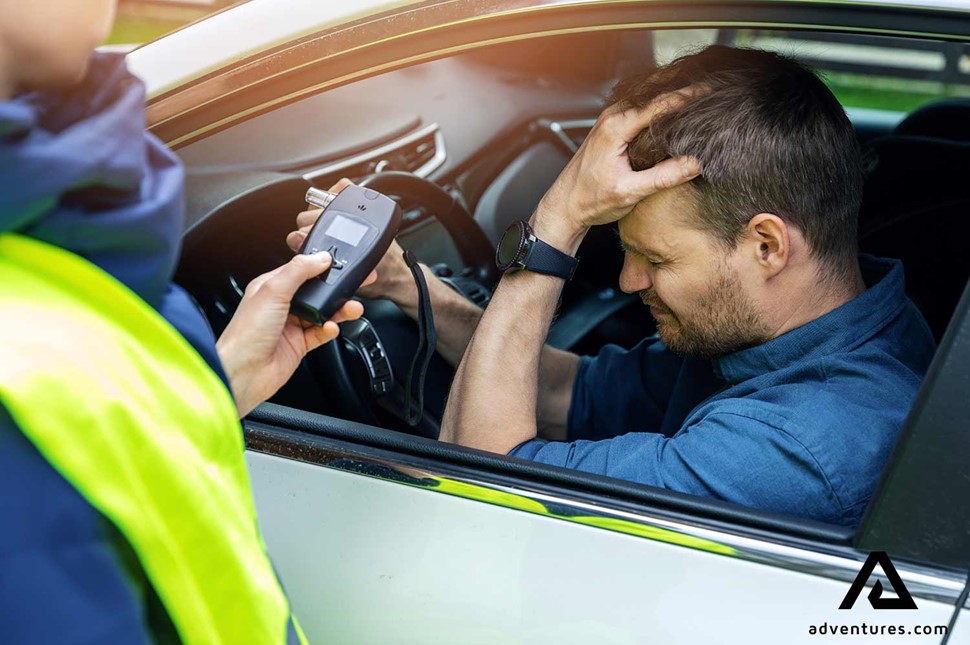 LANGUAGE
The Icelandic language is a complete mystery to most, even many Scandinavian people. Its roots lie in 9th century settlers, most of whom came from Norway. Today, it has preserved most of the old ways of writing, so Icelandic people can read the Old Norse sagas and texts without much difficulty, which is astounding.
This Indo-European language belongs to North Germanic languages. It has numerous rules of altering words, and for every one of those rules there are numerous exceptions. The pronunciation of sounds is also very unusual for most foreigners, and a single accent can change the meaning of the word completely.
Overall, actually tackling Icelandic would be a tough task but it's always good to know a few words before visiting.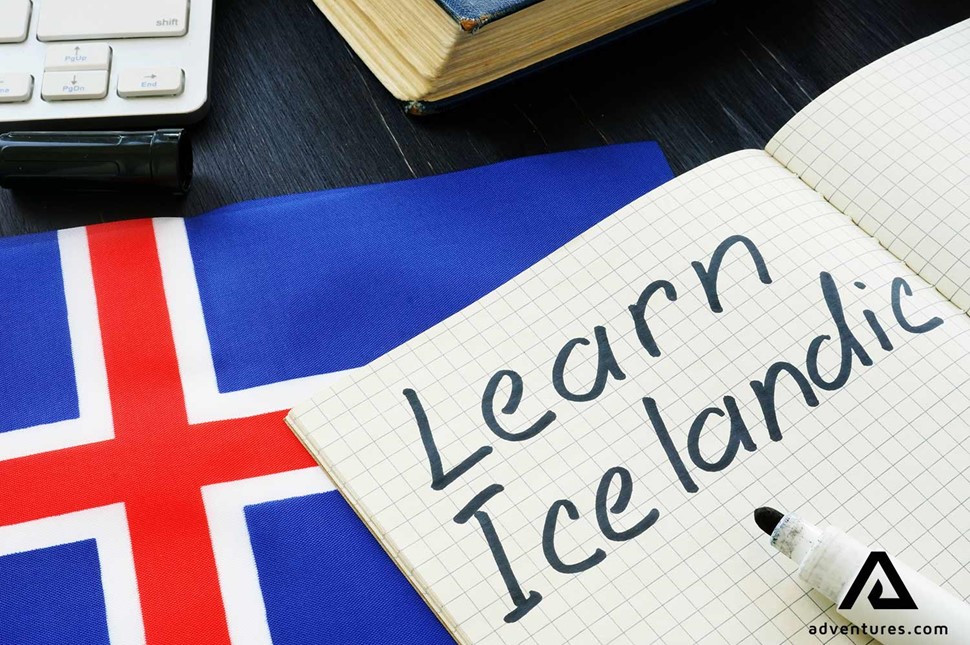 Icelandic phrases to get you started: 
Takk - Thanks

Góðan daginn - Good day

Afsakið - Excuse me

Ég heiti - My name is

Augnablik - One moment

Já - Yes

Nei - No
And here is a video that will teach you to pronounce these sounds. Icelandic is a phonetic language, meaning you pronounce the sounds the way they're written. If you know how to pronounce separate letters, you can pronounce an entire word. Enjoy!