Iceland's geothermal and volcanic activity creates the perfect conditions for rare geological delights such as geysers and hot springs. Haukadalur Valley in the south-west is one of the few places in the world where the Earth's underground powers are on display. The ancient Geysir lies dormant today, replaced by the unstoppable Strokkur, one of the most famous geysers in Iceland and the world.
Haukadalur Valley is a geothermal field in southern Iceland and an inseparable part of the Golden Circle route. Earthquakes in the area have activated multiple geysers, fumaroles, mineral hot springs, and bubbling mud pots. 
Here sits the Great Geysir, after which the phenomenon of the geyser was named. Today it doesn't show off its powers as much as it used to, only erupting sporadically. The real show-stopper is its understudy Strokkur, which never fails to impress visitors - spouting blazing water every 4-10 minutes.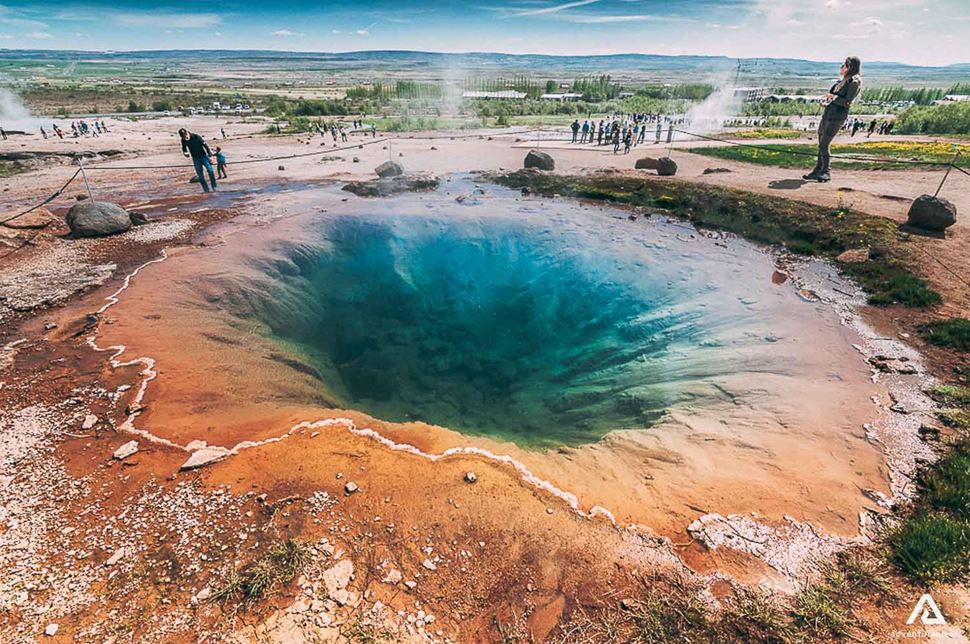 There are many other smaller geysers scattered over the geothermal area. One of them is the cute "litli geysir" (the Little Geyser), nestled along the path to Strokkur, which erupts almost non-stop but only reaches 60 cm (1.9 ft).
Iceland's geysers have rightfully claimed their place as one of Golden Circle's attractions. Visitors can never resist the thrill of looking at the swaying bubbling water that can burst high into the sky any second. Besides, who wouldn't want an epic photo among the grey bubbling mud-pits and rising steam with a boiling natural fountain behind? 
Location
GPS 64.3104° N, 20.3024° W
The geysers are one of the famous attractions on the Golden Circle tour. Both Geysir and Strokkur are located in the geothermally active Haukadalur valley in the south-west of Iceland on route 35. The Geysir Hot Spring area is easily accessible, and visitors are welcome all year round.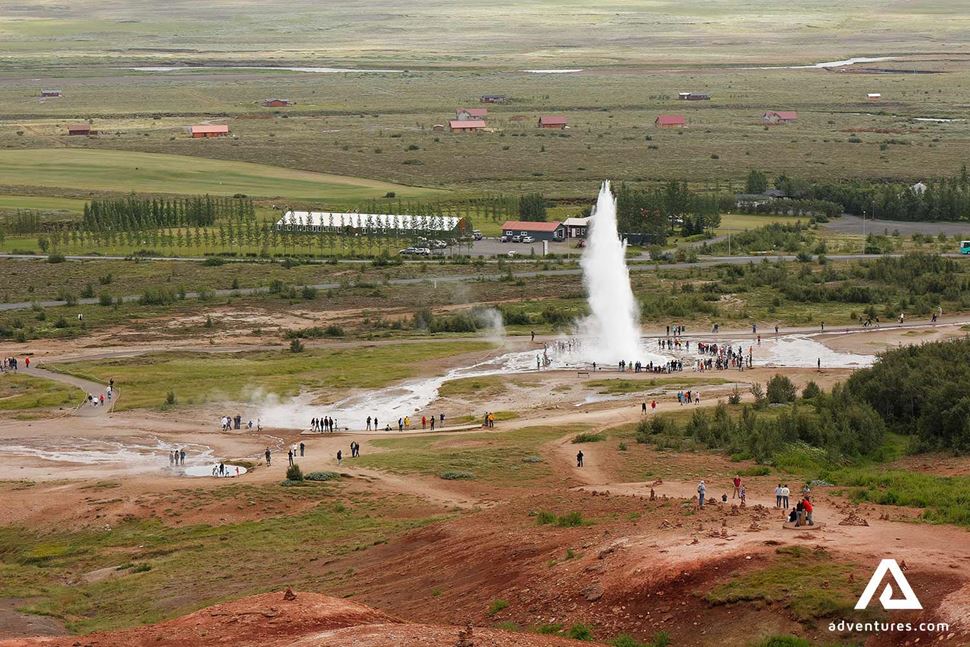 If you're taking the Þingvallavegur route (route 36), the Haukadalur valley is around 100 km (62 mi) away from Reykjavik. This way you'll drive through Mosfellsdalur valley, and past Thingvellir National Park by following route 36. Shortly afterwards route 36 will switch to road 365 and as you pass Lake Laugarvatn it'll turn into route 37. 
You can also get to the geothermal area via route 1 called the Ring Road. Many enjoy taking this road on the way back as well. The Ring Road will take you past Hveragerði town, and just before you reach the town of Selfoss, make a left turn to Laugarvatn Lake. Taking this road you'll have a chance to see the Kerið Volcanic Crater, Skálholt historical site and Faxi waterfall as you follow road 35 all the way to the geysers.
Rising steam, maybe an ongoing eruption and the smell of sulfur will let you know you've arrived!
History of Geysir and Strokkur
Geysir
Although the early mentions of this geyser date back to the 18th century, it's estimated that Geysir has been around for up to 10,000 years!
Haukadalur valley and the Great Geysir were mentioned in historical writings as far back as in 1294. That year a powerful earthquake occurred in Iceland's southern lowlands, creating many of the hot springs in the area. 
If you were ever wondering what a geyser is, the answer lies in Iceland's volcanic forces. The Great Geysir takes its name from geysa, meaning to gush. It was the first geyser known to Europeans and the first such phenomenon described in print. Therefore, the Icelandic 'Geysir' gave its name to the English word "geyser".
Geysir is known to burst up to 70 meters (230 ft) into the air. About 20 m (3.2 ft) down Geysir's feeder channel, the water reaches the boiling point and can be as hot as 125 ºC.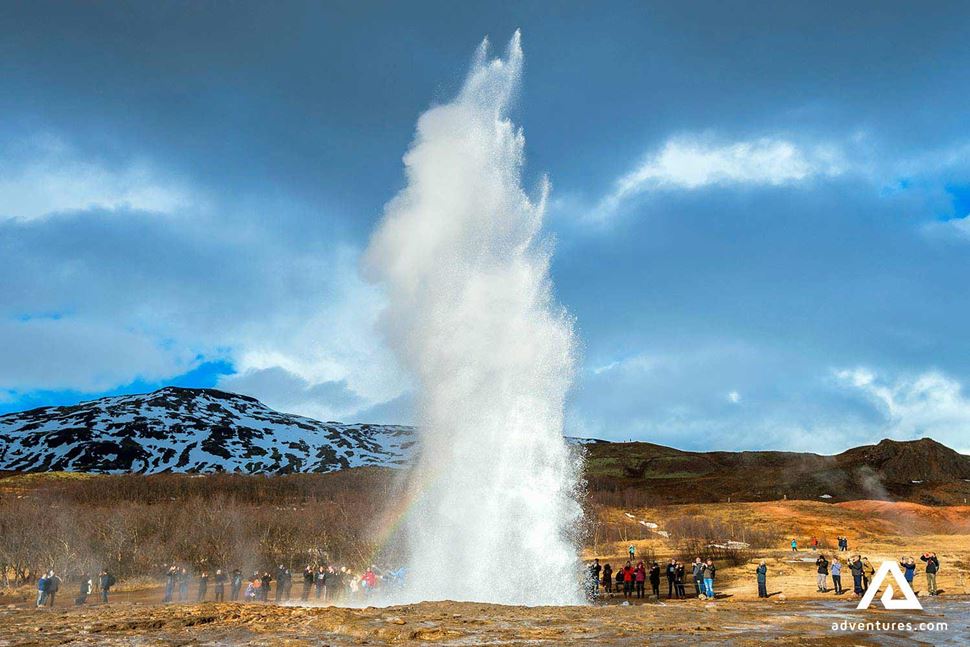 How often does Geysir go off?
Geysir's activity has been changing over the years, but the strongest bursts tend to happen during and after the earthquakes and volcanic eruptions. The highest recorded eruption height is 170 meters (557 ft), occurring in 1845. 
In 1896 and 1630, earthquakes triggered the hot spring again, producing many powerful eruptions.
In 1935 Geysir's shows became rare after its channel was blocked with silica. Then in 1981, the channel was cleared and sometimes the eruptions were simulated by adding soap. Thankfully, this practice was discouraged later on.
The earthquake in 2000 brought the geyser back to life once again. At one point, Geysir was spouting for two days straight, reaching up to 122 meters (400 ft) in height. In February 2016, yet again Geysir caught lucky visitors off guard with a surprise eruption.
Today Geysir is considered dormant, but its activity has always been unpredictable, meaning that you might get lucky and see it burst into life. It's difficult to determine when the geyser will wake up from its sleep, as even a minor earthquake can trigger it.
Don't underestimate Geysir's capricious ways. Luck can strike any time and you might see the hot burst in its full force!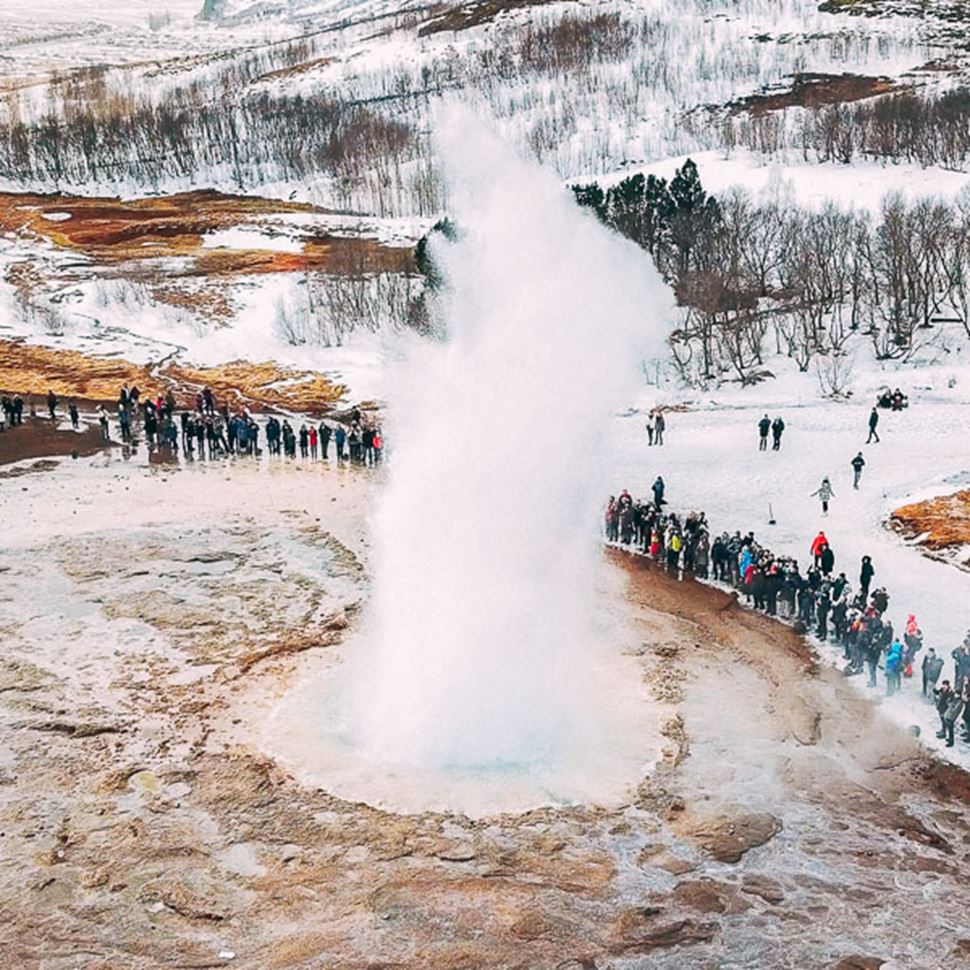 Strokkur geyser
Strokkur is now the star of the Haukadalur valley, just 100 m (328 ft) south of the Great Geysir. It's Iceland's most active geyser and puts up a flashy show every couple of minutes - spouting with boiling water that reaches from 20 meters (65 feet) up to 40 meters (130 ft) skywards. 
You don't have to worry about missing the eruption, as Strokkur's shows are always on time. Just get your camera rolling and watch the steamy blasts every 4-10 minutes!  
Strokkur translates from Icelandic as 'the churn'. Apparently, Strokkur and Geysir are the same age, but Strokkur wasn't mentioned in print until 1789 when an earthquake activated it.  
In the beginning, the geyser was extremely powerful, ejecting gas, water, and steam with incredible force. It's believed that back in 1815, Strokkur's eruptions were up to 60 meters (196,8 feet) high, while Geysir's jets only reached a height of 30 m. 
In 1830, Strokkur became quieter, so the people would often trigger eruptions with stones and turf. This was neither very effective nor safe, as the geyser would only spout up to 20 meters (65 feet), pushing out what was thrown in. Besides, the ground and turf made the water column a rusty red color. 
However, in the 20th century, yet another earthquake blocked its conduit. In 1963, the locals cleaned out the channel again and ever since Strokkur regularly launches its boiling rockets into the sky!
Strokkur's sizzling pool is a sight to behold, but beware of the magma-warmed water! At a depth of 1 meter (3.2 feet) the temperature is around 90-95°C. Down the shaft, at 10 meters (32 feet) the water is heated to 112°C. At the depth of 23 meters, the water temperature is around 130°C.
Before Strokkur erupts, you can notice water starting to boil and sway, as thick steam rises from its surface. Seconds before erupting, the water will dip into the pool and then burst out spraying blazing drops all around.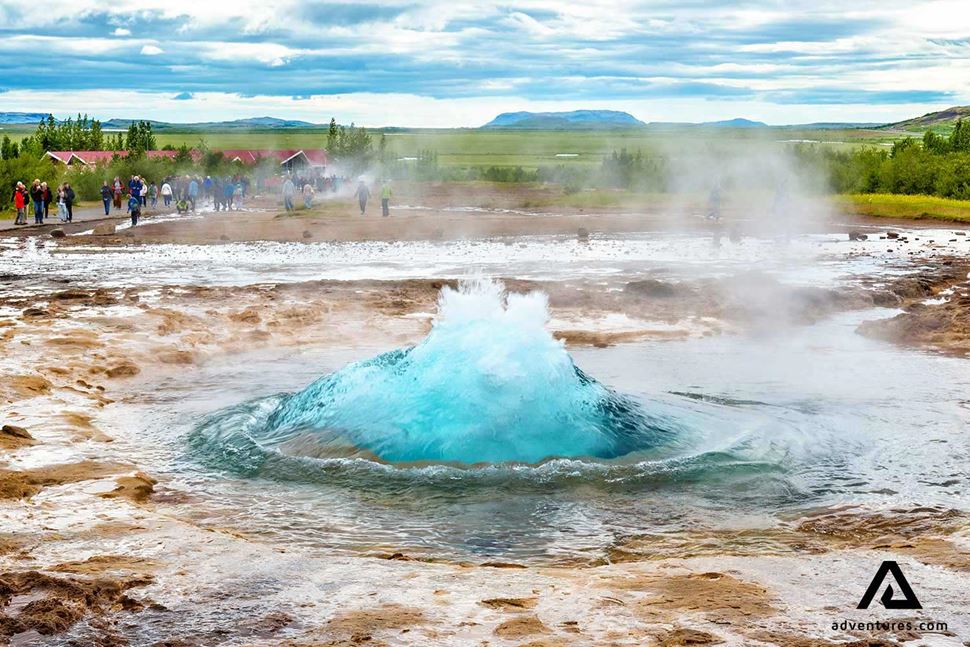 Make sure to set your camera up and capture the brief moment when the Earth explodes with scalding water into the Icelandic air!
When to visit Geysir Geothermal Area?
The Geysir Geothermal Area is open all year round, but many visitors enjoy watching geyser eruptions in winter.
In Iceland, winter chills can drop very low, and it only makes the geothermal show more rousing. The collision of boiling-hot water and crisp winter air often creates a dramatic cloud of thick steam. As if the boiling explosions weren't already giving us goosebumps!
Interesting places near Geysir and Strokkur
Gullfoss Waterfall 

Thingvellir National Park 

Silfra Fissure

Haukadalur Church

Bjarnarfell mountain 

The Secret Lagoon

Flúðir village

Reykholt village

Skáltholt Churches

Friðheimar Tomato and Horse Farm

Faxi waterfall

Efstidalur Farm

Drumbó River Rafting Base

Laugavatn and Fontana Spa

Kerið Volcanic Crater

Sólheimar Eco Village

Brúarfoss Waterfall
Camping near Geysir and Strokkur
Geysir Camping Ground is within walking distance of Geysir. 
Facilities: showers (500 ISK), WCs, access to electricity (900 ISK), washing machines, WIFI, a golf course, and a playground.
Price: 1800 ISK/night per adult.
Availability: May 15 - September 15.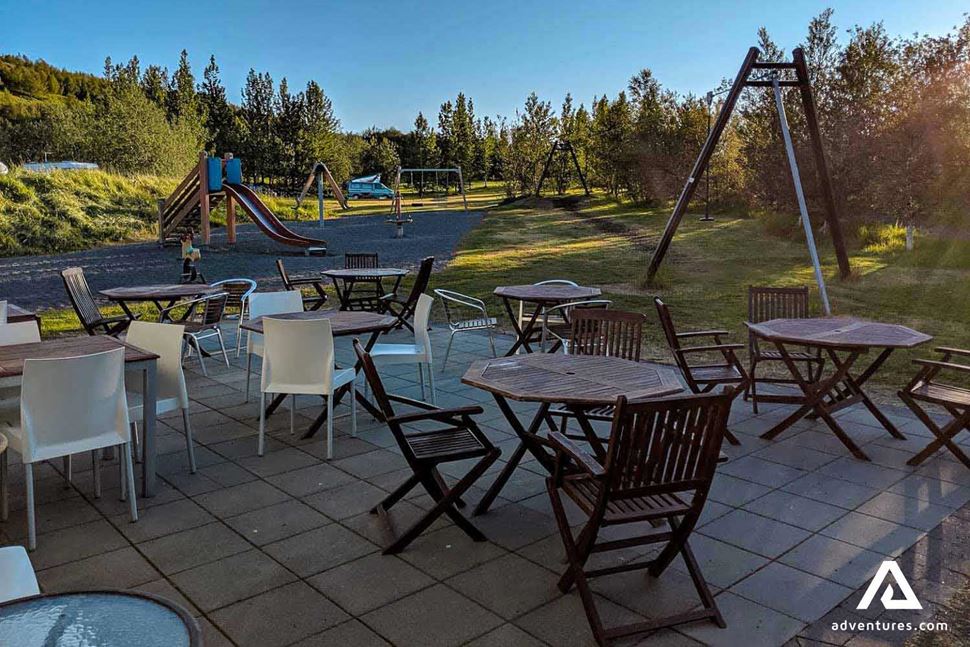 Skjól Camping Ground is located between Gullfoss and Geysir.  
Facilities: a restaurant, showers, WCs, WIFI, washing machines (400 ISK), electricity (1000 ISK/day), a restaurant, a golf course, walking paths, and wheelchair accessibility.
Price: 1200 ISK/night per adult.
Availability: all year.
Faxi Camping Ground is located next to the Faxi waterfall. 
Facilities: cooking equipment, electricity (1200 ISK), WCs, showers, a swimming pool, a restaurant, and walking paths.
Price: 1200 ISK/night per adult.
Availability: May 15 - September 30.
Úthlíð Camping Ground is located in the middle of the Golden Circle, 10 km (6.2 mi) from Geysir. 
Facilities: cooking equipment, WCs, showers, electricity (1000 ISK/night), a golf course, playground, and a swimming pool.
Price: 1500 ISK/night per adult.
Availability: all year.
Accommodation near Geysir and Strokkur
Hotels
Hotel Geysir (a luxury renovated hotel, open for booking from 1st of August 2019)
Litli Geysir Hotel
Hotel Gullfoss
Mengi Kjarnholt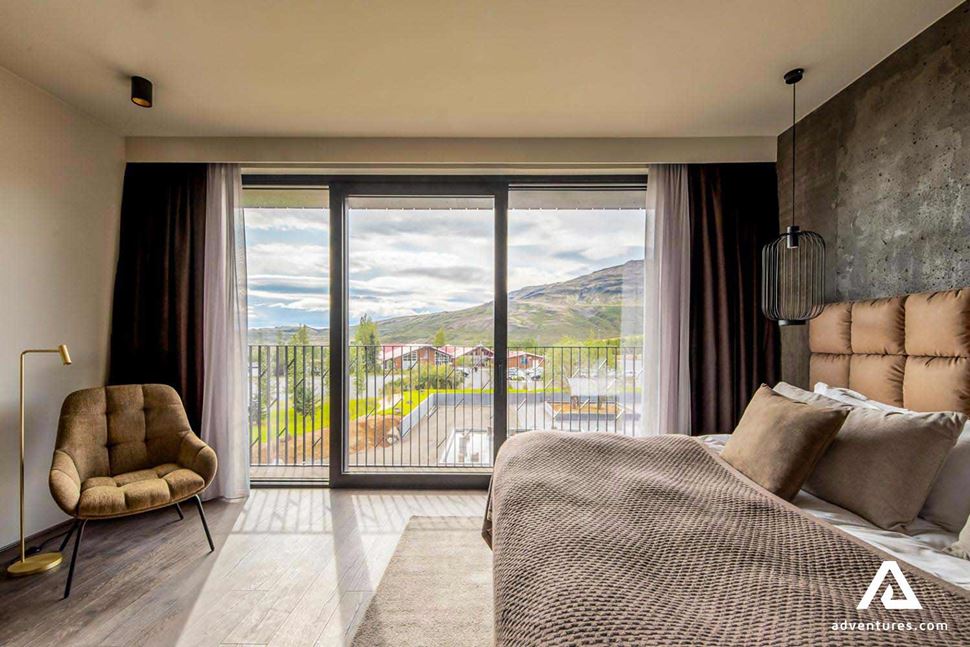 Guesthouse, B&B, and Farmstays
Jaðar The Old House
Efstidalur II
Sacred Seed Guesthouse
Hostel
Skjól
Cabins and Cottages
Geysir Cottage
Geysir Hestar
Úthlíð Cottages
Eyjasol Cottages
Árbakki Farmhouse Lodge
Where to eat near Geysir and Strokkur?
Glíma Bistro (full course menu, pizza, coffee)

Kantína Restaurant (canteen located in Geysir Center; fast food, sandwiches, soups, and salads)

Súpa Restaurant (located in Geysir Center; soups, snacks, smoothies, vegetarian menu)

Skjól Bar (located at Skjól Campsite; pizza, snacks)