The top highlight of Husafell is Into the Glacier, a massive man-made ice tunnel located inside Langjokull Glacier. The 500-meters-long ice tunnel is the largest in the world, standing 3-m tall and 3.5-m wide.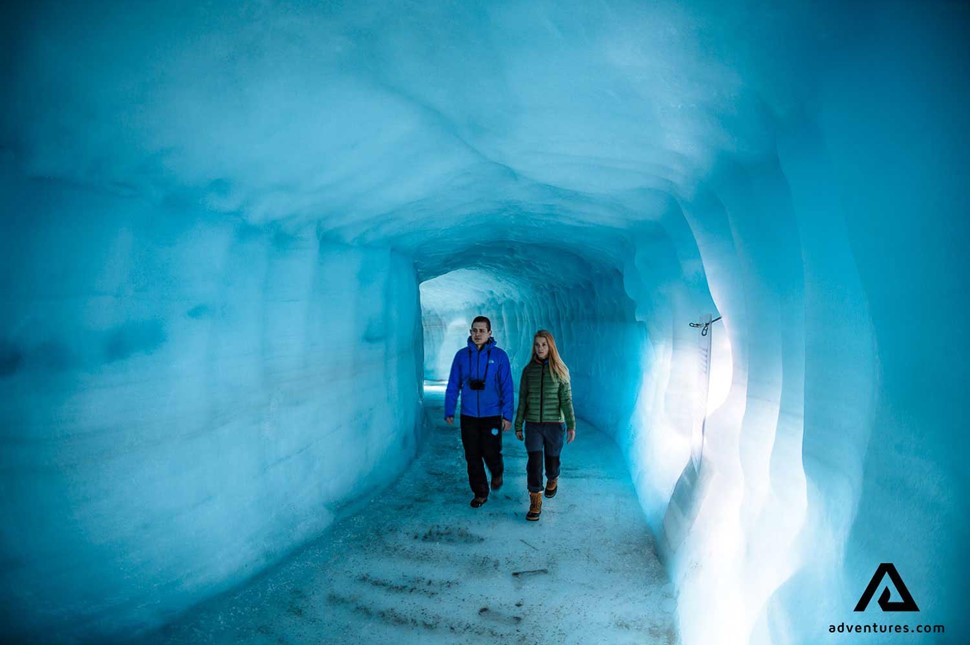 Venture into Into the Glacier, the world's largest man-made ice tunnell.
Where is Husafell located?
Husafull is a large area of farmland located next to the famous Langjokull Glacier, Iceland's second-largest ice cap.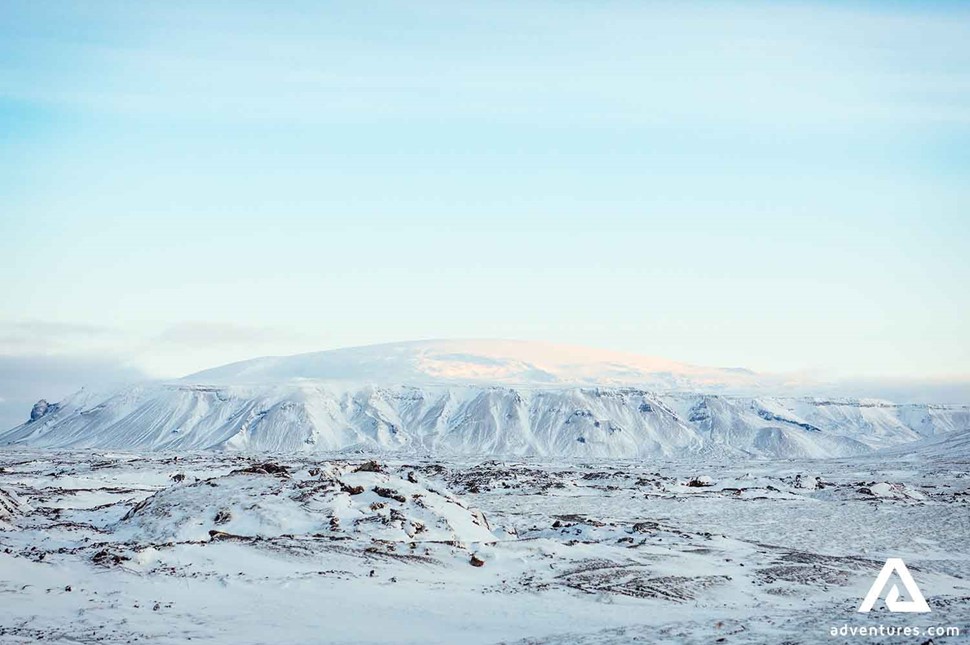 How to get to Húsafell?
The directions from Reykjavik to Husafell are not too difficult: follow Road 1 (the Ring Road) northward past Mt. Esja and proceed under the Hvalfjörður Tunnel. Just as you're about to cross the bridge to Borgarnes, take note of the sign for Road 50 and turn left.
After you turn left onto Road 50, drive for 33 km (20.5 mi) until you reach the Husafell Service Center. This is the center where all adventure tours depart including Into the Glacier tours.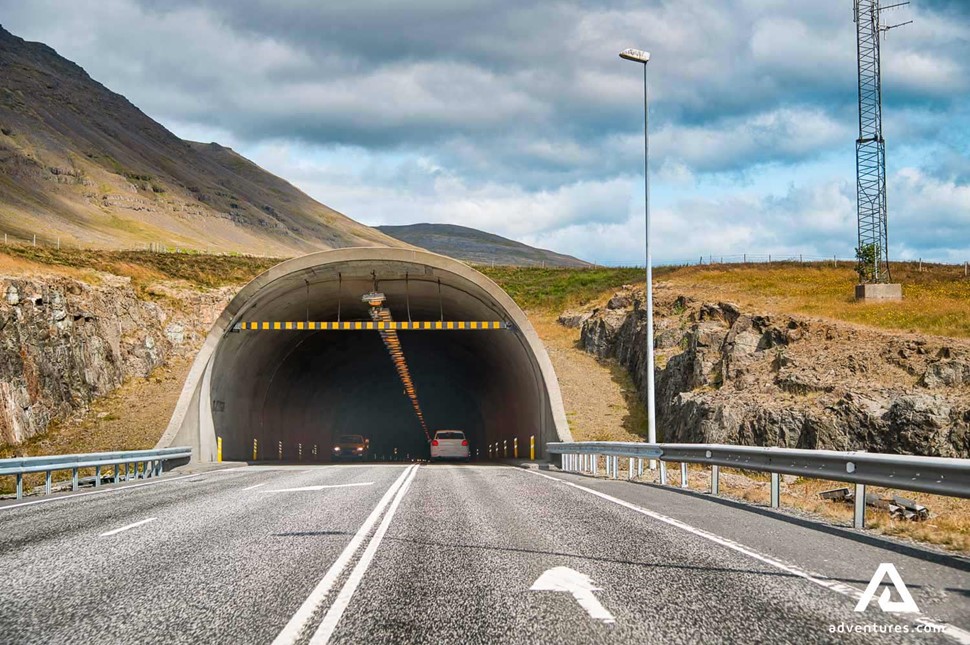 Drive under Hvalfjordur Tunnel as you head towards Húsafell on Route 1 (the Ring Road).
If you'd like to take a bus from Reykjavik to Husafell, we recommend booking a glacier adventure tour with convenient pick-up from Reykjavik.
How far is Húsafell from Reykjavik?
Húsafell is roughly 2 hours from Reykjavik. However, we encourage you to plan for stops along the way as there's a lot of beautiful scenery en route.
Húsafell Map
Interesting facts about Húsafell
The Husafell area is filled with beautiful nature, rich history, and fun activities. Here's a quick list of Husafell facts:
The area is home to the 

Husafell Stone

, a famous rock now used in global strongman competitions.

The region is home to a 

dense birchwood

 

forest

 that is great for hiking.

Husafell is close to 

Hraunfossar

, a series of waterfalls flowing out of a lava field.
The most voluminous hot spring in the world, Deildartunguhver, is only 30 km away.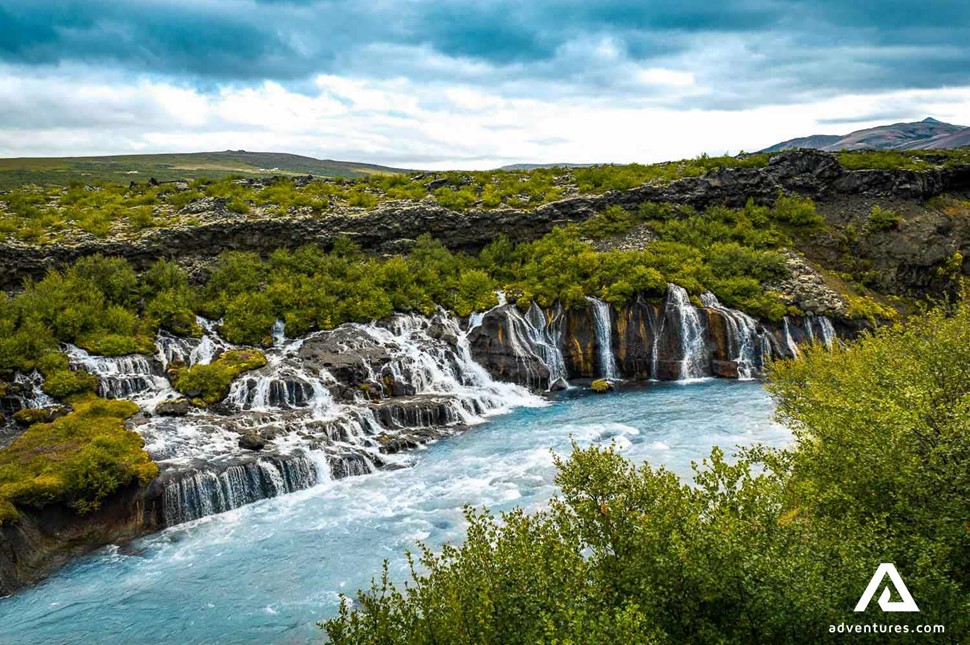 Húsafell is close to a beautiful series of waterfalls known as Hraunfossar.
Húsafell Weather
There's never a dull moment when it comes to weather in Húsafell. A sunny and warm day can change into a cold and snowy one in an instant. That being said, the views in the area, especially at Langjokull, make the unpredictable weather worth every moment.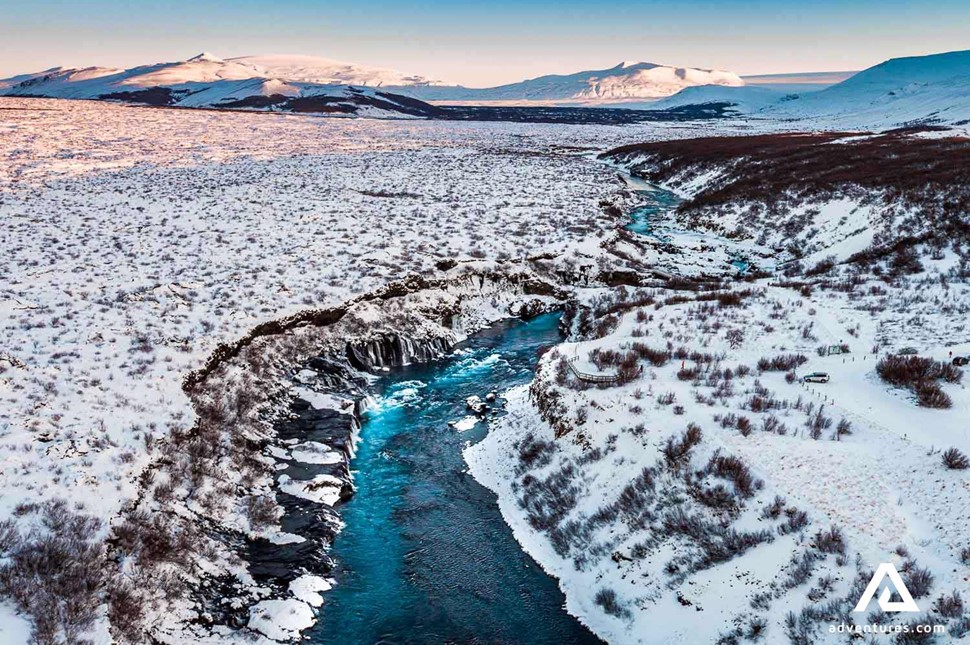 Langjokull Glacier creates a stunning backdrop when you're in the Húsafell area.
Expect the average temperatures in the area to be between 30°F to 43°F in summer and 28°F to 37°F in winter. If you're planning a trip to Into the Glacier, the temperature inside the ice tunnel never changes. It stays at a constant temperature of 32°F (0°C) year-round.
No matter the season, we strongly recommend that you bring warm layers with you. Warm and waterproof clothes, sturdy hiking shoes, and a pair of good-quality gloves are essential to any great trip in Husafell.
What to Do in Húsafell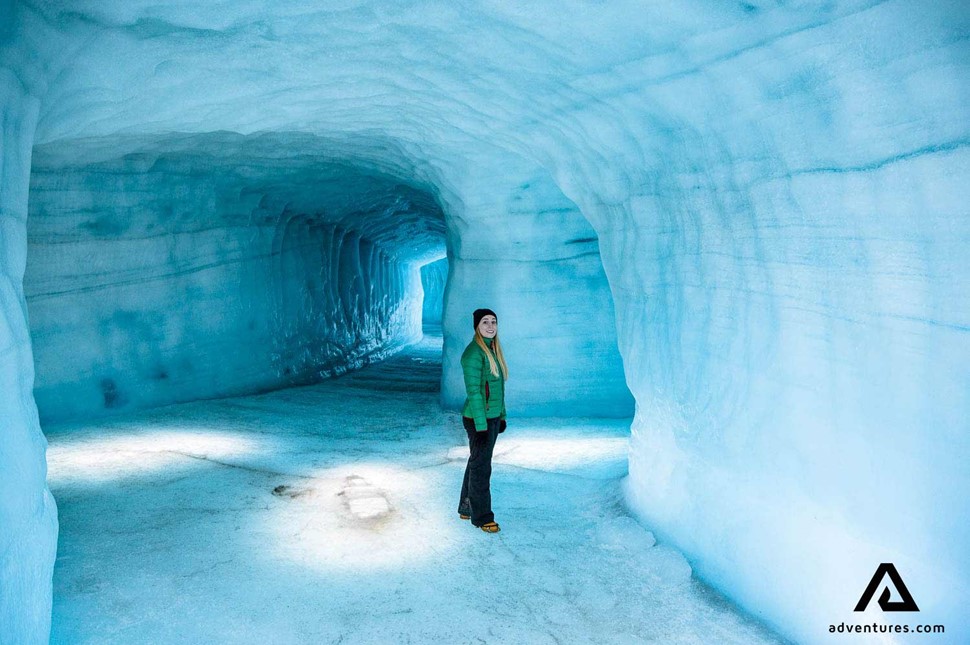 Into the Glacier is an epic 500-meters-long ice tunnel inside Langjokull Glacier
Venture into World's Largest Man-Made Ice Tunnel
The most popular of all Husafell activities is walking into the world's largest man-made ice tunnel on Langjokull Glacier. Ride atop glacier terrain in a monster truck and step inside the icy underbelly of Langjokull with an Into the Glacier tour at Husafell.
Explore the ice cave's different layers of volcanic ash and complex ice sculptures with the help of an expert glacier guide. Your guide will fill you in on the tunnel's creation story and the history of Langjokull Glacier's formation throughout the years.
Want to add snowmobiling to your Into the Glacier tour? Add an hour of epic glacier snowmobiling to your ice tunnel adventure! This jam-packed day tour includes easy pick-up from Reykjavik and comfortable bus transport with free WiFi.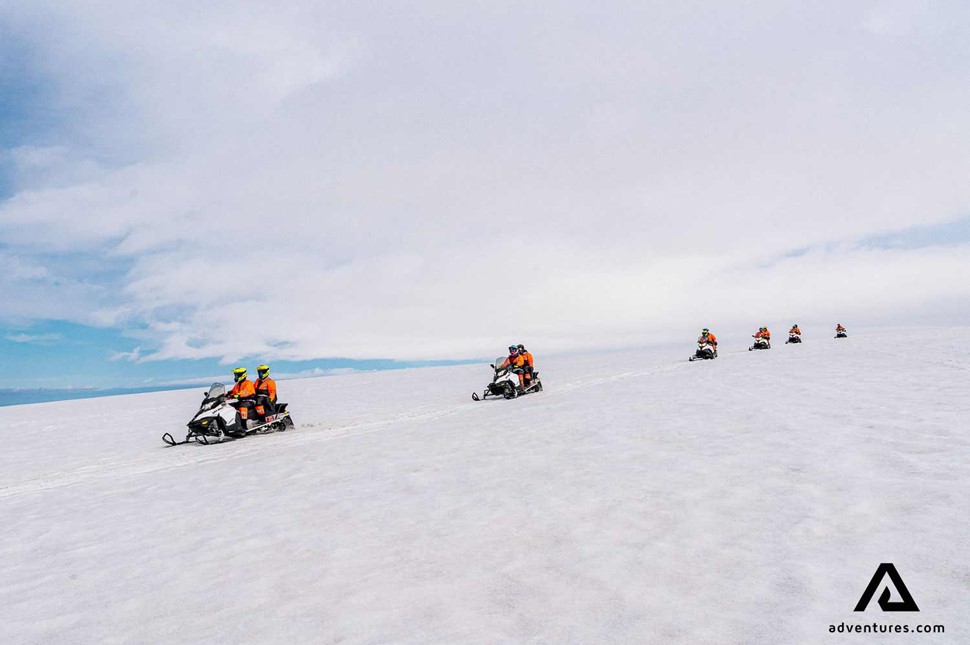 Snowmobiling is one of the best and most thrilling ways to experience Langjokull Glacier.
Walk inside a Lava Cave
Walk inside Víðgelmir, Iceland's largest lava tube cave. The cave was created after a major volcanic eruption occured in 930 CE, producing a 5 million cubic feet long lava tube.
Located only 15 minutes away from Húsafell, Víðgelmir is a great spot to witness Iceland's volcanic wonders. Get the most out of your visit by joining an expert-guided group and enter a world full of bright colors and epic volcanic formations.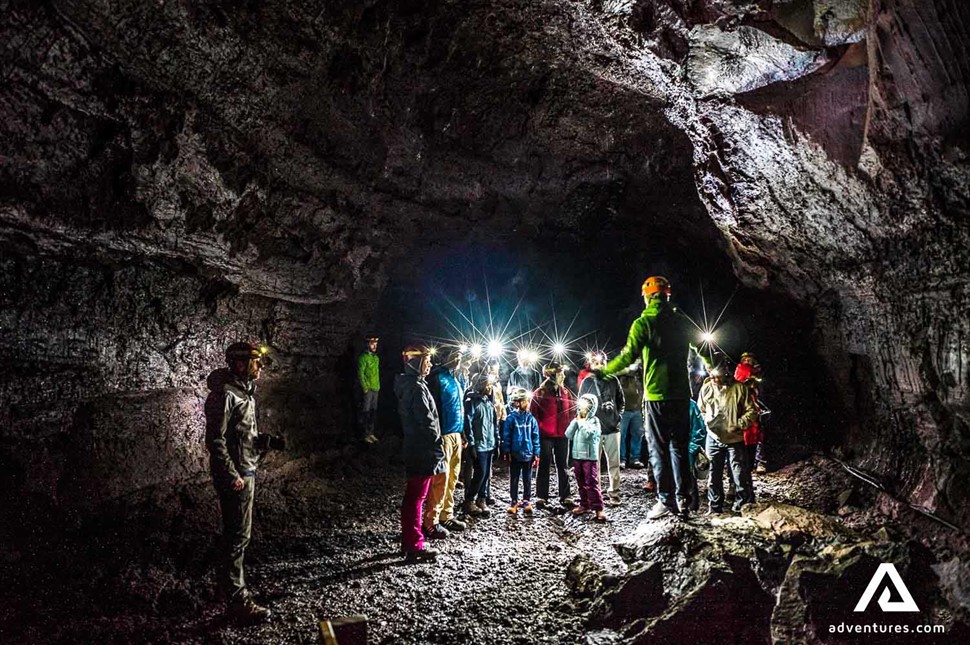 Walk inside Víðgelmir — a 5 million cubic feet long lava tube on 15 minutes from Husafell.
Lift the Husafell Stone
Test your strength by lifting the Húsafell Stone — the most popular lifting stone in the world. The Husafell Stone's weight is a whopping 409 lbs (186 kg)!
The stone is so famous it's been replicated and used in strongman competitions across the globe. The original stone currently sits in a local sheep pen near Husafell.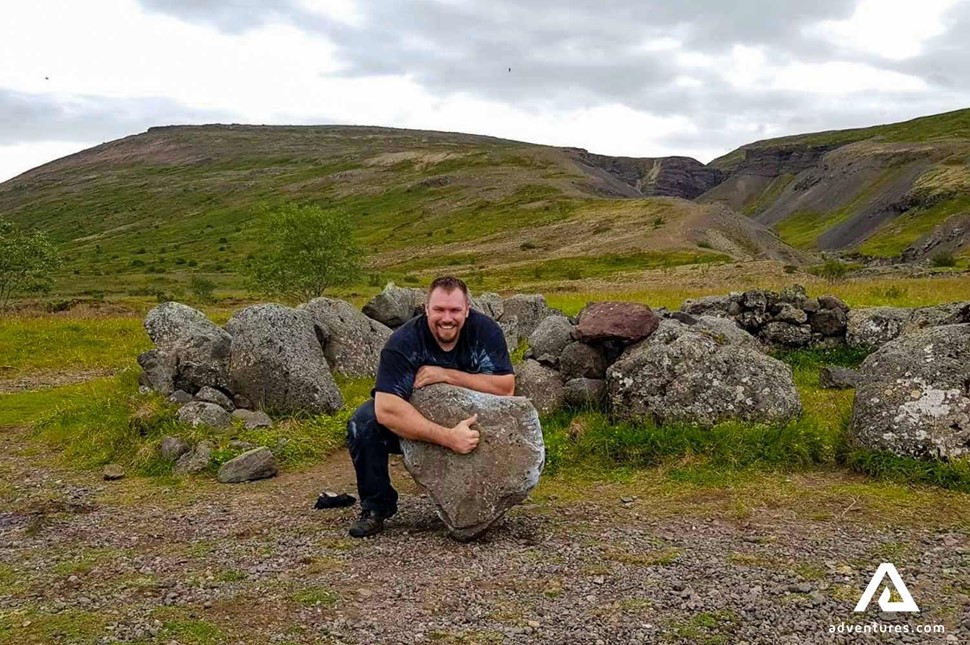 Test your strength by trying to lift the world-famous Húsafell Stone!
Where to Eat in Husafell
While there aren't many options to choose from, here's a list of a few great places to grab a bite near Húsafell:
Hotel Husafell Bistro

 

is a popular restaurant in the centre of Husafell. It serves an excellent lunch buffet that combines traditional Icelandic food with international cuisine.

Krauma Restaurant

 

is a restaurant located at the Deildartunguhver Hot Springs in Reykholt and roughly 20 minutes from Husafell. It serves Icelandic dishes with fresh and local ingredients. A great spot for people looking for healthy options.
The Húsafell Bistro is a great place to grab a hot meal when you're in the area.
Camping, Guesthouses and Hotels Near Húsafell
When finding a place to stay near Húsafell, there are plenty of options to choose from. And most accommodation is conveniently located around the Húsafell vicinity. Don't forget to book ahead!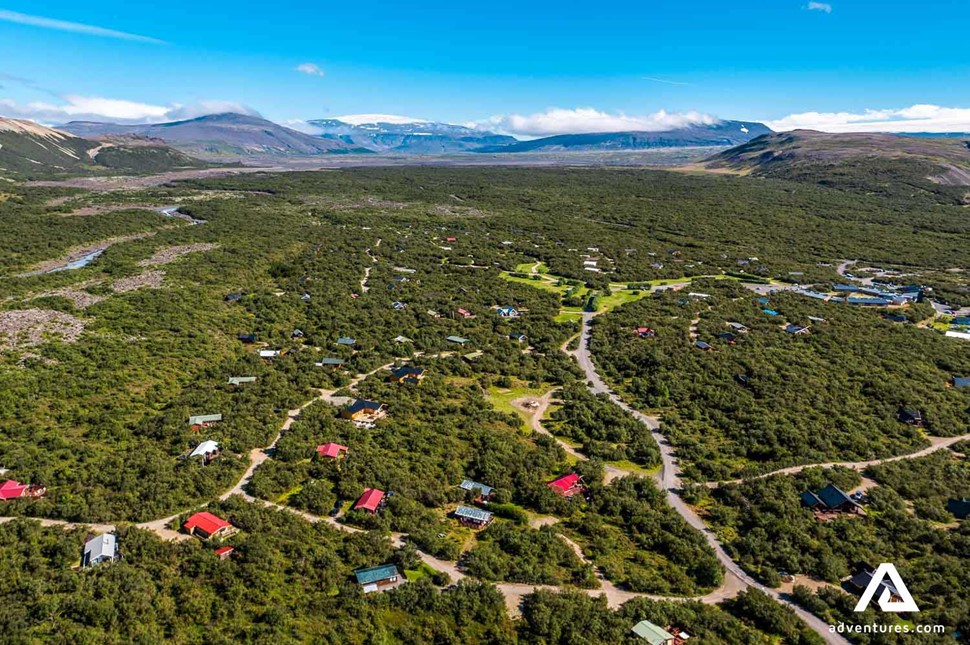 Húsafell is a popular spot for camping and summer getaways. Here are a few suggestions for campsites, guesthouses, and hotels near the Husafell area:
Hotels & Guesthouses
Hotel Húsafell

 

is a popular hotel located in Husafell. The 4-star hotel offers contemporary rooms, lush surroundings, and great facilities. 

Fosshótel Reykholt

 

is a modern hotel located only 25 minutes from Husafell. It features an on-site restaurant, spacious rooms, and private bathrooms.

Guesthouse Gamli Bær

 

is a family-run guesthouse located in Húsafell. It offers simple rooms, free breakfast, and both private and shared bathrooms.

Guesthouse Steindórsstadir

 is a family-run farm in Reykholt, around a 25-minute drive from Húsafell. The guesthouse includes country-style decor, bright rooms, and beautiful mountain views.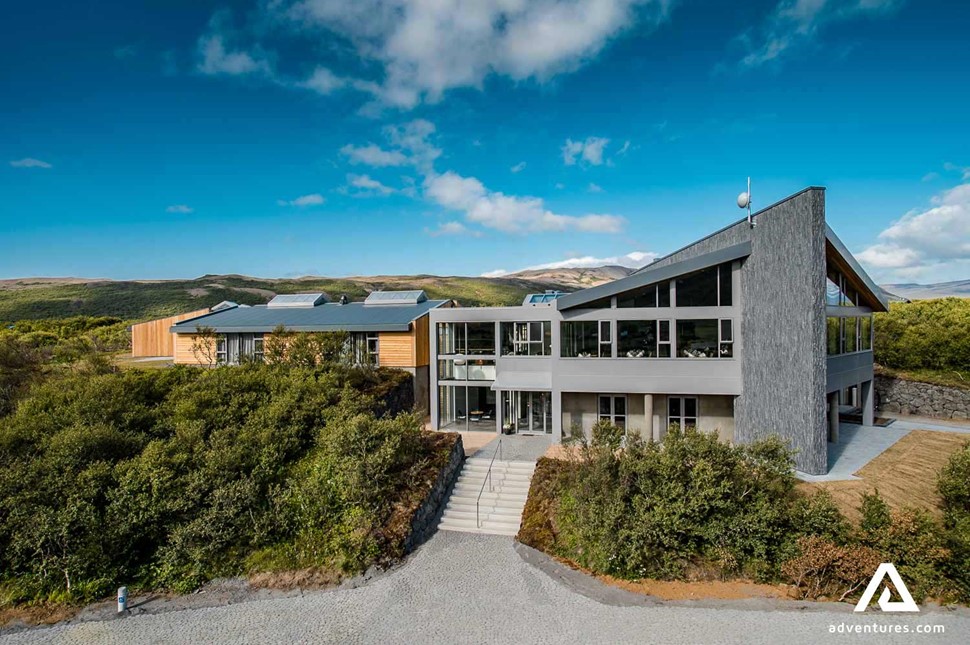 Hotel Húsafell is a rave-reviewed 4-star hotel located in Húsafell.
Húsafell Camping
Husafell Campground

 

is a popular campground in West Iceland. It's within walking distance to all main services in Húsafell and includes showers, cooking facilities, and laundry services.

Reydarfellsskogur

 

is another campground conveniently located just outside the town. The campground offers basic facilities.
Attractions Near Husafell