1. Reynisfjara Black Sand Beach
The black sand beach of Reynisfjara is located on the south coast of Iceland. This stunning beach is a short two-hour drive from Reykjavik on the Ring Road. In Reynisfjara you will encounter stunning basalt columns on the shore, vast black sands, and Reynisdrangar, the majestic sea stacks on the horizon. The beach is extremely beautiful, but watch out for the powerful waves that can be very dangerous.
2. Skogafoss Waterfall
Skogafoss waterfall is one of the most visited sites in Iceland for good reason. This majestic waterfall is one of the biggest waterfalls in the country. Skogafoss is 25 meters (82 ft.) wide and 60 meters (200 ft.) tall. On sunny days, Skogafoss waterfall is often decorated with one or more rainbows. Truly a beautiful sight!
3. The Golden Circle
The Colden Circle is probably the most popular traveling route in Iceland. The Golden Circle allows you to see very versified and stunning Icelandic nature, all in just one day. On the Golden Circle, you get to see Geysir geothermal area, Thingvellir National Park, Gullfoss Waterfall, and many more amazing sights. It's definitely something you shouldn't miss!
4. Jokulsarlon Glacier Lagoon
Jokulsarlon Glacier Lagoon has been the filming location of many Hollywood movies (Here you can find a list of movies filmed in Iceland) and for good reason! Jokulsarlon Glacier Lagoon is jaw-droppingly beautiful and difficult to describe, you just have to go there! Jokulsarlon is located at the end of an outlet glacier of the great Vatnajokull Glacier. Huge pieces of ice calve from the glacier and end up floating in the lagoon and out to sea. Jokulsarlon is a great place to see the northern lights too!
5. Vestrahorn and Stokksnes
Vestrahorn is a mountain in the East of Iceland and Stokksnes is an area on the East Icelandic coast. These places are extremely beautiful, and perfect for aspiring photographers. Whether you want to capture the midnight sun, or the northern lights, Vestrahorn and Stokksnes are a great place to do so!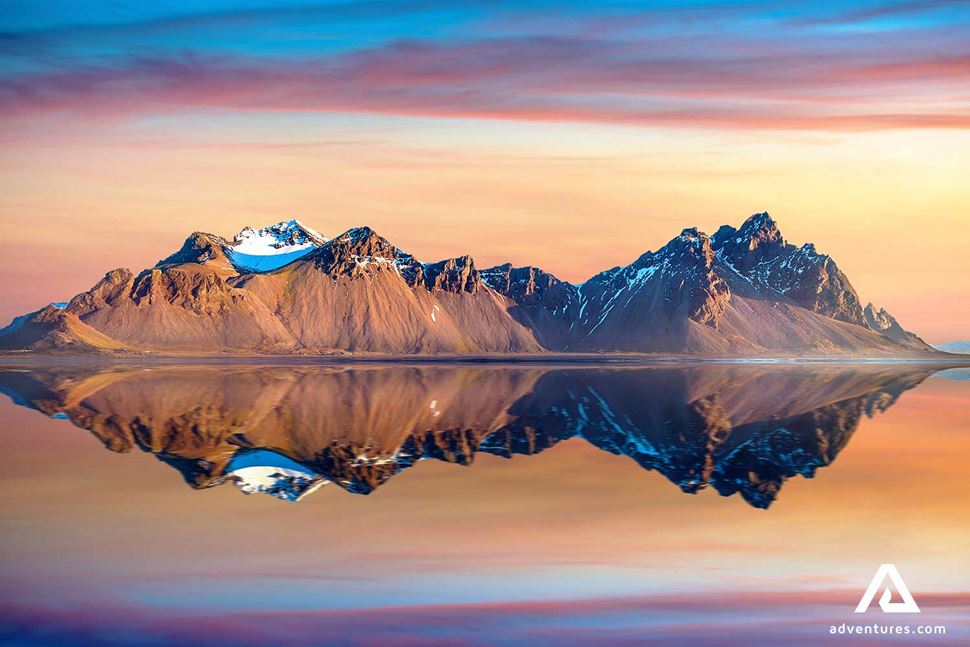 6. Dettifoss Waterfall
Dettifoss is not only the most powerful waterfall in Iceland, it is also the most powerful waterfall in all of Europe. If you stand close by the waterfall, you can feel the earth tremble beneath your feet. It's amazing to be that up close with the powerful Icelandic nature.
7. Lake Myvatn
The area around Lake Myvatn is truly gorgeous. The area is surrounded by geothermal fields called Namaskard. The Myvatn area also has a natural geothermal pool in the area that you should go for a swim in. The whole Myvatn area is stunning no matter what time of year you visit!
8. Hvitserkur Basalt Stack
Hvitserkur is a 15 meter (49 feet) tall monolith, that stands just offshore from the land. Hvitserkur is very photogenic, and the amazing Icelandic scenery surrounding the basalt stack are just stunning. From a certain angle, Hvitserkur looks like a dragon drinking from the sea.
9. Godafoss Waterfall
Godafoss Waterfall or Waterfall of the Gods, is one of the largest and most imposing waterfalls in Iceland. Godafoss played a large role in Iceland's religious history when Icelanders switched to Christianity, as a heathen chieftain threw statues of the old gods into Godafoss Waterfall to demonstrate the beginning of Christianity in Iceland.
10. Small towns and fishing villages
Make sure you visit some of Iceland small towns and villages on your trip to Iceland. Iceland has many small and cute fishing villages that you should definitely check out. Get to know the locals and the culture in different places around Iceland. It's a must!
For more information, take a look at our guide on the best places to visit while in Iceland.