Guide to The Ring Road in Iceland
If you are searching for a truly memorable experience, traveling Iceland's Ring Road is the way to go! It takes you through some of the world's most dramatic countryside. In fact, Iceland's Ring Road is often listed as one of the world's most beautiful road trips.
You will travel through mind-blowing landscapes. Plenty of bucket-list-worthy destinations await you, including active volcanoes, blue glaciers, stunning waterfalls, black volcanic beaches, and so much more.
Visit the extraordinary natural attractions, lovely small towns, and fishing villages that Iceland is so famous for. After traveling around the country, you will know Iceland in-depth and will have made lifelong memories.
In the following guide, we will introduce the main areas of Iceland and the 20 best natural attractions you must visit. This will give you a brief overview of all the information that is good to know before traveling around Iceland's Ring Road. If you are planning to rent a car and do a Ring Road Tour yourself, this will help you to prepare for your trip accordingly.
We will also recommend some great Self-Drive Tour Packages that include a rental car, driver's insurance, and accommodation. If you are not comfortable with driving or if you would prefer to join a small group of like-minded travelers, you will find our recommendations on Guided Ring Road Tours very useful.
Important Facts About Iceland's Ring Road
Iceland's Ring Road is

 

1332 kilometers (828 miles)

 

long.
The speed limit in rural areas is

 

90 km/h (55 mph).
The speed limit in populated areas is 50 km/h (31 mph).
98%

 

of the Ring Road is

 

paved.
The Ring Road has

 

two lanes, but there are some single-lane bridges.
The Ring Road is maintained year round, but

 

occasional road closures

 

are not uncommon, especially in winter.
If the Ring Road is closed there are no alternatives, most of the time. You will have to wait until it reopens.
Driving the Ring Road

 

in winter

 

(mid-October to mid-April)

 

requires a 4x4

 

and a driver with a lot of experience driving in winter conditions.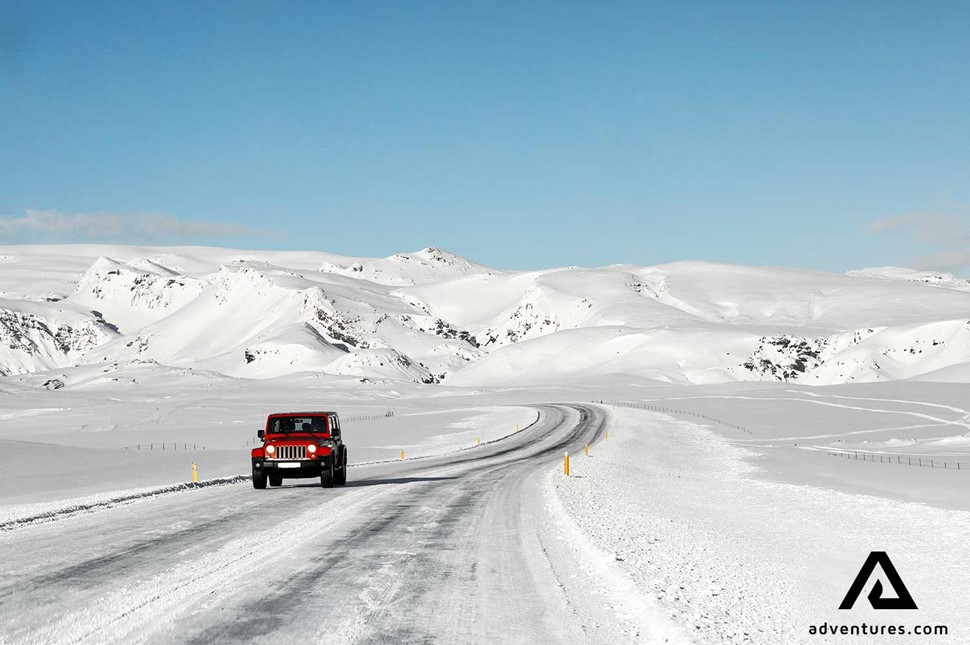 Technically, the complete Ring Road can be driven in less than 24 hours without stopping.
If stopping at the natural attractions along the way, it will take you

 

at least a week

 

to complete the circle

 

in summer and - due to lack of daylight -

 

two weeks in winter.
If you do not want to spend too much time in the car, count on taking 10 to 14 days to complete the trip.
If you are not comfortable with driving or if you want to join a group of like-minded travelers, you can go on

 

a guided Ring Road Tour.
Important Rules About Driving in Iceland
Off-road driving is illegal in Iceland and is subject to very high fines. If you are keen to experience the adrenaline of off-road driving, go on a buggy or ATV adventure tour! These tours will take you to places where you can legally drive on rough dirt roads and enjoy going crazy speeds without disturbing or damaging Icelandic nature.
It is also illegal and dangerous to pull over on the side of the road at random places to take photos or watch the Northern Lights. Instead, find a place with a rest area to park your car safely and legally.
Iceland's Ring Road: Clockwise or Counterclockwise?
There is no wrong way to travel the Ring Road. The landscape is equally beautiful in both directions. There are, however, a few factors you might want to consider.
The south coast is packed full of mind-blowing beauties that are located fairly close together along the way. The other parts of the country are also very pretty, of course, but the south usually has a greater impact on travelers. So, the question is: are you the type of person that likes to start with the most delicious bite of cake? Or do you save the best bite for last? It is up to you to decide!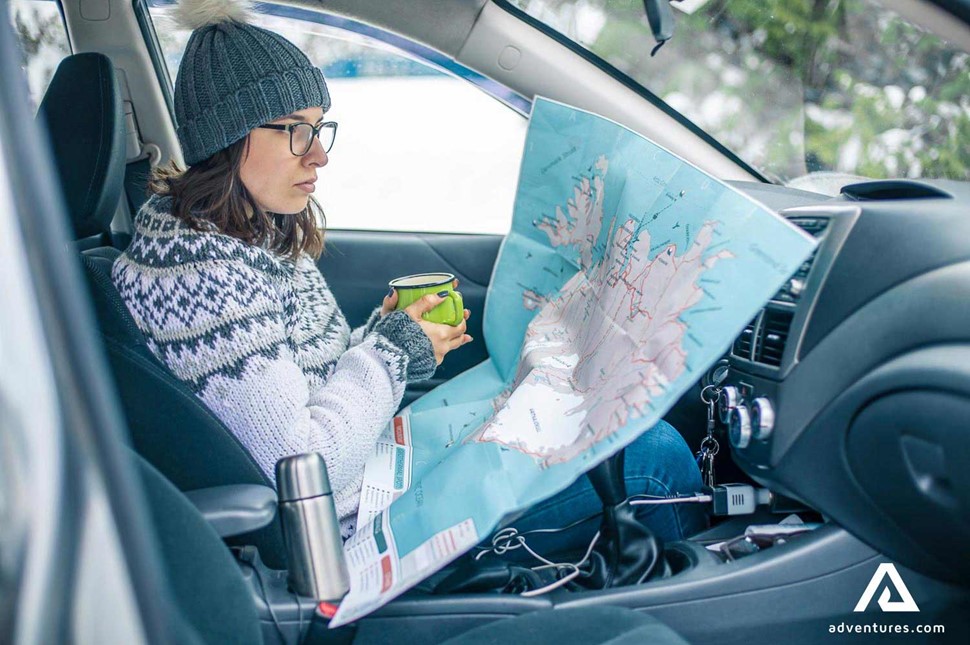 Planning Your Iceland Ring Road Trip
Gas Stations
There are numerous gas stations along the Ring Road. You will find them near towns, but in between, they are less frequent. All stations accept credit or debit cards. Gas is not cheap in Iceland, costing approximately at $2 USD per liter ($7.50 per gallon) in 2018 (See up-to-date prices here). Fill up whenever you can, especially in winter.
Groceries
The best thing to do is to stock up on groceries in Reykjavík. The best selection and the longest opening hours are probably found in the capital. The most well-known supermarket chains are Bónus, Krónan, and Nettó. You will find many of them in Reykjavík and in the larger towns on the Ring Road. In addition, many gas stations offer hot dogs, sandwiches, hot soup, and basic groceries as well.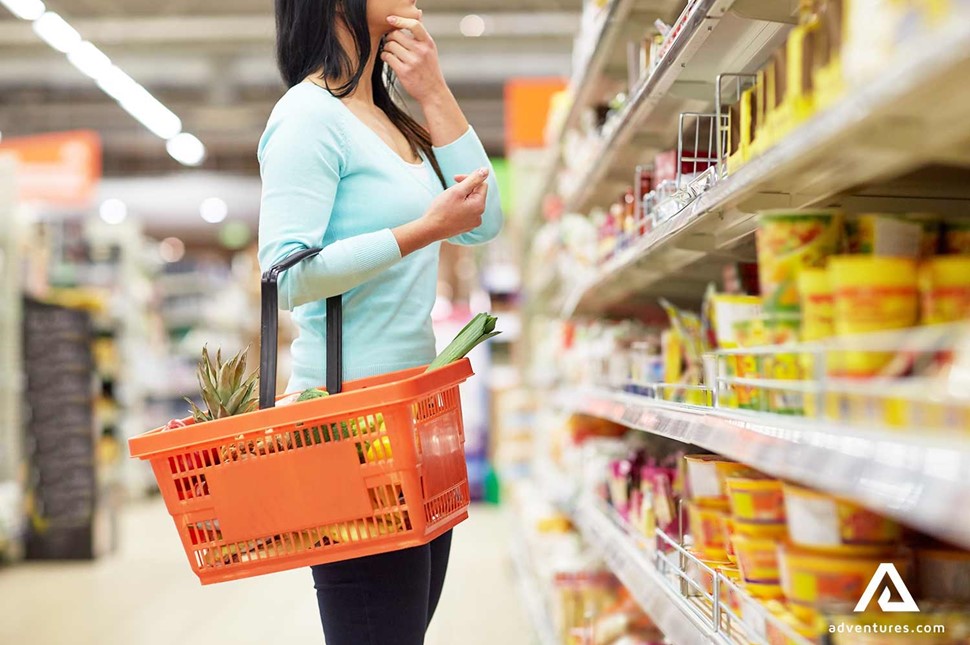 SIM Cards and Network Coverage
It is a good idea to buy prepaid Icelandic SIM card. Vodafone and NOVA are equally good with satisfactory network coverage around the Route 1. You can buy SIM cards at many gas stations or shopping malls, such as Kringlan and Smáralind in Reykjavik.
Accommodation
Campsites are abundant in Iceland and there is no need to prebook. Most campgrounds open in May and close in September. A few campsites remain open year round to accommodate campervans. It is not recommended to camp in winter in Iceland, however. Please, note that it is illegal to spend the night in a campervan, motorhome or any type of vehicle outside of designated campsites. 
If you are not camping or sleeping in a van, you will need to book your accommodation in advance. If you book one of our Self-Drive Packages, though, it will include your accommodation along the entire route, so you will not have to worry about it.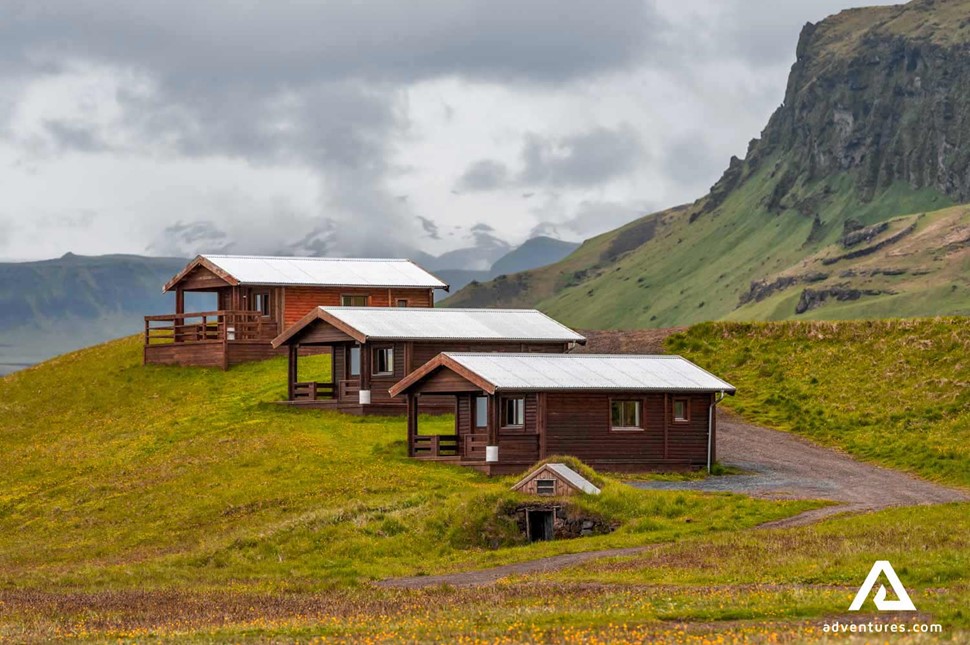 Iceland's Ring Road Map
The 20 Most Beautiful Stops Along Iceland's Ring Road
Some of the following destinations are not directly on the Ring Road. These attractions are very close to Route 1, however, and therefore are highly recommended detours. If visiting these places, do not forget they will add additional time to your journey.
South Iceland
As you start driving east from Reykjavík, the Ring Road goes towards volcanic foothills with steam rising up from hot springs into the air around Hveragerði. Then you will travel through a wide coastal plain full of charming farms where horses and sheep run freely through the meadows.
Soon, the scenery begins to grow wonderfully jagged. Stunning mountains, giant waterfalls, and cliffs frame the road on one side while the ocean stretches endlessly on the other side. You will drive past furious volcanoes, some of them still active today and due to erupt at any time. The landscape is incredibly varied and fascinating in the entirety of Route 1.
After traveling through the largest lava field in the world, the first of the thrilling glacier tongues of Vatnajökull will appear. This scenery is truly enchanting! You will travel past numerous glaciers and some glacier lagoons as well. South Iceland is the most visited part of the country and contains some of the most beautiful natural attractions in the country.
Seljalandsfoss. This is the famous waterfall that you can walk behind to see the world through the falling water. The views are truly astonishing! The waterfall drops over 60 meters (197 feet) with intense power.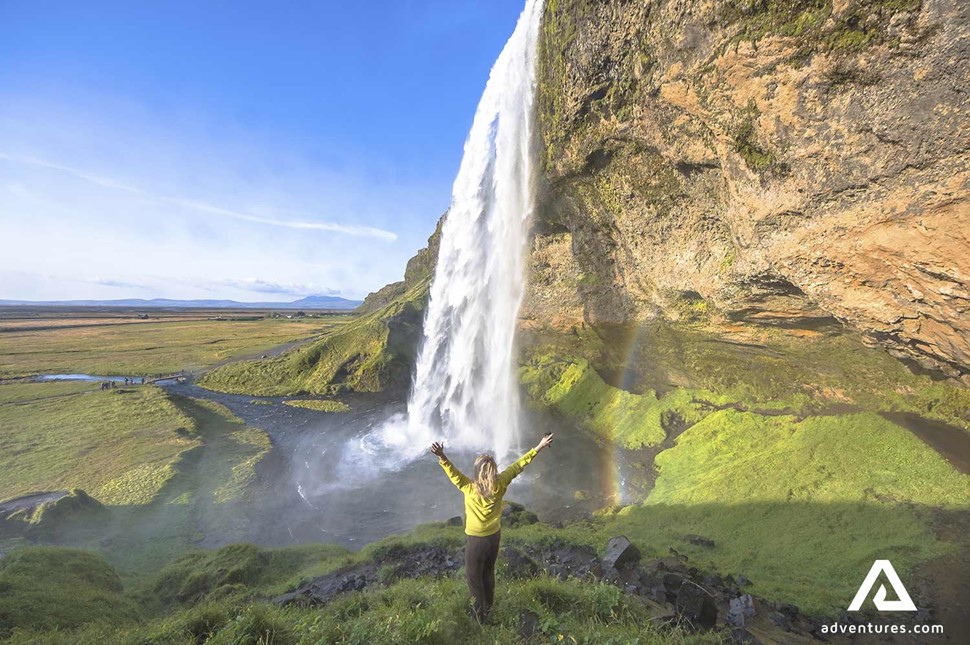 Skógafoss. The other great Icelandic celebrity, this waterfall is 60 meters (200 feet) high and 25 meters (82 feet) wide. If possible, it is even more scenic than Seljalandsfoss! You are not able to walk behind the fall but can climb up to the top to see it from above. The panoramic view from the top is breathtaking!
Reynisfjara Beach. Iceland's most spectacular black sand beach stretches over 5 kilometers (3 miles) with Reynisfjara Beach as the highlight. This volcanic beach with basalt columns, towering sea stacks, and caves has been ranked as one of the most beautiful beaches in the world.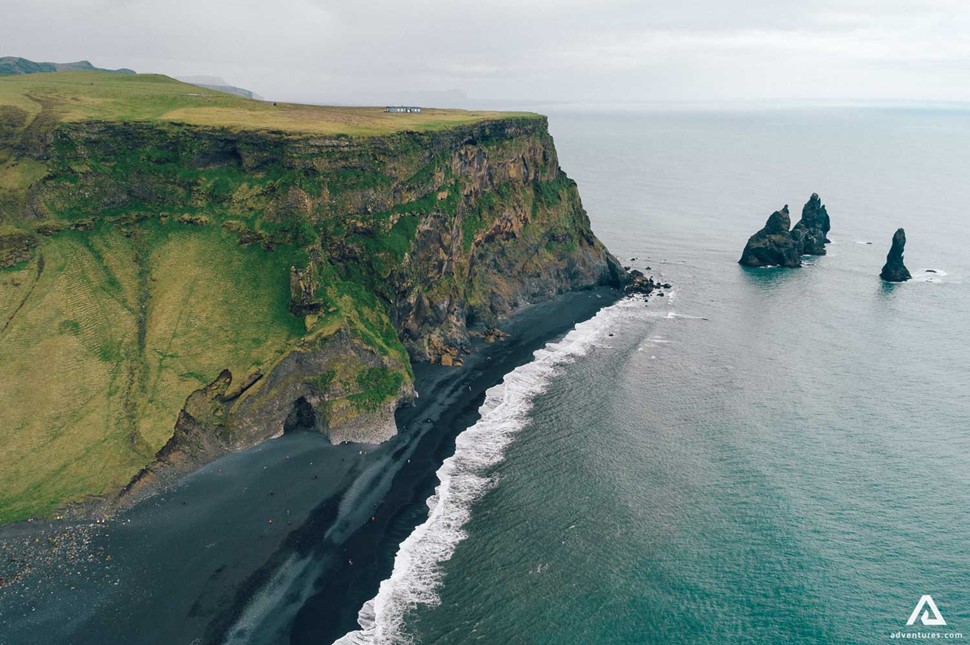 Vík. This charming village lies on the black sand beach. The cliffs are full of puffin nests and a charming small church sits on the hilltop. In summer, fields of purple lupins cover the hillside. This is an idyllic location for photos.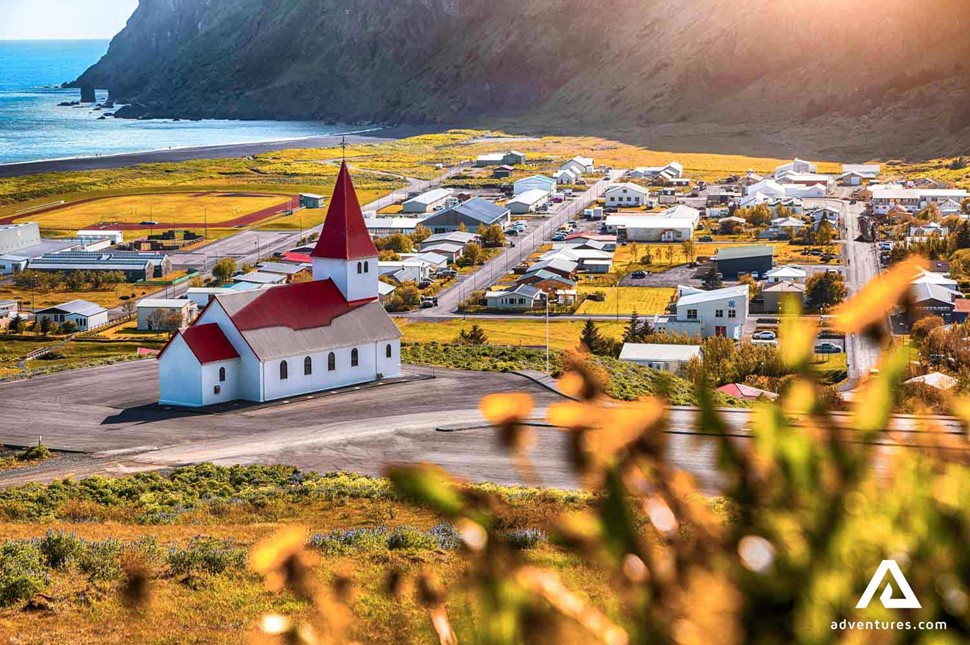 Skaftafell. Its two panoramic glacier tongues, one of Iceland's most photographed waterfalls, and a lush forest make Skaftafell a #1 holiday destination for locals and a must-visit for tourists.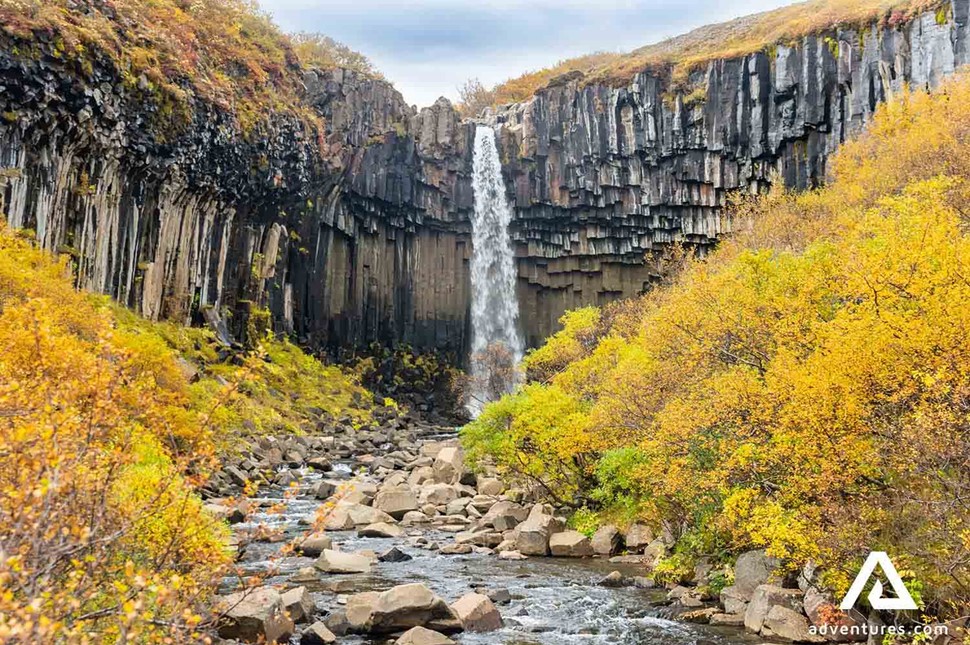 Jökulsárlón and the Diamond Beach. Most visitors agree that Jökulsarlón is probably the most beautiful spot in Iceland. Massive pieces of iceberg float across a vast lagoon towards the ocean, ending up on the black sand beach.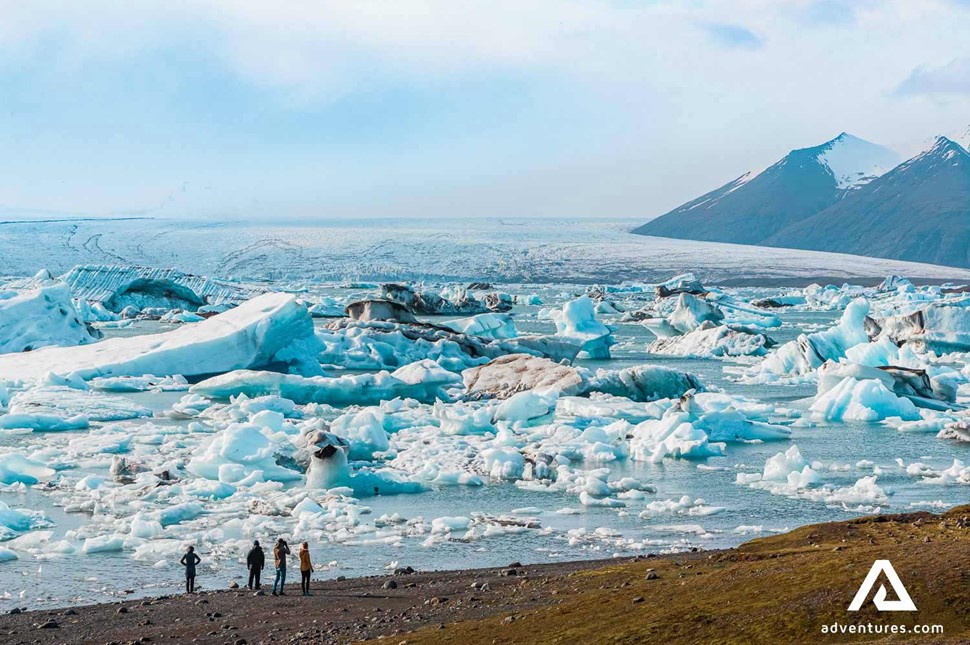 East Iceland
East Iceland is a wondrous destination. The region is impressively varied, sparsely populated, and very peaceful. Its rich culture and amazingly dramatic scenery await travelers. Given the long distance from Reykjavík, this is the region least frequented by tourists.
As you continue your travels along the Ring Road towards the east, you will leave behind the majestic Vatnajökull National Park. After driving through the desolate south coast, arriving in the town of Höfn feels as if you are entering a metropolis. Höfn is Iceland's lobster capital, so make sure you stop for a taste.
Soon you will pass by some oddly shaped, highly scenic mountains that provide an amazing photo location. Then you will pass through the east fjords area where only a few tiny farms and villages remind you that people actually live here. You can take some detours in the area to visit some lovely fjord villages. From here, you will head north on a highly scenic drive between the mountains.
Stokksnes, Vestrahorn, and Eystrahorn: These scenic mountains sit on a black sandy beach on opposite sides of a wide bay. These oddly shaped giants are surrounded by large grassy black sand dunes. On calm days, the mountains are mirrored in the water, making them a perfect photo stop.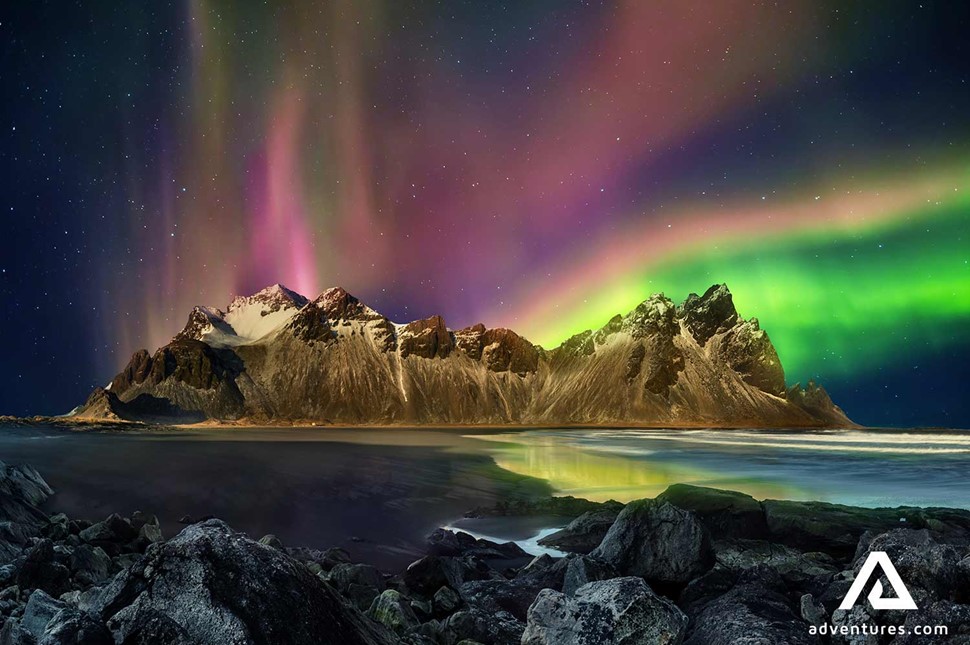 Djúpivogur and Seyðisfjörður: These cute little villages are absolutely worth a visit. Quaint, colorful, and amazingly peaceful places sitting in a magnificent landscape surrounded by unspoiled nature. Truly idyllic!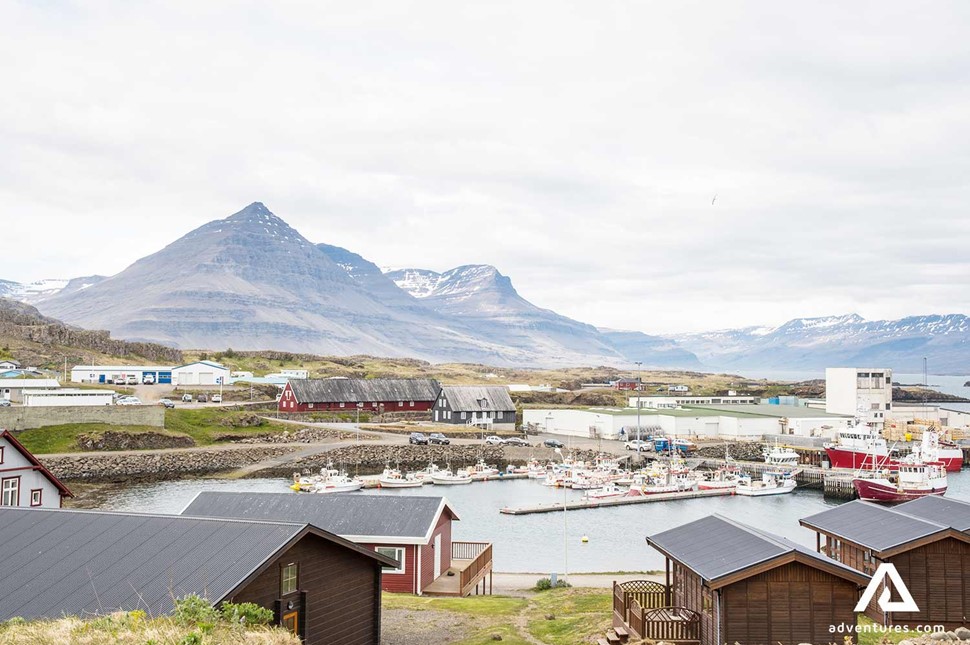 Lagarfljót: Lagarfljót is a 53-kilometer (33 mile) long and 112-meter (367 feet) deep lake found near the town of Egilsstaðir. The lake is renowned for its serpent monster which was even caught on film a few years ago. Iceland's largest forest is also found here, along with a unique arboretum which we highly recommend you visit.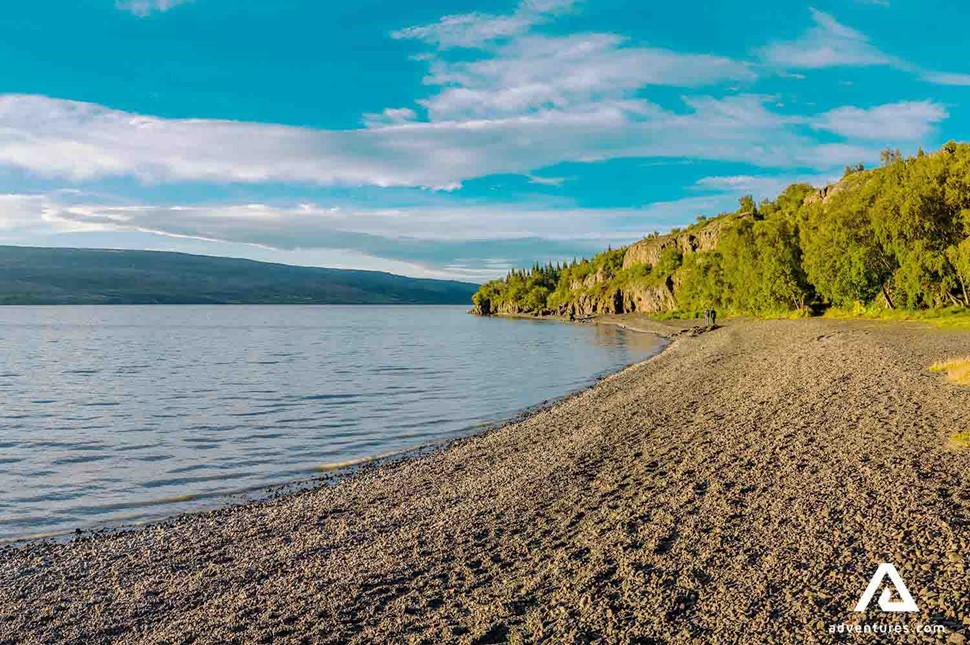 Borgarfjörður Eystri: This region is truly a hidden gem. Locals know it for its matchless natural beauty. Borgarfjörður is also home to the Queen of Elves who lives in the beautiful Elves' Castle. To find out more about the elves, you should pay a visit to Borgarfjörður when traveling through the area.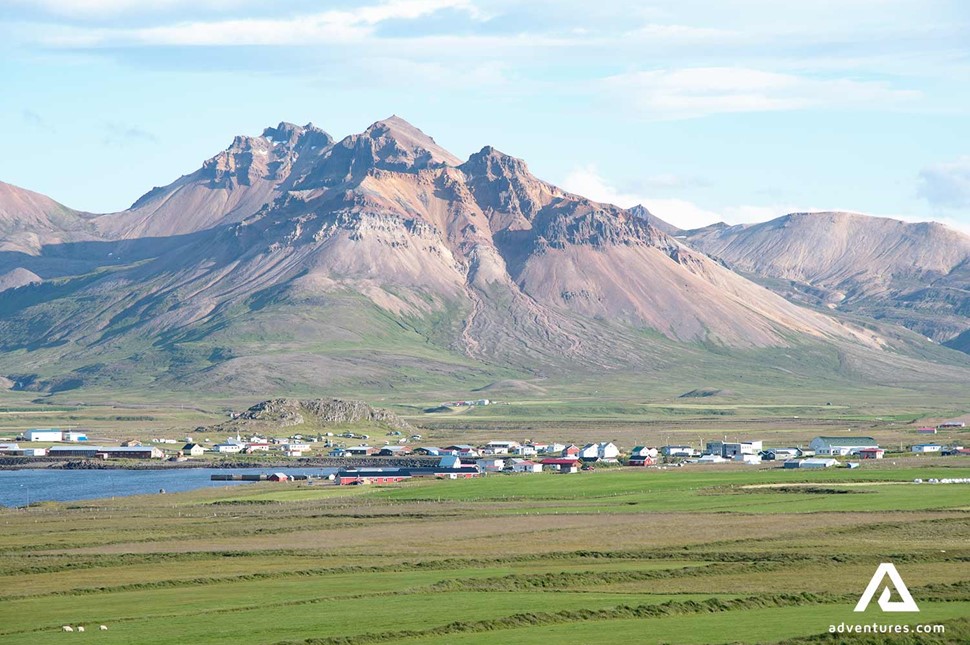 North Iceland
The landscape is completely different in north Iceland. Coming from the east, you will pass by a wonderful lake with remarkable pseudocraters and extraordinary volcanic rock formations. Vivid birdlife, steaming geothermal fields, and an amazing geothermal bath awaits you.
Continuing your trip along Route 1, you will soon travel past a giant waterfall and arrive in the capital of the north, Akureyri. With around 20,000 inhabitants, this is the largest city outside of the capital area. In Akureyri, you can explore the rich culture, go on a whale watching tour, or take some detours to travel around the fjords to visit a few fjord villages such as Dalvík, Hofsós, and Húsavík.
Lake Mývatn. Lake Mývatn is known for its striking nature. It sits in an area full of incredibly unique geological attractions. Volcanoes, pseudocraters, and odd lava formations surround a lake which dotted with countless tiny islands.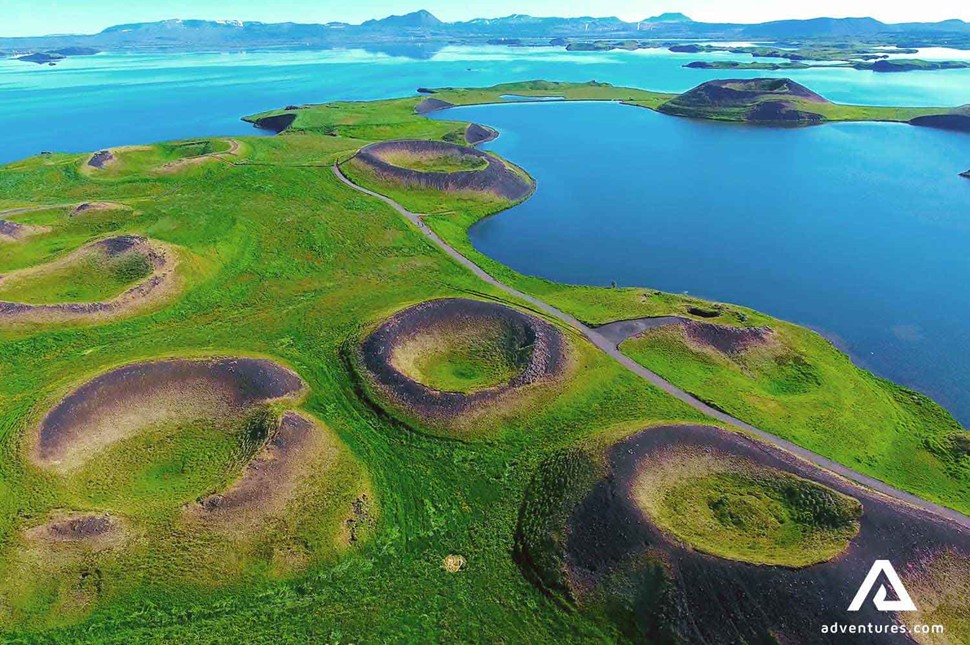 Mývatn Nature Baths. Enjoy a relaxing bath in the Mývatn Nature Bath. This spa is located beside Lake Mývatn. It is often referred to as the northern equivalent of the world-famous Blue Lagoon Spa as it has the same silica-rich, milky blue water as the famous Blue Lagoon.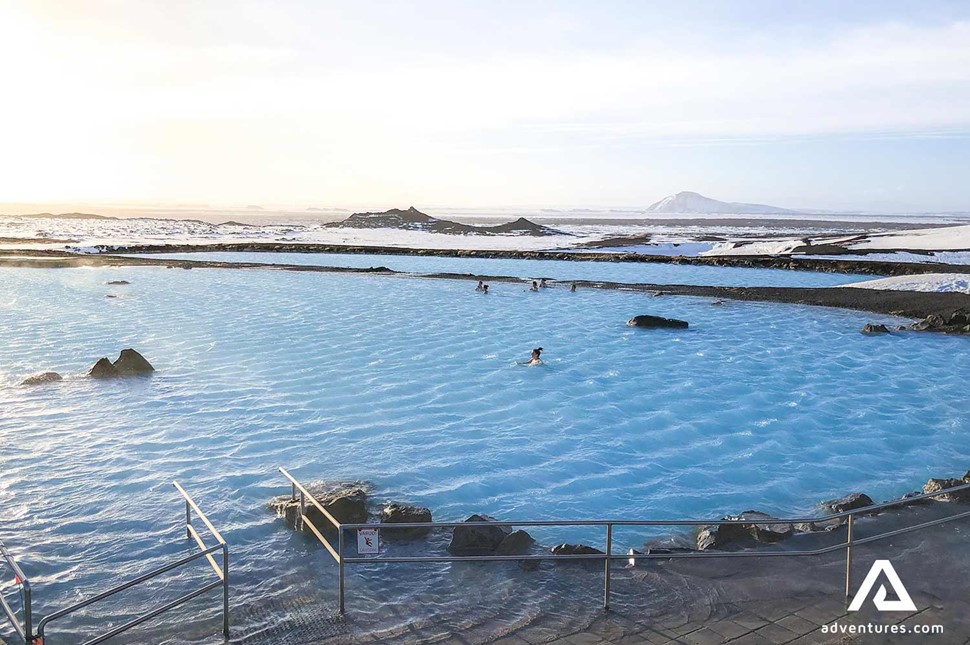 Námafjall and Námaskarð. There is a fascinating geothermal area on Námafjall Mountain. It is probably the most picturesque geothermal field of all, thanks to its vivid colors, furious fumaroles, wildly bubbling hot springs and hot pools.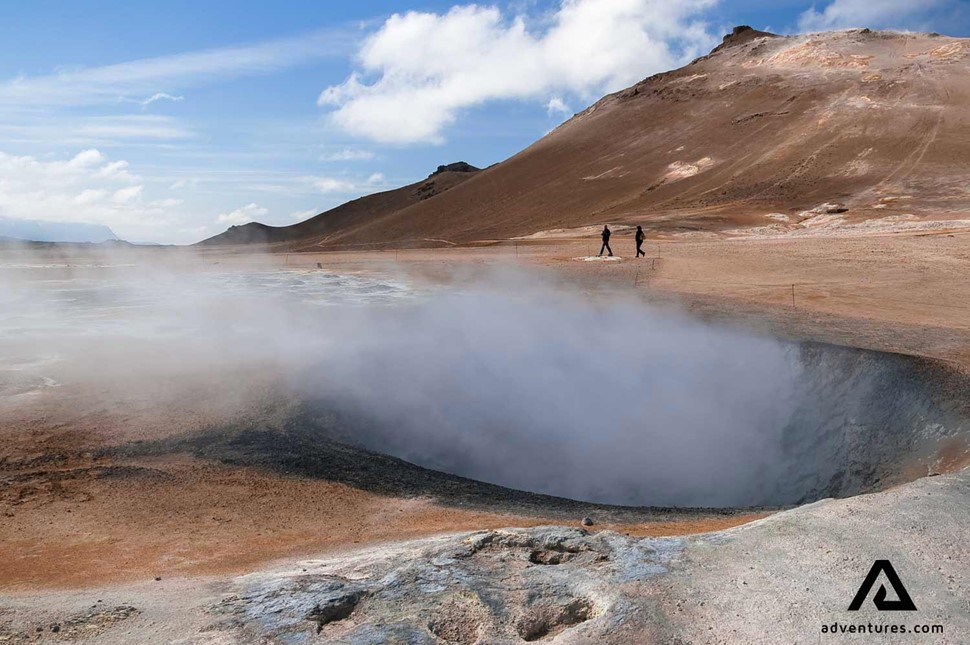 Dimmuborgir: This vast area of wild lava formations, volcanic caves, and oddly-shaped rocks is found near Lake Mývatn. Dimmuborgir has extremely dramatic views, making you feel as if you are in a maze or on another planet.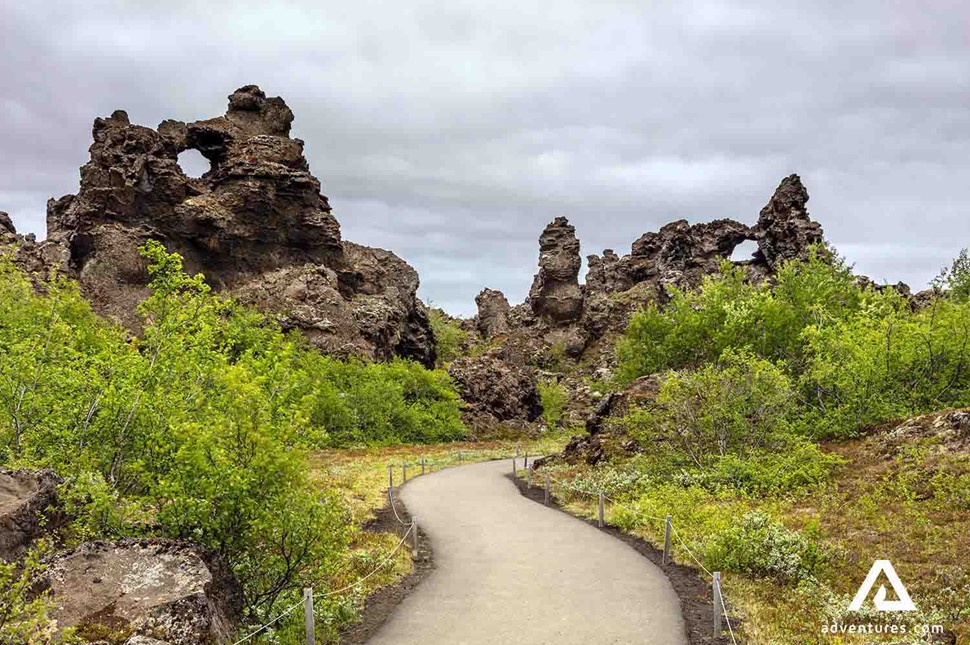 Goðafoss Waterfall: Goðafoss is one of the most spectacular waterfalls in Iceland. Visit the 30-meter (98 feet) wide waterfall and watch the water drop 12 meters (39 feet). According to historical notes, in the year 1000 AD, Goðafoss was strongly connected to the conversion of Iceland from paganism to Christianity.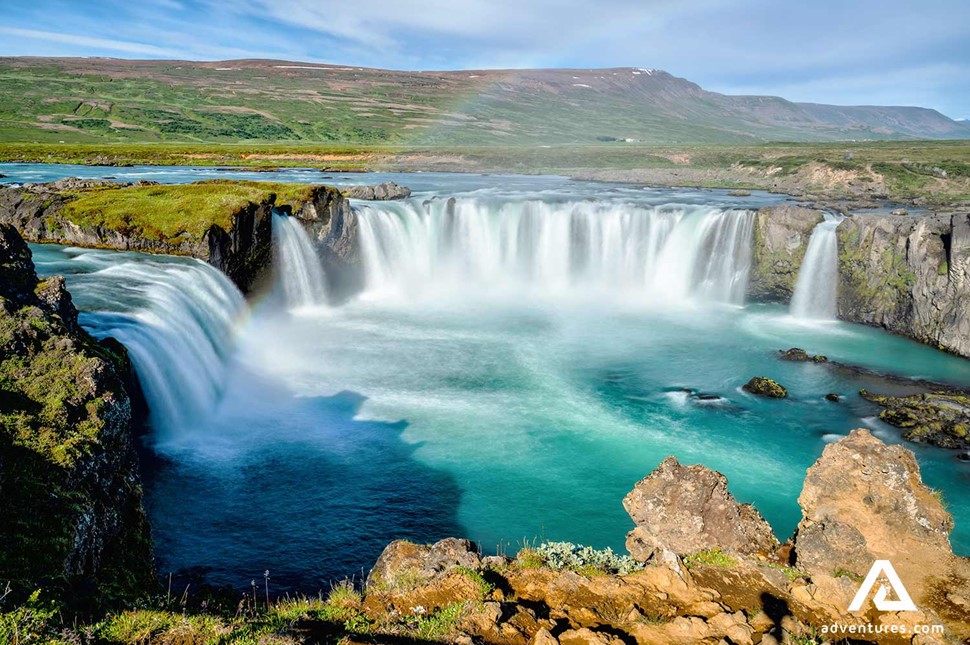 Akureyri: This is Iceland's second largest urban area, often called the capital of north Iceland. Akureyri is a lovely small city with vibrant culture and a wide selection of available activities.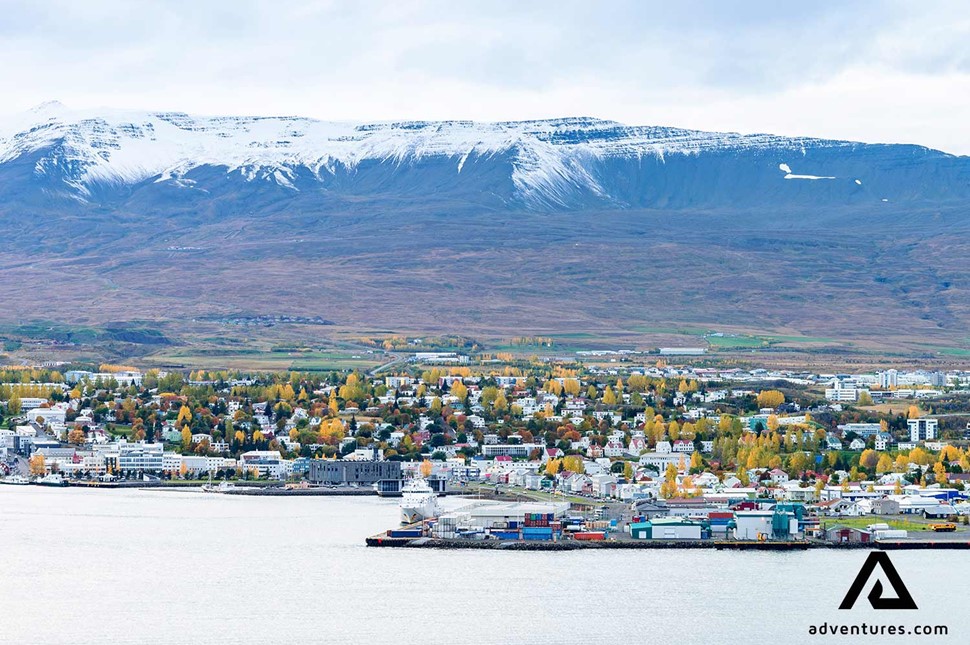 Dalvík: A cute fishing village famous for its incredibly high whale watching success rate which exceeds 99% in summer and 95% in winter. The village is surrounded by gorgeous scenery and has a very peaceful atmosphere.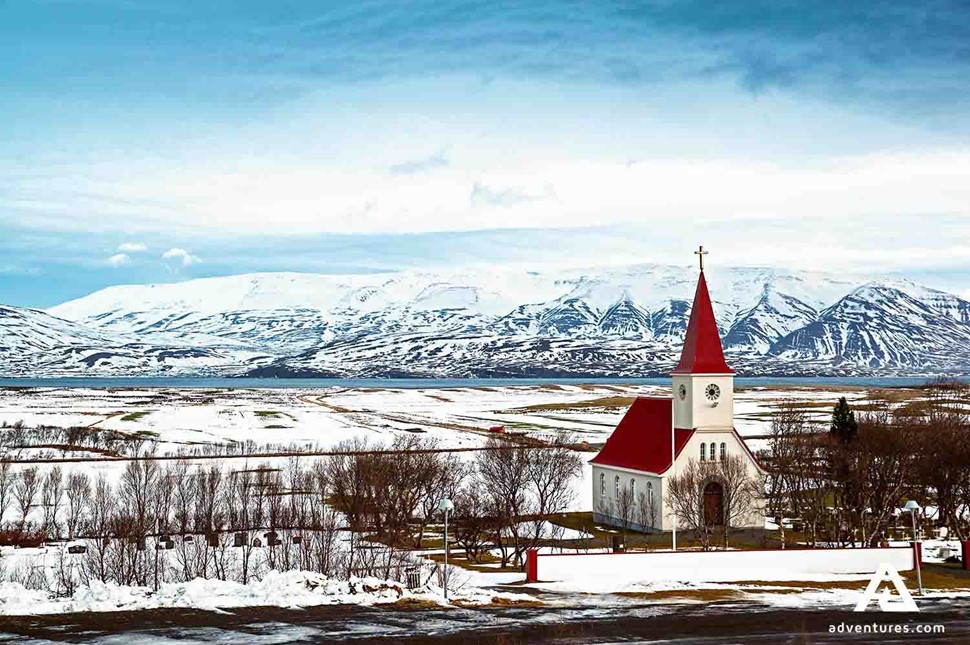 Hofsós: Another adorable village with an incredible fjord panorama, Hofsós is best known for its open-air geothermal swimming pool where you can swim in warm water while enjoying the thrilling view of the bay and its towering island.
West Iceland
Geographically close to Reykjavík yet full of remote, hidden gems, West Iceland will not disappoint you, regardless of if you start or end your Ring Road adventure here.
This wonderful region is famous for its Golden Circle. This fabled tour route features some of Iceland's most visited natural attractions such as the geysers and the rift between the tectonic plates. The Golden Circle is not part of the Ring Road, however. Visiting these sites takes an additional detour.
If you have more time, another amazing detour option could be the beautiful Snæfellsnes Peninsula. This region has earned the nickname "miniature Iceland" for good reason. The peninsula features some of the most characteristic natural attractions and landscapes that Iceland is famous for. An impressive glacier-volcano, glorious waterfalls, vast lava fields, dramatic sea stacks, black sand beaches, and so much more.
Even if you do not have the time for whole day detours, there is still plenty to discover closer to the Ring Road in West Iceland.
Grábók Crater. This 170-meter (558 foot) high, extremely picturesque, moss-covered volcanic crater is one of three craters that sit next to each other right next to the road. There are walking paths up to and around the craters. This is the perfect opportunity to take a break from driving and stretch your legs.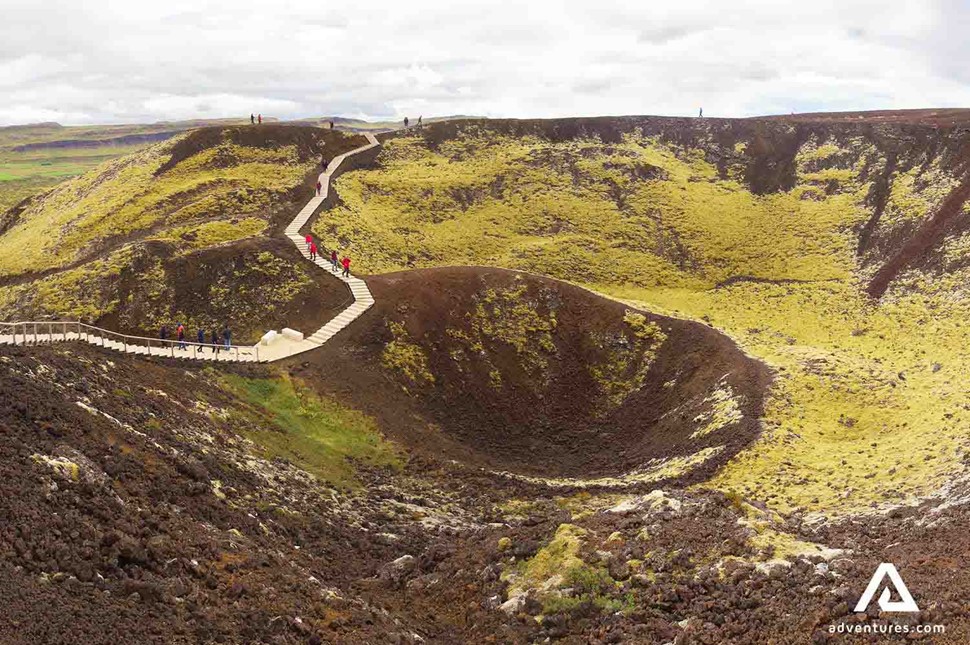 Deildartunguhver. Europe's most powerful hot spring is located in West Iceland. Deildartunguhver produces 180 liters (47.5 gallons) per second of 97°C (206°F) water, which provides heating and hot water for the local communities within a 65-kilometer (40 miles) radius. Getting here takes a short, 18 kilometer (11 miles) detour from the Ring Road.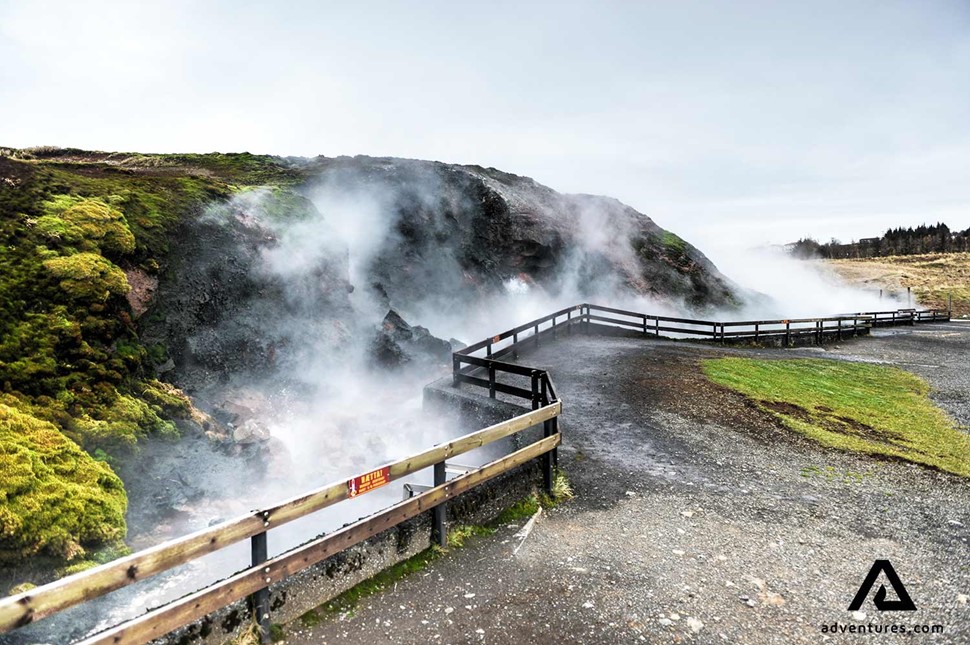 Hraunfossar Waterfalls. If you continue the detour from Deildartunguhver towards the country's interior, you will shortly arrive at the most unique waterfall in Iceland. Hraunfossar appears from the nothing as if by magic. It flows out of the ground and falls down into a vibrantly blue river. This outstanding beauty continues over 900 meters (984 yards).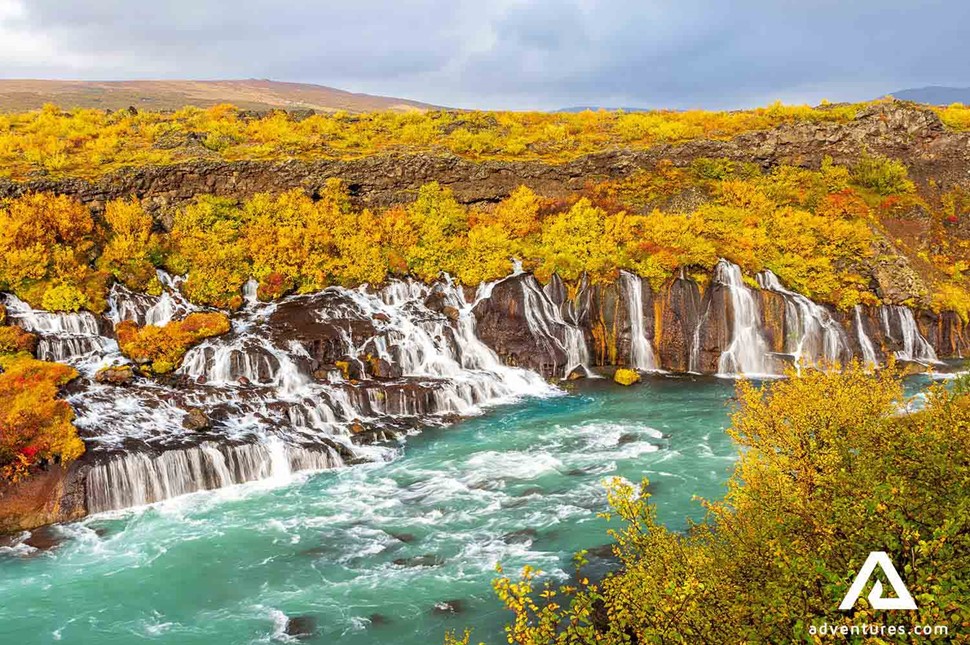 Húsafell. On the same detour, another few kilometers of driving takes you to Húsafell, a popular hiking and recreational area mainly known by locals. You can join a glacier or ice cave tour here as Iceland's second-largest glacier, Lagjökull (the Long Glacier), is located quite close by. The area is full of amazing hiking trails and spectacular landscapes.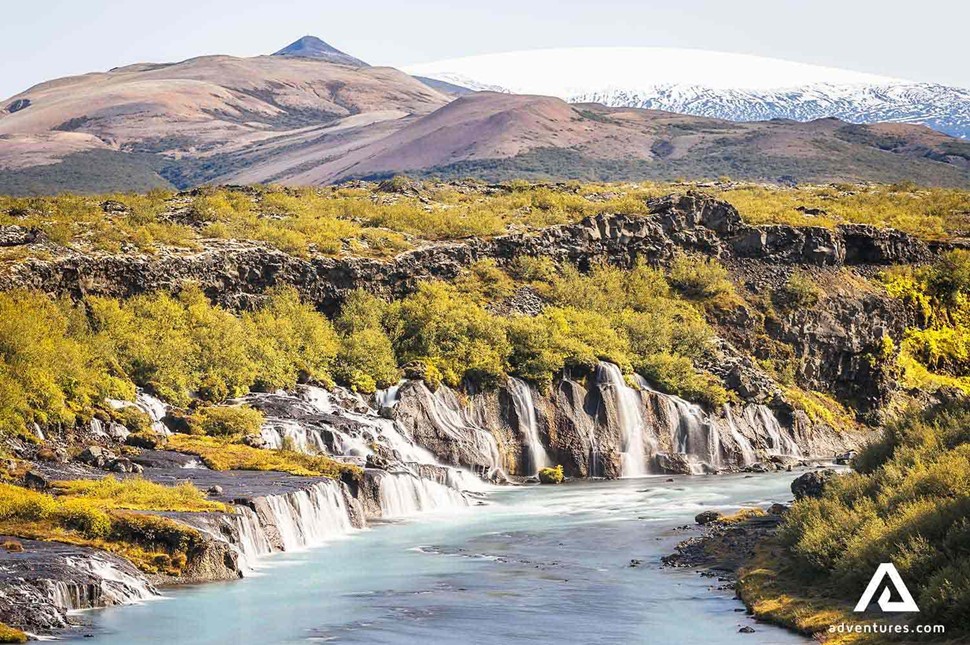 Hvalfjörður Fjord and the Glymur Waterfall. When driving back to Reykjavík, you can either take the tunnel or drive around Hvalfjörður fjord, the whale fjord. If you have time, take the longer route and enjoy the beautiful scenery on this less-busy road. If you like hiking, this is your chance to go and explore Glymur, Iceland's second highest waterfall. The hike takes about 3 to 3.5 hours in total.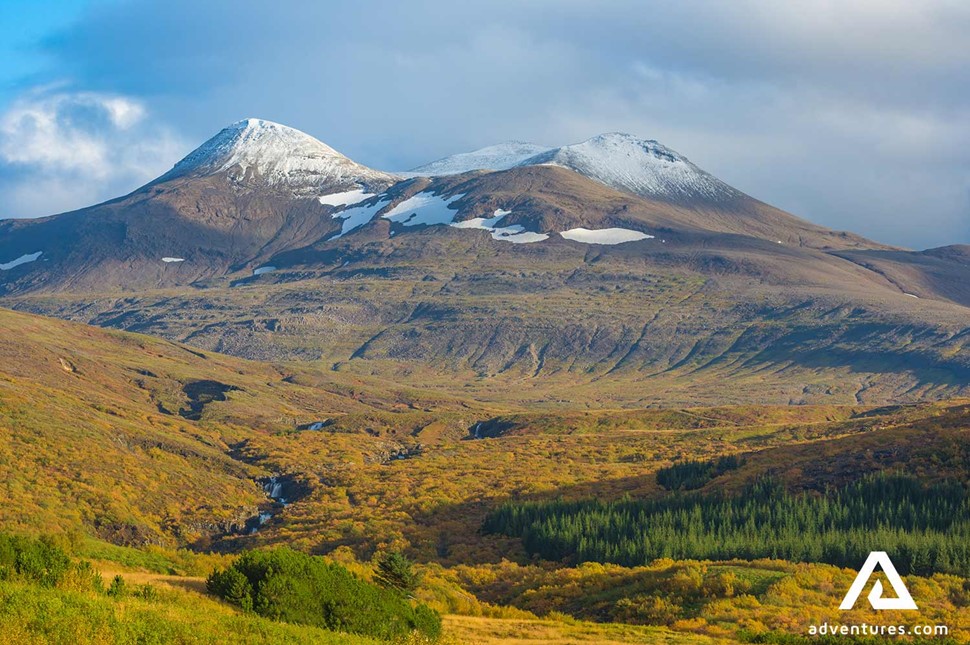 Esja Mountain. Just outside of Reykjavík sits the beautiful Mount Esja, providing a breathtaking backdrop to the capital area. The mountain range with its 914-meter (1000 yard) high peak is a popular hiking area for the Reykjavíkers. It offers both shorter and longer walking options for hikers of all levels. The mountain looks especially spectacular in June and July when purple, yellow, and white flowers cover its hills.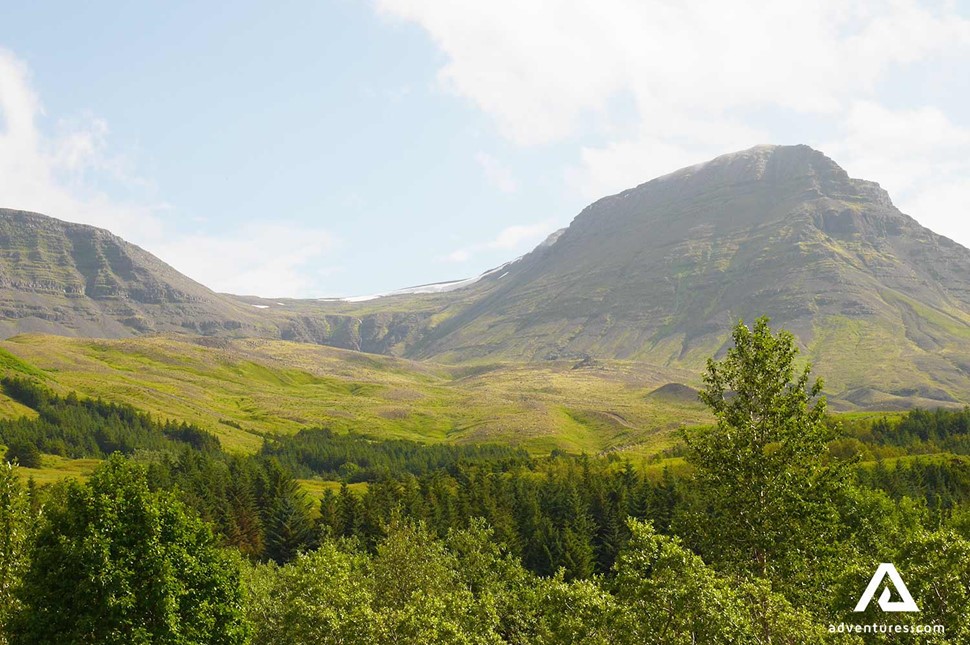 Traveling the Ring Road in Winter
In winter, the chances of nice weather with good road and visual conditions are much lower than in summer. When you are traveling such a long way around the entire country, it is pretty likely that you will run into challenging conditions somewhere along the way.
You have to be prepared to drive on snowy or icy surfaces. You can expect snowstorms and strong winds, short daylight periods, and long bouts of darkness. Road closures are not uncommon. If this happens, you will have to wait in one location until the road is opened again.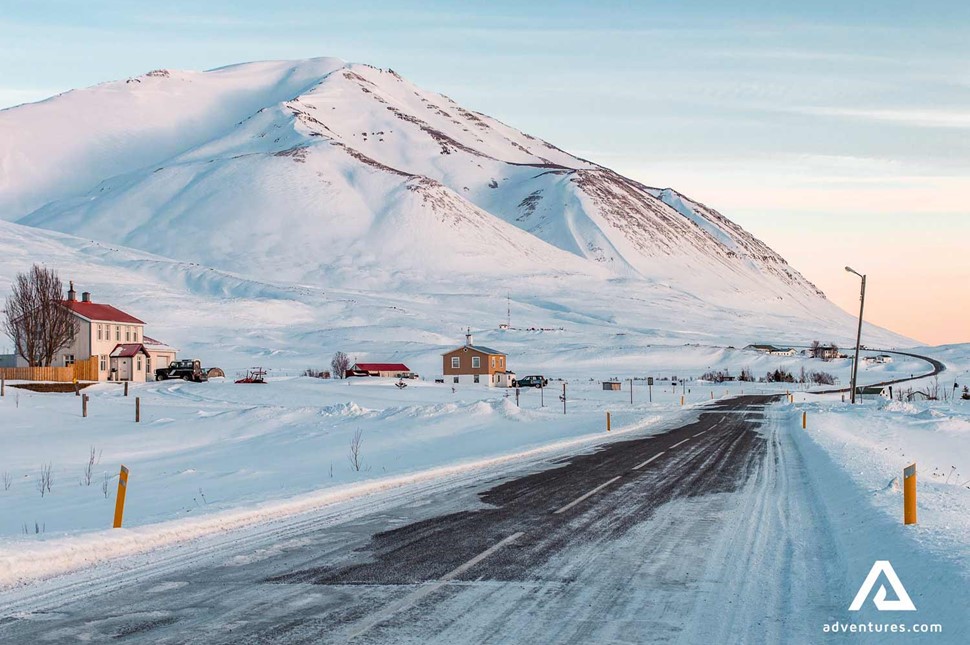 If you are not used to driving in winter snow and strong winds, we highly recommend that you join a guided tour. The local driver guides have a special driver's license that must be renewed each year. Driver guides are specially trained for driving in the harsh Icelandic conditions and have a great amount of experience doing so.
If you do decide to rent a car, it is important to prepare accordingly. Choose a 4x4 with full insurance. Always check the weather forecast, warnings, and road conditions before heading out. Check these sites multiple times per day.
It is good to always have an extra blanket and some food in your car, in case if you get stuck in the snow. Give yourself a wide time frame, allowing yourself 1 or 2 extra days in case you face a road closure. Always obey the speed limits, weather warnings, and closures. If you are looking for a driving adventure, summertime would probably be a better option.
How to Dress for a Road Trip in Iceland
For an Icelandic road trip, make sure you wear warm and comfortable clothes. You will spend many hours in the car, so you will need to dress in layers. Your outer, or shell layer, should be completely waterproof and windproof. Rain and wind are something can be expected in Iceland daily.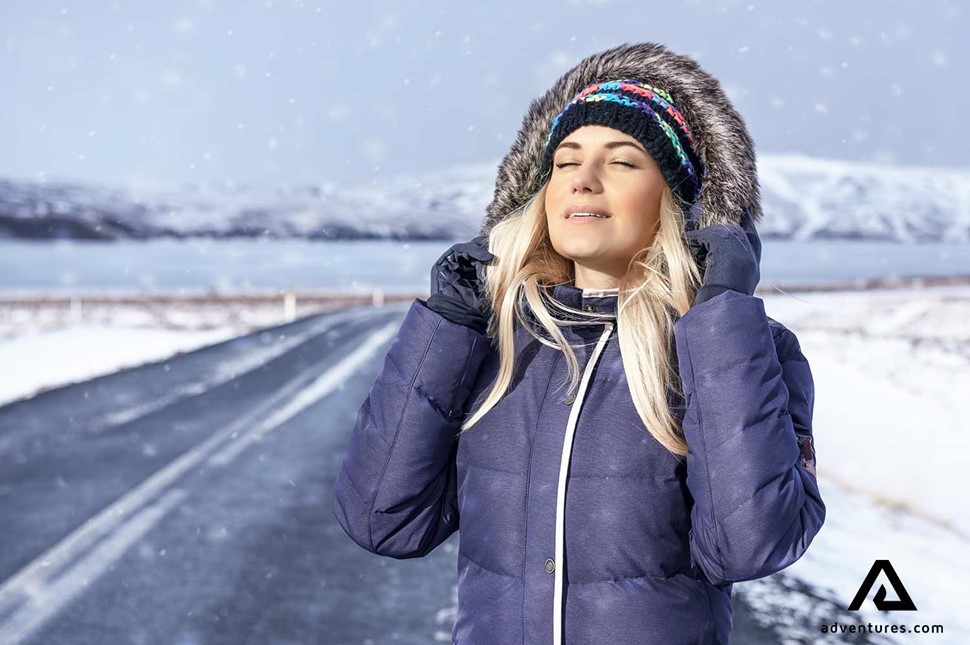 Choose your insulation layer based on the season. In winter (between mid-September and mid-May), you will probably need a warm down jacket. Meanwhile, in summer, a warm polar fleece or knitted wool sweater is enough.
Under the middle layer, wear comfortable, long-sleeved undergarments. Choose a good fabric that keeps moisture away from your skin, to keep you dry at all times. Avoid wearing cotton since it absorbs moisture and does not dry fast. Fine merino wool, for instance, is a fabric that is quick drying and breathable.
When on a road trip you will exit and enter the car innumerable times per day. Therefore, make sure that your outer and middle layers are easy to remove when you get back in the car and quick to put back on when you head out again.
In winter, it is important to have a warm hat, scarf, and gloves. You will definitely be very thankful if you prepare ahead of time by getting some reusable pocket warmers.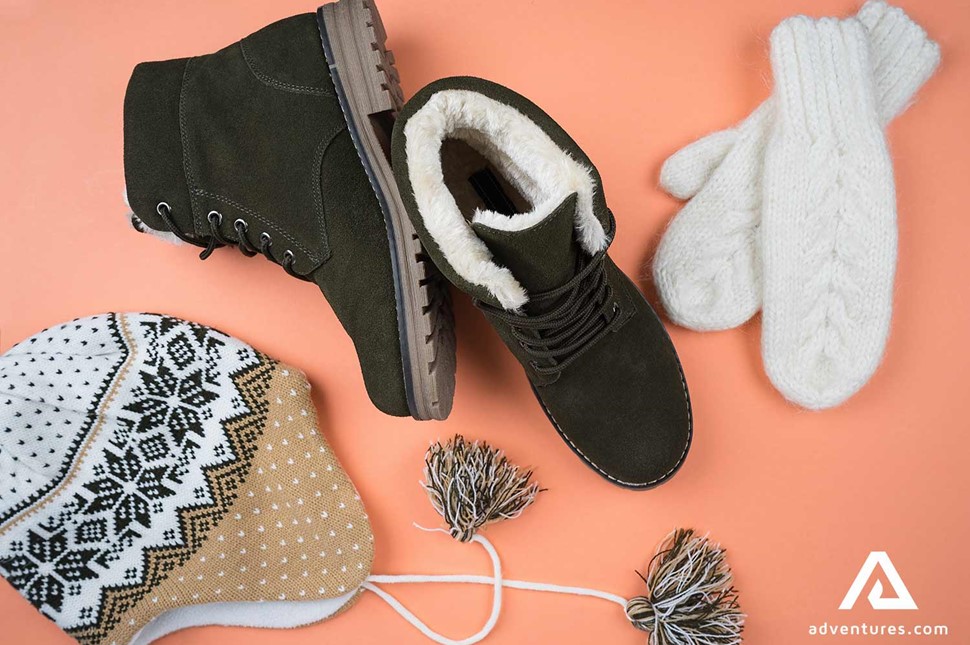 Make sure that your clothing is comfortable and avoid wearing items which are too tight. Wear comfortable boots that are waterproof but not too warm to wear in the car the whole day. Leather boots and woolen socks are recommended as they are waterproof and warm, but also breathable. Avoid wearing high-heeled boots or sneakers.
See our detailed guide on What to wear in Iceland