Húsavík is an adorable fishing town in the Northern part of Iceland just south of the Arctic Circle. The town is known for incredible ocean views, its colorful houses, a stunning wooden church, fantastic whale watching tours and just recently a truly unique bathing experience right at the peninsula's brim.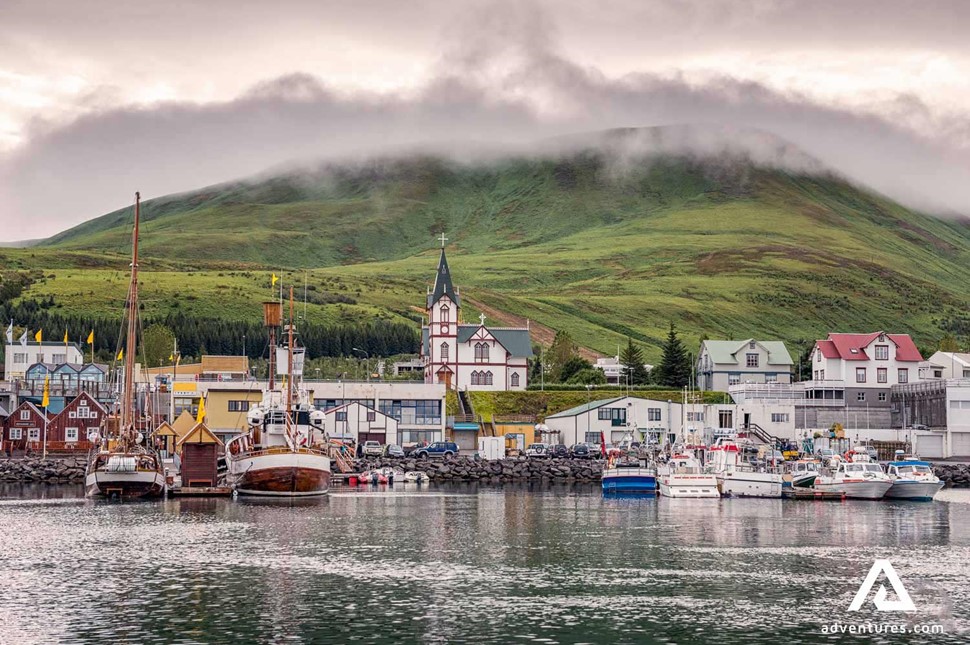 The town has a population of roughly 2200 inhabitants and is an important stone in the northern municipality. It is a very popular stop to make whilst exploring the North as it has quite a few museums, great tours and fantastic restaurants. A few festivals are held in Húsavík over the year and during the summer the town is booming with tourist, flocking to see majestic whales playing vigorously in the bay.
Húsavík is an excellent location to enjoy Iceland's acclaimed Midnight Sun as the town experiences none stop daylight from the 11th of June until the 29th of June. The polar opposite being on the 21st of December when Husavik only experiences 2 hours and 45 minutes of daylight. The positive point in regards to the darkness is still the chance of seeing the glistening Northern Lights which shine brighter in this part of Iceland.
The History
According to the Book of Settlement, Landnáma which traces the history of the Viking settlement in Iceland, Húsavík was the first place in the country to be settled by the Norse. The Viking, Garðar Svavarsson is believed to have stayed in Húsavík over one winter's time around the year 870. He named the location Garðshólmi, which would translate to The Cape of Garðar in English.  In spring when the ice started to melt and the weather started to calm Garðar set his sails out from the bay leaving behind a man by the name of Náttfari and two slaves, a man and a woman. These three people established a farm in the area which is thought to mark the beginning of residentiary in Húsavík.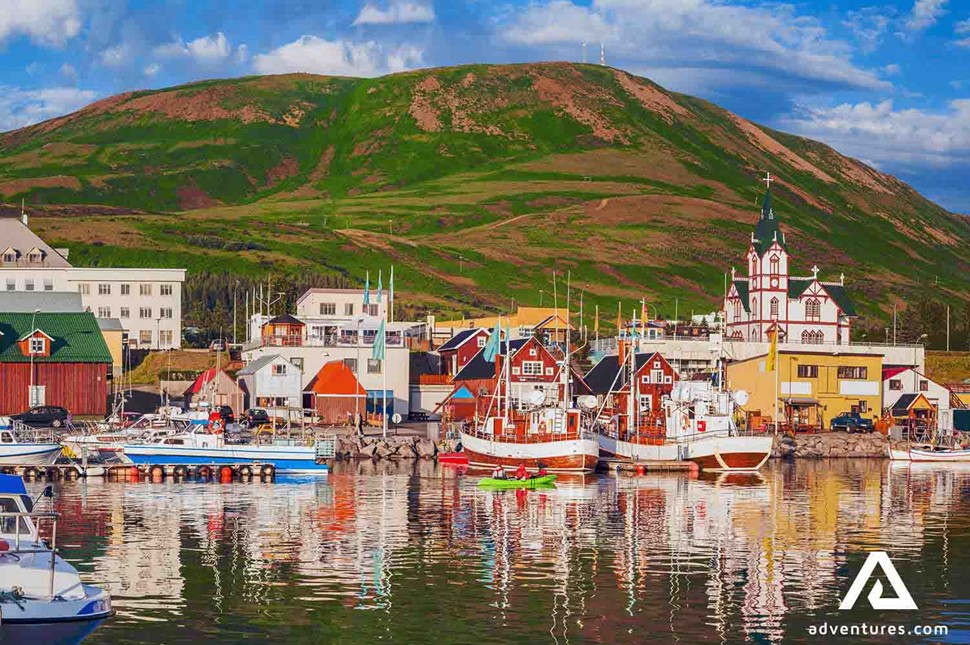 Fun Facts about Húsavík
Two other Húsavík's

 

are to be found in the Nordic countries. One in the Faroe Islands and another in Norway spelled without the commas, simply spelled Husavik.

Húsavík 

has an active soccer team named Völsungur

 which the local's are very proud of even though they haven't played in the top league since 1988.

Húsavík's name means "

the bay of houses

"

Whale Watching

 has been an active part in the community since the first Húsavík whale watching tour company was founded in the year 1995.

Húsavík's surrounding area was used as a training field for the 

Apollo

 

astronaut team in the year 1965 and again in 1967. A total of 31 men trained for the exhibition in Iceland, seven of which later became a part of the twelve-men group which stepped on the moon during the Apollo mission, including the world-famous Neil Armstrong.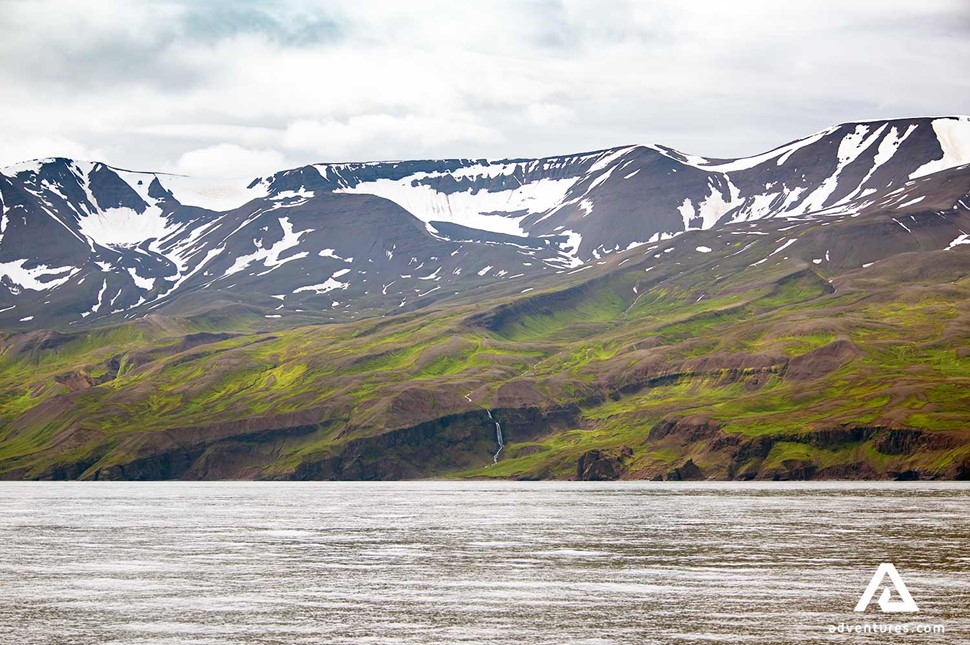 Where is Husavik?
GPS POINTS N66° 2' 40.389" W17° 20' 6.984"
Husavik is located in Skjálfandi Bay in the Northern part of Iceland, the neighboring bay to Eyjafjörðuri. The distance from Reykjavík to Husavik is about 479 kilometers (770,8 mi), from Akureyri are 91,4 kilometers (1470,9 mi) and from Egilsstaðir in the Eastfjords are 220 kilometers (354 mi).
Nearby attraction include Lake Botnsvatn, Ásbyrgi Canyon in Jokulsargljufur National Park, Hljóðaklettar Cliffs, Dettifoss, Selfoss and Hafragilsfoss waterfalls and the mystical Hverir and Námaskarð area. Driving further inland you will find Lake Mývatn, Mývatn Nature Baths and the famous Game of Thrones cave and hot spring Grjótagjá.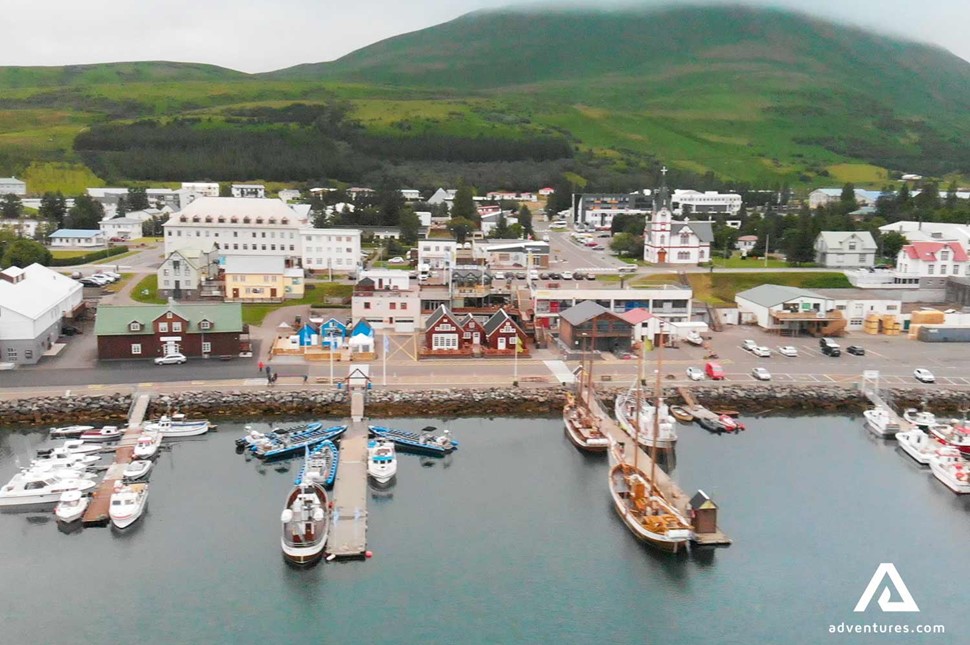 How to get to Husavik?
There are a few ways of going about traveling to Husavik. You can get a rental car and do a road trip, you can fly to the domestic airport at Husavik, you can join one of the many tours visiting the town or you could grab the public bus.
What to do at Husavik?
Take a

 

Whale Watching Tour from Húsavík

 setting sails out towards the Arctic Circle to meet enormous yet playful whales in their natural habitat. Husavik is often nicknamed the Whale Watching capital of Iceland so you plainly can't miss this opportunity! In summertime you can take a mixed tour of 

Whales Watching and Puffin Watching

, an outstanding experience!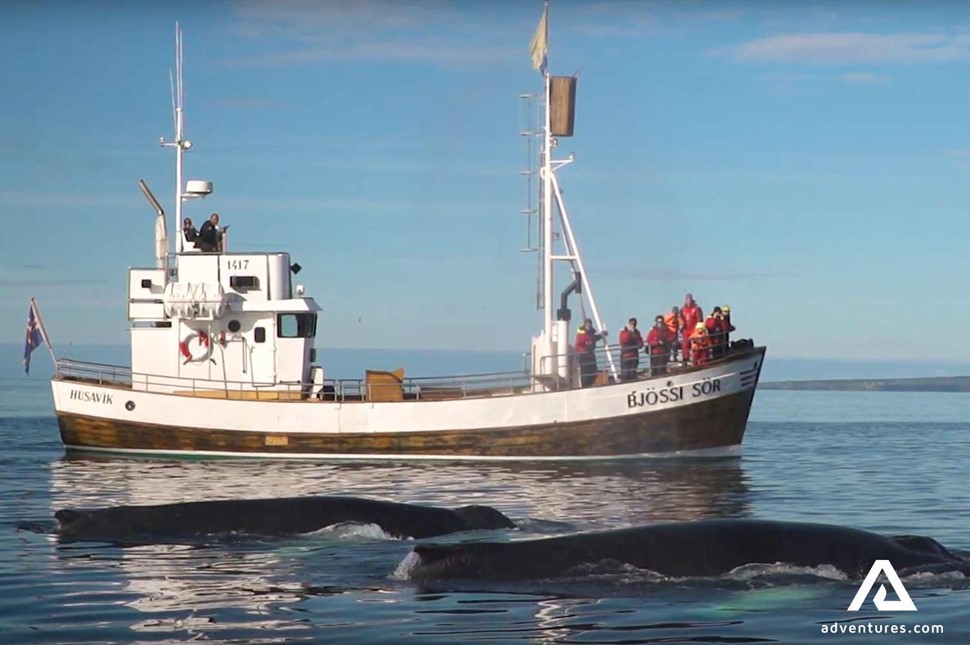 2. Stroll the town and see the local art and the childlike array of multi-colored houses.
3. Take a bath at the unique hot spring GeoSea Baths for a relaxing experience in an astounding setting.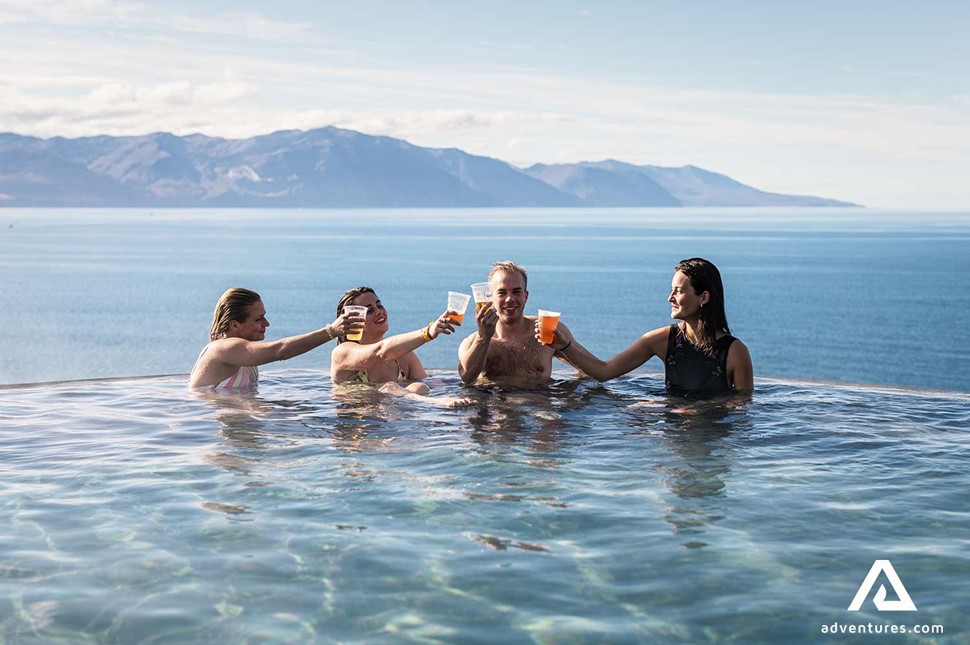 4. Join a Horse Riding tour to explore the beautiful countryside around the town, the cliffs and the lake above all whilst getting in close contact with the friendly and lovable Icelandic horse.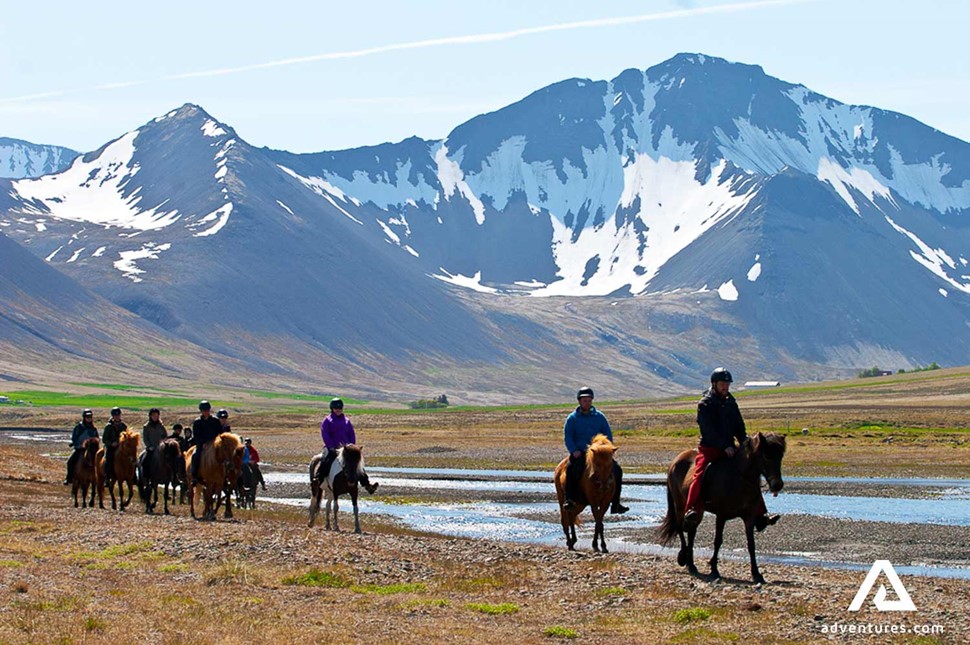 5. Find Húsavíkurkirkja church a delightful Viking-looking building.
6. Visit Kaðlín Handicraft to buy some truly Icelandic souvenirs, many hand-made by local artists.
7. Take a road trip to Rauðanes Point for some impressive lava rock formations, bridges and capes, sculpted by Iceland's volcanic activity and dramatic weather.
8. Take a step back in time at Grenjaðarstaður the old Farmhouse. Only open during summer but offers a fantastic look into the life of Icelanders in the 19th century and is only a 20 minutes drive from Husavik.
9. Visit one or maybe all of the many museums the delightful Húsavík has to offers.
Museums at or near Húsavík
The Húsavík Whale Museum has been voted as one of the best museums in the North of Iceland, if you are into whales and wildlife, this is the museum for you. Great if traveling with kids.
The Exploration Museum

 

displays the remarkable connection between Húsavík and explorers, ranging from astronauts to Viking sailors!

Húsavík Museum

 

takes you on a historical ride through the town's fascinating history, no real theme just everything you should know.

Ystafell Transportation Museum

 this is the museum to visit if you are into old cars.

Mánárbakki Folk Museum

 offers a look into the old days in Iceland giving you a chance to roam around inside a real turf house.
Annual Events and Festivals at Húsavík
Mærudagar e. Húsavík's Candy Days
Mærudagar is an annual festival hosted in Húsavík during the last weekend in July. Each section of the town is decorated to the fullest in their signature color by the locals themselves. Each house taking trying to out-beat the next. The colors are green, pink and green and the locals often dress to match their neighborhood. To visit the town during this time is like stepping into a scene with Willy Wonka with the addition of traditional Icelandic concerts and dances, standups and acts, something you do not want to miss!  
Where to eat at Húsavík?
Húsavík offers a wide variety of restaurants, cafés, and bakeries. Some are open all year round but other only during the busiest season, Summer. Here is the Foodie guide to Húsavík.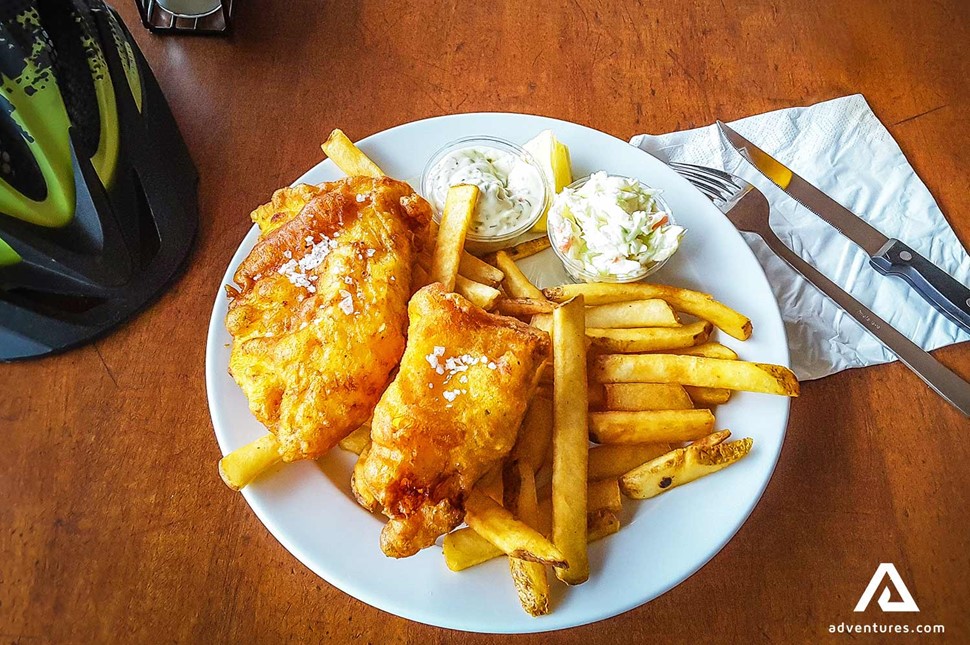 Open all year round:
Heimabakarí Bakery

 - a local's favorite offering authentic Icelandic bakery goods

Gamli Baukur

 

- fresh fish and great views in an amiable wooden house

Café Hvalbakur

 - down by the ticket office for Whale Watching tours and has proper good coffee and food

Salka Restaurant

 - one of the most historic houses in town, has a multicultural menu

Moby Dick

 

- located at Fosshótel Húsavík offers a simple and delicious menu
Open in the summertime
Naustið

 

- The highest rated Húsavík restaurant on Tripadvisor offering Local cuisine and fair prices

Fish and Chips

 

- Well, the name kind of gives it away. Situated in a truck down by the harbor selling scrumptious modest meals
Where to stay at Húsavík?
Hotels
Fosshotel Húsavík

Húsavík Cap Hotel
Guesthouses
Gistiheimilið Árból

Brúnargerði

Heiðarbær Guesthouse

Bjorg Guesthouse

Gistiheimili Húsavíkur

Höfði Gistiheimili

Húsavík Holiday Apartment

Port Guesthouse

Gistiheimilið Saltvík

Húsavík Accommodation Sólbakki
Hostels
Cottages
Húsavík Weather
Húsavík is by many Icelanders considered to be a weather paradise, even though it gets snow heavy in winter the residents are rewarded with beautiful green and sunny summers. The town offers a unique chance to experience the mesmerizing midnight sun in summer and a fantastic opportunity for the Aurora Borealis in winter. You are, after all, located so far North you can almost touch the North Pole!
The weather forecast for Húsavík is accessible online but be sure to check it regularly as Icelandic weather is famous for shifting rapidly.