Even though it's located about six hours away from the capital, Diamond Beach still manages to be one of the most visited attractions in Iceland, and for very good reasons. Jökulsárlón is an enormous lagoon filled with huge chunks of ice that have broken free from Breiðamerkurjökull, an outlet glacier of the famous Vatnajökull (the largest icecap in Europe). You can even take a boat tour on the lagoon and sail among the massive icebergs!  
As soon as you do any research on which sites to visit in Iceland you will come across photos and information on the Jokulsarlon glacier lagoon (Jökulsárlón), and it's neighboring Diamond Beach. It's just inevitable!  
The icebergs floating in the lagoon range in color from deep blue to bright white, and brilliant turquoise shades, they slowly melt and make their way down to the ocean, before they reach the Atlantic Ocean they often come to a stop at an amazingly beautiful black beach, the name of this beach is Breiðamerkursandur, although, it is certainly better known by its nickname, the aforementioned Diamond Beach. Seeing the icebergs sit on the black sand where they glint under the Icelandic Midnight sun, creates a truly unique setting.  
WHERE IS DIAMOND BEACH LOCATED? 
Where is Diamond Beach? It is located by Jökulsárlón glacier lagoon on the South Coast of Iceland.
Driving from Reykjavik to Diamond Beach
The Diamond Beach is located just across from Jökulsárlón Glacier Lagoon, about 370 km from Reykjavík and about 80 km from Höfn. The drive from Reykjavík will take about 5 hours without stopping, but only about 1 hour from Höfn, again, without a stop.
If you are looking to enjoy the drive from Reykjavík, it is, though, recommended to spend 2-3 days on the south coast, especially in winter when the daylight is extremely limited.
Your options for getting to Diamond beach are: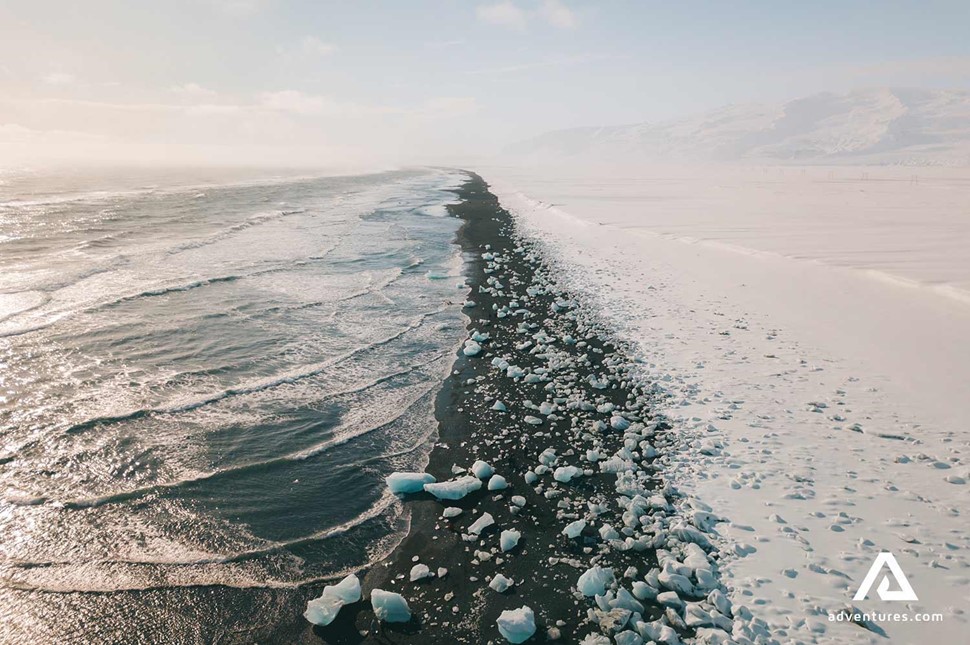 Why is it called the Diamond Beach?
The name comes from the glistening icebergs which sit on the beach after they have floated around Jökulsárlón Glacier Lagoon. The icebergs first start off as enormous blocks of ice which have separated themselves from Breiðamerkurjökull glacier and dropped into the glacier lagoon.  
The name of the glacier that these icebergs originate from is Breiðamerkurjökull, and this is why the beach is actually called Breiðamerkursandur in Icelandic. It wasn't until tourists started coming here and really taking the time to admire this staggeringly beautiful natural phenomenon that the name, The Diamond Beach caught on. So, you can actually say that the name is Breiðamerkursandur but the nickname is The Diamond Beach!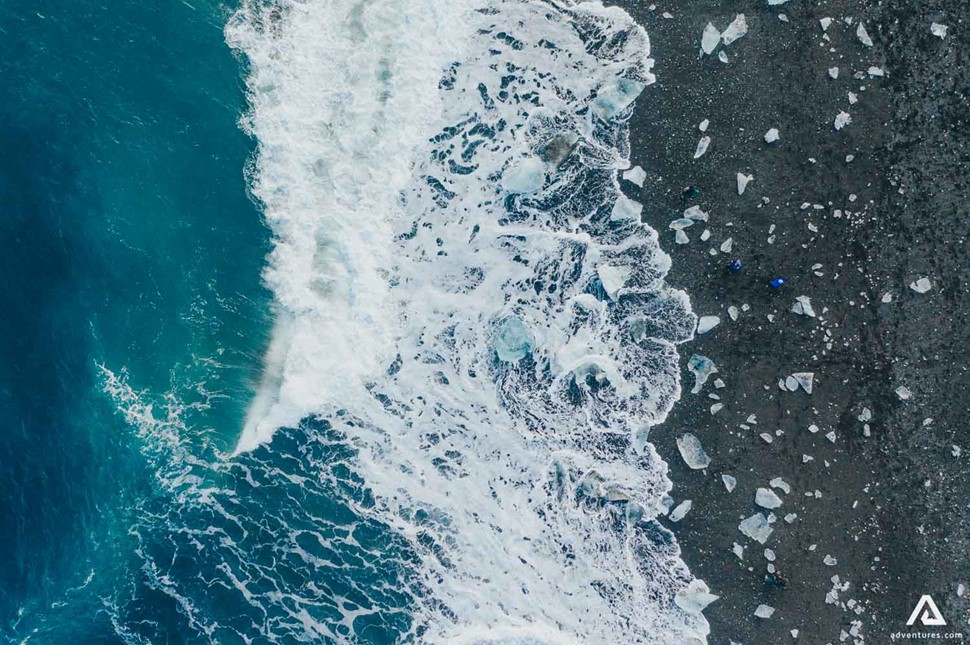 Can you see the Northern Lights at the Diamond Beach?
In winter the Diamond Beach is quite a good place to spot the northern lights because there is very little light pollution, however, this is also what makes it a bit tricky. You will need to wear a headlight or use a torch to make your way around the area, and, also, to take care to park your car in one of the designated and well-marked parking spaces. The northern lights forecast can be checked at vedur.is, or you could ask at your accommodation.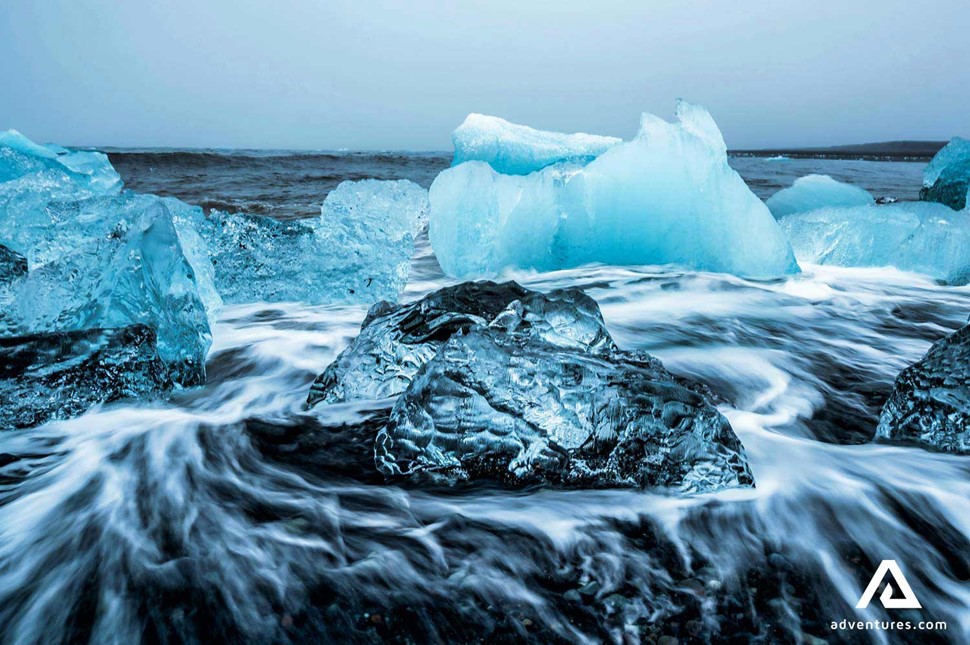 When is the best time to visit the Diamond Beach?
Anytime of the year!
The only difference is that it's more challenging getting there in winter, the light is more limited, and you will need warmer clothing, scenery-vise any season is stunning!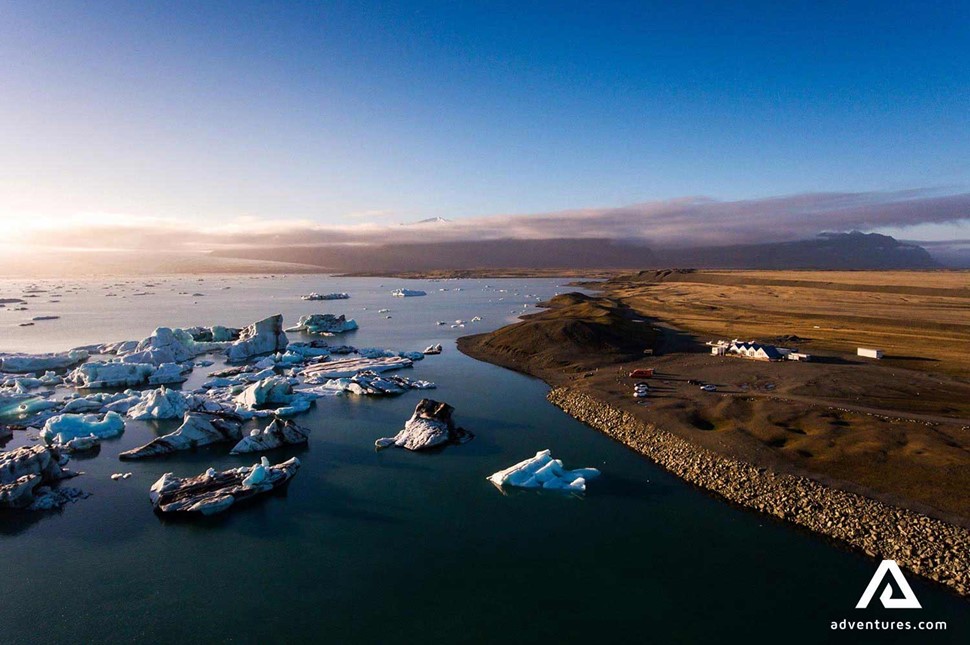 Places to Stay Near Diamond Beach, Iceland
Hotels:
Hof Adventure Hotel (

best price

)

Icelandair Hotel Herad

Fosshotel Glacier Lagoon

Fosshotel Vatnajökull

Laxá Hotel

Hotel Skaftafell

Fosshotel Eastfjords
Other options:
If you are searching for an AirBnB the best search locations to enter would be Kirkjubaejarklaustur, Jokulsarlon or Hofn. You can find also find some hostels and guesthouses at Kirkjubæjarklaustur and Hofn, or even out in the countryside, we can also recommend the Gerdi Guesthouse, it gets good reviews!  
Other options would be camping sites, both Kirkjubæarklaustur and Höfn have excellent camping sites. This is the cheapest option and great for summer travelers!  
Restaurants and cafés near the Diamond Beach | Where to eat near the Diamond Beach?
There aren't many options for eating close to the beach or the lagoon. There is one café right at the parking lot but other options are at Höfn or in the Skaftafell National Park.
The Jökulsárlón Café is located right next to the lagoon's parking lot in a white and blue house. Soup, sandwiches, coffee and the basics are offered. Open: All year round from 9 in the morning to 5 pm during mid-winter and 6 pm in spring and 7 pm in the height of the summer season.
At Höfn
Jón Ríki

 

is a farmhouse restaurant at Hólmur, next to the ring road, 32 km from Höfn. It has a small in-house brewery, and great high-quality meals made from local products.

Pakkhús

 is a restaurant, café and bar, which is located just beside the Information Center in the town, there are harbor views.

Humarhöfnin

,

 this restaurant also has a beautiful view over the harbor. Probably the most popular place in the area.

Nýhöfn

 "New Harbor", is maybe, not surprisingly, located by the harbor! It is housed in a historic building, which was the first family house to be built in Höfn in the year 1897.
In Skaftafell Area
At Kirkjubæjarklaustur
Systrakaffi

, a very popular café, restaurant and bar named after the famous Sister of Klaustur e. 

The nuns of Kirkjubæjarklaustur

. Offers a wide variety of western cuisine.

Icelandair Hotel Klaustur

, for those looking to dine in a finer manner, great to try the local produce and fabulous fish.

N1 or Skaftárskáli

 

Gas Station / restaurant / BBQ grill with some nice burgers and fish and chip options. Great for a quick bite!
What Should I Bring?
Specific information on what to bring is included on the dedicated tour page. However, we generally find that you can never bring enough warm and waterproof clothing, especially in the winter. We also recommend sturdy hiking shoes and a camera, along with things that are season specific, like sunscreen and sunglasses.
Safety at Diamond Beach, Iceland
Diamond Beach is totally safe, as long as you treat it with respect! Unlike Reynisfjara Beach, renowned for its dangerous 'sneaker waves', Diamond Beach is not known for waves that drag unwitting tourists out to sea. However, there are a number of risks that you should be aware of during your time there.
The primary hazard is the icebergs themselves. They should never be climbed upon, no matter how good the Instagram photo might be. The icebergs are slippery and you might fall and hurt yourself; their sharp edges have the potential to cause significant injuries.
The risk increases exponentially if the iceberg is in the water, because it might flip over and trap you underneath it or get dragged out to sea with you on top of it. Climbing on the icebergs will also net you significant fines. These fines are rigorously imposed by local authorities to prevent visitors from breaking the rules and putting themselves at risk.
Things to do near Diamond Beach:
Fjallsárlón
Breiðamerkurjökull
Þórbergssetur
Breiðárlón
Kvíárjökull
Múlagljúfur Canyon