A coal-black expanse of sand scattered with glittering diamond-like icebergs; Diamond Beach is unlike anything you've ever seen. It's located around half a mile (or less than one kilometer) from the Jökulsárlón Glacier Lagoon and is renowned for its startling beauty. Delight in the dazzling colors reflecting off the gleaming shards of ice and make sure that you bring a camera because you'll never find a better photo opportunity!
What Is Diamond Beach?
Diamond Beach in Iceland is a spectacular coal-black beach gleaming with icebergs of various colors. Its name comes from the icebergs that lie on the dark volcanic sands and sparkle like diamonds in the rough. Diamond Beach is one of the most photogenic beaches in the world and any visit to it should be combined with a trip to the equally beautiful Jökulsárlón Glacier Lagoon.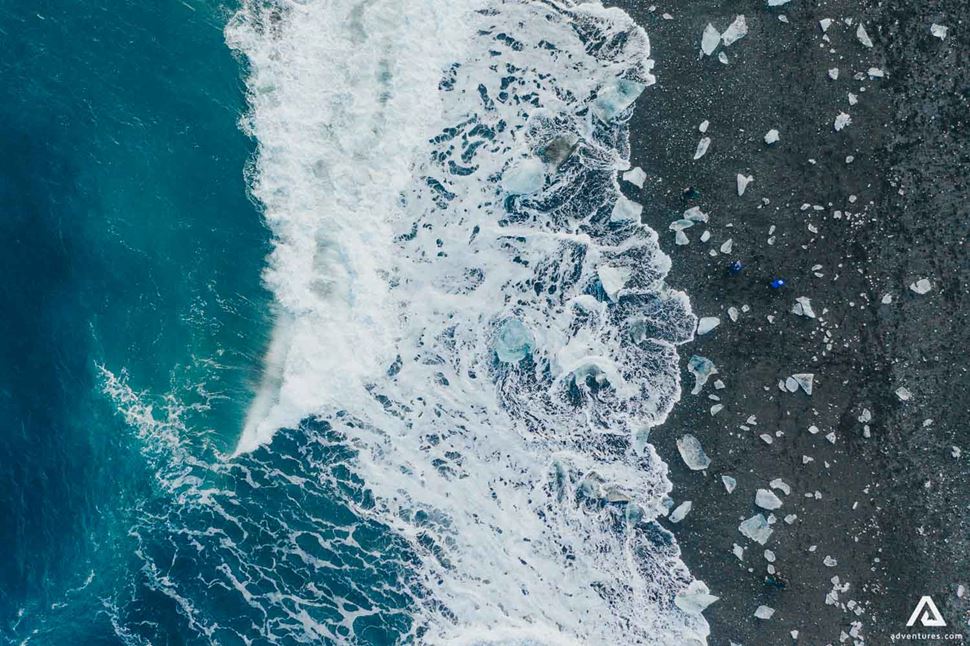 How Was Diamond Beach Formed?
Diamond Beach's black sand is actually made up of dark volcanic rock worn down by glacier rivers and the ocean over centuries. Crashing waves break up hardened lava fragments, resulting in a stunning black sand beach.
The icebergs that collect on Diamond Beach break free from Breiðamerkurjökull Glacier and fall into the Jökulsárlón Glacier Lagoon. Ocean currents then either carry them out to sea or wash them up on Diamond Beach, creating one of the most exotic, beautiful beaches in Iceland.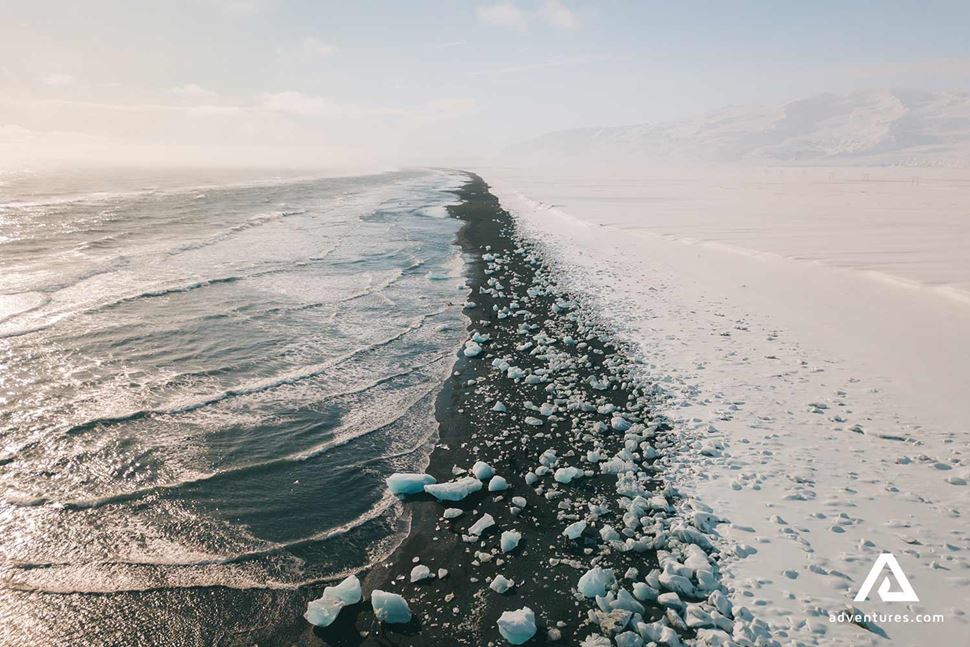 Why Are the Icebergs Different Colors?
The color of an iceberg is usually defined by the age of the ice and the compressing pressure. There are three kinds of icebergs on Diamond Beach, blue or green icebergs, white/clear icebergs, and icebergs that have black/grey strips running through them.
White or translucent icebergs are created when bubbles form within the ice. As the snow is compressed, those bubbles reflect all wavelengths of light, making the ice appear white.
Blue or Green icebergs appear when the iceberg forms underwater and air bubbles are trapped in the ice. This denser ice absorbs red and yellow light but reflects blue and green light, giving them their beautiful color.
Icebergs with black or gray streaks running through them are a direct product of Iceland's volcanic past. These icebergs were formed during a volcanic eruption, trapping ash inside the compressed snow.
Jökulsárlón Glacier Lagoon
Jökulsárlón is located about half a mile (1 km) from Diamond Beach, making it an absolute must-see if you're planning a trip to the area. It's home to Breiðamerkurjökull Glacier, the source of the icebergs that float south and end up on the beach. It's also an excellent place for wildlife watching, as playful seals and seabirds rest there. Jökulsárlón is widely considered to be the most impressive glacier lagoon in the world and we guarantee that you'll come back home with memories for a lifetime.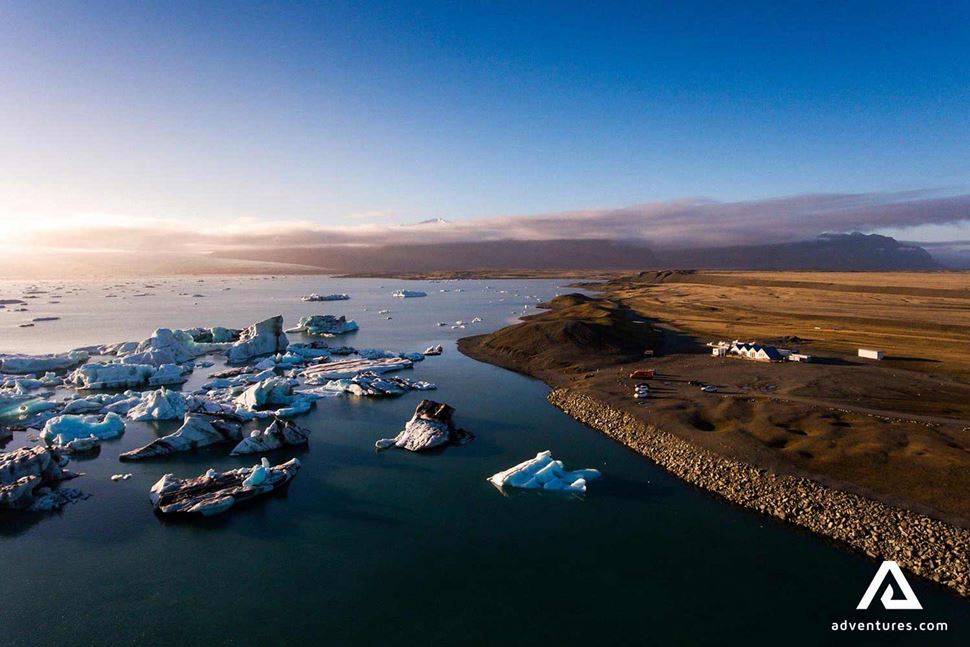 When Is the Best Time to Visit Diamond Beach?
The Jökulsárlón Glacier Lagoon doesn't freeze over, meaning that Diamond Beach is accessible throughout the year. If you don't mind the season, check out some of our small group tours that are available year-round. However, there are slight differences between the area in the summer and winter months.
Summer
The advantages of visiting in summer boil down to ease of access and comfort while you're on the beach. Iceland's roads are less challenging in summer, allowing visitors to pack more activities into their visit. You'll also be warmer while you're on the beach and be able to spend more time there thanks to a large amount of daylight. 
The only disadvantage is that the icebergs melt slightly quicker, but Iceland's summers aren't that hot, meaning that the difference is pretty negligible.
Winter
Diamond Beach is magnificently beautiful in winter. The icebergs melt slower, so you can enjoy the sparkling scenery at your leisure. You'll also be able to combine your trip to Jökulsárlón with other winter activities in Iceland such as Northern Lights hunt or a visit to ice caves. 
The two main disadvantages of visiting in winter are the ease of access and the amount of daylight. You'll need to allocate more time for your visit in winter because Iceland's road conditions are more challenging in winter than they are in summer. There's also less daylight, but this can be a bonus as the dazzling colors of the Northern Lights may illuminate the icebergs. 
How to Get to Diamond Beach
Diamond Beach is located approximately 4.5 hours from Reykjavik, just under 2.5 hours from Vik, and around 1 hour from Höfn. To get there simply hop on the Ring Road (Road 1) and drive until you see a single lane bridge crossing a body of water with icebergs on one side. Leave the car at the parking lot on either side of the bridge and go down to the beach. You can also park at nearby Jökulsárlón Glacier Lagoon.
Places to Stay Near Diamond Beach
The nearest village to Diamond Beach is Höfn, which hosts a range of different accommodation options. You can also stay in Skaftafell Campground or a number of hotels around the Jökulsárlón area.
Guesthouse Gerði – A simple three-star guesthouse, with excellent value for money.
Reynivellir – A rural two-star hotel that comes with stunning mountain views of Vatnajokull.
Fosshotel Glacier Lagoon – A modern hotel in Höfn, perfect for people looking to visit the Diamond beach or Vatnajökull National Park.
Nónhamar – Simple wood cabins located between Diamond Beach and Skaftafell National Park.
Skaftafell Campground – An all-year-round campground that offers excellent facilities and a community atmosphere.
Places to Eat
There are a number of food options in the Jökulsárlón area, but choices are minimal. If you're seeking something more elaborate, the nearby village of Höfn is probably your best bet.
Humarhöfnin – An excellent local restaurant that specializes in langoustine. It seats around 60 people and is popular enough that it should be booked in advance.
Nailed It Fish and Chips – A simple local fish and chip shop that is perfect for people who want a quick lunch near Diamond Beach.
Fjallsárlón Frost Restaurant – Serves fresh local food for travelers on the go, an ideal spot for people on their way to Diamond Beach.
What Should I Bring?
Specific information on what to bring is included on the dedicated tour page. However, we generally find that you can never bring enough warm and waterproof clothing, especially in the winter. We also recommend sturdy hiking shoes and a camera, along with things that are season specific, like sunscreen and sunglasses.
Safety at Diamond Beach
Diamond Beach is totally safe, as long as you treat it with respect! Unlike Reynisfjara Beach, renowned for its dangerous 'sneaker waves', Diamond Beach is not known for waves that drag unwitting tourists out to sea. However, there are a number of risks that you should be aware of during your time there.
The primary hazard is the icebergs themselves. They should never be climbed upon, no matter how good the Instagram photo might be. The icebergs are slippery and you might fall and hurt yourself; their sharp edges have the potential to cause significant injuries.
The risk increases exponentially if the iceberg is in the water, because it might flip over and trap you underneath it or get dragged out to sea with you on top of it. Climbing on the icebergs will also net you significant fines. These fines are rigorously imposed by local authorities to prevent visitors from breaking the rules and putting themselves at risk.