About ATV & Quad Bike Riding
ATV is short for 'all-terrain vehicle', also known as a quad or quad bike. An ATV or quad bike is a motorized off-road vehicle with four-wheel drive, a suspension-based seat, and handlebars for steering. They can be further divided into 'Type I ATVs', which can only be operated by a single person, and 'Type II ATVs', which are able to carry an additional passenger.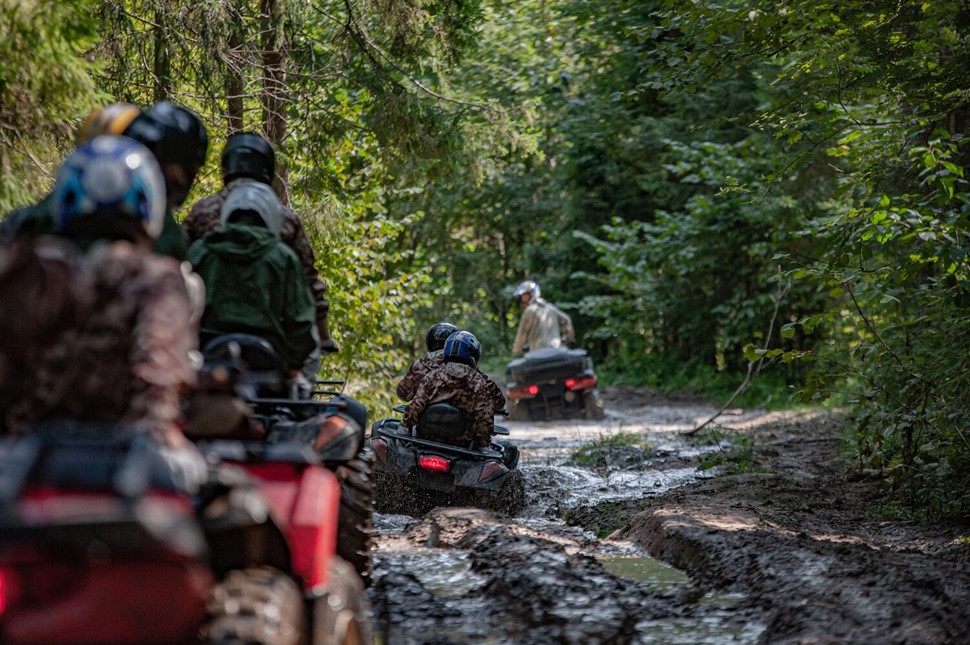 Automatic ATVs are most popular as they allow riders to focus on exploring their surroundings rather than changing gears. Semi-automatic ATVs are perfect for those who want more control and the ability to switch gears in changing situations and terrains. This allows riders to explore challenging terrain
ATVs and quad bikes are a thrilling way to travel – offering riders the chance to explore off-the-beaten-track locations that cannot be accessed by traditional vehicles. ATV's are a safe way to explore places otherwise inaccessible.
Where Do the ATV Tours Take Place?
Our ATV adventure tours take place amidst stunningly beautiful lakes lying in the shadow of the Laurentian Mountains. Located specifically in the charming town of St. Hippolyte – approximately 45 minutes from Montreal.
The area is as remote and beautiful, famed for its lush vegetation, and lakes. If you are looking to combine the adrenaline-pumping rush of driving an ATV with spectacular natural scenery, then this is the perfect adventure for you!
Who can join an ATV Tour?
Thanks to the abundance of trails available in the area, our quad bike tours can be offered to people of all experience levels,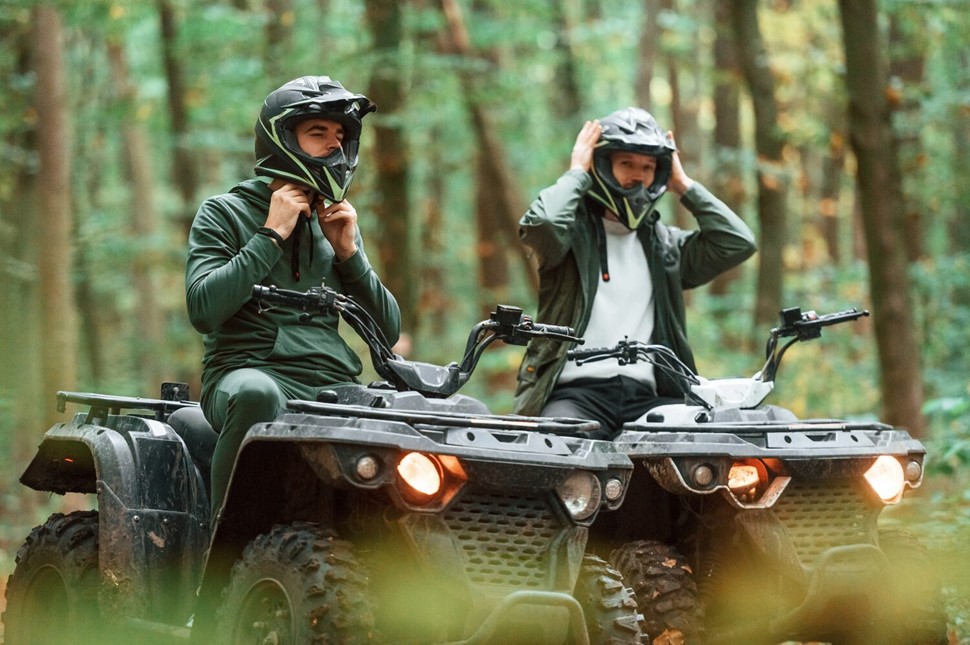 Beginners can choose to explore easier trails under the expert eye of one of our experienced guides – who will keep you safe, ensure that you see all the best spots, and be sure to keep you within your limits. While expert riders can choose to traverse some of the more complicated trails hand-picked by our expert guides to give you the maximum off-road fun.
So whether you are an expert or a first-timer, we'll make sure that you get the most out of your ATV tour.
When Are Your ATV Tours Available?
Our ATV and quad bike tours outside Montreal operate during the region's warmer months - between May and October. Expect to see a land in full bloom, with meadows of popping wildflowers, green vegetation, and  crystal clear lakes.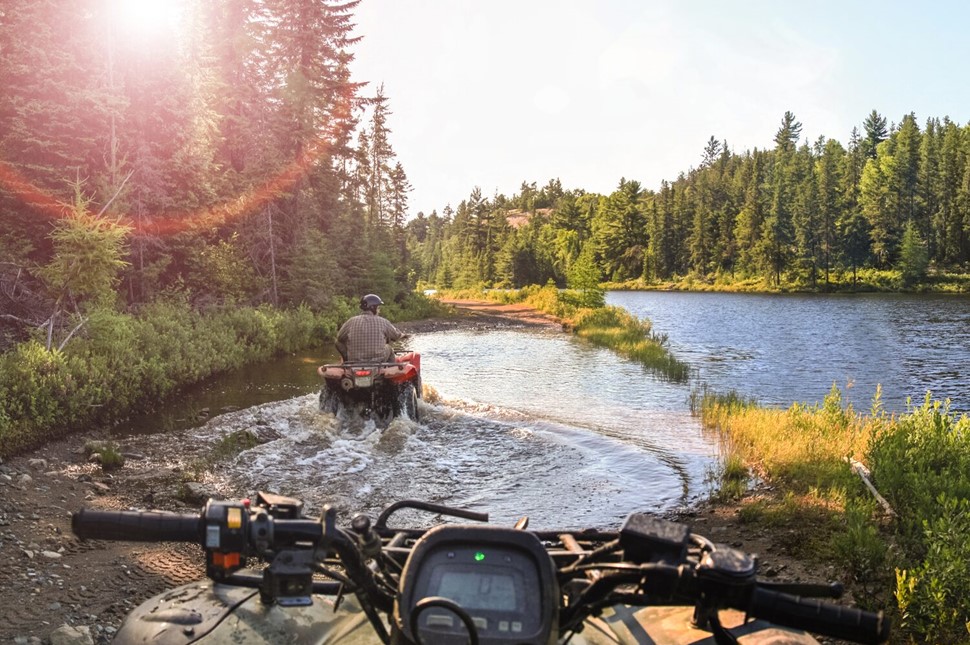 What Is the Weather Like on Your ATV Tours?
Our quad tours take place during the summer season, which lasts from May through September. Temperatures are pleasant without being overly hot – with average summer temperatures in the low to mid 20's.
We recommend that you come prepared for all types of weather, no matter the scheduled start of the tour. 
How Safe Are Your ATV Tours?
Safety is the primary concern for all of our tours. We will do our utmost to guarantee the well-being of every single participant.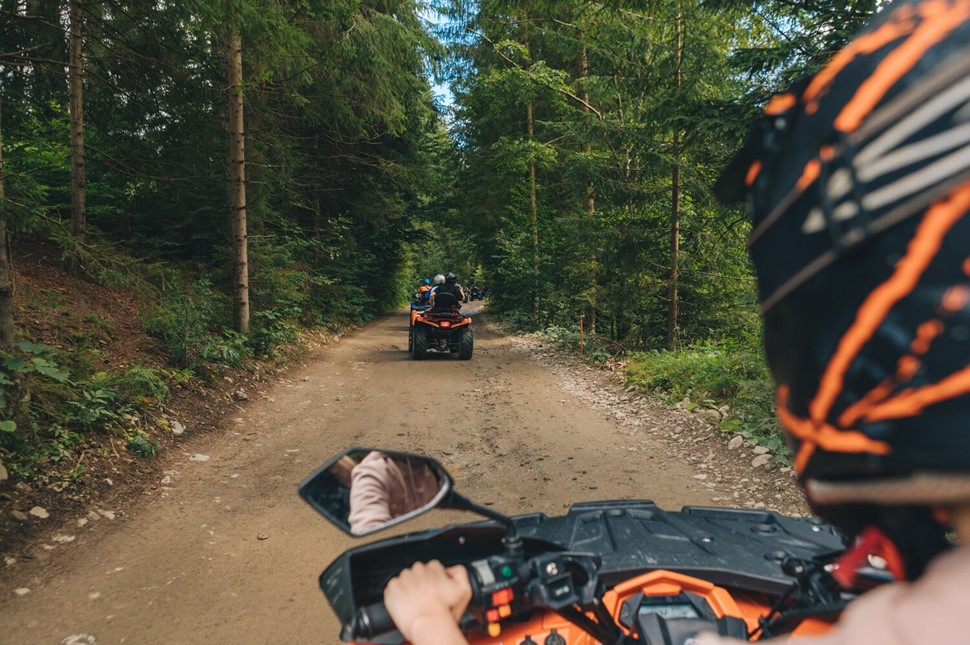 Every tour will take place in the company of a qualified and knowledgeable guide. They will instruct you on how to operate the vehicle safely and ensure that your concerns are met. Our guides are ready to help anyone, from the new to the seasoned, to make the most out of their tour. Any necessary safety equipment will be provided.
What Are the Legal Requirements for Your ATV Tours?
We are committed to ensuring that all participants on our ATV and quad bike tours do so legally. To operate an ATV, you must be at least 18 years of age and have a valid driver's license.
We will not allow anyone to operate an ATV if they do not meet these minimum requirements. We cannot allow a participant to operate an ATV if they do not bring a valid driving license with them. To avoid any unwanted disappointment, be sure not to forget yours!
What Kinds of ATV Tours Do You Offer?
We offer a broad spectrum of very different quad bike tours – allowing you to enjoy the exhilaration of driving an ATV in a variety of different ways. You can enjoy tours that range from 1 hour to a total of 8 hours, allowing  you to enjoy the wonders of Canadian nature in all of its spectacular glory on your time. Each tour is based on the cost of a single driver, but feel free to bring another passenger along with you for a small, added supplement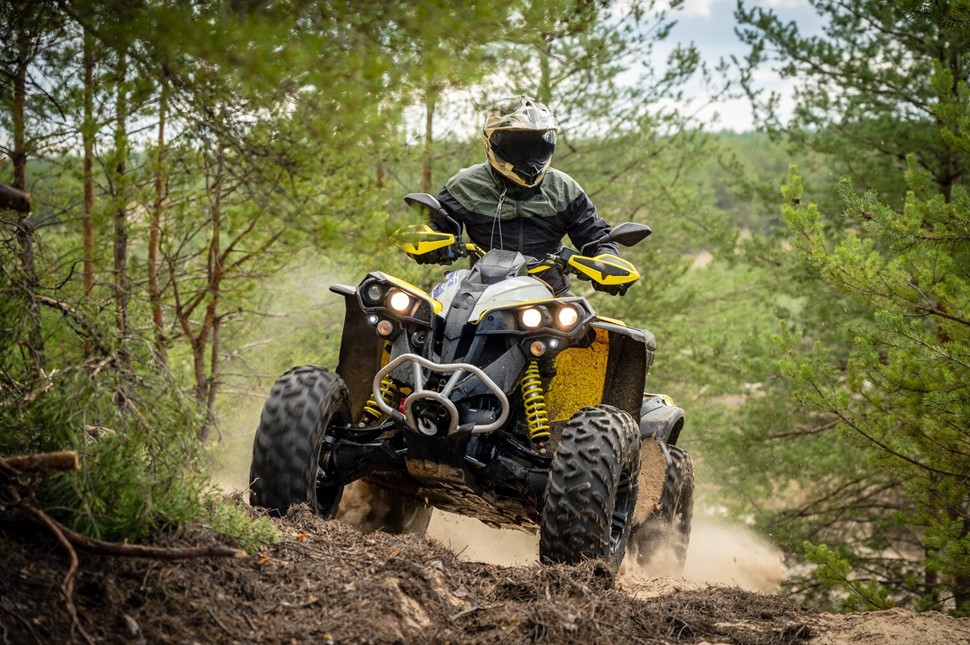 What Is Included in Your ATV Tours?
The price for our quad bike tours is based on a single driver.  A small extra supplement is added if you wish to bring a passenger along with you. One meal is provided on the longer tours, ranging from 5-8 hours, but no meals are provided on the shorter tours.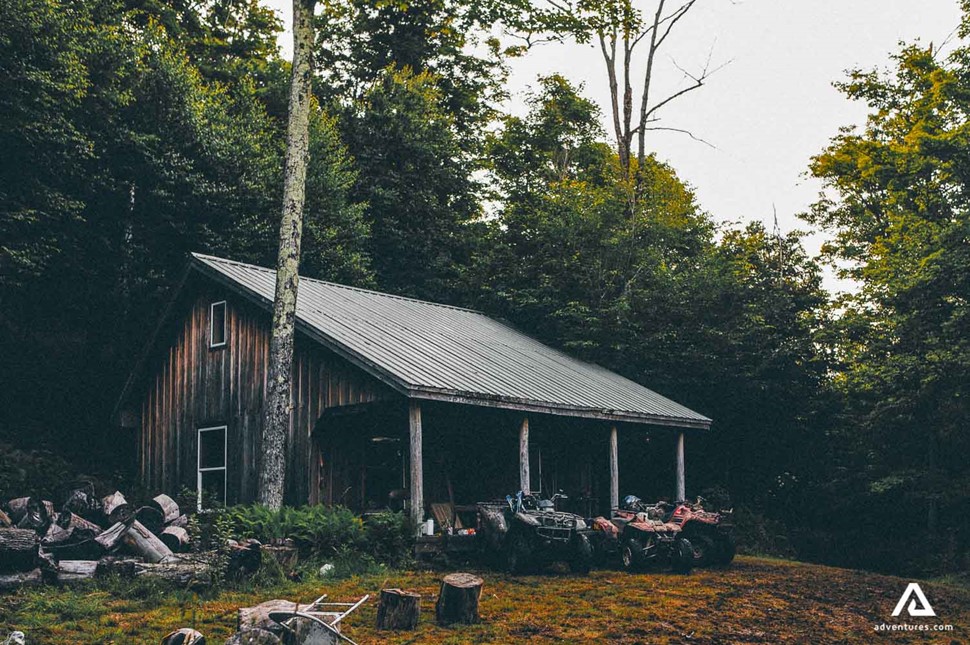 We provide any safety equipment that is needed. However, you should bring other essentials such as waterproof clothing, gloves, and a possible extra change of clothes. We recommend staying close to the area, although those with cars may choose to stay in Montreal, which is only 28 miles away (45km). Please inquire about our ATV packages that include accommodations at a nearby Inn.