The land features have unique names, including Deadmen Valley, Broken Skull River, Vampire Spires, and Hell's Gate. This is despite only five people dying in the park since it was established.
The waterfall is 850 feet wide, with a 315-foot drop. Four large canyons are connected by the river, with rapids, boils, and whirlpools along the way. It is a sought-after destination for whitewater enthusiasts, hikers, and even artists and photographers.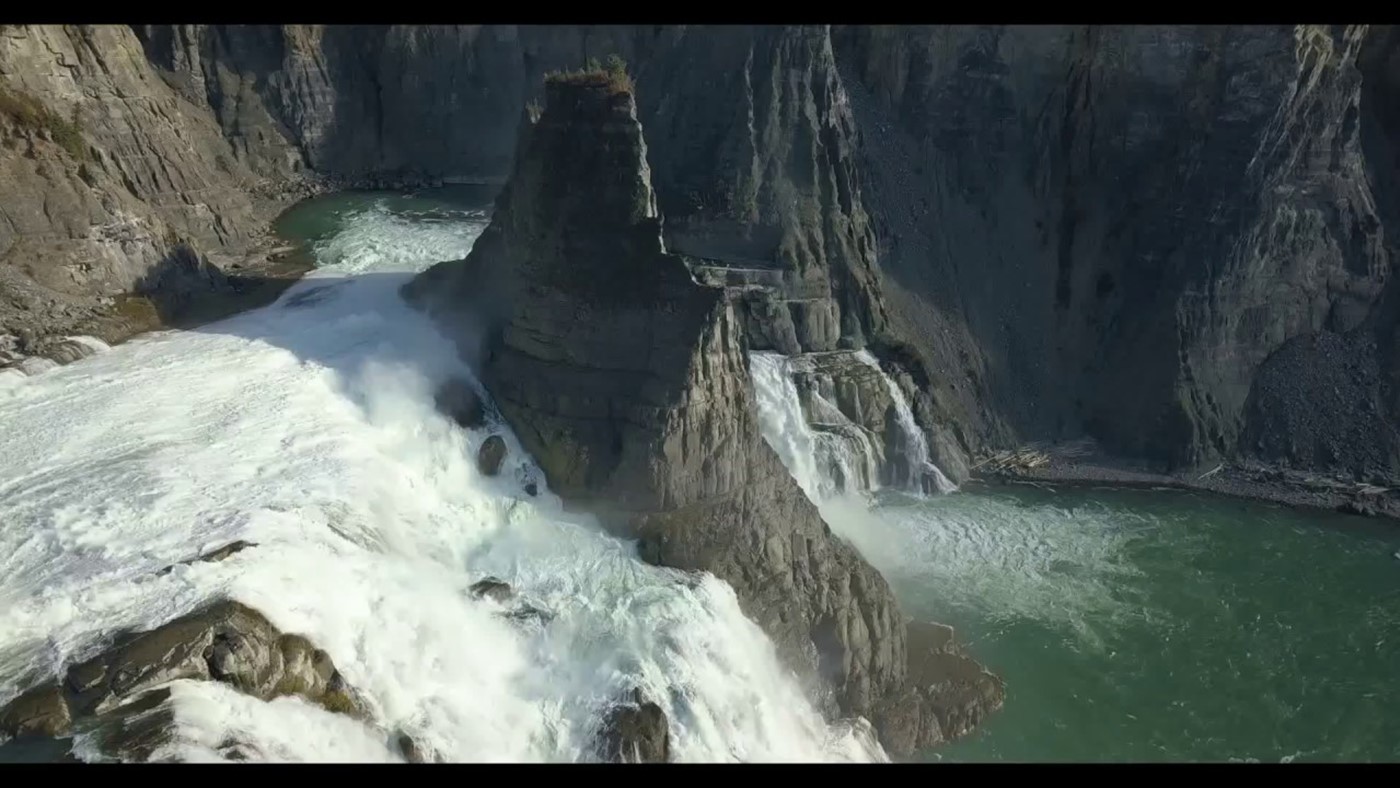 Where is Virginia Falls Located?
Virginia Falls Canada is located in Nahanni National Park Reserve, in the Northwest Territories, on the South Nahanni River. It sits at an elevation of 1,600 feet, 75 miles from the Yukon border. The nearest access point, the Virginia Falls Water Aerodrome, is just 1,300 feet upstream.
Short History of Virginia Falls
Snail fossils found within the park date back more than 300 million years. The Dené people, an indigenous group of the First Nations, first inhabited this area approximately 8,000-10,000 years ago. Europeans began to use the area for fur trading in the 18th century, where they would hear stories of what the Dené people described as Náįlįcho or "big water falling." It was not until 1928, when Fenley Hunter spent 56 days attempting to reach the spot, that its existence was confirmed. Virginia Falls gets its name from Hunter's daughter.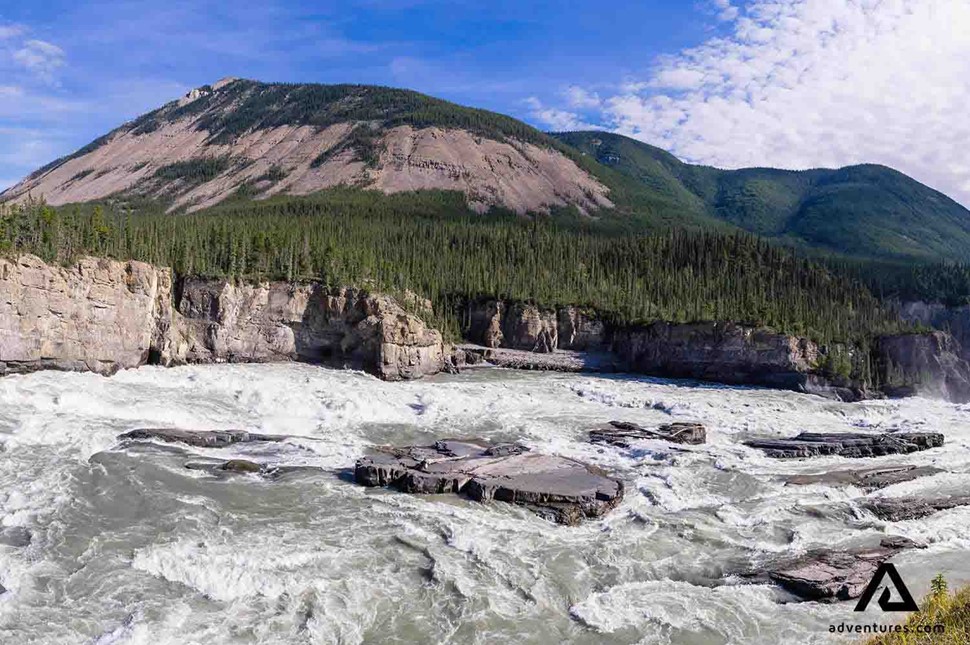 In 1972 the area was visited by Pierre Trudeau who named it a National Park. In 1978, it became one of four parks to become the first UNESCO World Heritage sites, largely due to Virginia Falls.
An agreement between the Dehcho First Nations and Parks Canada allows for cooperative management of the park and Virginia Falls. The visitor center in Fort Simpson respects the native history and culture of the area, and visitors who head to the falls' viewpoint will take part in a Dené ceremony.
The large rock in the middle of the falls is informally called Mason's Rock, named for Bill Mason, a famous Canadian naturalist and photographer. A park warden began referring to it as such after Mason's death, and the name stuck.
Best time to visit Virginia Falls
Due to the harsh climate, flooding, and unpredictable weather, it is best to visit Virginia Falls between June and August. Even if you are visiting in the summer, dress warmly if you plan to go to the base of the waterfall. The mist and wind produced by the waterfall cause the temperature to drop 10-15°C below the air temperature.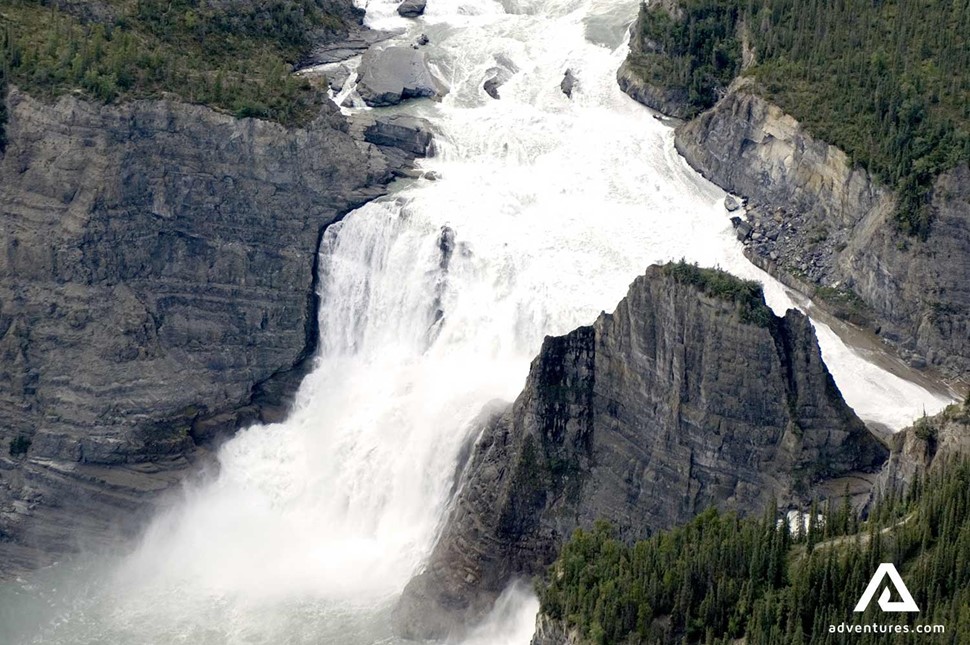 What to do at Virginia Falls
The park itself is incredibly large and diverse and after expanding in 2009, it now covers 11,602 square miles of wilderness. With so much to see and do, it's no wonder that visitors spend upwards of a month exploring the park.
If you are flying in for a day trip, you will be met by a Parks Canada Heritage Interpreter, who will take you on a guided walk to the viewpoint.
Parks Canada does caution that the area is exceptionally remote and that any visitors should be prepared for emergency situations at all times.
River Trips – Canoeing, Rafting, Kayaking
While visiting Virginia Falls, you can traverse the extensive Nahanni South River, which contains rapids ranging from Class I to Class IV. A number of outfitters run guided river tours or more experienced visitors can navigate it on their own. Be prepared for long portages.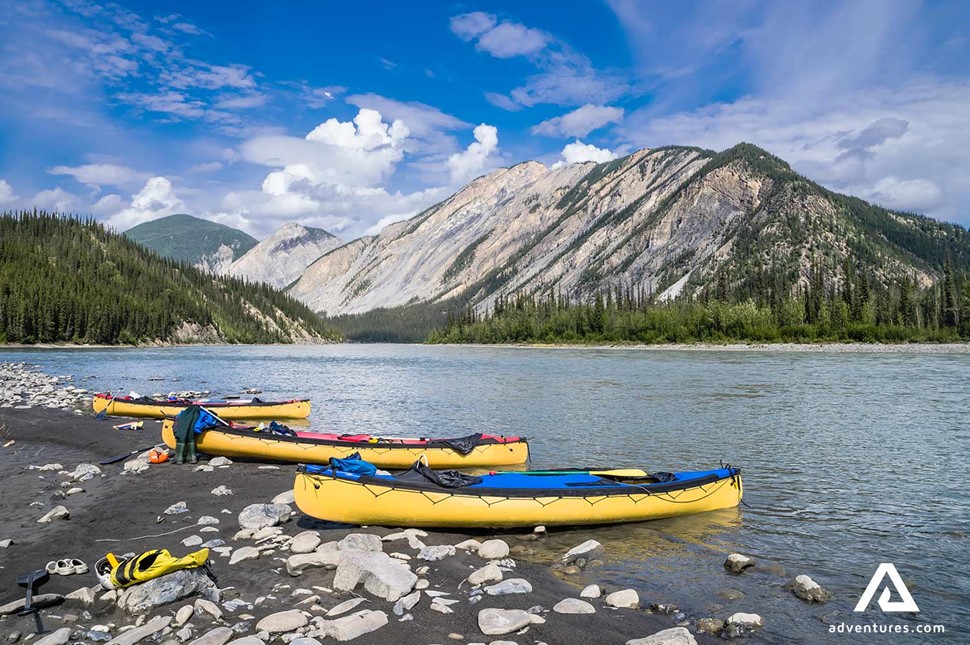 Aurora Borealis
If you are visiting Virginia Falls overnight, you will likely see the Aurora Borealis, or the Northern Lights. These natural light displays are caused by solar wind disrupting the magnetosphere, resulting in spectacular displays of green, red, or blue dancing lights. There is no light pollution within the park, allowing for prime viewing. You can check the Aurora Forecast activity online prior to your visit to determine what chance you have of seeing a light display during your trip. The best displays tend to be at the end of the season.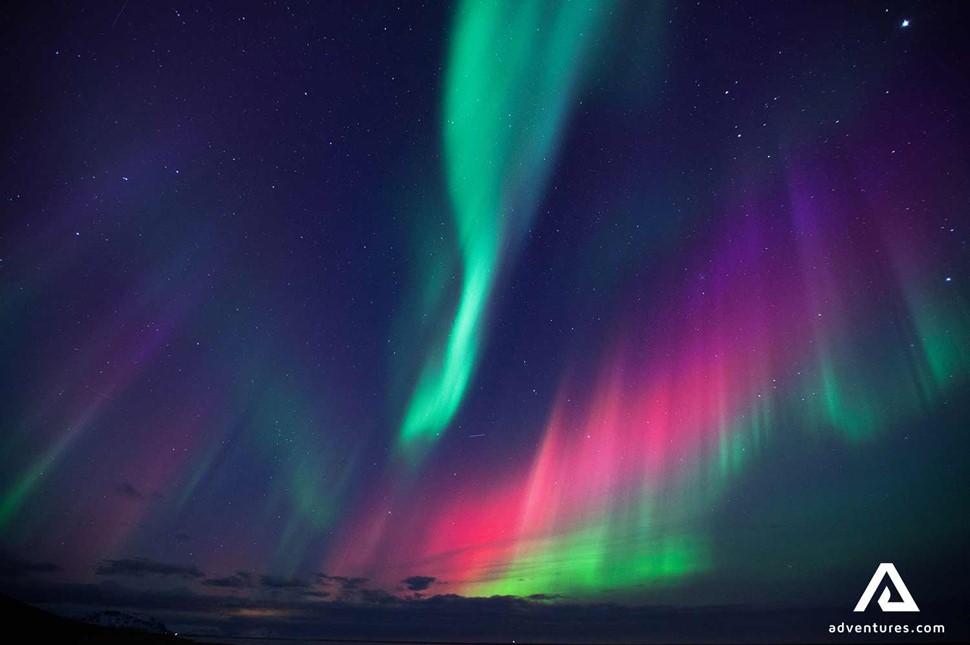 Cirque of the Unclimbables
This uniquely named cluster of peaks and walls located within the park is part of the Mackenzie Mountains. The cliffs were discovered in 1955 by mountaineer Arnold Wexler, who named them out of his frustration for how difficult they were to climb. The spires are granite and a challenge for even world-class mountaineers. The best-known rock is Lotus Flower Tower, which is named as one of the Fifty Classic Climbs of North America.
Wildlife & Plant Viewing
The park is home to over 42 species of mammals and 180 kinds of birds. There are black bears, as well as over 500 grizzly bears, plus at least two herds of woodland caribou.
At the base of Virginia Falls, you will find rare orchids, including wild lady's slippers, which only grow well in the wild thanks to a naturally occurring fungus at the base of the falls.
Hot Springs
There are a number of naturally occurring hot springs within Nahanni Park, including those at Rabbitkettle. Here you will find the largest tufa mound in Canada, a lime deposit over 10,000 years old, formed by the hot springs. It is the only known tufa mound to be situated on permafrost. These hot springs are open to bathers and remain at a temperature of approximately 20°C year-round. You can climb the fragile tufa mounds if you are on a guided hike with park staff.
Surrounding Parks
Nahanni is not the only National Park in the area. If you are able to, plan to visit nearby sites including Nááts'ihch'oh National Park Reserve, Saoyú-ʔehdacho National Historic Site, Wood Buffalo National Park, or Thaidene Nene National Park Reserve.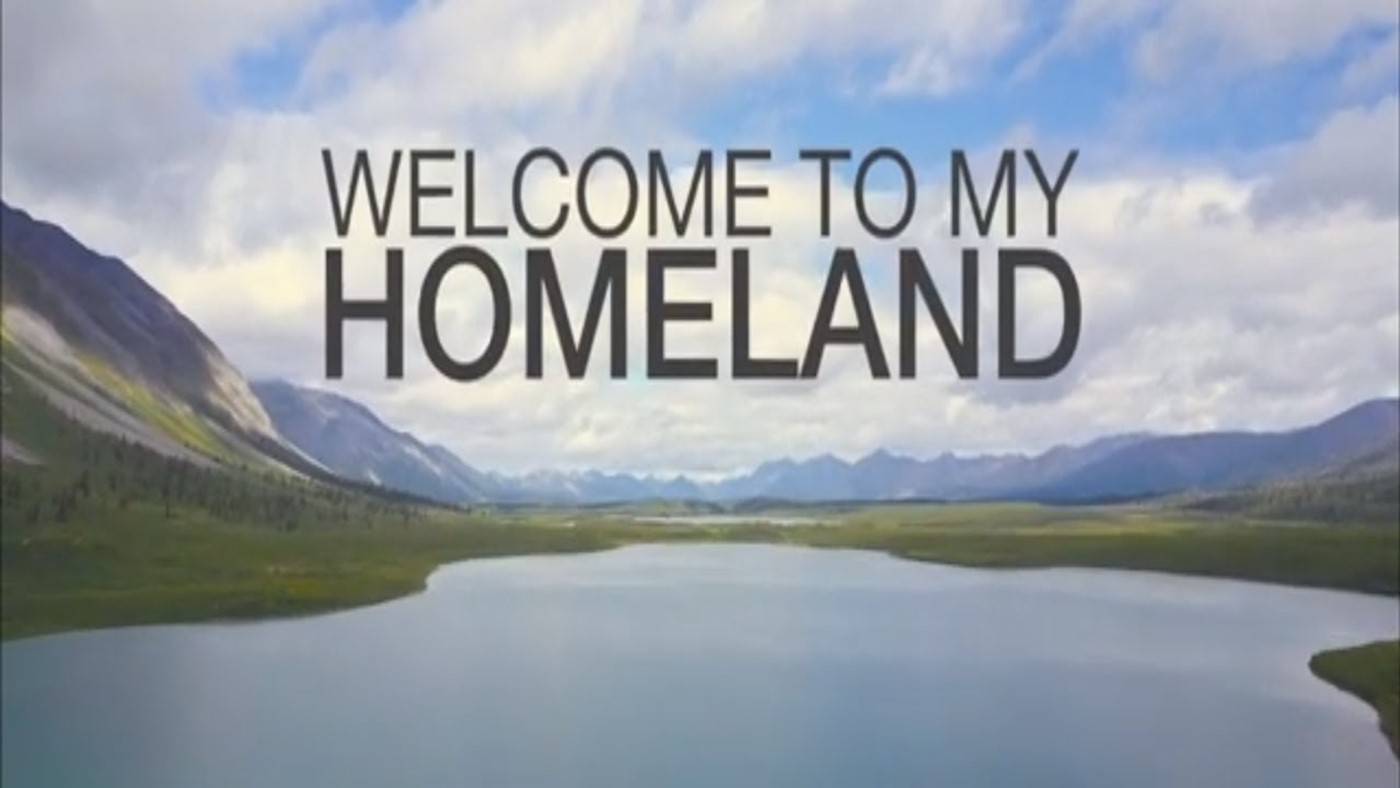 How to get to Virginia Falls
Virginia Falls can be most easily accessed by flying in from Fort Simpson by chartered floatplane, which takes approximately 2 hours each way. Note that you must have a permit, available at the Park Office in Fort Simpson, to land in the park. If you are making a single-day trip you must land at either the Virginia Falls or Glacier Lake entrance points.
Overnight visitors must register with the park office before they embark for the park and de-register once they arrive safely back in Fort Simpson. If you are visiting for a longer period of time, you have the option of flying into the Island Lakes or the Mooseponds access points. Those flying into these locations tend to visit for at least 14-21 days.
Parks Canada recommends using a licensed commercial outfitter if you plan to tour the South Nahanni River. You can find a list of licensed and reputable charter companies and outfitters on the Parks Canada website.