About rafting in Canada
Ever dreamed of paddling above the Arctic Circle or into the Arctic Ocean? Dreams come true with us on our whitewater rafting adventures in the Canadian North. Canada's unique geographic location and gentle summer weather allow us to take you on adventures that can't be experienced anywhere else in the world. Watch nature, wildlife, and the river in front of you awaken after its deep winter sleep, paddle down the roaring whitewater of glacier-fed rivers, and observe wildlife migrating to their summer home on our whitewater rafting tours in the Canadian North.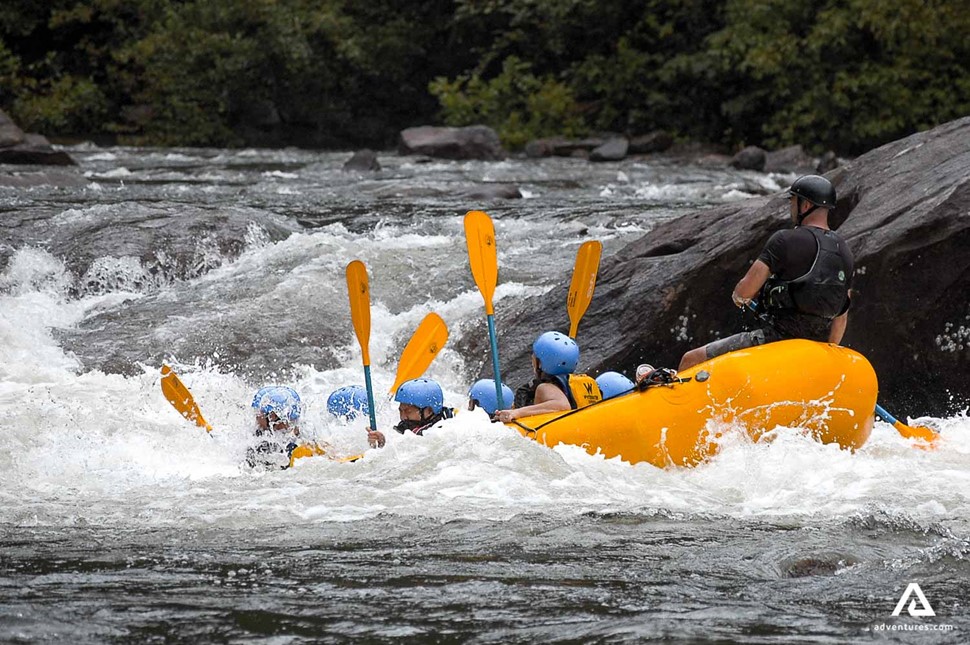 Regardless of your rafting skills, you'll find the experience riveting, exhilarating, and hard to forget long after it has come to an end. With us, it's never just a rafting tour, as our experienced guides always spice-up the trip with their knowledge of the area, hikes into the wilderness, and wildlife watching expeditions.
Where can I go on a rafting tour in Canada?
To offer you the best wildlife watching and hiking opportunities, we operate our whitewater rafting tours in the North of Canada. The three rivers we operate on, Burnside River, Firth River, and Tatshenshini River, all flow across Yukon and Nunavut, offering an invigorating whitewater rafting experience to complete beginners as well as seasoned paddlers.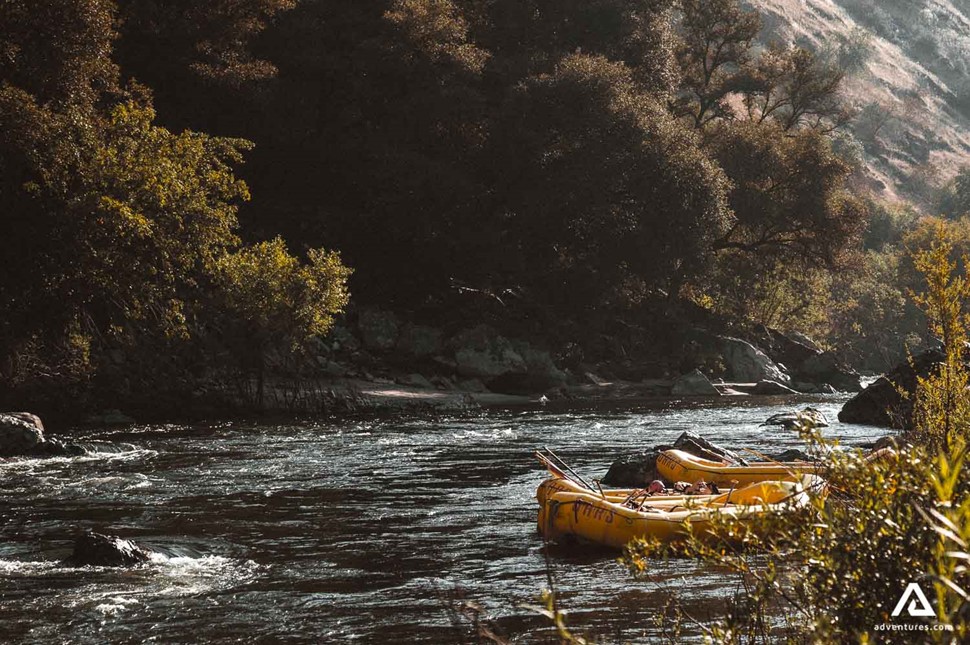 For those looking to combine nature exploration above the arctic circle, hikes across vast tundra and arctic wildlife viewing, our tours in Northern Yukon and Nunavut are perfect. And if you're looking to explore glacier lakes, deep rugged canyons and hike across UNESCO World Heritage Sites, then our whitewater rafting tour in Southern Yukon is the one for you.
Burnside River in Nunavut
Our whitewater rafting tour on Burnside River will take you from the vast tundra of Kathawachaga Lake to the rapidly flowing Bathurst Inlet, and then straight into the Arctic Ocean in just 12 days. It's a classic tundra river, rugged and isolated, offering you an experience that's impossible to forget!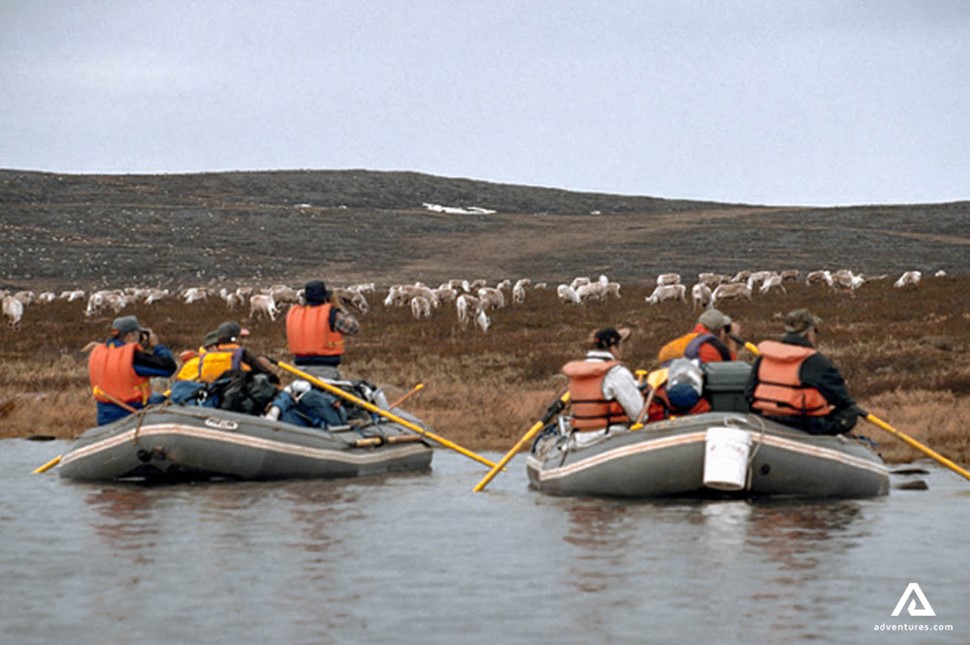 Its shores are continuously covered in permafrost and it is on the migratory path for barren-ground caribou. The river isn't particularly fast flowing as it offers Class I and II whitewater rapids, however, it's known as one of the best destinations in the world for wildlife watching. You're almost guaranteed to witness muskox, rough-legged hawks, golden eagles, grizzly bears, gyrfalcons and arctic wolves in their natural habitats.
Firth River in Northern Yukon
Cited as one of the oldest and wildest rivers in Canada, Firth River, located in the North of Ivvavik National Park, offers Class III whitewater rafting with the possibility of Class IV. The land around the river hasn't seen human habitation in over 12 thousand years, meaning that this untouched part of the world is the summer home of an abundance of different species. There hasn't been any ice since the last ice age and, as a result, the landscape around it is rugged, craggy and, at times, enveloped by forests, with a river bed, clean of glacial outwash gravel.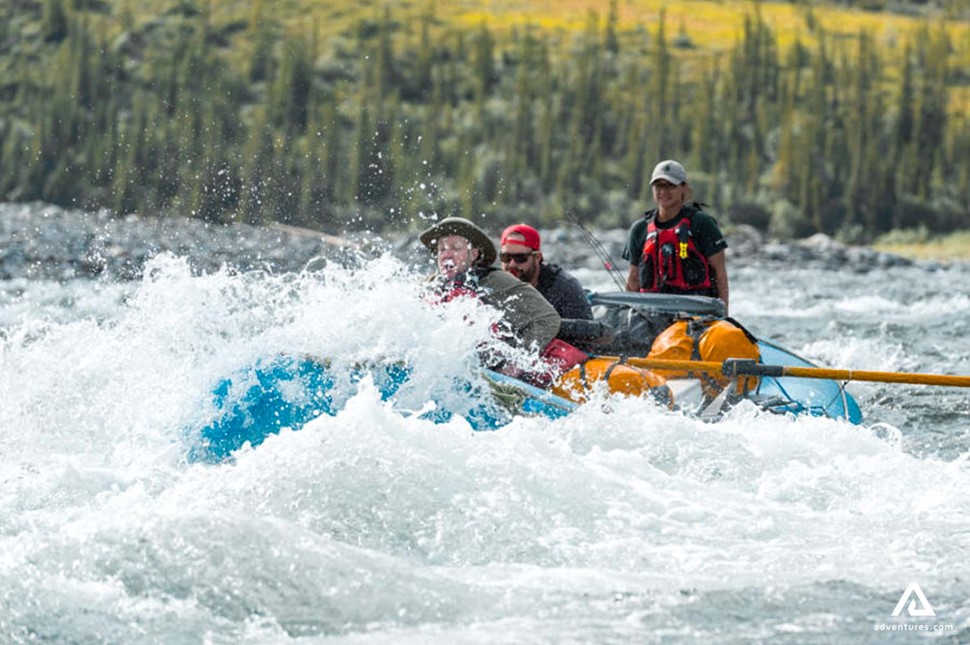 Our whitewater rafting tours down the Firth River, offer an adventure across Canada's first national park, established as a result of an aboriginal land claim, exploring forests and tundras, exploring vast alpine meadows and craggy peaks. On top of that, you'll seek out wildlife, such as porcupine caribou, mountain sheep, grizzly bears, muskox and wolves, together with an abundance of bird species. This 11-day adventure on Firth River, where daylight is present for 24 hours during the summer, will bring you closer to nature.
Tatshenshini River in Southern Yukon
Flowing through the world's largest bio-reserve, the Kluane-Wrangell-St. Elias-Glacier Bay-Tatshenshini- Alsek park system, Tatshenshini River offers some of the most beautiful and diverse landscapes. It originates in Southern Yukon and flows through Tatshenshini-Alsek Provincial Wilderness Park, where it confluences with Alsek river and drains into the Pacific Ocean. On our whitewater rafting tour down the Tatshenshini River, you'll be treated to views of alpine meadows from the start, hikes around towering St. Ellias Mountain Range, and the sounds of icebergs calving off of the ancient Walker Glacier.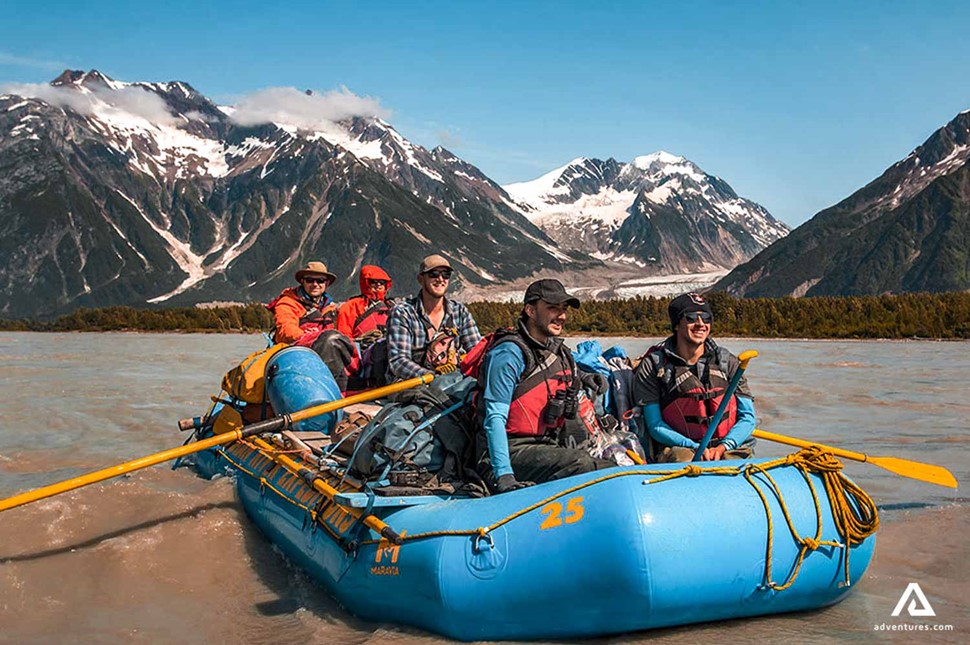 Hikes atop towering canyons sheltering the river, will unfold breathtaking views of its confluence with the Alsek river, and introduce you to an abundance of wildlife habitats. The valleys amongst the peaks are home to bald eagles, grizzlies, moose, and wolves, together with a rich diversity of bird species. Class II whitewater rapids can be expected in many different valleys and canyons.
What else can I do on a whitewater rafting tour?
Our whitewater rafting tours are more than just cruising down a rapid river and watching stunning landscapes pass by. On top of paddling and camping experiences in and on the shores of world-class rivers, our expert guides will take you on riveting hikes, introduce you to a rich diversity of wildlife, and share the ancient history those rivers and the surrounding areas hide!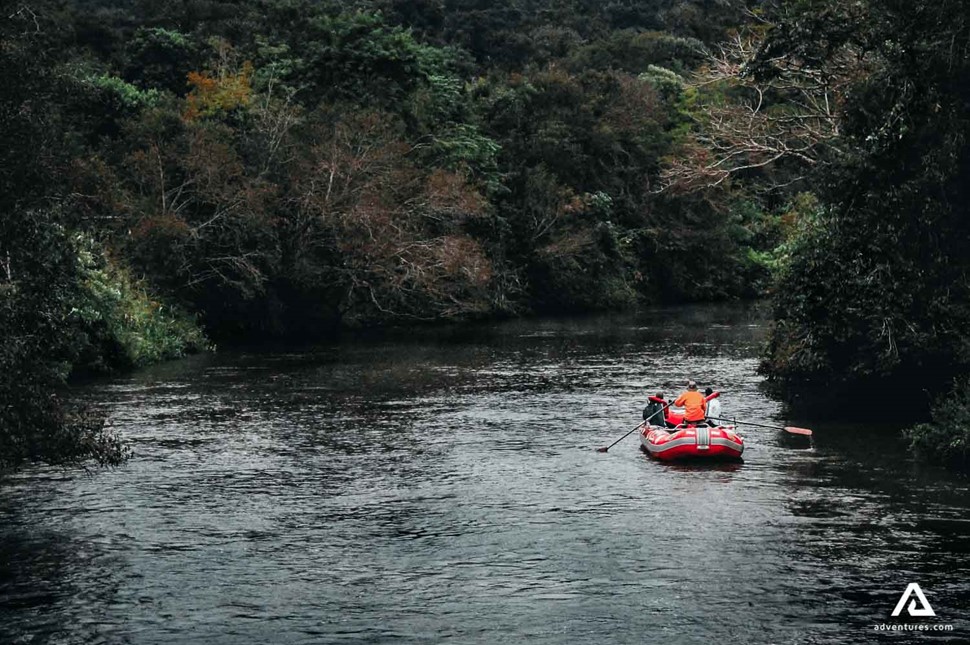 For exquisite wildlife watching, we recommend you embark upon river adventures in Northern Yukon and Nunavut, while stunning and diverse landscapes are found on the shores of Tatshenshini River in Southern Yukon. All of our tours include day hikes into the wilderness of northern Canada as well as a chance to watch wildlife in their natural habitats. All three rivers are untouched by the modern world and will take you to landscapes, that are older than the last ice age.