Tourists and daredevils from all over the world seek out the incredible power of the Niagara River. With many things to do and see around the falls, it's one of the must-sees in Canada.
Niagara Falls is growing smaller every year (by one foot!) and will eventually cease to exist. Let's enjoy this impressive sight while it's still here!
Where Is Niagara Falls?
The Niagara River marks an international border between Canada and the U.S. Horseshoe Falls is on the Canadian side of the river, while American Falls and Bridal Veil Falls are in the U.S. 
Niagara Falls is 75 miles (120 km) southeast of Toronto and 17 miles northwest of Buffalo, New York. It's located between twin cities: Niagara Falls, Ontario in Canada, and Niagara Falls, New York in the U.S.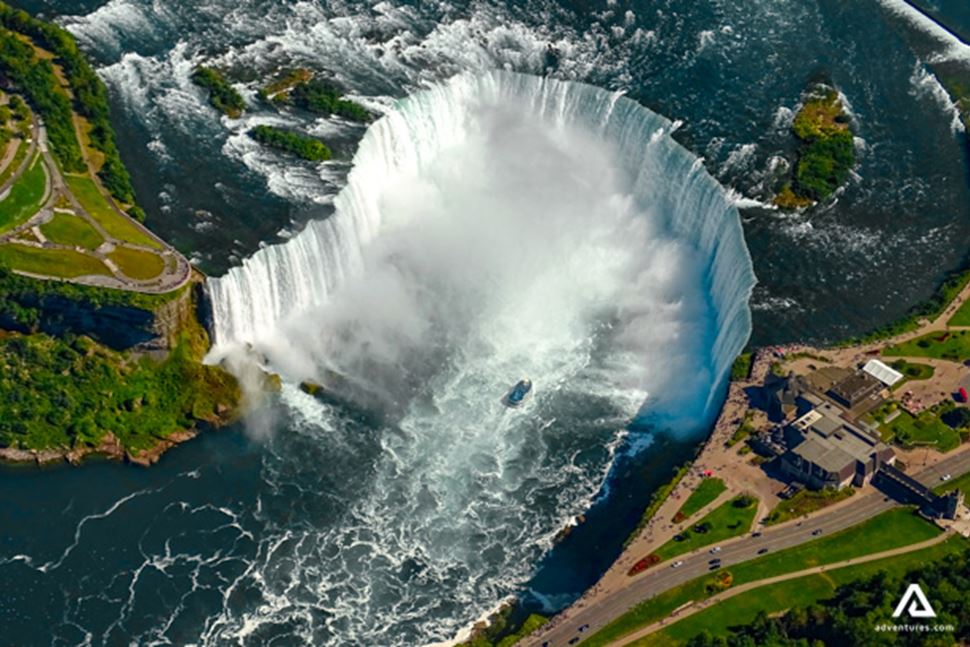 How Did Niagara Falls Form?
During the Wisconsin Glaciation 12,000 years ago, melting glaciers formed huge freshwater lakes, now called the Great Lakes. One of them, Lake Erie, ran downhill towards Lake Ontario. The water flow carved out a river, which passed over a steep cliff, the Niagara Escarpment. 
Around 11,000 years ago, the falls were located between present-day Lewiston, New York, and Queenston, Ontario. Erosion of their crest has caused the waterfalls to retreat almost 7 miles (11 km) south.
The falls have changed their shape over the years and are still eroding. Engineering has slowed down the process, but Niagara Falls still shrinks by about 1 foot (30 cm) a year (it used to be around 3 feet a year). At this pace, in about 50,000 years, Niagara Falls will cease to exist.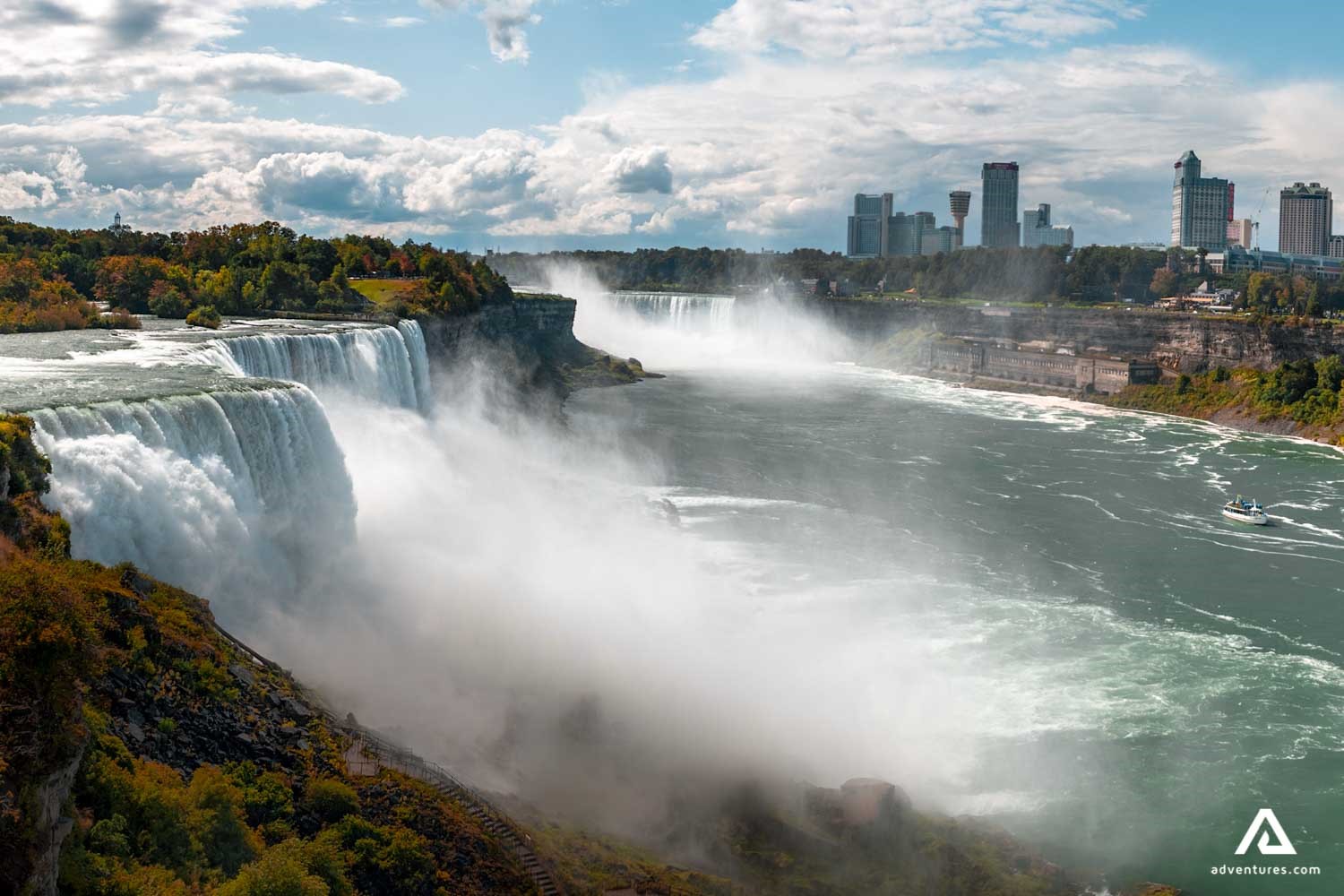 How Tall Is Niagara Falls?
Niagara Falls is made up of three separate falls. Horseshoe Falls is 170 feet high (52 m) and 2,700 feet wide (823 m). Six million cubic feet (168,000 cubic meters) of water plummets over the falls every minute. That's enough to fill a million bathtubs! 
Americal Falls is considerably smaller in its width (1075 ft/328 m), but it's still around 180 feet high (55 m). The falls receive around 11% of the water flow from the Niagara River. 
Bridal Veil Falls is the same height as American Falls, as these two waterfalls are only separated by the small Luna Island. Bridal Veil Falls is the smallest of the three at only 56 feet (17 m) in width.
Facts about Niagara Falls
Niagara Falls is around 12,000 years old.

The speed of the Niagara River flow is around 35 miles per hour (56km/h).

Niagara Falls consists of three waterfalls:

Canadian Horseshoe Falls, American Falls, and Bridal Veil Falls.

Water from the falls powers large hydro-electric turbines that produce electricity for Western New York State and Southern Ontario.

Before the Statue of Liberty was erected in 1886, Niagara Falls was considered the symbol of America.

In March 1848, the falls ran dry when the river was temporarily plunged at the mouth in Fort Erie, Ontario.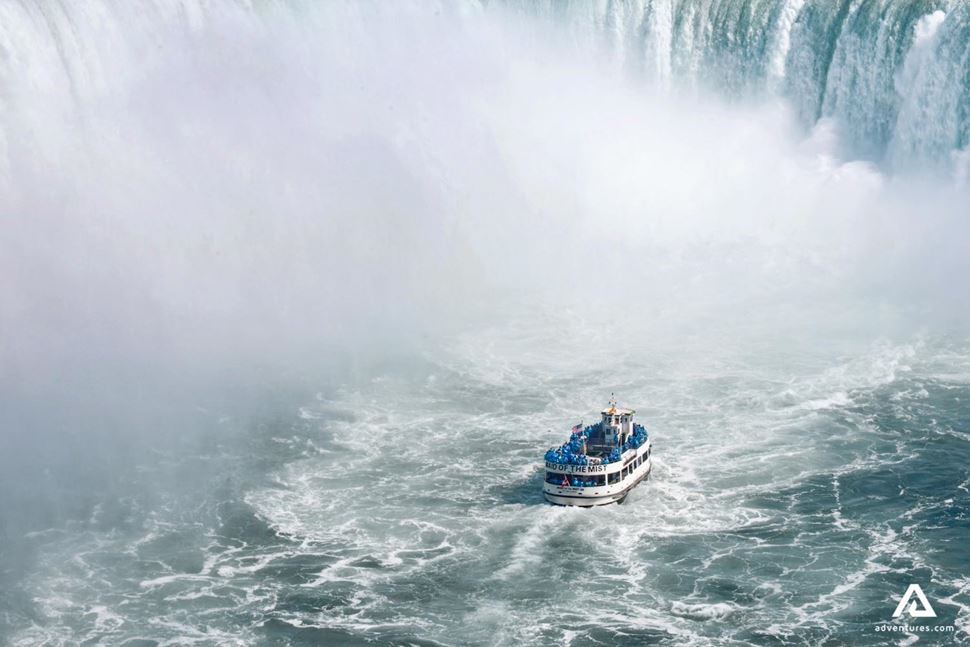 Niagara Falls Daredevils
Over the past century, many people have tried to conquer Niagara Falls. Some did it for fame while others risked their lives for money. 
In 1901, Annie Taylor was the first person to ride over the falls in a barrel. She survived the stunt but it didn't bring her the fortunes she expected. 
Since Taylor's feat, 15 people have tried riding over the Horseshoe Falls in wooden and steel barrels. Many of these stunts have cost risk-takers their lives.
The most recent stunt on the falls made international news. In 2012, Nik Wallenda was the first person to walk a tightrope stretched over Niagara Falls. For two years, he had fought in courts to be allowed to perform this stunt. Although he won the legal battle, for the first time in his career, Wallenda was required to wear a safety harness during his high-wire walk.