About fishing in Canada
Canada's untamed wilderness and high-quality fisheries lure anglers from all over the world. Choose between self-guided trips or guided fishing tours to tailor your fishing holiday to your taste. Canada's freshwater lakes and streams are rich in oxygen, where, in some places, you can see your lure as deep as 40 feet (12 m) below the surface.
Canada is an angler's paradisal collection of deserted coastal streams, largely untapped rivers, and pristine nature. Nearly every freshwater species can be found in Canada, and many of them are unusually large, surprising even expert trophy fishermen. Here you'll find a great selection of tranquil spots to sling a hook on your own in some of the most stunning rivers, lakes, and reservoirs.
If you wish to hone your skills, we offer tours with experienced guides, who will share their expertise with you and make sure you have the chance to catch the fish you've been dreaming about all this time!
Some call Canada's British Columbia salmon heaven, with all 5 Pacific salmon species available to the angler.  Chinook (also known as Spring or King), can exceed 60 pounds.  A Chinook salmon over 30 pounds is known as a Tyee, and catching one of these fish is unforgettable.  Coho and Sockeye salmon are also popular and considered the best eating salmon, with Pink and Chum salmon rounding out the list. During the famous salmon run from summer until late autumn, anglers often have to share their hauls with the biggest salmon fans - bears.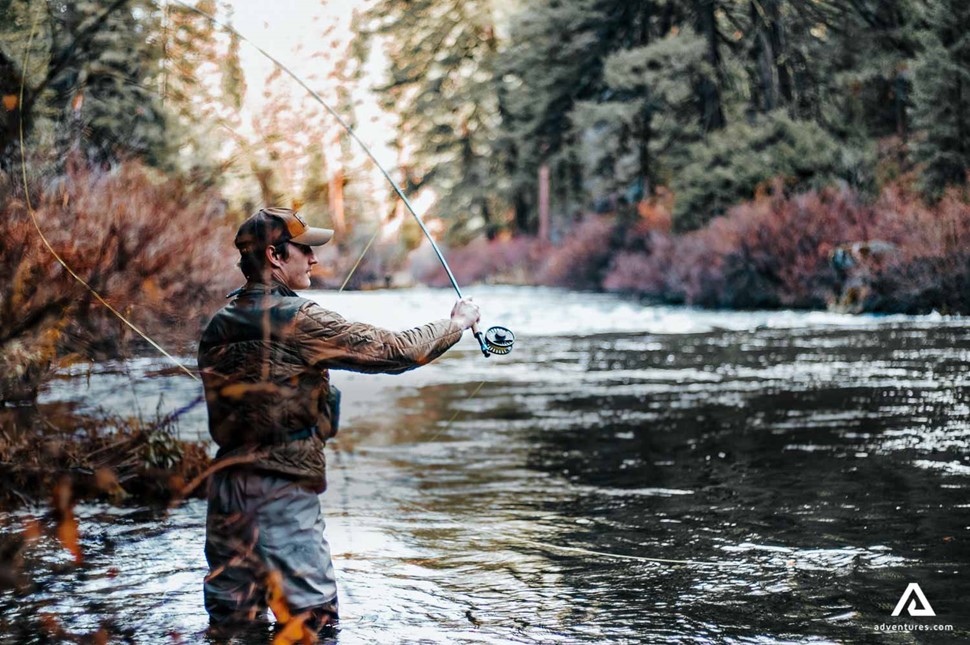 Throughout spring and summer, trout fishing lures anglers from all over the world. You can cast your bait for some of the finest Steelhead, Lake, Rainbow, Bull and Brown Trout in the heart of the Canadian wilderness. Fishing for Dolly Varden and Mountain Whitefish is also incredibly rewarding.
Choose between saltwater or freshwater action, and practice different fishing techniques: from fly, trophy, spin cast and sight fishing to catch-and-release - you name it, and Canada is the perfect playground for it!
Guests often incorporate some hiking into their fishing getaway as well, because the Canadian wilderness is simply irresistible! Trailblazers, bucket-listers, and nature-enthusiasts - everyone can find what they enjoy.
Fishing Lodges and Camps in Canada
To fully appreciate the country's fine angling surroundings, it's best to stop at the spots where only wildlife will keep you company. Our wide selection of secluded cottages and fishing camps offers a spectacular backdrop for your fishing trip. It's a perfect opportunity to be on the lookout for other wildlife, especially for caribou, moose, eagles, and other animals.
Enjoy luxury accommodation in completely private fishing lodges during a fly-in Canadian angling adventure on the Yukon Lakes and in the Northwest Territories. Our private lodges will keep you safe and comfortable, combining modern amenities in a rustic setting. Make use of our fishing boats in your pursuit of Lake Trout, Northern Pike, and Arctic Grayling.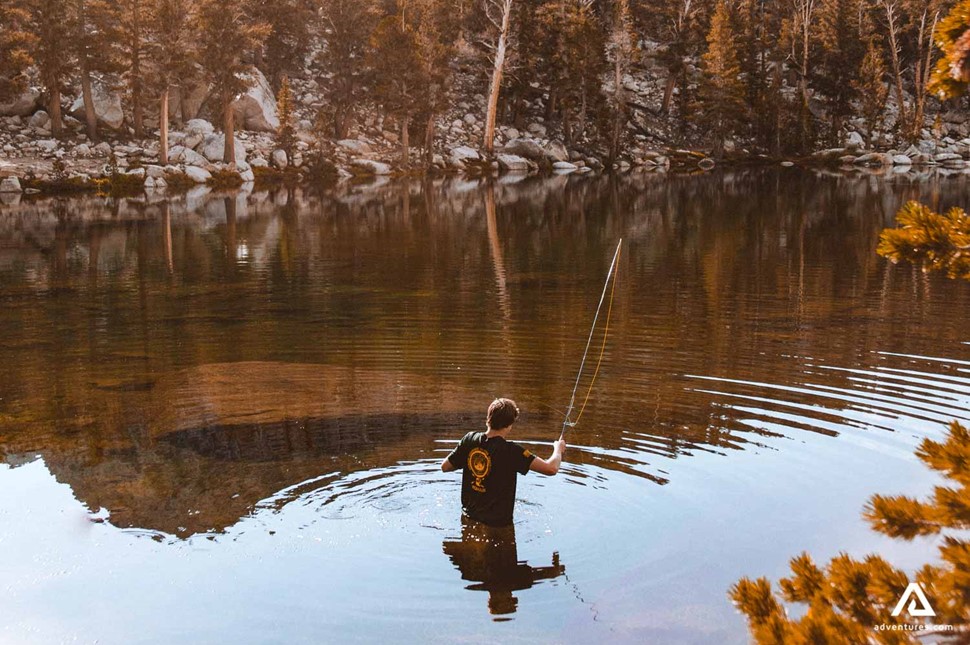 For a remote fly-in fishing trip, visit the Caribou Mountains in central British Columbia and get a unique opportunity to visit Canada's Blue Ribbon rivers! Hundreds of thousands of Sockeye return to these rivers each year to spawn and complete their life cycle.
Quesnel Lake watershed hosts British Columbia's largest and most famous salmon run. For a change of activity, why not visit the fly fishing lodge on the lakeside? It offers access to the uncrowded backcountry with splendid mountain views.
Depending on your tour preferences, you can stay in the secluded fly-in outposts, the wilderness, private lodges or fishing camps. Canada's unparalleled fisheries are nothing short of incredible!
Fly-In Fishing in Canada
On one of our fly-in fishing adventures, you'll take a flight to a specific (normally very remote) location. There you'll be provided with a cabin of your own (sometimes with a caretaker living nearby). You'll be dropped off with your gear and provisions, and you can begin your private fishing journey - a dream for many anglers.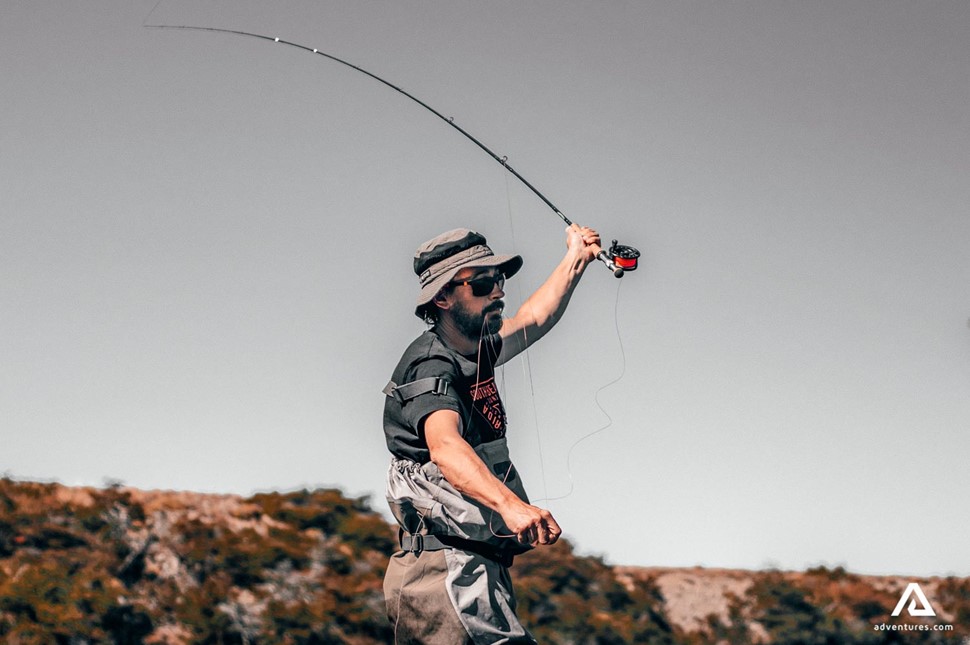 Fly-in fishing outposts give you access to some of the most glorious rivers and lakes you could ever wade in, where you can catch fish of amazing proportions. You'll be able to enjoy the surrounding vistas from the plane on your way in. Then, once you arrive, you'll experience these undisturbed landscapes while doing the sport you enjoy.
Another reason to opt for fly-in fishing is that you'll have a big chance of reeling in large fish, as such locations are isolated and largely undisturbed. Fly-in fishing is especially popular in the crystal-clear lakes and rivers of Yukon Territory.
Lake Fishing in Canada
There are about 31,752 lakes, many which remain pristine and largely unchanged. Gorgeous reservoirs with turquoise water are encircled by stunning mountain peaks - a special treat for the visitor's eyes. Canada's lake fishing lodges and camps offer some of the world's best angling locations for Lake Trout, Northern Pike, Arctic Grayling, Walleye, Rainbow Trout, Brook Trout and more.
With the huge diversity of lakes in the country, there is a perfect trip for every angler regardless of their budget, species preference or fishing style. Full-service lodges offer all the comforts of home. Meanwhile, outpost camps are perfect for the budget minded do-it-yourself angler who prefers to set their personal schedule and fish on their own.
Some camps and lodges are only accessible by air, offering a fly-in experience to lakes that are virtually unfished - ideal for those who want to beat their personal best. Many remote road-accessible lodges and camps also have plentiful fishing opportunities in provinces across Canada.
Most lodges and camps offer both fly-fishing and spin casting activities. Fishing techniques vary, but trolling, casting or vertical jigging are all effective methods on Canada's lakes. Lake Trout exceeding 40 pounds (18 kg) and northern pike in the 30-pound (13.6 kg) range are often caught in northern Canada's productive lakes.
Meanwhile, trout fishing enthusiasts will enjoy the multiple trout lakes scattered throughout British Columbia. Catch-and-release policies on many lakes ensure the fishing remains as fruitful and that the larger fish are allowed to reach trophy size.
River Fishing in Canada
From coast to coast, Canada's countless creeks and rivers stretch through breathtaking prairies, woods, and mountains. The country offers tremendous river fishing opportunities from lodges that can be accessed by road or by air. These locations are well known for some of the richest steelhead and salmon populations in the world and can be accessed from deluxe riverside lodges.
If you're looking for an adrenaline rush, go reeling in the streams of British Columbia, or the Chilcotin Mountain range. Drift fishing, fly fishing, wading - we guarantee freedom, plenty of fish and an action-packed holiday! Lodges along the BC coast often include flights to and from Vancouver for easy access.
British Columbia has many river fishing outposts located along its remote northern coast. To reach even more remote areas, fly-in lodges are an angler's dream combining untouched areas of natural beauty and seldom fished river systems.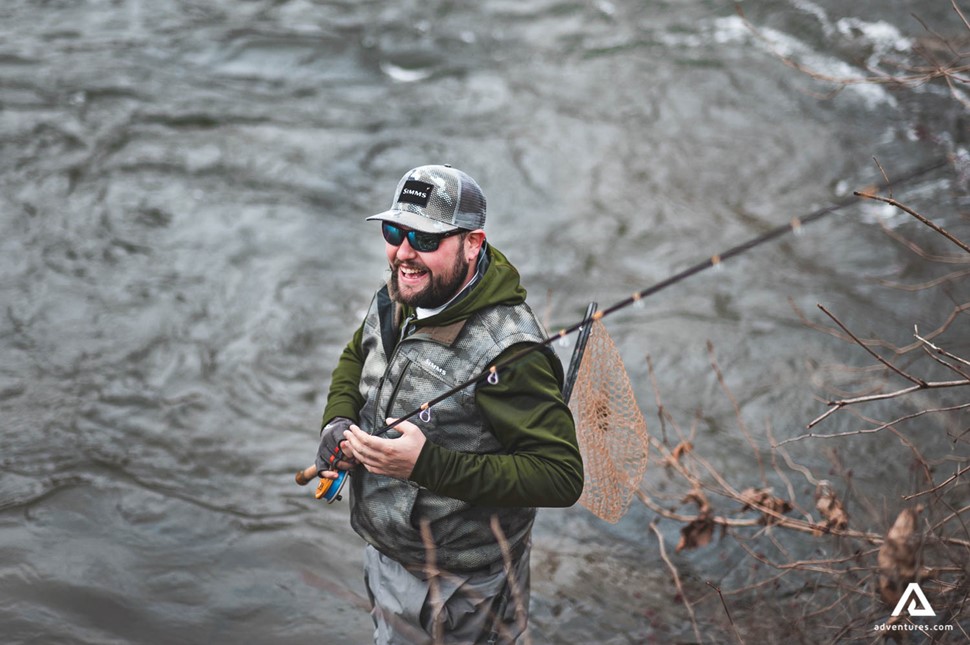 There are few fishing destinations in the world that can compare to Canada's meandering rivers. Whether you're fishing for record-breaking Atlantic salmon, landlocked salmon, whitefish, brook trout, northern pike, or Arctic char, this is the right place to go. The mild climate and multiple seasonal fish runs create the river fishing trip of a lifetime.
Savor the day and explore the wild nature of the untamed rivers. These waters are home to wild native trout ranging in size up to 20 lbs (9 kg) and are excellent for dry fly and streamer fishing.
Come stand in cool, window-clear waters – some that have never seen a rod – and wait for the big fish to test your skills.