About dog-sledding
Dog sledding is a type of transportation with one or more dogs pulling a sled. They are guided by mushers, the driver of the dog sled.
Most often, the dogs are roped together in pairs and stand in two equal lines. In some regions, they might also form a fan in front of the sled. Normally, each dog in the pack has a role. There are leaders, point dogs, swing dogs, and wheel dogs. A certain role requires specific character traits and lead dogs are crucial for team performance. Hence, these pups receive special attention from the mushers.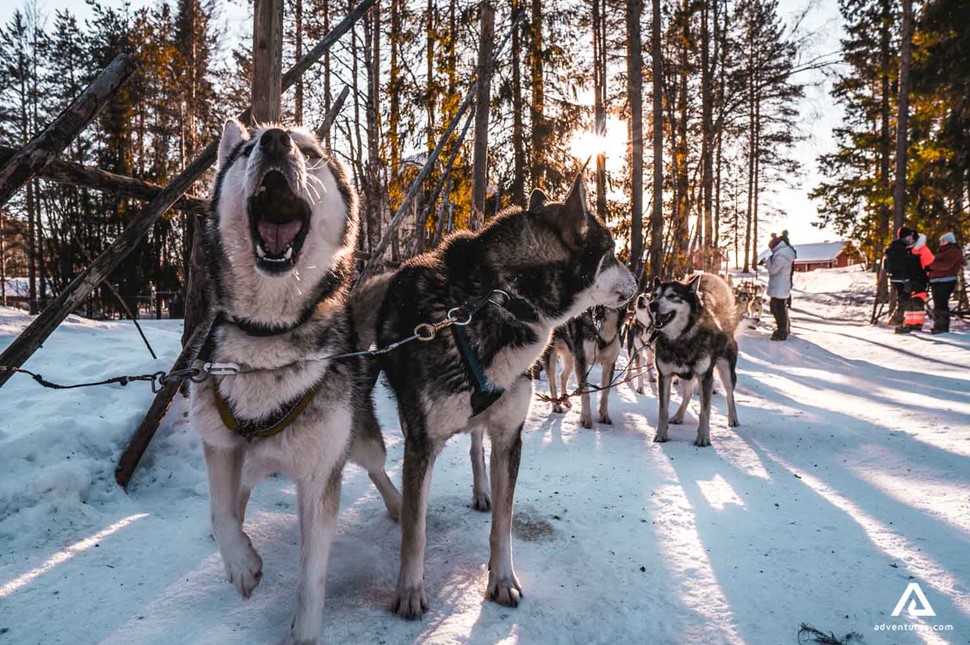 Throughout history, dog-drawn carts and sleds have been used for various reasons. These range from transport in frosty rural regions to sled dog races and recreational sports. Dog sledding as a type of transport has mostly been used in icy regions such as Greenland, Canada, and Alaska for many years. Sleds are small and flexible enough to maneuver and reach the most unattainable areas of the North.
Dog sledding is not only a winter sport. During the snowless months, carting is a great alternative for sledding dogs to stay in shape. Dryland mushing is practiced all over the world and is a fun activity. However, there's no shortage of snow during winter in Yukon and Quebec, hence we offer dog sledding tours here.
Siberian Huskies and Alaskan Malamutes are two of the main sled dog breeds, prized for their speed and stamina.
History of dog sledding
Loyal, hardworking and trainable, dogs have been domesticated for thousands of years. From looking after children to delivering mail and even vital vaccines, dogs have proved to be precious partners and loyal guards.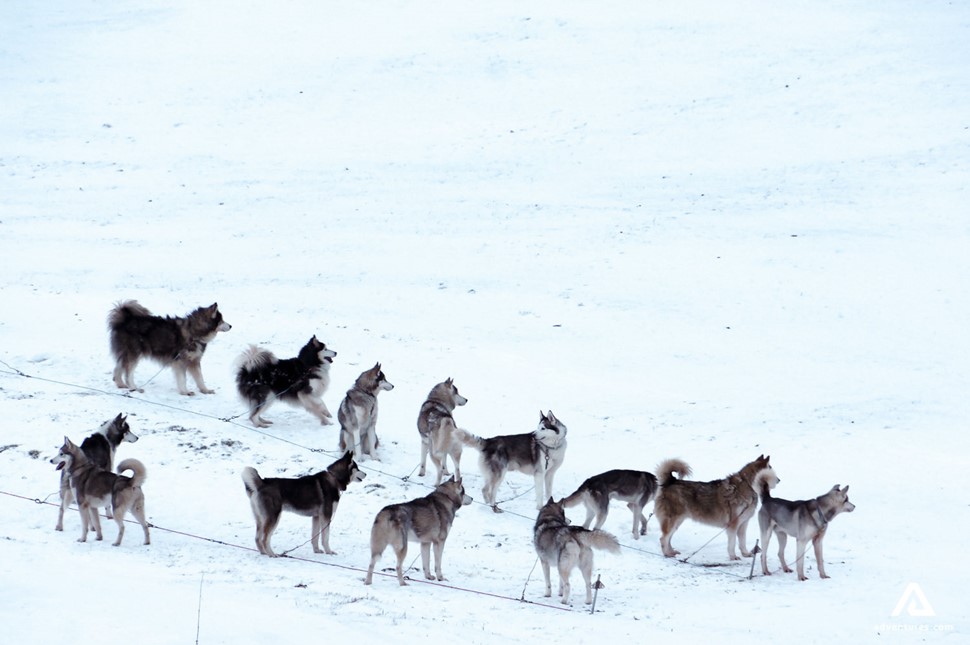 The Inuit, indigenous people of North America, valued durable, strong and well-coated associates. They were one of the first people to harness dogs in prolonged polar bear hunting expeditions. These journeys lead over harsh ice and through thick snow. The Inuit built sleds from driftwood and leather straps. Contrary to modern sledding, the dogs didn't have a leader or any specific roles in their teams.
Because they could withstand the biting cold and lack of food, the dogs would go on long-distance expeditions in the most difficult conditions. They were often left alone on isolated islands for the summer months and had to fend for themselves. So only the strongest ones survived until the winter season.
Types of sled dogs
Historically the main breeds for dog sledding have varied between different regions. Russians bred Siberian Huskies, which are fast, focused and relatively easy to train for specific jobs. Meanwhile, North American Arctic regions, including Alaska, favored Malamutes, strong and hardy animals who can survive the harshest conditions.
During Canada's Gold Rush, Malamutes were in high demand and their prices rose to unbelievable heights. Europeans started bringing in other hounds from the continent and bred them with the local ones.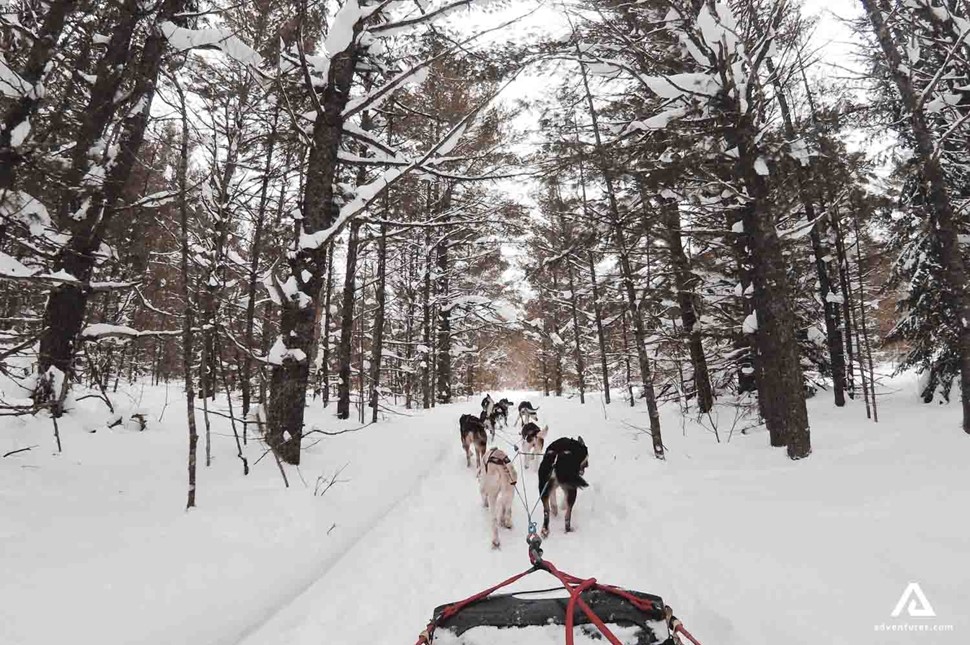 One of the most popular cross breeds is the Alaskan Husky. This breed is a mix of various Northern breeds, such as the Siberian Husky, Greyhound, and the German Shorthaired-Pointer. These Husky puppies are working dogs, bred specifically for dog sledding. They're still considered to be one of the best types of dogs for sledding today.
Historically, sled dogs were appreciated for their size, strength, and stamina. Nowadays, working dogs are bred for endurance and speed. In addition to the ever-faithful Siberian Huskies and Alaskan Malamutes, the most popular breeds for sledding these days include Canadian Eskimo dogs, Samoyeds, and Chinooks.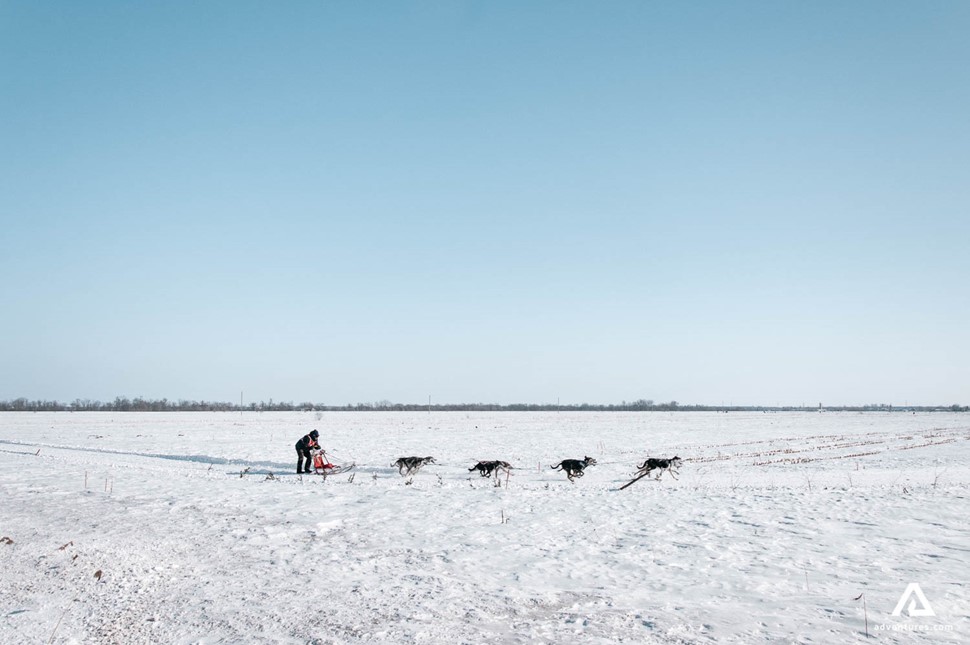 Sled-drawing dogs are working dogs and they love running. It's part of their nature and they enjoy dog sledding rides as much as people do. Our dog-sledding guides treat their animals with care, rotating them so none get tired. They get breaks between the shifts, with plenty of love and care. Some dogs are so excited about sledding that they get upset if they don't get to run with their team for a while!
Where to go dog sledding in Canada?
We put together the best dog sledding tours in Canada that guarantee unforgettable adventures. From an ultimate weekend getaway to a 45-minute adrenaline rush, our tours offer the most memorable experiences!
What better place to immerse yourself in a dog sled adventure than the home for the famous annual Yukon Quest sled dog race? Our three-day dog sledding tour at Lake Laberge in northwest Yukon is the ideal weekend getaway! The tour starts in Whitehorse and takes you to the impressive snow-covered Canadian wilderness. After a short training program with our professional guides, the sledding adventure begins! Breathtaking scenery opens up in front of you as you mush your own dog team around Lake Laberge. Spend the night at cozy wilderness cabins and you may even spot the magic Northern Lights dancing in the sky. Sled on spectacular frozen trails and enjoy our tasty campfire meals on this ultimate weekend getaway.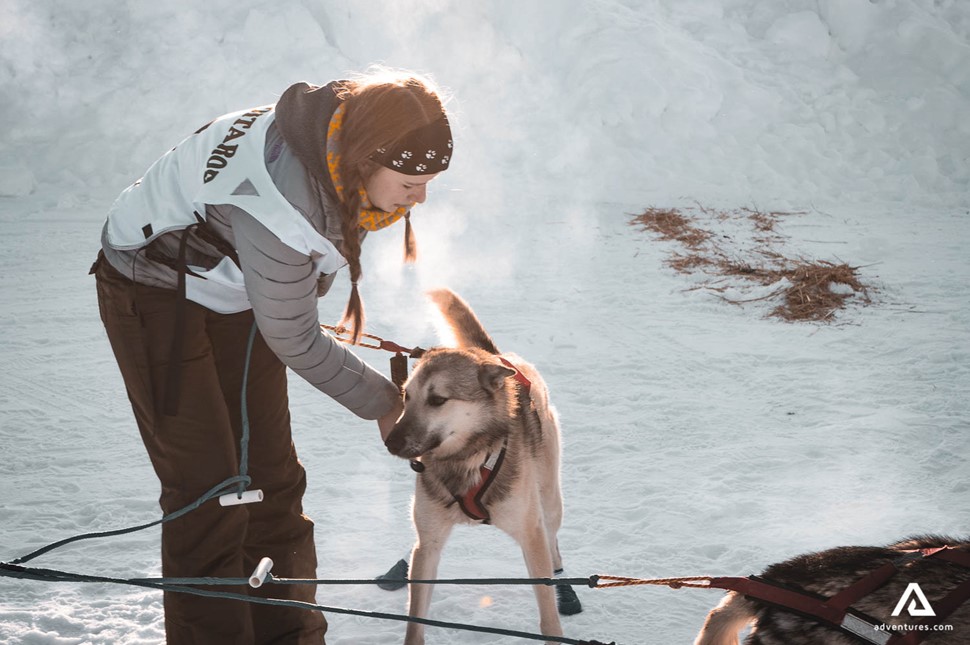 Those looking for a more relaxed day trip will find the perfect tour in the picturesque Laurentian Mountains, just north of Montreal. Dog sledding in Quebec is suitable for both beginners and experienced mushers. This remarkable tour takes you on trails specifically designed for dog sledding. First-time sledders and children will revel in the 35 to 45-minute sledding adventure around a frozen lake. The tour includes a specialized training session that familiarizes travelers with the basics of mushing.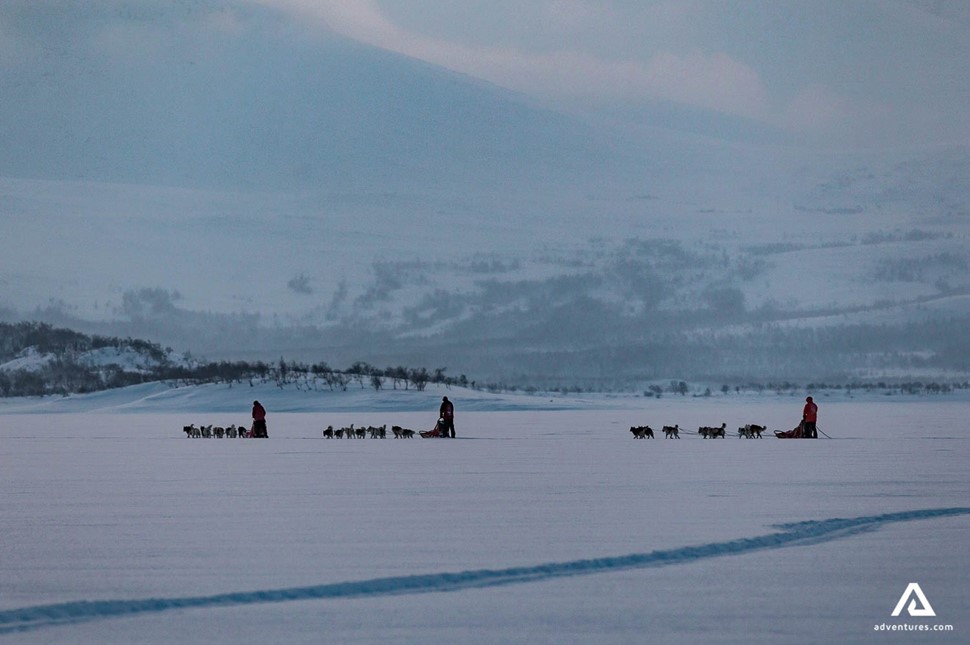 Enjoy dog sledding to the fullest with our unique full day package designed for experienced mushers. We offer 2-hour or 5-hour sledding adventures. Experience the thrill of riding a sled drawn by dogs and explore the extraordinary nature of Quebec. On our full day tour, you'll drive the dogs through a scenic valley and panoramic forests that leads you to Beaver Lake. You'll have a chance to groom and feed the dogs at the end of the tour!
Whether you're looking for a short adventure or a weekend expedition, dog sledding is a unique and unforgettable experience!