Preparing for a Trip to Alberta, Canada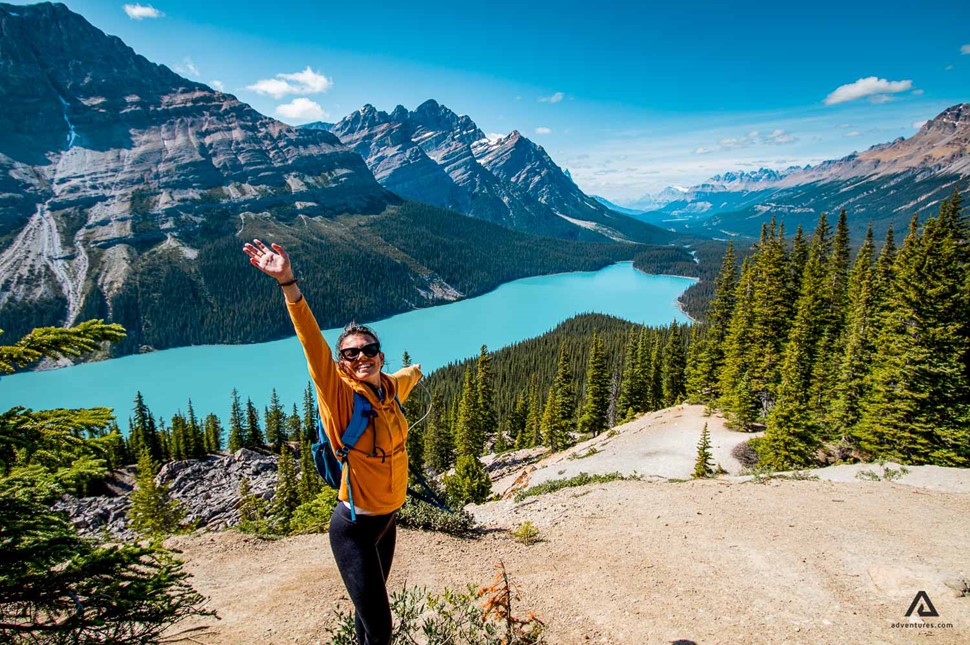 You're about to embark on an epic adventure in Alberta, Canada's fourth most populous province. For your convenience, find the most essential information about the region below. Still not sure what to do in Alberta? Fuel your wanderlust with our list of the top 5 things to do in Alberta, followed by links to our fully guided tours.
Alberta Quick Facts
Capital: Edmonton
Area: 640,081 sq km (247,137 sq mi)
Largest city: Calgary
Alberta is the westernmost of Canada's three prairie provinces.
The majority of Albertans speak English as their first or second language. Other common languages include French, German, and Chinese. 
Alberta is home to six UNESCO World Heritage sites.
Alberta is named after the daughter of Queen Victoria, Louise Caroline Alberta. The renowned Lake Louise is named after the same princess. Her beauty must have been a wonder to gaze upon!
Albertosaurus, a type of Tyrannosaur, was first discovered in 1884 in the Horseshoe Canyon of Alberta, Canada.
The Map of Alberta, Canada
Alberta borders British Columbia to the west, Saskatchewan to the east, the Northwest Territories to the north, and Montana, USA, to the south. The province's major cities are Edmonton, the capital of Alberta, and Calgary. Athabasca River is the longest river in Alberta, offering unparalleled canoeing opportunities.
How to Get to Alberta
Alberta is easily accessible by air and there are daily flights to the province from more than 100 cities worldwide. It has three international airports:
Edmonton (YEG),

Calgary (YYC),

Fort McMurray (YMM).
Airlines serving Alberta include WestJet, American Airlines, Delta, Air Canada, British Airways, Eurowings, and AirNorth, among others.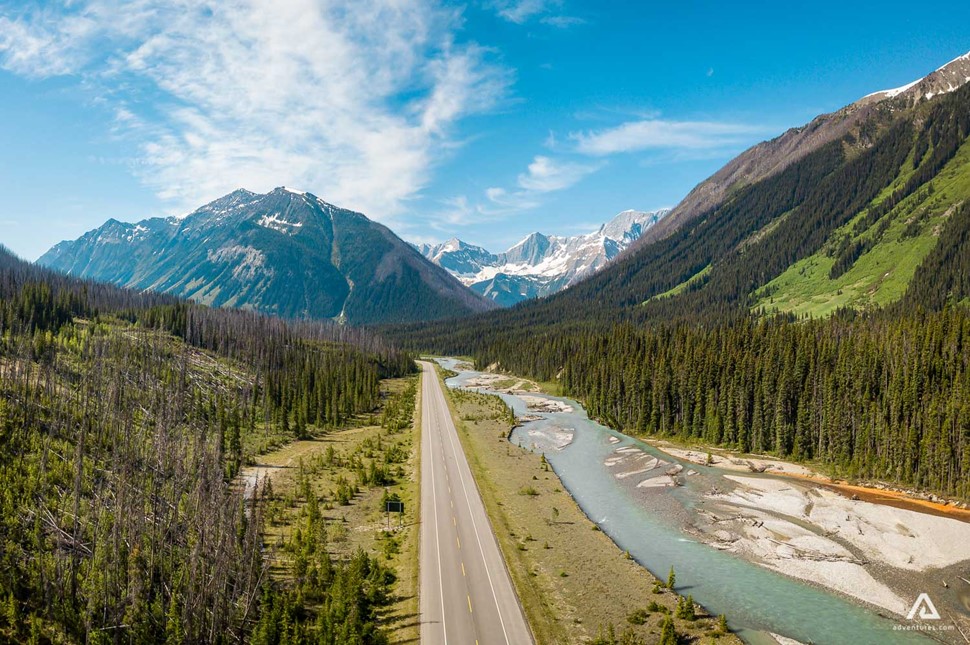 How can you get to Alberta without flying? It's really simple. Alberta has high-quality highways, allowing you to comfortably reach the province by car. Other options include regional bus services (Red Arrow, Ebus-Red Deer) and train service (VIA Rail operates the Canadian Toronto-Vancouver train stopping at Jasper and Edmonton). 
Weather in Alberta, Canada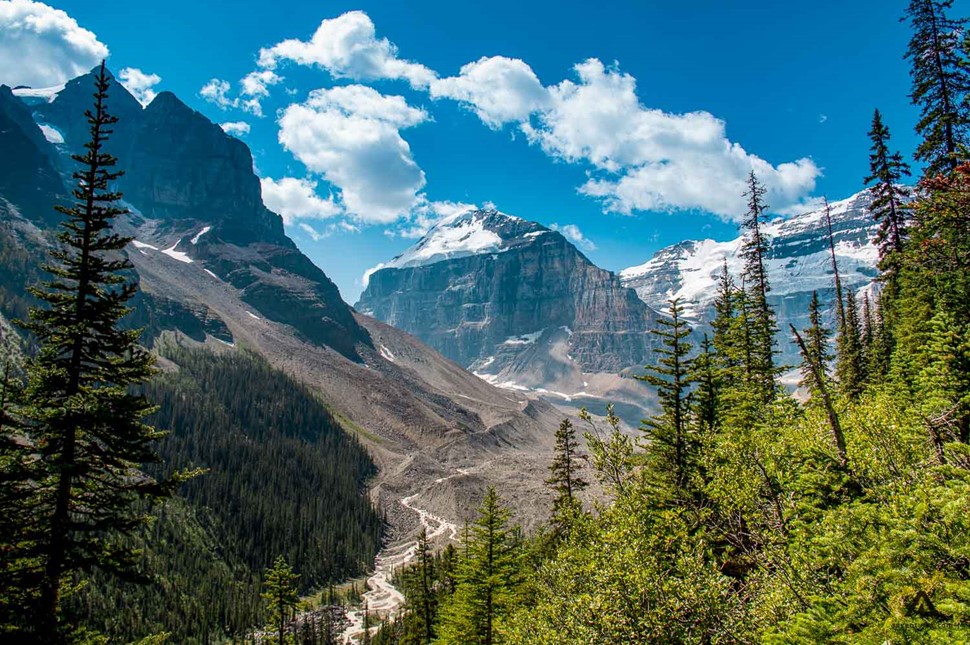 Alberta is one of the sunniest provinces in Canada. This means you can expect to see the sun any time of the year. The warmest months are July and August with an average temperature of 25°C (77°F). Due to its geographic location, the province experiences long days in summer with the sun rising as early as 5:00 a.m. and setting as late as 10:00 p.m.
The average winter temperature is -11°C (12°F). But don't be surprised by quick rises in temperature during wintertime in Alberta. Thanks to chinook winds blowing in from the coast, local temperatures can go up as much as 20°C (36°F) in one day!
So what's the best time to visit Alberta?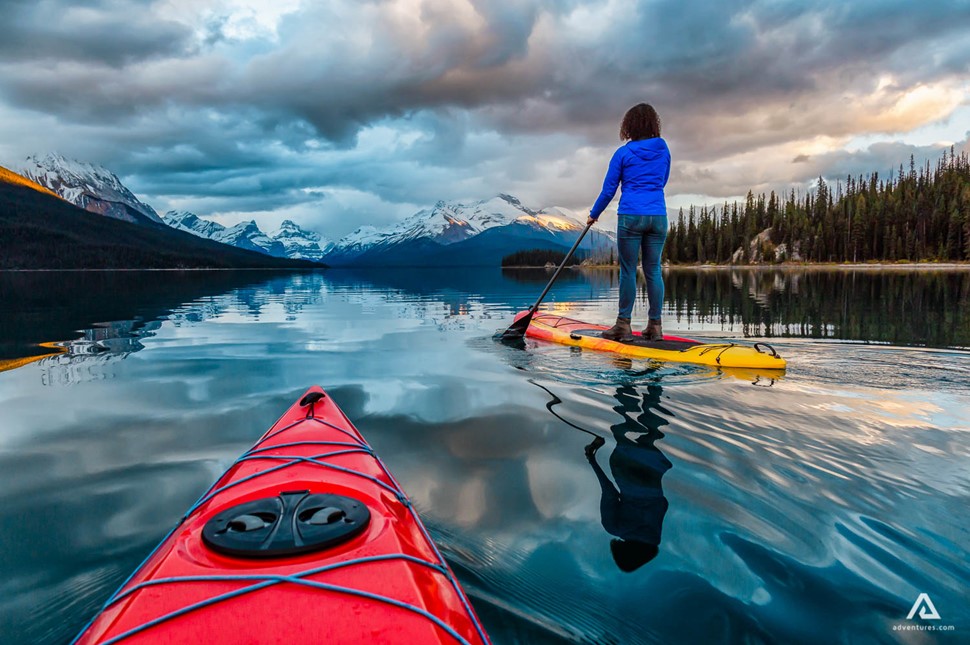 Alberta is a fantastic destination all year round. In summer you'll enjoy the best weather and the longest days, but also prepare for the crowds. If you want to save money and avoid the crowds, come in the shoulder-season (mid-September is great for hiking and pre-December for winter vacationers).
Alberta in winter is breathtaking and offers lots of exciting activities like alpine skiing and snowmobiling. Though the temperature can drop to a chilling -20°C (-4°F), you'll be too busy adventuring to feel the cold. Just make sure to dress warmly!
Want to avoid the rain as much as possible? Note that June is the rainiest month. 
Top 5 Things to Do in Alberta, Canada
Want to cycle along shimmering icefields? Eager to venture deep into the Canadian backcountry on horseback? Or simply want to hike below castle-like mountains? Alberta has so much to offer but where should you start? We've selected the top things to do in Alberta to help you find the one that fits your travel style best. 
1. Backpack Jasper National Park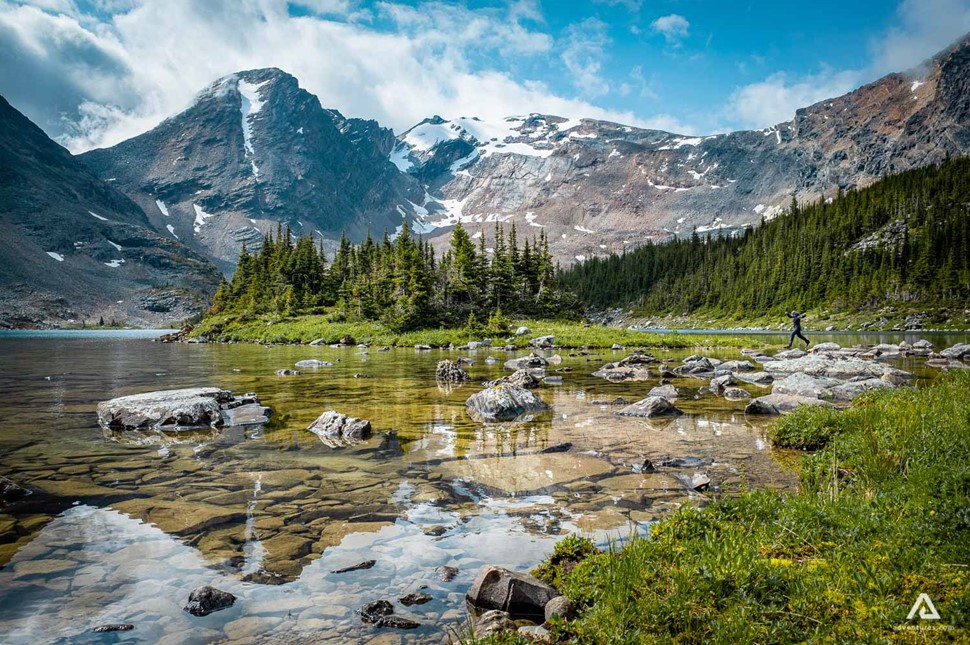 Spanning 10,878 sq km (4,200 sq mi), Jasper is Canada's largest national park in the Canadian Rocky Mountains. Traversing this pristine parkland will teach you a lot about yourself and the world. Glaciers stretching between mountains will compete with wide lush valleys for your attention. All the best, the park receives fewer tourists than the popular Banff and has plenty of space to get lost and enjoy solitude. 
Traversing this pristine parkland will teach you a lot about yourself and the world.
In the mood for adventure? Check out our Backpacking Expedition into Jasper National Park and feel inspired by the world again.
2. Cycle Along the Icefields Parkway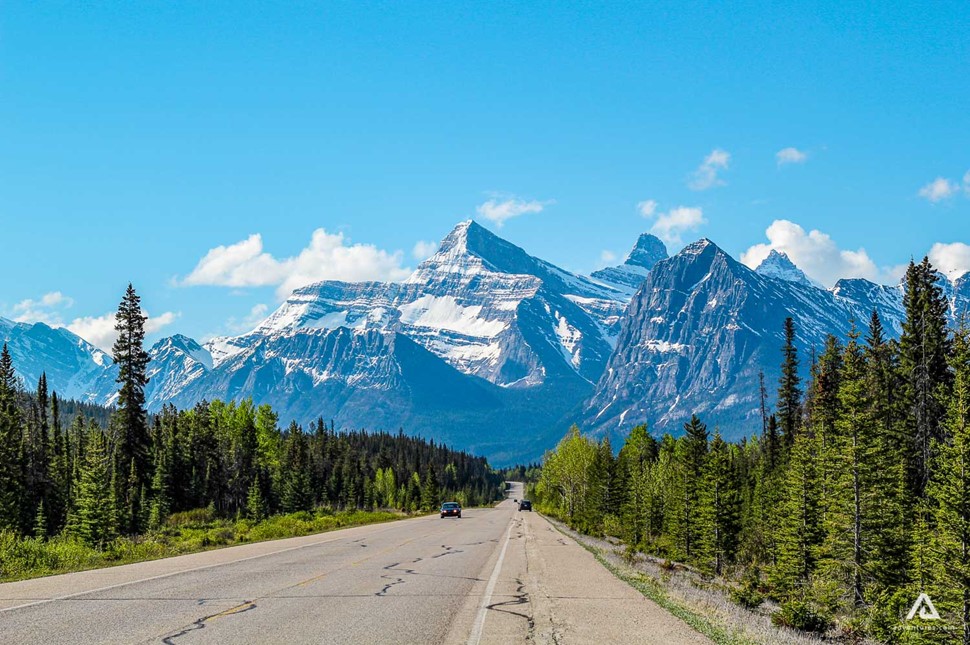 The Icefields Parkway (Hwy 93) is the most spectacular road in North America, connecting Banff and Jasper national parks. As you drive the 230-km (143-mi) long route, your spirits will soar as high as the Rockie's craggy summits. Be awestruck by the 3,300-m (11,000- ft) high mountain peaks, turquoise lakes, and incredible icefields. Along the way, photograph the majestic Athabasca Glacier, whose tongue almost touches the highway.
You can traverse the Icefields Parkway by car or conquer it on a bike. Experience the rugged Rockies up close on our Inn-Based Cycling Tour Along the Icefield Parkway in Alberta.
3. Go Skiing in the Rocky Mountains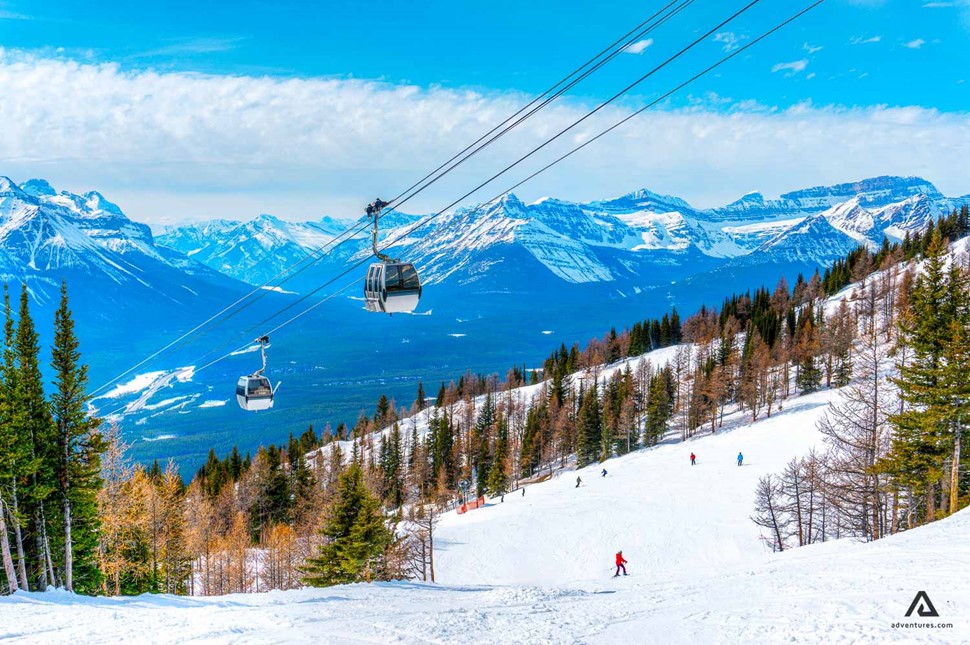 If you're looking for an epic winter vacation in Alberta, you can't go wrong with skiing in the heart of the Canadian Rockies, an international mecca for skiers. There you'll find top-notch skiing resorts such as Sunshine Village, Lake Louise Resort, and Mount Norquay. Be it gentle slopes or serious downhill runs, the westernmost province of Canada is the perfect getaway for skiers of all abilities.
Quench your thirst for winter adventures on our breathtaking Rocky Mountains Ski Tour that explores Alberta's most spectacular ski resorts and peaks.
4. Canoe on the Majestic Athabasca River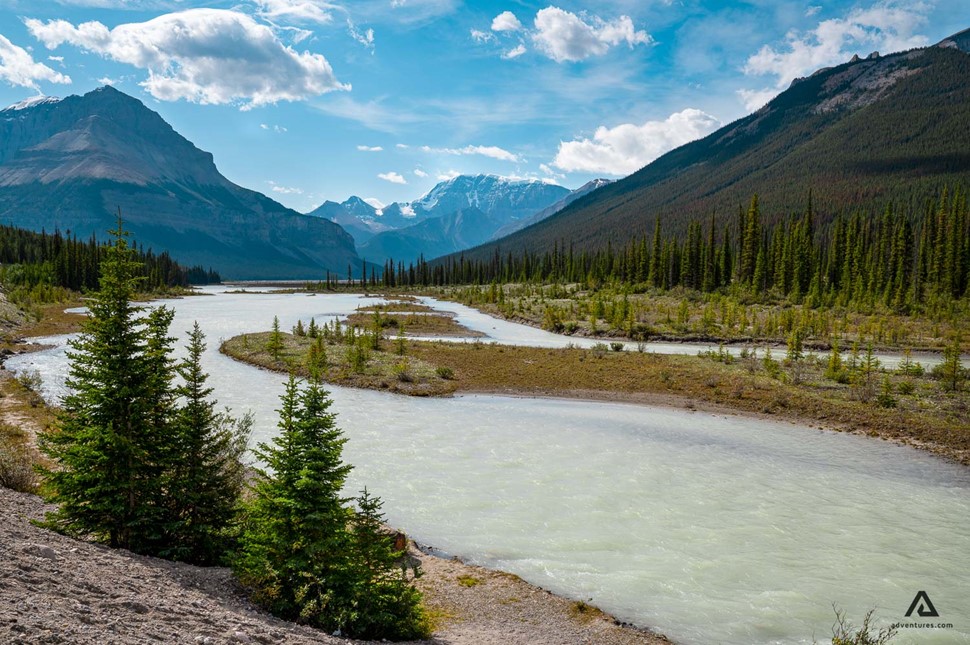 Few places inspire your imagination quite like the wild and rugged landscapes of Alberta. And canoeing is one of the best ways to get closer to Mother Nature. Do so on the untamed Athabasca River, the largest and the most impressive river in the province. Imagine yourself paddling through lush forests and castle-like mountains, discovering countless types of plants. Now add wild animals in their natural habitats and starry nights. Shall we go now?
Imagine yourself paddling through lush forests and castle-like mountains, discovering countless types of plants.
Explore the true Canadian wilderness on our Canoeing on the Athabasca River in Alberta, Canada expedition.
5. Go Horseback Riding in the Alberta Rockies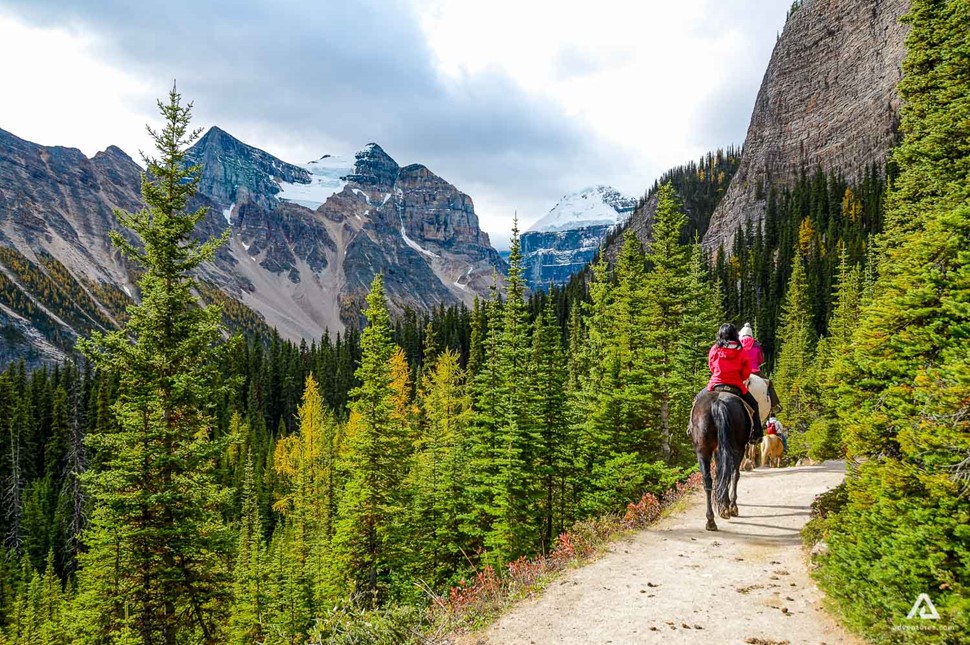 Riding a horse in the Rockies is the outdoor experience of a lifetime. It allows you to reach remarkable places you might not otherwise have seen. Saddle up and ride through high mountain passes, rivers, and canyons. Make friends with your four-legged companion and get lost in the mystical world of mountains. As not all trails in the province are suitable for horses, we recommend joining a tour with an experienced guide who will keep you on the right track.
Venture deep into the backcountry and discover Alberta's secrets on our special Horseback Riding in the Canadian Rocky Mountains adventure.