ABOUT BANFF NATIONAL PARK
BANFF NATIONAL PARK, ALBERTA, CANADA
Spectacular mountains, more than 1,000 glaciers, the world's most photographed lakes, deep forests, and valleys, dotted with Jackson Pollock style patches of alpine flowers: welcome to Banff, the crown jewel of Canada's national parks.
Spanning 2,564 mi2 (6,641 km2), this pristine parkland offers something for everyone. Depending on the season, hike around lakes, venture into the backcountry on horseback, dash down the snowy slopes, or just camp out under the stars.
The park's headquarters are nestled in the town of Banff, which lies along the Bow River in a valley surrounded by forested peaks. Meant to be a tourist town from the beginning, its main street — Banff Avenue — was designed to grant an impeccable view of Cascade Mountain.
Today Banff is a bustling community, with boutique shops, restaurants, art galleries, and hotels. Yet, take a short walk in any direction, and you'll find yourself surrounded by untamed wilderness.
A LOOK BACK: HOW IT ALL BEGAN
The coming of the transcontinental railway marks the origin of Banff National Park. In 1883, three railroad workers discovered hot springs at the foot of Sulphur Mountain. This accidental discovery propelled an entirely new vision for a nearby settlement, which was known as "Siding 29."
In 1884, the area was named Banff by Lord Steven, a former CPR (Canadian Pacific Railway) train station director whose hometown was Banffshire in Scotland. In the years to come, CPR started building luxurious hotels and promoting the town as an international resort.
The opening of the grand Banff Springs Hotel in the year of 1888 was another turning point in the history of Banff. With staggering natural landscapes and a Châteauesque style castle in the middle of the mountains, Banff became one of the most sought-after destinations in the world.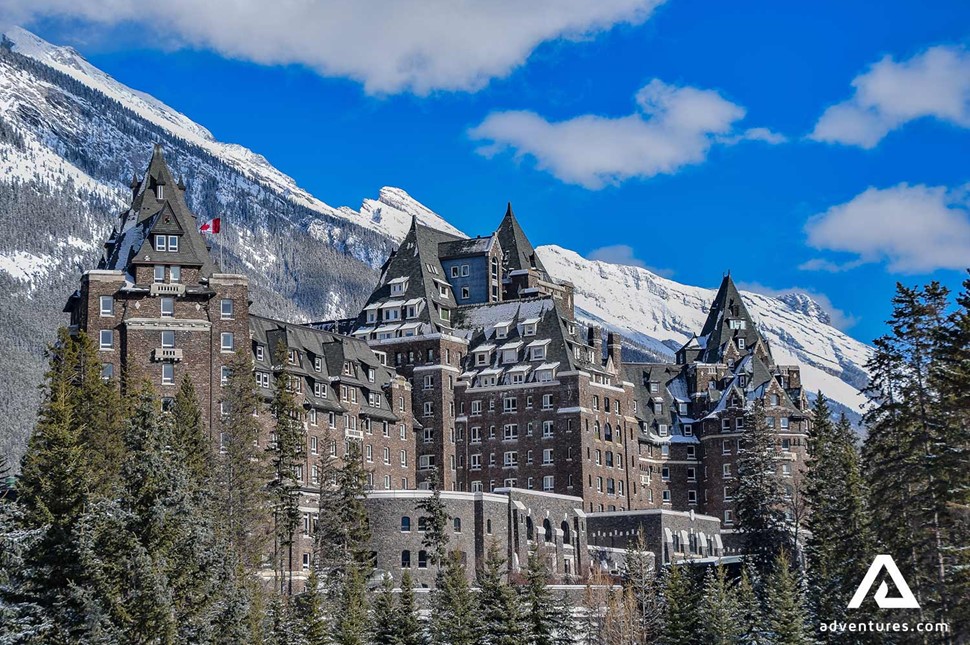 Eventually, the area around Banff's hot springs was expanded and named Banff National Park. Today, the town and its surroundings are part of the Canadian Rocky Mountain Parks UNESCO World Heritage Sites.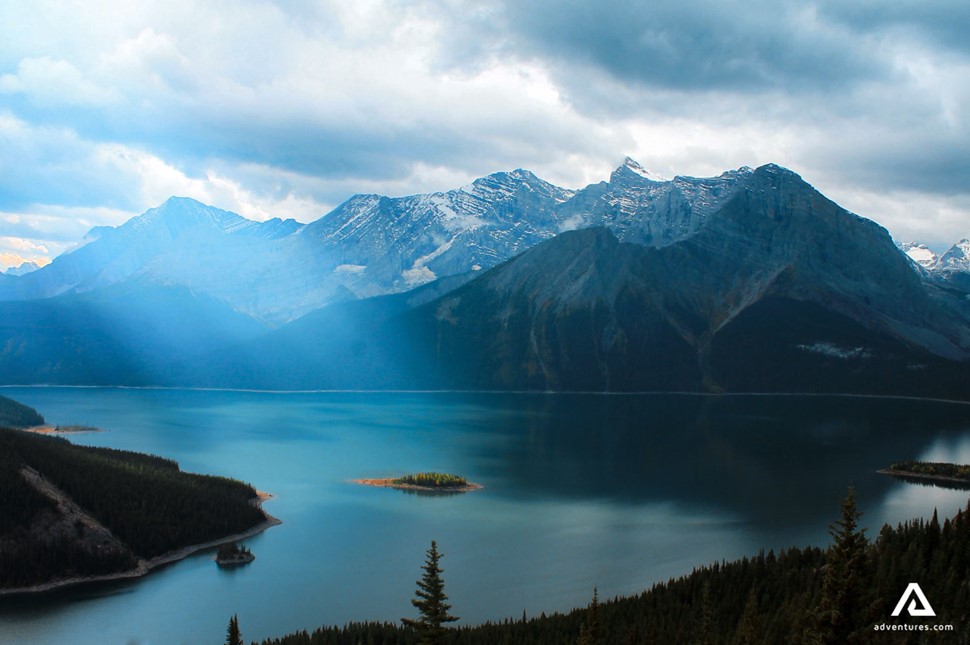 WHERE IS BANFF NATIONAL PARK LOCATED?
51.4968° N, 115.9281° W
Banff National Park is located on Alberta's western border, along the Trans-Canada Highway. It's about 80 mi (128 km) west of Calgary, 530 mi (850 km) east of Vancouver, and 178 mi (287 km) south of the town of Jasper, and borders Jasper National Park.
HOW TO GET TO BANFF NATIONAL PARK?
Most tourists come to Banff National Park by flying into Calgary International Airport, which is the closest airport to the park. From the airport, rent a car and take Trans-Canada Highway (HWY-1) west from Calgary. The route goes through the Rocky Mountains and takes you directly to Banff. Approximate time to drive: 90 minutes.
If you don't have a car or don't want to rent one, there are scheduled bus services, connecting Calgary and Banff.
If you're coming from Jasper National Park in the north, drive the Icefields Parkway to Lake Louise, from there continue for 35 mi (57 km) southeast to reach Banff. Approximate time to drive: 3 to 4 hours.
If you're coming from the west or would like to take a scenic road trip, you can drive from Vancouver to Banff via the Trans-Canada Highway. Approximate time to drive: 8 to 10 hours.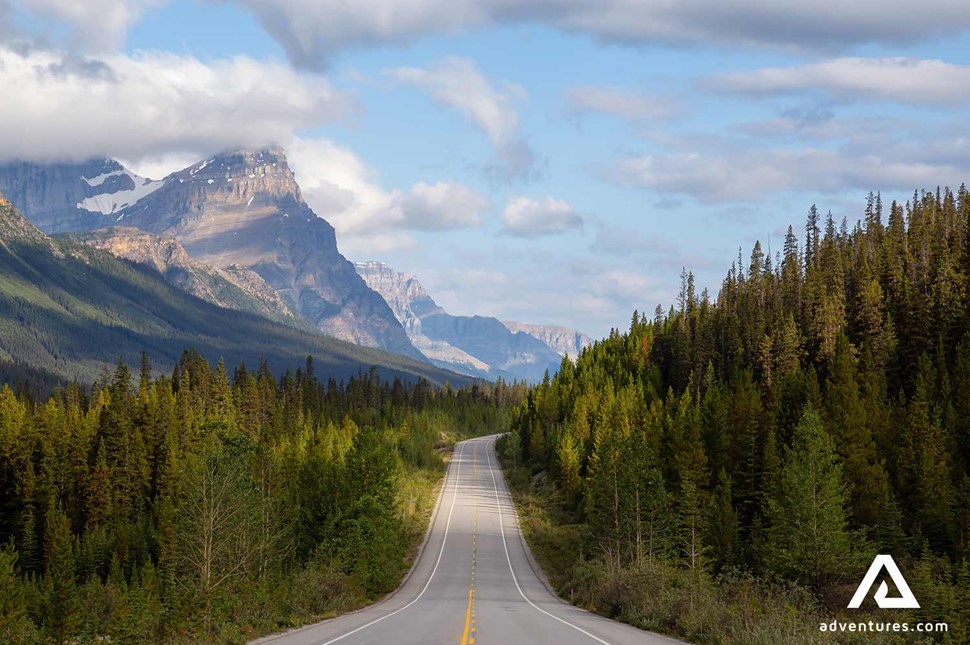 BANFF NATIONAL PARK WEATHER
The weather in Banff varies quite a bit depending on the season. The Rocky Mountains are known for occasionally experiencing all four seasons in one day. So, don't let a little bit of midsummer snow catch you off guard!
The summer months are ideal for hiking and water-based activities, especially in July, when temperatures run around 73°F (23°C) on average. However, the cold winter months are perfect for skiing and snowboarding. Usually, January is the coldest month with an average temperature of 14°F (-10°C).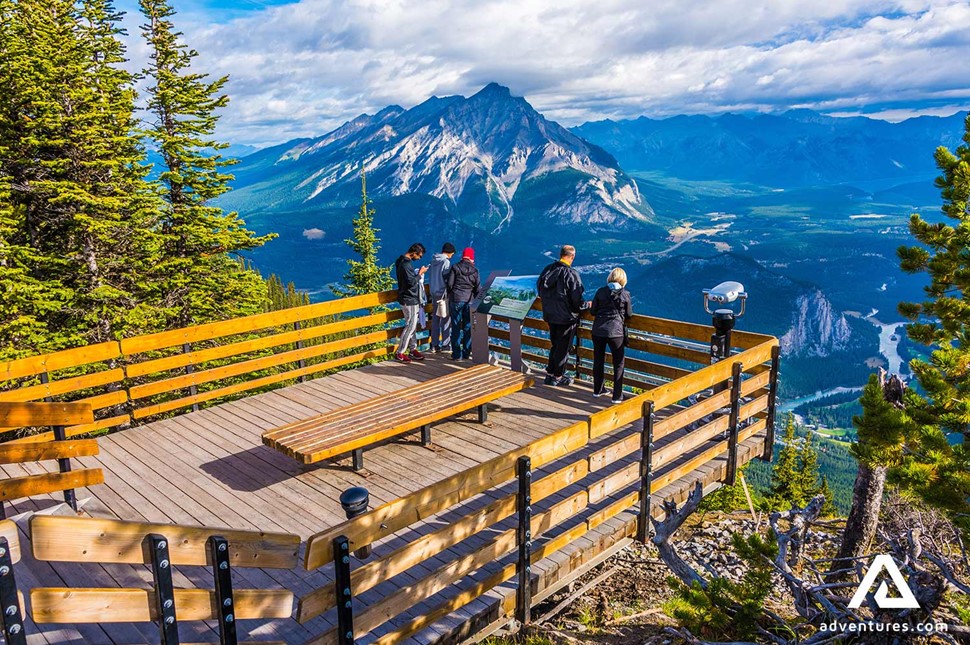 BEST TIME TO VISIT BANFF NATIONAL PARK
With every season having something different to offer, Banff National Park is a great place to visit at any time of year.
Summer: Without a doubt, summer is high season, perfect for hiking, mountain biking, climbing, and water-based activities. The days are long and the weather is absolutely perfect. While July and August are the busiest months, June offers nearly the same weather benefits but is less crowded.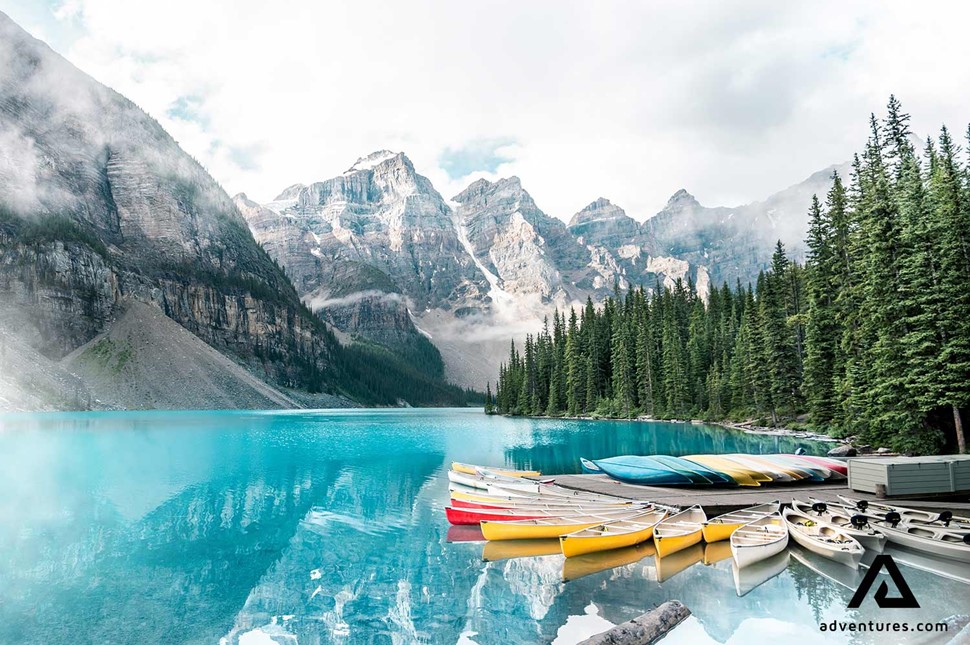 Spring and Autumn: If you wish to avoid the crowds and would like to take advantage of lower prices, the shoulder seasons of Spring and Autumn might be just for you. While Spring pleases visitors with warming temperatures and Autumn is noted for magnificent views of larch trees turning a brilliant yellow.
Winter: Wintertime is the peak of snow sports. Covered in a blanket of powdery snow, the mountains make for excellent downhill skiing, cross-country skiing, and snowboarding. Local ski resorts are open from late November to April or May, which is one of the longest ski seasons in North America. Also not to be forgotten are the Northern Lights, which often illuminate the dark skies.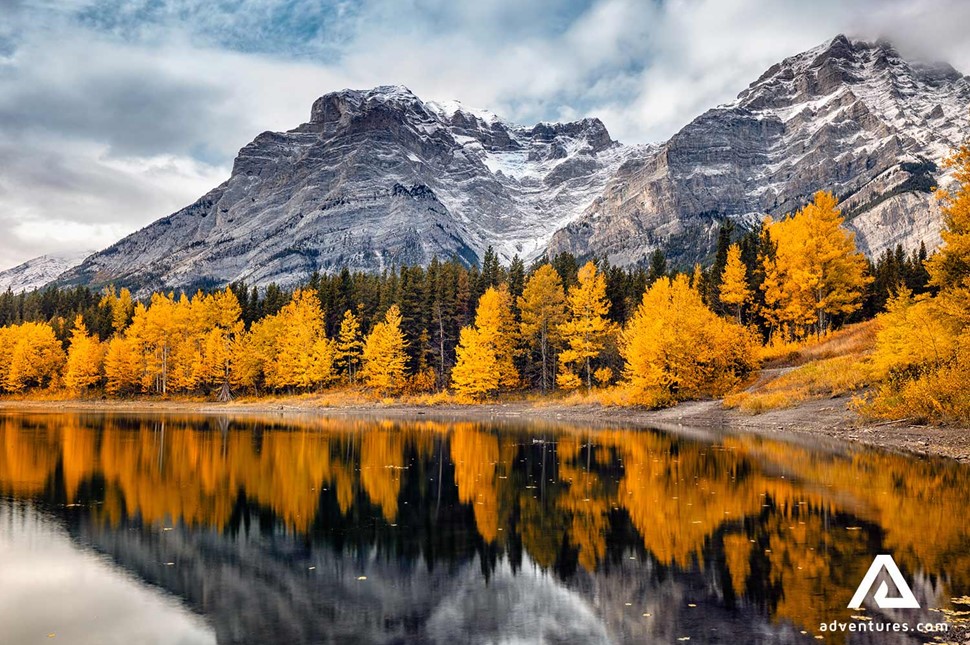 INTERESTING FACTS ABOUT BANFF NATIONAL PARK
The highest peak within Banff National Park is Mount Forbes at 11,850 ft (3,612 m).

Lake Minnewanka is the biggest lake in Banff National Park. While the lake is too cold for a dip, it's the only lake in Banff where motorboats are allowed.

The view of mountains behind the renowned Moraine Lake is known as the "Twenty Dollar View", as Moraine Lake was once featured on the reverse side of the Canadian twenty-dollar bill.

Hollywood has regularly turned its cameras to Banff, perhaps the most beautiful park in Canada. Banff has been featured in numerous movies including Mystery, Alaska, Days of Heaven, and The Edge.

The popular TV series Game of Thrones went to Banff to film some scenes with wolves, which are said to be some of the biggest wolves in the world.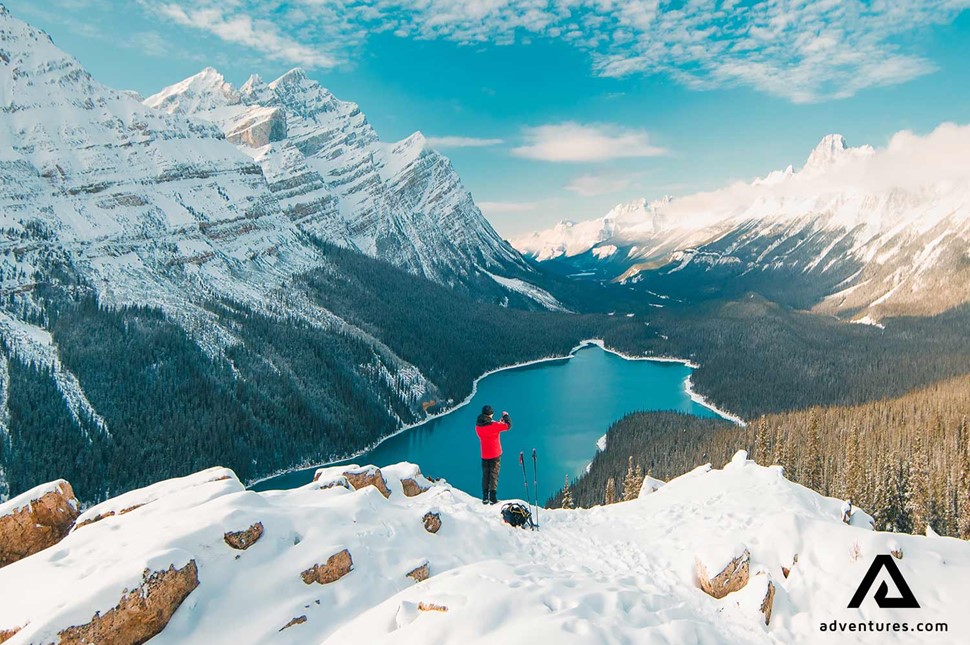 WHERE TO STAY IN BANFF NATIONAL PARK?
Banff Ptarmigan Inn, located just a couple of minutes from the center of Banff, it's a cozy hotel equipped with nicely decorated rooms, a restaurant, and an underground parking lot.

Blue Mountain Lodge, located just 2 minutes from the center of Banff, it's a great budget option with daily breakfast and free Wi-Fi.

Banff Inn, located about 12 mi (19 km) from Sunshine Village Ski Resort, it's an excellent option for someone who is planning a ski holiday.

Brewster's Mountain Lodge, located in the heart of downtown Banff, it's a western decor hotel offering comfortable accommodation with a complimentary breakfast.

Mountaineer Lodge, located about 2.5 mi (4 km) from Lake Louise, it's a cozy hotel offering spacious rooms with microwaves, coffeemakers, and free Wi-Fi.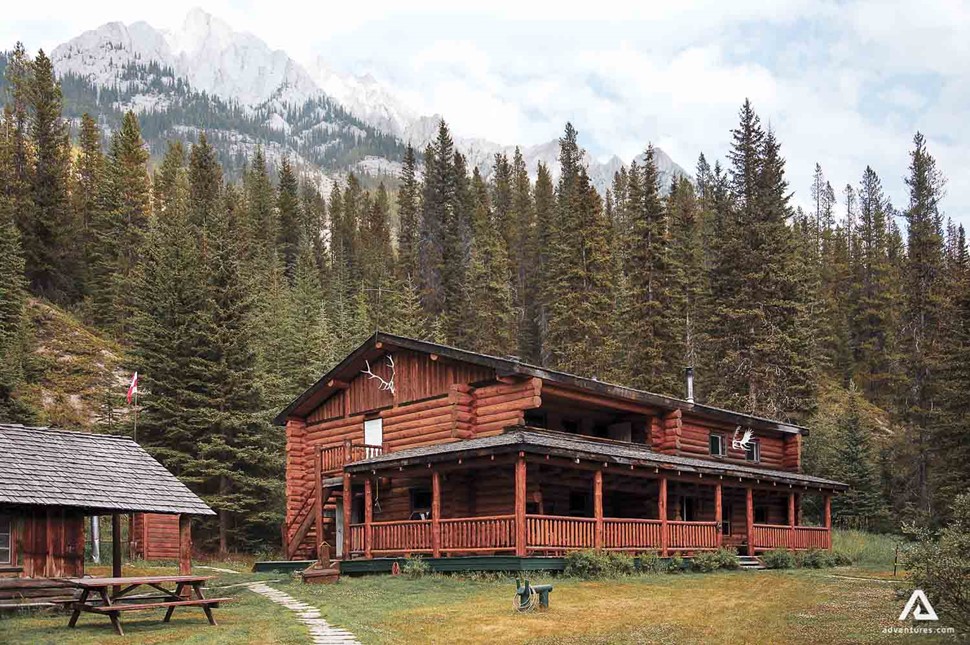 BANFF NATIONAL PARK CAMPING
Johnston Canyon Campground, located about 14 mi (22 km) from the town of Banff, it's a nice campground with all the camping facilities you need like picnic shelters, flush toilets, and showers.

Lake Louise Campground, located about 2 mi (4 km) from Lake Louise, this campground nestled in the trees comes equipped with showers and washrooms.

Two Jack Lakeside Campground, located close to the Lake Minnewanka, is another great option thanks to its stunning lake and mountain views.

Tunnel Mountain Village Campgrounds, located within walking distance from the town of Banff, offers a traditional camping experience and has several options to suit many camping preferences.

Waterfowl Lake Campground, located next to the Icefields Parkway, offers excellent views and great hiking trails from the campground.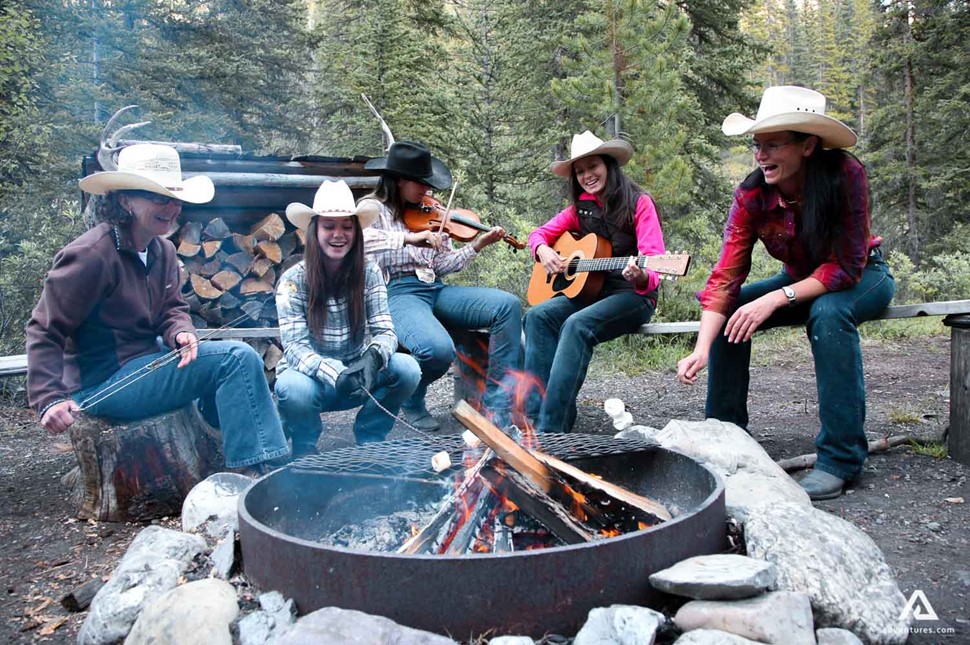 PLACES TO EAT IN BANFF NATIONAL PARK
Grizzly House, located on Banff Avenue, it's a popular gourmet restaurant that has been open since 1967 offering a fondue menu ranging from traditional to nontraditional meats such as alligator, rattlesnake, and shark.

Bison Restaurant and Terrace, located in downtown Banff, it's a rustic-modern eatery serving Canadian cuisine against a backdrop of stunning mountain views.

Melissa's Missteak, located in a log building, in the center of town, it's one of the best steakhouses in Banff where you can also enjoy burgers and even lobster.

Elk & Oarsman, located on Banff Avenue, it's a favorite restaurant and pub among locals with a summer patio on the rooftop.

Lakeview Lounge, located on the shore of Lake Louise, it's a fancy lobby lounge for an afternoon tea with an unparalleled view across the lake.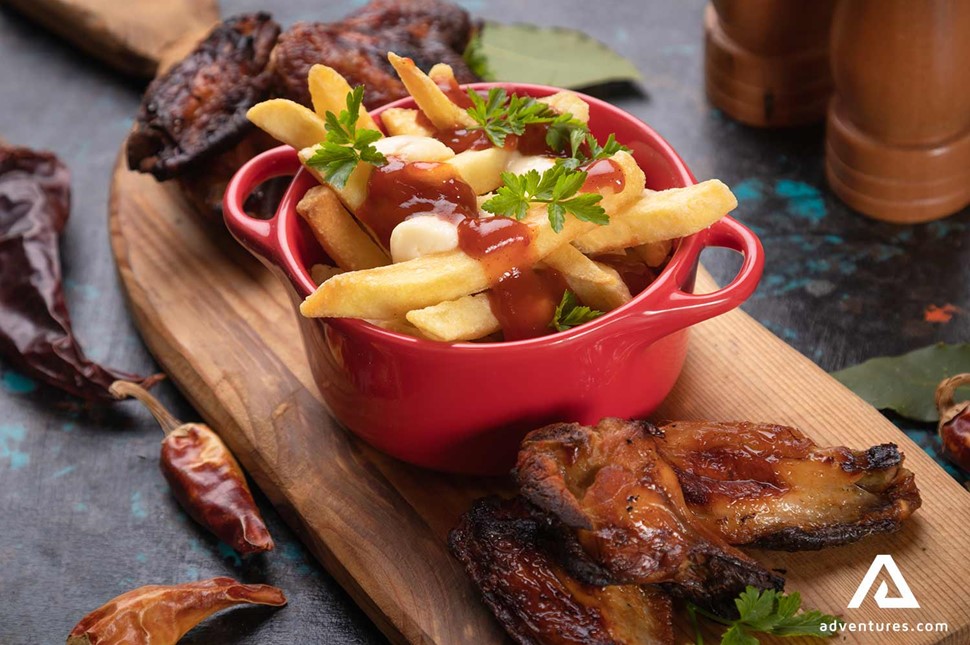 THINGS TO DO IN BANFF NATIONAL PARK
With numerous natural wonders easily accessible, Banff is a true sanctuary for everyone with a sense of adventure. While it's nearly impossible to squeeze everything that Banff has to offer into one list, here is a quick introduction to the main tourist attractions.
BANFF HIKES
One of the most popular things to do in Banff during the summer season is hiking. There is 1,600 km (1,000 mi) of hiking trails that offer some of the best natural scenery in the world. You can choose from day hikes originating in the town of Banff to longer trips with overnight backcountry opportunities.
Whether it's an easy hike to breathtaking subalpine vistas or more challenging one up to the top of mountains, you're sure to find the one tailored to your needs. Some that don't require special preparation are Sunshine Meadows, Tunnel Mountain, Johnston Canyon, and Sulphur Mountain.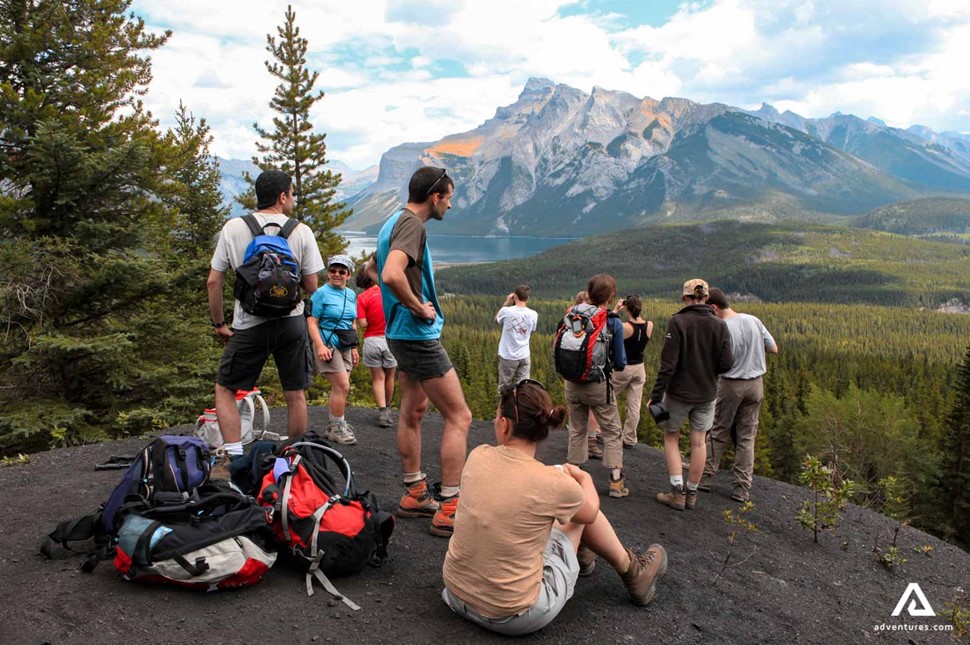 BANFF WILDLIFE
One of the chief attractions of Banff is the abundance of wildlife. Animals found in Banff National Park are grizzly and black bears, mountain goats, bighorn sheep, caribou, moose, and elk, just to name a few. Bird watchers will find plenty of eye candy as more than 260 bird species pass through the park annually including bald and golden eagles, osprey, falcon, rufous hummingbirds, and white-tailed ptarmigan, and red-tailed hawk.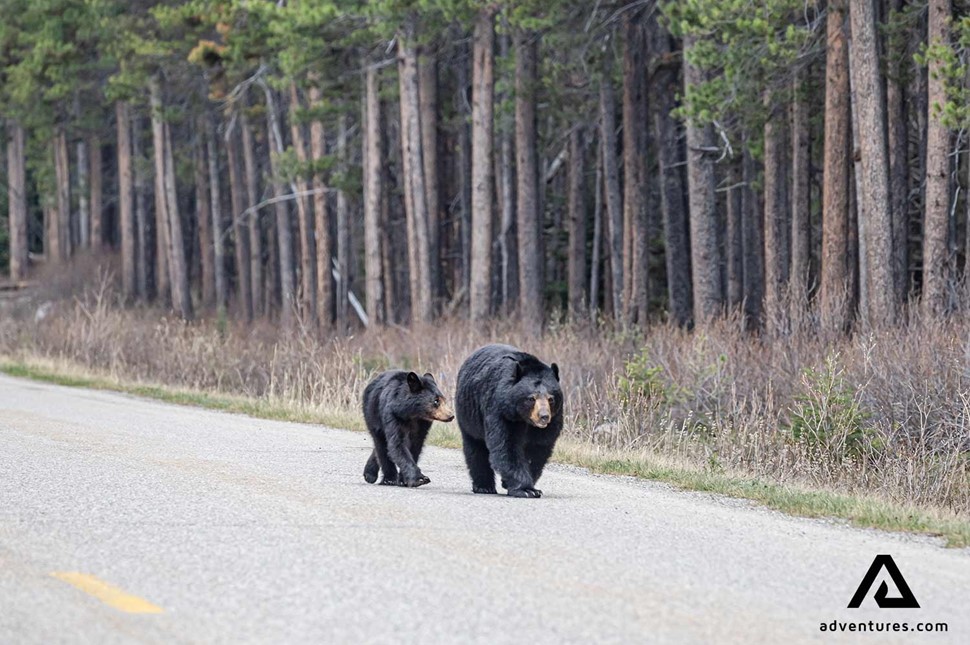 Spring and Autumn are considered to be the best times of the year for wildlife watching, however, winter is perfect for spotting elk, coyotes, and wolves. While you might be tempted to get nearer for a closer look at the wildlife, make sure to keep a safe distance from the animals.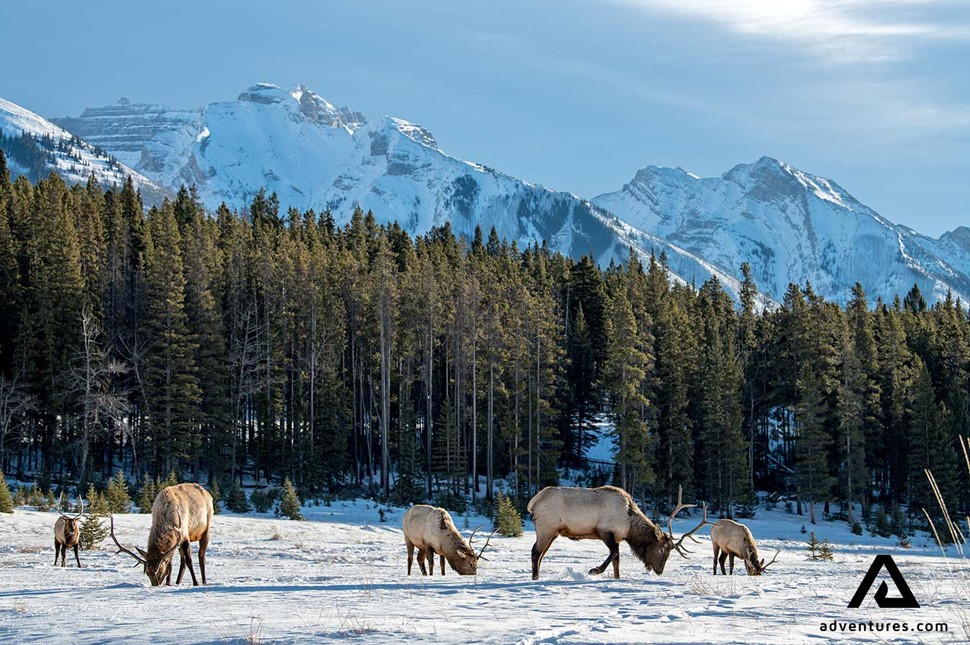 BANFF SKIING
During the winter, Banff becomes a true winter wonderland. The added splendor that snow lends to the landscape makes for a stark contrast with blue-skied days. Beyond the snow-dappled mountains, you may feel like you've stepped into a fairy tale.
At this time of year, three world-class winter resorts - Sunshine Village, Lake Louise, and Ski Norquay - open their doors for winter sports enthusiasts. While skiing and snowboarding are the most popular activities, you can also join a sleigh ride, learn to snowshoe, or embark on ice walks in the famous Johnston Canyon.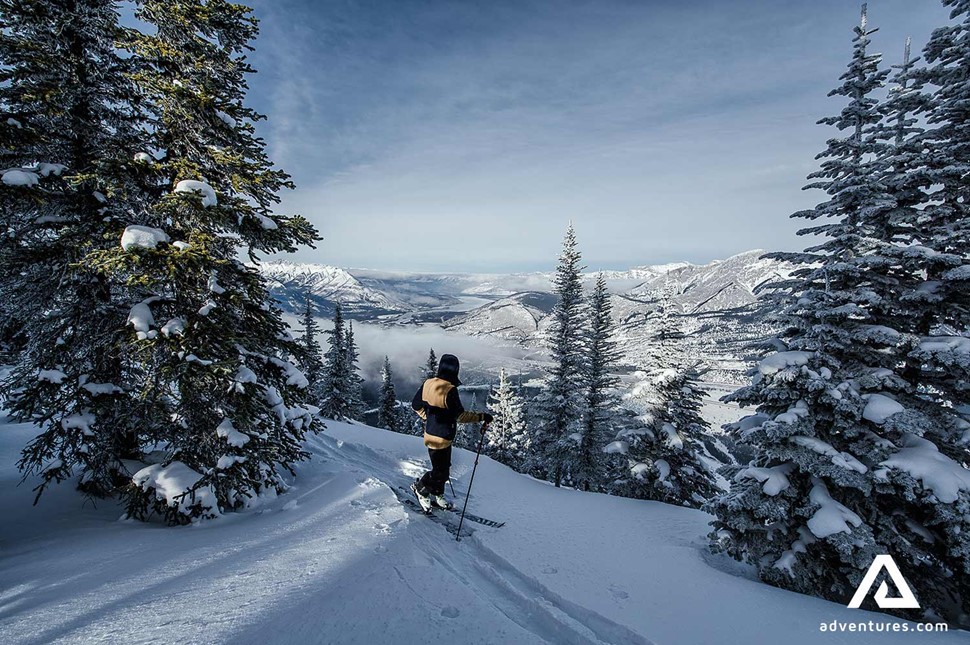 LAKES IN BANFF NATIONAL PARK
Nature has been kind to Banff National Park, a mountainous oasis filled with countless glacier-fed lakes such as Lake Louise, Moraine Lake, and Peyto Lake. Each is stunningly beautiful in its own right and we guarantee that you won't want to miss them.
Visiting the park wouldn't be complete without seeing the world-famous Lake Louise, which is perhaps the most photographed lake in Canada. Named after Princess Louise Caroline Alberta, the lake epitomizes what a divine escape should look like, and no wonder, given its turquoise waters and gorgeous surrounds.
Located close to Lake Louise, Moraine Lake is another placid lake, whose deep-blue waters, surrounded by glaciated peaks, rival those of Lake Louise. Accessible from the renowned Icefields Parkway, Peyto Lake offers a unique view from above and looks like it's from another world.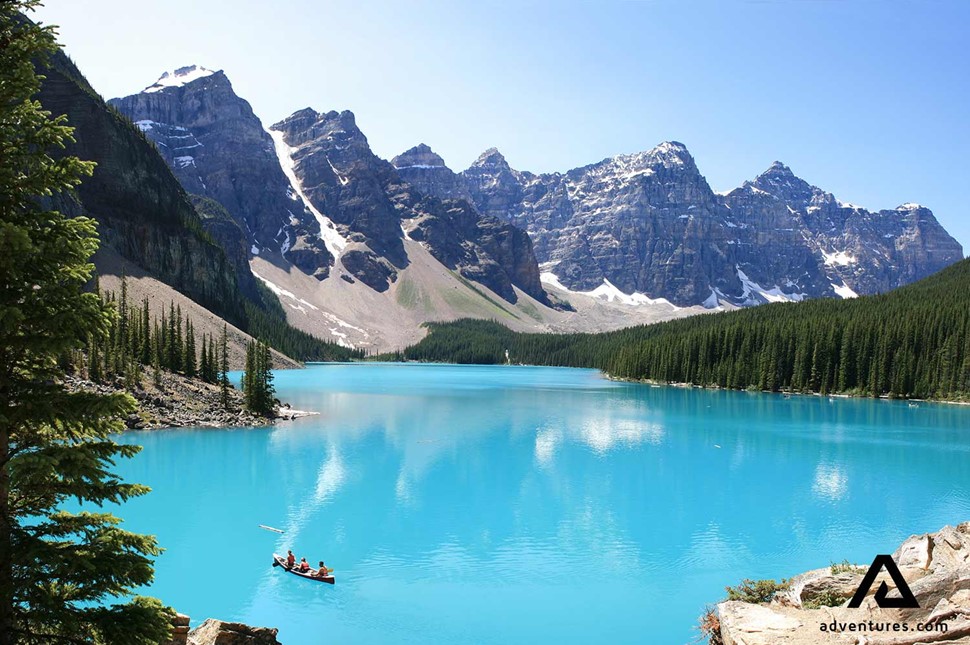 ICEFIELDS PARKWAY
Regarded as one of the most scenic drives on the planet, the Icefields Parkway is a 143-mi (230-km) mountain road that goes from Lake Louise to Jasper National Park. If you're looking for an epic road trip, the parkway has it all: rugged mountain scenery, an impressive network of hiking trails, glistening glaciers, turquoise lakes, and the opportunity to spot wildlife such as bears, caribou, moose, and elk.
The Icefields Parkway has wide shoulders, making it ideal for mountain biking or cycling trips. The parkway is open year-round, although it might be closed for short periods due to avalanches or icy roads during the winter.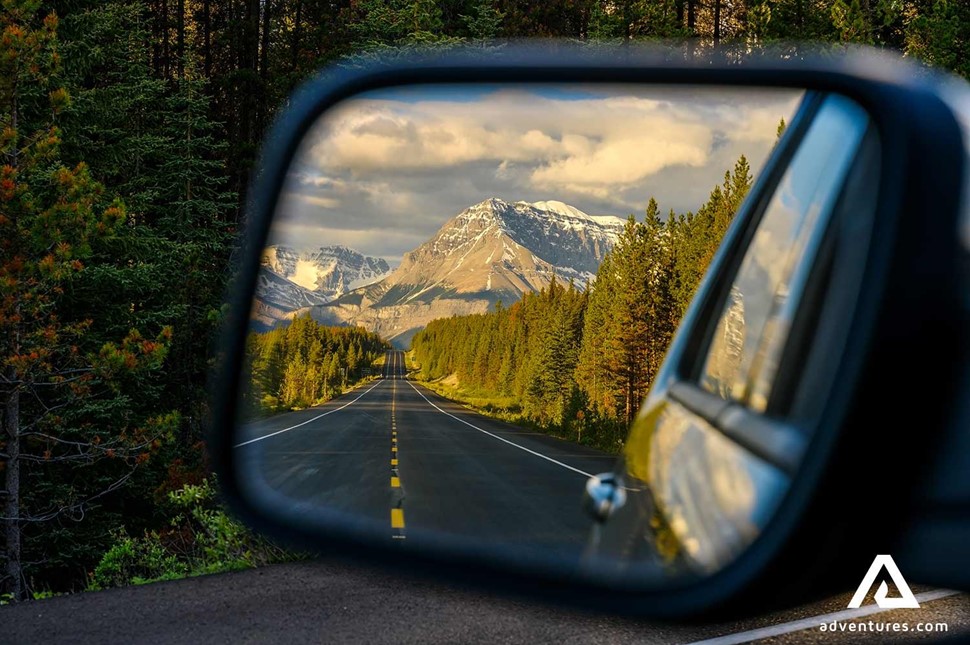 THE BOW VALLEY PARKWAY
It's a great alternative to the Icefields Parkway for those who are looking for a shorter and quieter drive along the Bow River. This 32-mi (51-km) road connects Banff and Lake Louise and goes through some of the most scenic viewpoints in the Rocky Mountains, including a stop at the iconic Johnston Canyon. Allow approximately 3 hours for the drive.
BANFF FESTIVALS AND EVENTS
In addition to its natural wonders, Banff also has a rich art and cultural scene. One of the most important and biggest events is the Banff Mountain Film Festival, which takes place every autumn. It brings the best films on mountains and cutting-edge adventures from around the world, making it one of the most sought-after events among adventurous spirits.
The Banff Mountain Book Festival takes place at the same time, which celebrates mountain literature and brings together a wide array of publishers, writers, photographers, and readers to share their stories.
Other interesting events that might be of interest to you are the Banff Summer Arts Festival, Banff World Media Festival, Slush Cup for snow sports enthusiasts, and Mellissa's Road Race for runners.