Where Is Cape Breton Highlands National Park?

Cape Breton Highlands National Park is situated on northern Cape Breton Island in Nova Scotia. 
How to Get to Cape Breton Highlands National Park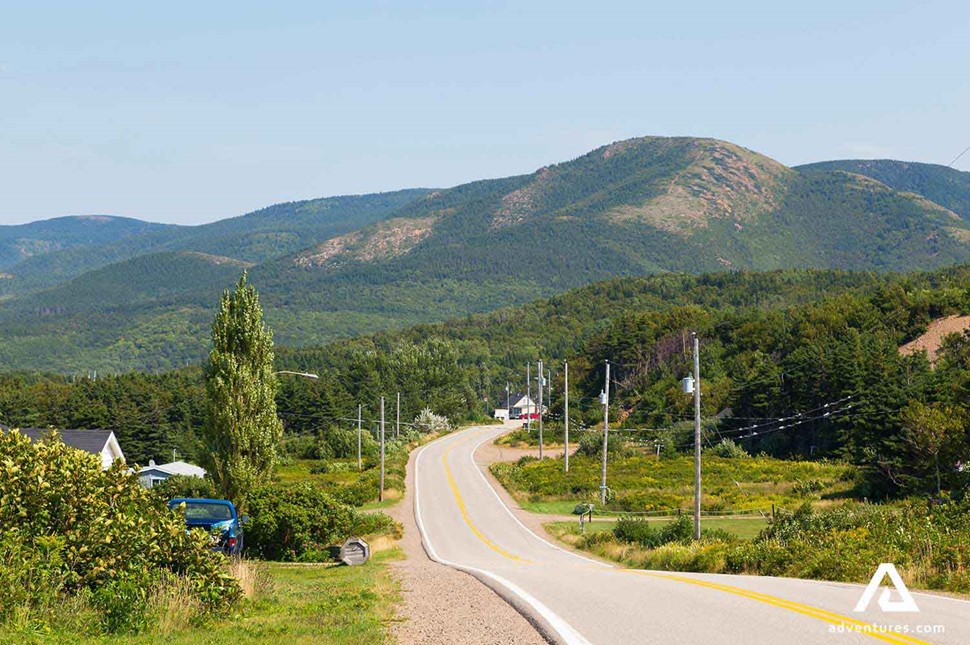 There are several ways to get to Cape Breton Highlands National Park. Two of the main roads lead to the western entrance of the park near Chéticam, while two other options lead to the eastern entrance in Ingonish. One of the most scenic routes in North America, the Cabot Trail, goes around northern Cape Breton and continues for nearly 300 kilometers. Approximately one-third of the route runs within the park's boundaries. 
General information about Cape Breton Highlands National Park
Size – 948 sq km (366 sq mi) 


Location – Nova Scotia, Canada 


Established - 1936 


Best time to visit – Jul-Aug 


Number of visitors – 300,906 (2019/20) 


Activities – Hiking, Fishing, Swimming, Cycling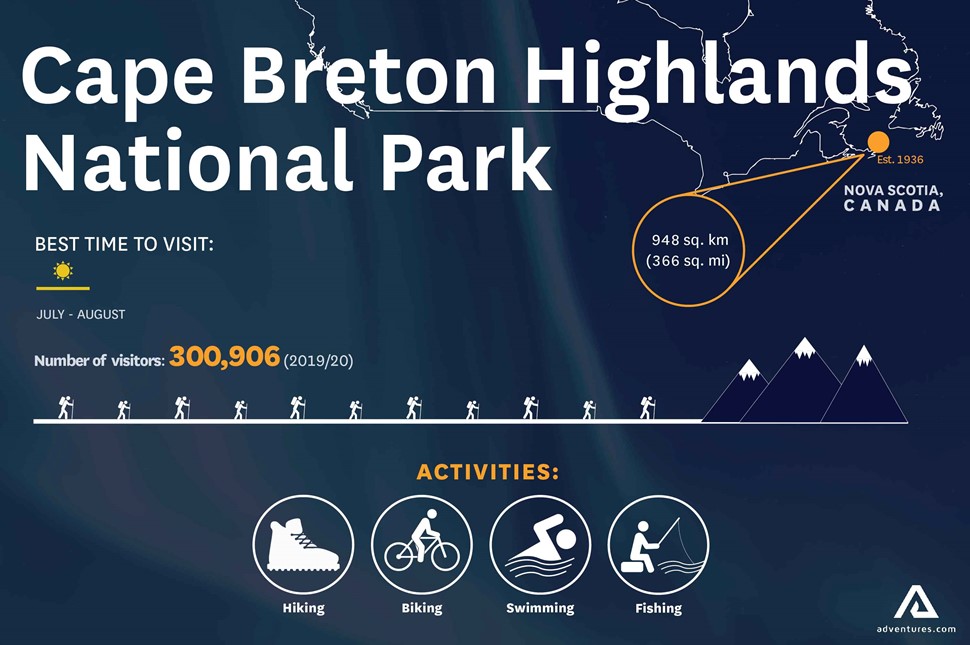 What is Cape Breton Highlands National Park known for?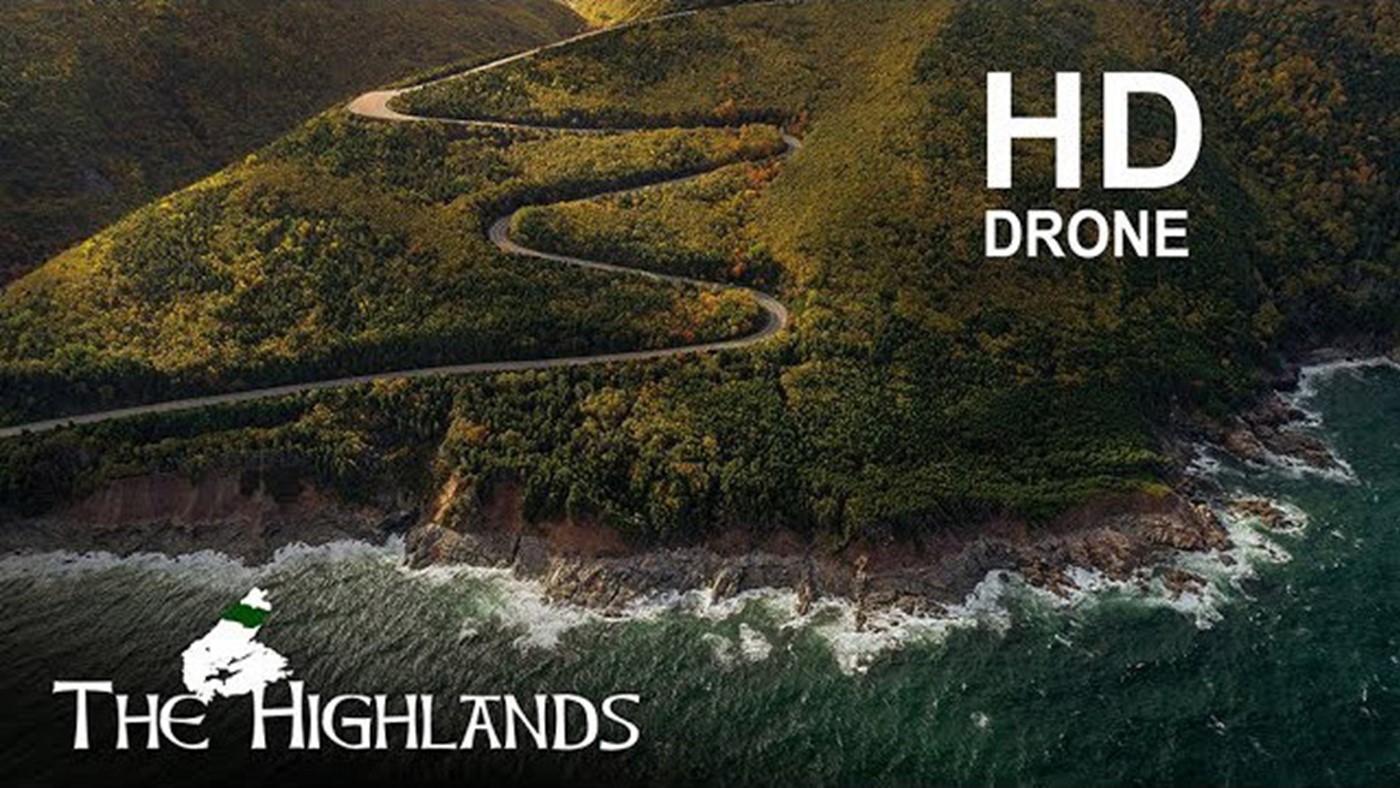 Cape Breton Highlands National Park became the first national park in the Canadian Atlantic provinces. It covers an area of 948 square kilometers (366 sq mi) and is one of Canada's 42 national parks.  
The park consists of valleys, mountains, rocky coastlines, waterfalls, and the Cape Breton Highlands, a tundra-like plateau. The maritime climate and rugged landscape of the park allow a unique blend of Acadian, Boreal, and Taiga habitats to thrive. This rare mix of northern and southern species cannot be found anywhere else in Canada. Several dozens of rare and endangered plant and animal species can be found within the park.  
What to Do in Cape Breton Highlands National Park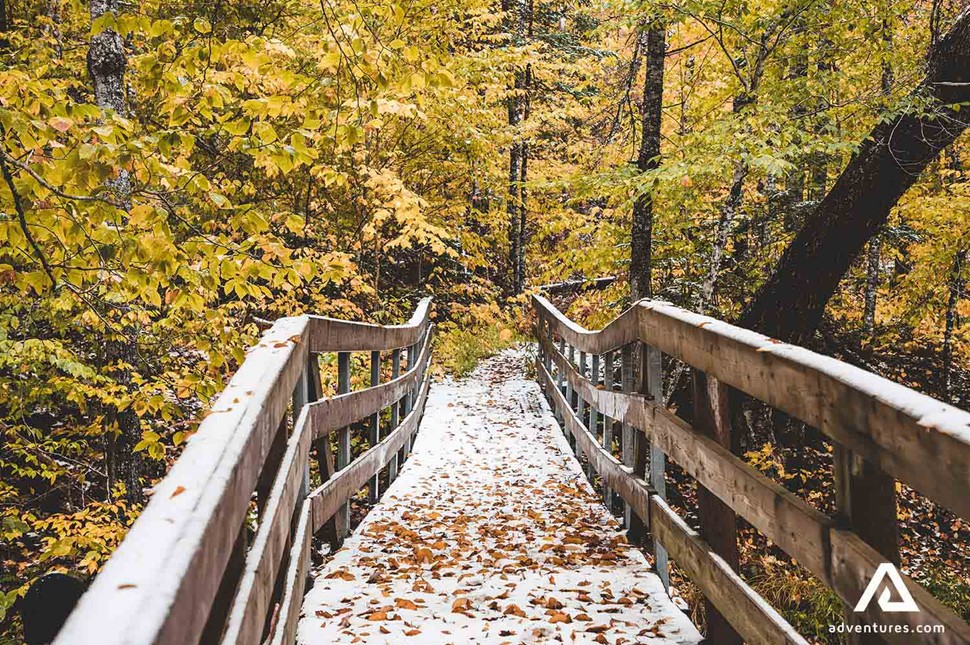 Hiking
One of the best ways to explore the park and its beauty is by embarking on its 26 hiking trails, ranging from easy strolls to challenging climbs. All hiking trails lead to wonderful panoramic views of canyons, seacoasts, and highlands. 
Fishing
During the season, Cape Breton Highlands National Park offers recreational fishing opportunities in its many lakes and rivers. The most popular species for fishing are native brook and speckled trout. Confirm the season dates and catch limits before fishing in the national park. A permit is required, and a license fee is applied, along with some regulations. 
Swimming
Cape Breton Highlands is home to some of the most superb beaches. You can choose between salt and freshwater or enjoy both at the same location.  
Cycling
Rated one of the world's top cycling destinations, the Cabot Trail is a must-do for any experienced cyclist. The park offers cycling on some designated trails, including Salmon Pools, Clyburn Valley, and Le Vieux Chemin du Cap-Rouge. 
The Best Time to Visit Cape Breton Highlands National Park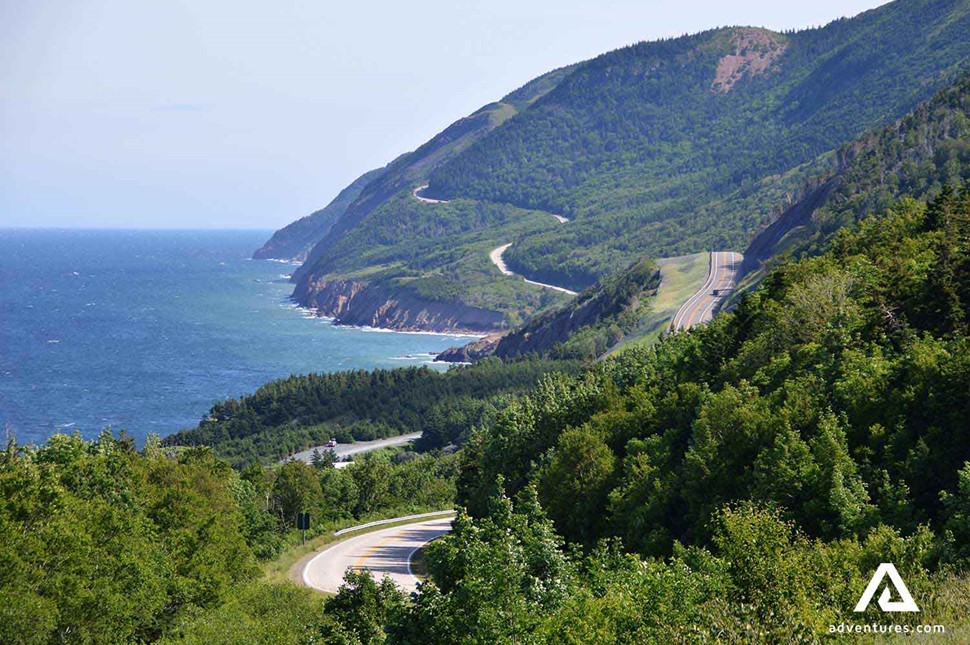 The best time to go to Cape Breton Highlands National Park is during the summer in July and August - the weather tends to be warmer and drier then. Either way, come prepared for a rain shower. If you decide to travel during September and October, you will be rewarded with wonderful autumn colors, but do not forget to wrap up to keep warm. Most tourist attractions are closed during winter since winters on the island are bitter and harsh. 
Where to Stay in Cape Breton Highlands National Park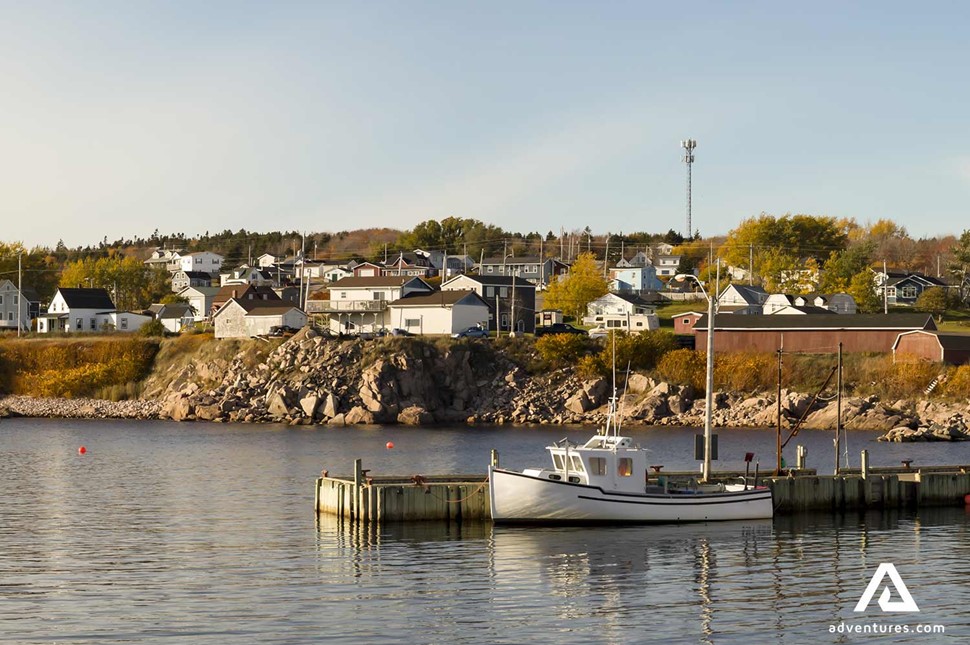 The best way to experience Cape Breton Highlands National Park is by camping! Most campsites are open from mid-May to late-October. There are six front country and one backcountry campsites around the park.  


Front Country Campgrounds: 


Broad Cove Campground – Ideal for a beach getaway, close to Ingonish village, and located in a forest, framed by a long, sandy beach on one side. 


Chéticamp Campground – Situated in the serene Chéticamp River Valley, this campsite is the perfect setting to disconnect from everyday stress and easily access four out of 26 parks' hiking trails.  


Ingonish Beach Campground – A small, open campground located near the village of Ingonish. Just a 10-minute walk away from the beautiful Ingonish beach, it is the perfect place for hiking and swimming. 


Corney Brook Campground – Situated 15 km from Chéticamp, Corney Brook is a small, oceanside campground. It is perfect for hiking and ocean swimming.  


MacIntosh Brook Campground – Located 5 km from Pleasant Bay in Grande Anse Valley, MacIntosh Brook Campground is a small area, nestled at the foot of the mountains. 


Big Intervale Campground – Located 10 km from Cape North at the base of North Mountain, Big Intervale is a small campground on the Aspy River. 


Backcountry Campgrounds: 


Fishing Cove Backcountry Campground – It is the only designated backcountry campground in the park. The Fishing Cove backcountry camping area is a 6 km (3.7 mi) hike down to the rugged coastline. A grassy hillside, a cobblestone beach, and a river define this spectacular camping site. 


Non-Designated Backcountry Camping – If you want to stay anywhere else besides Fishing Cove in the backcountry, a permit is required. You will also have to follow the regulations for low-impact camping, such as having no open fires, packing your garbage, etc.