Where Is Waterton Lakes National Park?

Waterton Lakes National Park is located in the southwest corner of Alberta, Canada.
How to Get to Waterton Lakes National Park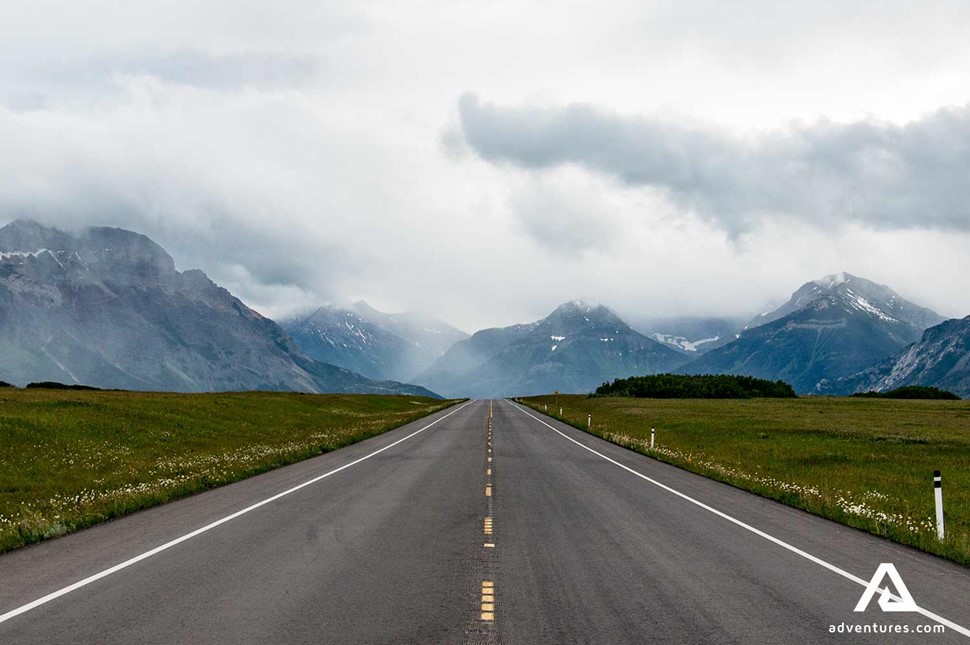 By Car 
From Calgary – Take Highway 2 south to Fort Macleod, then west on Highway 3 to Pincher Creek, and later south on Highway 6 to the park. The whole route will take approximately 3 hours. 
From Banff National Park – This scenic, 380-kilometer route starts along Highway 1 east. Then, turn south at Highway 40 and take this route over the Highwood Pass to Highway 22. The alternative is to travel further east and turn directly onto Highway 22 south. You will pass the Bar U Ranch National Historic Site just south of Longview. Highway 22 connects with Highway 3. Continue east on Highway 3 to Pincher Creek and then south on Highway 6 to the park.  
From Lethbridge – Drive south to Cardston on Highway 5, then west to the park on Highway 5. The route will take approximately 1 hour and 40 minutes. 
From British Columbia – Travel by way of the Crowsnest Pass on Highway 3 to Pincher Creek, and then turn south on Highway 6. The whole route from Fernie, BC, will take approximately 2 hours.  
From Glacier National Park in Montana – Take Chief Mountain International Highway or go north through Cardston on Montana Highway 89 to Highway 2. Then, go west on Highway 5. The whole route from St. Mary, Montana, will take approximately 1 hour. 


By Air 
The nearest airport to Waterton is Lethbridge, which operates domestic flights only. Calgary and Edmonton have international airports that are serviced by main national and international airlines. 
General information about Waterton Lakes National Park
Size – 505 sq km (195 sq mi) 


Location – Alberta, Canada


Established - 1979 


Best time to visit - Year round 


Number of visitors – 457,356 (2019/20) 


Activities – Hiking, Wildlife Watching, Photography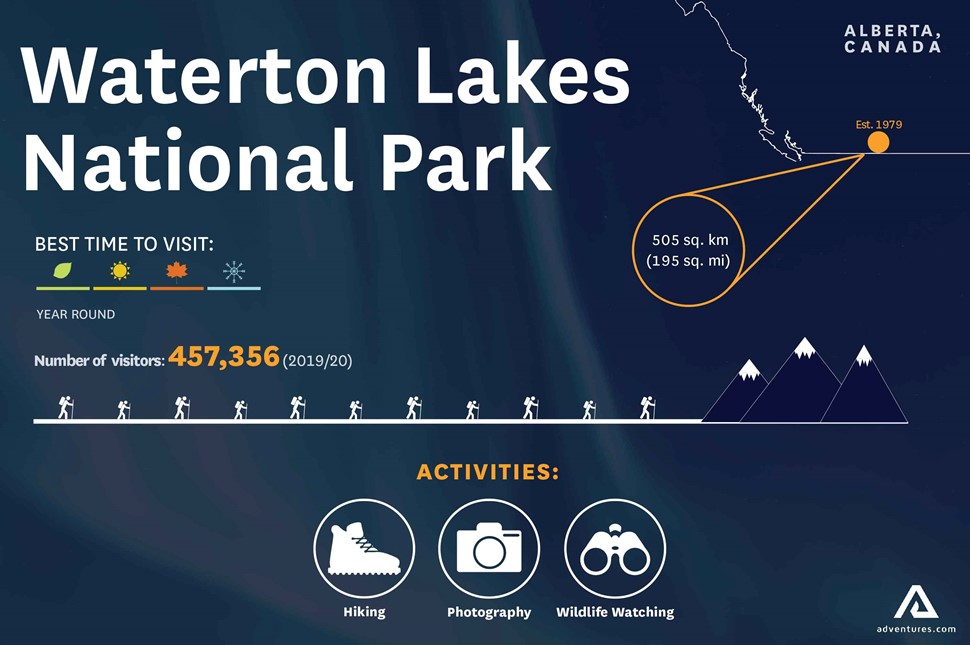 What is Waterton Lakes National Park known for?
Waterton Lakes National Park was the fourth national park in Canada. Established in 1895, it was named after Waterton Lake. It is a 505 square kilometer territory of mountains and wilderness between the Rocky Mountains and prairies.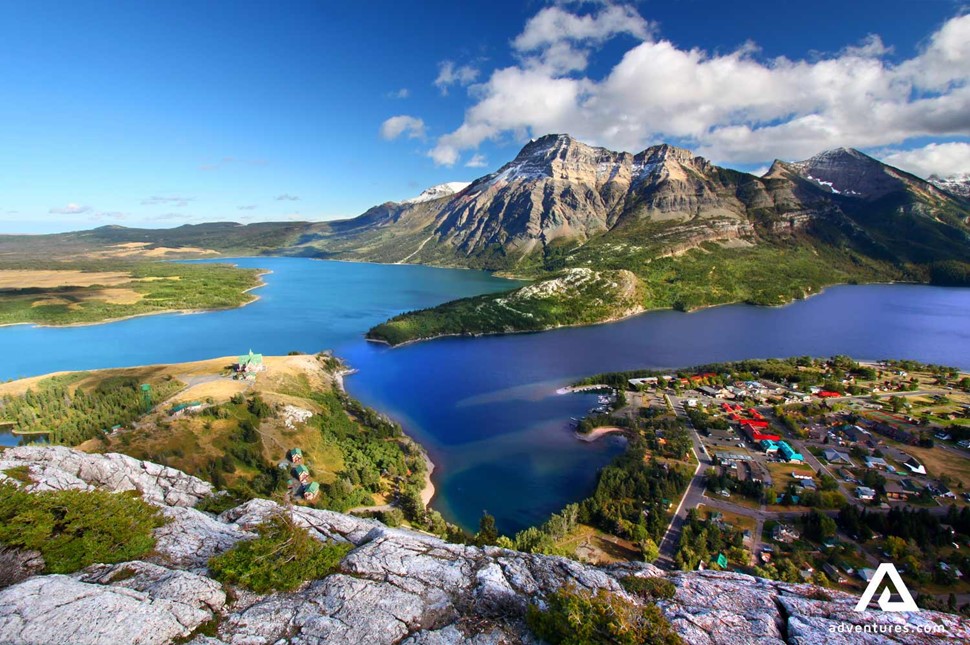 This park's elevation ranges from 1290 m (4232 ft) at the townsite to 2910 m (9547 ft) at Mount Blakiston. The park is full of many scenic trails, with Crypt Lake trail being one of them. 
History of Waterton Lakes National Park
The area was first protected in 1895 under the Dominion Forest Park name. Its status and name varied over the years, but today it is known as Waterton Lakes National Park. The park's name comes from Waterton Lakes – a chain of lakes which honors a British naturalist Squire Charles Waterton. 
Interesting facts about Waterton Lakes National Park
Waterton Lakes National Park is between the most popular national parks in western Canada – it attracts nearly half of million visitors every year. 


Waterton is famous for its extremely rich wildlife – here you can find 250 bird species, 60 mammal species, 24 fish species, and ten amphibian and reptile species.  


The park is also rich in flora – more than half of Alberta's plant species are growing here, in Waterton Lakes National Park. 


People have lived in the area of Waterton Lakes National Park for at least 12,000 years. 


Waterton is smallest out of Canadian Rocky Mountains national parks. 
What to Do in Waterton Lakes National Park
With all the important natural sights packed close to each other, Waterton has a lot to offer when it comes to keeping its visitors busy. Enjoy the scenic roadways or keep an eye on the incredible wildlife. Explore the natural attractions, from misty waterfalls to vivid, red canyons.  
Wildlife-Watching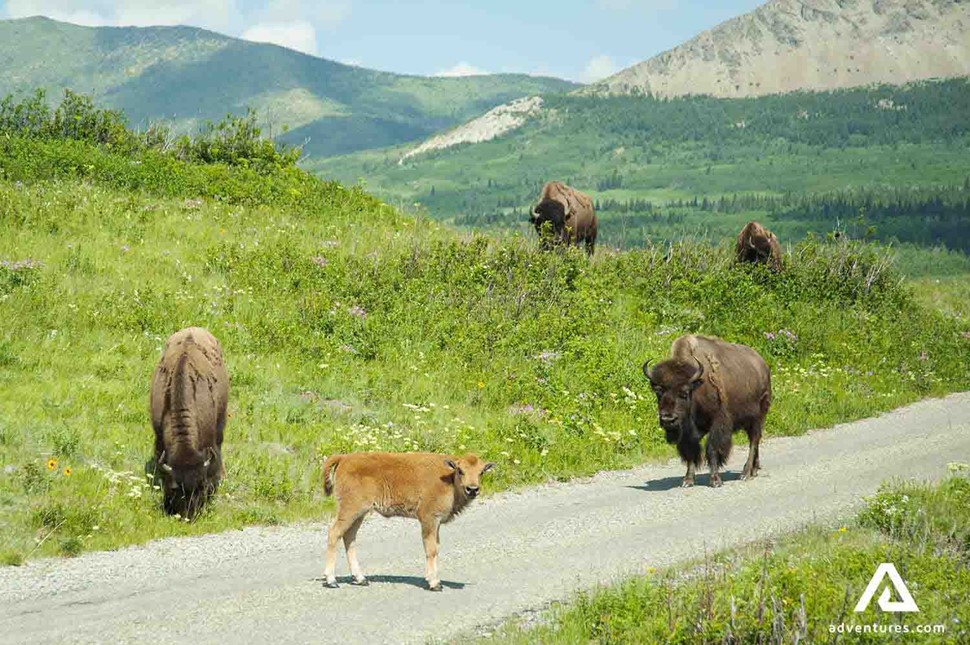 Whether you are hiking, driving on the roads, or relaxing in town, always watch out for wild animals, as there are many of them in Waterton. The most seen mammals are deer, sheep, and ground squirrels. Small mammals, such as bighorn sheep, birds, and deer, can be encountered on mountain trails, while grasslands are the best place to look for elks, white-tailed deer, or mule deer.  
Hiking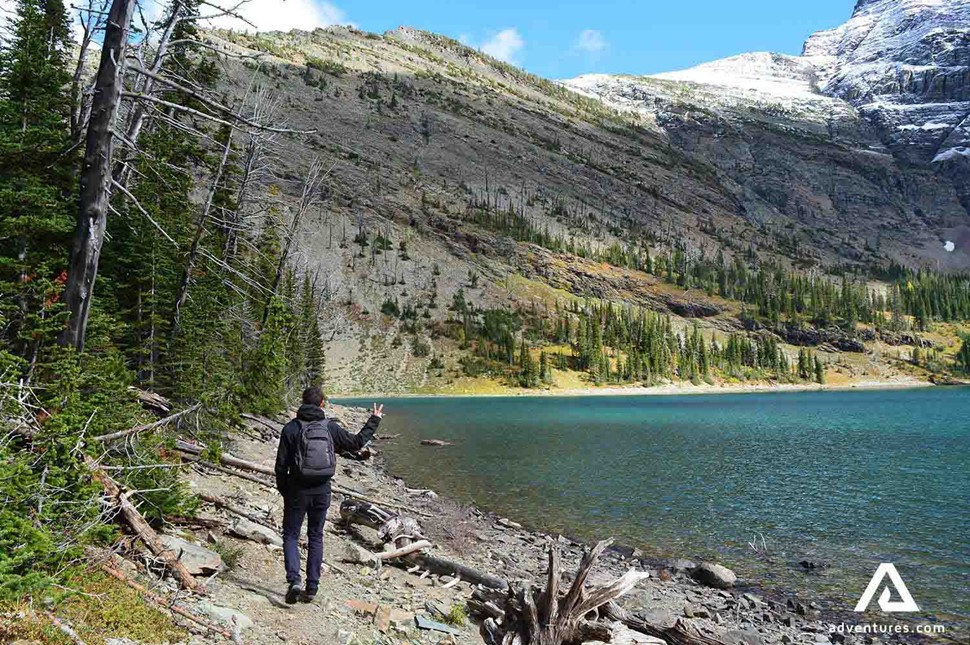 Waterton Lakes National Park has 200 kilometers (120 miles) of hiking trails, ranging from easy strolls in nature to challenging hikes through the wilderness. The park is especially popular for short hiking trails that can be completed in just a few hours or a day.  
The best season for hiking is from July to mid-September. Until late June, most trails are still covered in snow with a high possibility of avalanche hazard. Trails also tend to be muddier at the beginning of the season due to ice melting, so it is best to hike at lower elevations or choose drier slopes. 
Photography
Waterton Lakes National Park is a true photographer's paradise, with almost every location offering perfect photography opportunities. The best time to take pictures of the park is usually early or late in the day.  
Make sure to keep a considerate distance from wildlife when taking pictures. Stay on established trails to avoid trampling vegetation. 
The Best Time to Visit Waterton Lakes National Park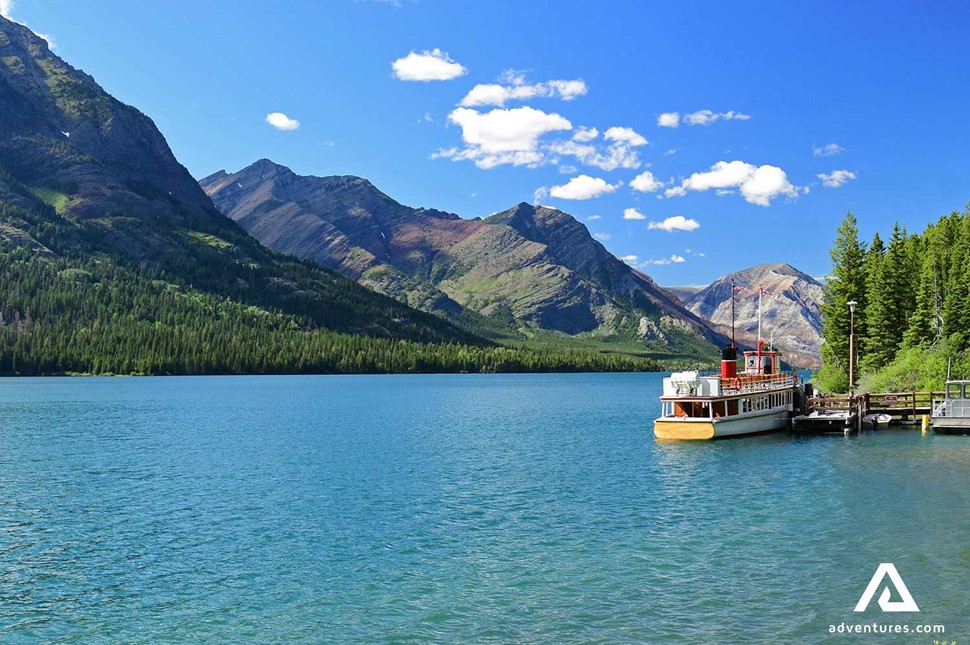 Summer 
Waterton is open all year round, but the main tourist season is during July and August. If you are planning your trip during these months, make sure to book your accommodation in advance.  
Fall 
During the fall, the days are still quite warm and long. It is the perfect time for bird-watching, wildlife-viewing, hiking, and/or golfing. Keep in mind that most services close in mid-October, but accommodation at Waterton Glacier Suites is available year-round.  
Winter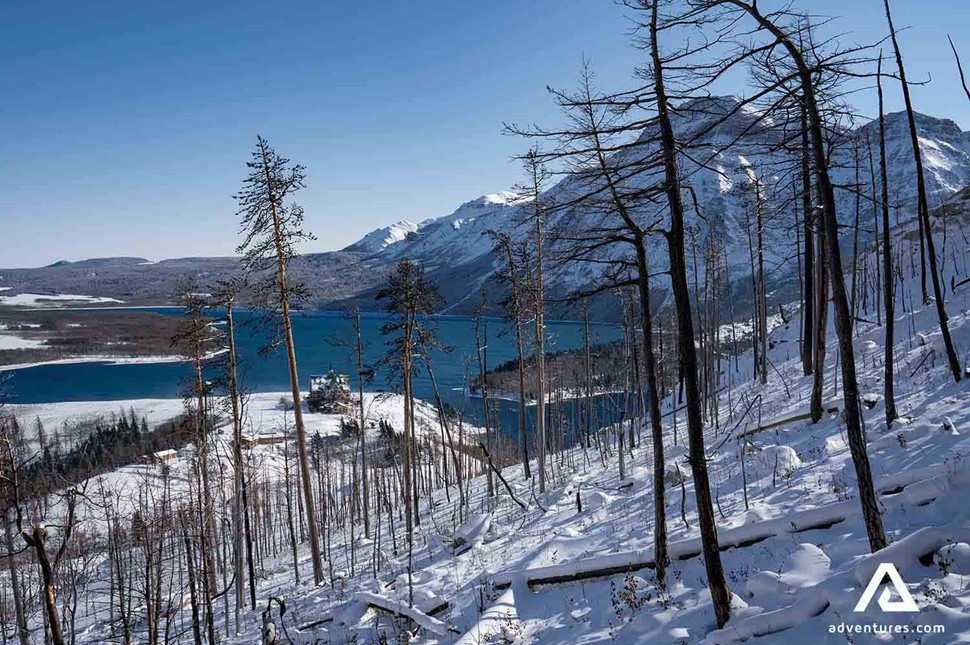 Winter is the quietest season at Waterton Lakes National Park. Snow and ice cover the landscape, leaving lots of opportunities for snowshoeing, cross-country skiing, ice climbing, and wildlife-viewing.  
Spring 
When the melting water retreats to Waterton's lakes and creeks, the wonderful flora flourishes. Waterton is home to 50% of Alberta's plant species and holds some of the rarest species in the world.  
Also, the park becomes more alive in spring, starting with outdoor activities like camping, golfing, and water sports. Most park services are fully operational by mid-May.  
Where to Stay in Waterton Lakes National Park
If you are looking for a romantic suite or if you prefer to sleep beneath the stars, Waterton Lakes National Park has a wide variety of accommodation options.  


Winter Camping 


Pass Creek Day-Use Area, situated on the Entrance Parkway, offers a sheltered winter campground for free. 
The Alpine Club of Canada (ACC) operates a Cameron Lake Cabin in a backcountry, providing accommodation during winter.  


Front Country Camping 


Castle-Waterton Camping – The perfect place for camping and RV enthusiasts. Stay surrounded by the southwest Rocky Mountains. Here, you can combine camping with the best Waterton experiences. 


Crandell Mountain Campground – Located along Red Rock Parkway in the scenic Blakiston Valley, this campground is available from mid-May to early September. 


Crooked Creek Campground – Located 5.6 km east of the park gates, this campground offers 95 serviced sites and is open from June 1st to October 10th. 
 
Fort Heritage & Frontier RV Park – Located only 10 minutes away from Waterton Park's eastern boundary on Highway 5, this campsite features 16 gravel-padded sites and a breathtaking view of the Rocky Mountains.  


Waterton Townsite Campground – Located on the south end of Waterton Park, this campsite offers 90 water, sewer, and electrical sites.  


Hotels, B&Bs, and Spas 


Bayshore Inn & Spa – The only hotel located on the shores of Waterton Lake. This will give you an unforgettable experience. You will stay in a rustic lodge with dining opportunities at the award-winning Lakeside Chophouse $ Wine Bar. 


Bear Mountain Motel – Conveniently located on the main route, this motel offers a clean and friendly environment at a very affordable price. Here, you'll find classic 1960s motel-style rooms with kitchenettes or fully equipped kitchens. 


Crandell Mountain Lodge – This mountain lodge provides a rustic charm and coziness only found in grandma's house. Freshly baked cookies will be served upon your arrival. This rustic lodge has rooms with a fireplace and country décor. 
Northland Lodge – This cozy historic lodge invites visitors to stay a stone throw away from Cameron Falls. Here, you will find a peaceful and friendly atmosphere surrounded by nature.  


Prince of Wales Hotel – Built back in 1927, this hotel is an iconic marker of Waterton Lakes National Park. When staying here, you are staying in a piece of history. Enjoy the park views while surrounded by harp music and a historic flair in the background.