Vancouver has the highest population density of all cities in Canada, with about 5,400 people per square kilometer. Despite being densely populated, it has the third-highest quality of living worldwide and is known for being an exceptionally clean city for its size. 
The city hosts over 10 million visitors per year, and tourism is the second-largest industry bringing in $14 billion per year and 104,000 full-time jobs. 
The city also has one of the largest film production centers in North America and is referred to as "Hollywood North." Annually, roughly 65 movies and 55 TV series are shot in the Vancouver area. During your visit, you may spot architecture from your favorite films and shows such as Deadpool, 50 Shades of Grey, Star Trek, Riverdale, and Supernatural.
Where is Vancouver located?
Vancouver is located in Western Canada, on the lower mainland along the coast. It sits along the Straight of Georgia and is separated from the Pacific Ocean by Vancouver Island. 
Getting Around Vancouver City
Vancouver is known for its walkability and between taxis, bicycles, and public transit, you will easily be able to navigate your way to your destinations. 
Vancouver's transportation authority is called TransLink. It consists of buses, the SkyTrain (the rapid transit system), ferries, and railways. It is accessible and convenient and has links to all major attractions.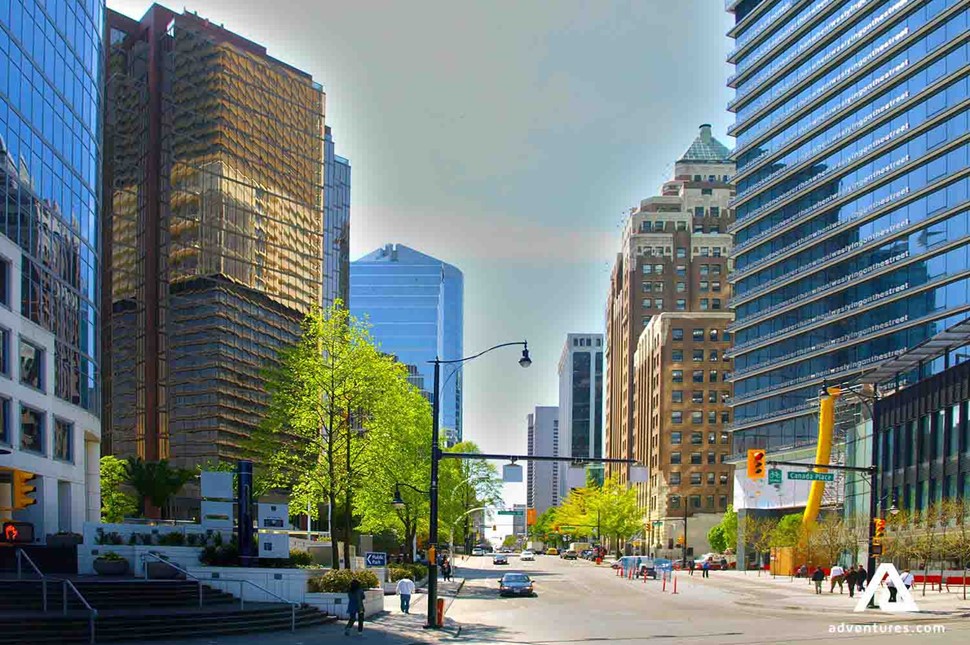 General information about Vancouver
Population - 631,486 (2016)
Location - British Columbia, Canada
Incorporated - 1886
Best time to visit - Year Round
Top attractions - Stanley Park, Granville Island, Museum of Anthropology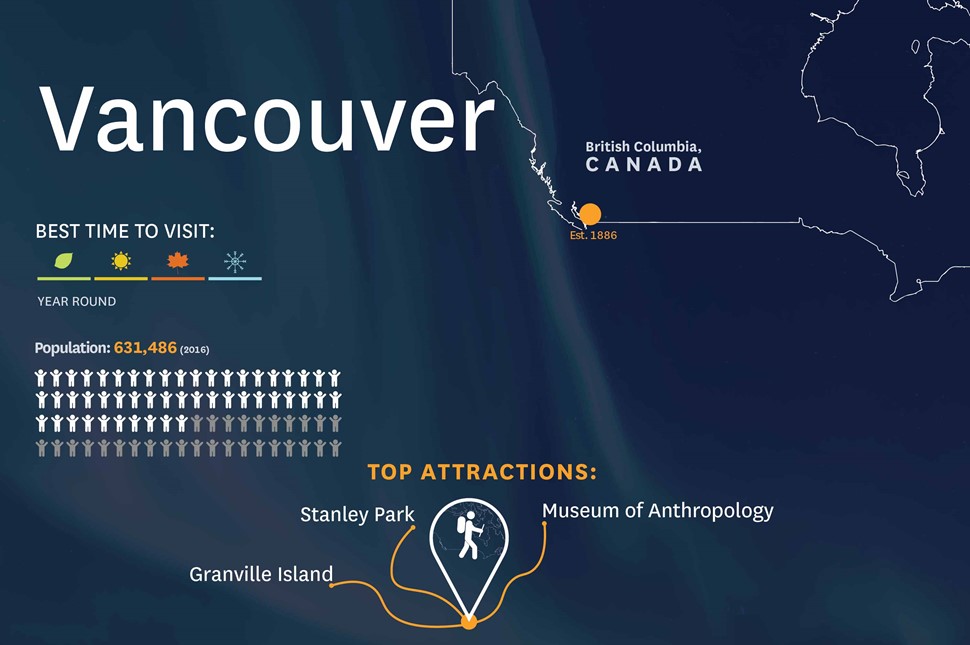 History of Vancouver
The area where Vancouver stands today was inhabited 8,000-10,000 years ago by First Nations. While Europeans first explored the area in 1791, it was not settled until the late 1860s. 
Originally named "Gastown" in 1867 after a local bar owner "Gassy Jack" Deighton, the area became an important trade link to Asia and Europe. In 1886, Gastown was incorporated into the new City of Vancouver, as part of a deal that would bring the Canadian Pacific Railway (CPR) to the coast.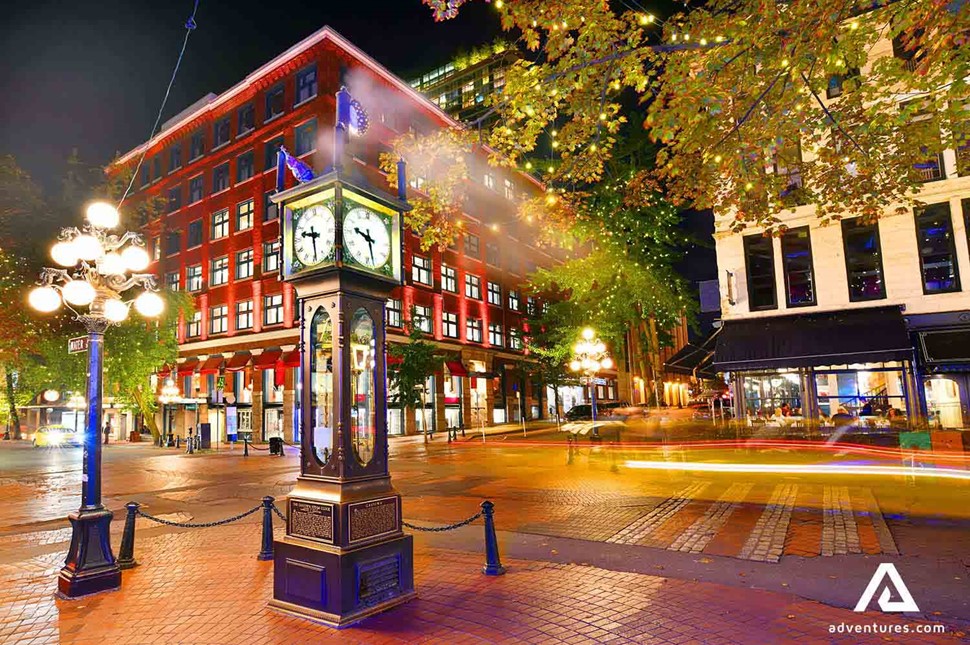 A large number of Asians immigrated to the city to help build the rail lines, forming a foundation for Vancouver's multicultural heritage. At the time, this influx of workers increased racial tensions, with locals believing that Asian workers were unfairly stealing their job opportunities. The 1907 Vancouver anti-Asian riots eventually led to a ban on Japanese immigration. Laws were put into place to prevent Indians from voting. It took many years to repair the strained racial tensions, and today over 50% of residents are visible minorities. Approximately 30% of Vancouver's population has Chinese heritage. 
Things to Do in Vancouver
While Vancouver is heavily populated, early urban planners were able to limit sprawl and develop livable neighborhoods. As a result of strict setback rules and mandated open spaces, Vancouver has become a city that allows an abundance of natural settings. It's, therefore, no surprise that Vancouver's top destinations are its park areas, but there are a few fascinating places to stop on a rainy day. 
Granville Island
Granville Island is a former industrial site that has been reclaimed as a vibrant neighborhood. It is full of unique shops, restaurants, and breweries. It also hosts a Public Market sprawling over six buildings. 
The island is accessible by ferry or by bridge and provides a lovely view of the harbor. It's the perfect place to take an afternoon stroll and to relax and enjoy the colorful street art and beautiful architecture.   
Capilano Suspension Bridge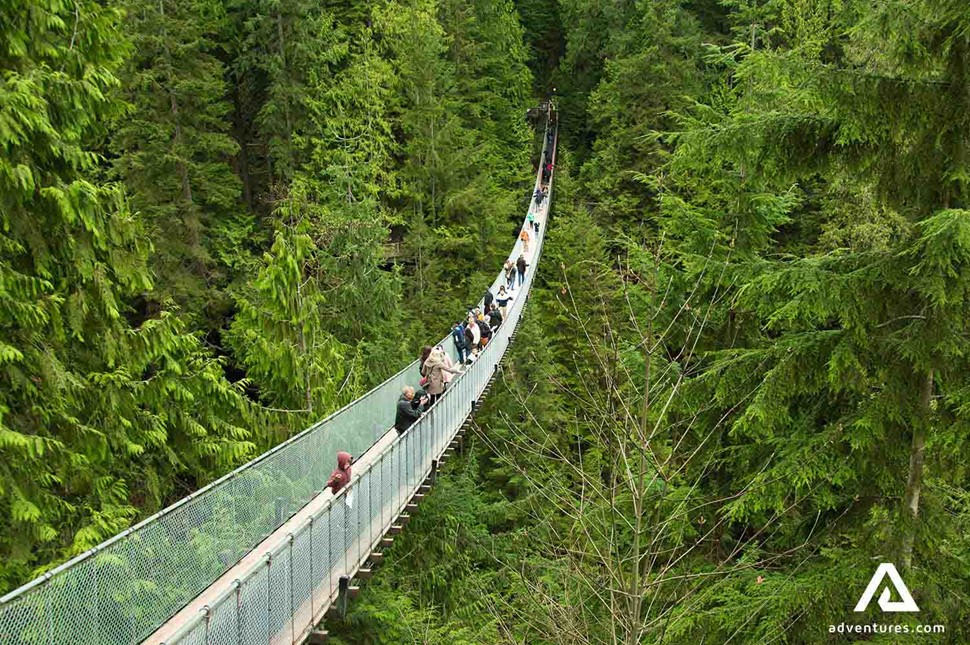 The Capilano Suspension Bridge is located in a private park in North Vancouver. Known for its outdoor sporting adventures, it is one of the area's most popular attractions.   
The bridge was originally a hemp rope bridge but has been rebuilt and suspended over 30 meters above the forest floor. The Douglas fir trees that connect a total of seven suspension bridges are hundreds of years old. The park sees 1.2 million visitors annually. 
Stanley Park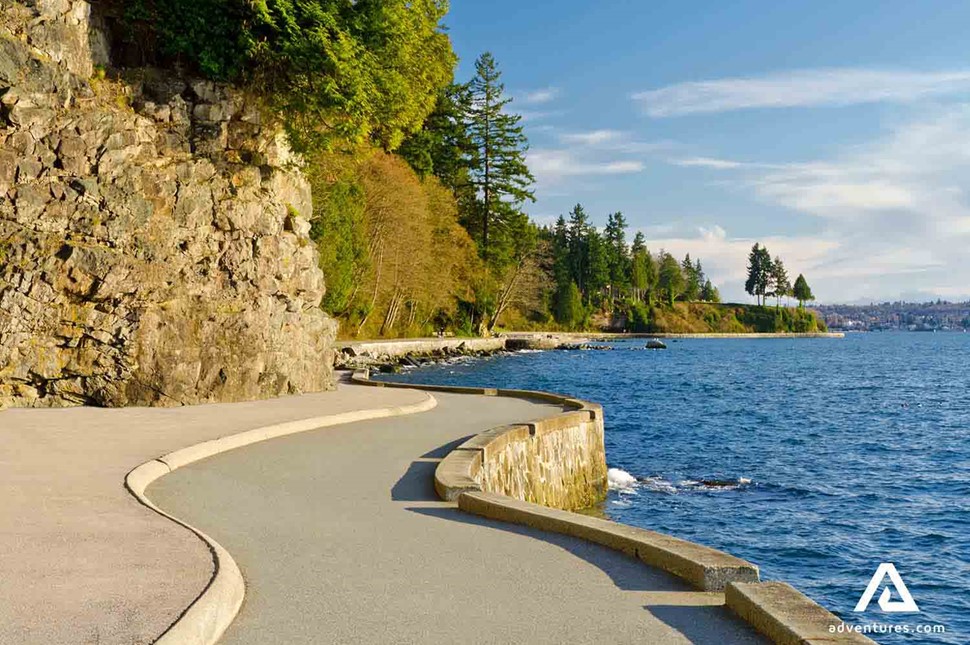 Stanley Park is a large green space located just outside of downtown Vancouver, approximately a 10-minute walk. Stanley Park is over 1,000 acres and is one-fifth larger than Central Park. It is surrounded by a 5.5-mile Seawall, the longest uninterrupted waterfront path in the world.   
The Vancouver Aquarium is located within Stanley Park and is a large center for marine research and education, committed to conservation and animal rehabilitation. 
Take a 1.5-hour covered carriage ride to see the full park or rent a bike. You can view Lion's Gate Bridge, a National Historic Site, from the park as well. If you are in the mood for high tea, visit the Teahouse within Stanley Park, located at Ferguson Point. The restaurant offers waterside dining in the scenic park setting. 
Museum of Anthropology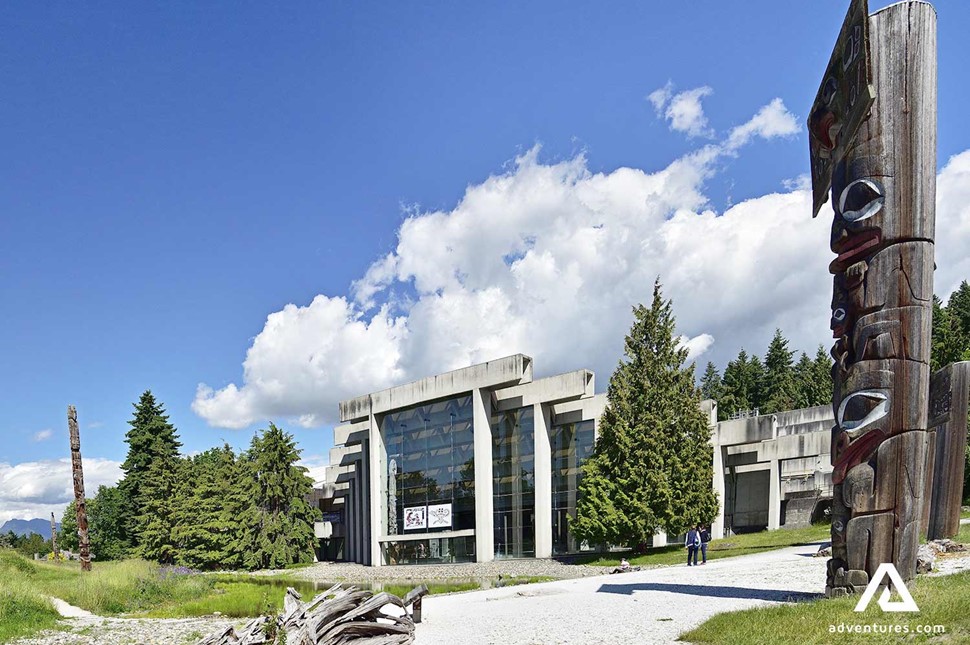 The Museum of Anthropology contains over 10,000 artifacts, mostly focused on Northwest coast First Nations. Built on Musqueam land, the building was designed by Arthur Erickson to reflect traditional post-and-beam architecture. The museum features glass panels, mirrored in the reflecting pool in front of the museum. It is a research and teaching museum, under the umbrella of the University of British Columbia (UBC). 
While the focus is on Canadian First Nations, the museum hosts artifacts from indigenous peoples around the world.   
The museum's most famous works are by Haida artist Bill Reid, in particular his Raven sculpture. If you are visiting the museum on a nice day, visit the Rose Garden across the street, also part of the UBC. You will also find totem poles and well-kept gardens.  
Festivals
Vancouver hosts an assortment of annual festivals, focused mostly on arts and culture. The spring and summer are the most popular months for these events, but you can find some festivals in the winter season as well. 
PuSh
The International Performing Arts Festival (PuSh) showcases live performing arts from Canadian and international artists. The festival runs for three weeks in January. During the festival, you will see theater, dance, music, and multimedia performances of contemporary art.
Cherry Blossom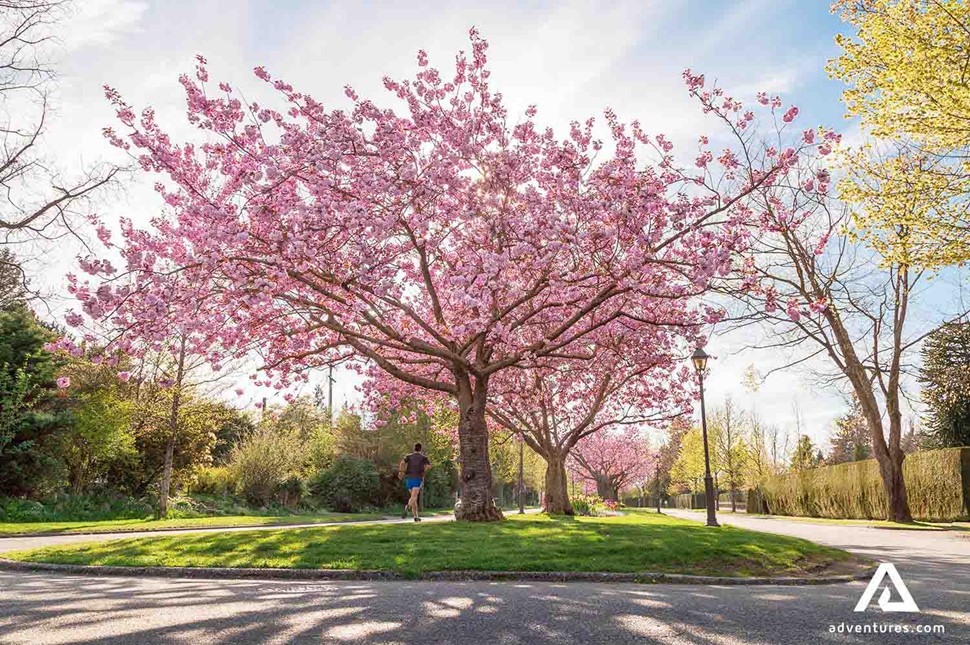 Each spring 43,000 cherry blossom trees go into bloom. These trees, which were donated by Japan in the 1930s, can be found in over 23 Vancouver neighborhoods.
The festival features art and community events, self-guided cycling and walks, and performances. The trees bloom for just a couple of weeks so make sure you give yourself the chance to see these vibrant pink blossoms before they fall to the ground.
Celebration of Light
The Vancouver Celebration of Light is a summer event, lighting up the English Bay with choreographed fireworks displays over three nights. The event is free and can be seen from the waterfront. SHOREFEST coincides with the Celebration of Light festival, giving a concert kickoff to the light show. 
Best time to visit Vancouver
Vancouver has a moderate climate, tempered by the North Pacific Current. The average annual temperature is 11°C, and its growing season is 72 days longer than Toronto's. 
The city is also sheltered by the mountains, which creates mild temperatures but also localized weather. It is known for being a very rainy city, with the exception of mid-summer which sees high temperatures and dry weather.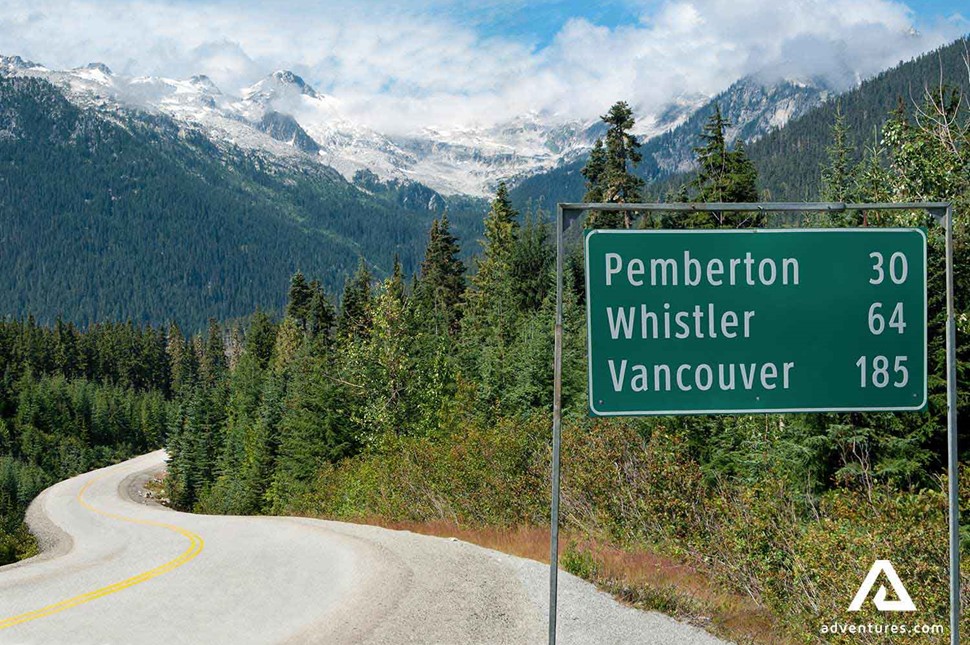 If you want to guarantee yourself sun-filled days, visit Vancouver in July or August. The shoulder seasons have a higher chance of precipitation but are balmy compared to other Canadian destinations. 
Vancouver is also a fantastic winter destination, thanks to its proximity to Whistler, a famous resort town popular among skiers and snowboarders.