Akureyri
You will find the populous, bustling city of Akureyri, with its thriving industries from shops, cafes, and museums, at the base of Eyjafjörður Fjord. An impressive population of almost 20,000 people and an area of 125 km², Akureyri is the second largest urban area in Iceland and the largest city in the North.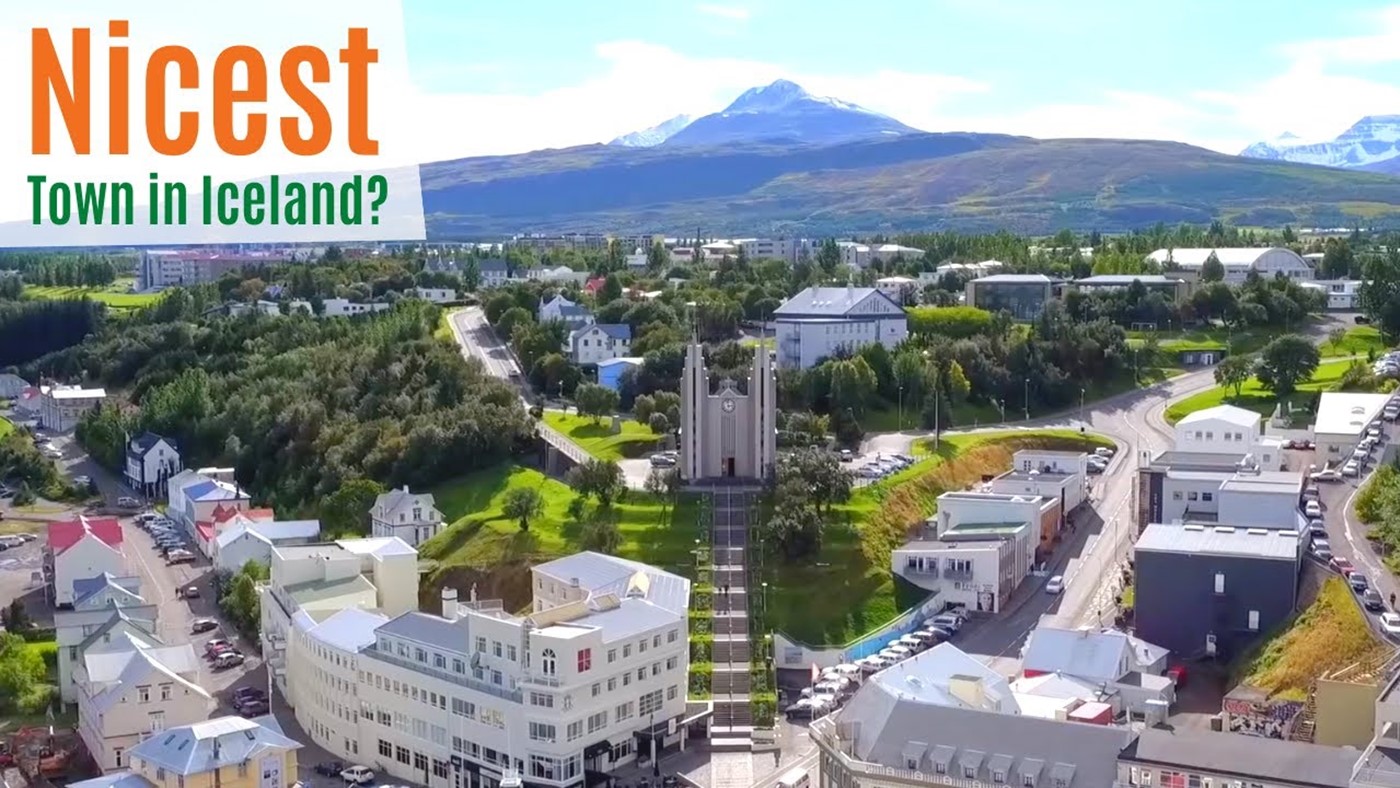 History of Akureyri
Medieval Icelandic literature describes in great detail the settlement (landnám) of Iceland by the Norse during the 9th and 10th centuries. This Landnámabók strongly verifies that the 'founding' settler of the city was Irish Viking, Helgi Magri Eyvindarson. Although a faithful Christian, when guiding voyages, he put his trust into Thor, the Norse God of Thunder. He is fairly respected as Akureyri's establishing founder, but it is unclear when the name "Akureyri" caught on. 'Akureyri' can be roughly translated to "Field Sand-spit."
1500's Akureyri consisted of warehouses and shops owned by Danish traders. As Iceland was a Danish territory at that time, and Icelanders were subject to the reigning monarchs. Indefinite residential areas did start up in Akureyri until the first house was built for the Danish Merchants to live, in 1778.
Akureyri was granted municipal charter status 8 years later, in 1786, officially recognizing the area as a settlement. But it was fairly small until 1862 when Akureyri's first growth spurt began and started attracting residents. Cultivation in the encompassing region served to attract workers and their families, in industries alongside fishing, fish processing, and trade.
In 1940 the Lutheran, Akureyri Church building was completed. The Church of Akureyri is the main church in the city, which looks down on the town's congregation from the top of a slope. Akureyrarkirkja houses a large organ- with over 3000 pipes, a ship hung from the ceiling to reflect an old Nordic tradition to offer protection at sea and a somewhat-unique take on the crucifixion. Stained-glass windows portray scenes from Icelandic Christian history.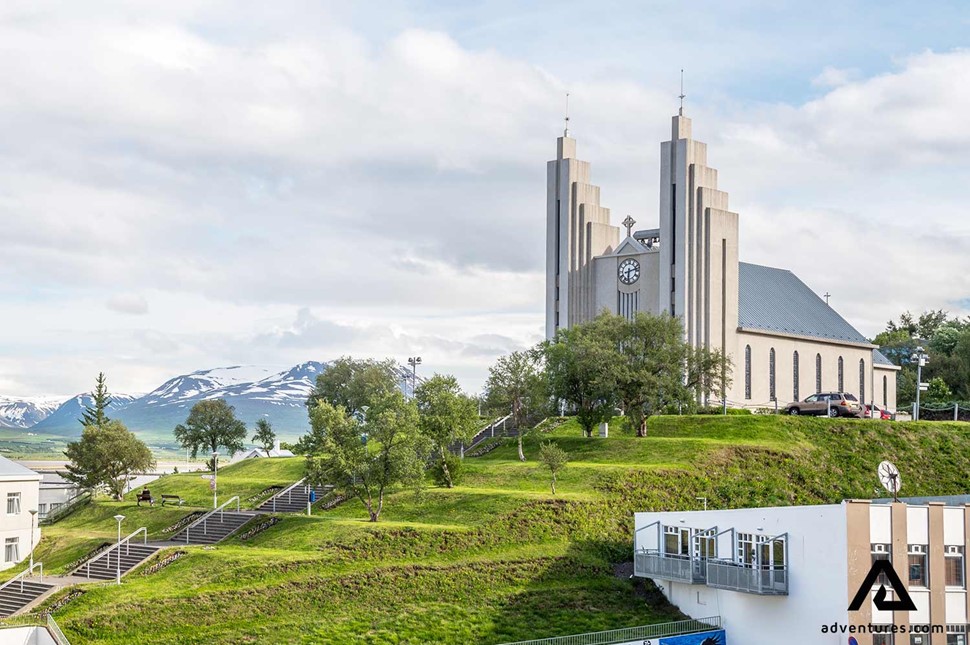 From 1941-1943 during World War II, Akureyri was one of three air bases used by the Norwegian-British No. 330 Squadron RNoAF. Akureyri was an essential locality for the Allies and as a result, the borough expanded considerably after the war, through urbanization.
Where is Akureyri?
GPS 65.6826° N, 18.0907° W
For a 'city' you might expect more and for a 'town' you might be tempted to agree, but with the title 'Capital of the North' you have to conclude that everything is relative, by Icelandic standards - this isn't London or New York City we're talking about! Akureyri is by far the biggest town outside of the capital area! Located only 100 kilometers away from the Arctic Circle, Akureyri is the informal 'Capital City of the North,' found at the base of Eyjafjörður Fjord in Northern Iceland.
Owned by the municipality of Akureyri, Hrísey island rests in the center of Eyjafjörður and Grímsey Island, straddling over the Arctic Circle boundary. Hrísey 'The Pearl of Eyjafjörður' and Grímsey 'The Pearl of the Arctic',  are two peaceful, beautiful islands worth checking out if you can.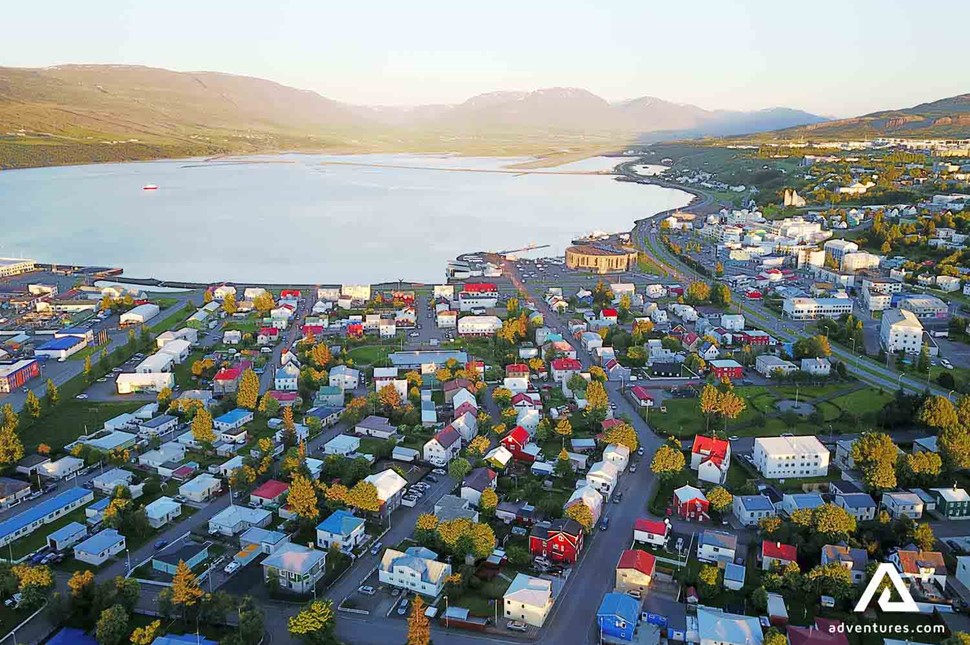 Getting to Akureyri
Akureyri is very convenient for drivers of the Icelandic Ring Road, the driving route that encircles the country.
That said, the proximity to Akureyri from Reykjavik is not necessarily any faster because of this road, it will still take just under five hours and possibly longer in the winter, via Þjóðvegur.
It is possible to fly to Akureyri airport from Keflavik.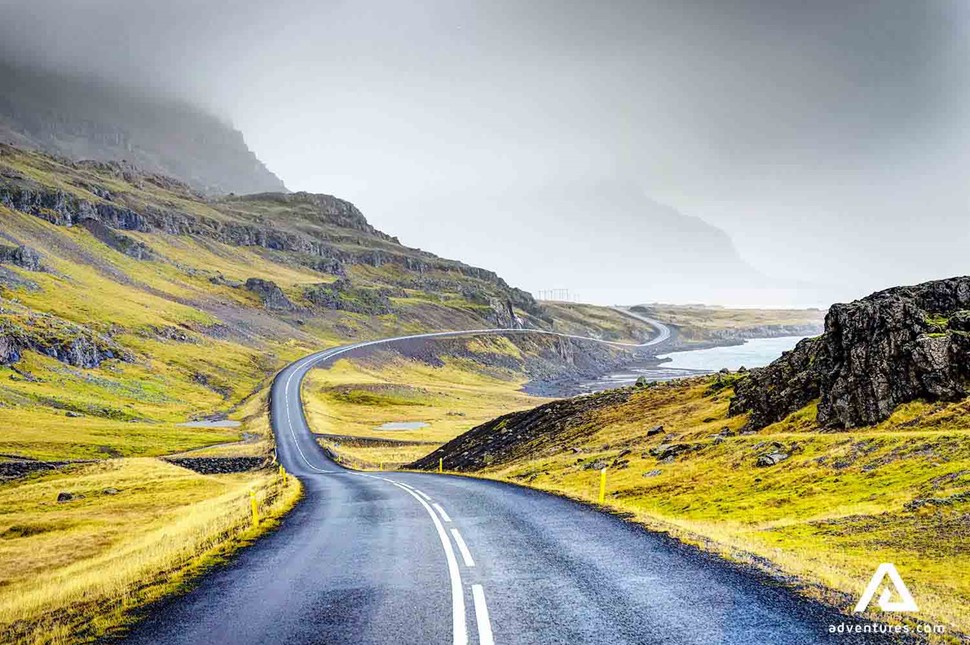 What to do in Akureyri
The port town may have humble beginnings, but in the last few years, tourism, industry, education, and services have had a huge impact. Relative to the rest of Iceland, Akureyri is a large, attractive, bustling town, with plenty of amenities to keep you interested!
Airport
Looking for flights from Akureyri? To Akureyri? It may be small but the airport in Akureyri is one of only three international airports in Iceland! The airport is also well located between Europe and US for international flights. The airport is just one terminal and is very accessible to the town - only a five minute walk away!
Akureyrarkirkja Church
Akureyrarkirkja church is one of the most photogenic photography spots in Iceland and coming from the land of ice and fire, that is very impressive! Completed in 1940 and designed by Iceland's most renowned architect, Guðjón Samúelsson, the designer of Iceland's most famous church, Hallgrímskirkja in Reykjavík. Situated halfway up the ridge the Lutheran church looks down on its city. The church is often open for visiting and all are free to attend mass on Sundays. It is rumored that some of the church windows had been sent over from Coventry Cathedral in England, for safekeeping during World War II. It is unclear why they were never returned back!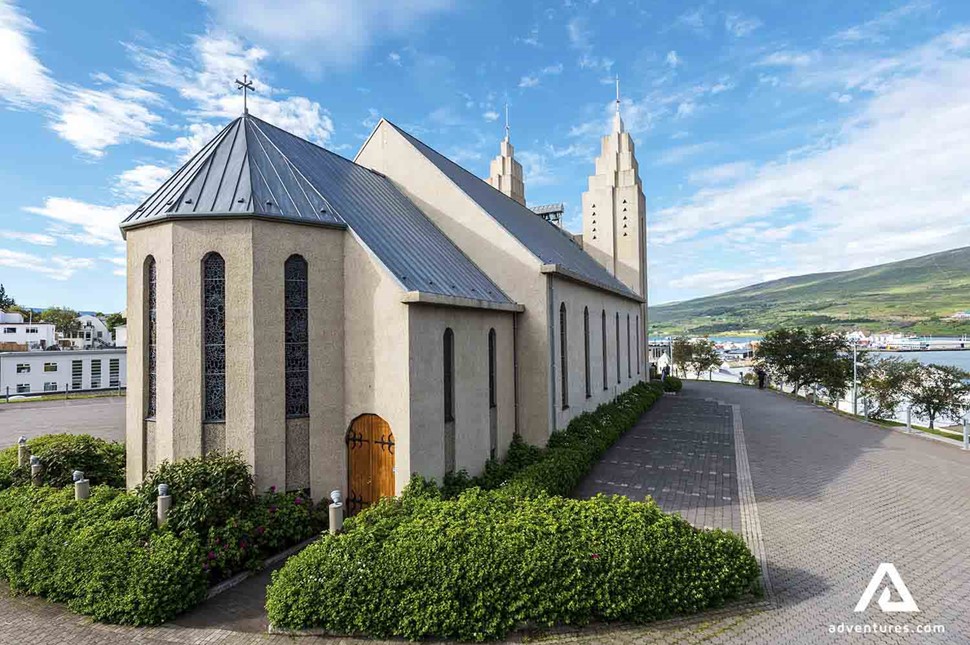 Akureyri Botanical Garden
The world's northernmost botanical gardens are located in Akureyri! The garden is the finished result of the work started by the 'Park Society' committee, established by the women of Akureyri in 1910. Officially opening in 1912, the park was created as a place of peace and relaxation and also for scientific research. The project proved that a variety of shrubs, flowers, and trees are capable of growing within this close proximity to the Arctic Circle. Approximately 430 native Icelandic species of plant are thriving as a result of the project.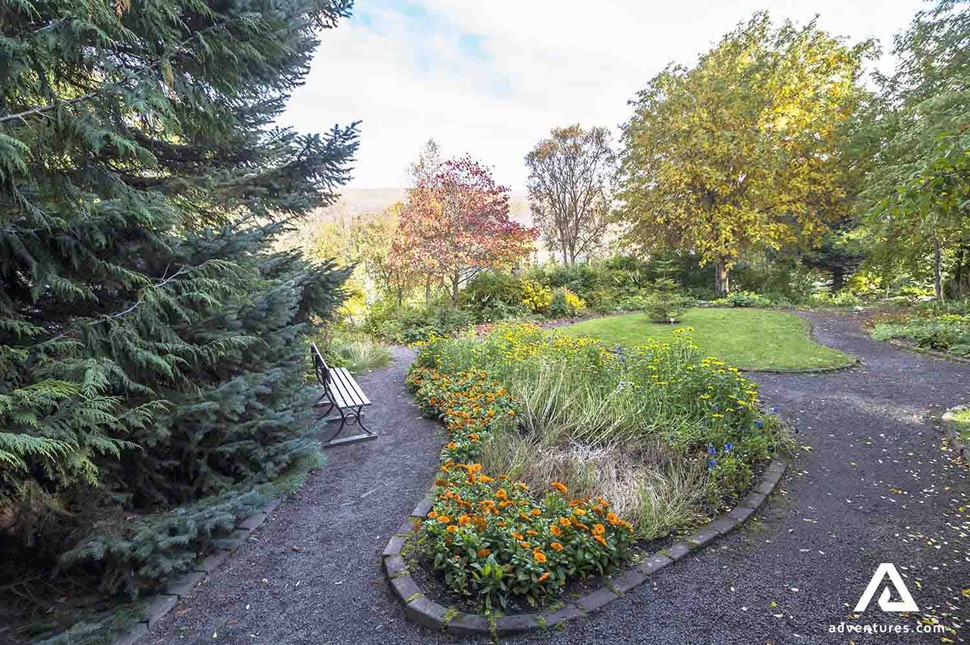 Christmas house
The Christmas spirit is well and truly alive at the Christmas House, which is open all year round! A cross between an Icelandic fisherman's house and a gingerbread house hides away 10 minutes outside of the city. This mystical winter wonderland is the perfect Christmas gift shop!
Events and Festivals
Throughout the year, several festivals are celebrated in Akureyri so there is always something to get involved in!
AK Extreme is a popular 3-day snowboarding event from April 4-7, consisting of snow-based competitions and displays, the most popular being the ski jump!
The Vaka Folk festival runs from May 30 - June 2, in multiple locations around the city. With concerts and workshops ranging from choirs to cooking, the event ensures fun for all the family!
The famous Arctic Open golf tournament is held at the end of June around Summer Solstice on the 19th-22th of June 2019. This international event attracts golfers from all over the world to play a midnight game of golf! Previously over 120 participants took part over one summer!
During the Merchants Weekend of 1-4 August, Akureyri hosts the "Ein með Öllu" family festival. Live music, Tivoli and various displays liven up the streets of Akureyri, together with sports events on the Iceland Summer Games.
The Anniversary of Akureyri is celebrated every year on the last weekend of August, with an event called Cultural Night. Exhibitions, visual art, and photography, music, science fairs fill the streets of the city, honoring the unique culture and heritage of Akureyri.
For December and January, Christmas and New Year are amazing times to be in the city! With a high chance of snow and Christmas spirit in the air, it's hard not to feel festive! Colorful Christmas trees, decorations, and lights lead up to Christmas Day while an enormous bonfire and firework show helps to bring in the New Year!
Golf
Akureyri is home to Jadarvollur, the world's northernmost 18-hole golf course!  The season is from mid-May until the end of October and the venue is best known for the international golf tournament; the Arctic Open, which is held in June. The par-71 layout incorporates broad ridges, clusters of trees and rock outcroppings.
Hof Cultural and Conference Center
Hof Cultural and Conference Center hosts many of the big and small events all year around in Akureyri. As well as operating as the local tourism office it is also host to frequent concerts.

Museums
Relative to its small land mass, Akureyri has an abundance of museums! Art museums, specific interest museums and history museums - Akureyri has it covered!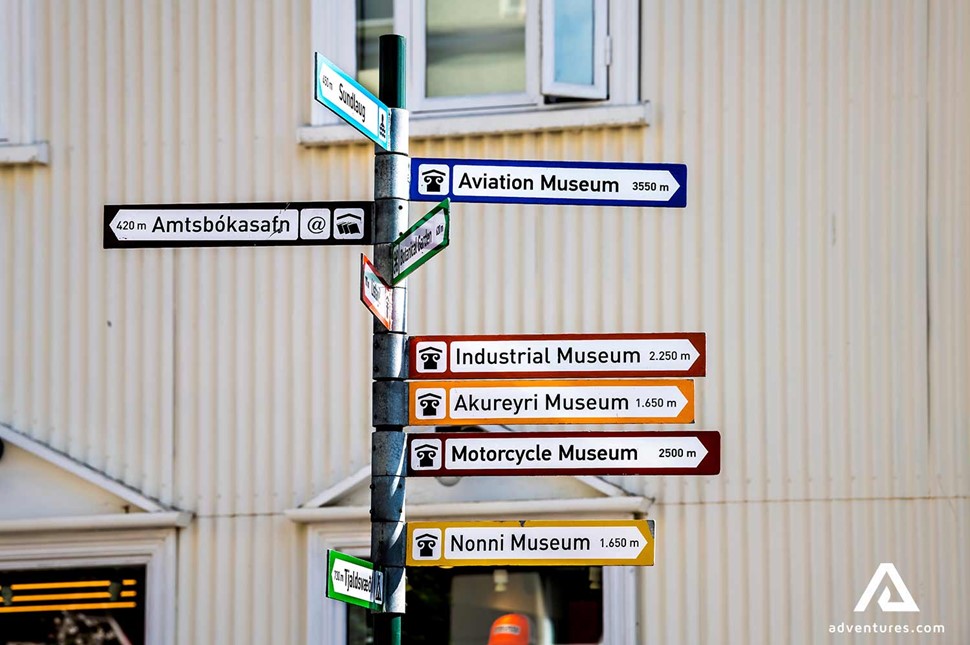 The center for Visual Arts, Akureyri art museum is a progressive local art museum with fresh exciting exhibits. Located along Kaupvangsstraeti street this museum is open all year round.
The Icelandic Industrial museum is a relatively small, family-friendly museum, with exhibits dedicated to Iceland's past industrial production. Displays range from printing presses to sewing machines.
In a hangar right beside the airport ,you'll find what might be one of Iceland's best museums, the Icelandic Aviation Museum. The creators have done a great job in designing the interior and you'll learn a great deal about Iceland's flying history! Ask a lot of questions as staff are so knowledgeable and happy to help you out!
Lake Mývatn
This volcanic lake is one northern Iceland's most popular destinations, showcasing a unique range of activities from Yule Lads to breathtaking natural landscapes. Where else can you go bathing in the natural baths after exploring the most powerful waterfall in Europe?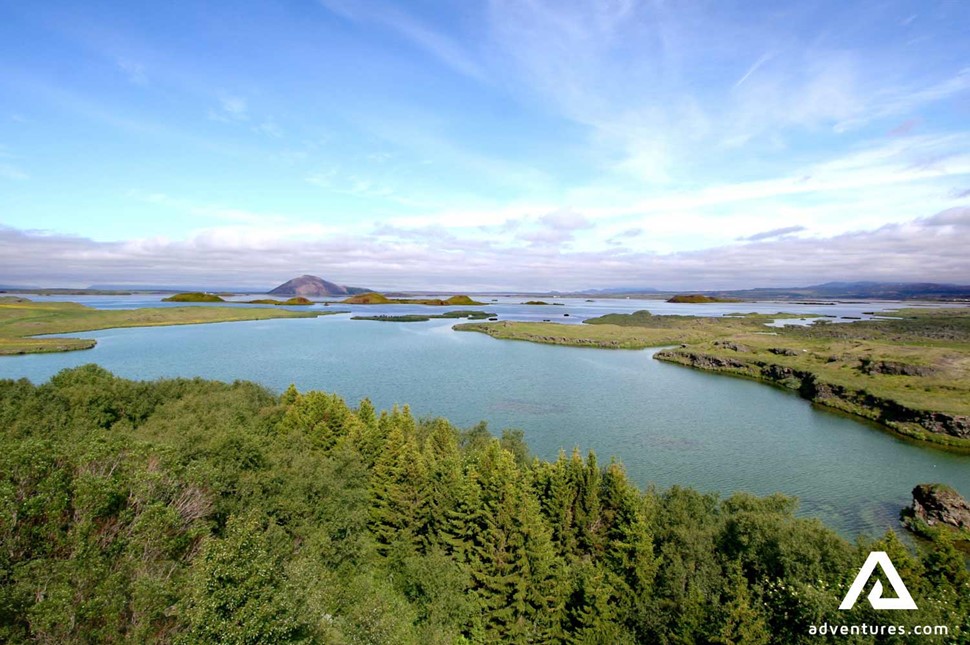 Pedestrian Street
The hub of Akureyri is found adjacent to the Akureyrarkirkja church along aptly named Pedestrian Street. Along this road, you'll be able to find some restaurants, independent coffee shops, various stores, and hotels. On a sunny day, this quiet street corner is transformed into a colorful bustling high street!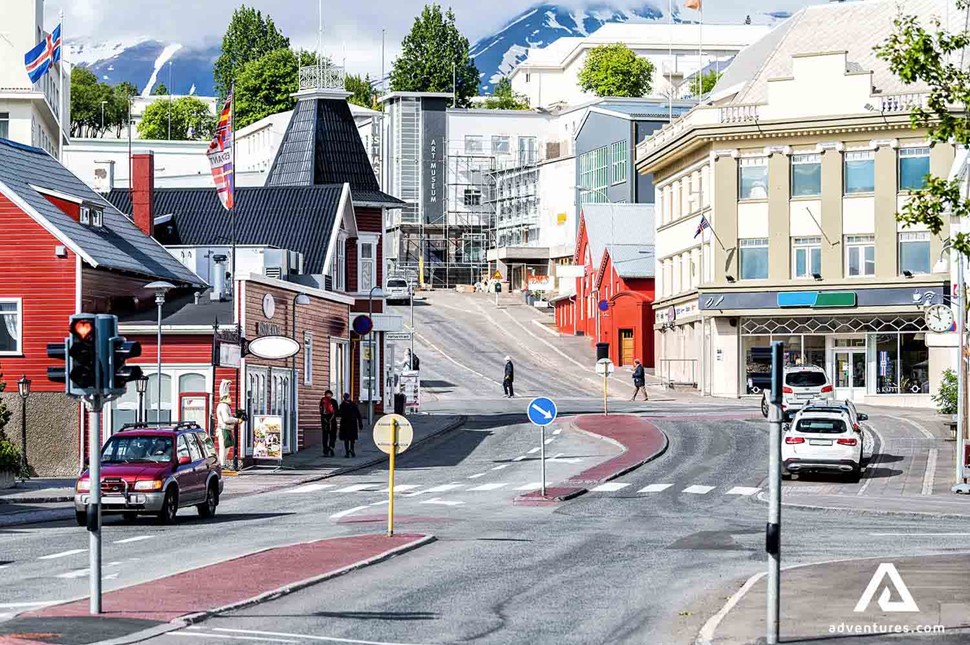 Skiing
Akureyri has the most ski slopes in Iceland and a proper ski resort! From the end of November up until May, the biggest resort is found just 5 km outside of the town, Hlíðarfjall Skiing Mountain. The 700m high slopes and a new ski lift help make this a winter dream for any beginner or advanced skier or snowboarder. The longest trail is over 2.5 km and there are 23 alpine slopes. Flood lights make skiing during the long winter possible during the shortest days of the year!
Swimming Pool
Iceland is famous for its lakes, springs, seas and even swimming pools! Sundlaug Akureyrar Swimming pool is the main public pool in the city, with water slides, 25 metre pools, hot tubs, and a sauna! This outdoor, geothermal swimming pool is really easy to find and is centrally located right behind the church! It's an affordable day out and you will be able to hang out like one of the locals! The pool is open all year round - but there's nothing like splashing in the warm waters on a snowy day!
Vatnsnes Peninsula
Vatnsnes is a peninsula best known for its wildlife and geology, as the perfect location to watch the seals play on the shore! Vatnsnes is a mountainous peninsula but geologically it's less active than the rest of the country. It still boasts interesting basalt formations, however, the most famous being Hvítserkur monolith - Elephant Rock! The rock is located in the shallow waters and resembles a drinking elephant or as legend has it; a frozen troll! It is one of the country's most photographed landmarks!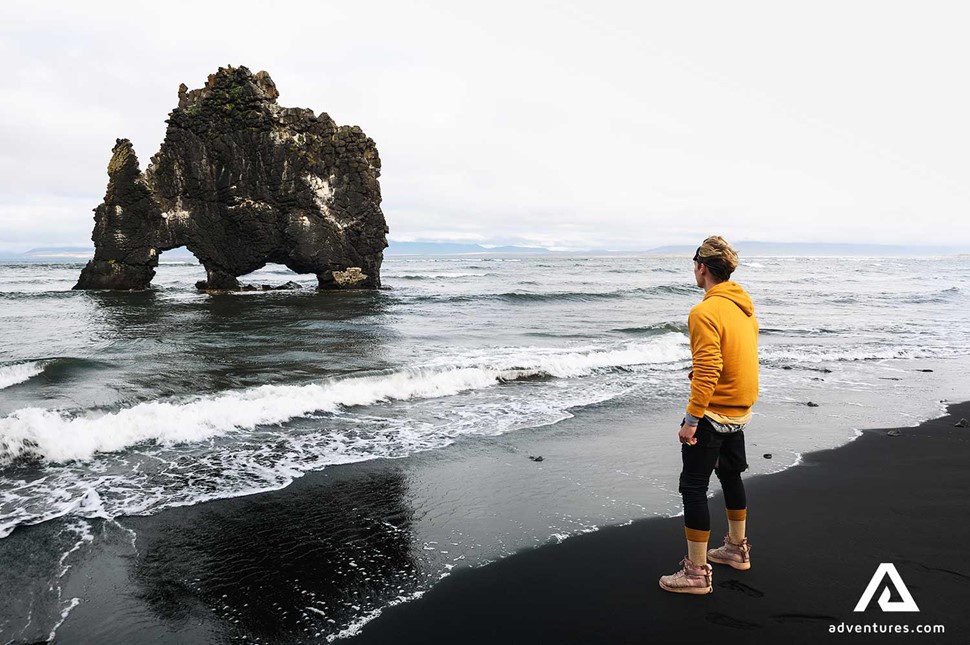 Wildlife
Whale Watching is very popular in Northern Iceland, with sightings at 99% during the summer! The closest harbor is in Dalvik, half an hour outside of Akureyri.  Whale watching from a RIB Boat is the most popular tour, and on a good day, you can get extremely close to the sea life. Additionally, you're almost guaranteed to see puffins on your journey!
Horse riding is also extremely popular in Akureyri - and Iceland in general! With several farms just outside of the town, you're never too far away from a Horse Riding School!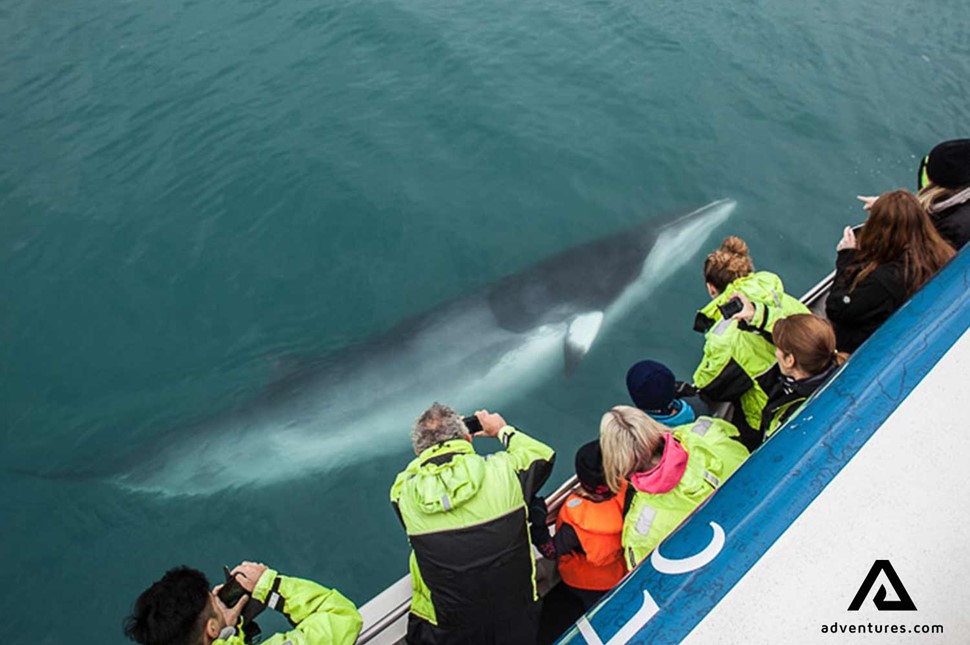 When is the Best Time to visit Akureyri?
As a town and city center, Akureyri is open all year around. Depending on what you want to get out of your trip, summer or winter may be better suited to your itinerary!
If you are intending to come to Akureyri on a golfing holiday, the green is open from mid May until the end of October, with the Arctic Open tournament taking place in June.
The area around Akureyri has one of the warmest climates in Iceland, even though it is only 100 km (62 mi) from the Arctic Circle. The hottest month in Akureyri is August, with an average temperature of 53°F, while the coldest is March, with temperatures dropping as low as 30°F. July gets the most sun however, at around 6 hours while the wettest month is January, with an average of 70mm of rain. In general it rains a lot less in the North of Iceland than it would in the South!
Akureyri has a subarctic climate, with mild summers and cold but not severe winters, with snow arriving in October and disappearing by April. It's worth knowing in advance that Akureyri is a very cloudy town, averaging only 1047 hours of sunshine a year, with limited virtually no sunlight from November to February.
During the winter, Akureyri is a perfect location to spot the Northern Lights! Whilst the summer is the perfect time to check out the Diamond Circle! And if you want to see it all we run tours that incorporate a multi-day adventure, exploring the best spots of North Iceland.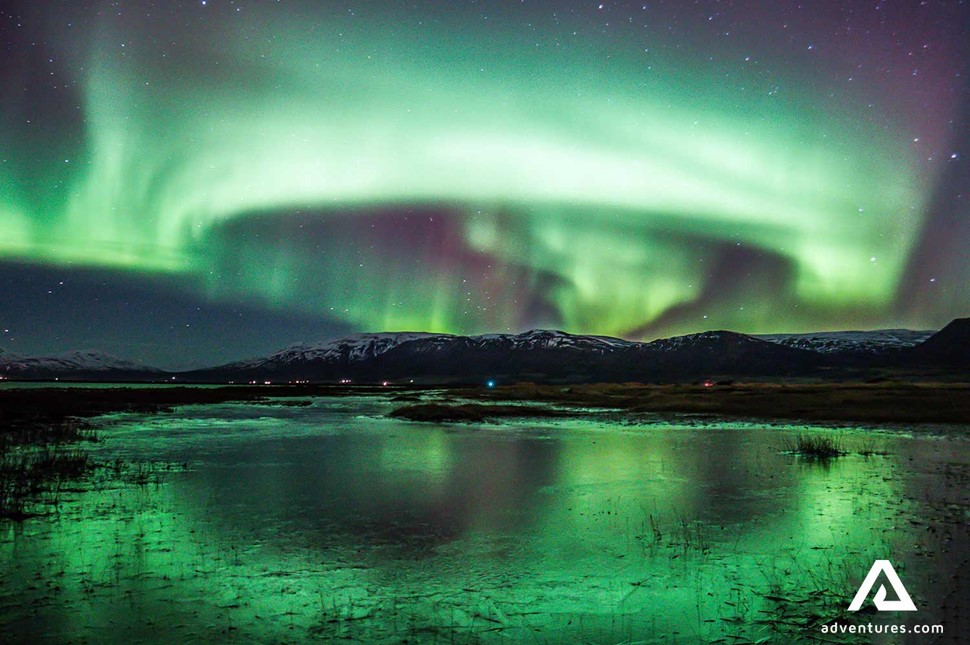 Accommodation and Restaurants
Eight hotels are based in central Akureyri along with a handful of guesthouses and hostels. Keep in mind to book early since Akureyri is also a popular place for locals to spend time.
Hotels
Hafdals Hotel

Hotel Karnalundur

Hotel Nordland

Hotel Kea

Hotel Kea
Guesthouse
Centrum Guesthouse

Apotek Guest House

Hrafninn Guesthouse

Amma Guesthouse
Hostels
Akureyri Backpackers

Akureyri Hostel HI

Centrum Hostel

Hafnarstraeti Hostel
In ways of food, Akureyri has cafes, ice cream parlors, and high-end restaurants to please the most hardened traveler. Karolina restaurant on Hafnarstraeti,  Greifinn restaurant at Glerargotu street and Strikid restaurant at Skipagata road have great reviews!