Snæfellsnes peninsula is the perfect place to visit if you only have a few days in Iceland. This enchanting area is only about a two-hour drive from Reykjavik, so it is the perfect place for a weekend getaway.
The Snæfellsnes peninsula is often referred to as "Iceland in Miniature" or "Iceland in a Nutshell". This well-deserved nickname was given to the peninsula because of the diversity of its landscapes.
The combination of breathtaking scenery, the glistening ice cap of the volcano, Snæfellsjökull, lava fields, caves, waterfalls, volcanic features, and fishing villages, make Snæfellsnes, Iceland's smallest National Park, the most wonderful place to visit. The 90-km long peninsula is a legendary area of magic and beauty, offering the best Iceland has to offer.
How to get to the Snaefellsnes Peninsula
In order to get to Snæfellsnes, you need to either drive around the entire fjord of Hvalfjörður, or go through Hvalfjardargöng, the road tunnel which will take you beneath the fjord. The journey takes about 2 hours from Reykjavik. Just follow Route 1 until you get to Borgarnes, and then turn onto Snæfellsvegur (Road 54) which will take you onto the peninsula.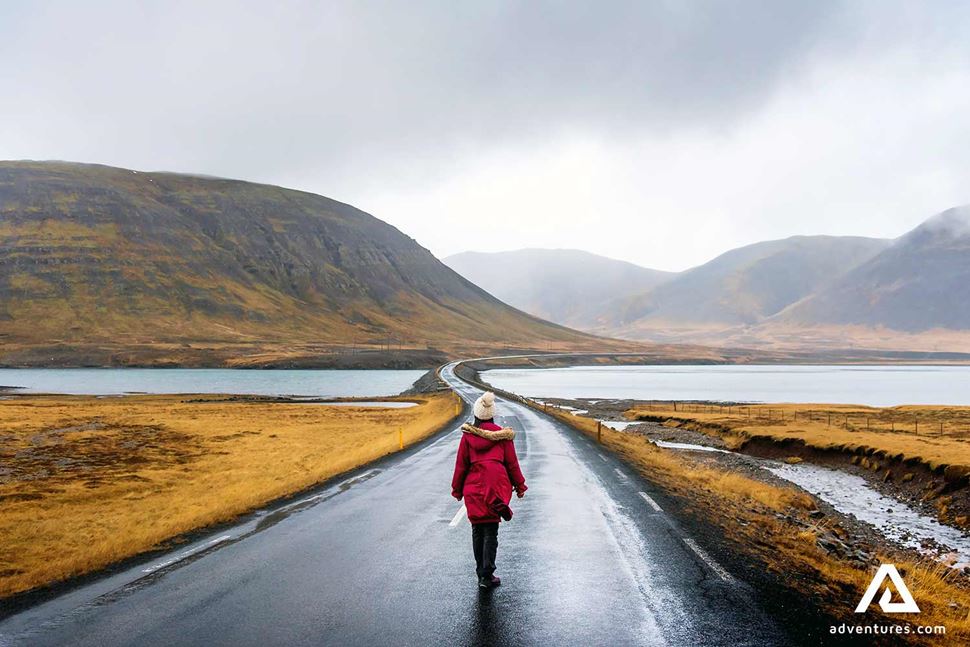 Eldborg Crater
Eldborg, a volcano crater rising 60 meters above the surrounding lava field, is a great first stop on Snæfellsnes peninsula. Eldborg is 50 meters deep, with a diameter of 200 m, its last eruption was about 5000 to 6000 years ago. This is a nice hiking area as you can walk all the way around the crater, as well as going right up to it.
Eldborg, the name literally name means the 'Fortress of Fire', contrasts strongly with the surrounding nature because of its dark color. The round trip is about 6 km, so, it takes around 2 hours to hike both ways, depending on your walking speed.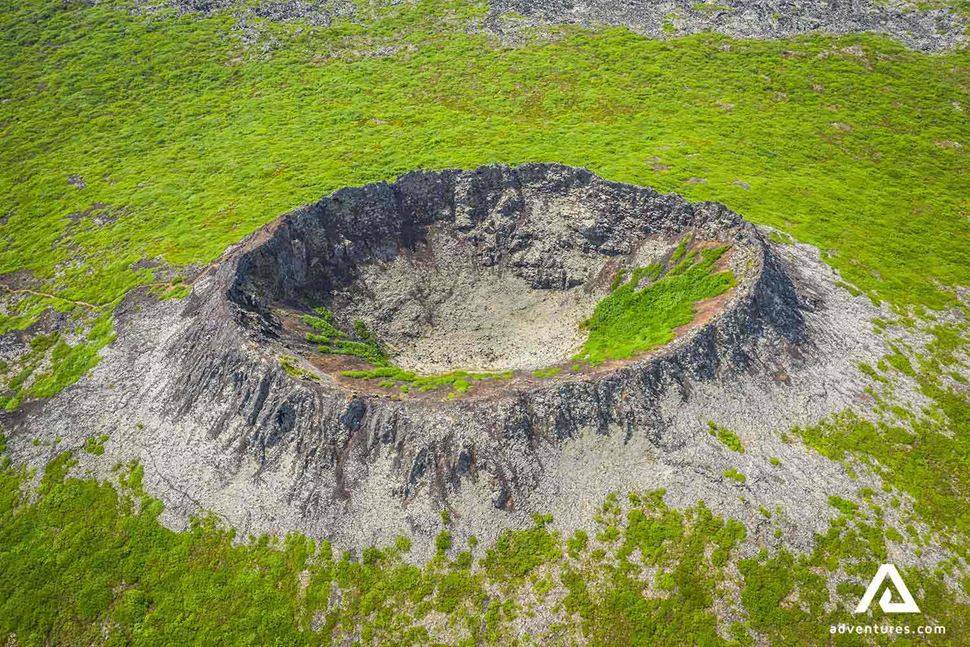 The Gerðuberg Cliffs
Gerduberg is a natural heritage site that is home to an impressive wall of beautiful basalt columns. At their highest, these columns reach 14 meters, their greatest width is 1.5 meters.
Together the columns form a massive wall with, sometimes perfect, geometric patterns. It is magnificent to explore this area because you can see how powerful and diverse the Icelandic nature truly is here.
We recommend that you walk in front of the cliff then head right to the top, the cliffs are even more impressive from the top. Gerðuberg is easily accessible from Road 54, you will need to walk just one kilometer from the parking lot to get to the cliff.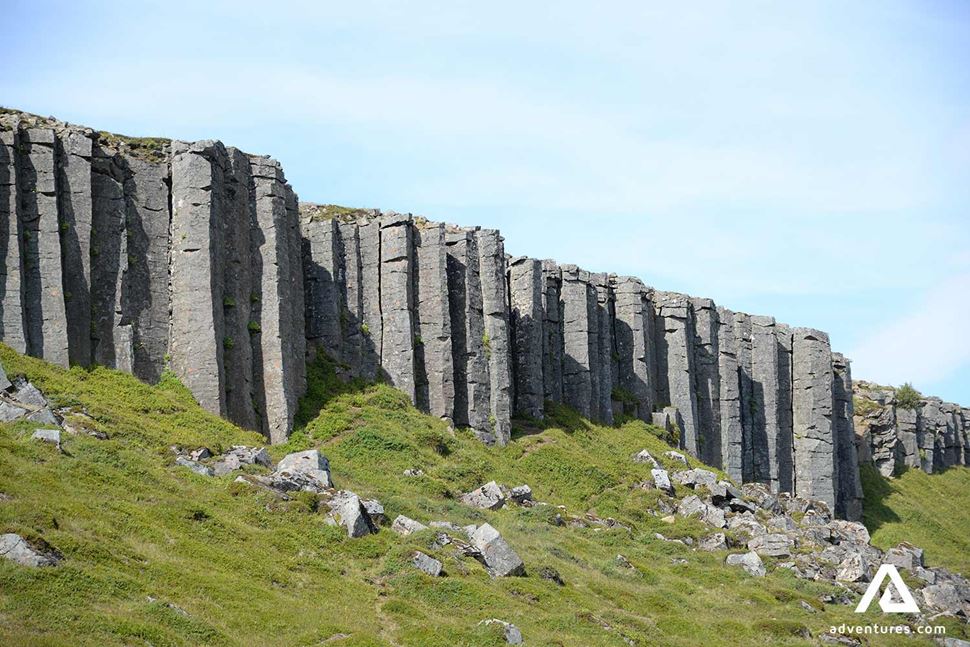 The Búðir Church
Búðir is a small hamlet in Búðarhraun lava fields, it is an important site in terms of the history of trade and industry in Iceland. The most notable building in this area is the old and stunning Búðarkirkja, the Búðir Church.
It was built in 1848 and reconstructed in 1987. This stunning black church forms the perfect centerpiece for all the Icelandic nature surrounding, it is a very popular object for minimalistic photography as there is nothing around it but mountains.
It is located on the south coast of Snæfellsness. From road 54 you need to follow road 578 towards Hellnar, and then to take the road toward Búðir, you just continue to the end of the road.
Arnarstapi & Hellnar Fishing Villages
Arnarstapi and Hellnar are two old fishing villages on the Snæfellsnes peninsula. Arnarstapi used to be an important trading port at the beginning of the 18th century. It was then a large community according to Icelandic standards, with around 150 inhabitants.
Nowadays, there are not many families living in Arnarstapi all year round, but in the summertime, the place is teeming with both birds and people, there are many summerhouses in the area. These villages are surrounded by basalt columns, the rifts and hollows of the land add to the beauty here, and small fishing boats sail from the little harbor making this place truly eye-catching.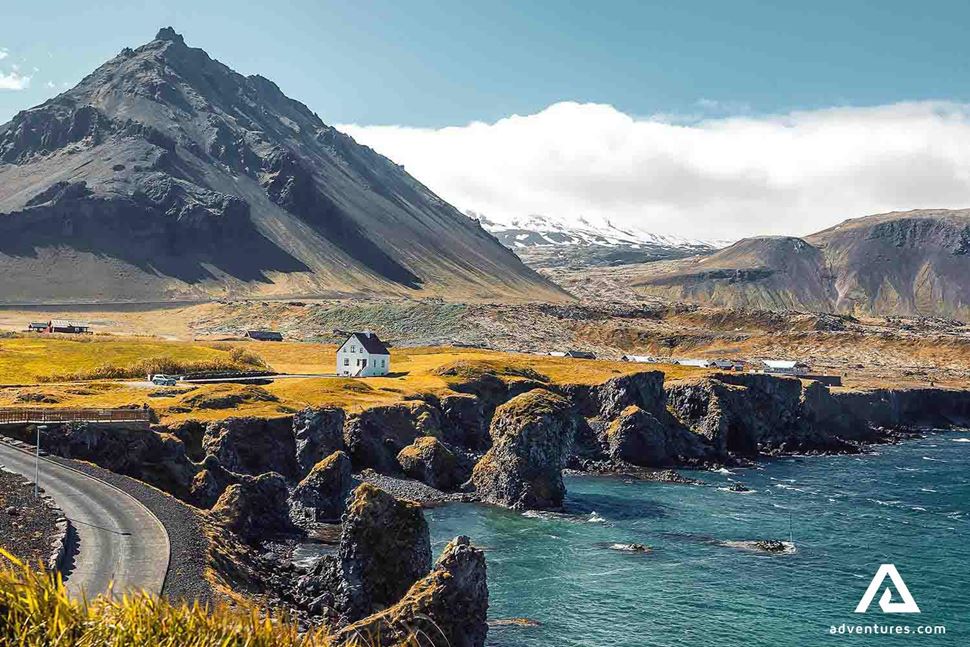 Hellnar was, for centuries, home to one of the biggest fishing stations on Snæfellsnes. At the beginning of the 18th century, approximately 200 people lived at Hellnar in turf houses and fishermen's huts, this area is also rich in archaeological remains.
Approximately 0.6 square kilometers of coastal land around Arnarstapi and Hellnar was designated a nature reserve in 1979, protecting the cliffs between these villages. You will find rock formations with peculiar shapes that have been carved out by the surf, you also get a rare opportunity to inspect flocks of kittiwakes up close.
Walking west along the coast from the harbor, you will see striking cliffs, gorges, rock formations and caves, many of them teeming with birdlife.
The Lóndrangar Basalt Cliffs
By the town of Malarrif, you can find the Lóndrangar sea stacks, they are the remains of a crater which has been eroded to its present form by the sea.
There are two sea stacks: the taller one measures 75 meters in height, and the lower stack rises to 61 meters. Puffins and fulmars settle on these cliffs to make their nests during summer. This place is said to belong to the elves living in the area. Seen from a long distance, it looks like an enormous castle has emerged from the sea.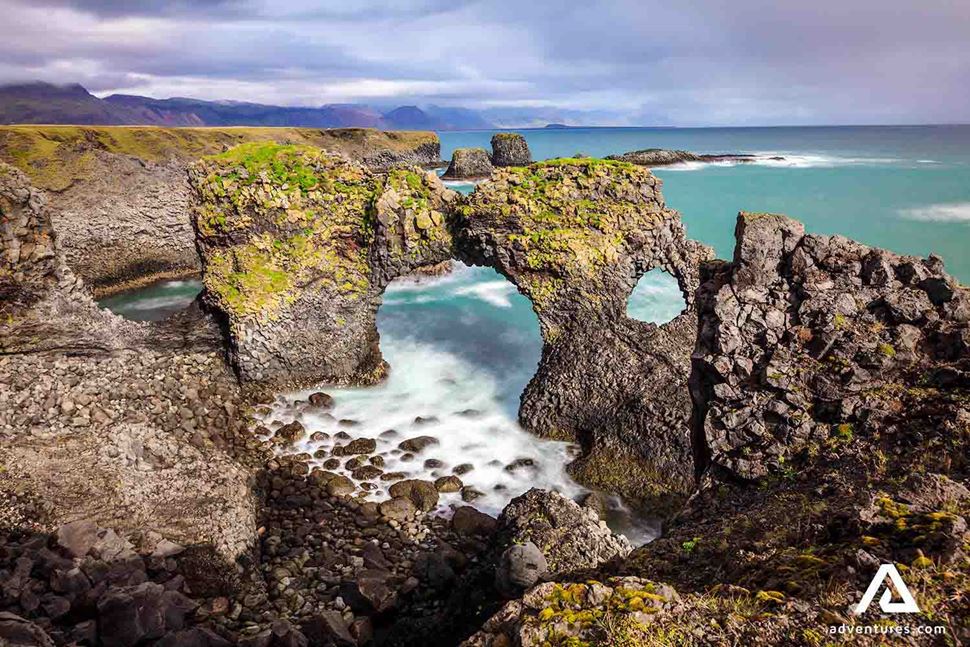 Vatnshellir Cave
Visiting the beautiful Vatnshellir cave is a unique experience. With the total darkness inside the lava cave and the complete silence of the underground world, you might experience a heightening of your other senses.
Inside the lava tube, there are two main sections. The upper section has great features and unique natural lava statues curving around the sides of the lava tube.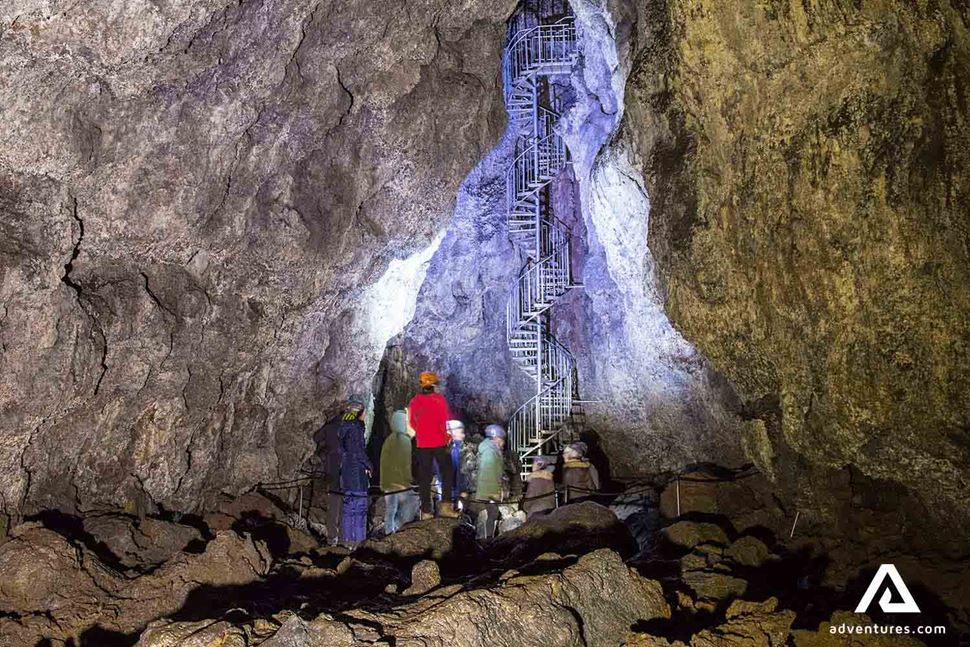 The lower part of the lava cave, which can be reached by a long and narrow staircase, takes you deep down underground to a place which was hidden from the outside world for thousands of years. Vatnshellir was created in a volcanic eruption some 8,000 years ago.
When you explore Vatnshellir, you will descend into a subterranean cavern of stalactites, stalagmites, and mystically shaped lava formations. The glow of your headlight may create eerie shapes and shadows which dance across the walls of the cave. This cave trip is short, very easy, and suitable for everyone.
Djúpalónssandur and Dritvík Beaches
The black sand beaches of Djúpalónssandur and Dritvík are a great place to make a couple of stops. These are two of the few places where you can go right down to the sea along this coast. There used to be fishing operations here in the olden days.
The debris of two old shipwrecks from some decades ago is still spread along the beach. On the beach, there are also some big stones which local men attempted to lift to test their strength during the fishing era. men who couldn't lift at least the rock weighing 54 kg were declared unsuitable to work as a fisherman.
The unusual cliff formations and black pebbles, mixed with the stark views out to sea, the fascinating histories of shipwrecks and adventures make these beaches a must-visit!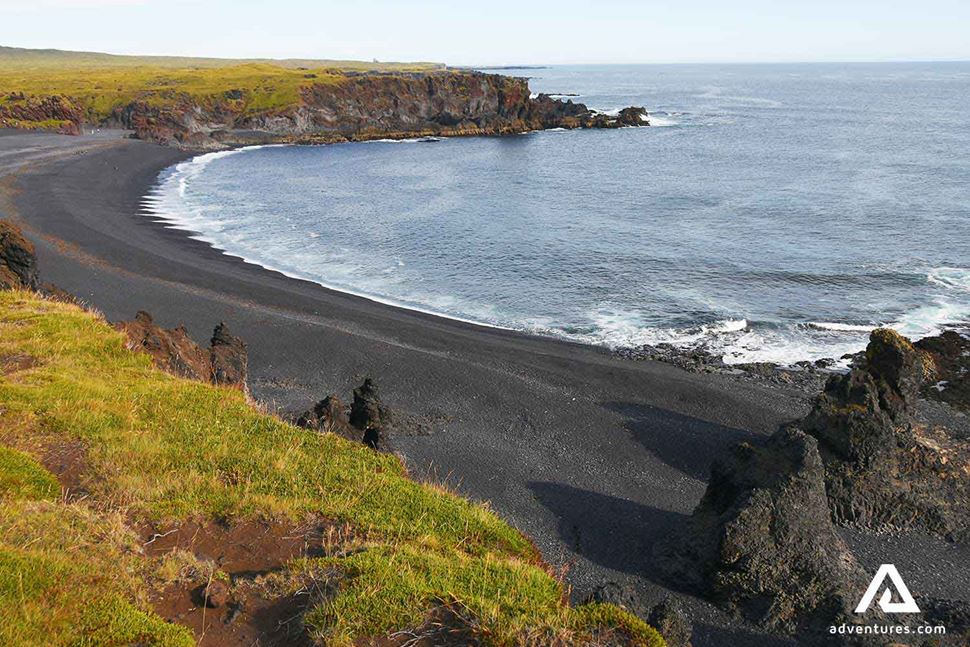 Snæfellsjökull Glacier
Snæfellsjökull is a snow-capped glacier that covers a volcano. This glacier is very impressive as it rises to 1,446 meters at its highest point. This volcano is one of the most famous sites in Iceland, primarily because of the novel A Journey to the Center of the Earth (1864) by Jules Verne, in which the protagonists find the entrance to a passage leading to the center of the earth on Snæfellsjökull.
The majestic glacier, Snæfellsjökull, provides breathtaking views over the peninsula. People who believe in esoteric matters say that this glacier is surrounded by a unique energy field. There is no doubt that this area holds a peculiar fascination for many and most people find its scenery tremendously inspiring and compelling. It is a paradise for photographers. Traveling by Super Jeep is a great way to explore this remarkable area.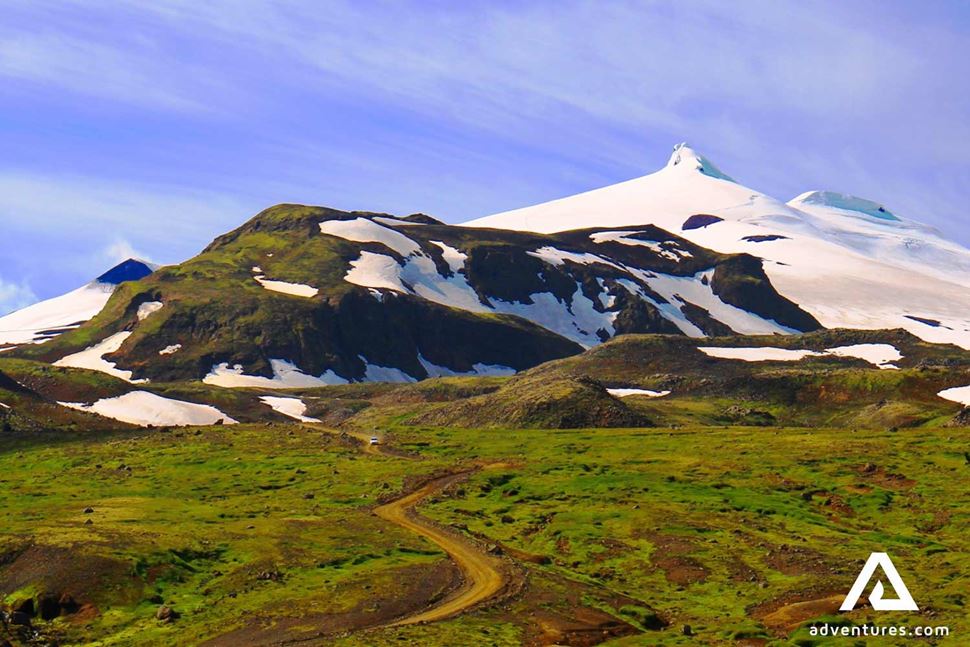 The Svörtuloft Lighthouse
This stunning lighthouse catches the eye of every traveler because of its beautiful colors. It contrasts so well with the Icelandic nature that it is a great place to take photographs.
It is located on a four-kilometer-long cliff formation which is particularly spectacular because they are dark, black lava cliffs. The current lighthouse is almost 13 meters high and it came into use in 1931, a former was erected in 1914, but this had suffered from erosion.
To get to this site you just have to follow the main road (574) at the tip of Snæfellsnes, then take a left turn onto road 579, when that ends you need to head south to Svörtuloft, you will see the small parking lot.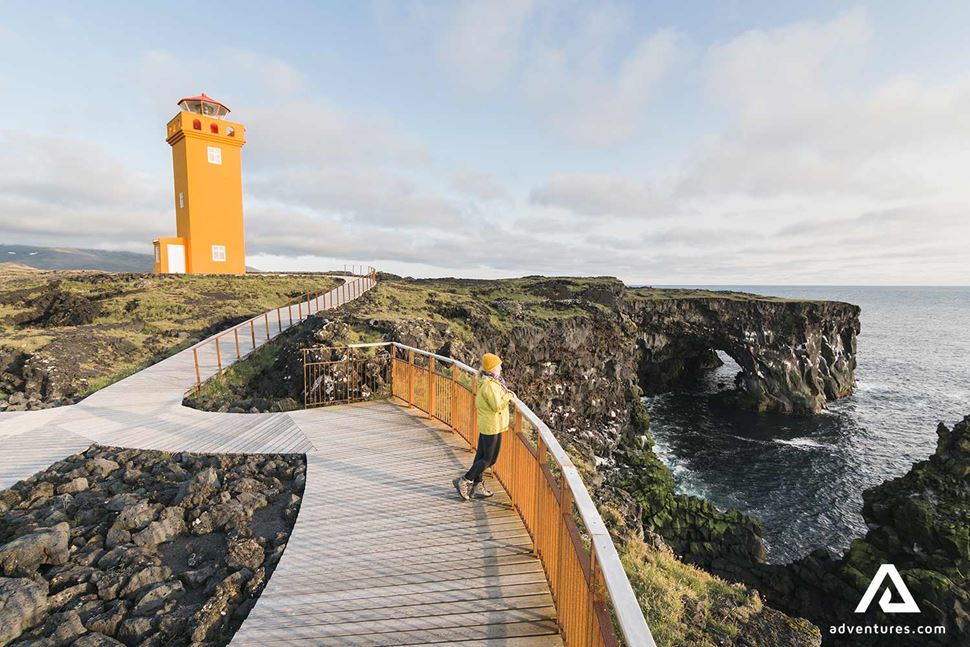 Hellissandur Village
Hellissandur is a small fishing village in the northern side of the peninsula. It is the first village you will find on Snæfellsnes if you are coming from Reykjavík. At one time it was one of the major fishing centers in Iceland.
This place is a bird-lovers paradise, and one of the Arctic tern nesting areas in Iceland. You can visit the Maritime Museum that displays the oldest row-boat in Iceland, built in 1826. There is also the Fishermen's Garden (Sjómannagardur in Icelandic) where you can visit various tiny renovated turf houses.
Hellissandur has a radio mast that stands 412 meters high, made for longwave transmissions, it is situated near the plain at Hellissandur. Interestingly, at the time this mast was once the highest such structures in Europe.
Ólafsvík village
Ólafsvík is a charming fishing village on the north coast of the Snæfellsnes peninsula which has over a thousand inhabitants. It has a large fishing harbor, and this is Iceland's oldest trading town, established in 1687 - the fishing industry has thrived here.
The town is located close to the wonderful Snæfellsjokull glacier. There is a lot of history to be discovered in this area. If you long to just chill out why not take a dip in the lovely swimming pool? Bæjarfoss is a beautiful water close to the village.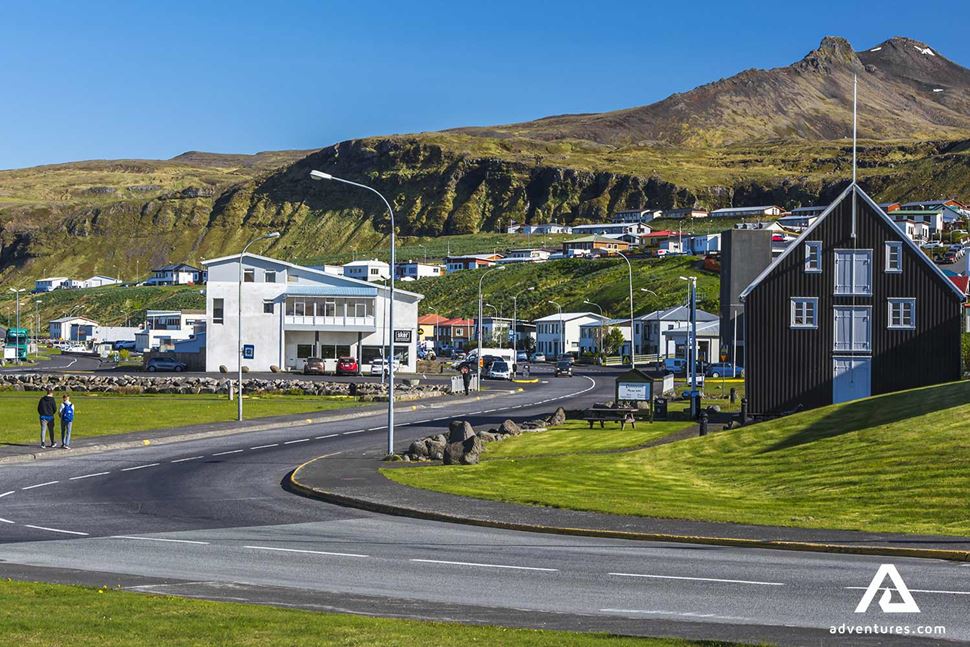 Kirkjufell, the 'Church Mountain'
Mount Kirkjufell (literally Church Mountain) is one of Iceland's most photographed and iconic landmarks. This symmetrical mountain rises 463 m above the shoreline, there are many beaches in the area and a lovely walking trail would take you around Kirkjufell.
If you feel like some more vigorous exercise, you could enjoy a more challenging climb to the top of the mountain where, amazingly, fish fossils can be found. However, this activity is recommended only for experienced hikers since the trail is very steep and exposed. For the rest of us, just relaxing and enjoying the views and the birdlife is not less amazing!
Kirkjufell is probably the most photographed mountain in Iceland. Its isolated position jutting out into the sea makes it a focal point for everyone who goes by. The beautiful waterfall, Kirkjufellsfoss, is nearby, and such a perfect place to stop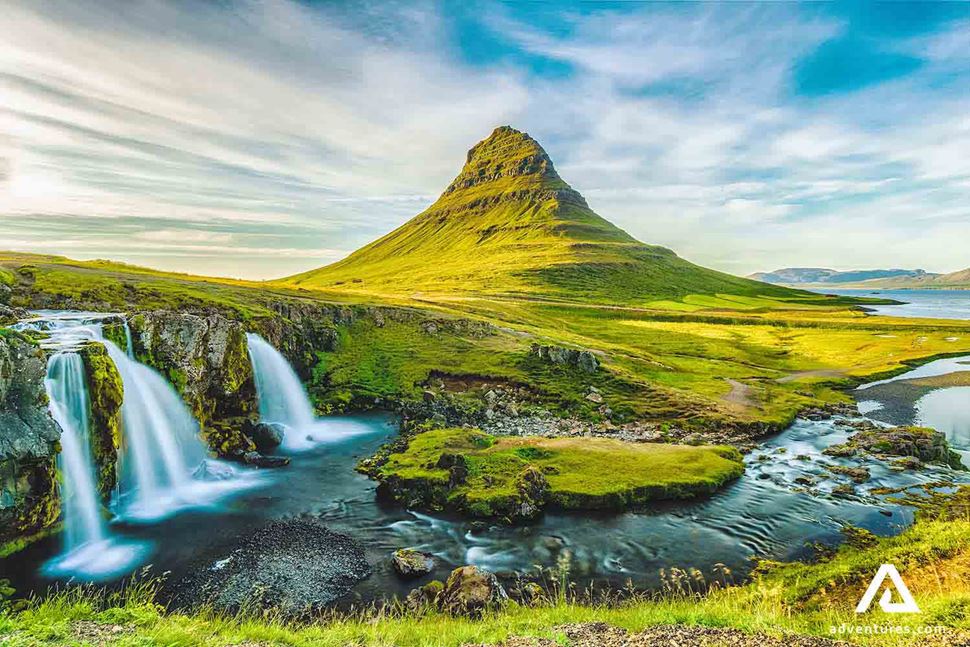 Grundarfjörður village
Grundafjörður is a peaceful little fishing village with a very nice view over Kirkjufell. This village has risen greatly in popularity in recent times, mostly because of its proximity to the iconic mountain. Photographers from all over the world flock to this town for the sole purpose of taking pictures of this unique landmark.
Its fame is not surprising, it has been a scenery superstar in many movies, including The Secret Life of Walter Mitty (this movie is really good to see before you come to Iceland). It is home to a vibrant birdlife if you are lucky you will also get the chance to spot some seals and whales off the coast.
During summer, it is possible to do boat trips where you can fish, watch puffins and many other birds. Grundarfjörður has a nice swimming pool so you can enjoy relaxing after exploring Kirkjufell.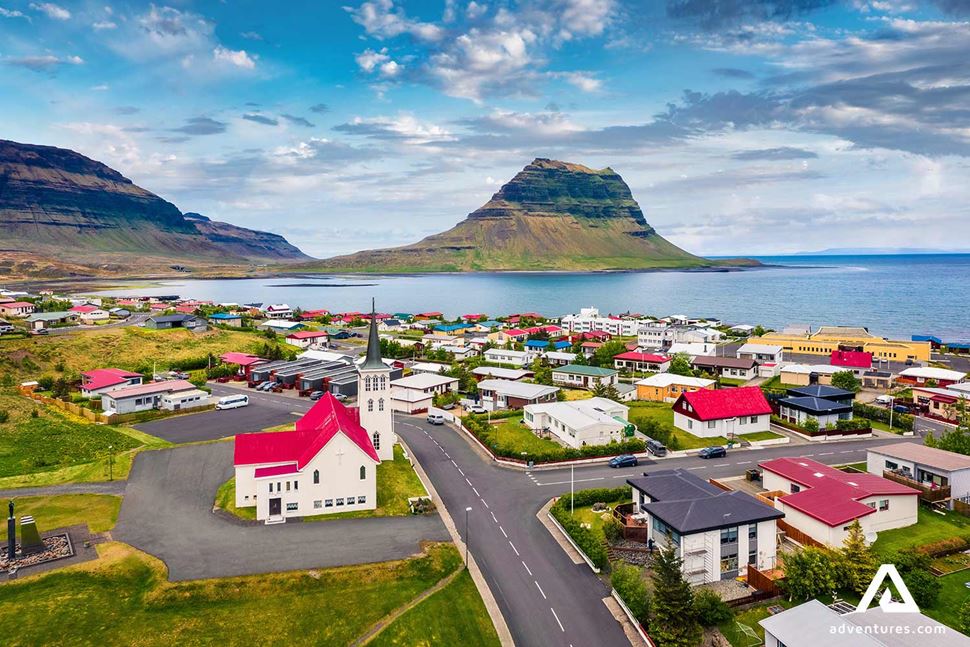 Berserkjahraun
When you leave Grundarfjörður, the road continues across a lava field named Berserkjahraun, created by an ancient lava flow from 3,000 to 4,000 years ago.
According to the Icelandic Sagas, this is the place where two Swedish 'berserkers' forged Iceland's first road, which went over a highland pass to the south side of the peninsula. The shapes formed by the lava are blanketed in soft green moss with some shades of red and orange. This is a beautiful area with a colorful history.
Stykkishólmur
Stykkishólmur is a town of about 1,100 people, built around a natural harbor by Danish and Norwegian merchants. It is the largest town on the Snæfellsnes peninsula, even though it is not that large.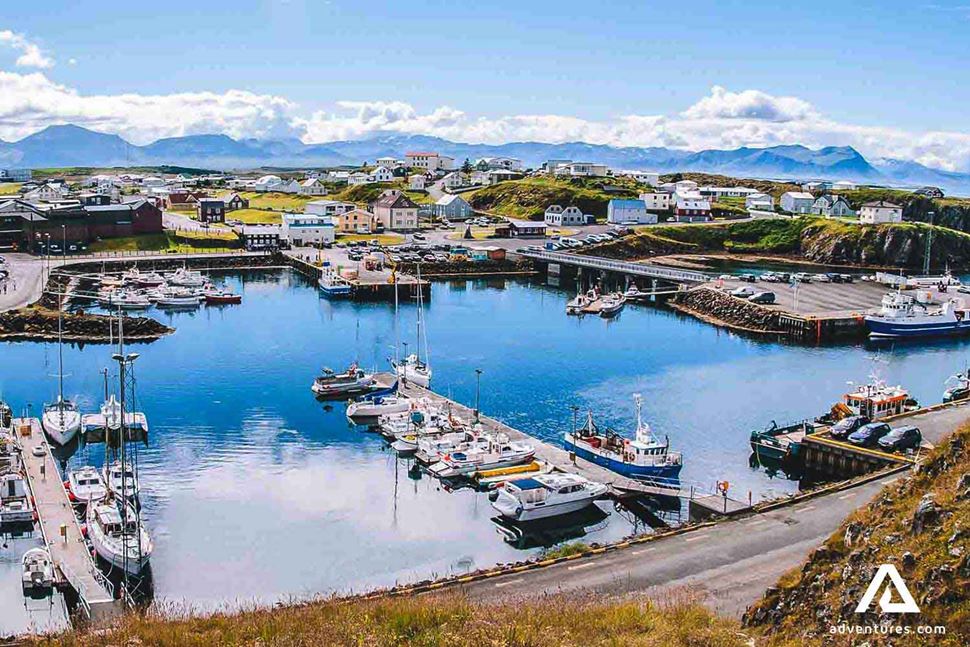 The brightly colored buildings from the late 19th century make this place picturesque and the landscapes are very photogenic. This charming fishing town, where you can taste shellfish straight out of the sea, is located on a promontory overlooking Breiðarfjörður, a really beautiful bay. Sit down at a café and enjoy the local culture or visit the volcano museum, located in the town.
If you wish, you can take a ferry over to Flatey, a unique island from Stykkishólmur.