Weather in Thorsmork
Thorsmork has a special microclimate. The valley is protected by high mountains so the winds are weaker and the temperatures are slightly higher than in the surrounding area. 
While you can expect slightly milder temperatures than in the rest of the highlands, the weather in Thorsmork can change every minute. Proper equipment and clothes are essential when hiking the valley. You should have sturdy, waterproof hiking boots and multi-layered clothing designed for outdoor activities.
What to Do in Thorsmork
Thorsmork is the base camp for two of Iceland's favorite treks: Laugavegur and Fimmvörduáls. Both trails run into the valley but from opposite directions. The Fimmvörðuháls Hike is 25 km (15.5 mi) long and starts in Skógar on the South Coast of Iceland. The trail leads through the mountain ridge between the Eyjafjallajökull and Myrdalsjökull glaciers and ends in Thorsmork.
The world-famous, 55-kilometer (34-mi) long Laugavegur Trail starts in Landmannalaugar, at the northern end of the Highlands. It runs southwards through the colorful rhyolite mountains and finishes in Thorsmork.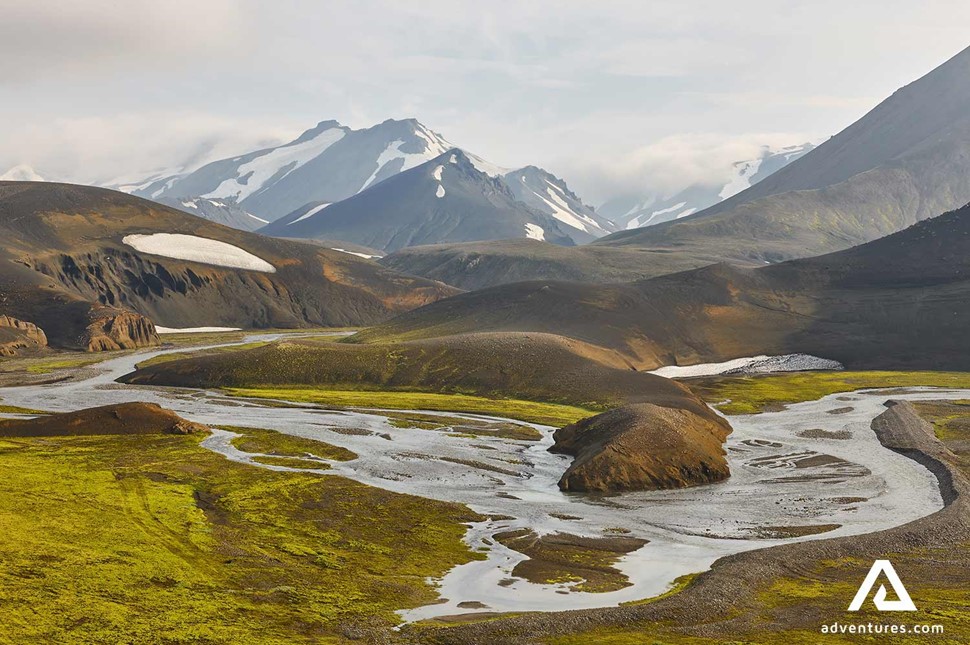 Many hikers connect these two trails. They start the trek in Landmannalaugar, take a break in Thorsmork, and reach the finish line in Skógar. Naturally, it can be completed starting in the opposite direction, too. The landscapes are equally beautiful in both directions.
Thorsmork is also great for day hikes that vary in distance and difficulty. 
The Fimmvörduháls Volcano Hike lasts from 5 to 7 hours and takes you to the newly formed volcanic craters Magni and Modi. During this hike, you'll see the valley from above as your guide leads you to the highest point of Fimmvörduháls Pass. The view encompasses everything from glaciers to snow-capped mountains to volcanoes.
The Tindfjöll Circle is a 4-6 hour hike offering some of the most beautiful viewpoints in Thórsmörk. It features a few challenging parts, where you will face rough terrains such as narrow ridges and steep moraines. The Tindfjöll Circle is a popular trail, but the hike is not for the faint of heart. However, it's fun and guarantees a memorable experience for skilled hikers.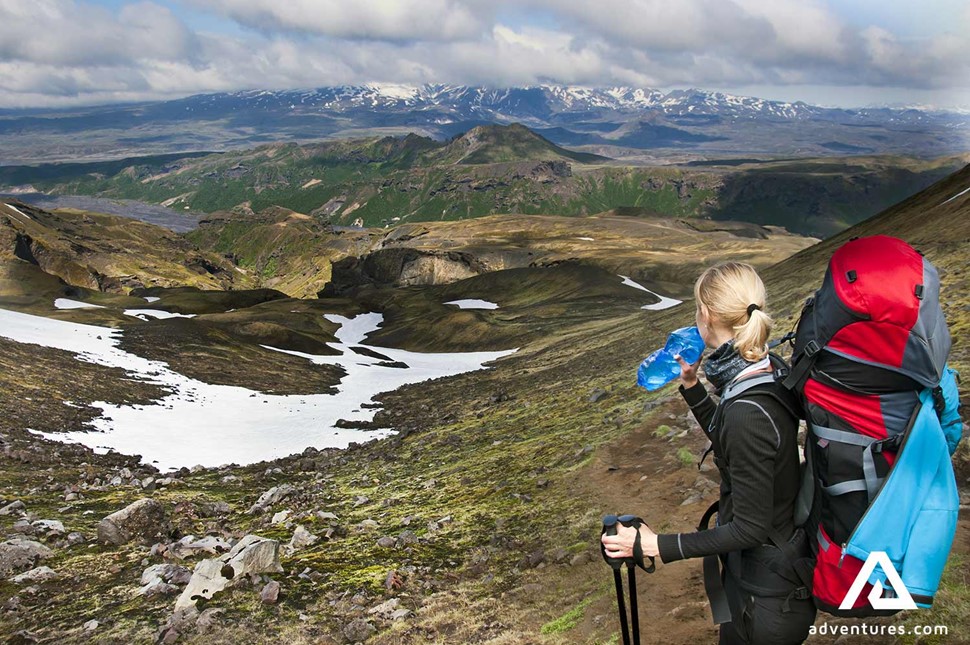 Iceland's Best Multi-Day Treks
Thorsmork is home to some the most beautiful hiking trails in Iceland. It connects two mind-blowing multi-day trekking routes. Combining the famous Laugavegur and Fimmvörðuháls trails results in a four- to six- day hike and an unforgettable adventure.
The world-renowned Laugavegur trail runs 55 kilometers from the Landmannalaugar hot springs valley through the steaming lava fields, colorful mountains, black deserts and thrilling canyons of Thorsmork. From here, hikers can continue south.
The 25-kilometer Fimmvörðuháls hike starts in Thorsmork and passes by some brand new volcanic craters that were formed in the notorious Eyjafjallajökull eruption of 2010. This exciting trail leads hikers between three glaciers and into an incredibly scenic canyon with countless stunning waterfalls along the way. The epic hike ends at the majestic Skógafoss waterfall.
Those connecting these two hiking scenic trails will get a spectacular hike that might be the adventure of their lives!
Where to Stay Near Thorsmork
Thórsmörk has many valleys, but Húsadalur, Langidalur, Básar, and Slyppugil are the most visited. There is a campsite in each of the valleys. The best-equipped facilities are at the Volcano Huts in Húsadalur. It's also a popular overnight location as most hikers finish their longer treks in Húsadalur.
Húsadalur Valley has cottages with private bedrooms and dormitories available as well as glamping (glamorous camping) beds. There is a restaurant that offers a buffet breakfast and hot meals throughout the day, mainly serving up Icelandic home-style cuisine.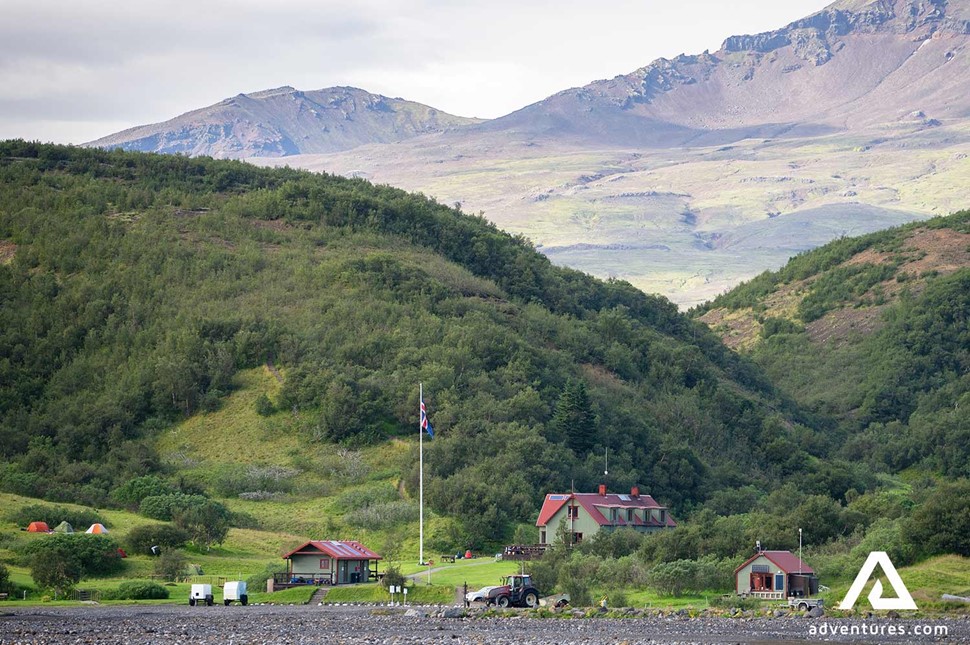 The Iceland Touring Association operates a hut in Langidalur Valley. It's a spacious two-story hut that accommodates 75 people. The ground floor has a large heated entrance hall for storing wet equipment. There are two fully-equipped kitchens and a large dining hall where you can sit down to eat comfortably. Altogether, there are two large sleeping halls and three separate quarters with bunk beds. Also, there's a small shop where you can get snacks and drinks.
Langidalur has a large campground. Campers must bring their own stoves. A large shower block and toilet facilities are located outside of the hut. Showers are accessible for a small fee.
Básar Valley has a campground with showers and huts that accommodate 83 people. Gas stoves and kitchenware are available at the huts for free, but there's a fee for using the showers.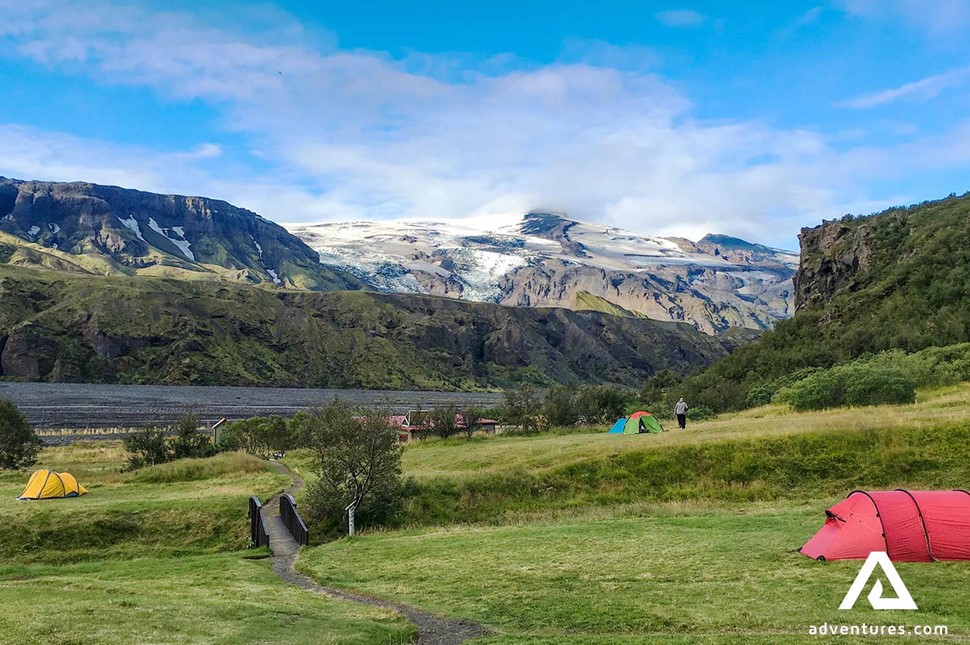 A small and quiet campsite in Slyppugil offers toilet facilities and showers for an extra charge. There are no electric outlets or kitchens, but the campsite offers a playground and barbecue facilities.
Most campsites are open from May or June until October. You don't need to book campsites in advance, but you do need to book huts. If you book a hiking tour with us, we'll take care of your accommodation and guarantee your place once you've completed your booking.
Safety in Thorsmork
If you're traveling without a guide, make sure to check the weather forecast and weather warnings before heading to Thórsmörk. Upon arrival, stop at the information point to ask about trail conditions before heading out on your hike. It's a good idea to download the SafeTravel app and make sure that you submit your travel plans before leaving.
For those who are traveling alone or aren't experienced hikers, we recommend joining a guided tour. The guides for these hikes have been trained to lead you safely through the terrain and know how to cope with the sometimes challenging conditions that hikers can face in Iceland.
If you're not traveling on a guided tour, hut wardens are a great source for valuable information. They know Thorsmork like the back of their hand and they're always up to date with all that happens around. Wardens can advice on weather and give you hiking tips, so make sure to approach them!
Thorsmork is a highly protected area. Please note that camping in nature reserves outside of the designated campsites is both illegal and unsafe. There are plenty of huts and campsites in the area where you can pitch your tent or reserve a place to sleep.
Respect any closures. Even if it's muddy, always stay on the hiking trails. Do not step on the moss. Be considerate of others and respect nature — never leave any waste behind.