Laugavegur Hiking Tour Itinerary
Laugavegur trail begins with Landmannalaugar in the Southern Highlands of Iceland, a region famous for steaming hot springs. The tour will take you through distinct landscapes, such as yellow rhyolite mountains, black sand deserts, and fields covered in chunks of obsidian.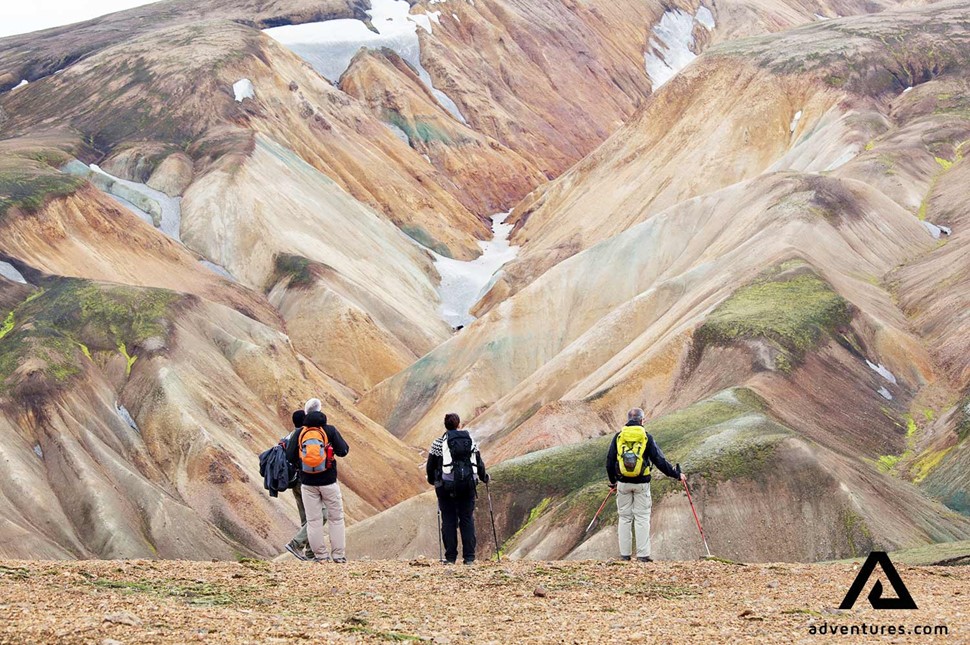 During most tours, your final destination will be the lush Thorsmork (Þórsmörk) valley. However, if you pick a longer adventure, you will proceed to explore Seljalandsfoss & Skogafoss waterfalls as well as some young craters.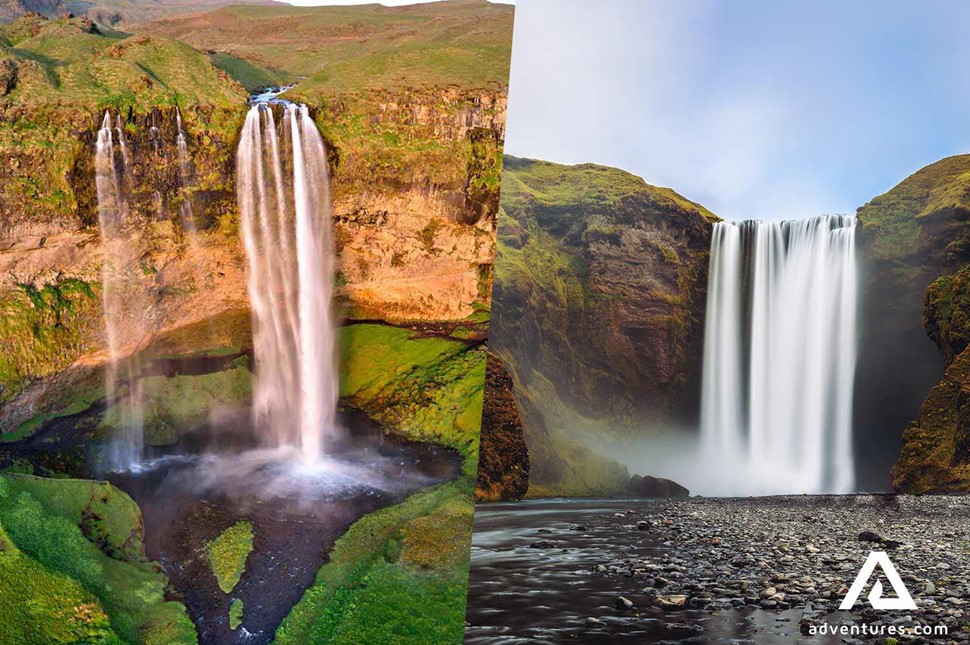 One of the hike's highlights is the imposing Eyjafjallajökull volcano, which hovers over Thorsmork valley. This capricious volcano is responsible for the 2010 eruptions that caused a good deal of chaos for air travel. Even today parts of surrounding areas are covered in volcanic ash, creating the black sand desert phenomenon.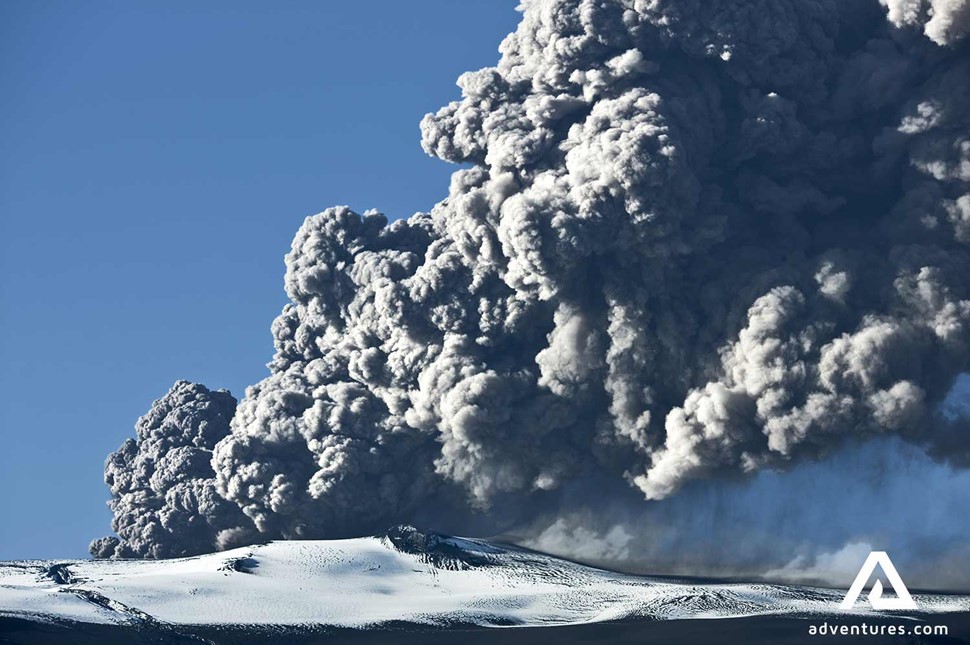 Laugavegur Tour Length
None of the adventures are Laugavegur day tours, it's simply impossible to experience it all during a single day. Thus, you will need to consider your preferred type of accommodation. Most of our tours have two options available. Charming rustic huts welcome travelers who are eager to have a good night's sleep in a comfy setting, while those looking for a true backcountry challenge can choose to spend their nights in tents.
Level Of Difficulty
Depending on the length and difficulty, Laugavegur hiking tours suit both hardcore mountaineers and families with teenagers. Even if you have put in a fair share of kilometers on different trails, Laugavegur will grant you some jaw-dropping sights unlike anything you've seen before. 
LANDMANNALAUGAR TO HRAFNTINNUSKER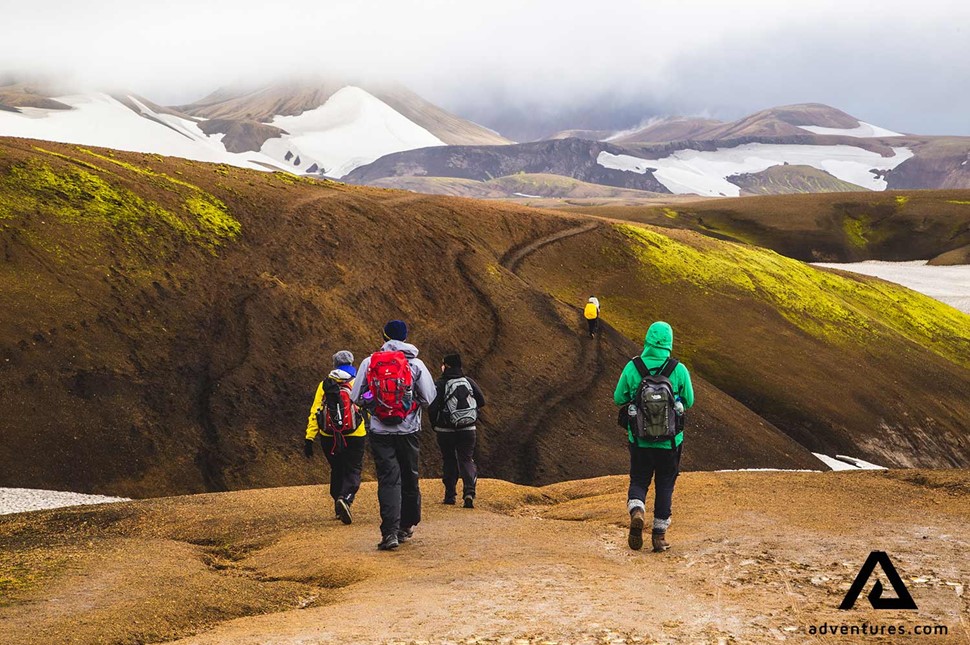 Starting at Landmannalaugar, a stunning place that greets hikers with steam rising from the surroundings and colorful mountains all around. Many hikers choose to spend one night in Landmannalaugar before taking off on the trail so they can explore the area and enjoy a relaxing soak in the natural hot springs situated right underneath a wall of lava - where the Eldhraun lava field stops.
From Landmannalaugar the trail takes hikers through Laugahraun lava field and over multicolored rhyolite mountains before arriving at Storihver hot spring. The area around the spring is most likely the only green area you will be coming across that day before you reach the first hut on the trail at Hrafntinnusker. The hut is called Hoskuldsskali and accommodates 52 persons on its two floors. The hut has a kitchen, equipped with all necessities and running water. There is no electricity in the hut except for the lighting that solely relies on solar cells that are located on the roof of the hut. Hrafntinnusker (literary meaning obsidian skerry) takes its name from the fields of obsidian that is highly characteristic of the area that otherwise is largely covered with sand making it like an island of black rock.
The distance from Landmannalaugar to Hrafntinnusker is about 12 km.
HRAFNTINNUSKER TO ÁLFTAVATN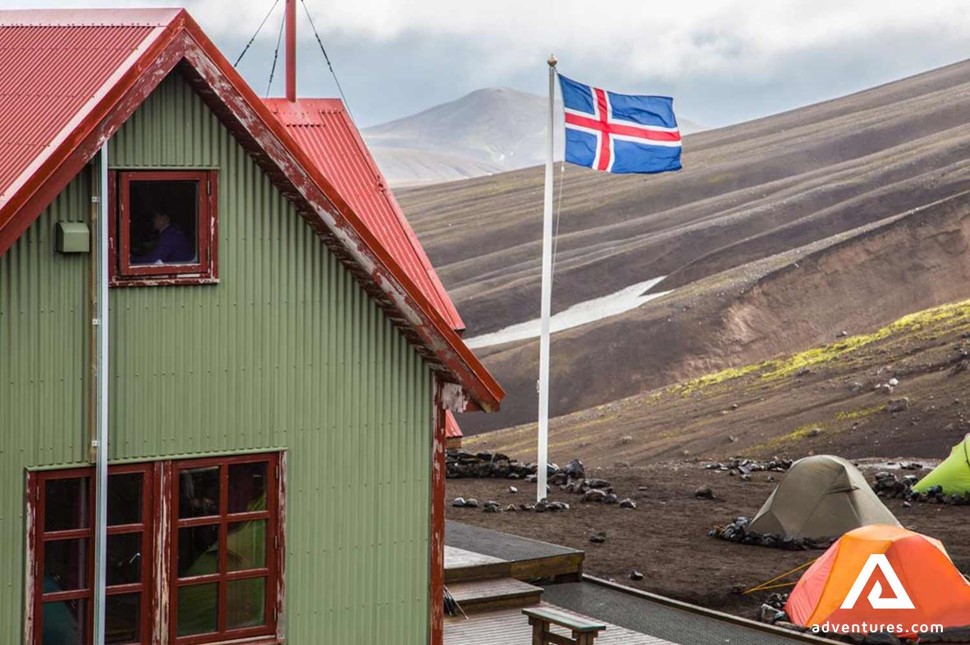 Departing from Hrafntinnusker, over the black sand, the trail leads through a geothermally active area with all the splendor it brings, like the red and yellow mountains and gullies of Reykjafjoll mountains. From the top of Jokultungur, a view down to Alftavatn lake is sure to take your breath away. As you make your way down towards the lake the vegetation becomes richer and greener.
The hut at Alftavatn has sleeping space for 72 persons, good cooking facilities, WC and showers (must be paid for separately). The camping ground in Alftavatn is located right at the edge of the lake in amazing surroundings.
The distance from Hrafntinnusker to Alftavatn is 12 km.
ÁLFTAVATN TO EMSTRUR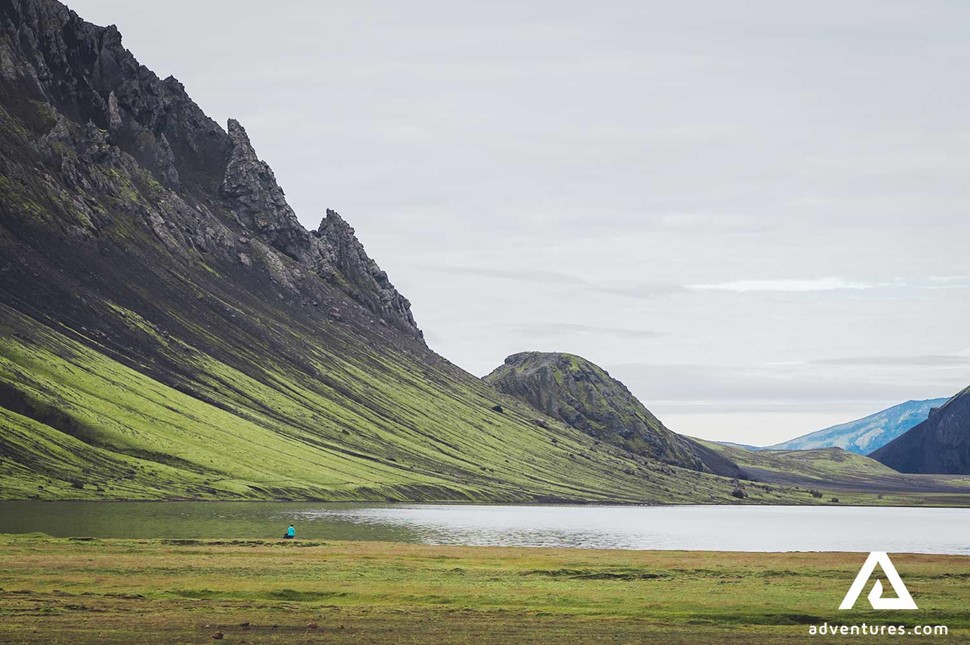 Following the trail from Alftavatn, you will soon come to Hvanngil gully, that is located within a few kilometers from Alftavatn. Here you can find a nice hut that accommodates up to 60 people. Hvanngil is a good alternative to Álftavatn for a place to spend the second night on the trail. Carrying on from Hvanngil, you cross a couple of rivers, some are bridged but you have to wade the others, Blafjallakvisl river being the biggest one. The landscape of this part of the trail is quite different from the first two parts. You will be traveling over a vast black sand desert skilfully decorated with green mountains and stunning views in every direction.
After a refreshing crossing of the glacier river Innri-Emstrua we start getting closer to the huts in Botnar which, for most, is the accommodation place for the third night. Botnar in Emstrur has sleeping space for 60 people in 3 identical huts that are all connected with a terrace that provides a great outdoors sitting area. Make sure not to leave Emstrur before you have taken the short walk to Markarfljotsgljufur gorge to admire this treasure of nature. A sight you definitely won't want to miss!
The distance from Alftavatn to Emstrur is 15 km
EMSTRUR TO THORSMORK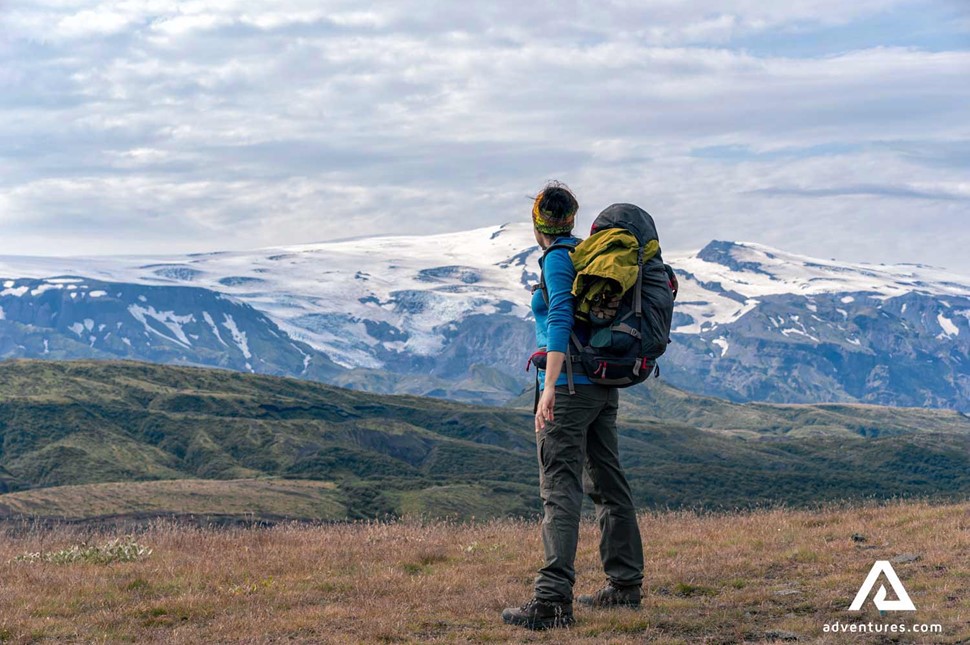 The last part of the trail leads you through a highly diverse landscape. From Emstrur the black sand desert continues for a while before you will enter into a more vegetated area. We will be traveling down from the highlands and leaving behind us the volcanic desert that we have been hiking through for the past days.
After we wade Thronga, the last river we have to cross on foot on the trail - both a cold and exciting experience, there is only a short walk through the dense birch forest before we reach Langidalur in Thorsmork. As you see you get closer to this charming highland hut, you will feel mixed feelings of relief but also sad that this unforgettable experience is over. Behind us are now 55 km of unique landscapes and an experience of a lifetime!
The distance from Emstrur to Thorsmork is 15 km.
ÞÓRSMÖRK - FIMMVÖRÐUHÁLS
If you want more, a 16-18 km hike from Thorsmork to Fimmvorduhals is a great addition to the Laugavegur trail. The trail starts with a magnificent view as we walk up the mountainsides of Þórsmörk Valley. The Fimmvörðuháls Pass lies between Eyjafjallajökull and Mýrdalsjökull Glaciers. Here you can find the newly formed craters, Magni and Móði, formed in the volcano eruption in 2010. Check out our Laugavegur and Fimmvorduhals trek where we add two nights in the beautiful surroundings of Thorsmork Valley, hiking up to Fimmvörðuháls and returning to Thorsmork to celebrate our accomplishments of the past days.
MAP OF LAUGAVEGUR TRAIL