Svartifoss Waterfall is a beautiful waterfall on the South Coast of Iceland in Skaftafell Nature Reserve. Also known as Iceland's Black Waterfall, it is one of the biggest natural wonders in the region. Svartifoss's cascade drops 20 m. (65 ft.) from its black hexagonal basalt columns, which create a stark contrast to the landscape's white glacial backdrop.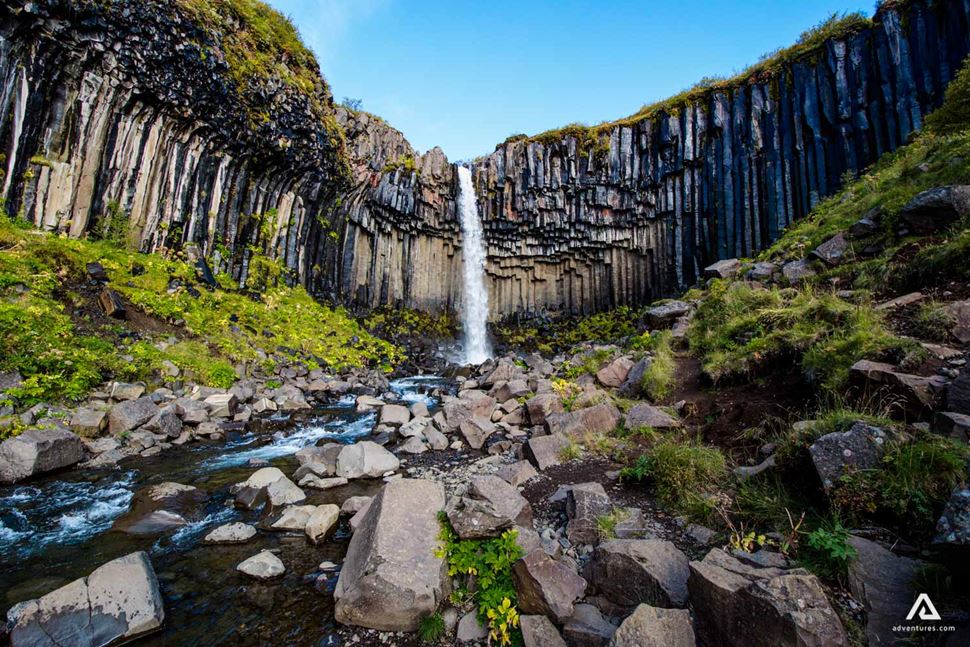 Svartifoss Waterfall's hexagonal columns are so special that their shapes inspired the creation of Hallgrímskirkja, a famous church in Reykjavik. The waterfall also influenced the design of Iceland's National Theatre. Both buildings were created by renowned architect Guðjón Samúelsson.
How was Iceland's basalt column waterfall formed?
Svartifoss's famous basalt columns were created by crystalized molten rock from lava flow that cooled at a very slow rate. The hexagonal shape is a sight to behold and only found in certain areas in Iceland.
Other places where you can see similar basalt structures are Litlanesfoss Waterfall, Arnarstapi, the Gerðuberg Cliffs, and Reynisfjara Black Sand Beach.
Where is Svartifoss Waterfall located?
Svartifoss Waterfall is a short hike away from the Skaftafell Visitor Centre inside Skaftafell Nature Reserve. Skaftafell is a large piece of land inside Vatnajökull National Park, where Vatnajokull Glacier – Europe's largest glacier – is located.
How to get to Svartifoss Waterfall from Reykjavik?
Traveling to Svartifoss Waterfall from Reykjavik is simple. Drive the Ring Road (Route 1) on the South Coast for roughly 319 km (198 mi) until you reach Skaftafell Nature Reserve. Plan stops at natural attractions such as Katla Volcano and Reynisfjara Black Sand Beach along the way.
Svartifoss Hike
A short Svartifoss hike is required to reach the waterfall. Once you reach Skaftafell Nature Reserve, park your car at the Skaftafell Visitor Centre. From there you'll find the Svartifoss hike along a 5.5 km (3.4 mi) trail that is clearly marked.
Top 5 Hikes near Svartifoss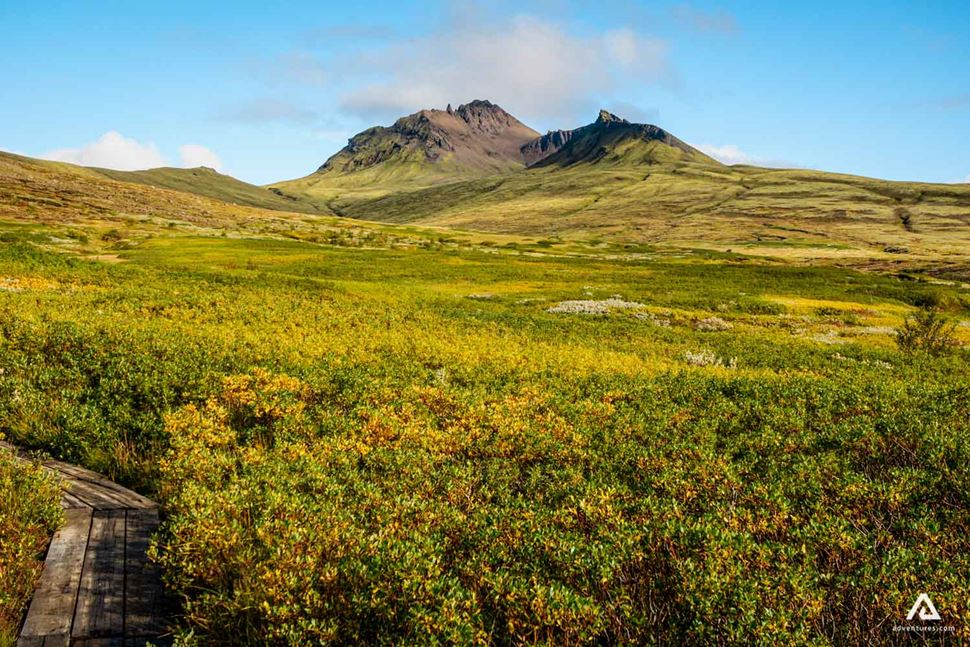 Skaftafellsjökull.

This is a simple 3.7 km (2.3 mi) hike with stunning views of Skaftafellsjökull Glacier.

Sjónarnípa.

A 6.4 km (4 mi) trail with medium difficulty and incredible nature.

Svartifoss and Sjónarnípa.

This is a challenging yet short 6.4 km (4 mi) hike.

Bæjarstaðarskógur.

This challenging 15.8 (9.8 mi) hike takes you through Iceland's iconic birch wood forest.

Kristínartindar.

Hike 17.9 km (11.12 mi) to the top of  Kristínartindar Ridge. The trail is closed during spring because of ice thaw.
What to do near Svartifoss?
Iceland's basalt column waterfall is located inside Skaftafell Nature Reserve, an area filled with some of the best outdoor adventures in Iceland. From ice cave exploration to epic hikes, check out a few of the top things to do near Iceland's black waterfall:
Go inside an ice cave. On your way to the waterfall, go walk inside an ice cave at Katla Volcano to see the majestic underbelly of Iceland's ice cap terrain.
Hike on a glacier.

Join an expert guide as you

hike on

Falljökull, an outlet glacier of Vatnajökull Glacier,
Visit Magnúsarfoss and Hundafoss Waterfalls.

On the Svartifoss hiking trail, there are two other waterfalls, Magnúsarfoss and Hundafoss, worth visiting.

Ride a snowmobile. Hop on a snowmobile and go for a thrilling ride on Europe's largest glacier. 
Drive to Jokulsarlon Glacier Lagoon. If you plan to continue driving south along the Ring Road, a visit the world-famous Jokulsarlon is a must.