Puffins Watching Tours in Iceland
Without a doubt, Iceland is the world's puffin watching capital. Scientists and bird enthusiasts from all over the world come to Iceland to see this interesting species with their own eyes. Thanks to how incredibly cute and funny these birds are, puffin watching has quickly become one of visitor's favorite summer activities in Iceland!
More than 60% of the world's Atlantic puffin population calls Iceland home. With anywhere from 8 to 10 million puffins inhabiting the island, puffins are definitely something Icelanders are proud of and that they care for and respect.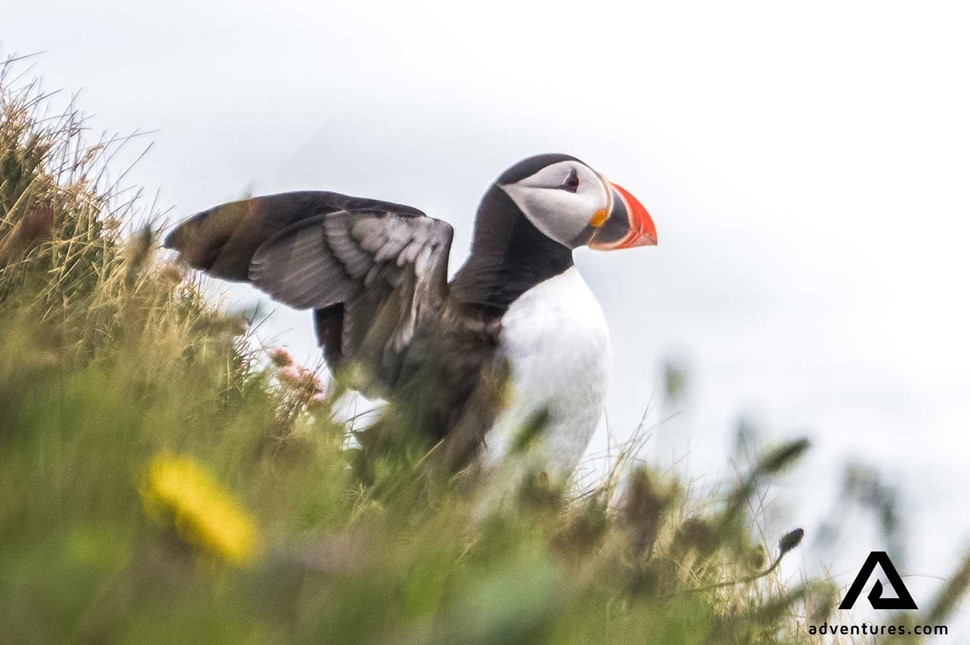 About the Atlantic Puffin
The Atlantic, or common, puffin is a species from the auk family of seabirds. Puffins have been nicknamed "sea parrots" and "clowns of the sea" thanks to their comical appearance and personalities!
These birds spend a large part of the year out in the open sea. Then, in spring, they will return to shore only to breed and raise their young, known as pufflings. They build their nests in clifftop colonies, digging a burrow in which a single white egg is laid. Puffins are monogamous and usually mate for life. One puffin couple can remain together for over 20 years.
When Can We See Puffins in Iceland?
Ultimately, puffin season occurs between May and July, even though they begin to arrive around mid-April and the last ones leave around mid-August. If you visit Iceland in the summer, you'll have the best chance of coming across some puffins during your trip.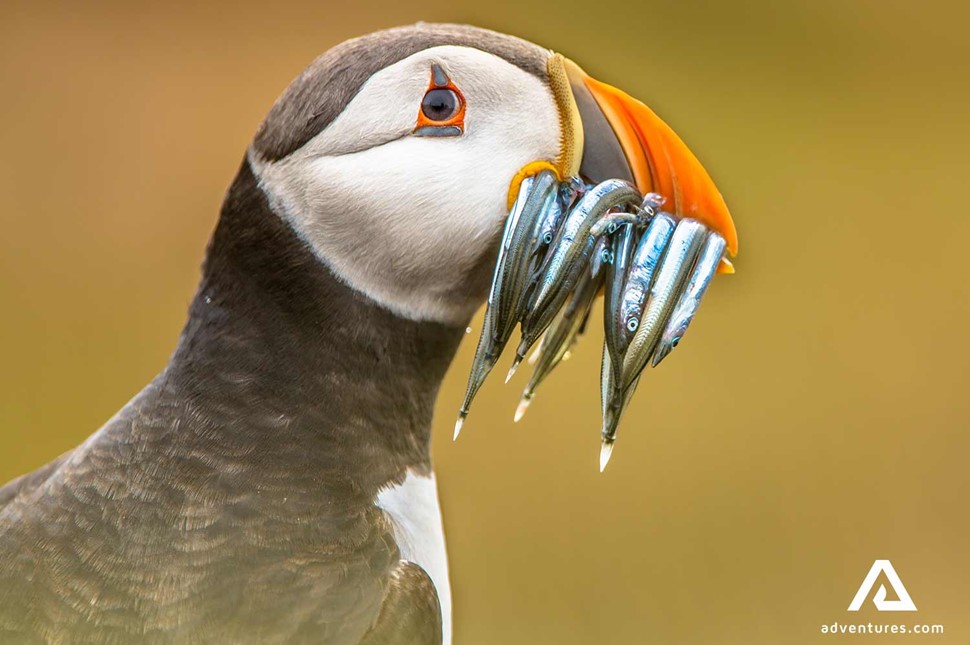 Where Can We See Puffins in Iceland?
The best locations to see puffins in Iceland are in South and West Iceland. There are places all over Iceland where these colonies live, however.
Reykjavík
You don't even have to travel far from the capital to see puffins as a large colony has its breeding grounds on two small, uninhabited islands a few minutes in a boat from Reykjavík. Reykjavík Puffin watching tours that visit these islands operate multiple times a day during summer with a 100% sighting guarantee.
The Westman Islands
Iceland's largest puffin colony, with over 1.1 million birds, lives in the Westman Islands, just 6.2 mi. (10 km) off of Iceland's south coast. One-fifth of the total worldwide puffin population nests here every year so if you're traveling in Iceland during summer you can join our tour and visit Westman Islands as well as enjoy the puffin watching.
Dyrhólaey
Dyrhólaey is a massive stone arch surrounded by a black sand beach. It is located in South Iceland, close to the village of Vík and Reynisfjara Beach. In summer, the cliffs of Dyrhólaey are a popular puffin nesting area. Here, it is easy to observe the birds from a distance of just a few meters.
Ingólfshöfði Nature Reserve
Further east on the South Coast is an isolated headland whose bird cliff is surrounded by black sand dunes. Due to its isolation, this place is not very popular among travelers for puffin watching. This makes it the perfect location for those who would like to avoid the crowds while seeing these adorable birds up close.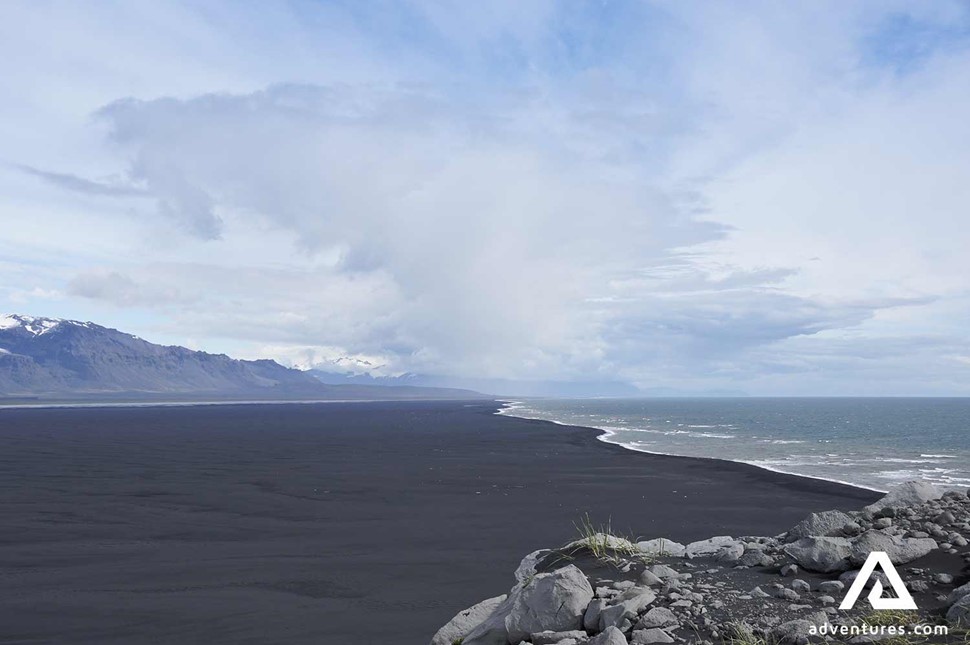 Borgarfjörður Eystri
10,000 puffins couples choose to nest in Borgarfjörður every summer alongside 20 other bird species. A shelter and wooden platforms have been built to allow you to get really close to the puffins without risking falling into a burrow or down a cliff. That is why this is probably the easiest and safest place to watch puffins in Iceland.
Hornstrandir Nature Reserve
The unique Hornstrandir Nature Reserve is located on the northernmost tongue of the Westfjords. Puffins can be found on the cliffs of Hornbjarg and Hælavíkurbjarg in the eastern part of the nature reserve. As Hornstrandir is closed to any kind of motor vehicle, it can only be accessed by boat and then further explored on foot. This makes it an ideal place to combine backpacking with bird watching.
Látrabjarg Cliffs
Látrabjarg is truly one of the best and most exciting places to watch birds in Iceland. Rising up 1447 ft. (441 m) in height, the 8.75-mile (14 km) long bird cliffs are truly awe-inspiring and provide amazing nesting grounds for literally millions of birds from many different species. You should know that these cliffs are vital for the survival of entire species since, in some cases, they host up to 40% of the entire world's population for species such as the razorbill.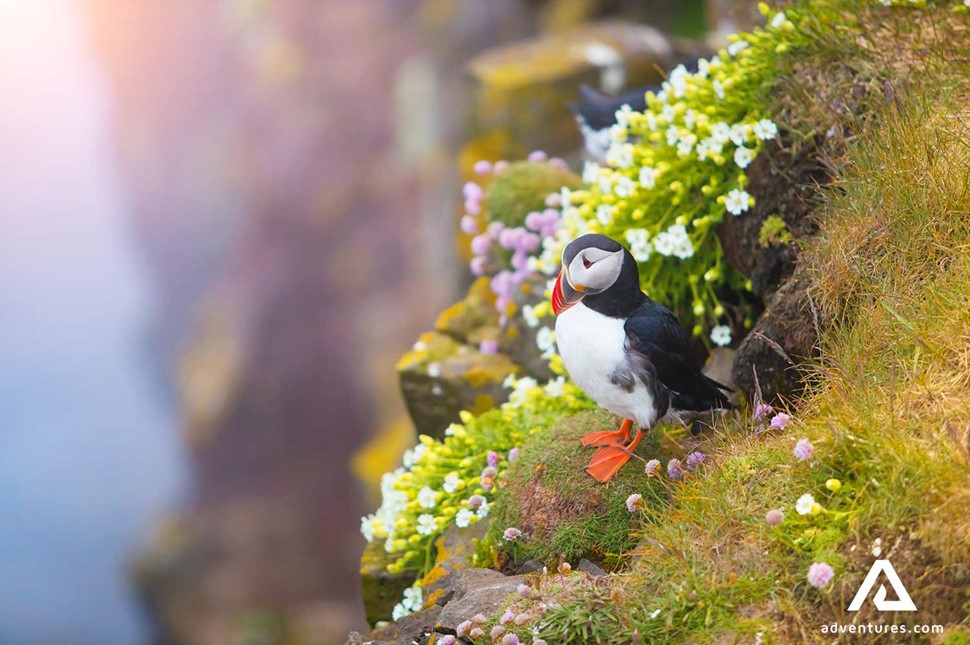 Bird Watching Etiquette
While they may seem incredibly cute and silly, the appearance of puffins was not created for our amusement. While they do not often show any fear towards us, puffins are still wild animals. Their lack of fear does not mean that they want us to touch them or that they even enjoy our company.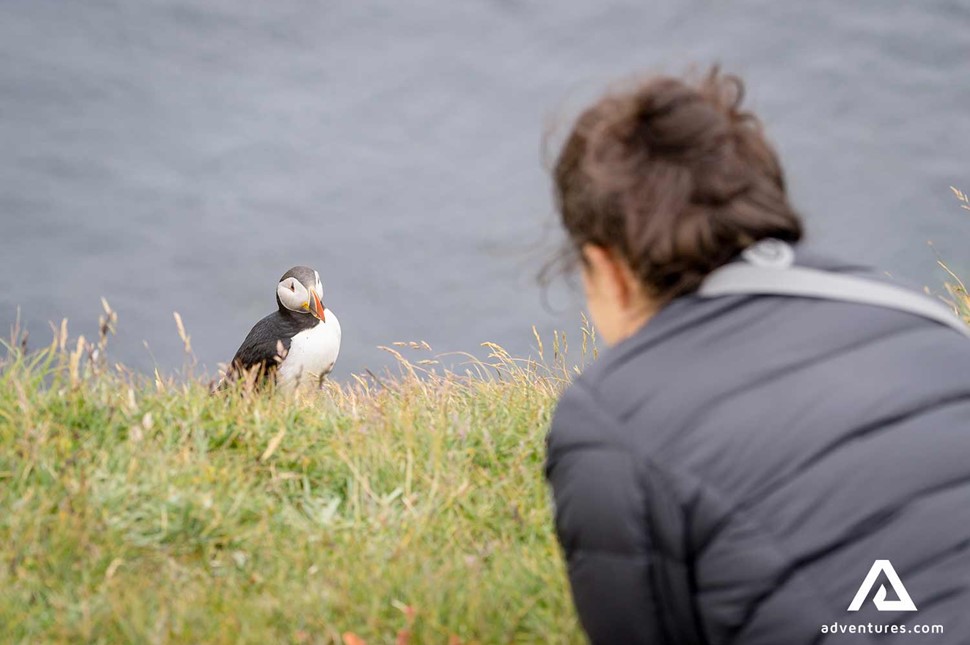 When you touch a puffin, you are actually harming it as their feathers have special properties that deflect water. Petting them counteracts this property. The worst things you can do to puffins are to pet or to feed them.
On top of that, approaching the edges of cliffs is very dangerous. In areas where puffins have nested, this becomes even more dangerous because a network of tunnels is hidden within the grassy turf slopes. These holes, where the puffins have dug burrows for their eggs, can easily collapse when stepped on, which is extremely dangerous when you are so close to the edge of a cliff.
Puffin couples always return to the same burrow year after year. Therefore, if you step on their nest and it collapses, you will have ruined a home that they may have been using for years or even decades.
That is why the safest way to behave on the bird cliffs is to emulate a nature photographer. Lay down quietly in the grass, approach the birds very slowly, and watch them while remaining motionless. This is the best and least harmful way to watch these birds in the wild.