Fimmvorduhals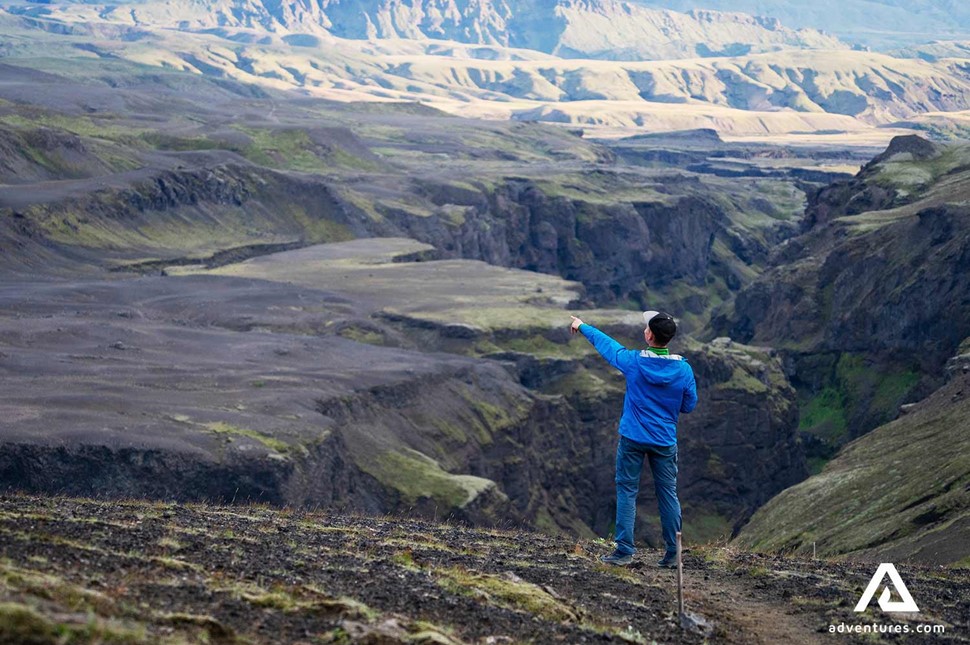 Fimmvorduhals hiking trail is among the most popular hiking trails in the world. It offers an expansive 25-km stretch of hiking region the helps you uncover nature's creation along the route. Fimmvorduhals lies between two glaciers, Eyjafjallajokull and Myrdalsjokull glaciers. Walking across the calm mountain trail with gusts of wind resisting your welcome, Fimmvorduhals can be a very different hiking experience for you. It became popular after the infamous Eyjafjallajokull Volcano erupted in 2020 and caused massive destruction in the valley, giving birth to two craters, Magni and Mooi.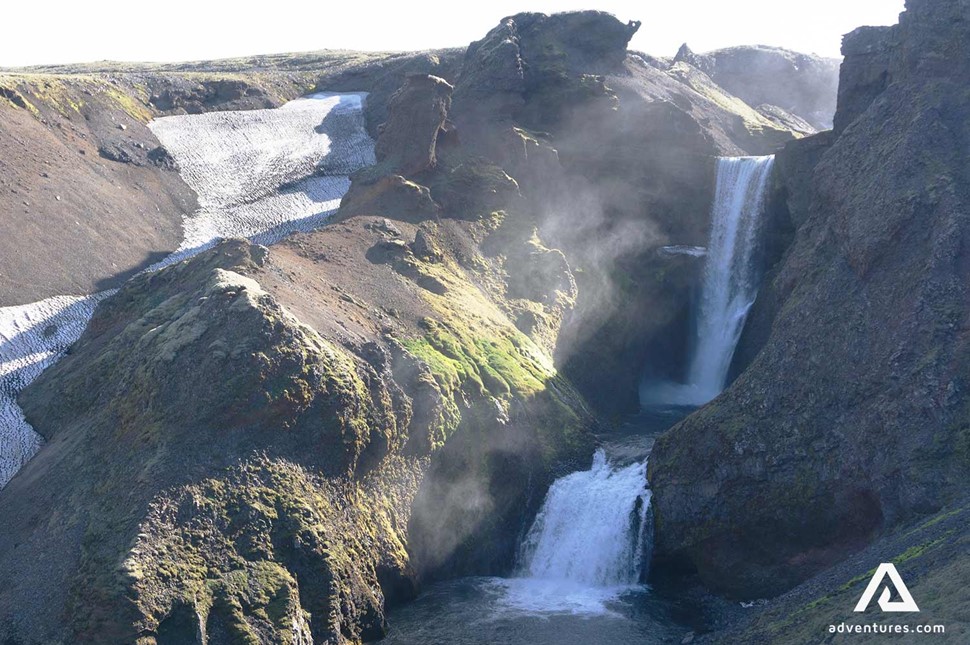 Fimmvorduhals houses the youngest mountains in the world, with 26 different waterfalls, both big and small, scattered across the trail. Fimmvorduhals hiking trail is located in the southern part of the Icelandic coast and is often termed as the meeting point or the link between two majestic glaciers. The temperature conditions at Fimmvorduhals are erratic and you can get to experience the harshest cold and rain in a single day. It is among the more arduous trails to complete and demands a whole lot of preparation and gear, along with an active body. Fimmvorduhals offers both single-day and multi-day trail courses. The multi-day hike lets you experience every bit of the Fimmvorduhals Trail and visit some extremely picturesque spots.
Fimmvorduhals has a lot of great hotels and guesthouses that can be overbooked most of the time. But with a prompt advance booking, you can confirm your spot whenever you come for hiking in the best hiking trail in Iceland. There are few campsites as well where you can rest between the hikes and restore your strength with a hot shower, a nice meal, and Wi-Fi if you are lucky. These campsites are very small and do not have the luxury you would get in the guesthouses located at the entry point of the region.
Landmannalaugar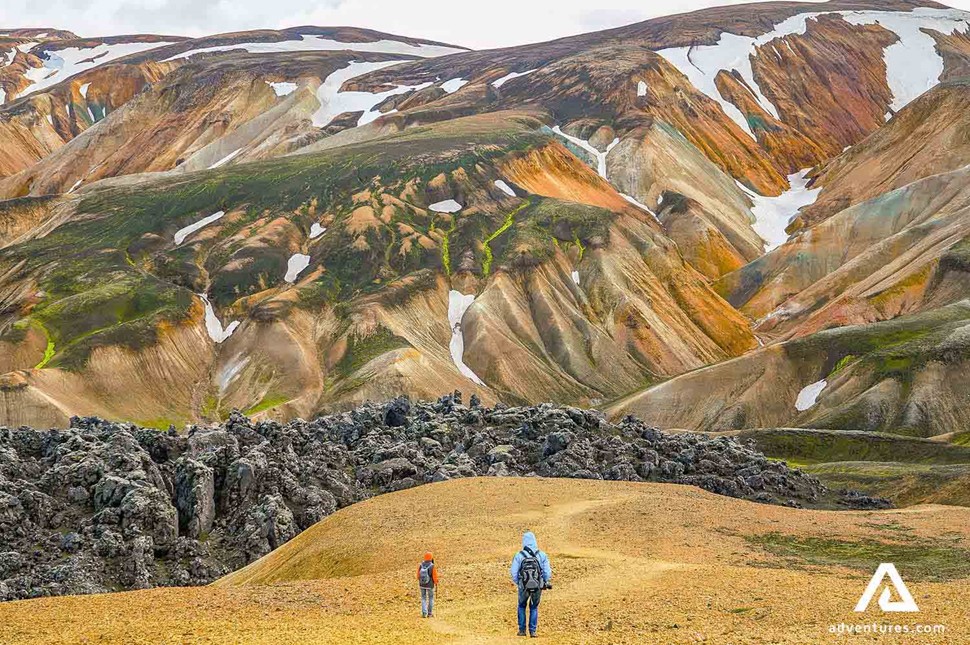 Landmannalaugar is among nature's bewildering beauty that comprises the highlands with multicolored mountains. The most noticeable colors are yellow, pink, red, green, and blue. It is a myth buster for individuals who think mountains are either brown or green. The Landmannalaugar Trail is among the top 20 trails in the world that offer a serene habitat with an exciting hiking trail. Even the highland mountains are made up of a special kind of volcanic rock, rhyolite. Landmannalaugar is in proximity to the dark lava region, due to which numerous geothermal pools are present.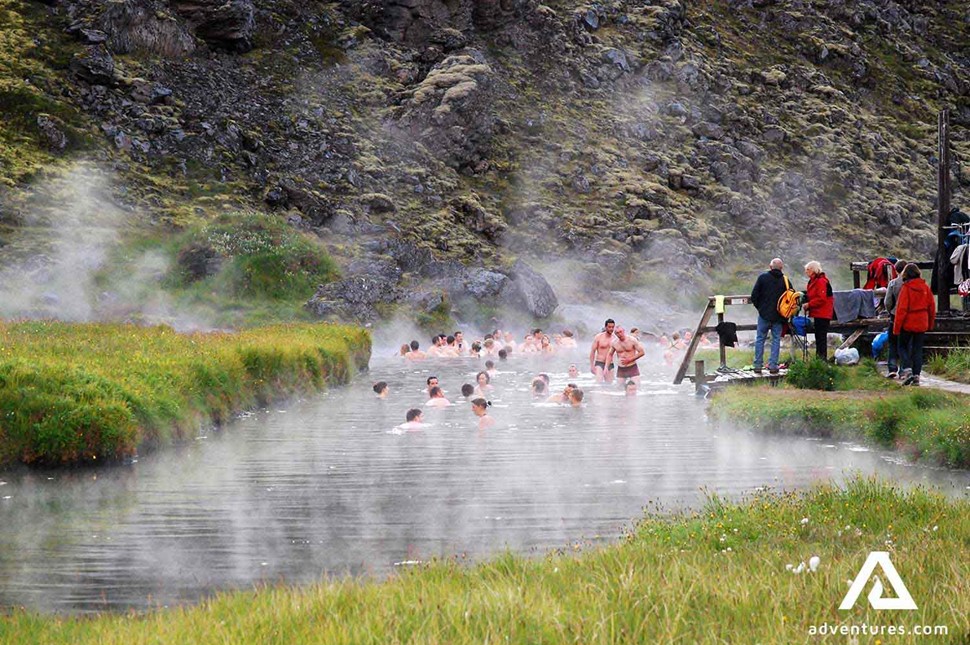 Landmannalaugar is one of the few trails that offers a warm pool and recreational experience while hiking in the mountains. The pools act as a natural stress buster for your body which gets tired due to the difficult hike. The cold weather makes it perfect for taking a small break in the natural hot pool and relax your body. Landmannalaugar is just a 3-hour drive from Reykjavik and serves as an exquisite hiking spot for tourists. Don't ignore Landmannalaugar if you are coming from Reykjavik, as you will regret not visiting the warm geothermal pools and the picturesque mountains.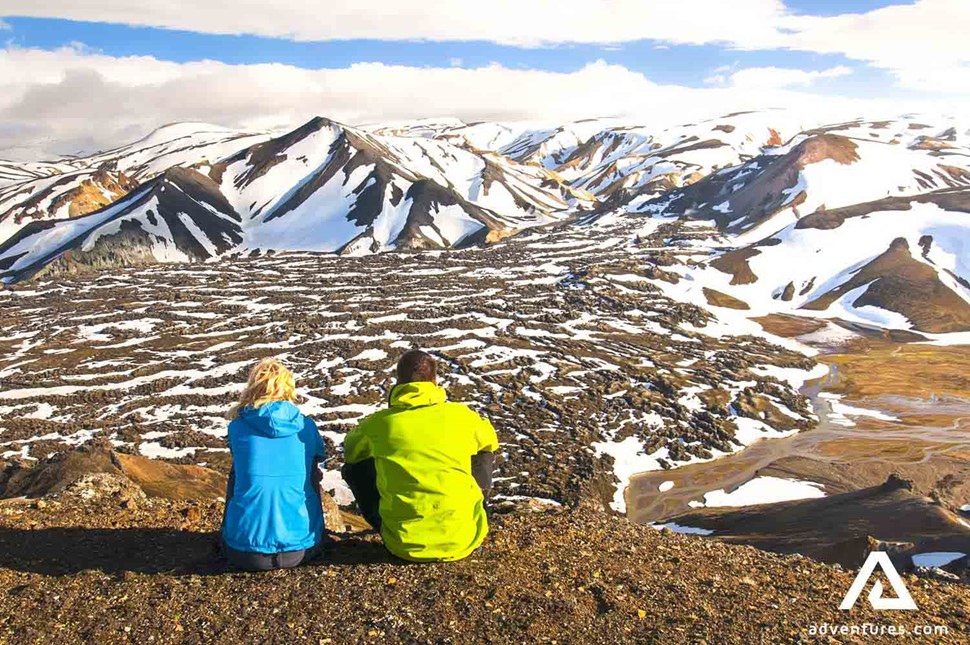 Summer is the best season to visit the Landmannalaugar area as the snow isn't canvassing the mountain and you can witness their vibrance in full glory. The hiking trail is renowned for its inconsistent weather that can take a turn for the worse, anytime. Make sure to have a trusty tour guide by your side when you start on the best hiking trail in Iceland. There are small camping grounds and wooden hut establishments that can help you seek shelter and survive the night. You can go for a small 3-4-hour hike or can book a detailed hiking tour that helps you scale the beauty of the region with ease.
Laugavegur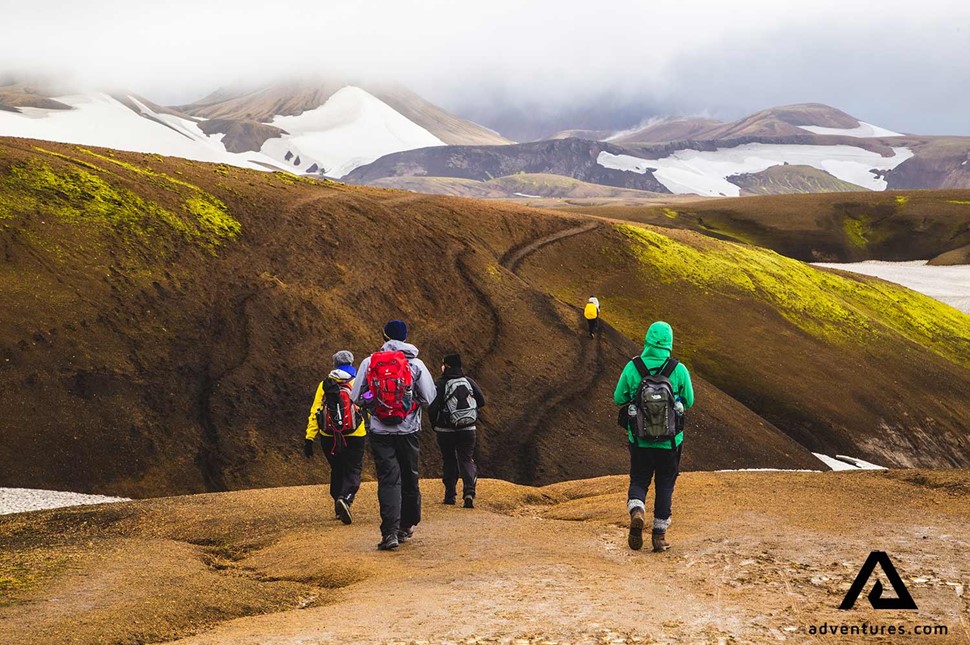 Laugavegur is among the longest trails that are perfect for hiking in Iceland. Its hiking tours can last anywhere from 4-8 days, depending upon your preference and level of exploration. Laugavegur is considered a dream trail destination and is a bustling spot for avid hiking professionals who love a challenge. On this hiking trail, you will discover the hidden remote places that are equally captivating but less covered by most tourist guides. It is a 55-km-long stretch that can cause immense exhaustion if you aren't prepared for the best hiking trail in Iceland.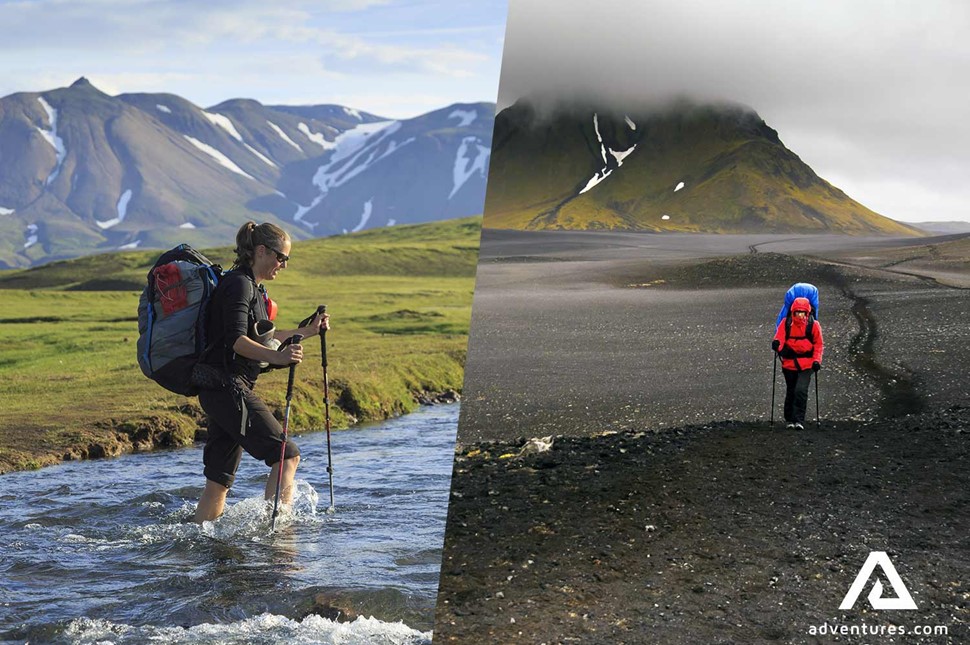 Laugavegur is one of the most sought-after hiking trails and is only accessible for tourists from mid-June to mid-September. This three-month window promises bearable weather when the snow isn't a problem and you can see the mountain and the highlands. On average, it takes four days to complete this best hiking trail in Iceland to reach the Thorsmork region. You will encounter hot springs, colorful highland mountains, lava fields, and other natural attractions along the trail.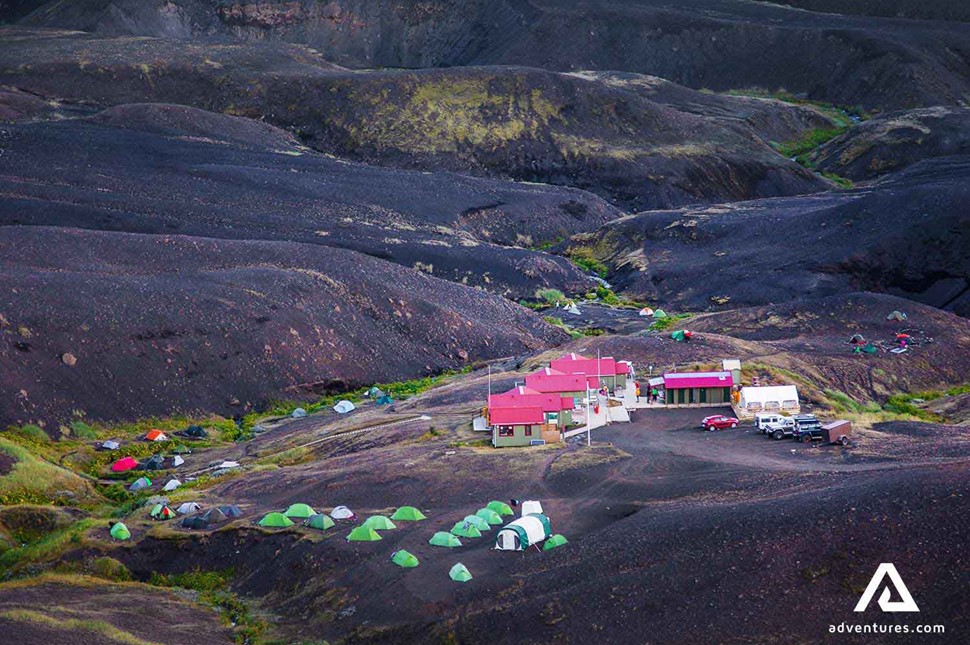 Laugavegur is among the most perilous hiking trails in Iceland that are densely packed with tourists from June to September. Advance hotel and other accommodation bookings are a must if you want to reach Laugavegur and begin hiking the very same day. It demands heavy and reliable trekking gear along with a reliable sleeping bag due to excessive temperature drops at night. If wooden huts seem too fancy to you, there is also the option of camping using tents. Laugavegur has a stern policy about pitching tents and you cannot just find a spot. It has to lie within the permissible camping grounds where it is legal to pitch a tent. Laugavegur Trail is not for the faint-hearted but is a must-visit location if you are cruising across the roads of the southern coast.
Kerlingarfjöll
Kerlingarfjöll hiking trail lures hikers with steaming hot springs and beautiful rhyolite mountains. The whole area is pretty remote, located in uninhabited Icelandic highlands. The whole hike is of moderate difficulty since the trail leads up and down on several occasions. The terrain is mostly gravel, with some spots covered in snow.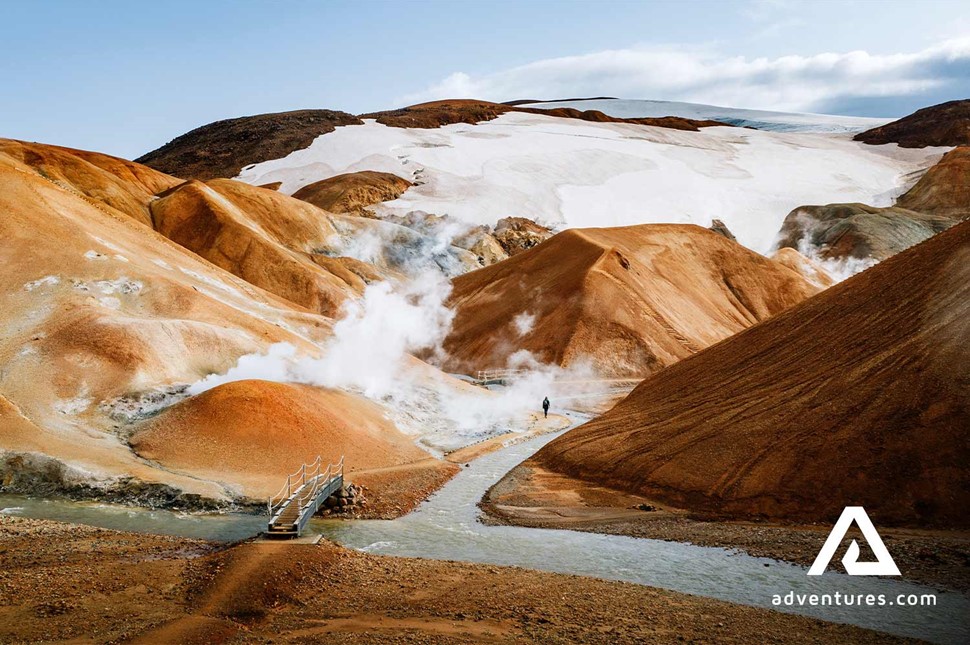 The hiking trail is well-established with signs, bridges for river crossings, and stairs for easy descent.