QUICK FIMMVORDUHALS FACTS
Fimmvorduhals is a large mountain pass between South Iceland's famous Eyjafjallajokull and Myrdalsjokull Glaciers. Check out these quick facts about Fimmvorduhals' natural geography:
Fimmvorduhals translates to "five cairns pass" in English. 

Fimmvorduhals Trail is home to the world's youngest mountains.

You can see over 26 waterfalls along the Fimmvorduhals Trail.

Iceland's famous Skogafoss Waterfall is at the southernmost entryway of the Pass.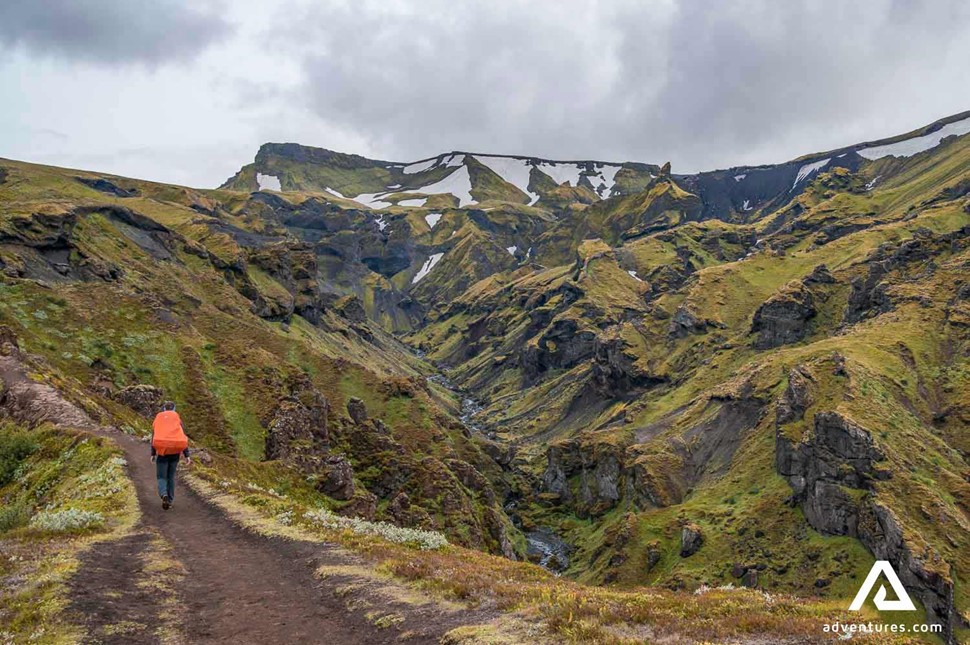 FIMMVÖRÐUHÁLS MAP
WHERE IS FIMMVORDUHALS LOCATED?
Fimmvorduhals Pass is located on Iceland's South Coast. The Pass is a long strip of land best described as the place where Eyjafjallajokull and Myrdalsjokull Glaciers meet.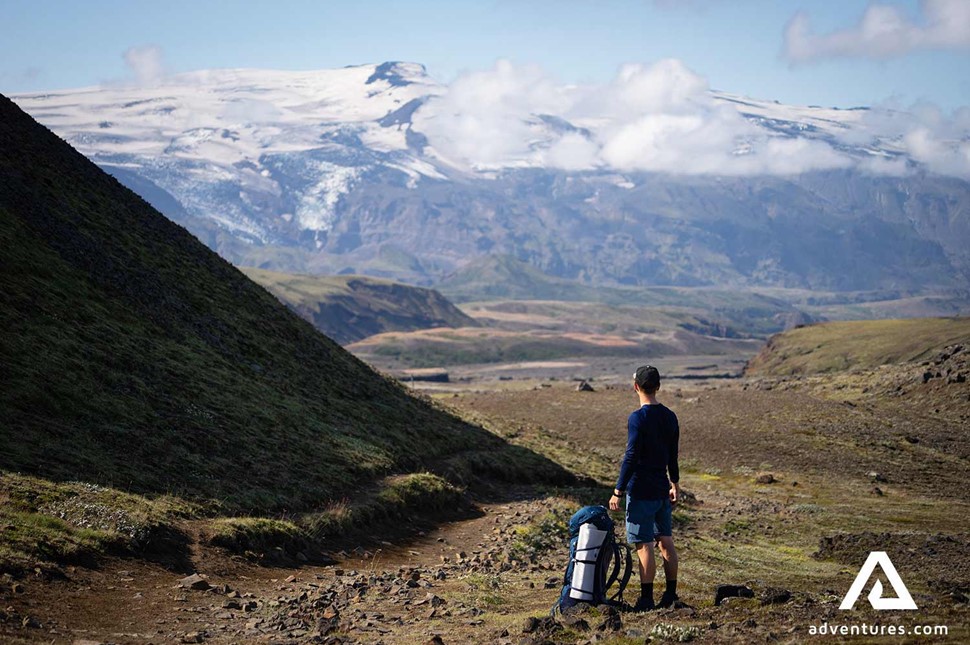 HOW TO GET TO FIMMVORDUHALS FROM REYKJAVIK
Fimmvorduhals hikers have the option to start the Fimmvorduhals Trail in one of two locations: Skogafoss Waterfall (South) or Thorsmork (North). However, most people start at Skogafoss Waterfall because it's close to the busy Route 1 (the Ring Road).
To get to Skogafoss from Reykjavik, take the Ring Road southeast for roughly 2 hours (156 km). At this point, you'll see the mighty Skogafoss Waterfall standing tall in the distance. Turn left and drive your car to the free parking lot directly next to the waterfall.
Traveling to Fimmvörðuháls by bus? It's possible to take the bus from Reykjavik to either Thorsmork or Skogafoss. The bus is also frequently used by hikers who end the trail in Thorsmork and need to get back to their car at the Skogafoss parking lot.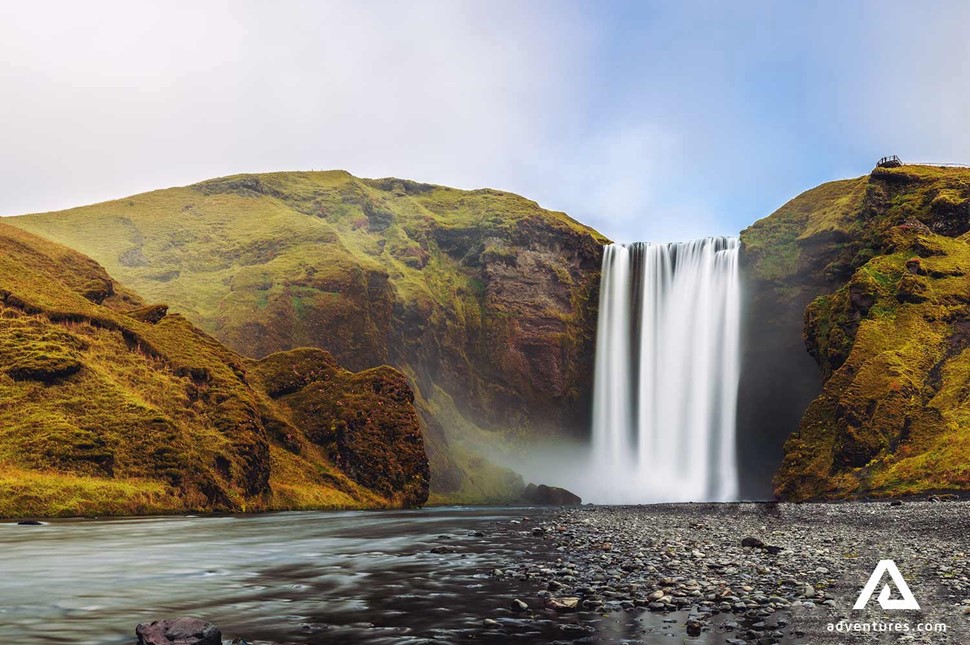 WEATHER AT FIMMVORDUHALS
During both summer and winter, expect to face a wide range of weather at the Fimmvorduhals Trail. With everything from hot, sunny rays to periods of snow, it's possible to experience every season in one day. Yet, no matter the weather, Fimmvorduhals' incredible view is always worth the visit — just remember to bring warm layers.
Summer temperatures hover between 5 and 15°C (41-59°F). In winter, temperatures at Fimmvorduhals linger at around -5°C (23°F). During winter, be prepared for the Fimmvorduhals Trail to be completely impassable due to difficult weather conditions.
Even if it appears sunny and warm in Thorsmörk, it's possible that the weather at Fimmvorduhals is facing extreme fog or freezing temperatures at that very moment. Since the weather changes unexpectedly, we recommend checking the road and weather conditions with cabin and park wardens to get the latest weather updates.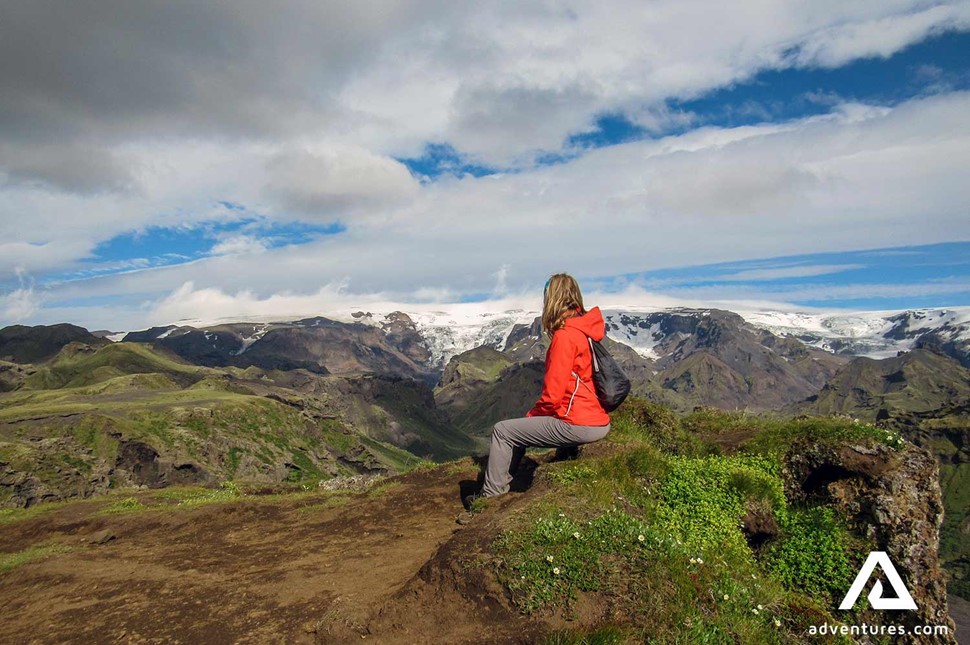 TOP THINGS TO DO AT FIMMVORDUHALS
The Fimmvorduhals Trail's otherworldly volcanic landscape is the perfect environment for trekking. We suggest booking an expert-guided Fimmvorduhals day or multi-day hiking tour to soak up the trail's nature to the fullest!
TAKE A FIMMVÖRÐUHÁLS DAY HIKE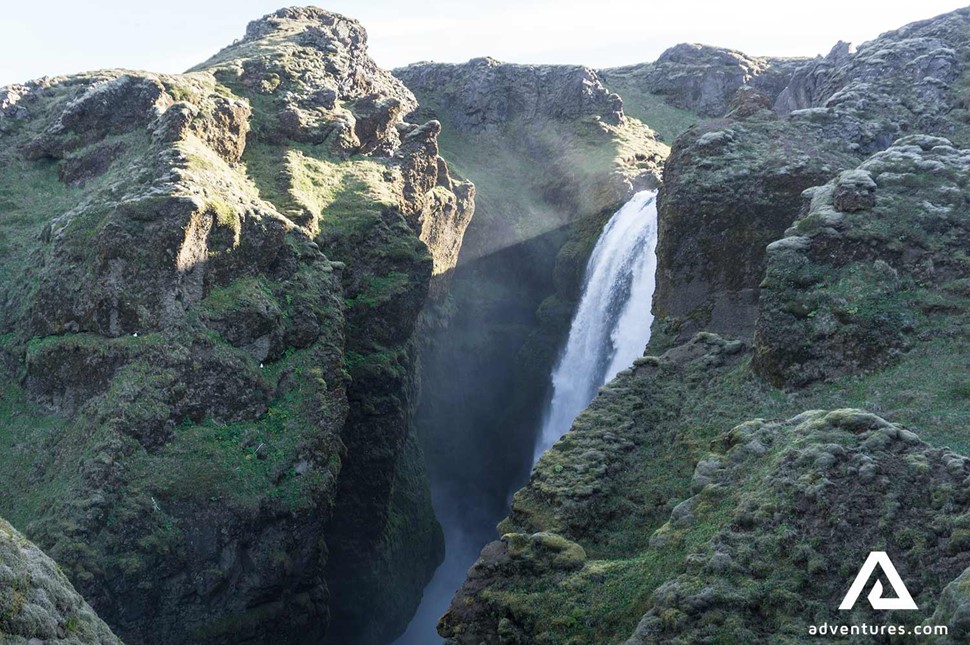 With its unique natural geography and close proximity to Reykjavik, Fimmvorduhals is a popular spot for day hikes. The Fimmvorduhals Pass day hike is a 12-hour trek that takes you up into Thorsmork Valley's volcanic area.
Join our experienced hiking guides on a Fimmvorduhals day tour with easy pick-up from Reykjavik. Avoid the hassle of car rental as you hop into a 4x4 Super Jeep and comfortably drive through beautiful South Iceland scenery. Upon arrival, a local guide will take you on a 16-km hike to the stunning Fimmvorduhals Pass. 
GO ON A MULTI-DAY FIMMVORDUHALS TRAIL ADVENTURE
Walking across the Fimmvorduhals Trail is a hiker's dream come true. With glaciers, volcanoes, and countless waterfalls to explore, a Fimmvorduhals multi-day adventure won't disappoint even the most avid trekkers.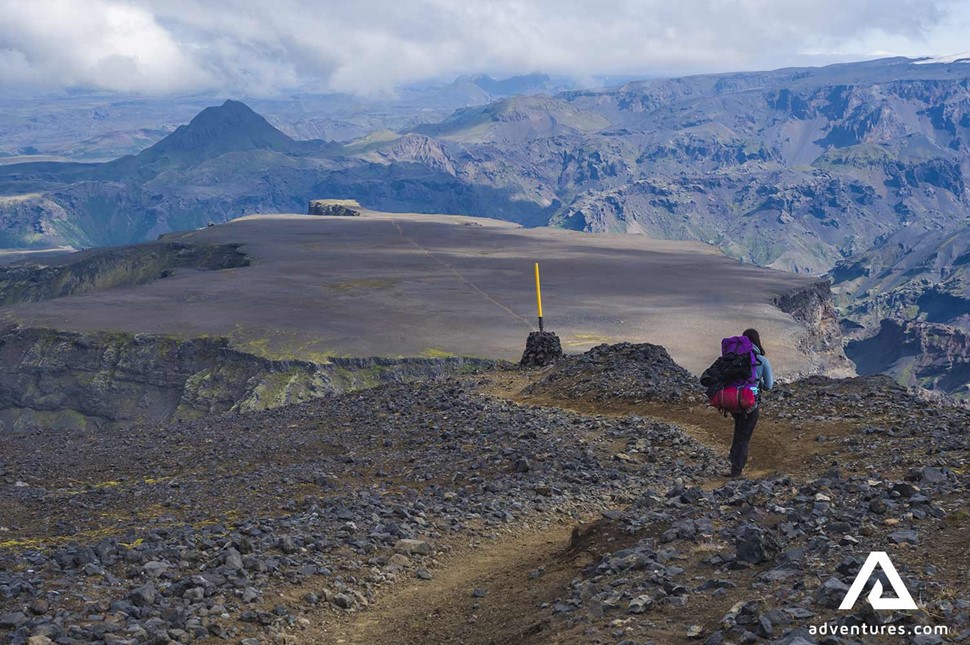 A great Fimmvorduhals multi-day adventure is a small-group Laugavegur & Fimmvorduhals 6-Day tour. Journey along the world-famous Laugavegur Trail while a certified guide leads you through 77 km of majestic Iceland nature. The tour includes top perks such as hut-to-hut luggage transport and daily meals so that you don't have to sweat the small stuff.
WHERE TO STAY NEAR FIMMVORDUHALS
Fimmsvorduhals has many great accommodation options nearby. The area draws a large number of tourists, so we recommend booking your stay far ahead of time.
If you need a place to stay overnight during a multi-day Fimmvorduhals trek, there are small Fimmvörðuháls mountain huts to sleep in. Remember to check whether you need to bring your own sleeping bag!
Here are a few recommendations for the top-rated guesthouse, hotel, and campground options near Fimmvorduhals.
HOTELS & GUESTHOUSES
Sólheimahjáleiga Guesthouse is a farm stay only 10 minutes from Fimmvorduhals. It offers a stunning view of Solheimasandur Beach, a shared kitchen, and country-style rooms.
Hotel Skogafoss is a bed and breakfast famed for its comfortable vibe and great location next to Skogafoss Waterfall. The hotel includes cozy rooms with mountainous landscapes and waterfall views.
Hvoll Cottages are country-style cottages just a 20-minute drive from Fimmsvorduhals. The cottages include fully-equipped kitchens, wooden interiors, and barbecue facilities — ideal for both summer and winter stays.  
Welcome Hotel Lambafell is a cabin-style hotel only minutes away from Fimmvorduhals. The hotel offers incredible volcano views, cozy rooms, breakfast, and free parking.
UMI Hotel is a modern hotel 10 minutes away from Fimmvorduhals. The oceanside hotel includes a fine dining restaurant, private bathrooms, and comfortable rooms with either ocean or mountain views.
​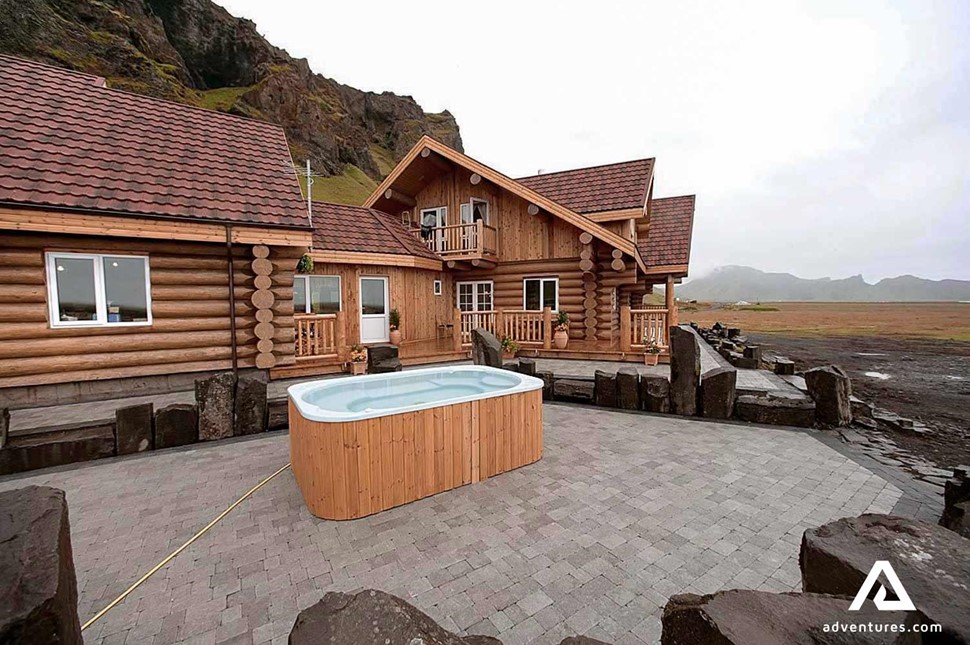 FIMMVÖRÐUHÁLS CAMPING
Basar Hut & Campsite offers simple hut and camping accommodation near the Fimmvorduhals Trail. It includes outdoor grills, showers, WC, and kitchen facilities.
Fimmvörðuháls hut is a small mountain hut located directly along Fimmvorduhals Trail. The hut includes an outhouse, a small dining room/kitchen area, and a dormitory sleeping 20 people.
Skogar Campsite is a small campground conveniently located next to Skogafoss Waterfall. The site has the best waterfall views, common bathroom facilities, and outdoor sinks.